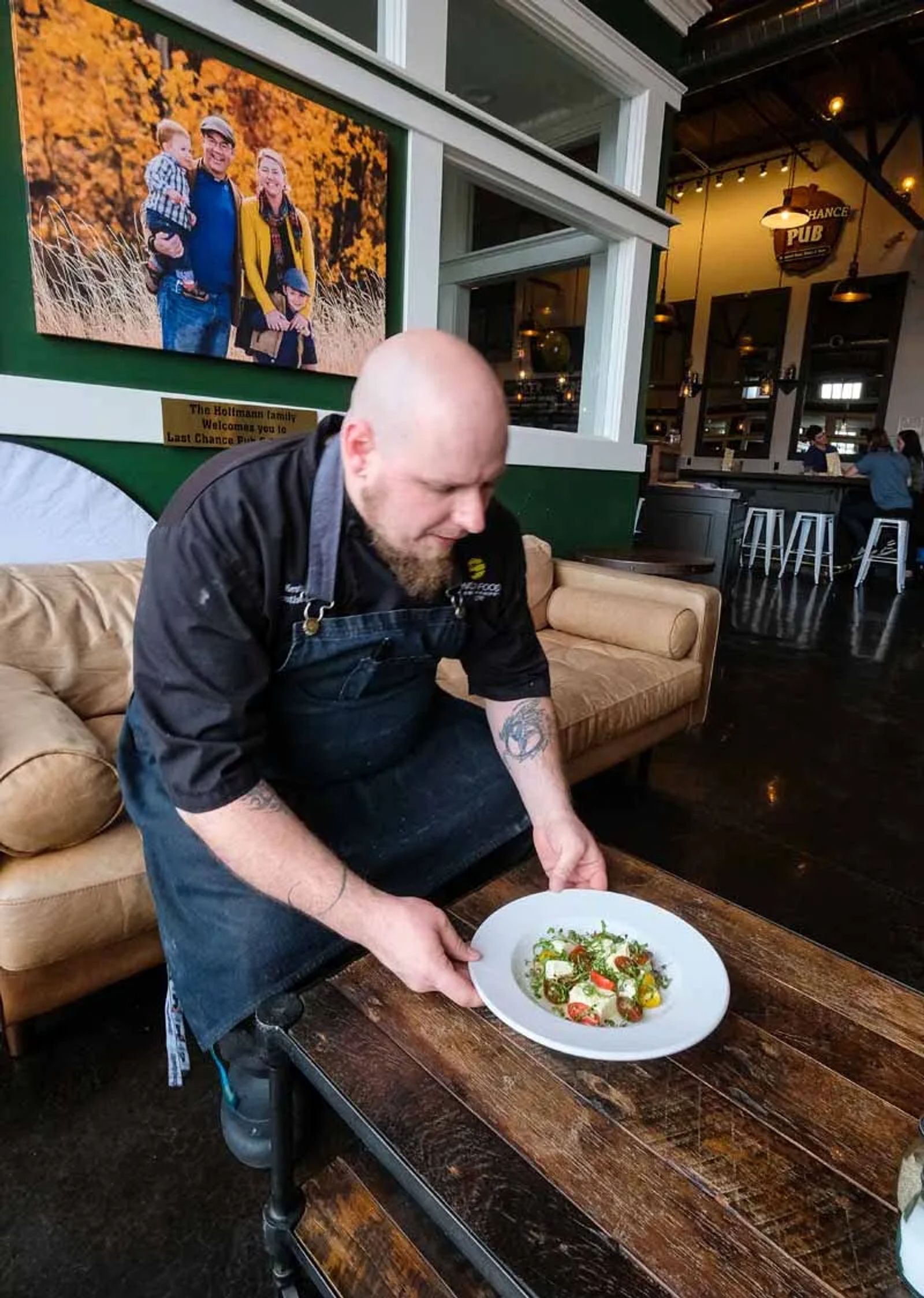 Farm to Table Road Trip
Restaurants that reach into producer's fields and serve local
By Stella Fong, Photography by Daniel Sullivan
Tomatoes picked off the vines. Lamb provided by a local farmer. Chives clipped from the garden.
Chefs in Billings and Red Lodge are honoring food at its prime, serving up locally sourced foods at their restaurant tables. An effort is being made to buy directly from the farmer and rancher, realizing and appreciating the bounty Mother Nature nurtures under our Big Sky. These chefs believe good product is available literally right out their back doors where they can bring farm-to-table food to their customers.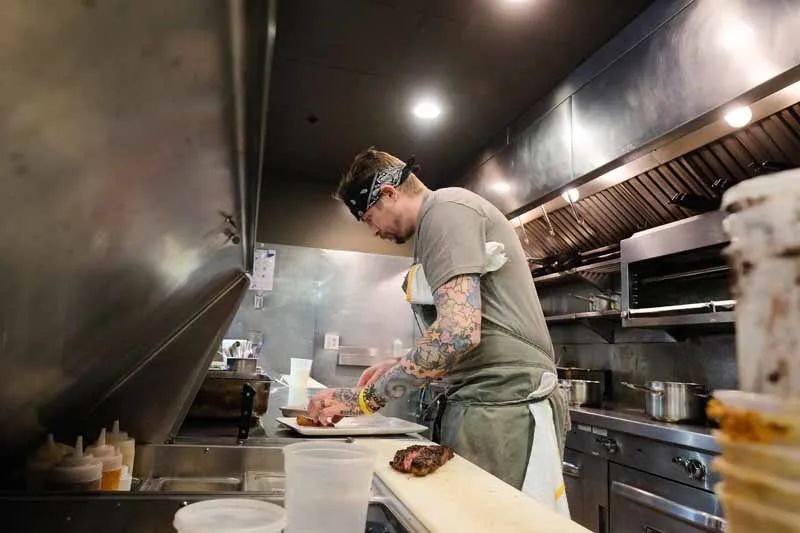 In Billings, Walkers Grill's Executive Chef Nicholas Steen uses beef raised in Laurel and then processed by Project Meats for his "Kraft Ranch New York Strip" while Chef Kevin Cole of Last Chance Pub and Cider Mill puts heirloom tomatoes on his Caprese salad plate harvested from the Special K Ranch in Park City, drizzled with a white balsamic made from reduced Orchard Run Cider. At Lilac, Chef George Cadwell buys seafood from locally-owned Billings Seafood Guys with the greens coming from Swanky Roots for his chilled spot prawns.
In Red Lodge, under the Beartooth Mountains, Chef Eric Trager of Carbon Fork, for his goat cheese gnocchi with apple butter, buys cheese from Belgrade goat cheese farm, Amaltheia Organic Dairy.  When apples are in season, Trager collects apples that his aunt, LuDon DeVille, grows in Washoe just outside of town. While Chef Sheena Ernst of Wild Table sources her lamb from Shoshone River Farm in Wyoming, Chefs Chris Lockhart and Danny Mowalt at Prerogative Kitchen use beef from Montana Wagyu Co. for their burgers.
In recent years the terms "locally grown," "farm-to-table" and "locally sourced" have all grown more familiar. "Locally grown" refers to food and agricultural products produced, processed and sold nearby. For chefs in Montana, this usually means from within the state, or sometimes from Wyoming and Colorado. Similar phrases, "farm-to-table" or "farm-to-fork," refer to food on the plate coming directly from a farm or ranch without going through a middle person such as a store, market or distributor.
"Montana has the best beef in the world. I think it is irresponsible not to buy local,"
~ Executive Chef Nicholas Steen, Walkers Grill
"Locally sourced," in its true meaning, refers to gathering bounty directly from the producer. Though chefs still depend heavily on larger distributors such as Sysco and Food Services of America, they try are trying more and more to support the efforts of smaller suppliers and specialty vendors by sourcing local.
"Montana has the best beef in the world," Chef Nicholas Steen says. "I think it is irresponsible not to buy local." Though Steen has cooked at the 20-year-old Walkers Grill for only two years, he pointed out that previous chefs always tried to practice "farm-to-table, ranch-to-table." He says, "You should always know where your food comes from. I am passionate about what I put in my body. I care about what I serve my customers."
At Last Chance Pub and Cider Mill, Chef Kevin Cole, who just took on the executive chef position, says, "I have the local conscience." In creating his new menu for the refurbished United Glass Building on Montana Avenue, he strives to bring local products to his menu.
"I like to make food that is recognizable but with a twist, keeping the food beautiful and delicious," he says. The restaurant and cider mill, opened by Sam Hoffman of Red Lodge Ales about three years ago, produces hard cider made with apples, cherries and other local fruit.
At Lilac on Montana Avenue, Head Chef George Cadwell, who collaborates with Chef Jeremy Engebretson, says of bringing local foods to their menu, "We try to find a balance of affordability and availability." Often times, when food comes from small producers, quantities can be limited and, in turn, more expensive. Lilac has always offered a smaller menu that changes seasonally to focus on working with the best available ingredients.
Executive Chef Eric Trager recently opened Carbon Fork in Red Lodge. Coming full circle, he purchased the building that once housed Bridge Creek, a restaurant he had cooked in for over a dozen years before it closed four years ago. "I like to utilize local ingredients with international cooking techniques," Trager says. "It is something I truly believe in. The product is usually so much better when locally sourced."
A few doors down at Prerogative Kitchen, chefs and proprietors Chris Lockhart and Danny Mowalt present a variety of dishes incorporating local ingredients.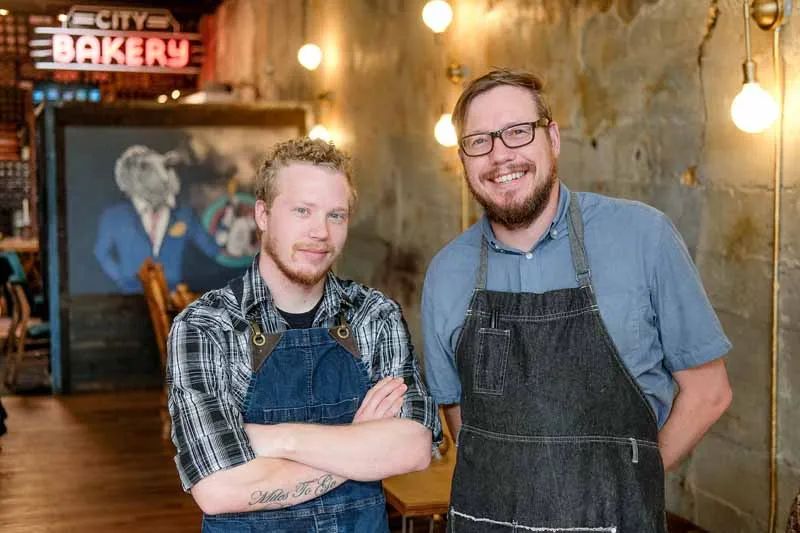 "For us it's such a small community," Mowalt says. "When we support local, it comes back to the economy." In working with local growers and producers, a symbiotic relationship forms. Gena Burkoff, co-owner and designer of this refashioned space once housing the popular City Bakery says, "We just want to work on bringing a consciousness of food that comes back from society."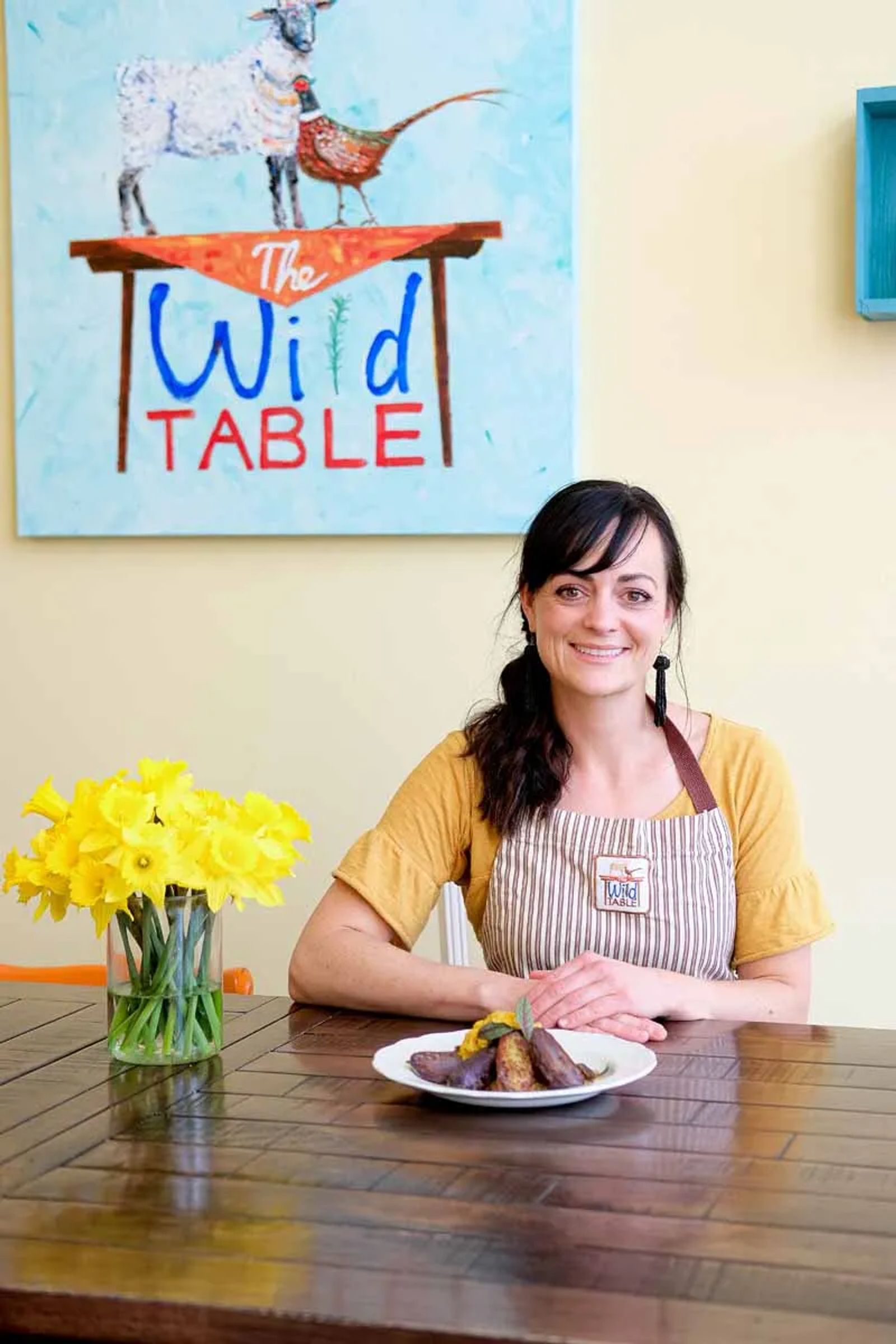 Owner and chef Sheena Ernst of Wild Table, just up the street from Prerogative Kitchen and Carbon Fork on the main drag, says, "We change our menu every day based on the ingredients we get." Ernst designed her restaurant to be able to source more seasonably. During the summer, she uses flowers, lettuces, root vegetables and herbs she grows in a garden at the back of her cozy cafe. She says some of her customers "bring me barrels of chives and kale." Recently, another patron showed up with bunches of daffodils Ernst used to adorn her tables.
With the farm-to-table consciousness of recent years, chefs in Montana are honoring what Mother Nature creates here. Though patience and creativity are sometimes needed to finesse the harvest onto the plates, the end result is sustainable relationships, financially and personally, between chefs, farmers and ranchers. For the consumers, it means delicious and beautiful food on the plate.
A LOOK AT SOME OF THE FARM TO TABLE OFFERINGS
Kraft Ranch New York strip featuring beef raised in Laurel and served with Flathead cherry jam and a tallow hollandaise with confit fingerling potatoes at Walkers Grill in Billings. [/caption]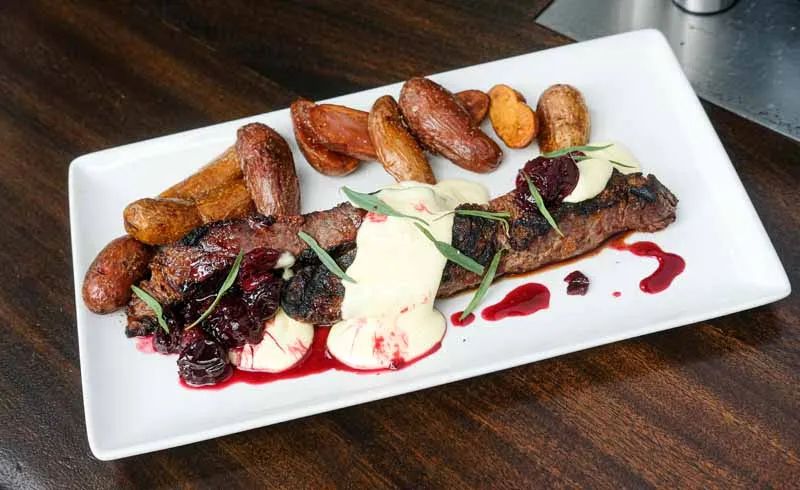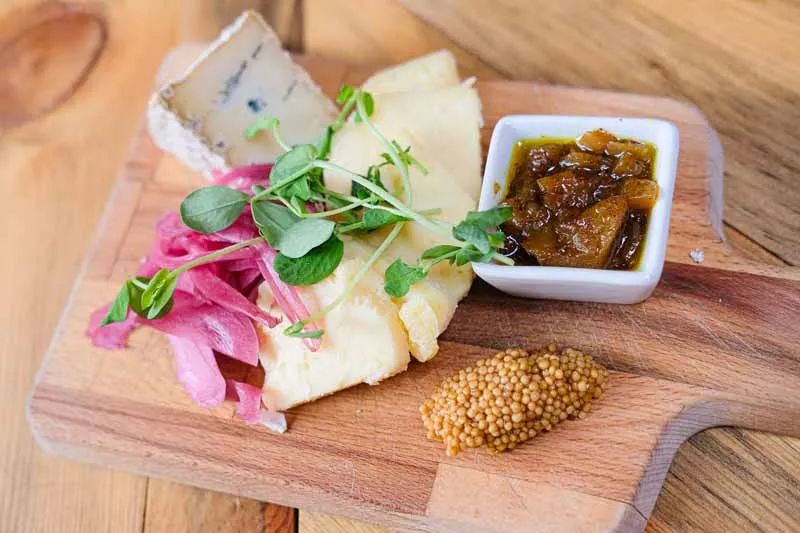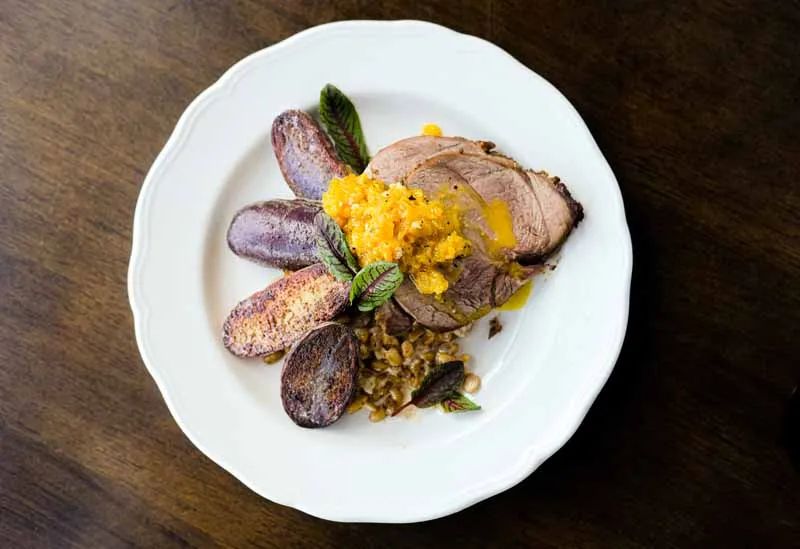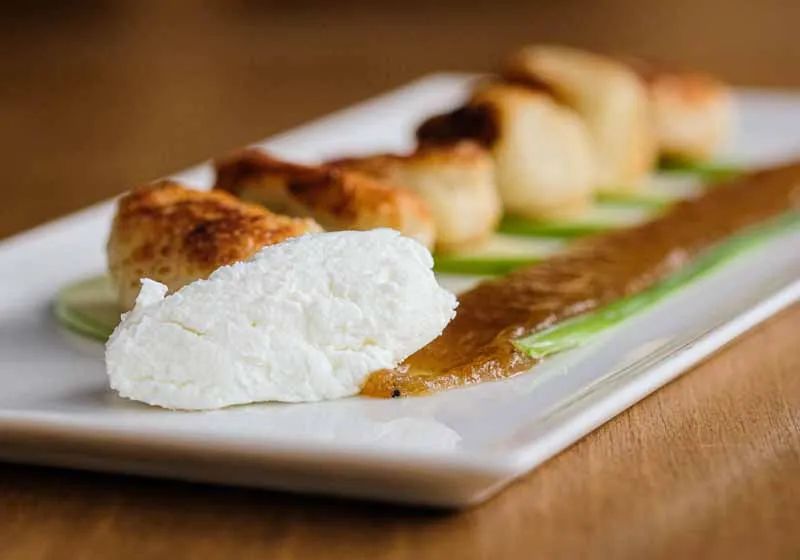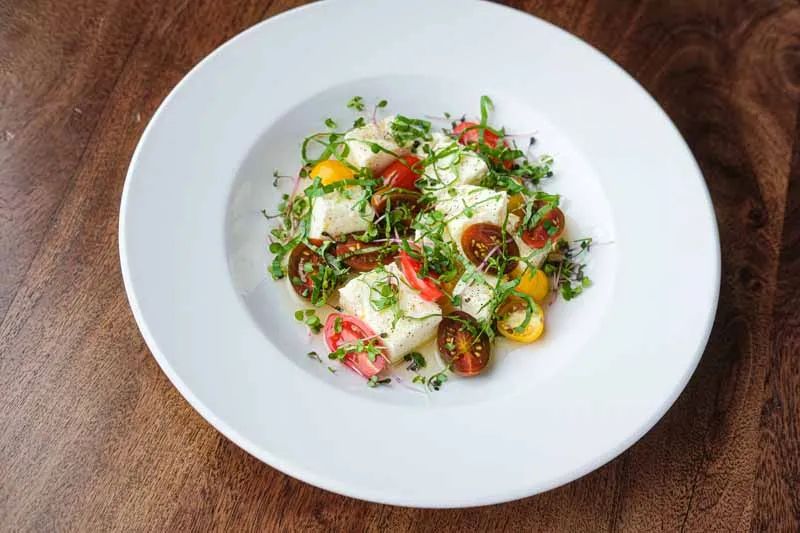 BUY & ENJOY LOCAL  

Amalthia Organic Dairy, amaltheiadairy.com
Lifeline Farm, lifelinefarm.com
Montana Waygu Cattle Company, lifelinefarm.com
Project Meats, www.projectmeats.biz
Shoshone River Farm, shoshoneriverfarm.com
Special K Ranch, specialkranch.org
Swanky Roots, swankyroots.com
Tucker Family Farm, tuckerfamilyfarm.com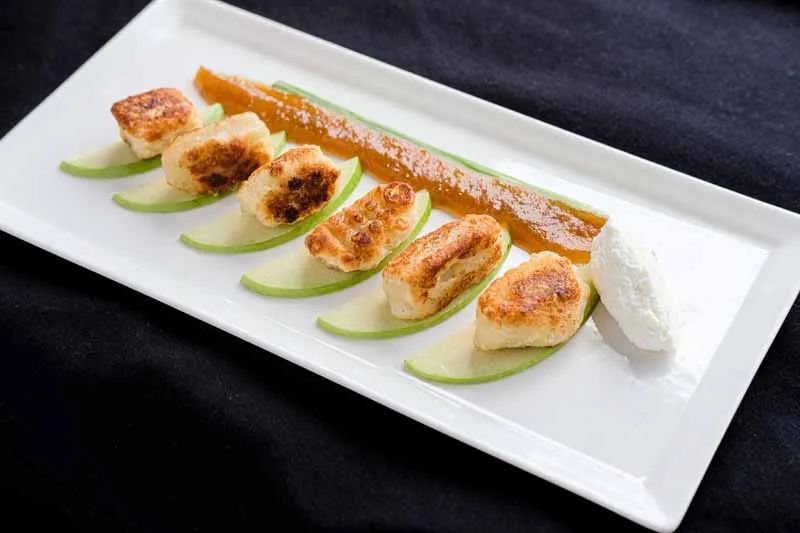 ERIC TRAGER'S GOAT CHEESE GNOCCHI
Serves 8
3½ pounds Amaltheia Organic Dairy goat cheese
4 large eggs
20 ounces all-purpose flour
Mix all ingredients together to form dough. Knead until smooth. Let rest 15 minutes. Divide dough into 4 pieces. Roll into ropes. Cut into pieces and groove with a fork. Dust with flour and freeze. Boil for 5 minutes, drain and sauté in butter for 3 minutes.
APPLE BUTTER FROM ERIC TRAGER'S KITCHEN
Makes about 5 cups
10 Granny Smith apples, unpeeled, washed and cut into 1-inch cubes
½ c. cider vinegar
3 allspice berries
2 cinnamon sticks
1 2-inch piece of ginger, peeled and coarsely chopped
4 c. water
1 ¼ c. sugar
1 c. brown sugar
1 T. kosher salt
Combine apples, spices, ginger and water in stainless pot and bring to simmer. Cook until apples are soft and liquid, reduced by half. Remove allspice and cinnamon and pass through a food mill. Place back on stove and add sugars and salt. Cook until golden brown, about 2 hours. Let cool and refrigerate. Apple butter that is constantly refrigerated will generally stay at best quality for about six months to a year.