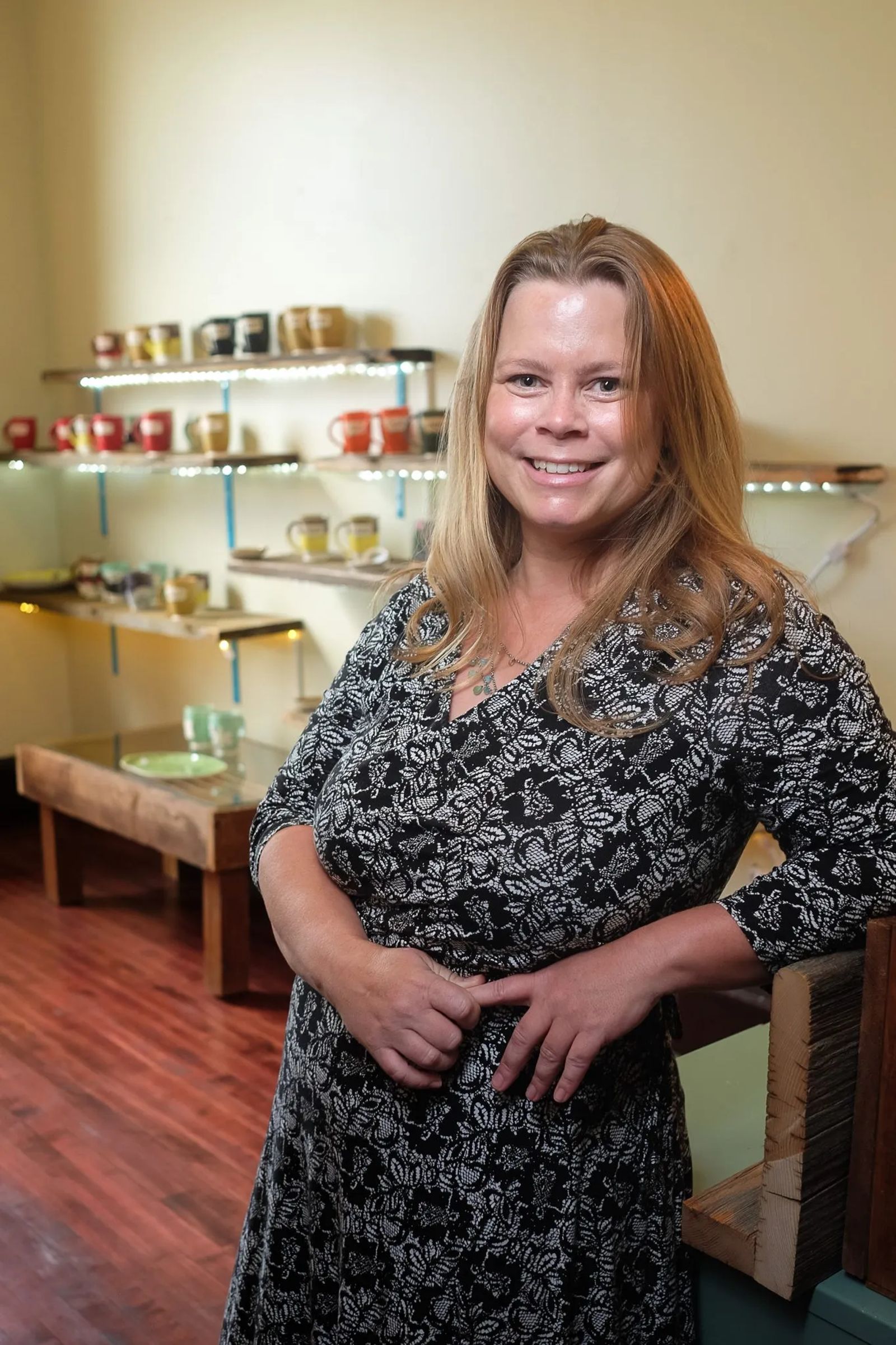 Fashioning Art with Function
Potter Cassy Kramer of 504 Square Feet
Sun streams into Cassy Kramer's kitchen as mounds of clay take over her center island. A vintage appearing, well-worn scale stands at the ready to help her measure out roughly a pound and a half of clay with each cut from the large slab of white stoneware clay in front of her. She wears a clay-smudged 504 Square Feet apron, her company's namesake. Her long blond hair is swept back in a bun held in place with an artist's paint brush. A stack of her signature Montana pride mugs are stacked and drying nearby. Her family doesn't seem to mind one bit that the space she uses for her home-based business will later be wiped down to prep the family's dinner.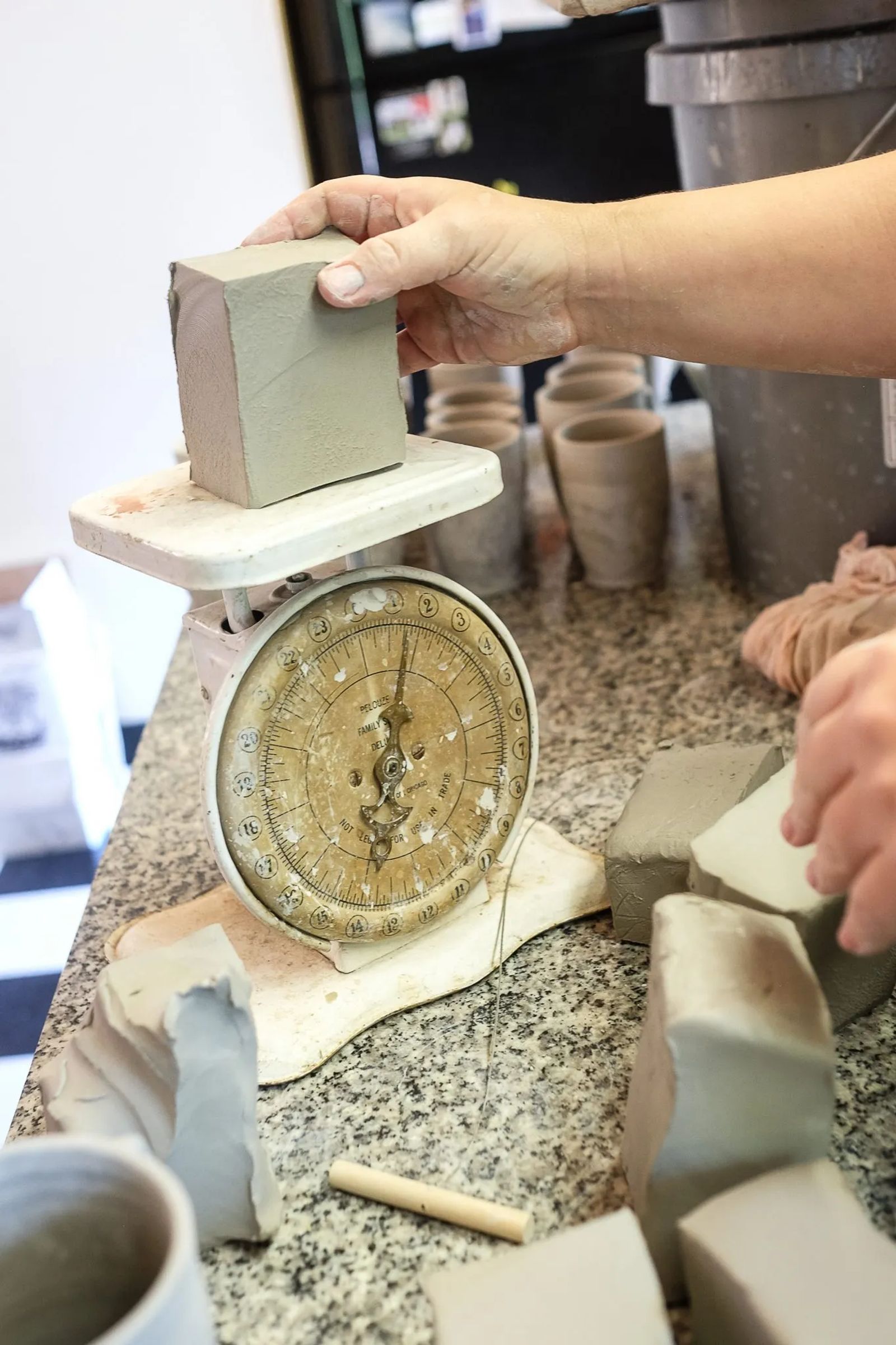 "I pretty much use my entire house right now to create pottery," she admits as she gazes upon some of her creations. As Cassy continues to measure out what will soon be fashioned into one of her miniature works of art, you'd have a hard time believing this now full-time potter once led a fast-paced, high stress career in public relations, political strategy and lobbying. While working for the National Society Daughters of the American Revolution, her office sat inside Constitution Hall, just blocks from the White House. "That was pretty amazing," she says with a smile.
But as her professional life started to move at a more frenetic pace (especially during the presidential election cycles), Cassy says, "I felt like my life was passing right before my eyes." She vividly remembers those 12 to 16 hour work days. During one of those marathon work sessions, "I was sitting in my office doing a job that I really didn't enjoy anymore and I could hear my nanny upstairs playing with my baby. It was like, 'Ugh! What do I want out of life?'" During that time, she'd find herself reflecting back on her college days at MSU Billings when her heart felt alive and full sitting in the studio during her ceramics class.
"I wanted to be in the studio 24 hours a day. In fact, I begged my professor to give me a key. I had to do some extra cleaning, but I got a key to the place," she says with a laugh. It was there that the desire to create was born. With a mission to perfect the art of throwing clay and molding it into useable vessels, "I sat down and rolled out 100 balls of one pound clay. I sat for hours at the wheel and I threw all of them until I got it right." Surprisingly, Cassy isn't of the camp that believes you are born creative. She feels art is learned, practiced and can be perfected with a little time and a lot of patience. She is quick to add, "I will say, you do have to have a passion for it."
After graduation, as Cassy began her career, dreams of sitting at the potter's wheel were never far from her reach. Before graduating, she saved her pennies for a Lockerbie Kick Wheel, her first. Artist Steve Degenhart of 5 Mile Pottery was selling it for $275.
"I came up with $150. I went to him and I basically begged him to sell me this wheel and let me make the rest in payments. He sold it to me and traded the rest of it for time helping him, which was really a gift for me because I could learn from him."
She would come to haul that 350-pound wheel with her as she moved to the east coast. The years passed by as Cassy's professional life took off. After moving to Portland to marry her husband, the couple lived in a 504-square-foot living space. It was there that Cassy started to take stock of her life.
"When you live in a space that small, you really start to think about the things that you have, the possessions." She espoused the belief that if you have a space that small, the things that are artistic also have to have a purpose, a function. In her words, each item had to "enhance the experience of living and help you to love the space you live in."
In time, this small abode would not only help Cassy take an introspective look at life, but she says, "We started to make a list of things that were important to us." It probably comes as no surprise that the grueling work days didn't make the list. In time, Cassy and her husband, Jeremy, moved back to Montana, leaving behind the 504-square-foot home that soon became the name of Cassy's burgeoning pottery studio. In 2012, 504 Square Feet was born. Cassy purchased kilns on Craigslist and repurposed rooms and garage space in her new home to make her dream come to life without taking on a penny of debt. Her throwing studio is a converted greenhouse where light streams in illuminating Cassy's wheel and helping newly thrown pieces to dry.
"I started the business with a couple hundred bucks. I would buy supplies and make everything that I could make and then sell that. Then, I would save enough money for the next round of supplies," Cassy admits. The formula worked.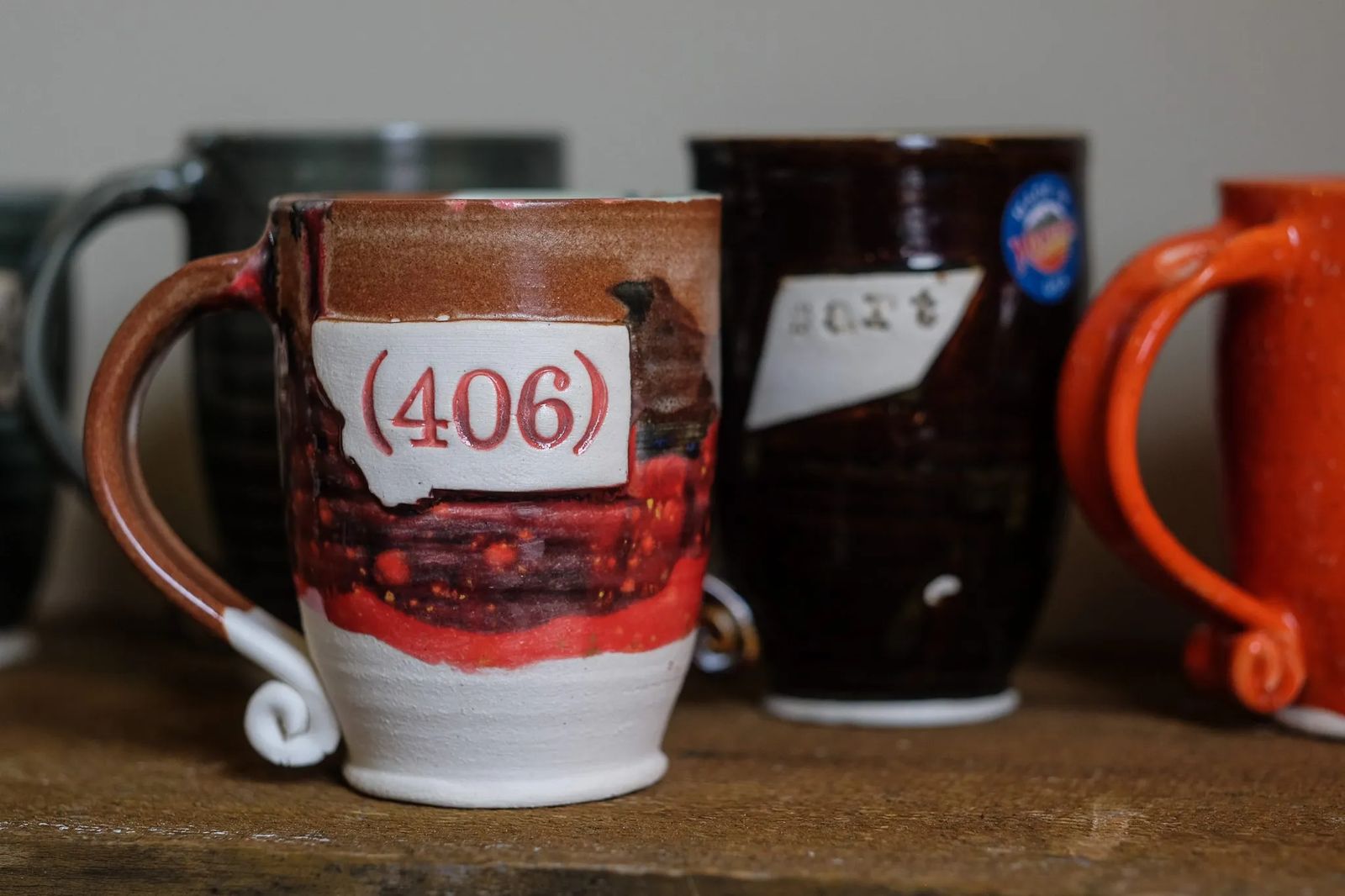 Over the years, Cassy's customers have evolved into friends. She's made entire dinnerware sets, custom pieces and just recently she says, "I delivered an anniversary gift for a couple. It was a custom made platter with their names, the wedding date and it had the lyrics of their song engraved on the platter." It's clear, Cassy's heart strings are wrapped around each and every piece.
"I am currently working on one of the hardest pieces yet," she says as she pauses to collect her thoughts. She's crafting a special mug to help a family honor a special man. "The father passed away recently from a rare type of cancer. While he was in treatment, he thought he was going to make it," Cassy says choking back tears. "He kept having these dreams that black birds were flying him out of the illness." That's why Cassy is creating a special mug for his widow honoring his fight, with a flock of black birds flying out from the inside of the mug. From this, Cassy hopes to develop a community donation series where a mug can be custom created to honor a cause. Five dollars from each mug will then be donated in the name of the person afflicted. It's a project Cassy says won't make her rich but will definitely, "pay dividends for her soul."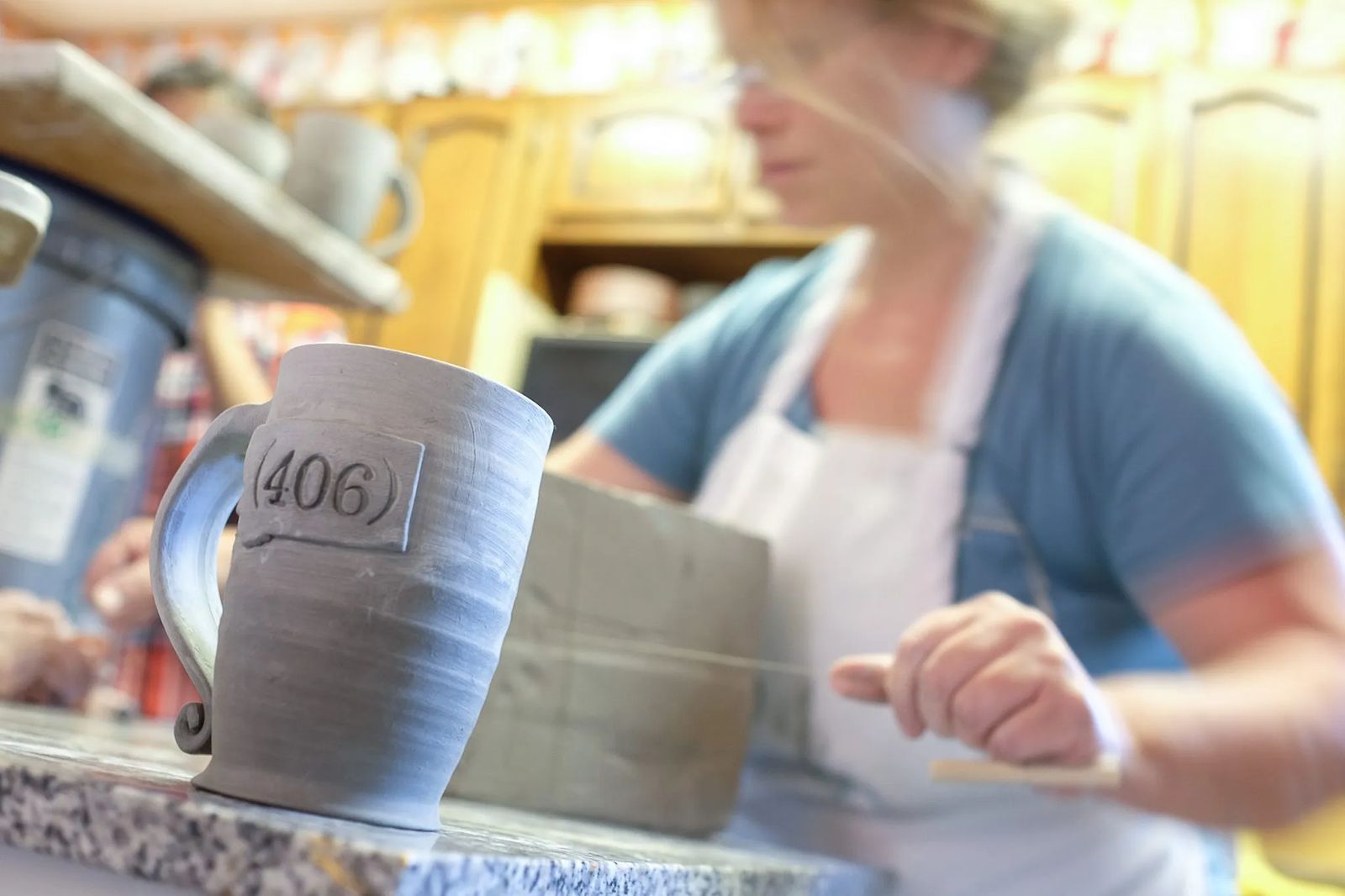 On this particular day, Cassy is working on her signature Montana pride mugs and stemless wine glasses, where an outline of the state or the 406 area code is emblazed on one of her finished pieces. The collection has taken off and has even brought on some copycat artists hoping to capture a bit of the buzz she's created. When asked if she minds, she smiles, shrugs and says, "Since I started this business, I will be honest, I can't keep up!" She says there's plenty of business to go around and she knows, "I have worked really hard to build a brand that people can trust."
For Cassy, it's more than just selling a piece. It's the ability to connect with the person who is buying her work. If given the opportunity, she'll ask what the buyer plans to use the piece for and after the sale, she'll personally pen a thank you note. "I always try to put in the note how grateful I am that they have purchased my work because, who gets to make a living as a full time potter? Not many people. I feel extremely fortunate!" With dozens of finished pieces sitting on the shelves in her Montana Avenue studio, it's clear that each piece is a labor of love. Cassy nods in agreement and with a pensive smile adds, "I am happier now than I have ever been in my life."