Feeding a Crowd with a Creative Flair
Adding a bit of spice to store-bought goodies
By Stella Fong, Photography by Daniel Sullivan
What do you do when a crowd is headed to your house and you've lost your culinary mojo? Try making something ordinary the base for something creatively fancy. One trip to Costco sparked a whole slew of out-of-the-box inspiration.
Spaghetti with marinara spun around a fork, and then sprinkled with shaved Parmesan and dusted with fresh herbs can be lined up on a platter for impressive entertaining. Popcorn from a bag can be dusted with truffle salt and served in little bowls. A log of goat cheese slathered with chili jam is suddenly more alluring. Rotisserie chicken can be refashioned in countless ways. Pomegranate seeds found in ready-to-go packets make a dish more festive. With the addition of dried cranberries, a simple salad shouts holiday.
Cauliflower rice is trending these days and forms a great vehicle to serve up smoked salmon. Marinated and ready to cook Korean Bulgogi has been a nice addition for Asian tacos or mini sandwiches. While pesto and ravioli have long been mainstays, they can be served on holiday platters for a little extra pizazz. This applies to sausage, too, as the sauce that accompanies it and how it is sliced changes how people perceive it.
Be creative this holiday season. Mundane can be elevated to inviting and impressive dishes for entertaining large crowds. Just head to Costco and cruise the aisles.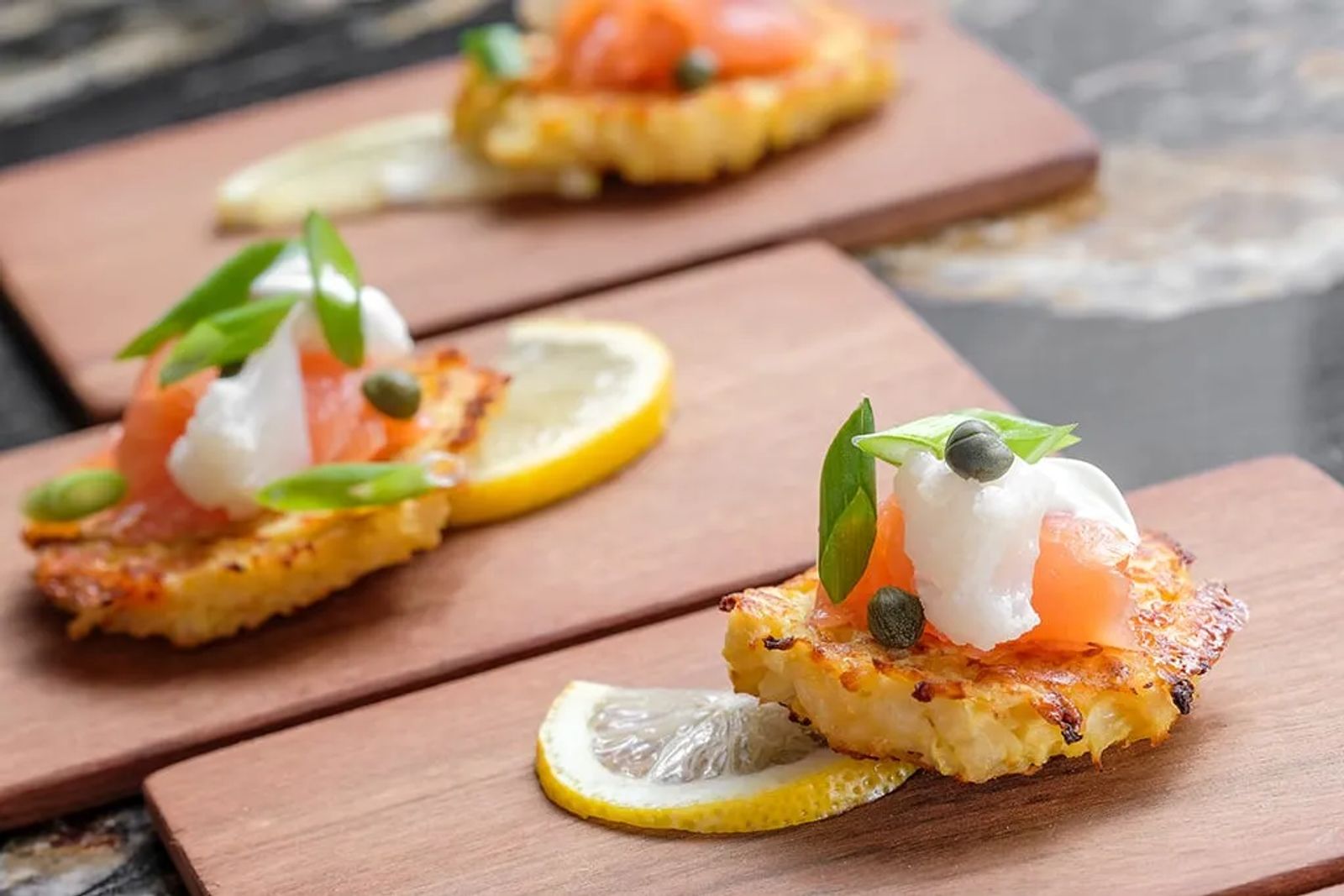 Cauliflower Cakes with Smoked Salmon
Makes about 12 to 16 cakes
INGREDIENTS
4 cups frozen Green Giant Organic Riced Cauliflower
1 egg
1/2 cup grated Mozzarella
2 tablespoons grated Parmesan
2 tablespoons of flour
Kirkland Signature Imported Smoked Salmon
Paesana Pickled Herb Cauliflower
Preheat oven to 425 degrees. Gently pound bag on a solid surface to separate veggies. Add cauliflower to microwave safe bowl and cook on high for 5 to 9 minutes, ensuring the center is hot. Let stand for 1 minute. Drain cooked cauliflower in a colander, pressing out moisture with paper towels. Spray baking sheet with oil set aside. Mix together cauliflower, egg, flour and cheeses. With a small cookie scoop, form patties. Bake on a baking sheet about 15 minutes on one side to brown. Flip and gently press with a spatula to flatten. Bake for another 10 minutes or until golden. Top cakes with smoked salmon. Garnish with pickled cauliflower, green onions or fresh dill, capers and a drizzle of sour cream.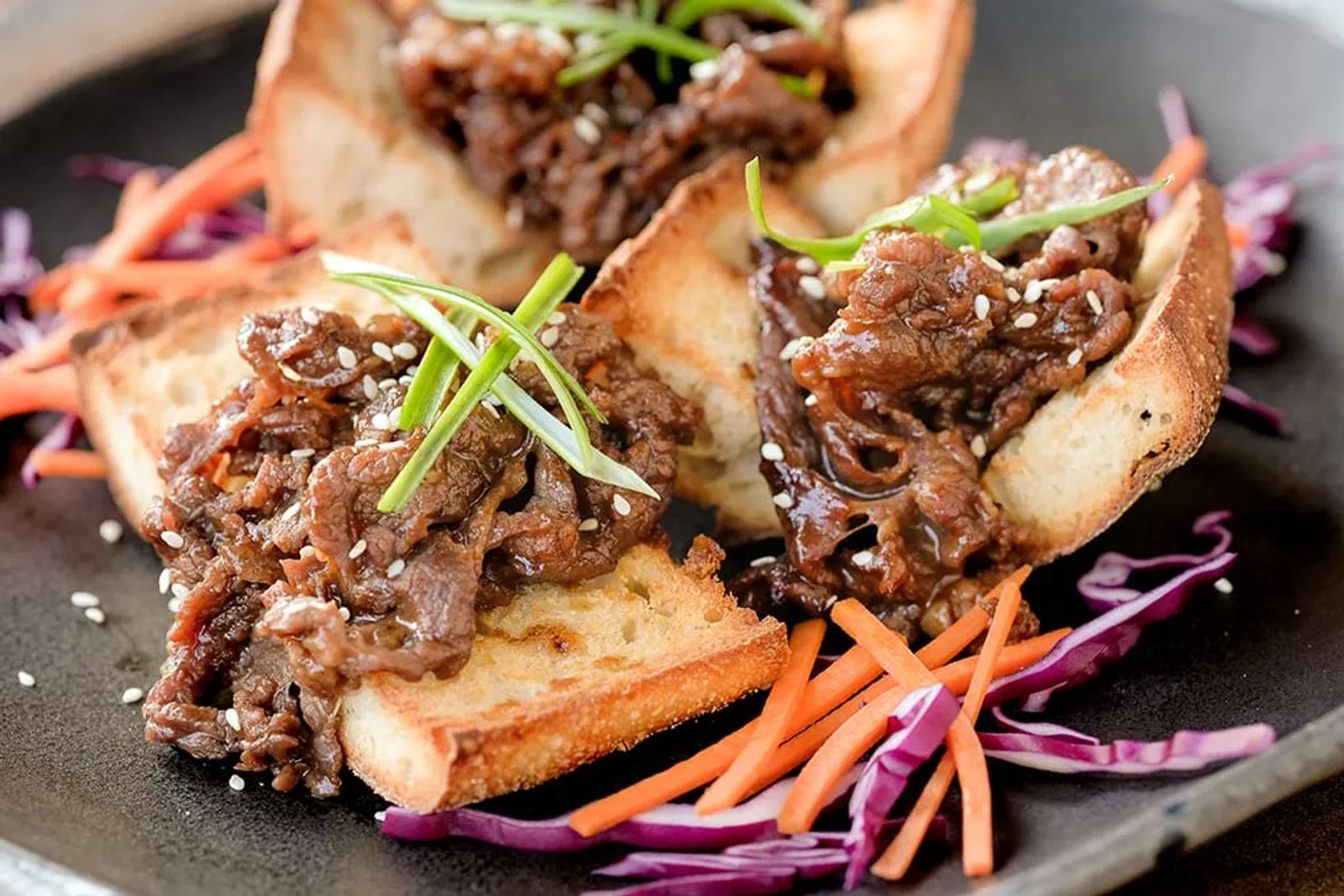 Korean Bulgogi on Baguette with Toasted Sesame Seeds
Start by purchasing Costco's Korean Bulgogi, found in the deli section of the store. While this ready-to-go marinated meat is delicious on top of rice or noodles, I love stuffing the meat between baguettes sliced to about 2 inches long, making mini sandwiches. For extra special touches, add kimchi or Korean pickles and a few squirts of garlic chili sauce.
INGREDIENTS
Korean BBQ Bulgogi
Kirkland Signature Baguette or Potato Chive Focaccia
Toasted Sesame Seeds
Cooking oil of choice
Shredded cabbage, carrots, green onions
Garlic chili sauce
Heat wok over medium-high heat until oil smokes. Add just enough meat to cover the bottom of the pan. Cook in batches if you want to serve up the entire portion of meat. Let sauce caramelize, stirring occasionally. Cook until most of the liquid has been cooked off, about 5 to 8 minutes. Place meat on toasted slices of baguette or focaccia. Garnish with shredded cabbage, carrots and green onions, and sesame seeds. Drizzle with some garlic chili sauce.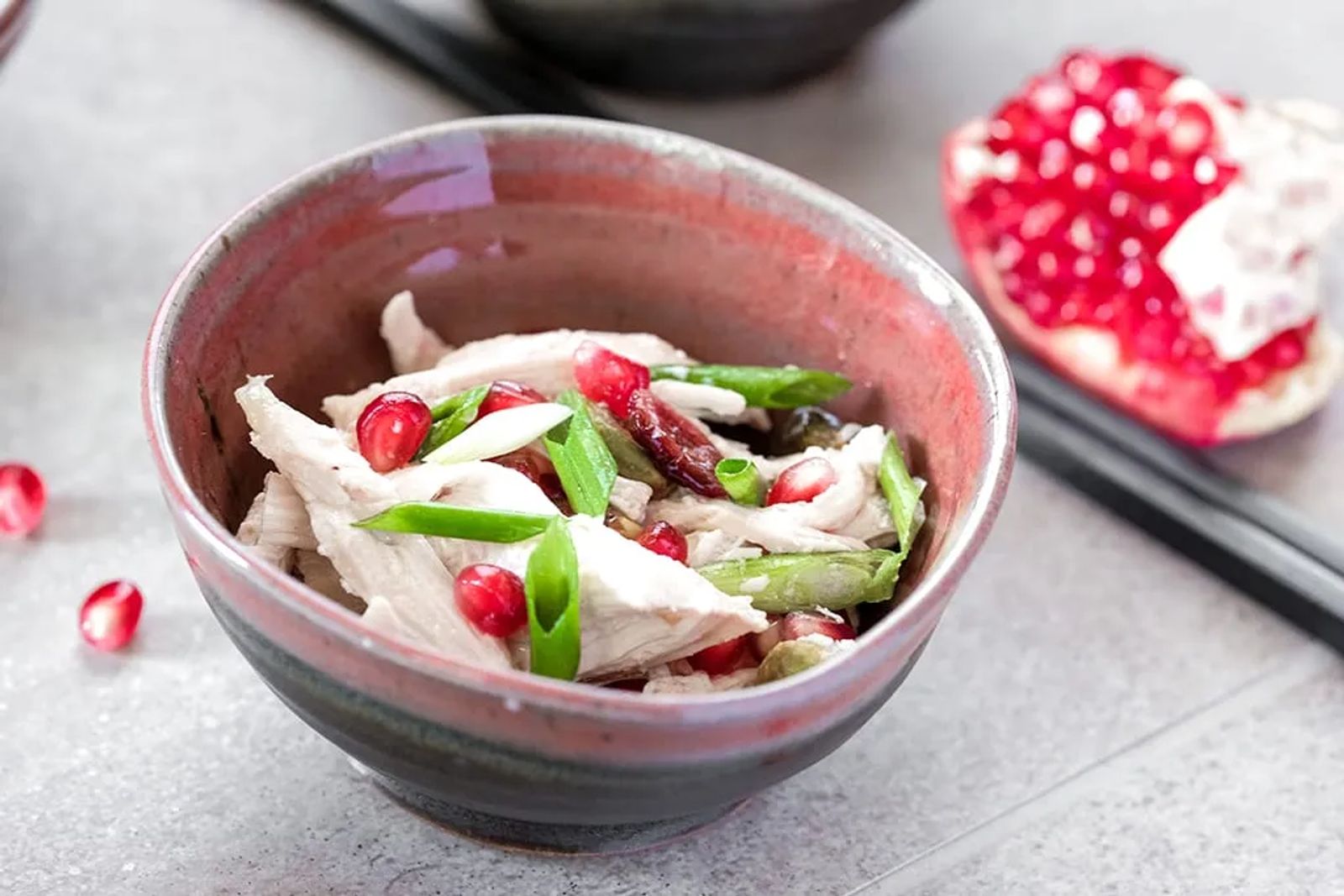 Chicken Pomegranate Pistachio Cranberry Salad
Serves 8 to many
Start by purchasing Costco's ready-to-go rotisserie chicken found near the deli section. Add in some goat or feta cheese and pomegranate seeds and you are well on your way to a salad with style. I love serving this salad in small bowls and letting guests eat with chopsticks.
INGREDIENTS
1 Kirkland Signature Seasoned Rotisserie Chicken, meat removed and shredded, skin discarded
1/2 c. Kirkland Shelled Pistachios, roasted and salted
3 to 4 stalks green onions, sliced diagonally
1 c. pomegranate seeds
1/3 c. Ocean Spray Craisins Original Dried Cranberries
¼ c. lemon juice
1/3 c. Kirkland Signature Extra Virgin Olive Oil
Salt and black pepper, to taste
In a large bowl, mix chicken, pistachios, Craisins and green onions. In a small bowl, whisk together juice, olive oil, salt and black pepper and mix into chicken mixture. Let sit in the refrigerator for at least an hour and up to a day.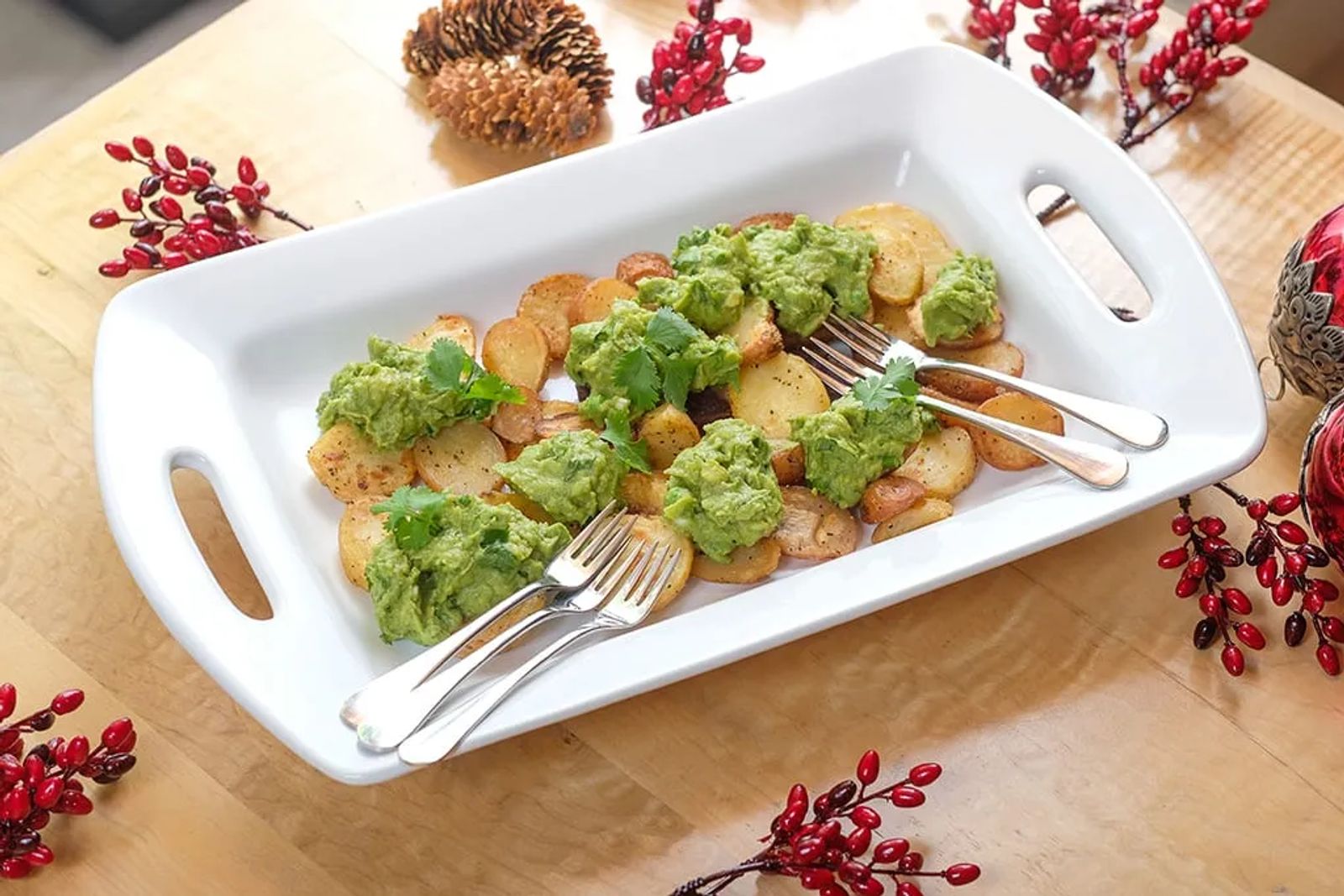 Oven Roasted Potatoes with Guacamole and Peas
Serves 8 people to many
Instead of using tortilla chips for nachos, these potatoes can be served as your chips. When cooking potatoes, sprinkle cheese on top or add some refried beans. Finish off with some sour cream and guacamole from this recipe. For a simpler version, just add guacamole, frozen peas, fresh cilantro, chopped green onions and lime juice to freshen everything up.

INGREDIENTS
20 ounces Reser's Fine Foods Main St Bistro Oven Roasted Potatoes
1/2 t. ground cumin
1 t. ground coriander
Freshened Guacamole
Preheat oven to 425 degrees. Remove tray from packaging and completely remove the film. Add cumin and coriander to potatoes and mix. Bake uncovered metal tray on the middle rack for 10 minutes. Stir potatoes and bake for another 10 minutes. Spoon potatoes onto a platter. Garnish with guacamole. Serve with forks placed on the side of the dish.
Freshened Guacamole
Makes about 2½ cups

INGREDIENTS
16 ounces Wholly Organic Guacamole
1/2 cup frozen peas
2 stalks green onions, chopped
1/4  bunch cilantro, chopped
1 t. lime juice
Mix together guacamole, peas, green onions, cilantro and lime juice.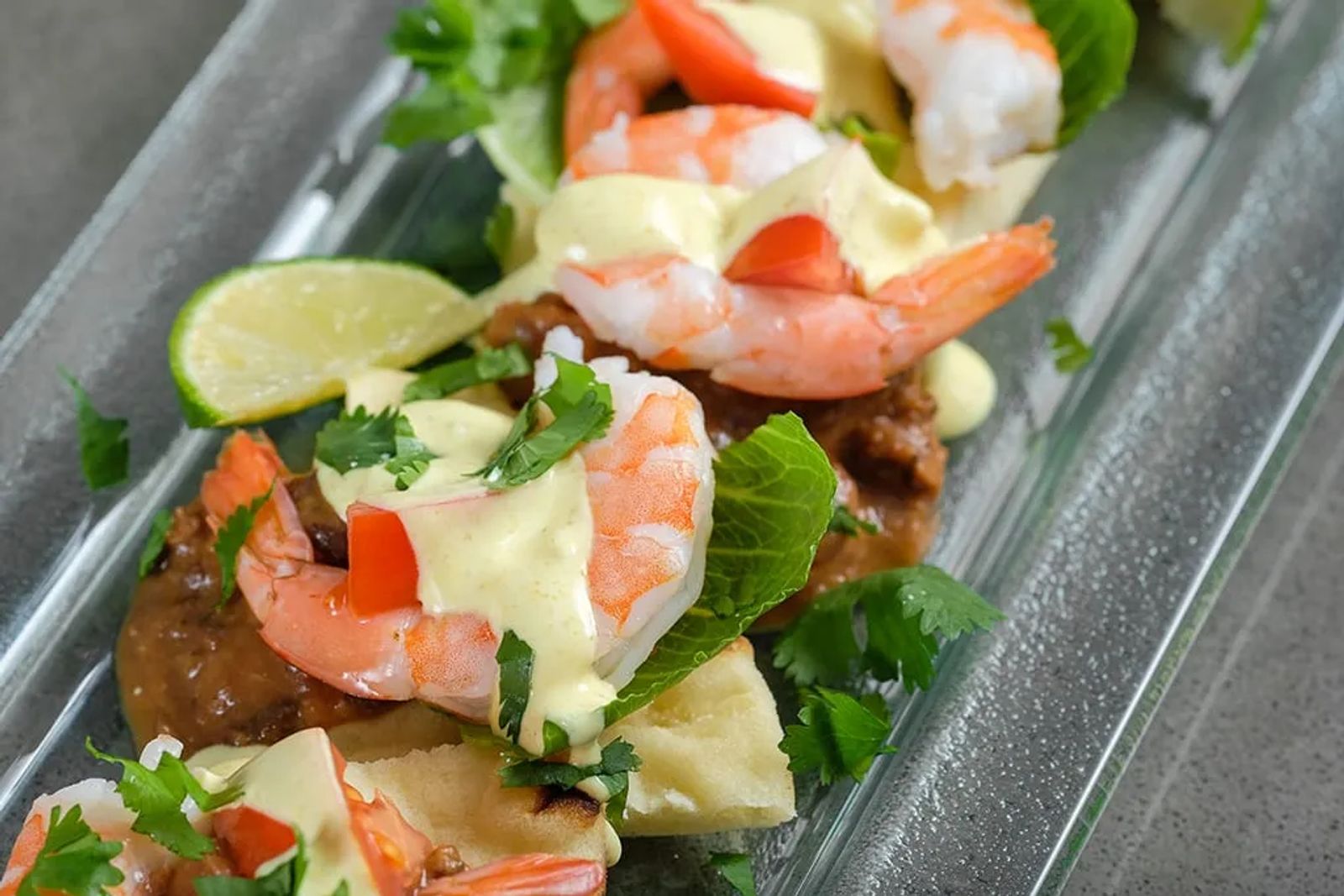 Shrimp on Naan with Madras Lentils and Yogurt Coconut Curry Dip
Makes about 36
In a tray of shrimp there about 3 dozen cooked shrimp. The shrimp alone can be served up in shot glasses with some cocktail sauce on the bottom. I keep a package of naan in my freezer as they are so versatile as a vehicle for so many foods. Then my husband loves Madras Lentil to jazz up a bowl of steamed rice. Through photographer Dan Sullivan I learned the lentils are a great substitute for refried beans.
INGREDIENTS
Stonefire Mini Naan Original
Tasty Bite Indian Madras Lentils
Kirkland Signature Shrimp Cocktail with Cocktail Sauce and Lemon
Yogurt Coconut Curry Dip
To assemble wraps, cut naan into quarters. Spoon lentils onto naan. Place shrimp on top. Drizzle with yogurt coconut curry dip and if desired, garnish with lettuce leaves, chopped cilantro, sliced green onions and mint leaves.
Yogurt Coconut Curry Dip
Makes about 1 cup sauce
INGREDIENTS
2/3 c. Greek yogurt
1/2 c. coconut milk
1 T. lemon juice
2 t. curry powder
1 t. sugar
1/2 t. lemon juice
Combine yogurt, coconut milk, lemon juice, curry powder, sugar and lemon juice. Set aside.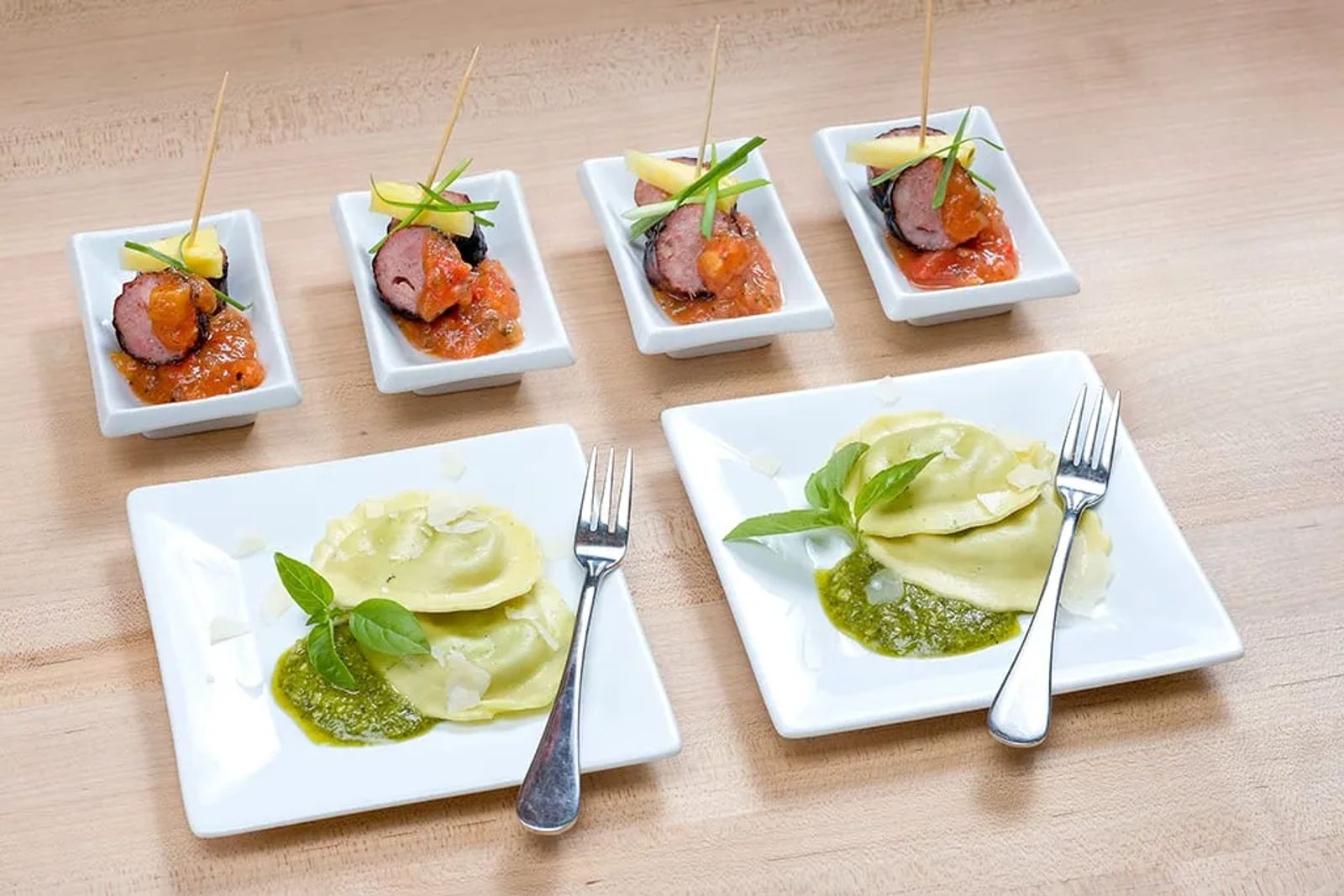 Spinach and Cheese Ravioli with Pesto
Serves 12
In Costco, these two items are literally next to each other. I shared this recipe to illustrate how the presentation is key when using common ingredients. The ravioli can be fried instead of boiled. Bacon bits or toasted breadcrumbs can be sprinkled on top along with generous shavings of cheese. A basil leaf or lemon zest can also pretty up the dish.
INGREDIENTS
19 ounces Monterey Gourmet Foods Organic Spinach and Cheese Ravioli
Kirkland Signature Basil Pesto
Kirkland Signature Parmigiano Reggiano
Cook ravioli in boiling water for 5 minutes. Drain. Spoon pesto onto the bottom of a platter or onto small plates. Place ravioli on top. Garnish with Parmesan, bacon bits, basil leaves, lemon zest, seasoned bread crumbs or more pesto.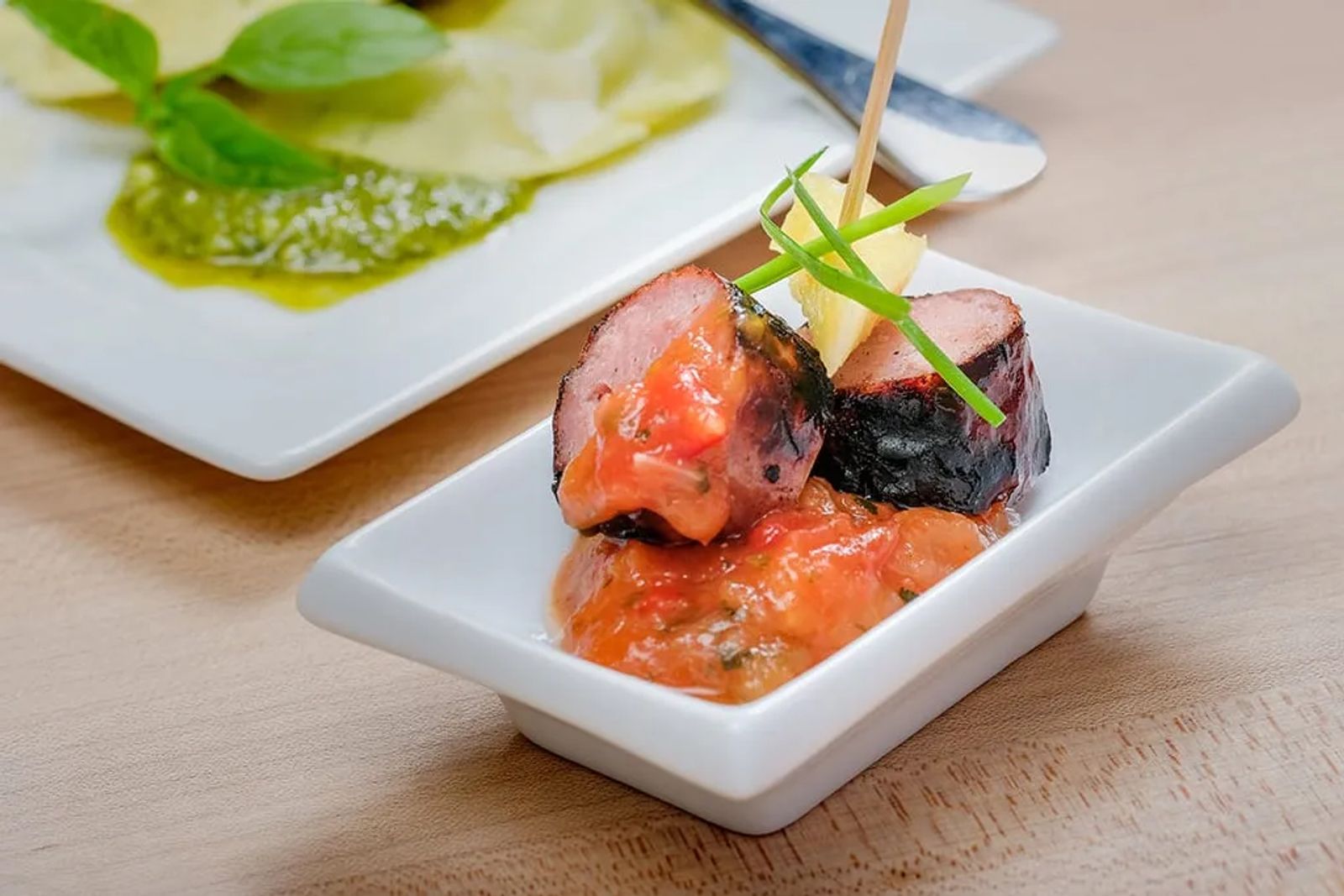 Pineapple and Bacon Sausage with Mango, Peach and Pineapple Salsa
Serves 8 to 16
Aidells Pineapple and Bacon Smoked Chicken Sausage can be used for anything. It is good added to fried rice. It's a great addition to quiche and wonderful in a toasted baguette sandwich. The grilled sausage can be put onto a platter and served with a bowl of salsa. If you want a less chunky salsa, just quickly blend in a food processor.
INGREDIENTS
16 ounces Aidells Pineapple and Bacon Smoked Chicken Sausage
1 c. Santa Barbara Organic Salsa Mango and Peach
1/3 c. crushed pineapple
Mix pineapple into mango and peach salsa. If desired, process in a blender to smooth into a sauce. Grill sausage. Cut into slices. Dish salsa onto a small plate. Add a few pieces of sausage. Skewer with toothpicks.