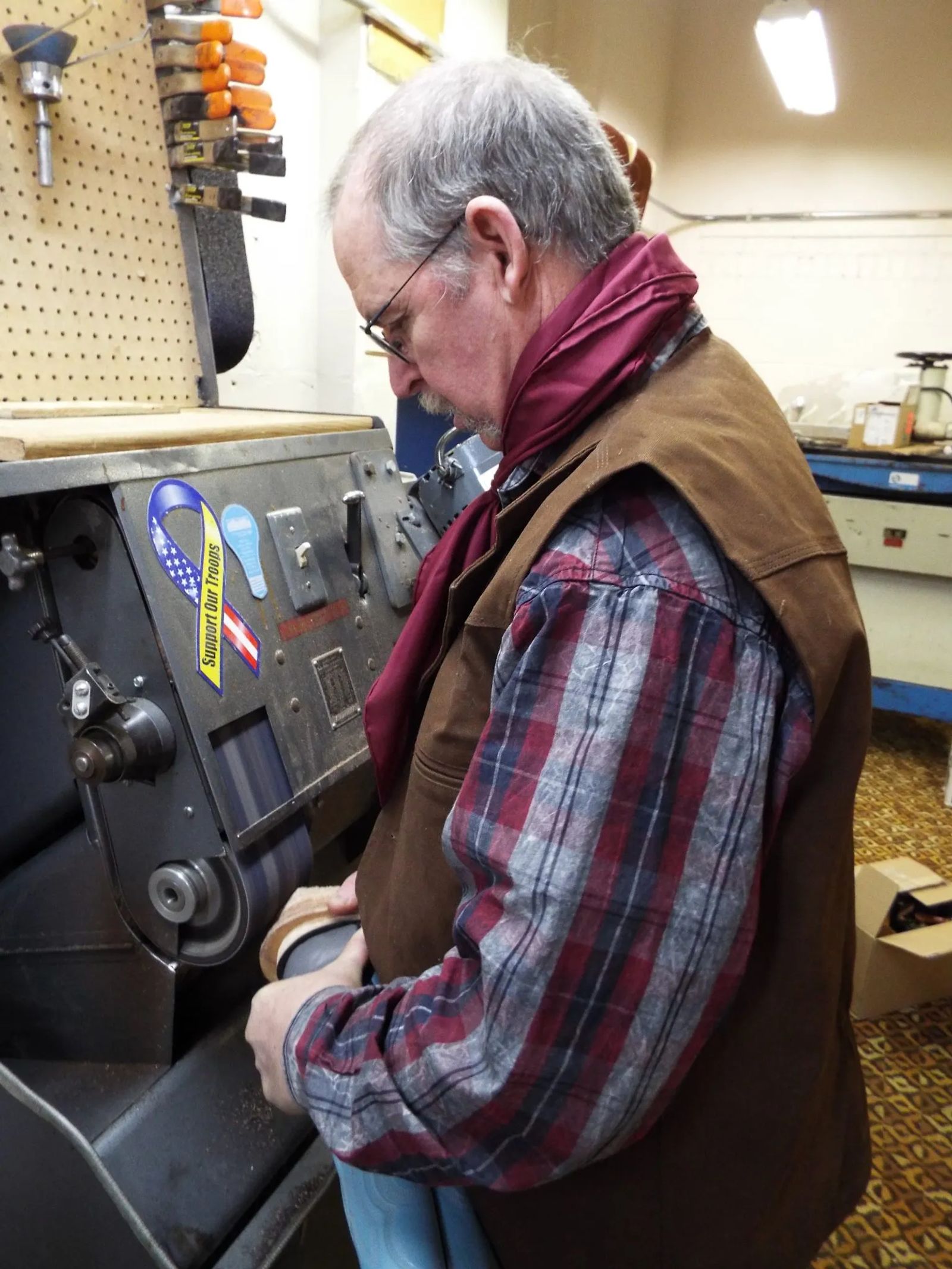 Fit for the Working Cowboy
Babione's Wilson Boots, one of the few custom boot makers around

With rolls of leather by his side, a wall of shoe forms, known as lasts, to mold a cowboy boot for the perfect fit, and all the leather-crafting tools at his fingertips, Virgil Babione starts his day at the helm of a fading art form. After pieces of leather are either hand trimmed or cut from what looks like a giant die cut machine, Virgil will form, shape, stitch, soak and soften the leather to outfit both real and want-to-be cowboys with one of the finest fit of boots crafted by hand.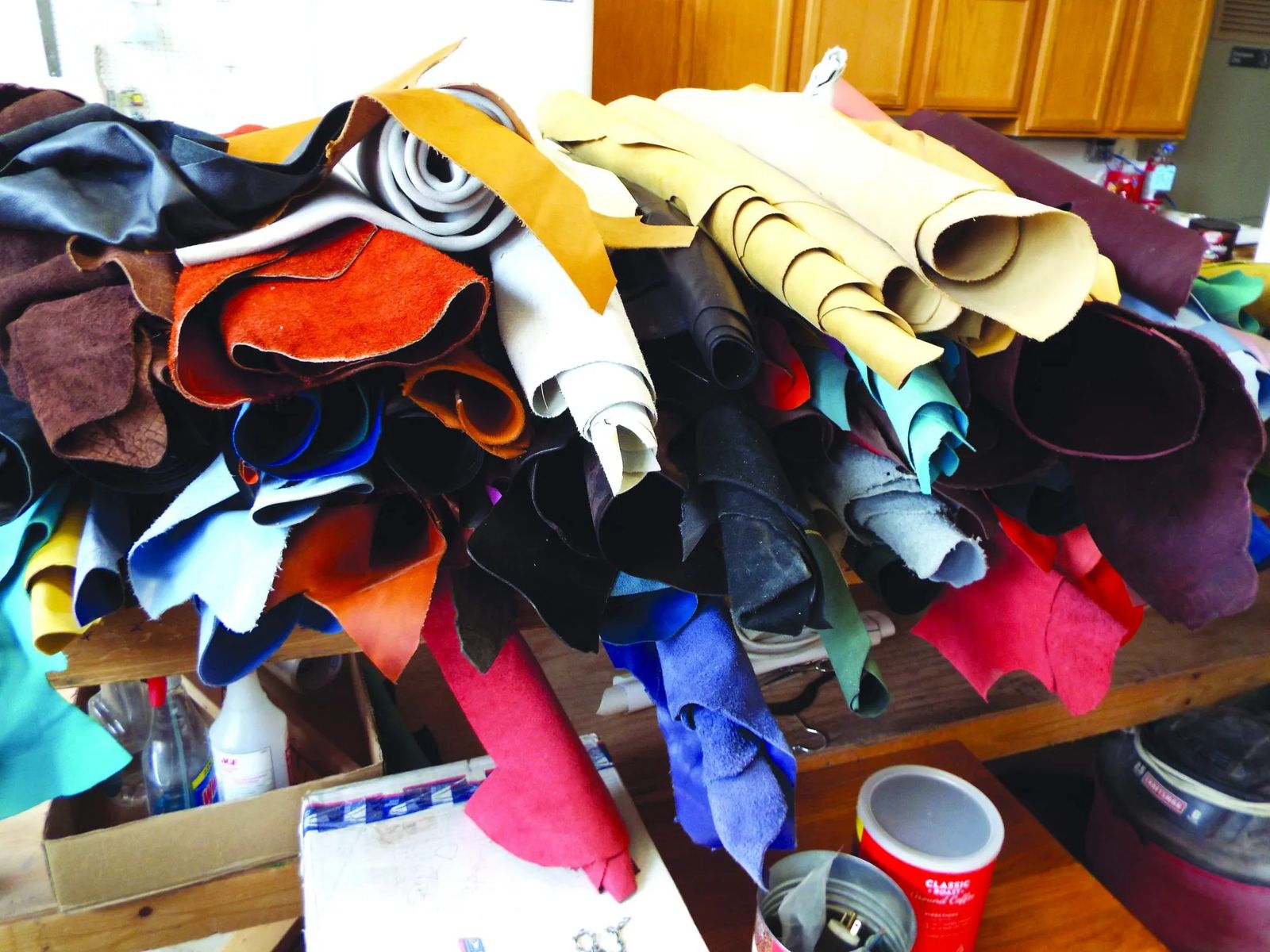 Babione's Wilson Boots has been in the heart of downtown Livingston since 1972. The company takes pride in its handcrafted product, which has been fashioned the same way since 1945. The mission is to create a boot that is able to withstand the rough and tumble lifestyle of a cowboy. Virgil is quick to share that if you care properly for a pair of his boots, they will last more than two decades.
THE HISTORY OF WILSON BOOTS
The company's first owner, Carl Wilson, was a Miles City custom saddle maker. It was suggested he take his leather-crafting skills to build affordable and sturdy boots for the working cowboy. Carl did just that and that's when Wilson Boots began its long and colorful history. After Carl retired in 1968, one of his employees, Sterling Bowman, bought the business and moved it to Livingston in 1972.  After Sterling passed away, his son Wayne decided to sell the business. He wanted, however, to hand it over to someone who would keep the quality and reputation of Wilson Boots alive. The person who would keep this custom cowboy boot business going turned out to be a 32-year customer of Wilson Boots — a true working cowboy — Virgil Babione.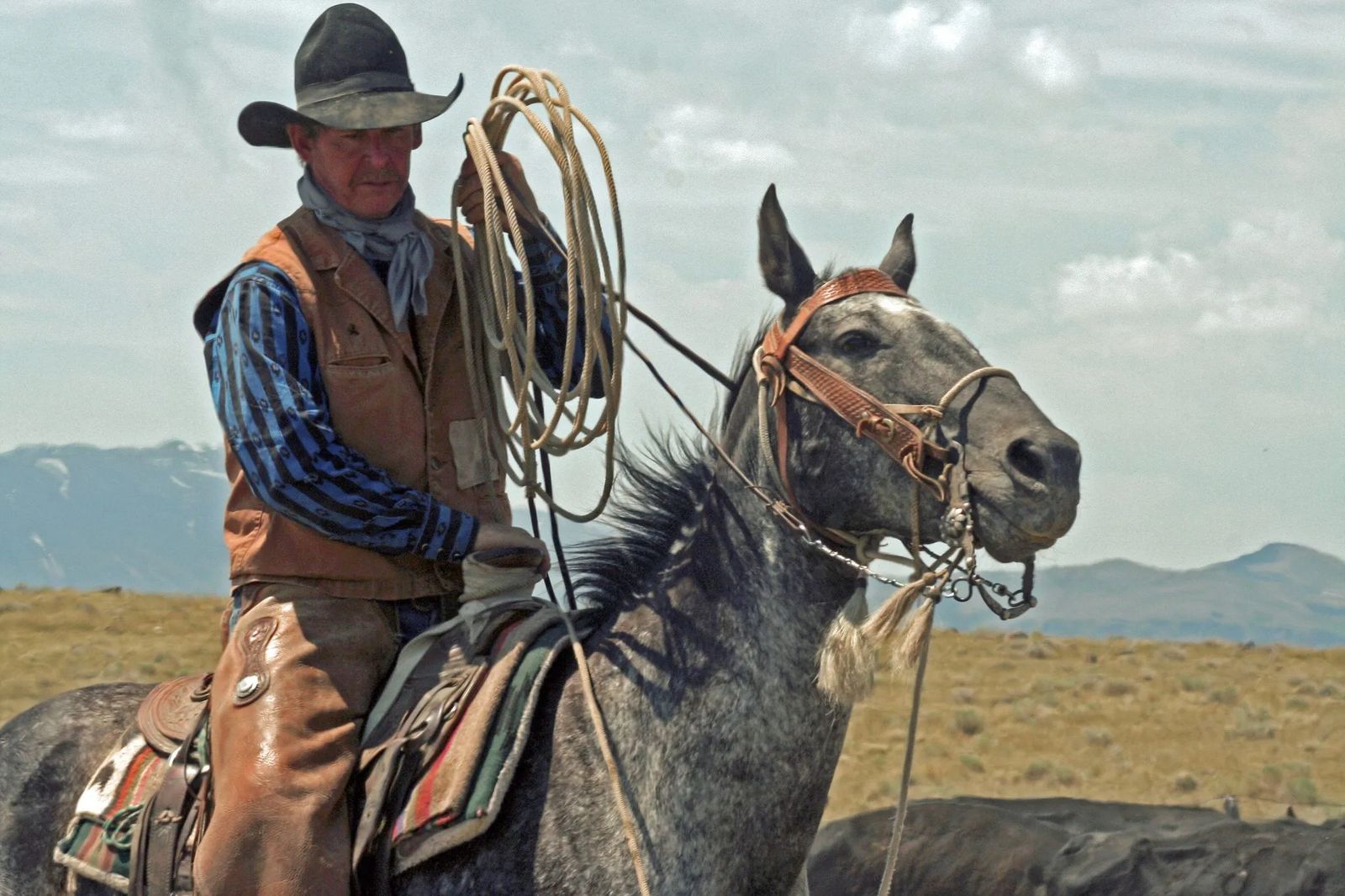 Virgil is a living testament to the quality of the boot. As he puts it, "If you're working in a regular pair of factory-made boots, they probably won't last you a year or two. I was going through a pair a year until I bought my first pair of Wilson boots. They lasted eight years. I couldn't afford another pair of shoes, so I basically lived in my one pair."
The design of the cowboy boot began as purely functional — with a pointed toe for getting into a stirrup and a slanted heel to help it stay put, and high sides to protect a leg from brush, tree limbs, rattlesnakes or anything else that nature might bring. Wilson Boots is responsible for inventing the "spur shelf," meant to hold your spurs in place. It all boils down to a pair of boots designed for all kinds of weather, being put to the test during a work day that might involve 12 or more hours on horseback. While the company dabbles in custom dress boots, today, with help from Virgil's wife, Paula, a son and one employee, working cowboys and ranchers are the mainstay of Wilson Boots.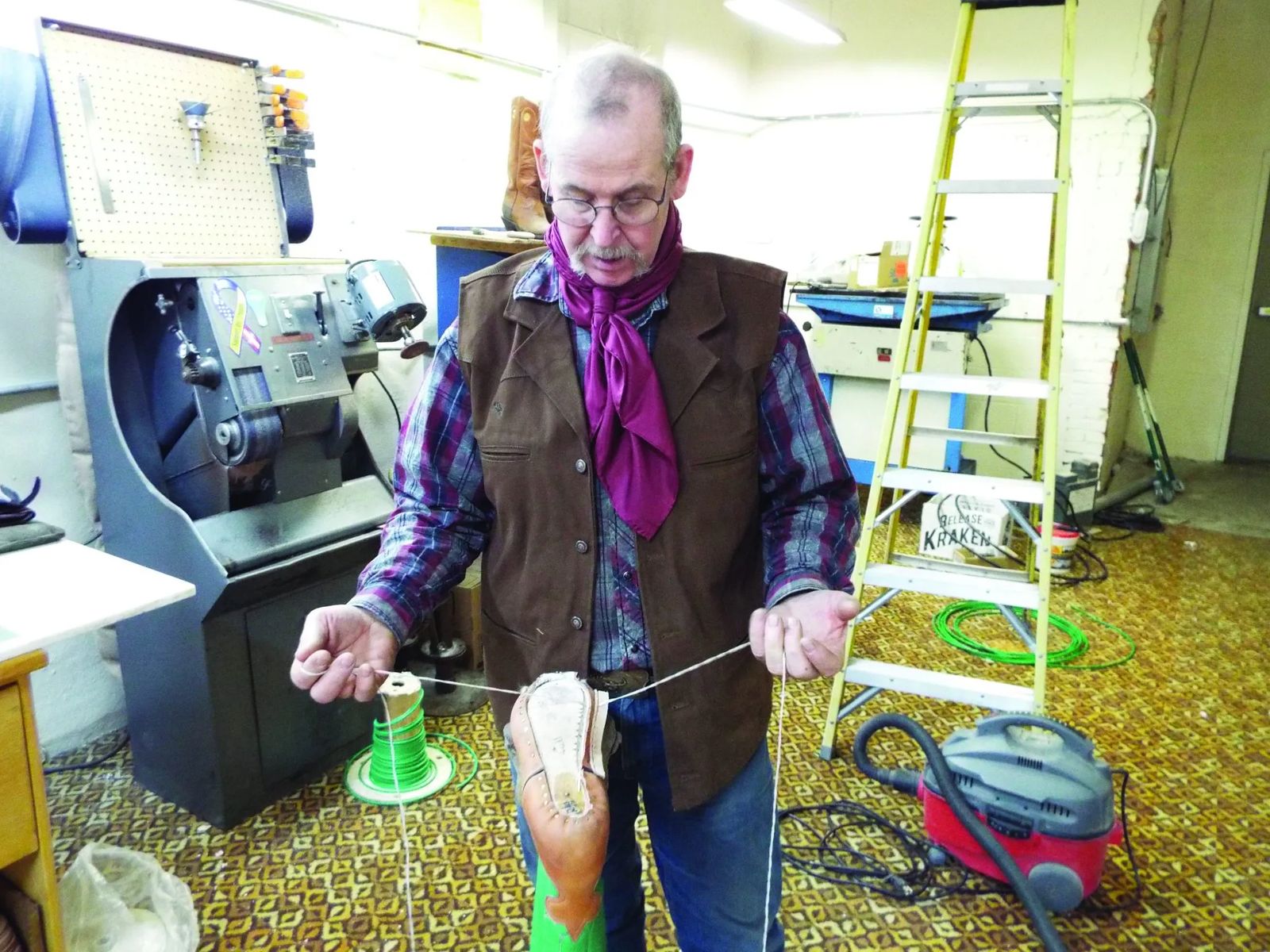 WORLDWIDE CUSTOMER BASE
Customer cowboys hail from all around the world. "We got a call from a cowboy from Switzerland who ordered a pair," Virgil says. "He cuts horses and helps run horse shows. He'd heard about our boots — the fit and longevity." Paula adds, "We've made boots for cowboys from Russia, England and New Zealand."
One customer wanted to re-live her childhood by seeking out a pair of boots that were similar to a pair she had worn and cherished as a little girl. Paula went to work, extensively searching to find the most similar pattern. The customer chose her original colors and when the final stitches were sewn and stacked heel set, Paula says she was absolutely thrilled with the results.
If Livingston tourists happen to ask about how they can take home a real piece of Montana, many times they are sent to Babione's Wilson Boots. Over the years, Darrell Hall of Hall & Oates fame bought two pairs. It's said that many years ago, John Wayne was a customer. One surprising regular is an Italian restaurateur in Brooklyn, New York. He's never slung his leg over the back of a horse, yet he initially purchased three pairs and has since ordered seven more. He wears his classic cowboy boots to his restaurant every day.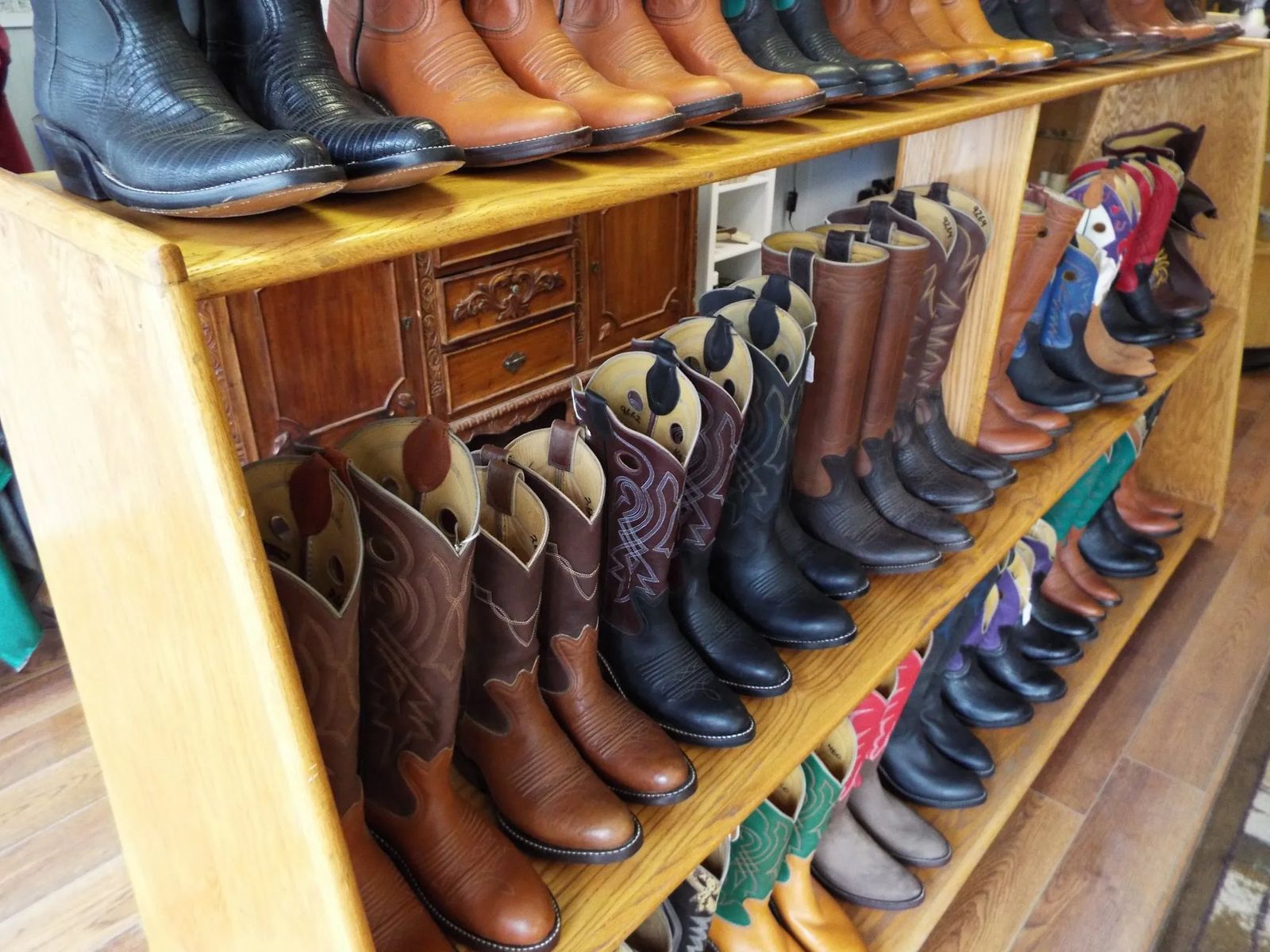 CRAFTING THE PERFECT PAIR
A custom-made pair of boots starts with a tracing of the individual's foot. From there, measurements are made around the foot and a pair of lasts are adapted to fit the form of the customer's foot. A height, style, toe, heel, leather and stitching pattern are then chosen. A good number of customers have bought boots from Wilson's before, so they'll call and order a pair over the phone. They tell Paula the style and colors they're looking for and fully trust that the cowboy bootmakers will do them right.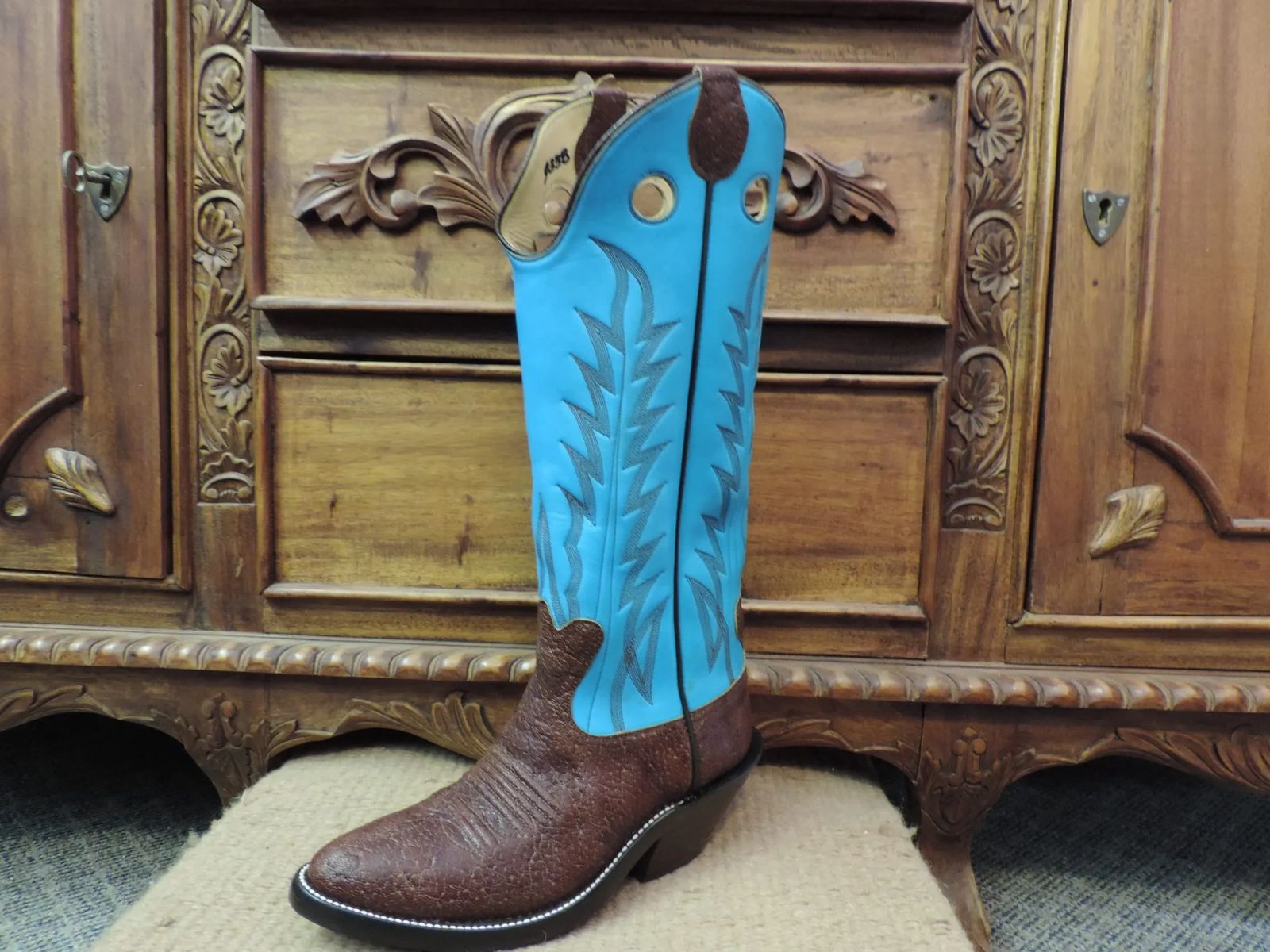 Customers can choose from a standard set of styles such as a solid boot, two-tone, dress, stock, plainsman and many more variations. You can choose calf hide or bull hide or dabble in some of the more exotic leathers like ostrich, snake, lizard, alligator, shark or sting-ray.  Customers also choose a stitch pattern, which all come with the custom "W" for Wilson on the front and back of the boot. Virgil says, "Decorative stitching began in the late 1800s, both for looks and durability. We don't copy any other company's stitching out of respect for other boot makers and hope they would do the same for us." Babione's Wilson Boots marketing is basically word of mouth, and it works. The company has a repeat customer base of 11,000.
The last and toughest question I asked this Montana cowboy turned boot maker I regrettably already knew the answer to. Handmade, custom cowboy boot making is a dying art. The Babiones do what they do because they love and take pride in the craft. When repeat customers call Paula to order an additional pair and she asks them for exact specifications, the answer she often gets back is one you don't hear much nowadays: "I trust you."
FOR MORE visit www.wilsonboots.org to learn about the process, the styles and how to order up your own pair. You can also find the company on Facebook.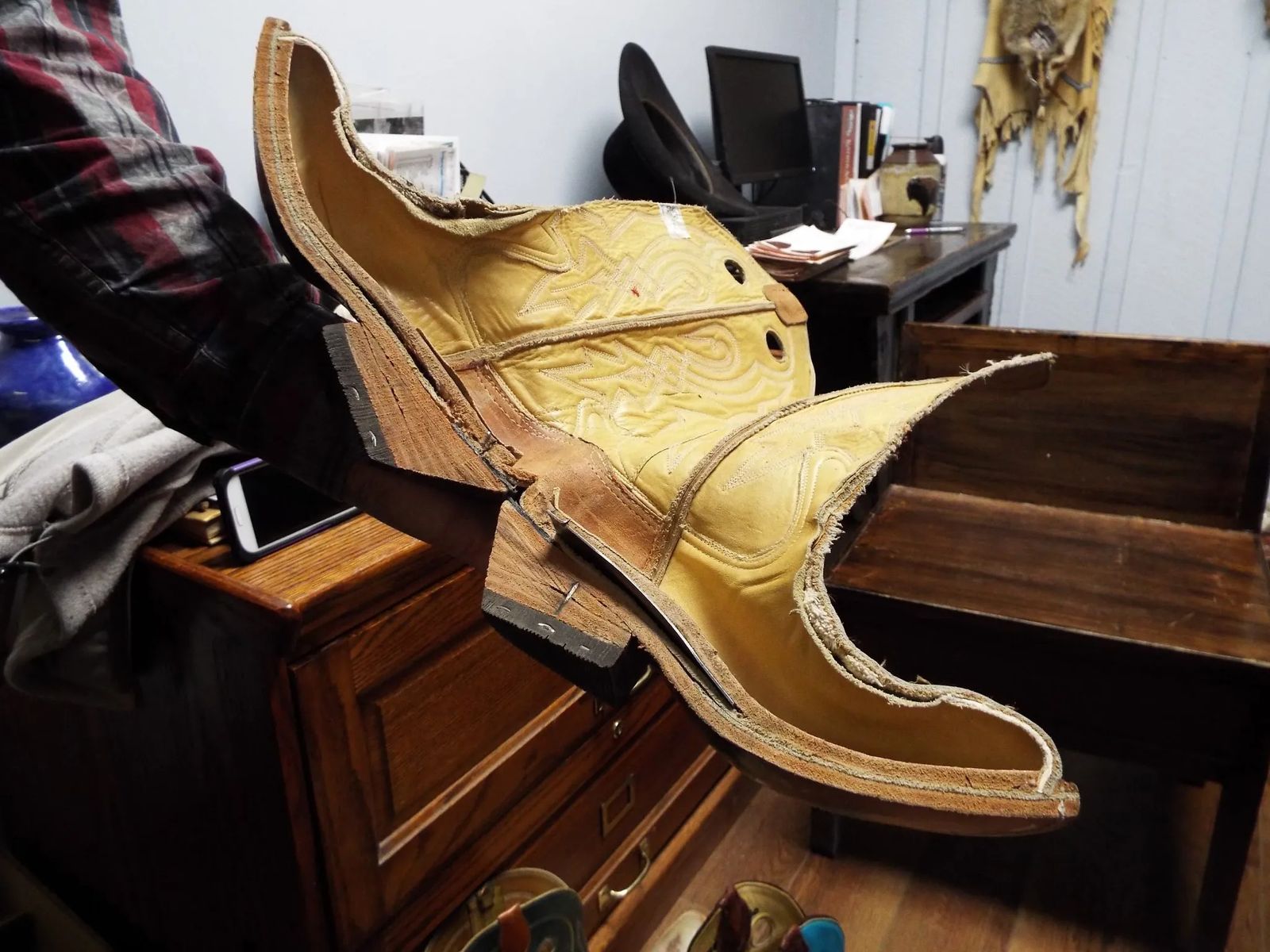 What does it take to fashion the typical cowboy boot?
The terms you need to know
LASTS: the shoe forms used to begin the process of molding a boot for the perfect fit.
STEEL SHANK: gives you arch support for riding all day. Wilsons build above and below the steel shank for the ultimate arch support.
MULE EARS: the long leather straps on the outside of the boot used to pull them on with ease.
SHOTGUNNING: wearing your pants inside the boot to protect against brush and barbed wire.
SPUR SHELF: Simply put, this is a "shelf" for your spurs. The back heel juts out to keep your spurs from falling off.