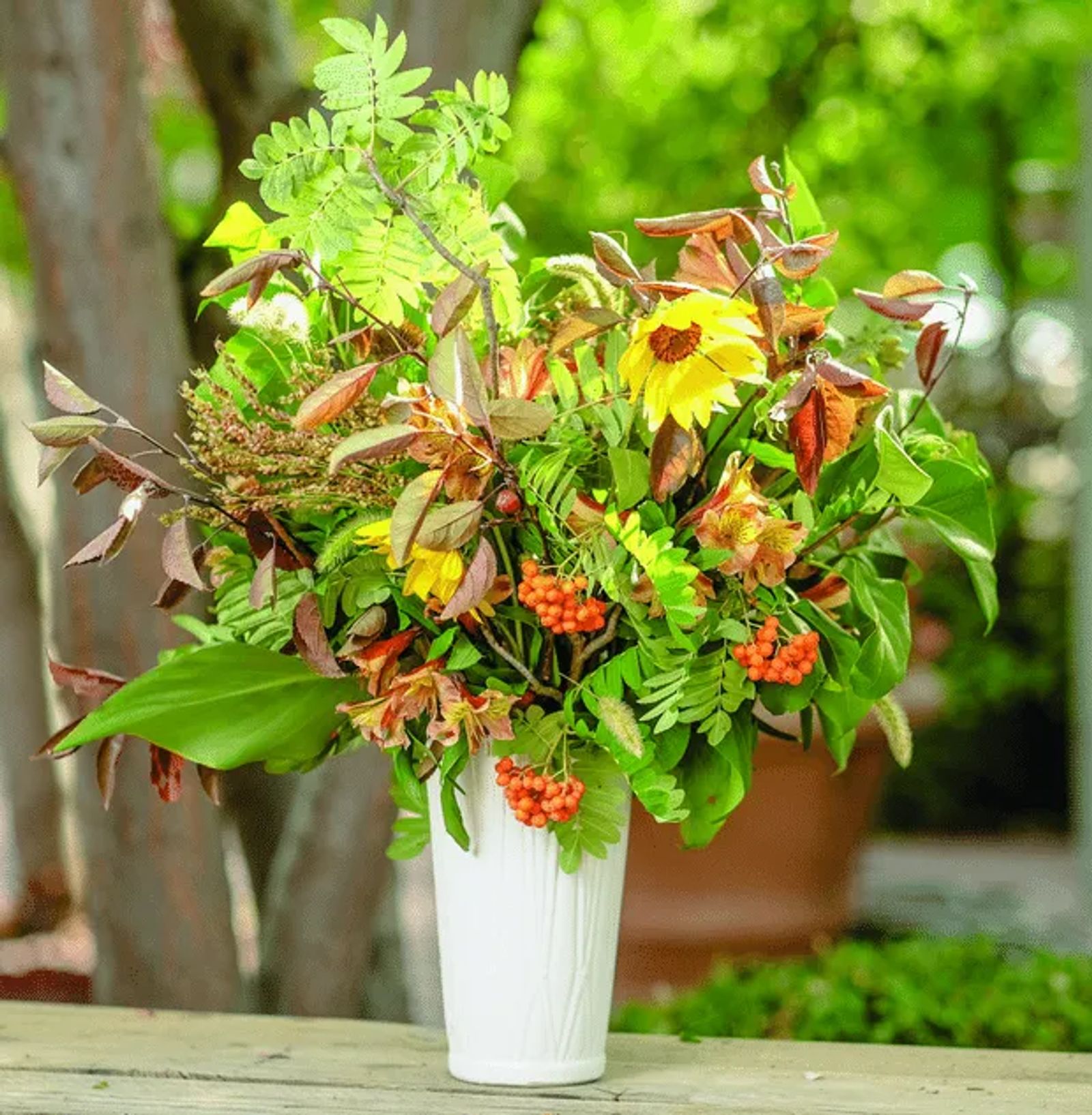 Foraging Fall Color
Autumn takes center stage in this one of a kind centerpiece
When fall color hits its height, why not bring a little of those rustic hues inside? With some snips and an eye for color and texture, you can forage the wilds around your home in search of the perfect centerpiece gathered straight from nature. No two arrangements are sure to be the same and if you ask floral designer Katie Bennett of Mac's Floral, they are definitely attention grabbing.
"You get this beautiful color. These arrangements are interesting. People will usually ask, 'Where did you get that?' It's definitely a conversation starter." Katie laughs and adds, "You might even see a little caterpillar bite every now and then."
To show just how unique a foraged bouquet can be, Katie rooted around her own neighborhood, asking neighbors if it was okay to snip a small branch here and there. She gathered up Mountain Ash Berry with its fiery orange berries, Crabapple foliage in dark orange hues, and Echinacea that had surrendered its petals to reveal the spiky head. "That is going to give us some texture," Katie points out. She added in some Bunny Tail Grass and filled in with Broom Corn that she purchased at the Yellowstone Valley Farmers Market. The stars of the show were the wild Sunflower and store-bought Alstroemeria. "I wanted large blooms that were really going to fill out quite nicely and give us some color," Katie shares.
Within minutes, Katie had designed an untamed beauty that would be the perfect fit for any fall table. If you like what you see, Katie plans to teach some of her techniques at an upcoming workshop at Billings' own Better to Gather. Owner Cassie LaGreca says flower arranging classes are some of her most popular offerings. "Everyone wants to learn floral but doesn't necessarily want to go to school to learn it. It is becoming a more approachable art form," Cassie says. So grab some shears and your eye for color and in no time, you'll have a real conversation piece on your table that's all about fall.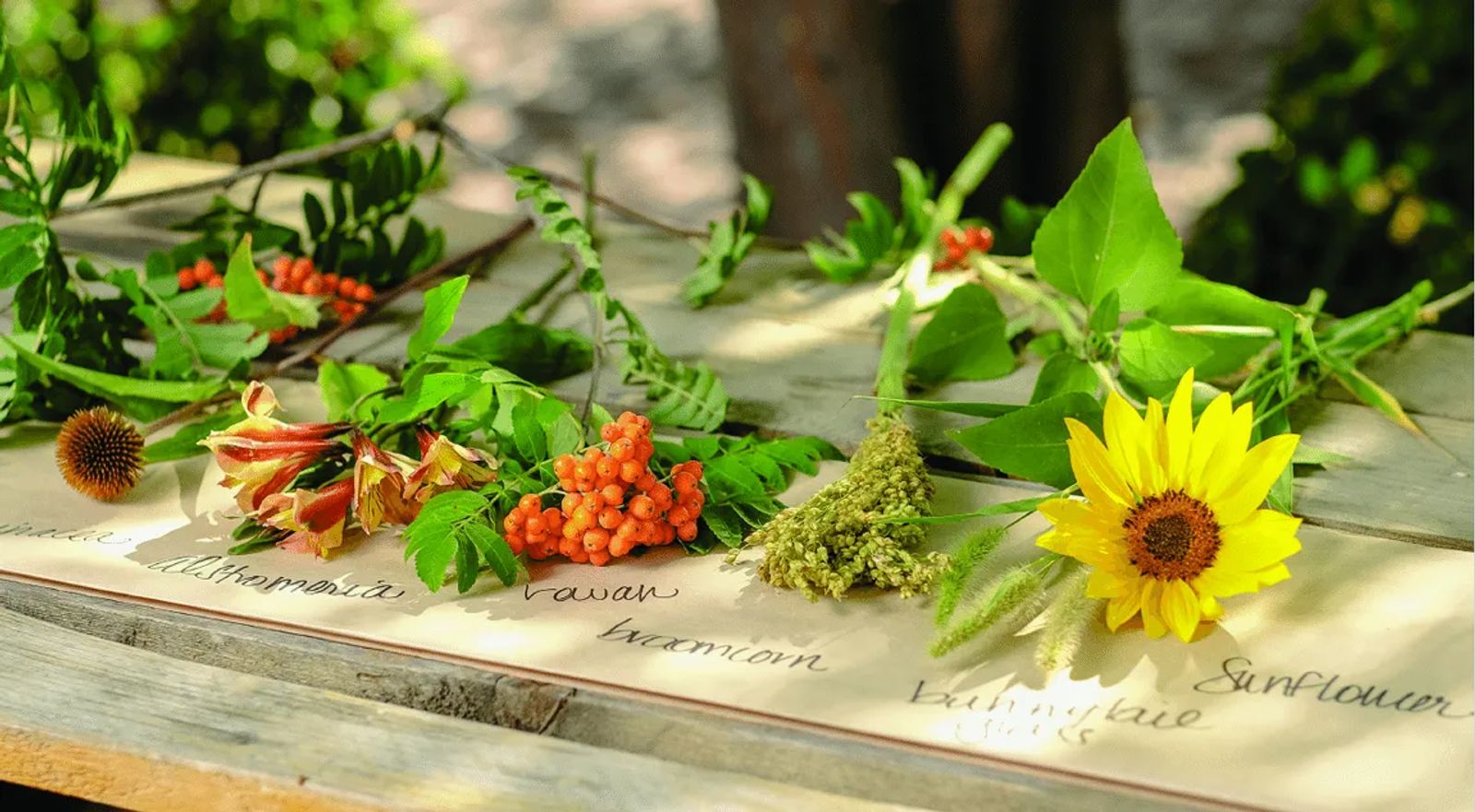 WHAT YOU NEED
Pruning Shears, make sure they are clean. If shears have evidence of bacteria or disease, it can transfer to the tree when you use them to trim branches
Vase of choice
Branches of leaves with fall color and berries like Mountain Ash Berry, Crabapple
Ornamental Grasses and plants with texture like Bunny Tail, Broom Corn, Echinacea and Sunflower without petals, and dried pods
Fall flowers that are either in your yard or store bought
HOW TO CREATE
Start with the bigger greens as Katie calls them, "Things that are going to lie out of the vase and give it some movement," she says. "That will help build a grid at the bottom of the vase." Reach for anything that is branchy and has a lot of foliage on it.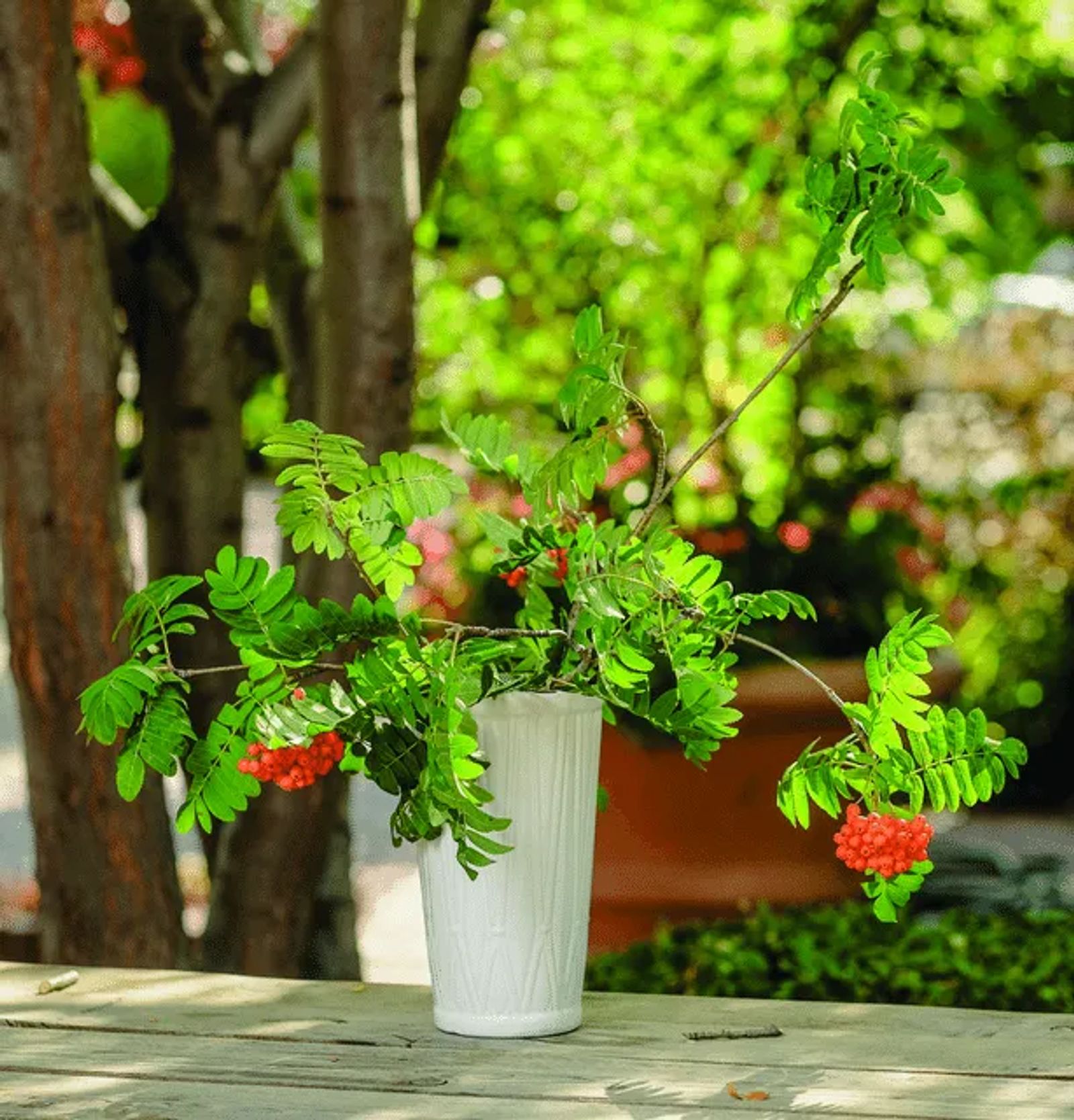 Before you place the branches in your vase, strip them of any leaves that will sit below the water line. Bacteria and mold tend to form on that foliage, which can shorten the life of your arrangement.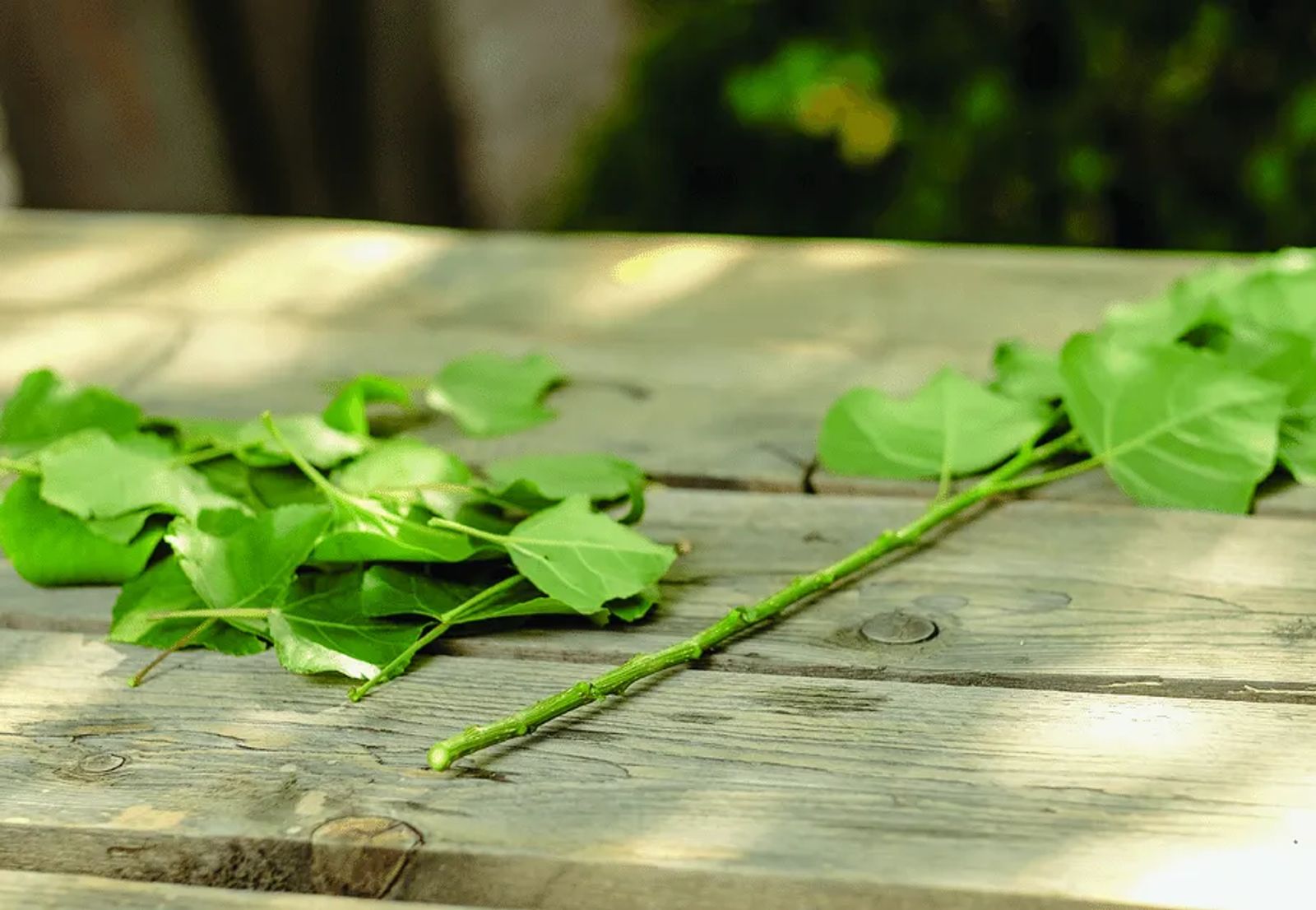 If you are using a woody branch, using the pruning shears, cut a slit at the bottom center of the branch. This will help the branch to get the proper amount of water. TIP: If you have one, try to arrange your vase with the help of a Lazy Susan. By spinning the arrangement as you go, you'll be able to spot areas that need to be filled with a little more color and texture.
Add texture to your arrangement. Start to fill in your vase with ornamental grasses and pods. These add interest and color to the existing greenery.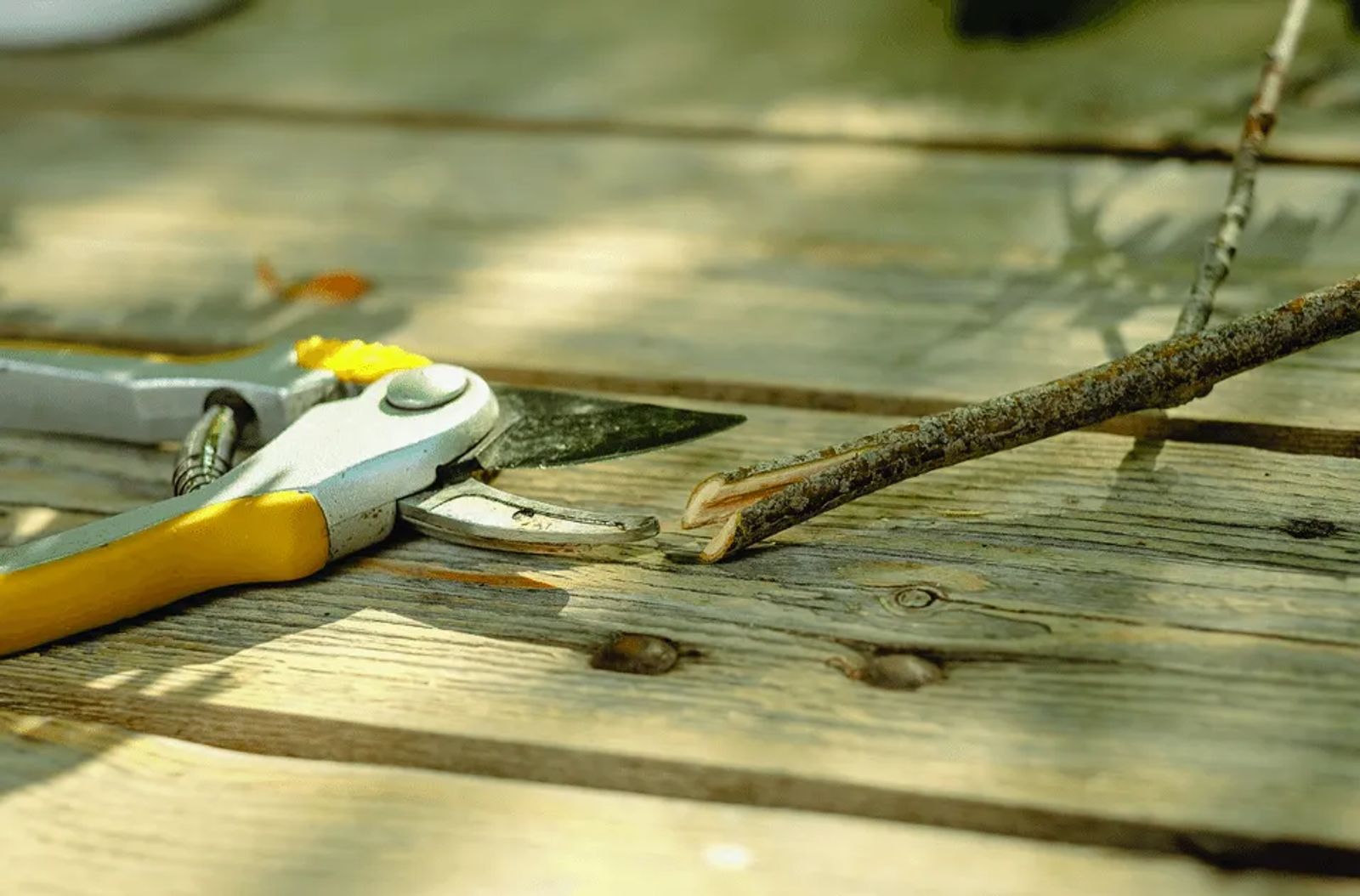 Now it's time to add the showstoppers to the mix, the colorful fall flowers that will add wow factor. In this arrangement, we used Sunflowers and Alstroemeria but you can choose any fall flower that you love. Why not try Asters, Mums, or Black-eyed Susans? The options are endless. Simply spin your arrangement adding flowers at different heights to make sure the color is varied and is evenly distributed around your vase. Once your fall color has been added, the only thing left is to simply sit back and enjoy.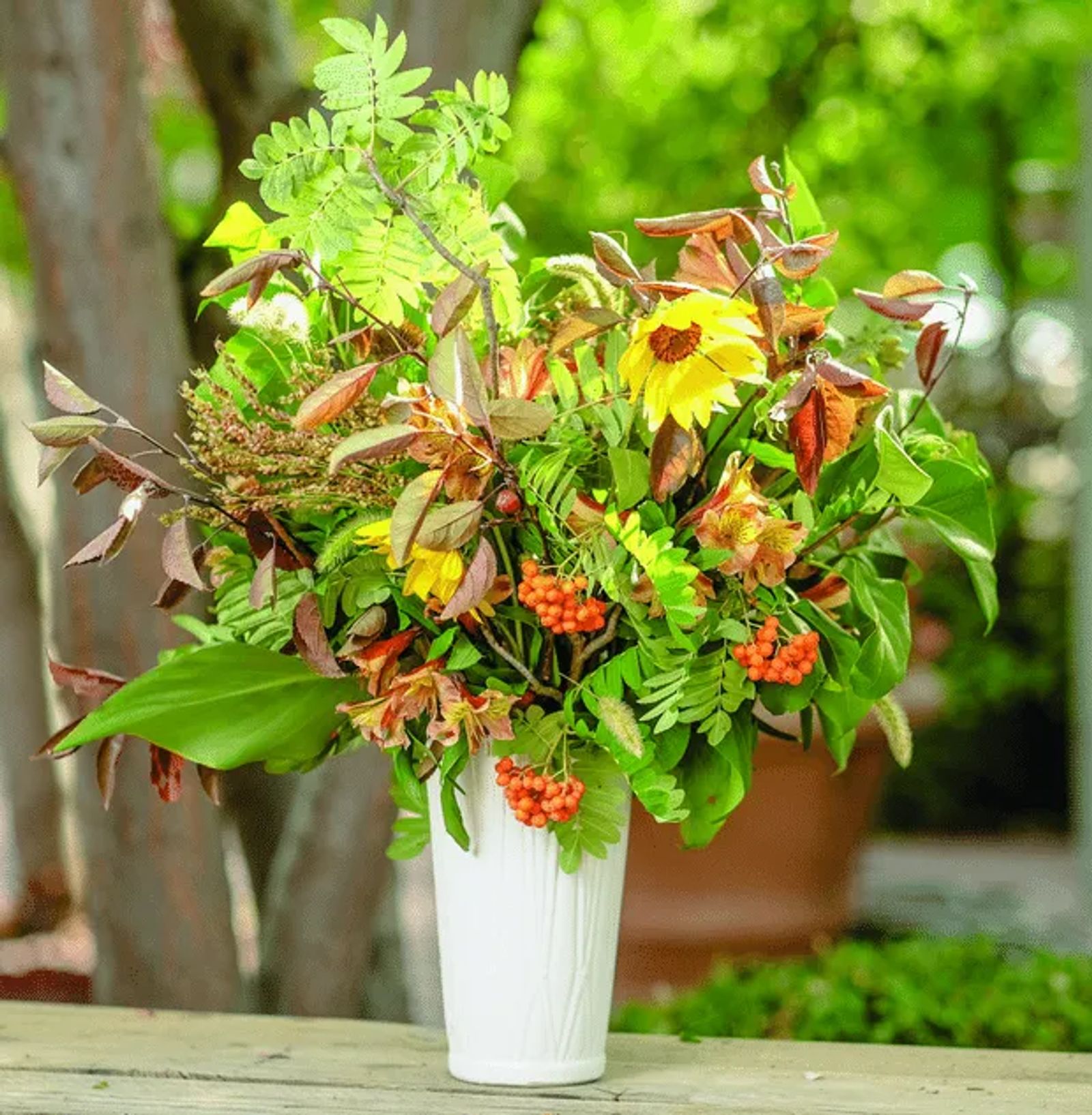 NEED A LITTLE HELP CREATING?
Get some help from Katie Bennett of Mac's Floral at upcoming Better to Gather class events. While this project has the feel of fall in mind, Katie will be serving up a project with holiday flair, helping folks create their own winter wreaths. For more, visit bettertogather.com and click on the Creative Classes Sign Up tab. Better to Gather is located at 2402 Montana Avenue.