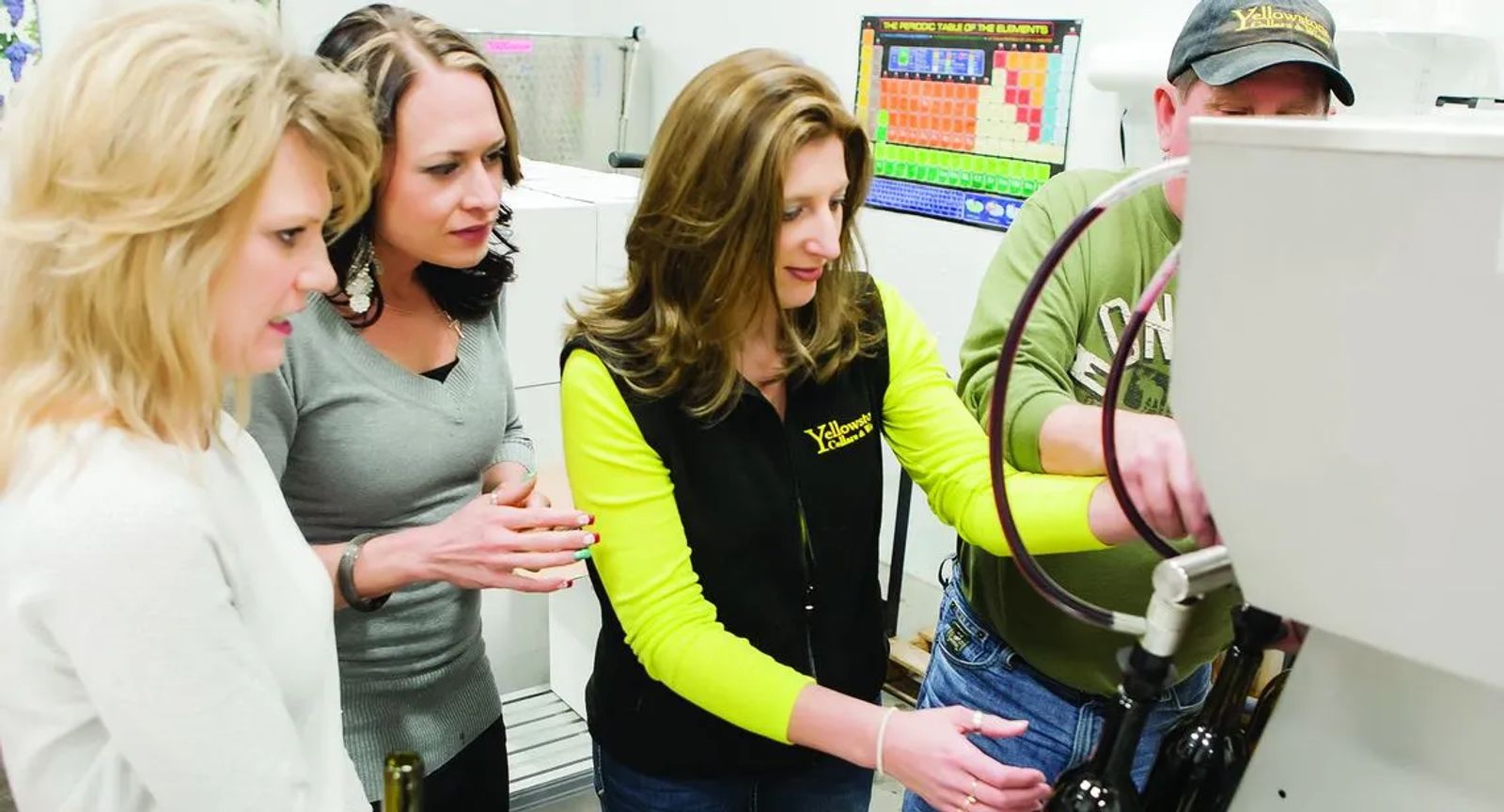 From Vine to Wine
Hand-picked grapes lead to a stomp in the vineyard
Admit it, anyone who remembers that famous grape stomping episode of "I Love Lucy" has secretly fantasized about smashing some grapes between their toes. It is not exactly the most conventional way to make wine, but it's something many wine lovers would gladly experience just to say, "I did it." Starting a little more than two years ago, Clint Peck, owner of Yellowstone Cellars and Winery, gave wine enthusiasts the opportunity to live vicariously through Lucy, when Yellowstone Cellars and Winery hosted its first annual wine stomping event for charity.
Clint Peck, a vintner, who launched the winery in 2010, says the wine stomp was a way to share his passion for wine with others and benefit Family Services, Inc. at the same time. At 57, when most people are dreaming of retirement, Peck made the life-altering decision to give up his cowboy dreams and career as an agricultural journalist to open Yellowstone Cellars. Peck says, "The key is that it is never too late to start something new." His brother and sister-in-law own Dakota Creek Winery in Washington, so Peck had their experience and expertise from which to draw.
Not surprisingly, there is much more involved in making wine than stomping grapes. The day before the grape stomp, Peck drove his pickup and trailer 750-plus miles to the Yakima Valley, Washington vineyards. After walking the grounds, sampling the grapes and deciding on which ones were perfectly ripe, the harvesters hand-picked and helped Peck load six tons of fresh, on the stem, Syrah grapes onto his trailer. Exhausted yet exhilarated after the long haul back to Billings, his precious commodity was ready for his first-ever stomp. Participants gave their bare feet a sanitary rinse and entered the vat filled with the freshest grapes this side of Montana and stomped away. Billings resident and first-time stomper, Mandy Garaas, who brought her mother and friends says, "The grape stomp was so much fun! I will definitely be making this an annual event with my family and friends."
When he is not hosting a grape stomp, Peck uses a machine to crush the grapes and remove the stems. The "crush" is placed in fermentation bins, where Peck adds yeast. "The type of yeast that wine makers use is top secret and revealed to virtually no one" conveys Peck. During fermentation, which normally takes approximately two weeks, Peck further punches down the grapes in the bins, and once all of the sugars have been converted to alcohol, the crush is pressed and transferred to barrels for storage and aging, a process that takes approximately two to three years. Even the barrels are selected with care, since the different woods will impart different flavor elements to the final product.
During aging, Peck continually monitors its progress and uses an instrument called "the thief" to withdraw wine straight from the barrel, so he can steal a taste. When you stop in, Peck is all too happy to give you a tour and let you participate in any of the processes taking place. If you were a wine stomper, you have probably had the pleasure of stealing a taste of the wine that you had a foot in making.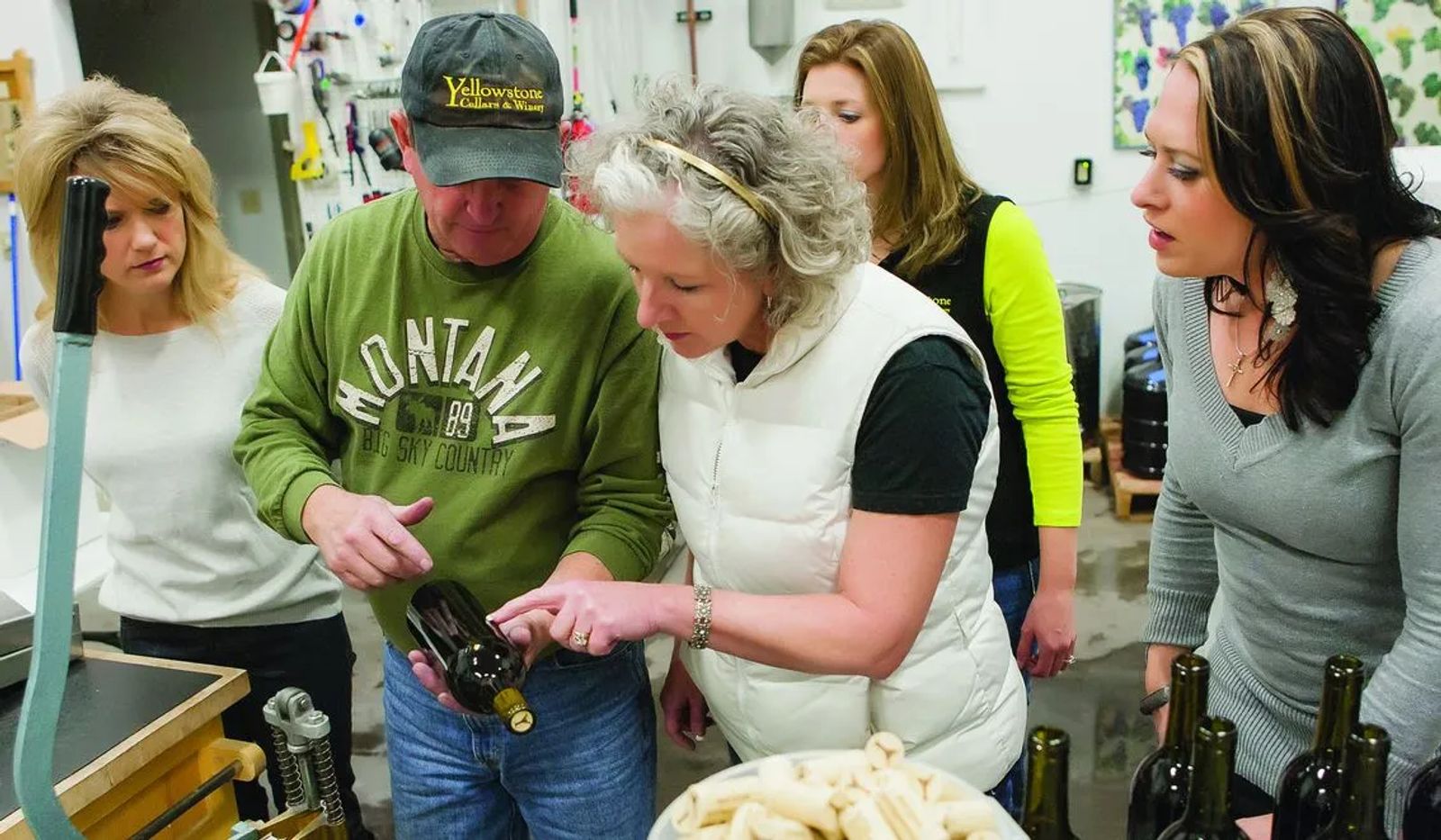 There's no question, stompers need to have a heavy dose of patience. This process isn't what you'd call speedy. In December of 2013, two years and two months after that first stomp, Peck's sophisticated and refined palate has concluded that the wine stomping Syrah wine from 2011 is ready to be bottled, and it seems only appropriate that some of the stompers have the opportunity to follow through and join in bottling that wine.
Garaas could barely contain her excitement when finally meeting with friends again to bottle the final product. "I am thrilled to be with these girls and finish what we started together," she says. The first step is the bottling station. The empty bottles are placed under nozzles, which automatically shut-off once the wine has reached the bottom of the neck of the bottle. The bottler removes the full bottles and passes them down the assembly line to get corked using a manual machine to push the cork into the neck of the bottle. At the next station, the foil is placed on the top of the bottle and then heated to seal it. Finally, the bottles are labeled and boxed. This particular night, the team bottled forty-seven cases of wine. Afterwards, they enjoyed the fruits of their labor by making a toast with a glass of fresh from the barrel wine. "I enjoy my glass of wine even more now that I have participated in the process" Nicole Forrester, a rookie bottler, declares. As they walk away with a couple of complimentary bottles for their efforts, they all know they will be back for more. Garaas says "I am looking forward to sharing this wine and its history with my friends and family. It is a keepsake filled with fun memories."
Once the wine is bottled and packaged, Peck suggests letting it age to your preference, which he says can be anywhere from to one to two years. A good rule of toe is to uncork the wine several hours prior to consuming it to let the wine breathe. Finally, involve all of your senses by looking, smelling and tasting it, and experience all of the many facets of a fine wine. "My bottles of wine will be aging for quite some time" says North Dakotan, Mary Wegley, who stomped grapes with her daughter. "It was a memorable event that I was able to experience with my daughter, and I was literally able to have those memories bottled and cherished for a lifetime."
Obviously, there is a huge gap between a grape stomper and a wine maker, but the common thread we all share is wine taster. Peck "enjoys the art and science of the craft" and takes immense pleasure in having his patrons enjoy the final product of his hard work and passion. The grape stompers, who were delighted to stomp and bottle, relish in telling friends and family that their feet and hard labor played a role in the final product. Laurie Hufnagel, a first-time bottler, says it best, "Fine grapes are like women, we only need a few, but a bunch make finer friendships".
WANT TO STOMP IN SOME GOOD WINE?
Mark your calendar for their annual event in September
Try your foot at creating your own wine. While we followed the first ever stompers through their bottling experience, the event really starts with the stomp. This event is open to adults and children and has even evolved to include an "I Love Lucy" look-alike contest. Yellowstone Cellars and Winery is located at 1335 Holiday Circle in Billings. You can also find them on the web at www.yellowstonecellars.com. The winery is open Monday through Saturday from 11 a.m. until 9 p.m. and Sundays from 1 to 5 p.m.