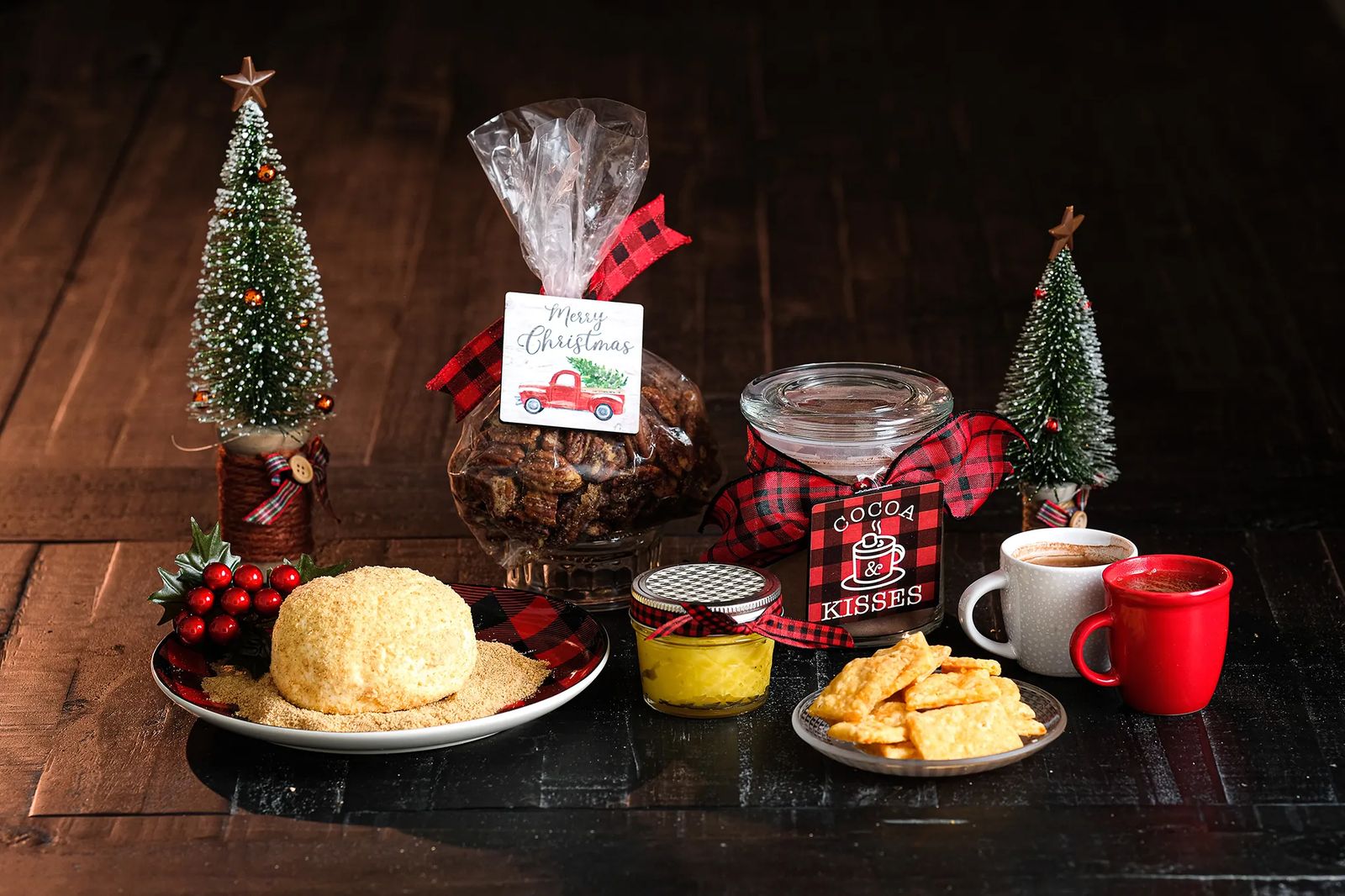 Giving From The Kitchen
Recipes that are sure to please this holiday season
This is a busy time in the kitchen for many of us. We are creating homemade goodies to give to friends and family. We are hoping to share a little from our home to each hostess who entertains us. It's also a time we find ourselves in the hostess role.
If you're looking for something a little different during this season of giving, I've dusted off some favorites that should bring smiles and "Mmms" on either the buffet table or when they are stuffed with care in a gift bag.
I also wanted to share a tip that I have taken to heart that comes from chef, restaurateur and TV personality Geoffrey Zakarian of The Food Network. If the gift requires chilling or any special attention before the event, he brings it to the host beforehand. I did this recently when I brought a bottle of Prosecco to a going-away celebration. By the time I arrived, it was wonderfully chilled, perfect for toasting a friend on the road to a new adventure.
Enjoy!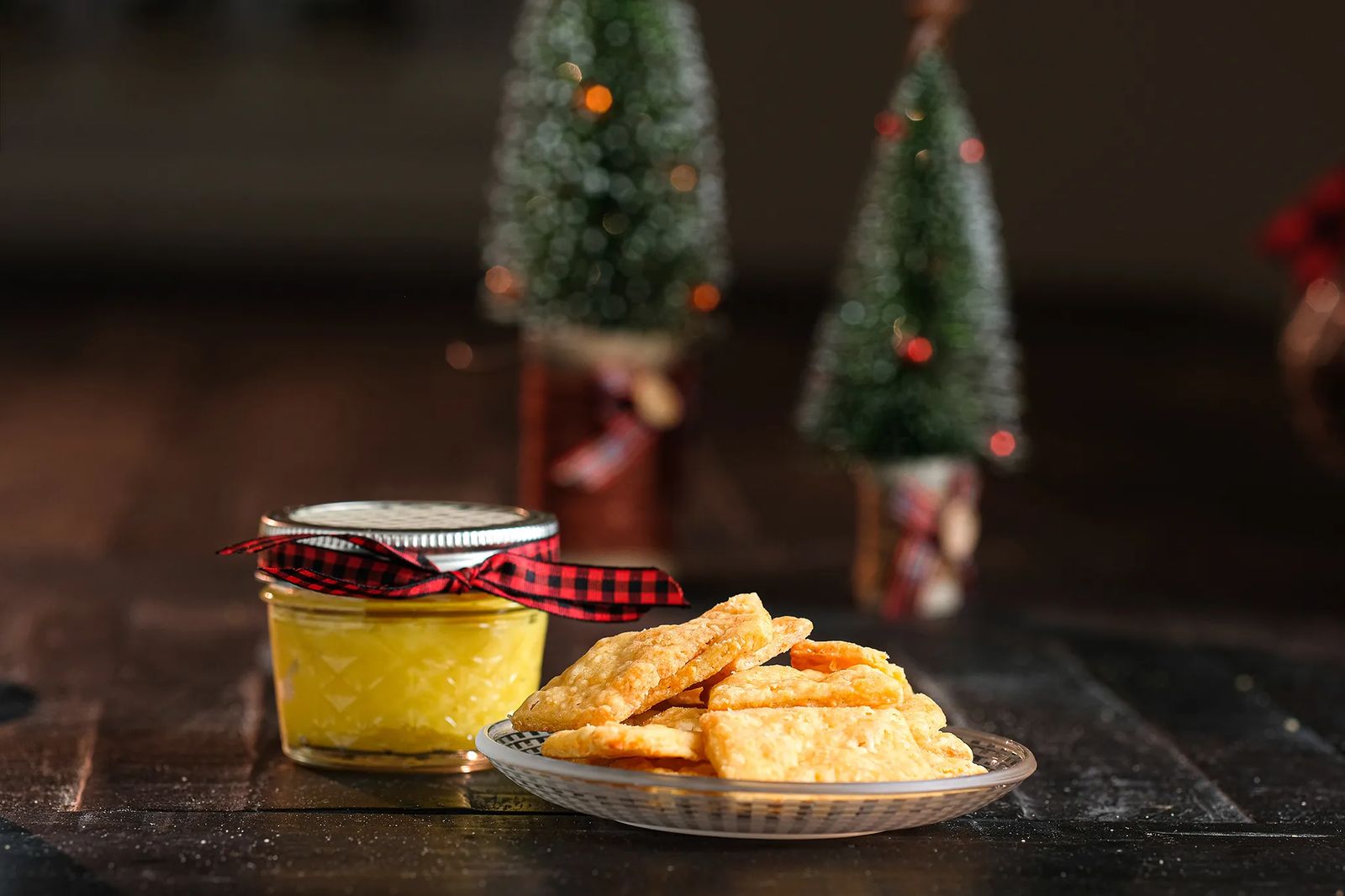 LEMON CURD
8 large egg yolks
Zest of 2 lemons
½ c. plus 2 T. fresh lemon juice (from about 3 lemons)
1 c. sugar
1/8 t. salt
1 T. cold, unsalted butter, cut into pieces
Sterilize four 4-ounce canning jars by boiling them and their rubber seals in water for 10 minutes. Remove and let cool. Whisk the egg yolks, lemon zest, juice and sugar in a heavy-bottomed saucepan to combine. Cook over medium-high heat, stirring constantly with a wooden spoon, scraping the sides and corners of the pan until the mixture is thick enough to coat the back of the spoon (eight to 10 minutes), and reaches 160 degrees. Remove the saucepan from heat. Add salt and butter, one piece at a time, stirring until smooth. Pour through a sieve into a bowl. Cover the surface of the curd with plastic wrap to prevent a skin from forming. Refrigerate until cold and set, at least one hour and up to one day. Fill jars with curd and seal. Refrigerate until ready to give as gifts.
CHEDDAR BITES
1 stick unsalted butter, room temperature
4 ounces grated aged cheddar cheese (2 cups)
½ c. unbleached flour
1 t. kosher salt
¼ t. cayenne pepper
2 T. heavy cream
Preheat oven to 325 degrees. Pulse butter, grated cheddar cheese, flour, salt and cayenne pepper in a food processor until mixture resembles coarse crumbs. Add heavy cream and pulse until just combined. Divide dough into four shaped rectangles. Wrap each in plastic and refrigerate until firm, about 30 minutes. Working in batches, roll out each rectangle on a lightly floured surfaces to ¼-inch thickness. Transfer onto a parchment paper-lined baking sheet, and cut into 1-inch squares, leaving at least ¼ inch between each. Refrigerate until chilled and firm, about 20 minutes. Bake until pale golden, about 15-17 minutes.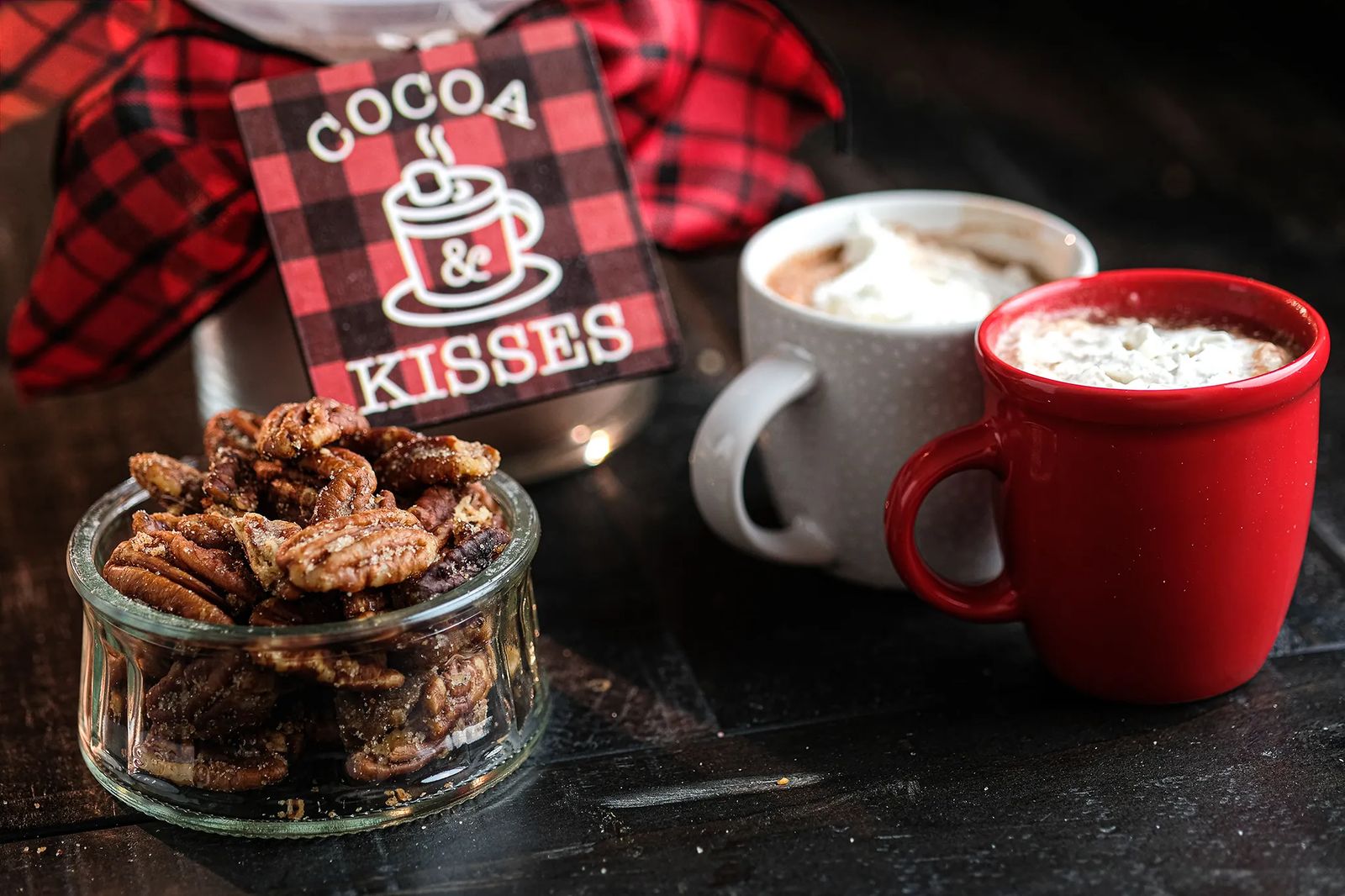 DECADENT HOT COCOA MIX, makes about 20 servings
3 c. nonfat dry milk
2 c. confectioners' sugar
1½ c. Dutch-processed cocoa powder
1½ c. white chocolate chips
¼ t. salt
Combine the ingredients in a large bowl. Working in small batches, pulse ingredients in a food processor until chocolate is finely ground. Store in an airtight container for up to three months. To make hot chocolate, stir in 1/3 of a cup of this mix into one cup of hot milk. Top with whipped cream or mini marshmallows.
SUGAR AND SPICE  PECANS
4 T. unsalted butter
3 c. pecan halves
¼ c. sugar
2 t. ground ginger
Pinch of salt
In a large, nonstick frying pan, melt the butter over medium heat. Add the pecans and cook, stirring, until they begin to brown, about four minutes. Watch the nuts carefully because they can burn quickly. In a small bowl, combine the sugar, ginger and salt. Sprinkle the mixture evenly over the pecans in the pan and cook, stirring, until the pecans are coated with the mixture and are browned and crisp, about one to two minutes. Be careful not to cook them too long or the sugar will begin to melt. Spread the pecans on a parchment paper-lined baking sheet and cool.
CITRUS CHEESECAKE CHEESE BALL
20 ounces cream cheese
Zest of 3 lemons
2½ T. fresh lemon juice
1/3 c. sugar
5 graham crackers
Put the cheese, sugar, lemon zest and juice in a food processor and pulse until blended. Remove and divide onto two sheets of parchment or wax paper and shape into two evenly sized balls (this will be soft). Wrap in parchment paper and refrigerate at least three hours or overnight. Remove from fridge and reshape into a more uniform ball shape.  Crush graham crackers into crumbs and place on a plate. Roll the cheese balls, one at a time, in the cracker crumbs. Refrigerate until ready to use.