Go for the Garlic
Flavorful bites await with this little addition
It was found in the tomb of King Tut, the Egyptians fed it to the laborers and slaves who were building the Pyramids, and Roman gladiators ate it before battle. And don't forget folklore that has it repelling vampires.
It is garlic, from the Old English word, garleac meaning spear leek, and is a close relative of leeks, onions, shallots and chives.
Garlic likes Montana. It tolerates our short growing season and cold winters. There's softneck, hardneck, and elephant varieties.
Softneck garlic plants generally form several small cloves per head, store the best, have the strongest flavor and mature quicker. Softneck garlic is what you see as braids of garlic.
Hardneck garlic produces scapes, these lovely green spirals, which you pinch off to increase the size of the garlic bulb growing underground. It is the most winter hardy and is milder in flavor than the softneck. It has fewer cloves than softneck but they are a bit larger.
Elephant garlic has large bulbs, is mildest in flavor, the least winter hardy and does not keep as long as the others. In actuality, elephant garlic is a wild leek and not a true garlic.
Kate Rossetto of Kate's Garden, a community-supported agriculture operation, is a local garlic grower and lover. Some growers throw away the garlic scapes when they pinch them off, but Kate says they have many uses in the kitchen. They are great chopped and added to collard greens, chard or kale for a springy sweetness. Even the young garlic plants you pull in the spring to thin a row are referred to as "green garlic."  Kate says they can be used in the same manner as green onions. They still taste garlicky but much milder with a less bitter bite.
If you have a taste for this close cousin to the onion, Kate has opened up her recipe file to offer Spicy Pickled Garlic and Cream of Green Garlic and Potato Soup and Garlic Scape Pesto.
And if you have not tried Roasted Garlic, it is a must, especially on top of a fresh baked and toasted baguette.
Enjoy!
ROASTED GARLIC
~Recipe from Kay Erickson
Head of garlic
Extra virgin olive oil
DIRECTIONS Preheat oven to 400 degrees. Slice the top off 1 head of garlic, drizzle with olive oil and wrap in aluminum foil. Roast in 400 degree oven until tender, 35-40 minutes. Cool. Serve by pulling off a clove of garlic and squeezing it on a cracker or slice of toasted baguette.
surprised how pickling mellows out the garlic, making it a tasty sandwich topper.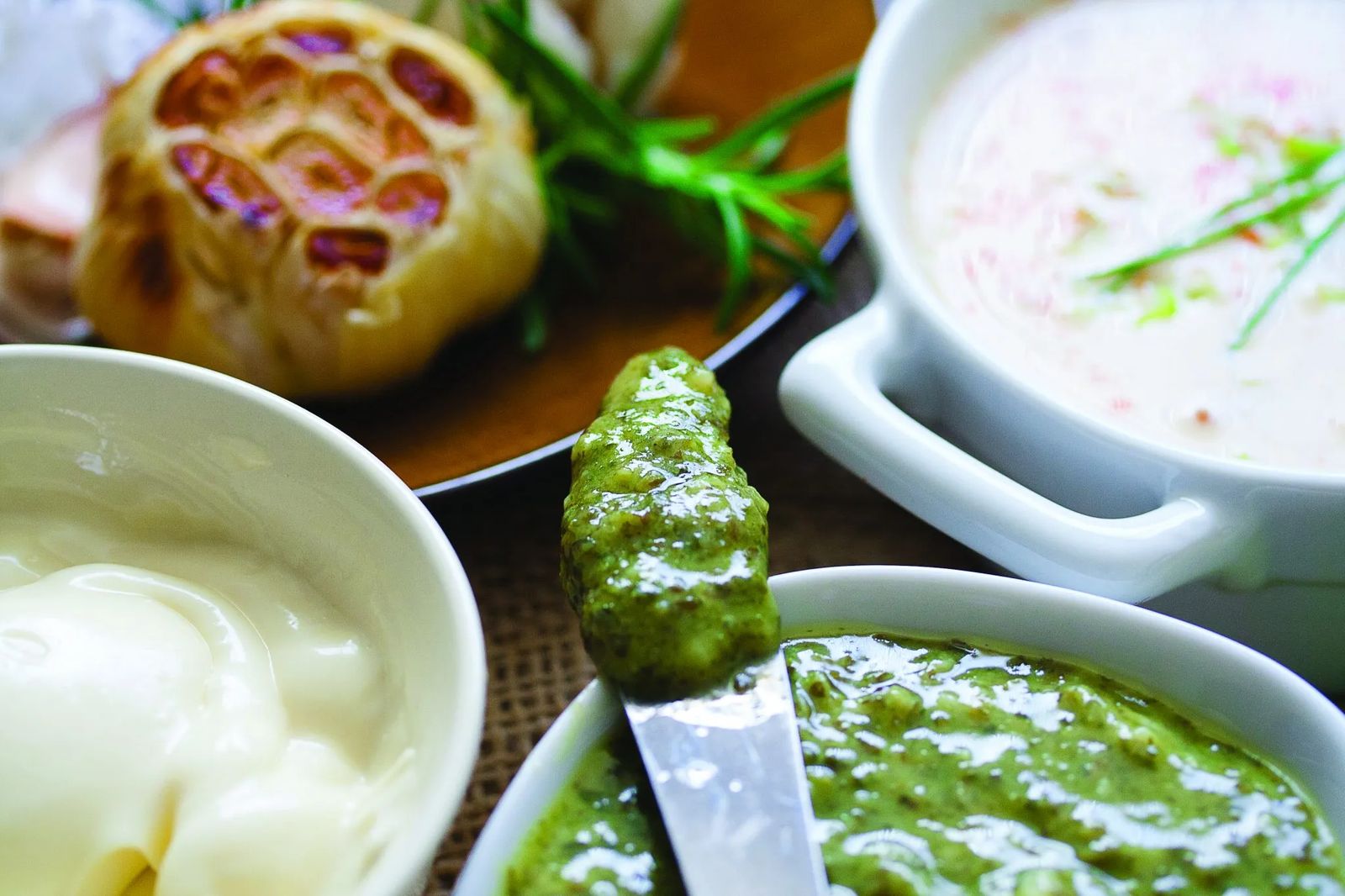 GARLIC SCAPE PESTO
~Recipe from Kate Rossetto, Kate's Garden
1 c. (or less) freshly grated Parmesan cheese or other sharp Italian cheese
1–2 T. freshly squeezed lime or lemon juice, adjusted to taste
1/4 lb. roughly chopped garlic scapes
1/2 c. olive oil
Salt to taste
DIRECTIONS Puree garlic scapes, olive oil, and juice in a blender or food processor until nearly smooth. (You can make a smooth paste if you prefer, but most people like a little texture in the pesto.) Gently stir in the cheese or gingerly pulse the cheese into the mixture. Take it easy as you mix in the cheese to avoid making the pesto gummy by over blending. Taste and then adjust juice and salt to taste. Store in the refrigerator to use within two or three days or freeze for longer storage. Scape pesto freezes well, and it holds its appealing green color when frozen even better than the traditional basil pesto.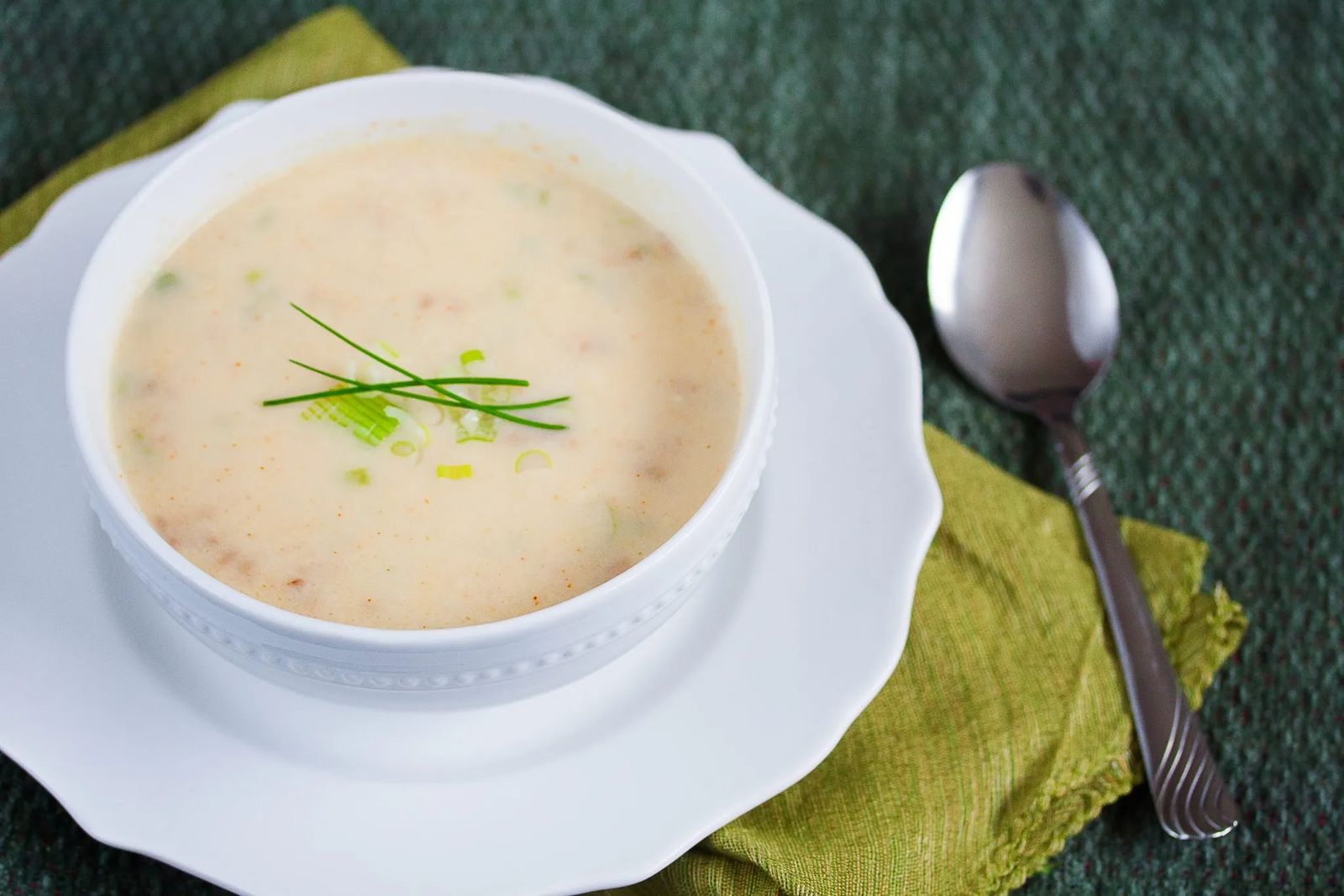 CREAM OF GREEN GARLIC AND POTATO SOUP
~Recipe from Kate Rossetto, Kate's Garden           
Head out to the farmers market, or better produce markets to find the green garlic. If you can't find it, use leeks or green onions with some regular garlic instead.
1 T. olive oil
2 slices minced bacon
3 c. sliced green garlic
4 medium russet potatoes
1 quart chicken broth, more if needed
1/2 c. cream
Salt and pepper to taste
Cayenne to taste
Chives to garnish
Makes 6 Servings
DIRECTIONS Add the olive oil and bacon to a soup pot, and place over medium heat. When the bacon is cooked and starting to get crisp, add the green garlic. Cook, stirring for 3­4 minutes. Add the broth and potatoes. Simmer for 30­40 minutes, or until the potatoes and garlic are tender. Use more broth as needed. You can use a potato masher to break up any large pieces of potato. Use a stick or regular blender to puree about 70% of the soup, and leave the rest unblended for texture. Add the cream, and season to taste. Once the soup is heated through, serve immediately with fresh chives on top.
AIOLI (GARLIC MAYONNAISE)
~Recipe Kay Erickson
4-5 cloves fresh garlic
2 egg yolks, room temperature
1 c. extra virgin olive oil
1 T. fresh lemon juice (approximately 1 lemon)
DIRECTIONS Combine the garlic and egg yolks in a food processor and puree until combined, about 10 seconds. With the processor still running, slowly drizzle the olive oil in a thin steady stream. Stop once the oil has been thoroughly combined with the egg mixture. Add the lemon juice and pulse until incorporated. Store in refrigerator. NOTE: If the olive oil is a little to assertive, you can reduce the olive oil to ½ c and add ½ c vegetable oil for 1 cup of oil total
SPICY PICKLED GARLIC
~Recipe Kate Rossetto, Kate's Garden
2 quarts water
3 c. peeled garlic cloves
12 coriander seeds
6 whole peppercorns
3 dried hot chilies, split
3 whole allspice
1 bay leaf, torn into three pieces
1­1/2 c. white wine vinegar or distilled white vinegar
1 T. sugar
1­1/2 t. canning salt
DIRECTIONS In a large saucepan, bring water to a boil. Add garlic and boil 1 minute. Divide coriander, peppercorns, chilies, allspice and bay leaf among three hot half­pint jars. Drain garlic and pack into jars to within 1/2 inch of the top. In a small saucepan, combine vinegar, sugar and salt. Bring to a boil, stirring constantly. Carefully ladle hot liquid over garlic, leaving ½" headspace. Remove air bubbles and adjust headspace, if necessary, by adding hot mixture. Wipe rims. Center lids on jars, screw on bands until fingertip tight. Place jars into canner with simmering water, ensuring that they are completely covered with water. Bring to a boil and process for 10 minutes. Remove jars and cool.  This will yield three half pint jars. NOTE: The processing time listed is for altitudes of 1,000 feet or less. For altitudes up to 3,000 feet, add 5 minutes; 6,000 feet, add 10 minutes; 8,000 feet, add 15 minutes. Kate says this is a delicious condiment for the garlic lover on your list. You'll be pleasantly surprised how pickling mellows out the garlic, making it a tasty sandwich topper.
GREENS WITH GREEN GARLIC & PROSCIUTTO
~Recipe from Kate Rossetto, Kate's Garden
1 bunch collard greens, kale, or Swiss chard
3 green garlic stalks or garlic scapes
1 to 2 T. olive oil or other cooking oil
1/8 t. sea salt plus more to taste
2 slices prosciutto (optional)*
Freshly ground black pepper (optional)
Fresh lemon juice (optional)
DIRECTIONS Cut out the thick stems from the greens. If using chard, reserve the stalks for another use. Rinse the leaves clean of any dirt or grit in cool running water. Shake off any excess water. Lay the leaves in a stack and cut them into thin ribbons (you can simply chop them coarsely, if you prefer). Set aside.     Trim the green garlic or garlic scapes, discarding any yellowed or browned parts, and finely chop them. Finely chop the prosciutto as well. Heat a large frying pan (with a fitting lid) over medium­high heat. Add the oil. Swirl the pan so the oil coats the bottom of the pan. When the oil is hot, add the green garlic and salt. Cook, stirring, until the green garlic is wilted, about 1 minute. Add the prosciutto, if using, and cook, stirring, until it loses its bright pink tone, about 1 minute. Add the greens (they should still have a bit of water clinging to them, which is a good thing) and stir to combine them with the green garlic and prosciutto. There should be a bit of water on the bottom of the pan, if there isn't, add a tablespoon. Cover, reduce heat to medium low and cook until the greens are well wilted, about 3 minutes. Stir again, cover, and cook until the greens are tender. Depending on the greens used, this will take anywhere from 3 minutes (for chard) to up to 8 minutes (for hearty collard greens). Add salt, pepper, and lemon juice to taste, as you like. Serve hot or warm
* Feel free to use a slice of bacon instead of prosciutto. You'll just need to cook it before anything else. Depending on how much fat it renders, you can use the bacon fat instead of the cooking oil for greens with tons of flavor.