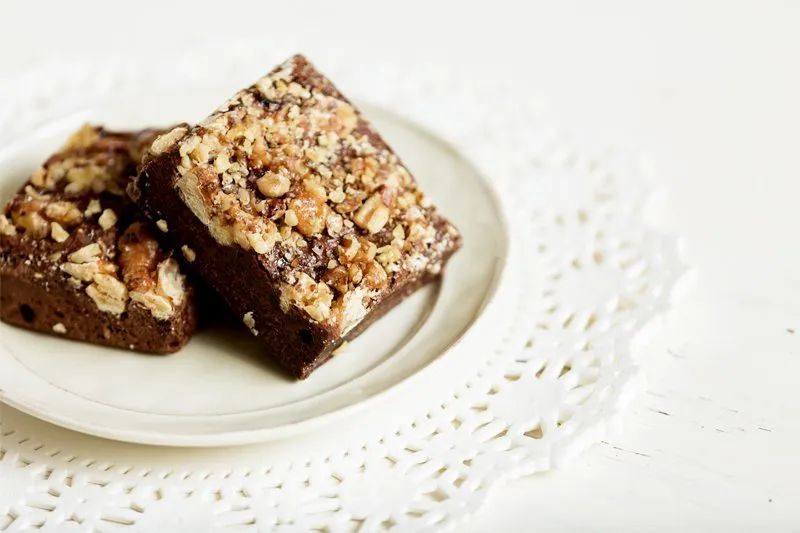 Gooey Goodness
Brownies take a twist with sweet new flavors
Here's to you, Mrs. Palmer! Just in case you didn't know it, Bertha Potter Palmer, a wealthy Chicago socialite had a desire for something different for lunch box fare. Thanks to her and an unknown pastry chef at the Palmer House Hotel in Chicago, we have an iconic All-American dessert that is possibly even more American than apple pie.
It is the brownie.
Bertha, the wife of Potter Palmer, owner of the Palmer House Hotel, was the President of the Board of Lady Managers for the Women's Pavilion during the World's Columbian Exposition of 1893. At the time, she charged the pastry chef at the Palmer House with creating a dessert, easier to eat than a piece of pie and smaller than a layer cake for the ladies' box lunch. I don't know what the chocolate and walnut creation with an apricot glaze was called, (the first reference to "brownie" in America came in 1898 in the Sears Roebuck Catalogue published in Chicago) but it is still served at the Palmer House Hotel to this day.
This box lunch beauty is so versatile. It is a chocolate canvas where one's creativity can run wild. Frost it with chocolate, vanilla or use both by setting the first frosting layer in the refrigerator to firm up before adding the second flavor of frosting. Chocolate and mint also make a dynamic duo.
The ingredients you can add to the batter are endless. A teaspoon of instant espresso powder adds an extra kick to the chocolate flavor.  My Chocolate Syrup Brownies use syrup instead of cocoa or melted chocolate for moist flavor. A cook can add any favorite chopped nut like pecans, cashews, pistachios, walnuts or peanuts. Don't forget the chips — chocolate, butterscotch or peanut butter. Caramel Brownies add a layer of chocolate chips and caramel for more flavor. How about 1/3 cup of chopped candied fruit — the kind you see at Christmas? I first saw that idea in a dessert cookbook from Maida Heatter, pastry chef, and cookbook author. She called them Christmas Brownies.
If you want a real kick, try Chelsea Roller's Chocolate Brownies with Spice, which adds a spicy punch with chili powder, paprika, and cayenne. Chelsea works her magic down at the Annex Coffeehouse and Bakery next to the Fieldhouse on Minnesota Avenue.
For those who need gluten-free options, Tina and Krista Stetson at RaeRae's Bakery, are a go-to source. The mother and daughter team are both unable to eat gluten, so their bakeries, both in Whitefish and in Billings on Rehberg Lane, feature gluten-free delicacies. Their Gluten-Free Fudge Brownie is as flavorful as its flour-filled cousin.
For those who want to taste a little bit of the Palmer House history, we offer the recipe for the brownie that started it all for you to try in your own kitchen and taste a little bit of chocolate dessert history.
Thank you, Mrs. Palmer!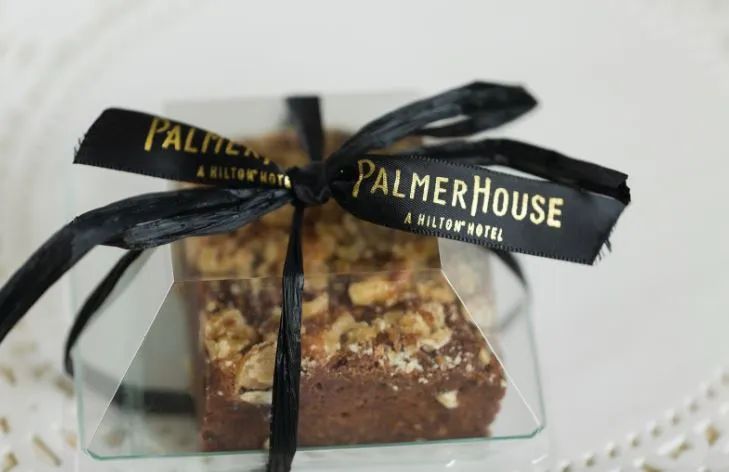 THE PALMER HOUSE BROWNIE
~Recipe from the Palmer House Hotel, Chicago, IL
9"x12" baking pan
1 lb. plus 2 oz. semisweet chocolate, chopped
1 lb. butter
3 c. granulated sugar
2 c. cake flour
1 T. baking powder
4 whole eggs
2-½ c. chopped walnuts
Pastry brush

DIRECTIONS
Mix the chocolate and the butter in a double boiler. Mix the sugar, flour and baking powder in a mixing bowl. Add the melted chocolate/butter mixture to the sugar/flour mixture and mix for 4 to 5 minutes. Add the eggs and mix well. Pour the mixture into the baking pan. Sprinkle walnuts on top, then gently press them into the mixture by hand.  Bake the mixture in a preheated oven at 300 degrees for 30 to 40 minutes. The brownie is done cooking when the edges start to become a little crispy and the brownie has risen about ¼ inch. Note that even when the brownie is properly baked, it will test "gooey" with a toothpick in the middle because of the richness of the mixture. After removing the brownie from the oven, let it cool for about 30 minutes. Apply a thin layer of the glaze with a pastry brush.
PALMER HOUSE BROWNIE GLAZE

1 c. water
1 c. apricot preserves
1 t. unflavored gelatin
DIRECTIONS
Mix the water, preserves, and gelatin in a saucepan, stirring thoroughly; bring to a boil for 2 minutes. Use while it is hot. TIP: the brownie is easier to cut if you place it in the freezer for 3 to 4 hours after glazing.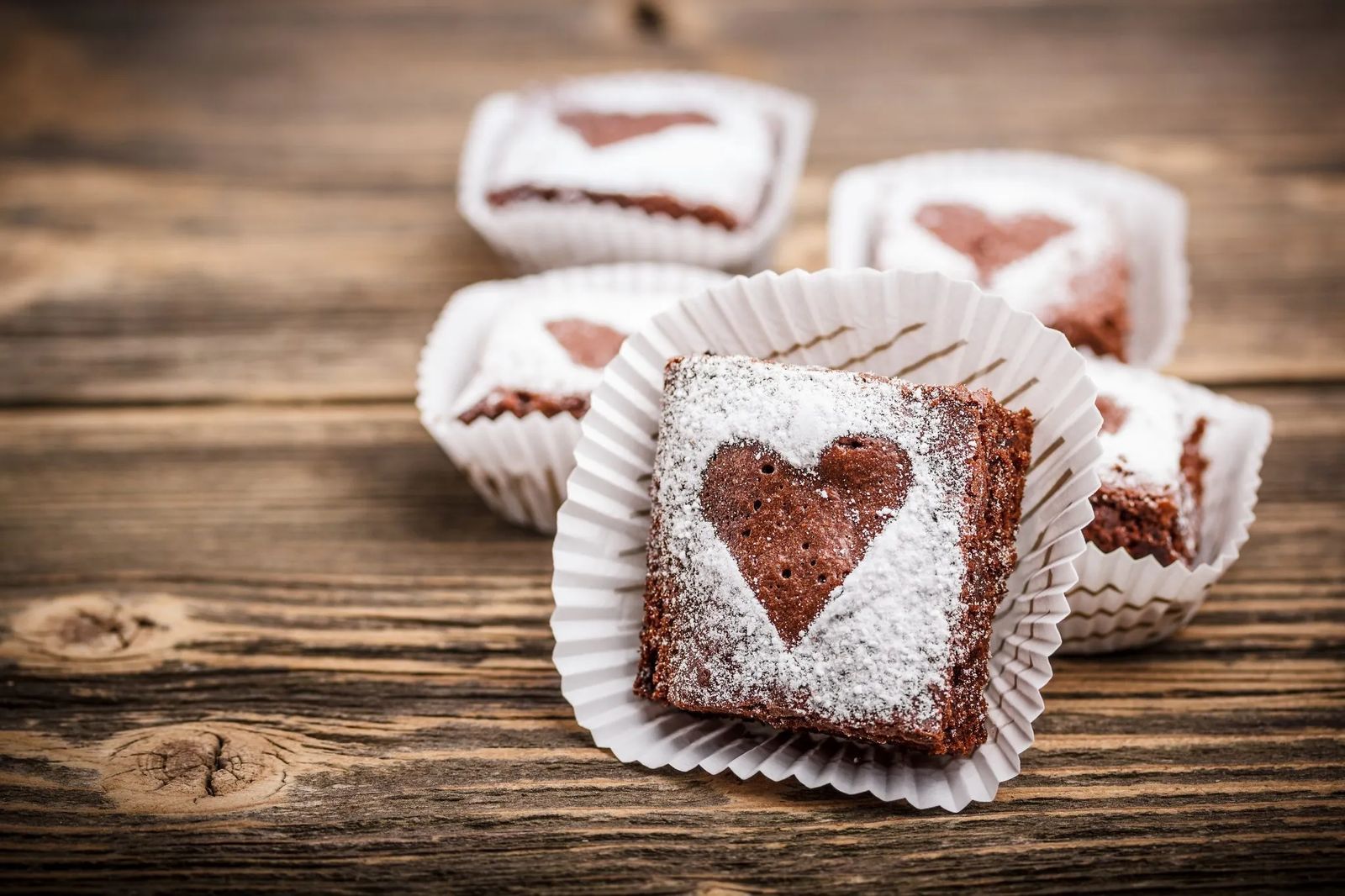 GLUTEN FREE FUDGE BROWNIES
~Recipe from Tina and Krista Stetson, RaeRae's Bakery
2 sticks organic butter melted
1 c. organic cocoa powder minus 1-2 tablespoons
3 T. organic coconut oil
2 c. evaporated cane juice (cane sugar)
4 organic eggs
1 t. vanilla
1-3/4 c. gluten free flour mix
DIRECTIONS
Mix melted butter and cane sugar in a bowl.  Add organic cocoa powder, organic coconut oil, vanilla, and organic eggs to mix.  Add flour last. Mix well. Spread in 9 x 13 greased cake pan. Bake for 25 - 30 minutes at 350 degrees. When cooled, add topping (recipe below). TIP: When working with gluten-free flour, water will be your best friend.  Dip your spatula in water when smoothing batter in pan.
GLUTEN FREE FUDGE BROWNIE TOPPING
1 stick organic butter
6 T. organic coconut milk
4 T. organic cocoa powder
2-3 c. organic powder sugar
DIRECTIONS
In a small saucepan, cook organic butter, organic coconut milk, and organic cocoa powder until it boils on medium heat stirring constantly.  Once it boils, remove from heat and add the organic powder sugar and stir until all lumps are gone.  If frosting is too runny, add more organic powder sugar.  Spread over the brownies and let cool.

CHOCOLATE BROWNIES WITH SPICE
~Recipe from Chelsea Roller, Annex Coffeehouse, and Bakery
½ lb. butter (2 sticks)
10 oz. bittersweet chocolate
3 T.  Molasses
1-1/2 c. flour
3 large eggs
2 large yolks
2 c. granulated sugar
1 T. Vanilla extract
1-1/2 t. chili powder
1-1/2 t. smoked paprika
3/4 t. cayenne pepper
1 t. kosher salt
DIRECTIONS
Grease an 8"x11" pan and preheat the oven to 350 degrees. Place butter, chocolate and molasses in a bowl and melt over simmering water, stirring occasionally.  Once melted place aside to cool. In a standing mixer bowl, combine eggs, sugar, and vanilla.  Place over simmering water and whip until sugar has dissolved. It should be hot to the touch and around 180 degrees using a candy thermometer.  Place on stand mixer with whip attachment and whip on medium-high until cool and thick. Fold cooled chocolate mixture into the cooled egg mixture until streaky. Sprinkle salt over the batter. Sift dry ingredients (flour and spices) together and fold into the chocolate egg mixture in four stages. Pour into prepared pan and bake for about 50 minutes. For a special touch, sprinkle some raw sugar over the top before baking.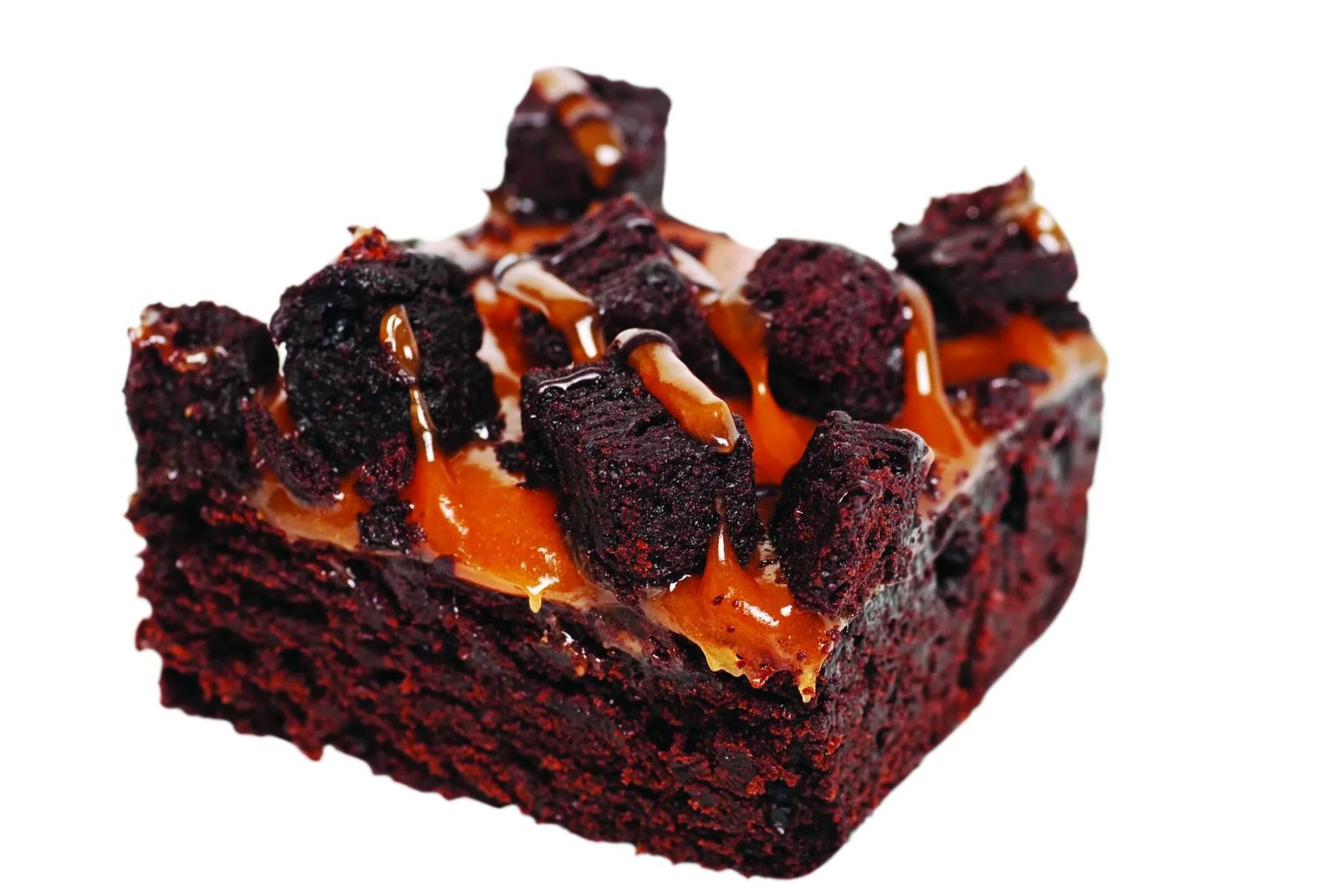 CARAMEL BROWNIES
~Recipe from Kay Erickson
2/3 c. evaporated milk, divided
1-12 oz. package of Kraft caramels
1 package of German chocolate cake mix
6 oz. cold unsalted butter
¾ c. semi-sweet chocolate chips
1 c. toasted chopped nuts

DIRECTIONS
Preheat oven to 350 degrees. Spray the bottom and sides of a 9"x13" pan with cooking spray. Melt 1/3 cup of evaporated milk and caramels until smooth. Cool slightly. In a food processor, pulse the cake mix, 1/3 cup of evaporated milk and the butter cut into cubes. Process until blended. Press half of the mixture into the prepared pan. Bake for 6 minutes at 350 degrees. Remove from oven. Sprinkle the chocolate chips over the baked mixture. Drizzle the melted caramel over the chips. Crumble the remaining cake mixture over the top. Bake for 20 minutes. Cool and cut into bars. The recipe makes about 32 brownies.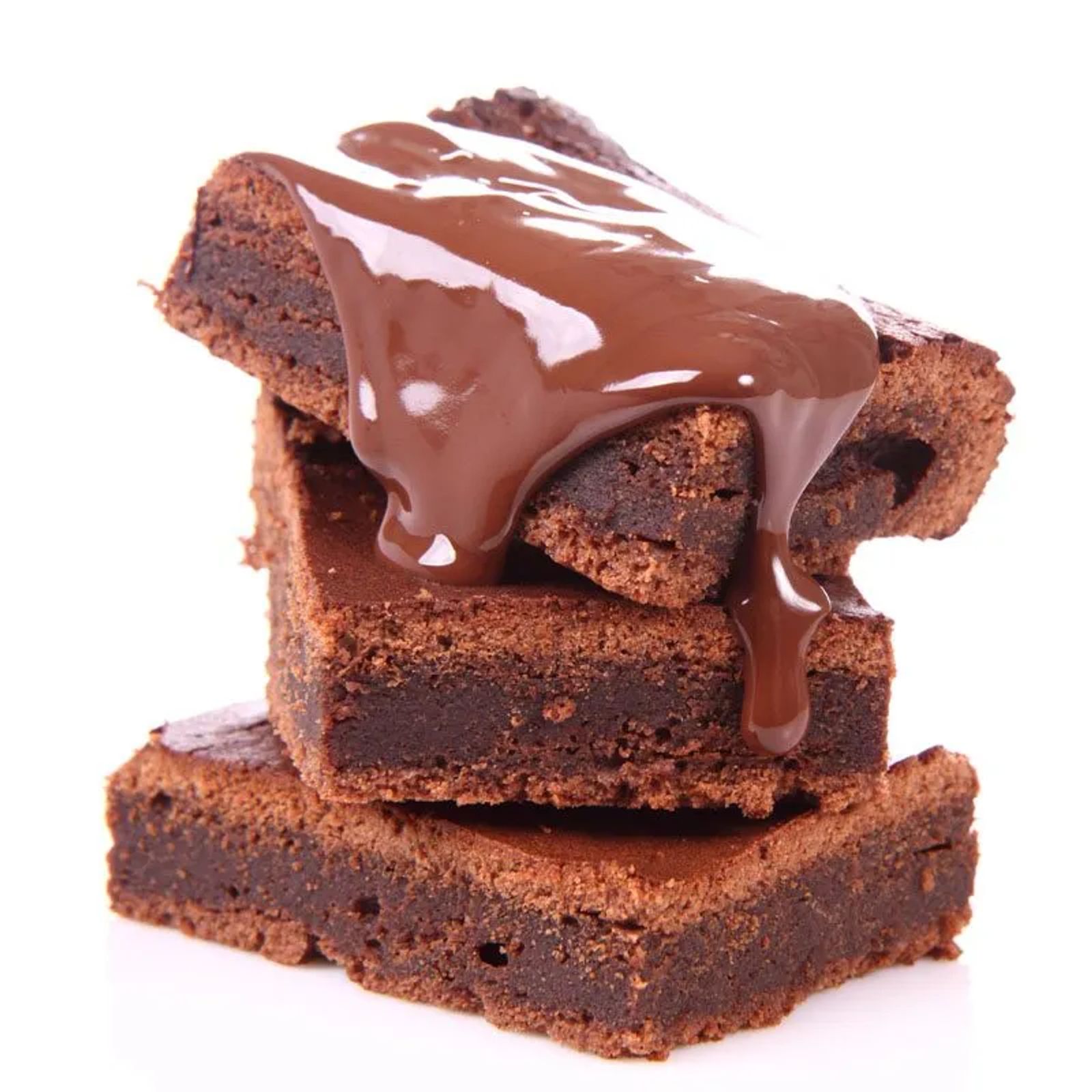 CHOCOLATE SYRUP BROWNIES
~Recipe from Kay Erickson
½ c. unsalted butter softened
1 c. granulated sugar
4 large eggs
1 1-lb can chocolate flavored syrup, like Hersey's (about 1 ½ c)
1 ¼ c  all-purpose flour
1 c. chopped walnuts
DIRECTIONS
Preheat oven to 350 degrees. Cream together butter and sugar; beat in eggs one at a time. Blend in syrup and flour; stir in nuts. Pour into a 9"x13"x2" baking pan sprayed with cooking spray. Bake at 350 degrees for 30 to 35 minutes. Cool slightly. Pour Quick Frosting over baked brownies and spread to edges. Cool before cutting into bars. Makes 32 brownies.

QUICK FROSTING
Mix 2/3 cup of granulated sugar, 3 tablespoons of unsalted butter, and 3 tablespoons of milk. Bring to boil over medium heat and let boil for one minute. Remove from heat and stir in ½ cup of semisweet chocolate chips until melted. The mixture will be thin. Use as a topping for Chocolate Syrup Brownies after brownies have been baked and cooled.