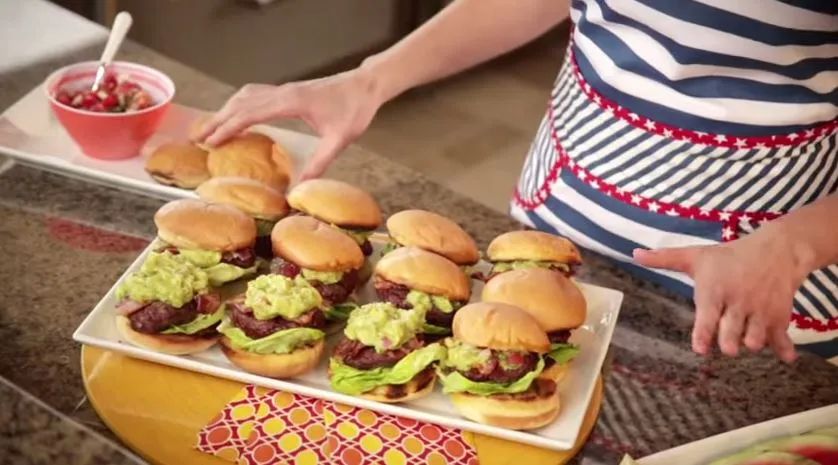 Grilling Up What's for Dinner Wednesday
Bacon & Guacamole Sliders
Sliders are the ultimate party food! Here are some great grilling tips from Annessa Chumbley for Bacon Guacamole Sliders with Grilled Watermelon! It's a perfect dinner on the fly.
Ingredients
2 pounds of ground beef
2 t. McCormick Hamburger Seasoning
1/4 Albertsons Fresh Cuts Scallion Pieces
2 t. minced garlic
2 T. Essential Everyday Soy Sauce from Albertsons
12 slices of bacon, cooked and cut in half
Albertsons Fresh Cuts Guacamole
Albertsons Fresh Cuts Pico de Gallo
Butter Lettuce
12 Slider Buns (dinner rolls from bakery can be used and sliced in half)
Essential Everyday Extra Virgin Olive Oil
1 Watermelon, cut into 1 inch round slices
Directions
1. Prepare grill for medium high grilling. Combine ground beef, hamburger seasoning, scallions, garlic and soy sauce. Form into 12 equal sized patties, indenting the center for more uniform cooking. Place patties on grill for 4 minutes (do not press on patty). Turn and continue to cook an additional 4-6 minutes until desired doneness (about 4 minutes for medium rare, 6 minutes for medium, depending on the size of the patty). Remove and place on platter. Let rest 2-4 minutes before serving.
2. While the burgers are resting, brush cut side of each slider bun lightly with olive oil. Grill about 1 minute, cut side down, or until edges are toasted. Remove and plate with lettuce, burger, bacon, guacamole, and pico de gallo.
3. Cut watermelon circles in half and sprinkle with chili lime seasoning. Place on grill for 2 minutes. Flip pieces and grill an additional 2 minutes. Remove and serve.
Grilling Tips:
• Indent the center of each burger with your finger to help keep them flat (not shrinking into balls), which ensures even cooking.
• You can get minced garlic and scallions ready to go from Albertsons Fresh Cuts section!
• Add a little cold water to the meat mixture (1 Tbsp per pound) to add moisture and to help hydrate the dried seasoning mixture.
• Don't over-work the meat – just fold in the ingredients gently.
• Don't press your patties while cooking them! This will cause you to lose all of the juices in the meat.
• Flip your meat only once! It will let you know it's ready when it stops sticking to the grill.
• Cook your watermelon on indirect heat.