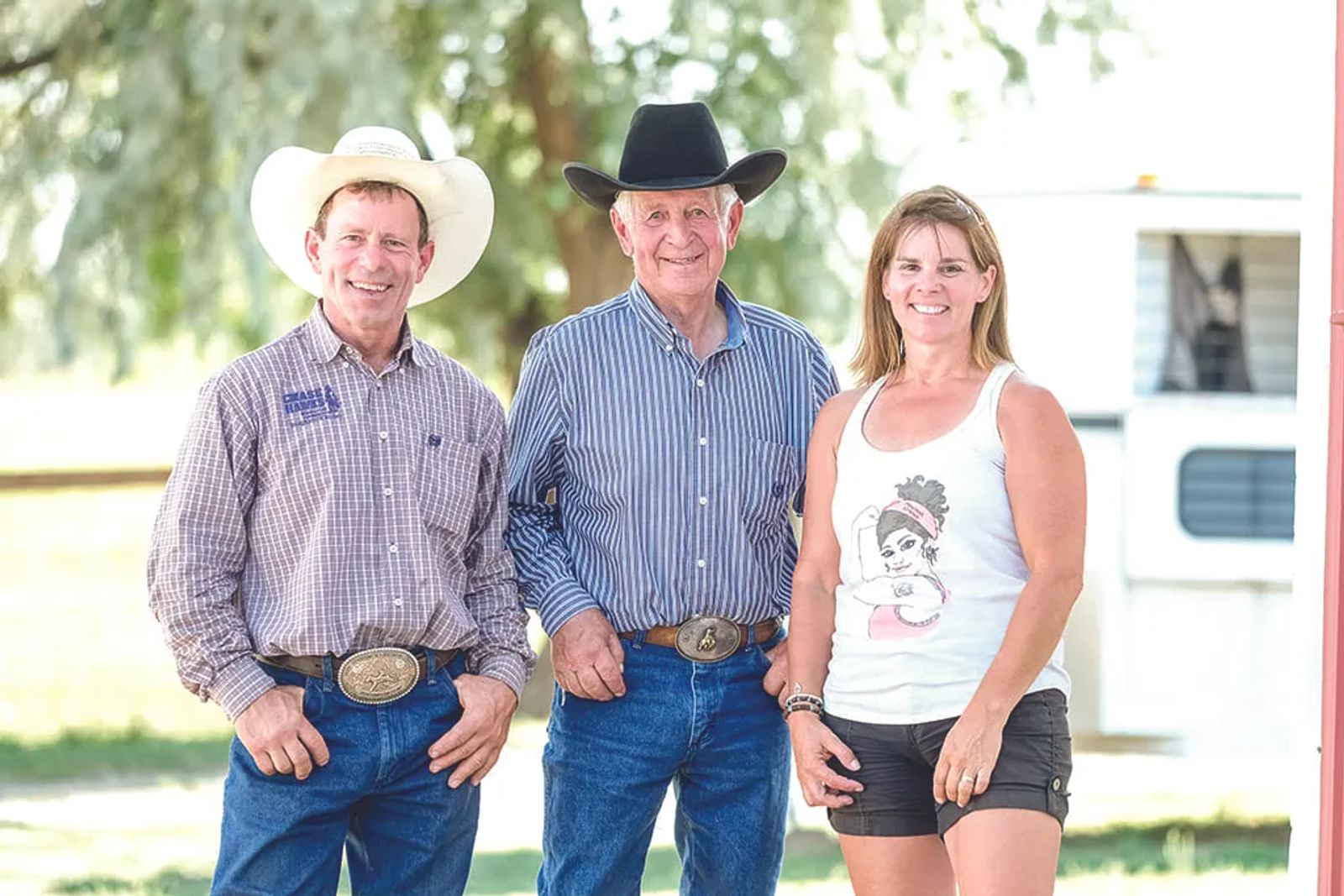 Growing up Greenough
The lasting legacy of the famed rodeo family
Anyone who knows anything about rodeo knows a thing or two about the "Riding Greenoughs" of Red Lodge. During their heyday in the 1930s and 1940s, siblings Turk, Alice, Marge and Bill Greenough made rodeo history with their uncanny ability to stick tight to wildly bucking stock.
Though that generation is long gone, the Greenough name lives on — made famous once again through the success of bareback rider Deb Greenough.
On a hot summer afternoon, less than a week after Deb was inducted into the ProRodeo Hall of Fame, the family gathered at the ranch where they grew up outside Fromberg. Situated in the shade of mature cottonwood trees, the unassuming place — a large shop, arena and log house — is home to Billy and Francie Greenough. Billy is the son of Bill Greenough and nephew of Turk, Alice and Marge.
Sitting around the kitchen table, armed with a photo album and tall glasses of iced tea, Billy and two of the next generation — his children Deb and Steph Greenough-Roods — offered their take on what it means to "grow up Greenough." Youngest daughter Wendy weighs in later.
To put the family legacy in context, one needs first to re-visit their legendary predecessors. Patriarch Ben Greenough was an orphan living in New York City when, at age 17, he set out for a new life in the West. The year was 1886. Early on, he had his brushes with fame, hauling and selling firewood with Calamity Jane, breaking horses for Buffalo Bill Cody and earning the nickname "Pack Saddle Ben" from Liver Eating Johnston.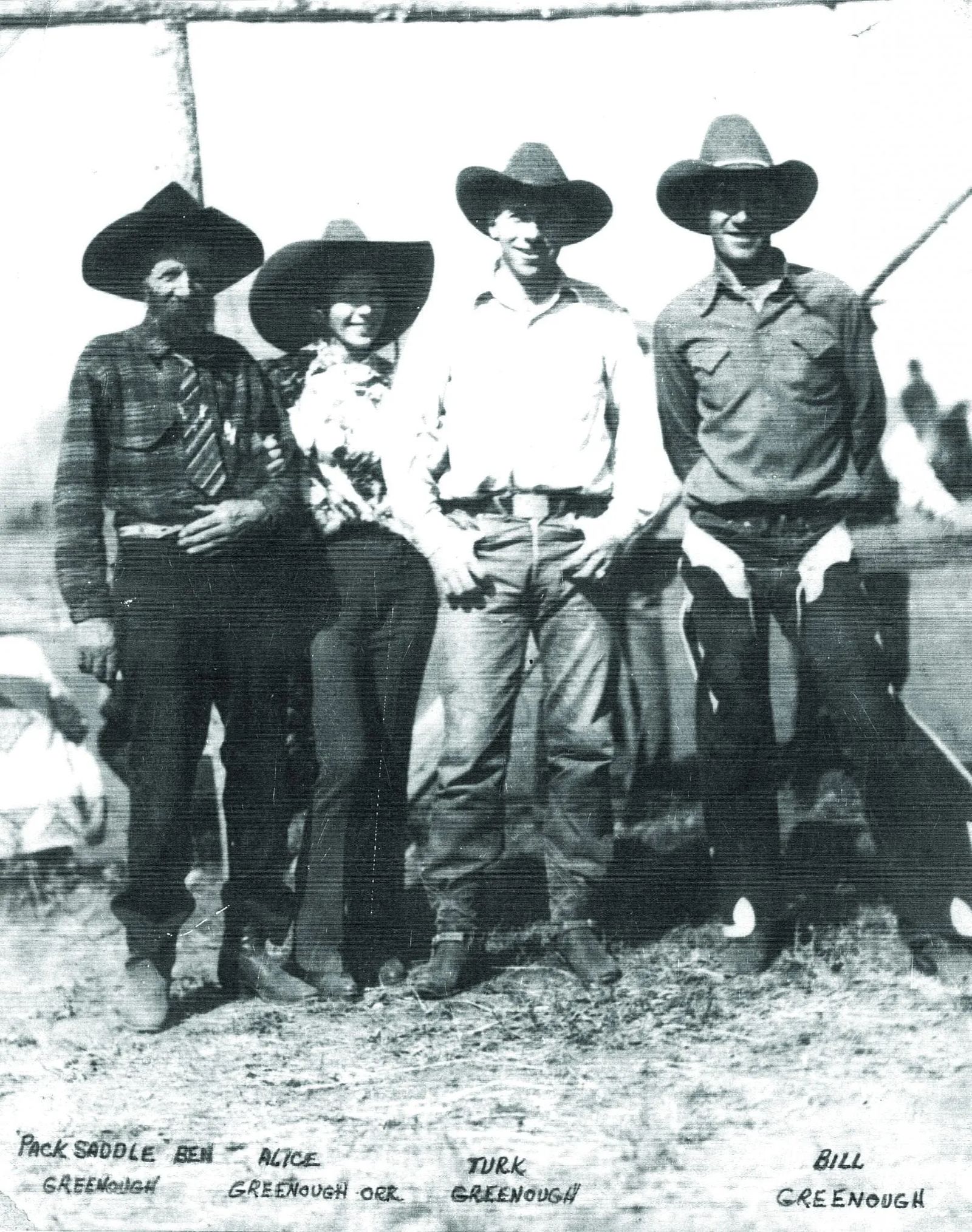 Ben took up a homestead near Fox, where he raised draft horses and his family of eight children. His first competitive success on horseback came in 1898, when he won his first bucking horse contest.
Turk, the first of Ben's children to make rodeo his livelihood, was one of the great bronc riders of his time. Rarely was he bucked off, usually leaping off his mount when the whistle blew. During his career, he won numerous events and awards, including the World Saddle Bronc Championship at Pendleton, the North American Championship at Calgary (twice) and Cheyenne Frontier Days (three times).
Meanwhile, sisters Alice and Marge took to rodeoing full time in 1929. They competed on the same terms as the men, drawing from the same stock and suffering the same injuries. Alice rode bull-fighting bulls in Spain, competed in Australia and once sipped tea with the Queen of England. Not only was she named "Queen of the Lady Bronc Riders" but she was the first to be elected to the National Cowgirl Hall of Fame. When inducted into the National Cowboy Hall of Fame in 1984, she did it alongside her sister Marge and brother Turk. It was the first time members of a family had ever been inducted together.
Like her older sister, Marge had the knack for rodeo and trick riding. She signed on with a Wild West show, straddled bucking broncs on the rodeo circuit and performed at New York City's Madison Square Gardens.
Marge's son Chuck Henson continued the family legacy as one of the most talented and popular rodeo clowns of his time. His ability to make people laugh, combined with his athleticism as a "cowboy lifesaver," secured his spot in the Cowboy Hall of Fame.
From postcards to national ad campaigns to Hollywood, "Greenough" became a household name.
"We had lots of fans," Alice once said. "Little kids in school would pretend to be us when they'd ride their stick horses."
So how does such history shape today's generations?
Billy and Steph agree that their day-to-day lives were so removed from the celebrity of their forebears that they rarely gave a thought to the fame.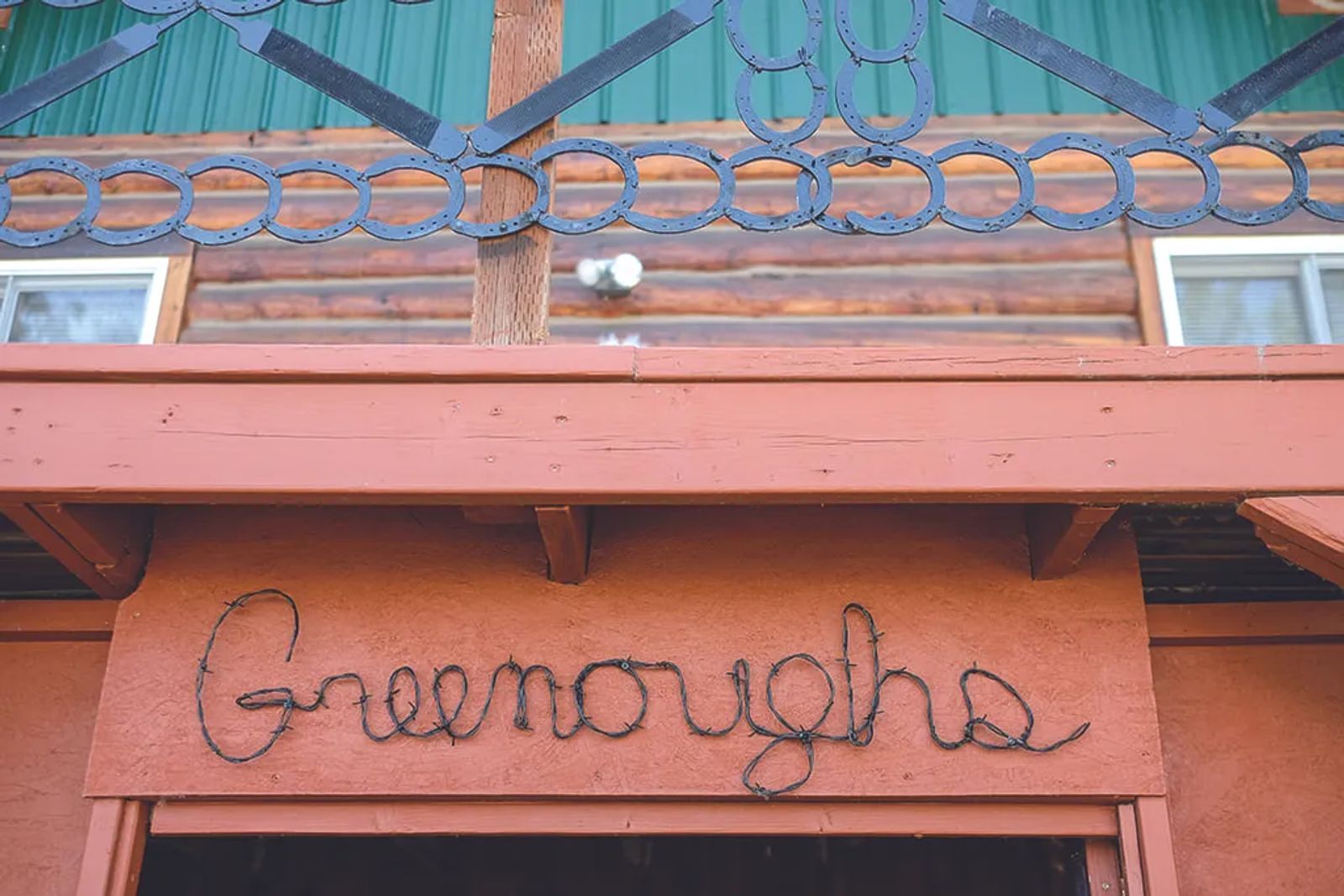 Raised on a big cattle ranch outside Wyola in the 1940s, Billy was aware of the "Greenough Factor." But his heroes were riders like Deb Copenhaver (hence Deb Greenough's name) and Pete Crump. And, his father Bill.
"My dad was probably the best hand of the family, but he preferred to be a cowboy," Billy says. A working cowboy, Billy explains, not a celebrated rodeo rider. "My dad never wanted to brag about anything."
As for Uncle Turk, Billy chuckles at his memory. "He'd walk a mile to get his picture taken," he says.
Only one generation removed from "The Riding Greenoughs," Billy didn't think much about the family's reputation until his uncle or aunts made an occasional visit. Or every Fourth of July, when the Greenoughs would converge on Red Lodge for the Home of Champions Rodeo.
"Our biggest thrill was riding a pony in the parade," he says.
Billy went on to ride saddle broncs in regional rodeos, but he hated life on the road. Instead, he chose a career with horses — breaking colts, training horses and shoeing horses — closer to home. Just turned 80, the quiet-spoken man had shod six head just a few days earlier.
Looking back, Billy can't recall his folks ever pressuring him to take a particular path. No doubt that's why he never pressured his own children.
Wendy, Steph and Deb — now in their 40s and 50s — grew up and attended school in Fromberg. They never felt they were treated special because of their name.
"We supported each other and each other's families," Wendy says of their friends and neighbors. "We were proud of everyone's accomplishments and interested in their histories."
Like most of their friends, they spent hours on horseback — but only after they'd gotten all of their chores done. And the Greenough parents, like their friends' parents, hauled the kids for saddle club in Bridger. It was there, at an annual kids' rodeo in Bridger, that Deb — and three of the next generation — won their first belt buckles.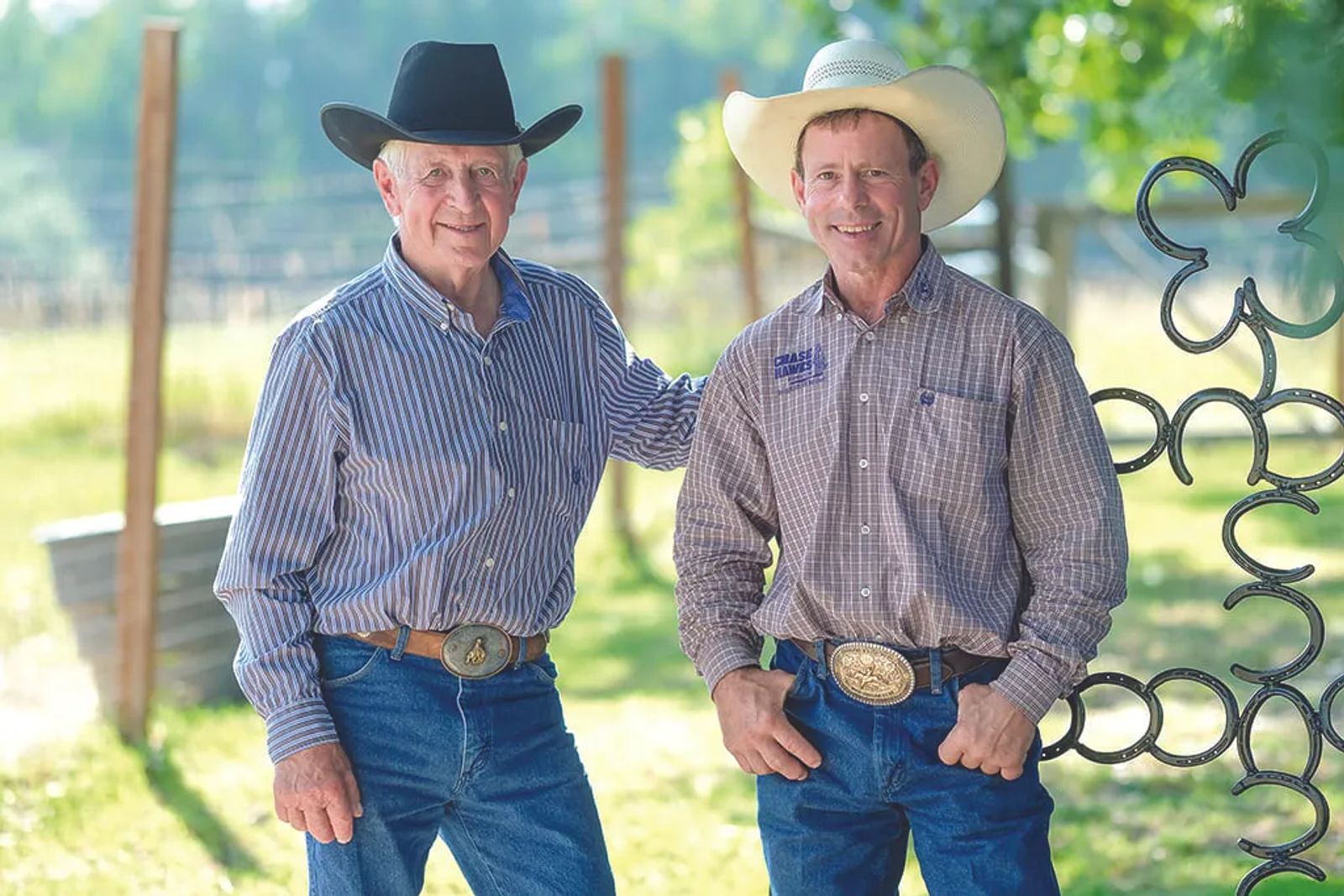 But life wasn't just rodeo and riding for the Greenough kids. Wendy cheered on the Fromberg cheer squad and played in the honor band. Steph made a name for herself on the basketball court – "All 5-feet, 2-inches of me?" she laughs. And Deb played both basketball and football for the Class C Fromberg Falcons.
"You had to go out for a sport or there wasn't a team," Steph says with a grin.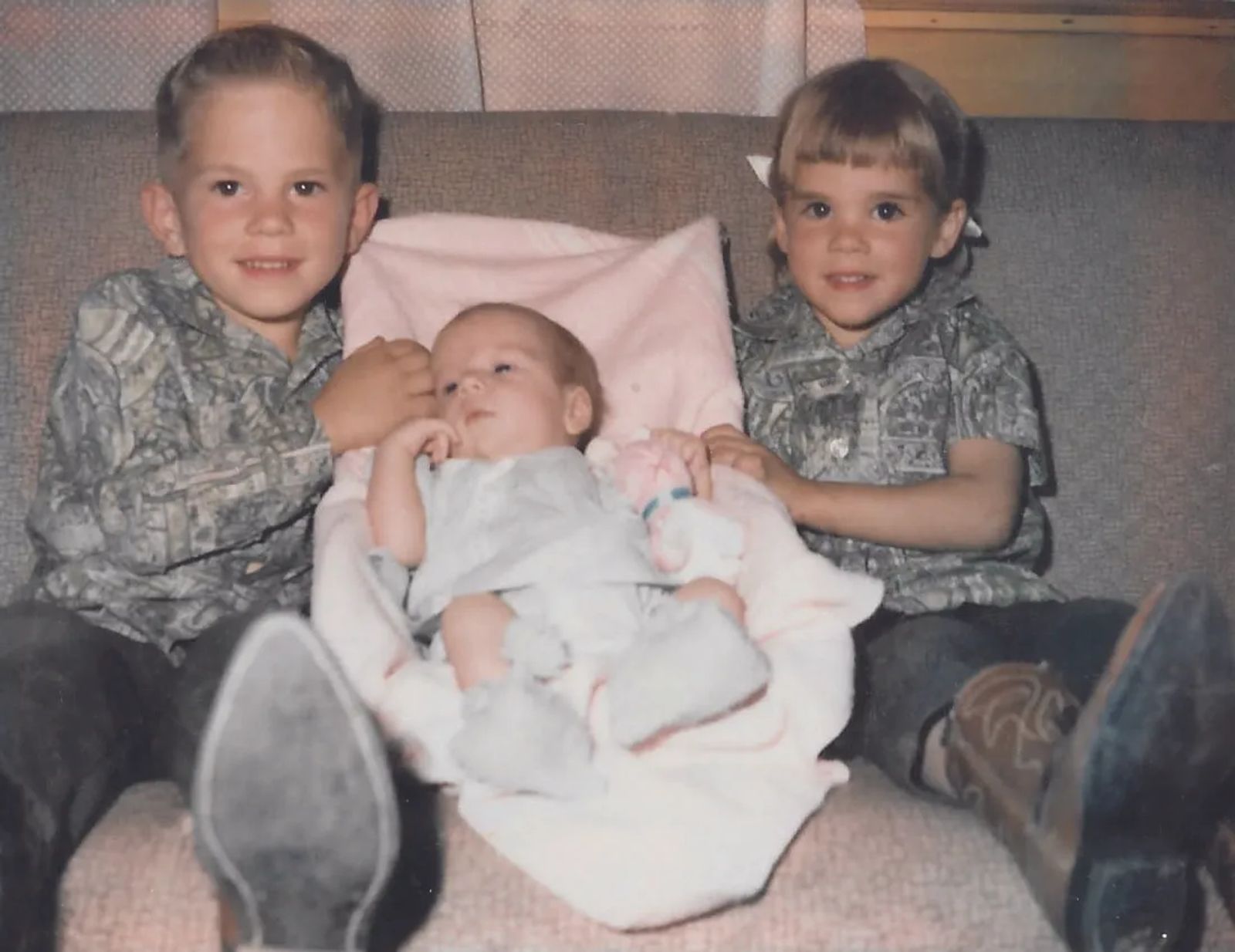 Wendy was about 5 when the Greenough fame first struck her. Sitting in the Muzzleloader Café in Billings, she spied a giant photograph of her two great-aunts.
"I couldn't believe other people knew them too!" she remembers.
Though she never felt pressure to follow the family tradition, Wendy always felt a voice inside reminding her that their strength runs through her blood, too.
"Great Alice and I share the same birthday, so I've always felt connected to her," Wendy says.
That special connection seemed to take life in a dream that was so realistic Wendy could imagine herself in the arena — the sound of the crowd, the smell of the horse's sweat and even the sensation of her satin shirt — like Aunt Alice wore — ripping.
"I felt every jump, every kick," she recalls. "I know she (Alice) gave me that dream."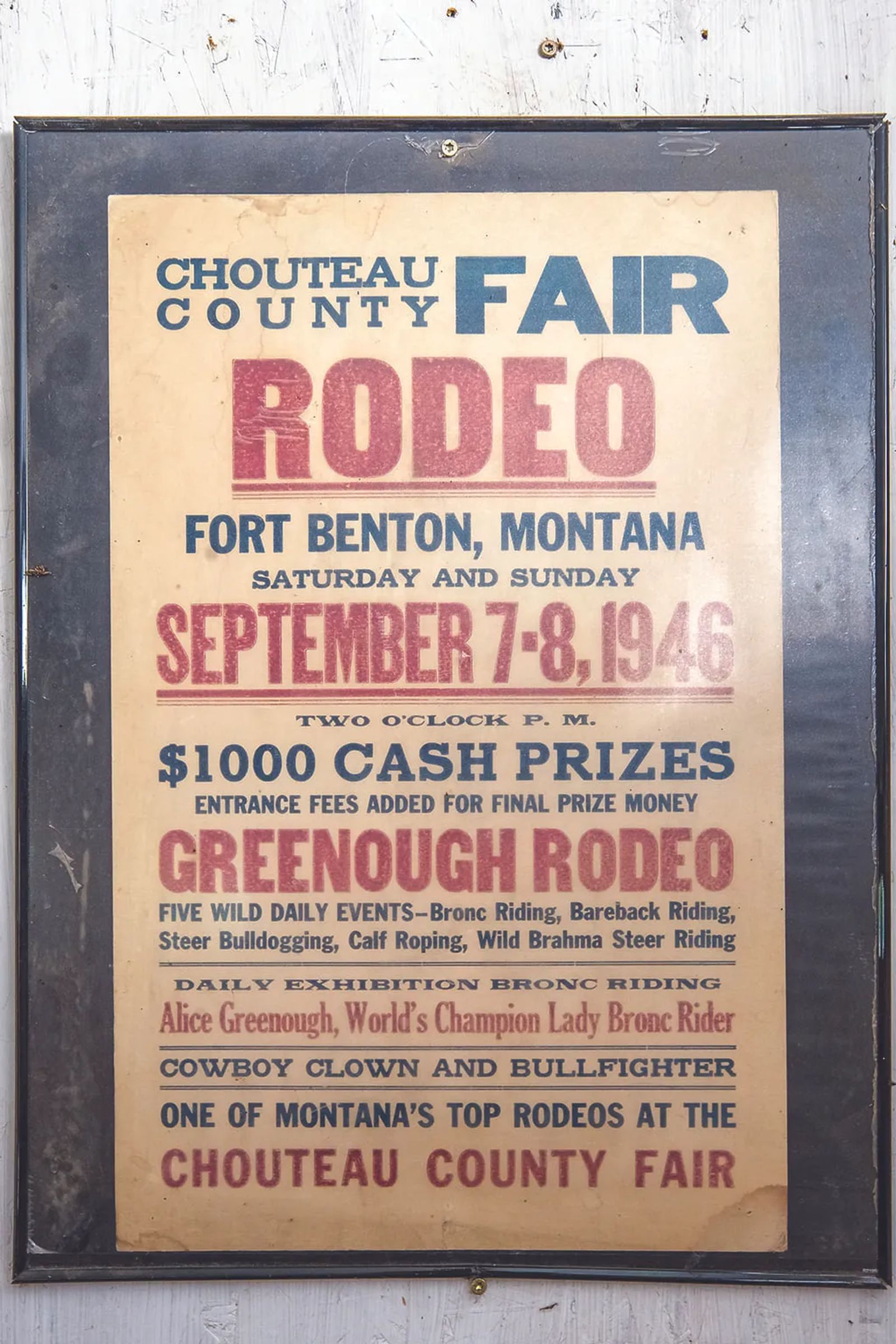 For Steph, it wasn't until she graduated from high school that she began to realize the scope of the "Riding Greenoughs" and her brother's accomplishments.
"You always kinda knew," she says. "I just thought 'Oh, he goes to Vegas every year.' It was just his job."
But her first trip to see Deb compete at the National Finals Rodeo in Las Vegas really left an impression.
"When I got there and realized what it took him to get there," she says, shaking her head, "and that he went 13 years in a row."
Having chosen the rodeo life himself, Deb was more aware of the family fame. He saw his great-aunts and great-uncle when he competed in Arizona, where they lived in later years. While he had no qualms about riding in front of them, he well remembers his great-aunt Alice's gruff voice and demeanor.
"She was always so stern, she put the fear in all of us," he says, laughing.
Wendy offers a different perspective.
"They (the great-aunts) were tough as nails," she says. "But they were true ladies, too. And they had wonderful senses of humor."
As Deb traveled the circuit, rodeo announcers frequently mentioned his connection to "The Riding Greenoughs, pioneers in their sport!"
"I'd hear that and it'd make me smile," he says.
The name, however, offered no advantage when it came to sticking to the back of a wildly bucking horse. Besides, he adds, there are other family names in rodeo that rival the "Greenough" name. And in one instance, the name proved to be a distinct disadvantage. When Deb was about 10 and all excited to ride in his first kids' rodeo in Billings, his hopes were crushed when the parents of his pint-sized competitors discovered that his father, Billy, would be judging. They cried foul and Deb was scratched from the competition.
"And I probably woulda been harder on him anyway," Billy says, smiling.
While Deb followed in the bootsteps of the family before him, he says it was totally his choice.
"Was it dad's idea? Heck no," he says. "I was doing something I begged to do since I was a kid."
Deb still has vivid memories of falling off his first calf at the age of 4. When he cried at the embarrassment, his father told him "Cowboys don't cry." He was a bit older when he climbed on the family's Shetland pony, Cocoa. When the pony got to rearing, his dad told him to "just hang on."
Deb Greenough on Kesler's Skoal's Snowy River at the 1997 Calgary Stampede. [/caption]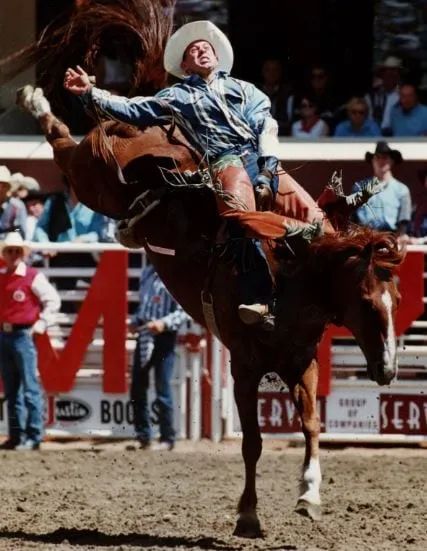 Articles about the Riding Greenoughs frequently refer to Ben's advice to his children. "Take willy with you," he'd say as they headed out on the circuit. It was his way of saying, "take your willpower."
Deb's parents had similar advice, only in different words. When he first competed as a youngster, his dad's instructions were simple: "Try."
"He only said it once," Deb says. "He never had to say it again."
From high school to college at Powell to the pro rodeo circuit, Deb banked on that "try." And it served him well. One year, as he watched his buddies drive off to the National Finals Rodeo without him, he made up his mind he wouldn't be left behind the following year. And, he was right. Deb clawed his way into the big time the year after — and competed there for the next 12 years (1988-2000) — despite major injuries. Among other awards, he won the NFR average title in 1992 and the world title in 1993.
Accomplishments like that earned him his place in the ProRodeo Hall of Fame this summer. The Greenough contingent that traveled to Colorado to witness his formal induction left the ceremony even more impressed.
"I never realized how big an honor it was before I went there," Billy says. "I'm very proud of Deb."
Deb knows personally the trials and injuries that a rider has to push through to reach the top of any sport. As for success, he says, it's basically mind over matter.
"It's what we learned as kids," he says. "It carries on to everything you do."
The Greenough siblings rely on that drive as they've taken separate paths. Deb shoes horses and works as a carpenter. Steph divides her time between her family, the pawnshop they own and as a fitness coach in Billings. Wendy found success with her own house-cleaning business.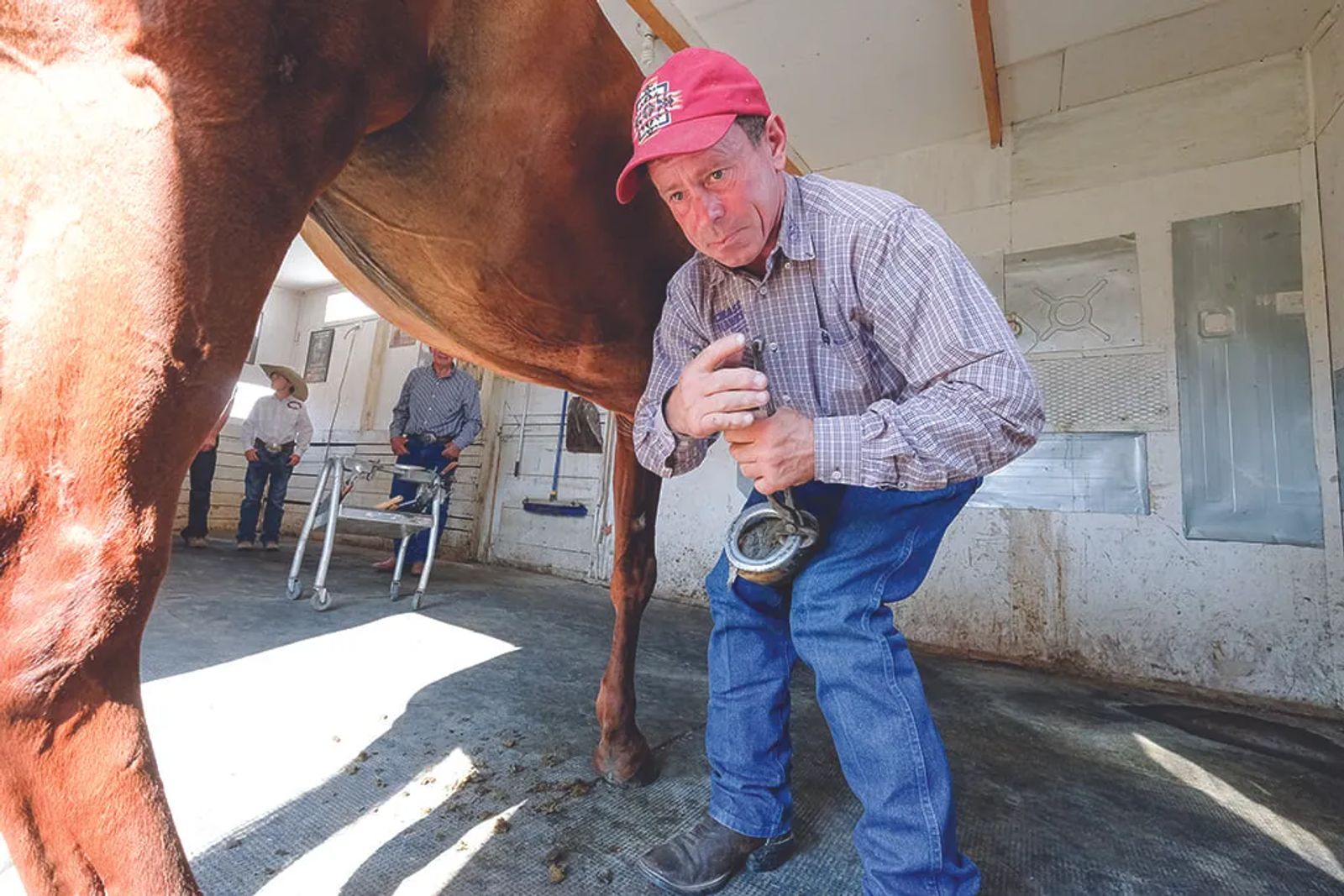 While Deb talks of determination, Wendy likes to think of the sense of adventure and imagination that inspired her great-aunts and -uncle.
"Those two traits have made my life amazing and I'm so grateful to have those genes," she says.
Today's Greenoughs take pride in the family name but they also realize that the family's accomplishments came through hard work.
"Every bit was earned," Steph says.
That same work ethic seems to have passed on to the next generation: Deb's kids Quinn, Turk, Mikel Shea and Trey; and Steph and Shawn Rood's children Seth, Jase, Jayden and Jessey, the special daughter they lost to cancer.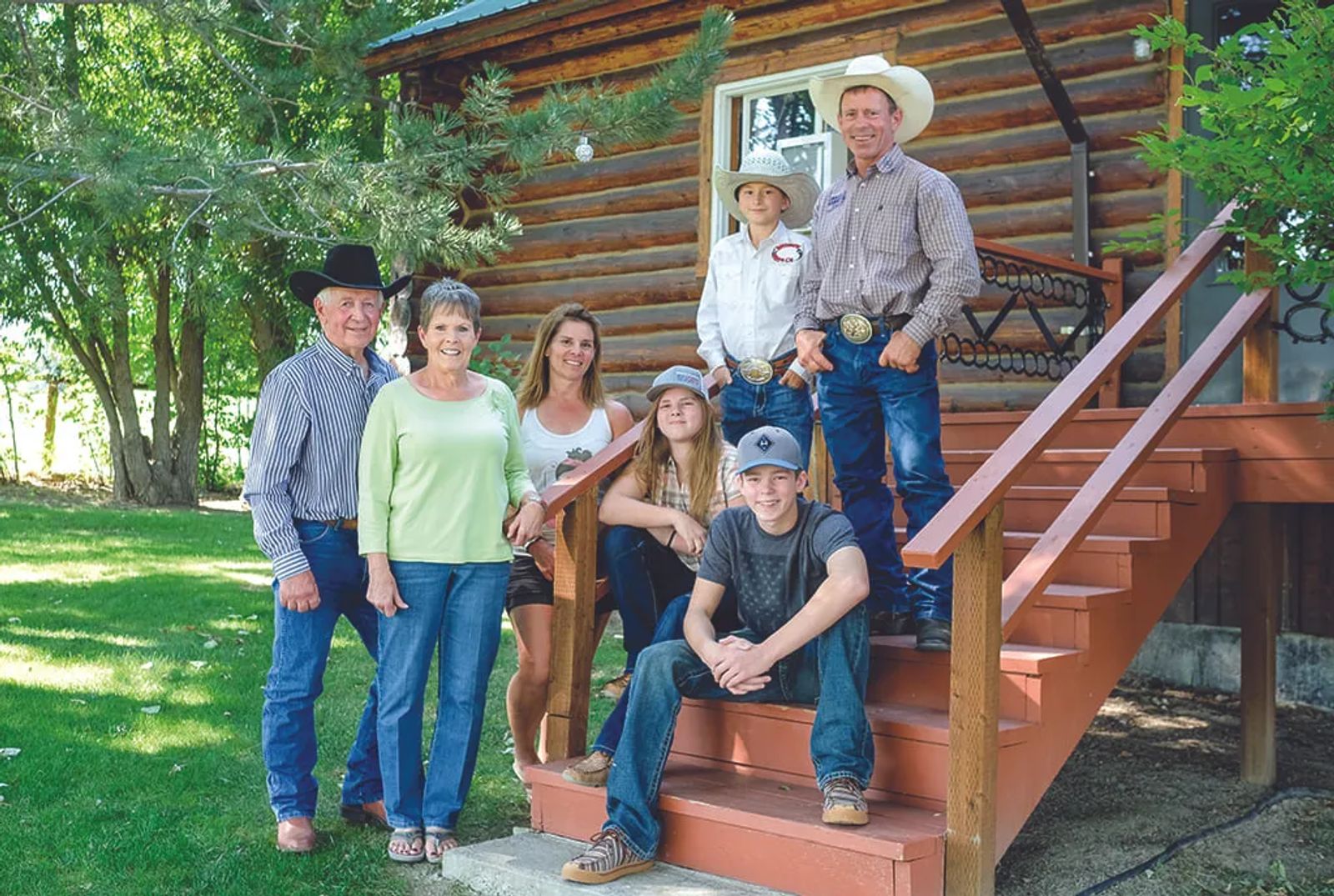 Ranging in age from 10 to 24, the youngest members of the family ride, but probably not as much as they'd like, Steph says. A few, like Quinn, who rides bulls, have competed at rodeos.
But whether they inherit the riding skills or not, Deb and Steph are proud to see their children continue the family traditions that their parents, Billy and Alice, taught them.
"They are courteous and respectful and extremely polite. They open doors for strangers and always offer a firm handshake," Steph begins. "And they dang sure aren't going to wear spurs in the house," Deb adds with a grin.
As for the Greenough legacy? Between the internet and Deb's success, the Riding Greenoughs live on.
"It doesn't matter where I'm at, someone will ask me if I know Deb Greenough," Steph says. "When I tell them he's my brother their jaws drop. That's pretty amazing."