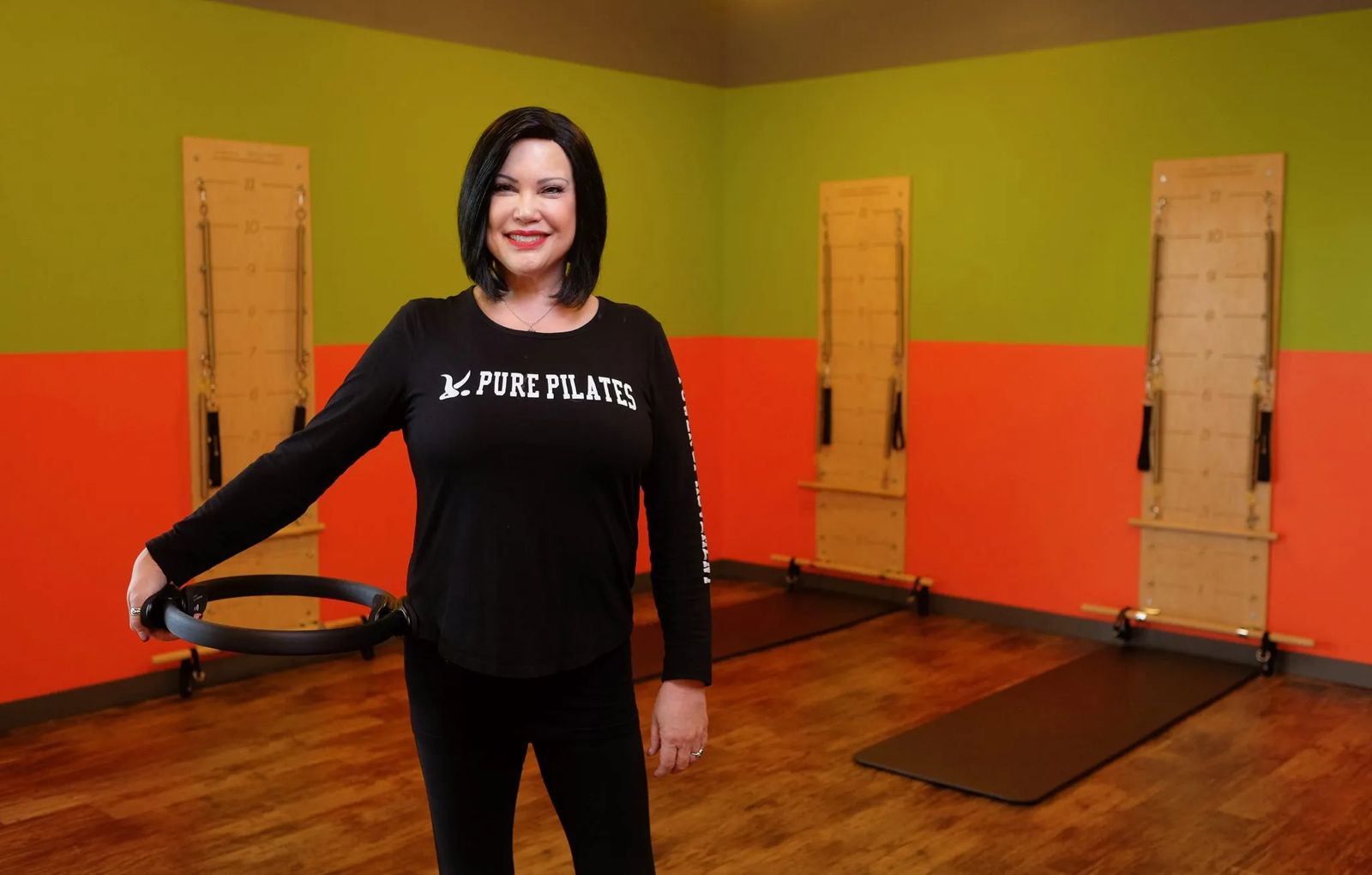 Healing Bodies, Changing Lives
Michelle Berger promotes wellness through Pure Pilates
With slow, graceful movements, Michelle Berger glides across her classroom floor, keeping a close eye on her students. Her t-shirt says it all, "Show up, Roll up & Push Through," underscoring the can-do spirit she shares with every one of her students. Each detailed command she shares comes with a prompt to breathe in and exhale along the way.
"Inhale, tuck the chin. Exhale, roll up," she says as she surveys all eight of her Springboard Pilates students.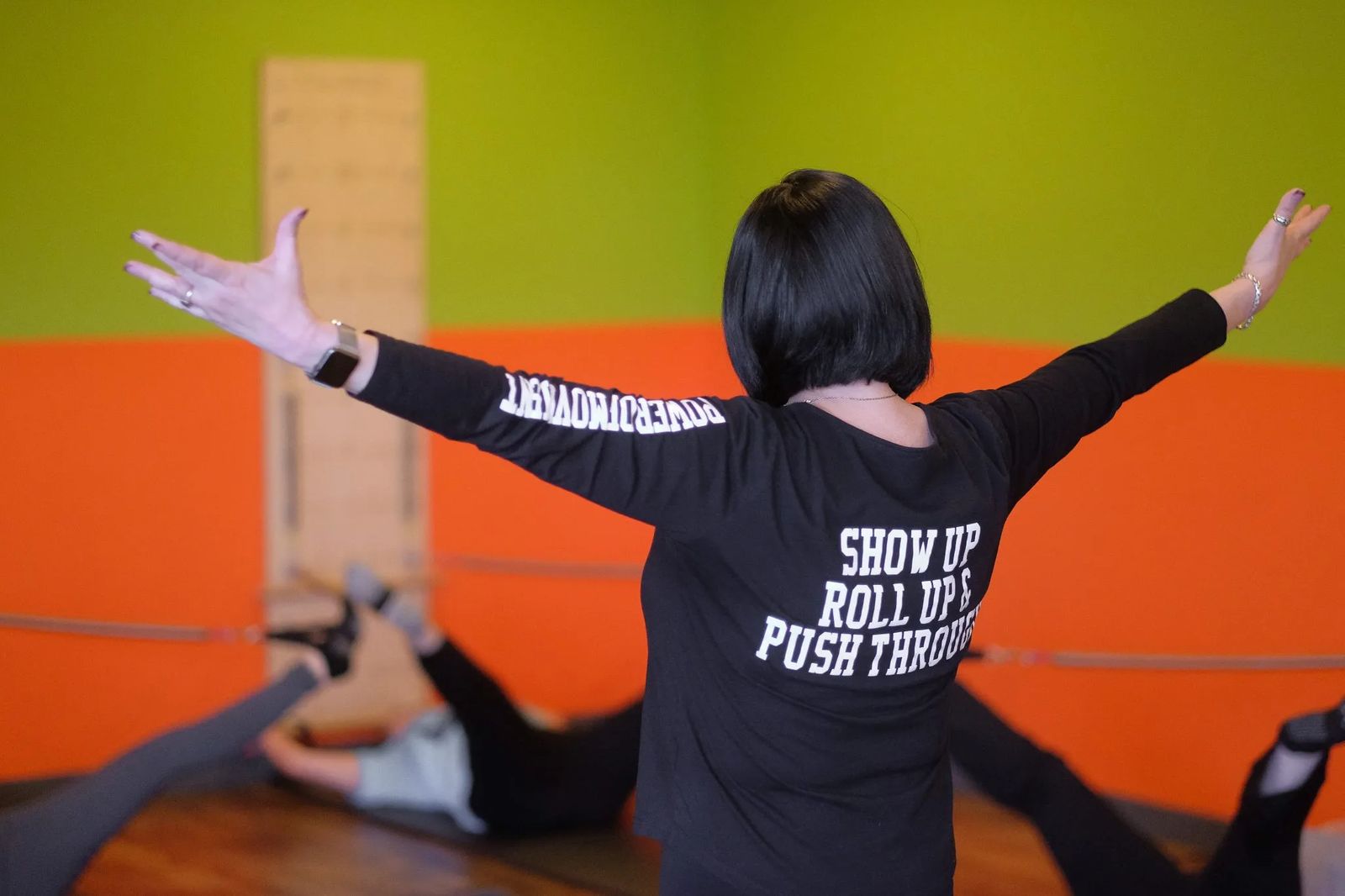 An audible exhale is heard as her students move through each series of short, concentrated exercises, which are designed to strengthen and lengthen every muscle in the body.
"Pilates is a different way of exercising. It is very detail oriented," Michelle says. "It is simultaneous stretching and strength building at the same time — always — no matter what you are doing."
Pure Pilates, a studio tucked into a little complex of businesses near 20th Street West and Broadwater Avenue in Billings is Michelle's home away from home. Her business is the only authentic Pilates studio in town. Michelle has put in countless hours of training just to help people make that connection between mind, body, and spirit.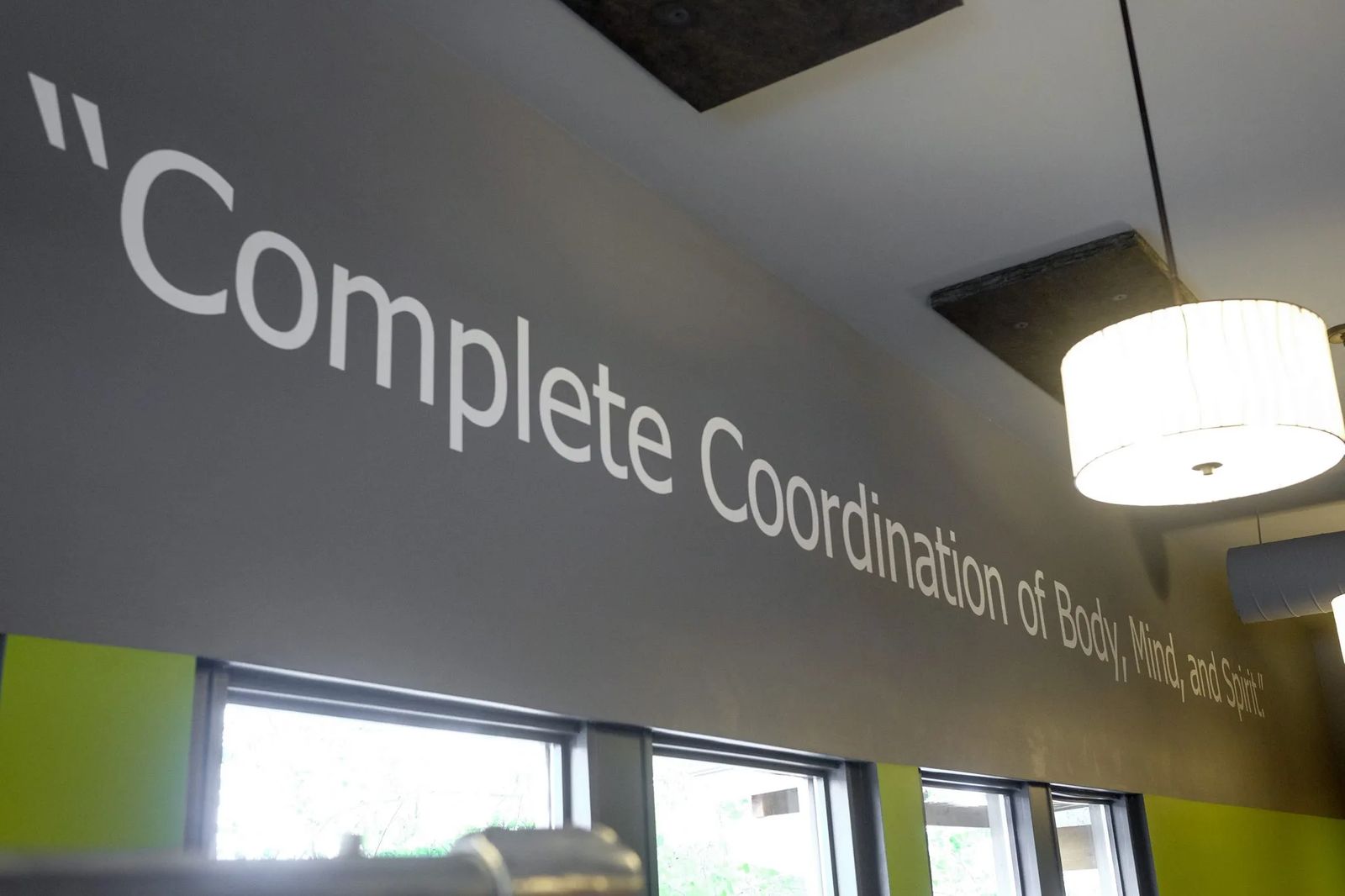 "Everything Joseph Pilates (the founder of Pilates) created is in this room," Michelle says as she shows her studio's vast array of machines, exercise bars, balls, chairs, and springboards designed to get a person's muscles firing at full capacity. The studio's walls shine in vibrant splashes of color to spark energy.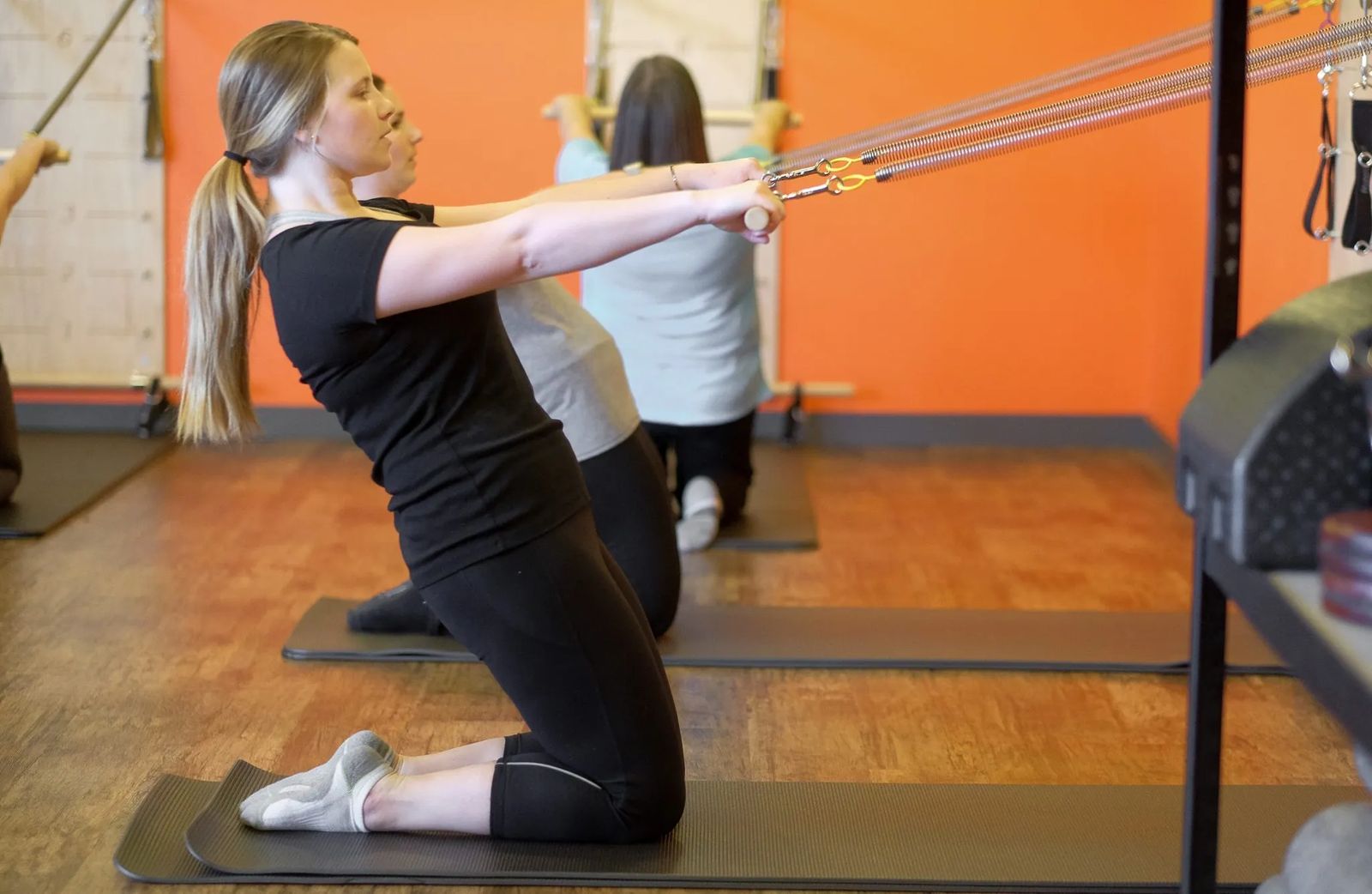 As you chat with Michelle, you soon discover there's not a typical student who walks through the doors of Pure Pilates. She's taught the teen wanting to grow stronger to stay in tip-top shape for high school sports, the young mom who has to stay strong to chase toddlers and the 70-something man recovering from the after-effects of a stroke. All three of these students might sit right next to the empty nester looking to ease arthritic joints and the amateur bronc rider who uses the exercise to gain strength and heal from his rodeo injuries.
"We have an 81-year-old student who does floor classes and she rocks the mat!" Michelle says with a smile.  "We can meet you wherever you are at the moment and work from there."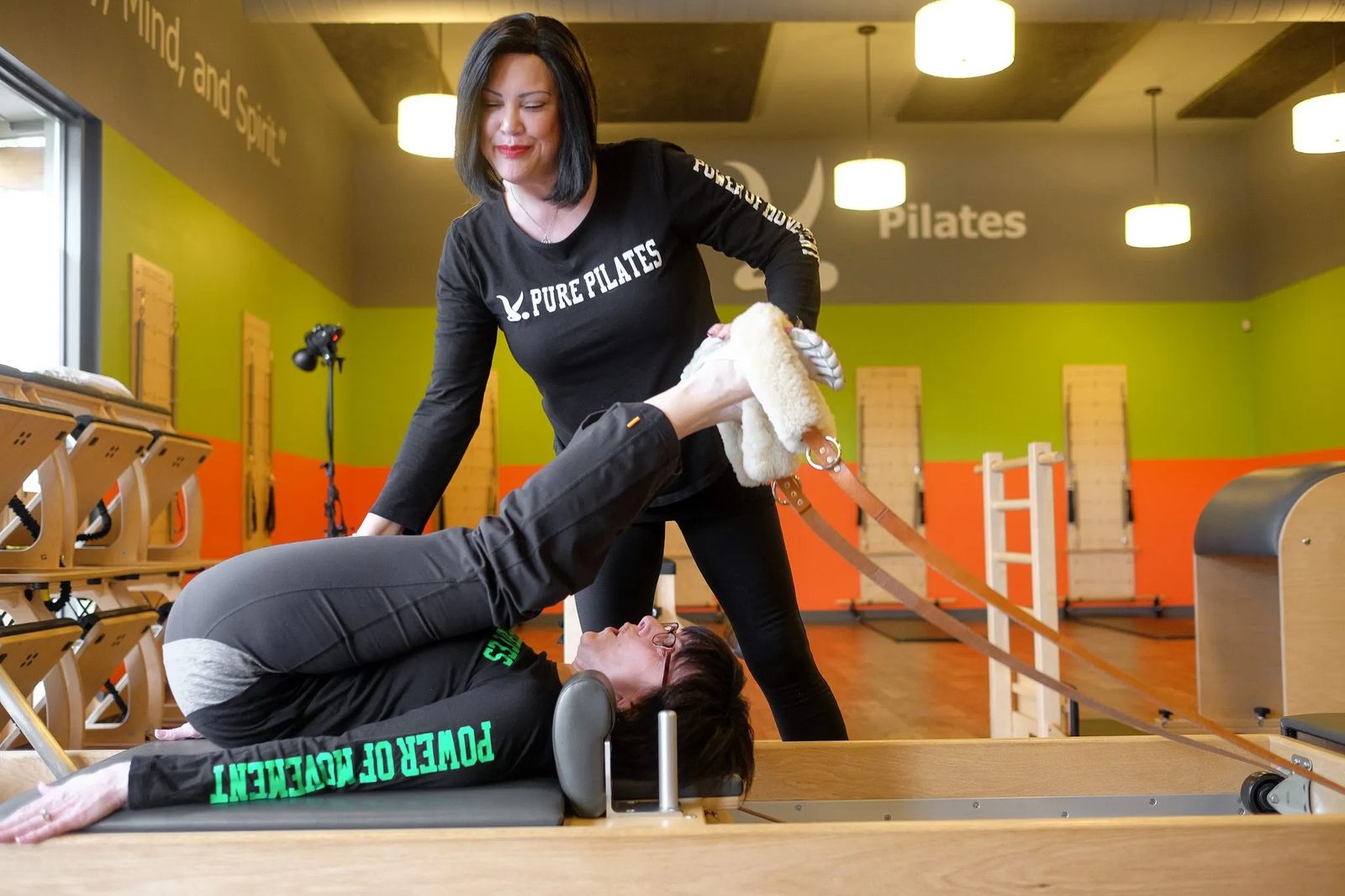 When it comes to watching her students excel, Michelle says, "It makes my heart flutter. It makes me so happy to see them be pushed beyond their borders or to be shown something new that they didn't know about." She loves pushing athletes just as much as helping someone in her class to strengthen and heal. "When you see someone who has been injured or maybe hasn't moved in years and you see them start to rediscover their body again?" With each new day, she says, comes an opportunity for her and her five instructors to help their students become the strongest and best versions of themselves.
A little more than 13 years ago, the discipline of Pilates wasn't even on Michelle's radar. This formally trained opera singer was in the midst of a bustling career, living and performing at the Zurich Opera House. One day, she couldn't help but wonder where her neighbor, Kathy, was going when she left each morning just before 8. Michelle says, "And so I said, 'Where are you going?' To me, it was an ungodly hour of the morning! As a singer, you don't get up and move around until 10!" Michelle discovered her neighbor's secret was Pilates. "I said, 'What's that?' She said, 'Too hard to explain. Here's my instructor's card, go take a lesson." Michelle signed up for ten lessons and by the fourth, she was asking how to become a certified instructor. "It was indescribable. Next to my kids and my singing, I never felt a passion about anything like that," she says. The training would have her practically living in the studio 24/7 for more than two years.
"You have to have at least 500 hours before you can sit for the exam," Michelle says and adds that she ended up with more than 750 hours before finally feeling she was ready to put her knowledge to the test.
Physical fitness is the first requisite of happiness. ~Joseph Pilates
"There are more than 500 exercises in this method. You might run through 60 during a 55-minute class," not to mention, Michelle says, "You need to know how to set up the machines for every type of body training. You need to know the skeletal and muscular systems." As she shares the training process, she says she'll never forget some of her first students. "I remember the first time working with someone who had suffered a stroke. It was fairly terrifying because it is such a huge responsibility but I trust the method and I trust my knowledge of the method."
When 32-year-old civil engineer Wace Meyer first walked into Pure Pilates, he had already spent a fortune going to a chiropractor, trying to heal the sciatic pain that had been nagging him since he left the Navy after serving in Afghanistan. He says, "I tried yoga and stretching. I tried getting back into weight lifting. Nothing seemed to make it better. I hurt all the dang time." Looking at Michelle, he says, "I heard about Pilates and thought, 'What the heck, I would give it a shot.'"
It only took five sessions for him to feel relief. "I was driving home and I thought, my neck feels great. Gradually, it just started to work its way down the rest of my back," he says. After ten sessions, he was walking taller and after 20, "I didn't notice the pain anymore."
Since then, he's tried to tell some of his friends just how life changing this kind of exercise can be. He laughs when he says, "You go to the bar and tell your buddies that you are taking Pilates and they'll say, 'What? You dye your hair too?' I think the perception is that Pilates is for rich women who don't have a lot of other things to do with their time." For Wace, however, it was a game changer. He says, "I was desperate enough. I would have done anything to avoid surgery."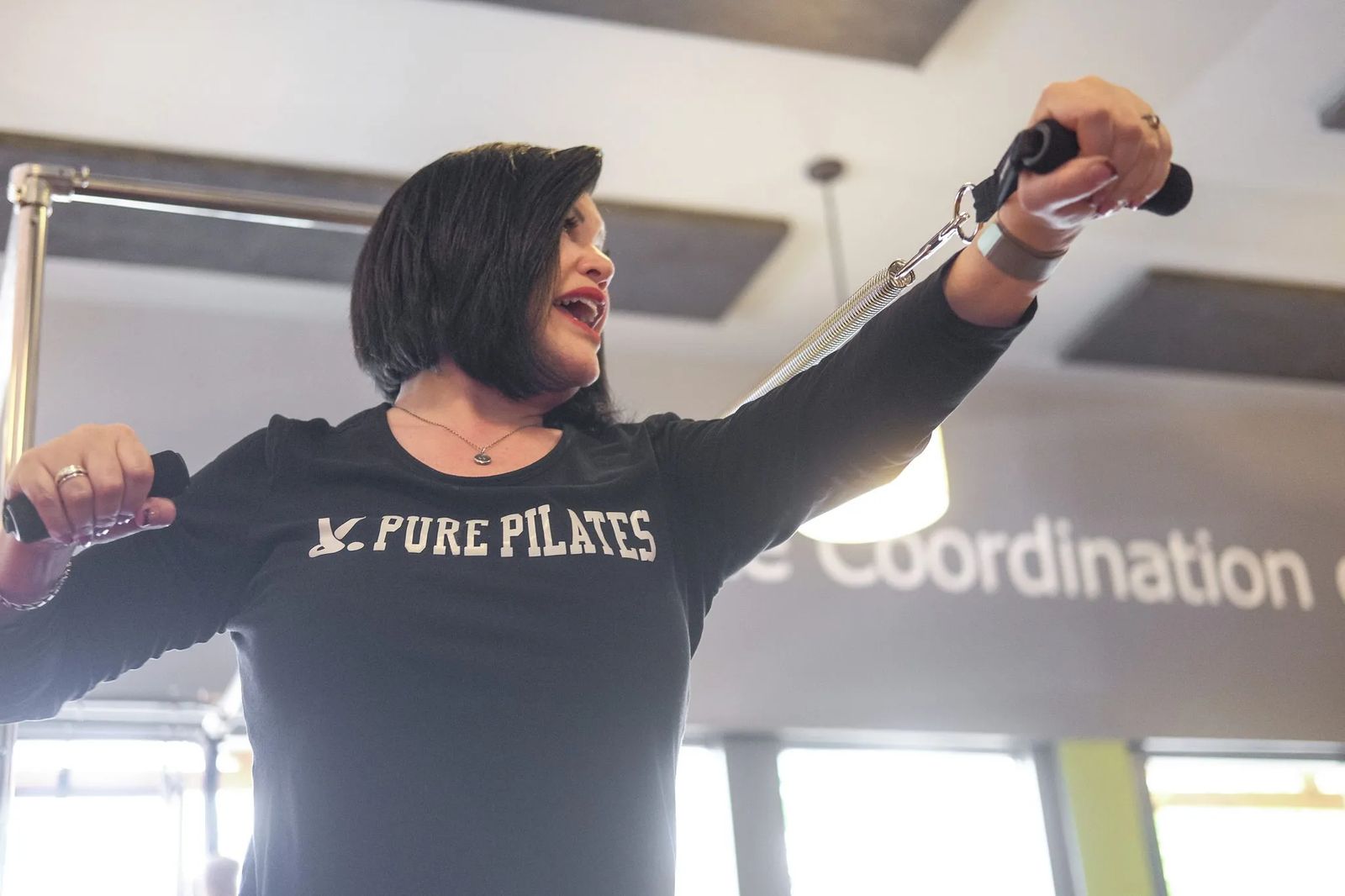 Michelle has seen dozens of stories just like Wace's since she first opened the doors to Pure Pilates five years ago.
"Everything that we do, we are working in alignment," Michelle stresses. "So, if you have issues where you are not aligned, eventually, that is going to straighten you out. By working in alignment, those muscles will strengthen in the proper form and correct themselves."
Instructor Mary Lou Jones is another success story. After suffering a back injury as a teen, "I had lots of different issues, mostly migraines, and lack of movement.  I had lots of neck pain, lots of all over pain." Over the course of 30 years, Mary Lou had tried nearly everything to get rid of her aches and pains until she stumbled upon Pilates. Before she knew it, she too got the bug to teach. "One day while I was teaching, I looked in the mirror and my clavicle bones were straight," she says. Her pain had long vanished.
"When you see something like that, it just brings you to tears," Michelle says. "I am always in awe with what happens with people. That is what keeps us doing what we are doing."
After celebrating her fifth anniversary, Michelle laughs when she ponders the next five. "People will say to me, what was your five-year business plan? Honestly, it was like Kevin Kostner's movie, 'Build it and they will come.' I truly think the recipe for success, no matter what you are doing is to have a passion for it." She adds, "I know it seems strange to business people but we are in a good position. This business has no debt. We will just keep doing what we are doing!"
In time, Michelle would love to eventually expand and have another studio. But, for now, she's happy right where she's at.
"I wake up in the morning and I'm happy and I look forward to seeing what the day brings. My life wasn't always like that. We don't know how long we are going to be around and the chances that we have to impart our gifts to other people. So, do what you can while you can." As she looks around at the healing business that she's created from the ground up, she says, "I love walking through the doors every day into this space."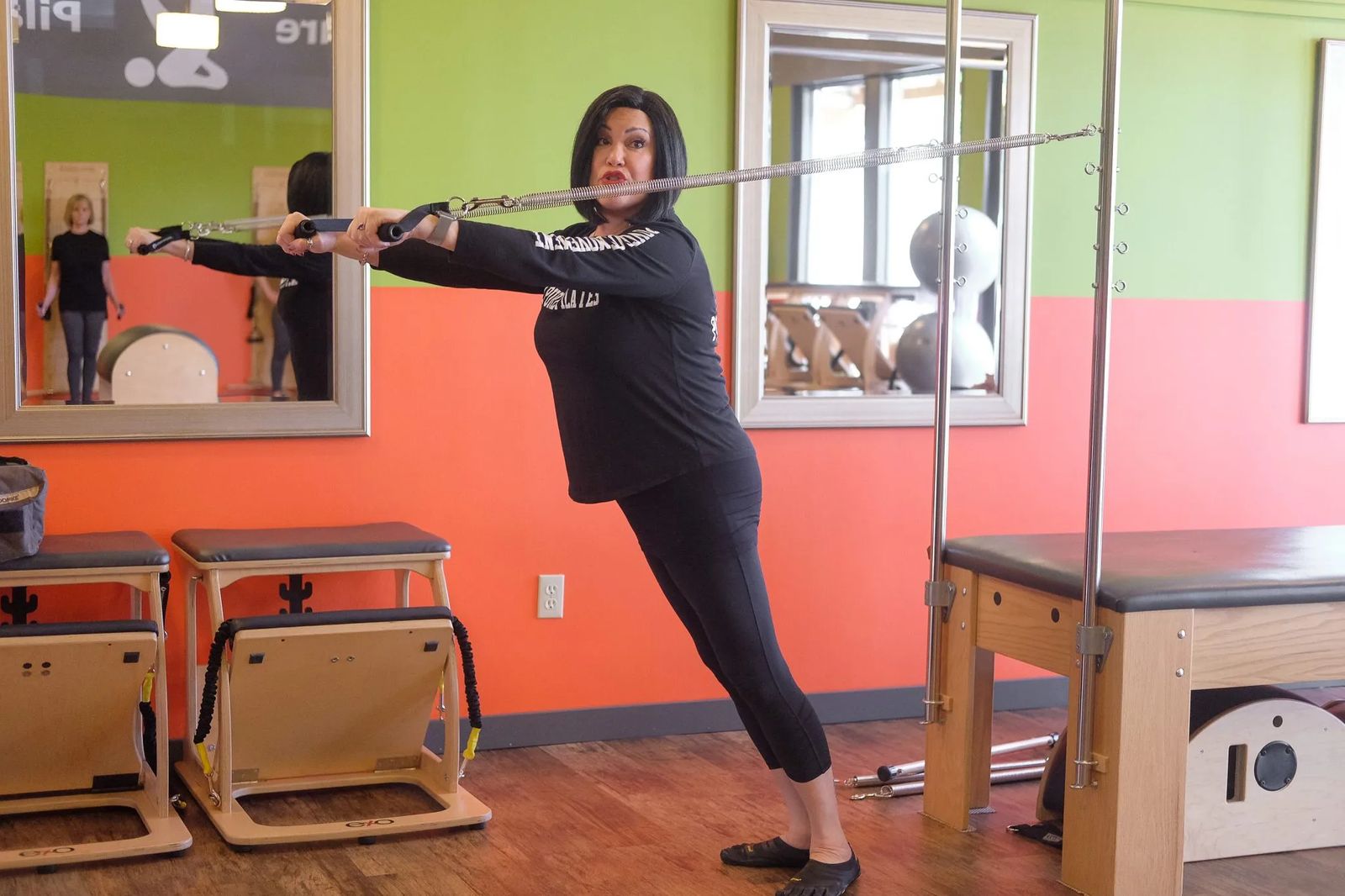 DID YOU KNOW?
- Pilates' slow and controlled movements put a minimal impact on your joints. Each motion is so precise, only six to eight repetitions are needed.
- In one Brazilian study, when young women (without any prior Pilates experience) performed 20 Pilates sessions, they became 19% more flexible and witnessed a 21% growth in their abdominal muscles.
- Chinese researchers found that this "thinking man's exercise" brings about an increase in the brain's peak power, improving the creation of new brains cells and maximizing memory performance and other cognitive functions.
- Pilates works more than just the 'six pack.' It works hard on all 29 muscles that make up the core of your mid-section.