Health: Life Interrupted
One Young Woman's Journey to Recovery
Krissy Wong's determination to attend college started on a high note this past January. She decided that even though she was a mom of three youngsters and worked full time, she had a strong desire to earn a college degree. With her mother watching the kids, Krissy lined up her 15-credit classes for MSU Billings' winter semester. She eagerly took on her student workload while continuing her job as a server at The Vig, a food and beverage hot spot in Billings Heights. Her busy life clicked along until a late night fall changed her life.
Krissy recounts getting off work about the stroke of midnight on the last day of January and walking to her car. She vaguely remembers falling on the ice. "Someone saw it happen and helped me up. I drove to my mom's house where my kids were," she says softly.
With the back of Krissy's head bleeding, her mom rushed her to the Emergency Room (ER). An evaluation and testing revealed that nothing looked out of the ordinary. It happened to be just a bad conk on the head. Or, so it seemed.
"Falls are one of the more common reasons for brain injury," says Bob Snizek, case manager for Headway, St. Vincent Healthcare's outpatient brain injury rehabilitation program. "Brain injury is a hidden disability," articulates Bob.  "It's evident if you have a broken arm, you put it in a cast." He adds when it comes to this kind of injury, "There's no massive bleeding that shows up on a CT scan, but, later, there's confusion or short-term memory loss. The person may be struggling with emotional problems or forgetting everything, and, this can be missed."
Krissy's symptoms of a brain injury simmered on the back burner as she went back to her college classes. In time, she noticed that background noise that had never affected her before was now interrupting her concentration. She was unable to block out the noise. It became difficult for her to do math problems. "It was hard for me to remember things," notes Krissy. "It was frustrating."
Other symptoms roared to the front burner. After returning to work two weeks after her spill, she knew something had to be wrong. "I got dizzy at work and threw up," she recalls. After a trip to the ER, doctors sent Krissy straight to a neurologist who referred the young mom to Headway, an outpatient brain injury rehabilitation program at St. Vincent Healthcare.
The Headway program offers a team which includes Neuropsychologist Dr. David Gumm, four therapists, a case manager and a part-time counselor. It's one of only two outpatient brain injury programs in the state. The other program is in Missoula.
For those like Krissy, the program is a lifeline.
"We're the only intensive day treatment for people with acquired brain injuries," acknowledges Bob. "Seventy percent of people we see have had a traumatic brain injury, 20 percent have had a stroke and 10 percent are people with MS, brain tumors, drug overdoses and these types of issues."
Krissy's rehabilitation included working with Dyna Disc pads for balance control. Krissy stands on these yellow discs as Physical Therapist Doctor Jolynn Miller oversees her toss the ball to the center of the Rebounder.[/caption]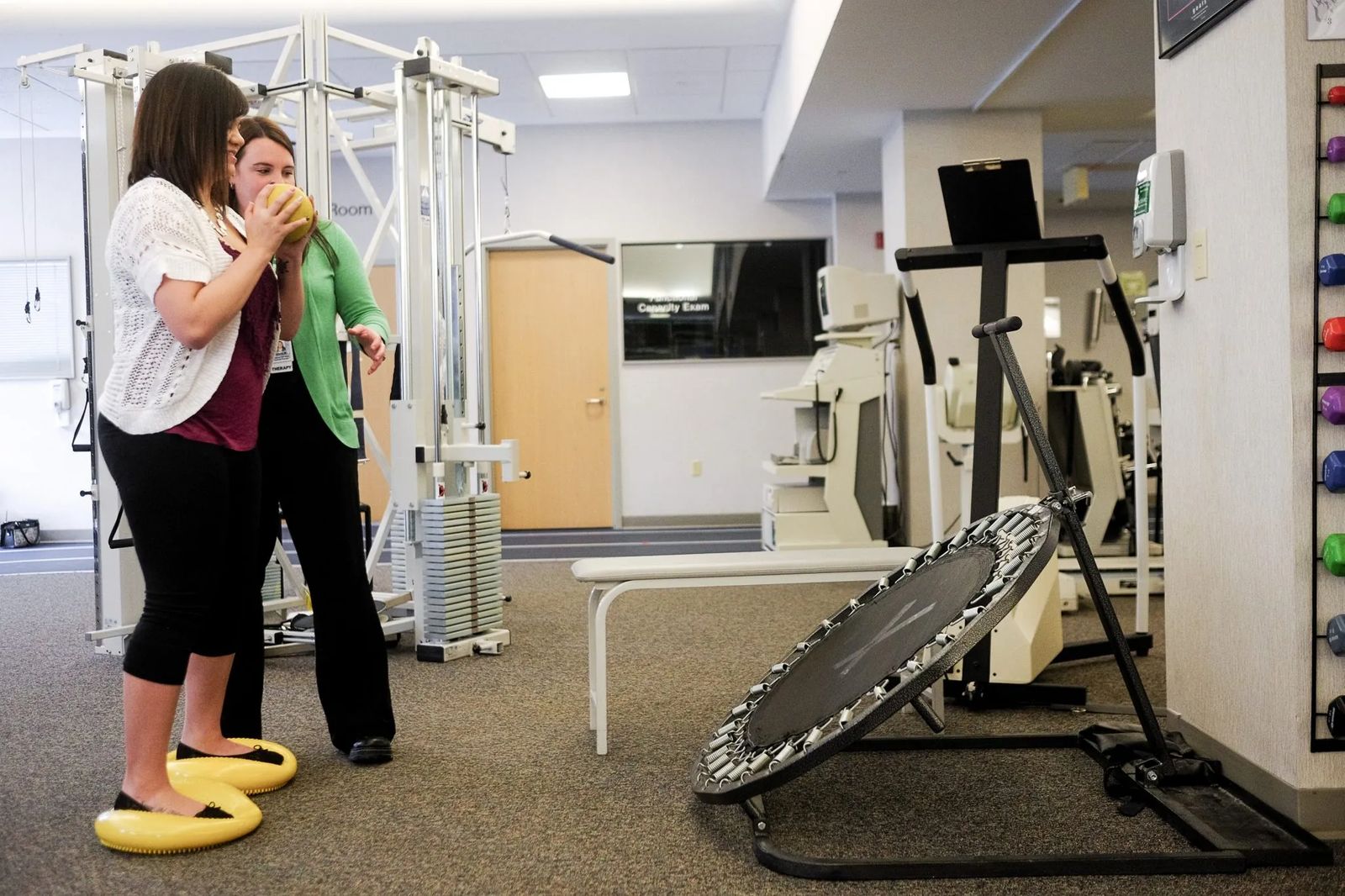 Twice a week, Krissy would show up at Headway for therapy. Located on the lower ground level of the Yellowstone Medical Center building, the treatment program helps people like Krissy regain what they may have lost cognitively and physically. Therapists are trained to help with speech and occupational therapy along with therapeutic recreation if need be.
The focus is always on each individual's needs. In Krissy's case, it was mainly her attention deficit with some memory loss and balance issues. "I saw that I couldn't do my math problems," states Krissy. "I knew this but didn't understand why I couldn't do them. It made me feel better when I came here (to Headway) and the therapists helped me understand why I can't remember some things."
Headway therapists also helped Krissy to get behind the wheel again. "I wasn't allowed to drive," Krissy says, "My Mom had to drive the kids to daycare and take me to school." The program owns a couple of vehicles that specifically assist with re-learning to drive. That's how Krissy was able to practice her driving in a safe environment before ever taking back to the road.
The program literally helped her put the pieces of her life back in place.
"With short term memory loss," notes Bob, "we work to encode new memories. A good analogy is that the brain is like a file cabinet that gets knocked over during an accident and the files get scattered. The info is still there, but, not in order. We work to reorganize it." Krissy smiles as she replies, "I take a lot of notes now! They've taught me to scan headlines and then read it and retain it. Here at rehab they help train my brain."
At 25, Krissy's future looks bright again. She's raising two-year-old Adrienne, three-year-old Tommy and seven-year-old D.P. Now being officially done with the Headway program, it's only a matter of time before she gets back to class to work toward her degree in Human Services so she can "help other women." This go-getter has also started back to work again after having to take a break during rehab.
"With someone like Krissy, functioning at a high level and young," advises Bob, "there is some organic healing that's taken place." Looking at her sitting on the sofa next to him, he tells her, "You're at 90 percent now. In six months or a year there will be more organic healing taking place. We don't have a crystal ball, but, the point is, you're able to return to the things you love and love what you do."
Krissy takes it all in stride as she has done since her first initial evaluation at Headway on the second day of March. Rehabilitation takes an average of two months or as long as nine months, depending on the person's progress. Krissy completed her rehab in less than two months and is back living and enjoying her busy life with kids, work and school.
She still has a ways to go to get back to where and how she was before her icy fall, however, Krissy's desire to live life and her determination to live it abundantly gives her renewed focus for the journey to recovery.
Krissy balances on a "squishy" pad and closes her eyes for 30 seconds while holding onto the balance bars. Physical Therapist Doctor Jolynn Miller is mindful of Krissy's poor balance after her fall. This dynamic balance activity helps reestablish better balance as the inner ear can be affected with a brain injury.[/caption]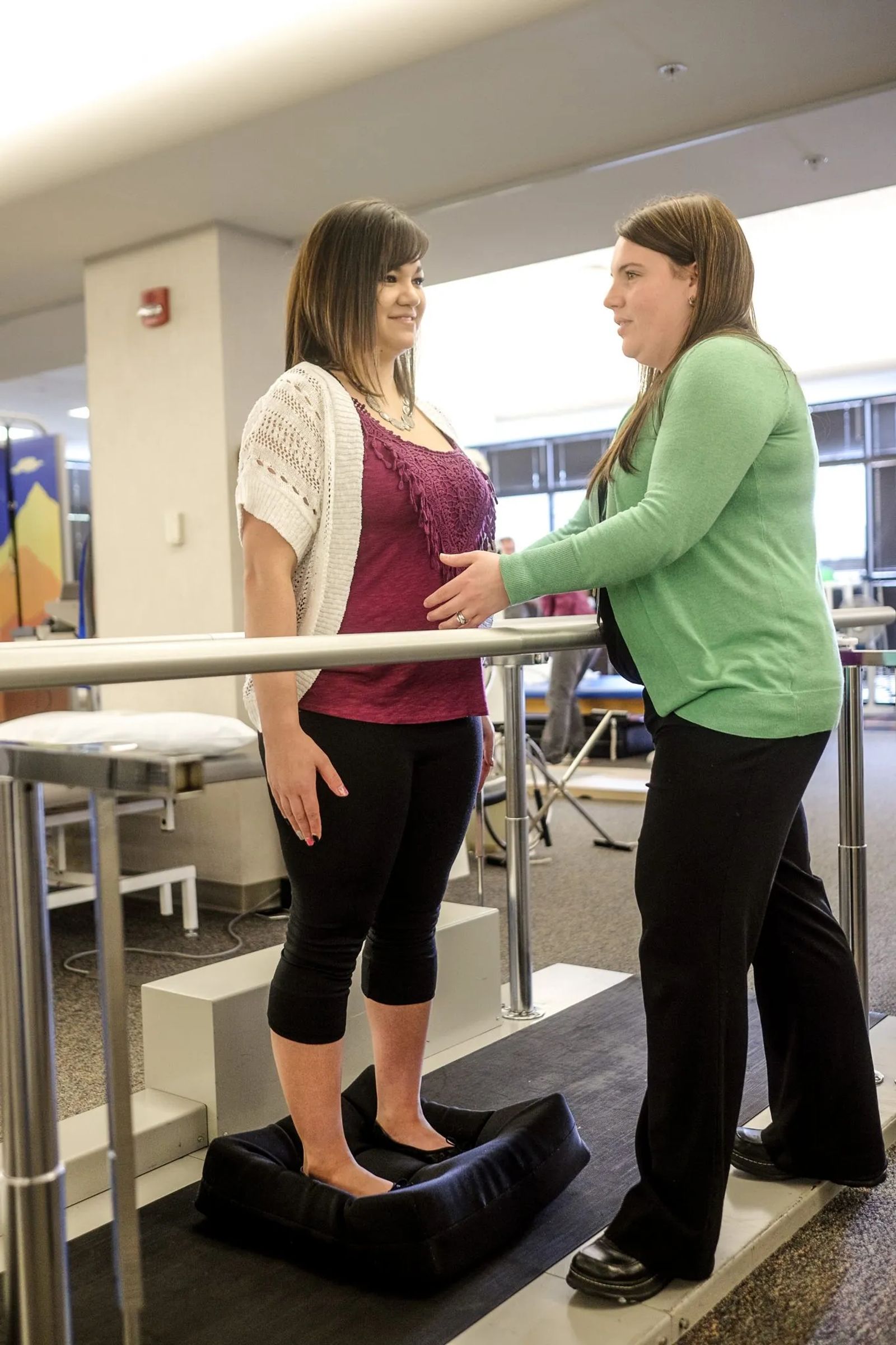 MAKING HEADWAY
The St. Vincent Healthcare Headway Brain Injury Rehabilitation Program has been serving our community and the region for 20 years. Headway is accredited by the Commission for Accreditation of Rehabilitation Facilities (CARF). Admission to the Headway Program is based upon a physician's referral, client and family needs and community resources. For information please call Headway Case Manager Bob Snizek at 406-238-6400. For more on brain injury, visit The Brain Injury Alliance at biamt.org.
BRAIN INJURY
Averting the threat

When it comes to brain injury, it's nearly 100% preventable. To protect your children and other members of your family, including yourself, Bob shares, "You can do the fun things," he says, "with a degree of sensibility."
Wear a helmet while riding bicycles, motorcycles, or, while skating, horseback riding or four-wheeling (riding an ATV). It's critical to protect your head. Bob knows this first hand as his daughter was injured three years ago as a passenger in an ATV wreck during a family reunion.  "My wife called and my first question was, 'Was she wearing her helmet?'"
Bob's daughter was life-flighted home from Sun Valley, Idaho. Thankfully, she had been wearing a helmet. "Her helmet was dented," says Bob, which just shows the force of his daughter's accident. "We did rehab with her foot instead of her brain. She has a significant scar on her foot. She was wearing flip-flops."
THE KEYS TO PROTECTING YOUR HEAD

Wear a helmet and make sure it fits correctly. You've won half the battle by getting kids in the habit of wearing a helmet when doing activities.
Provide supervision when kids are doing activities.
Set the example by wearing a seatbelt and insist that your kids do also.