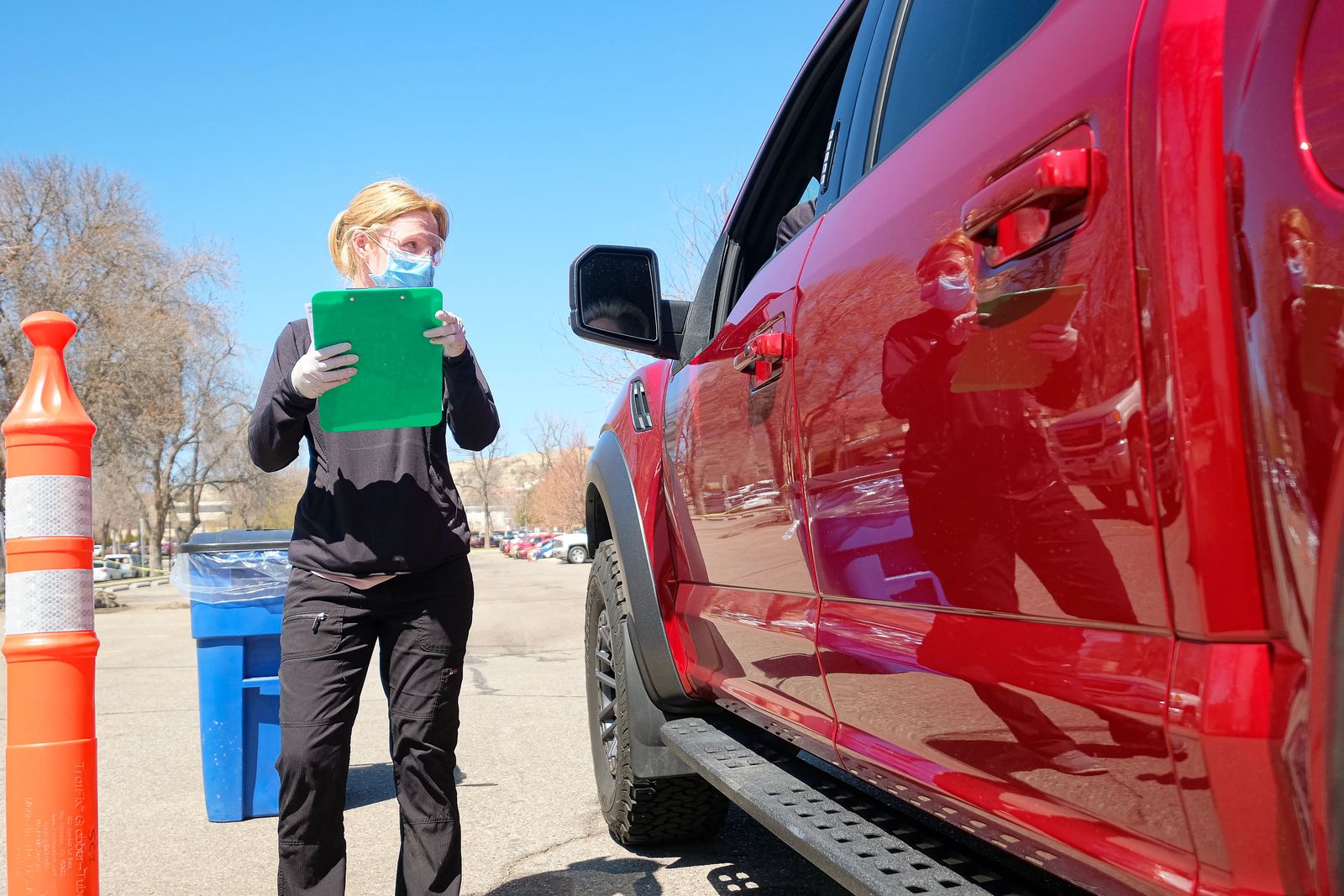 Healthcare Hero Sam Kaufman
Staging a community response to a pandemic
In not quite 25 years, Sam Kaufman has been an intensive-care nurse, medical-flight dispatcher, EMT, paramedic, police officer, flight nurse and K-9 handler, sometimes holding three or four of those positions at the same time.
Along the way, she took part in emergency responses to Hurricane Katrina, a massive tornado in Joplin, Missouri, and an outbreak of the Ebola virus in Dallas. During her time in the Dallas-Fort Worth area, she also helped staff the Superbowl and the World Series.
Luckily for us, in 2015 she returned to Billings, where she grew up, and she's now the director of emergency services at St. Vincent Healthcare, where she oversees about 80 people, including house supervisors, in trauma services, the emergency department and the flight program.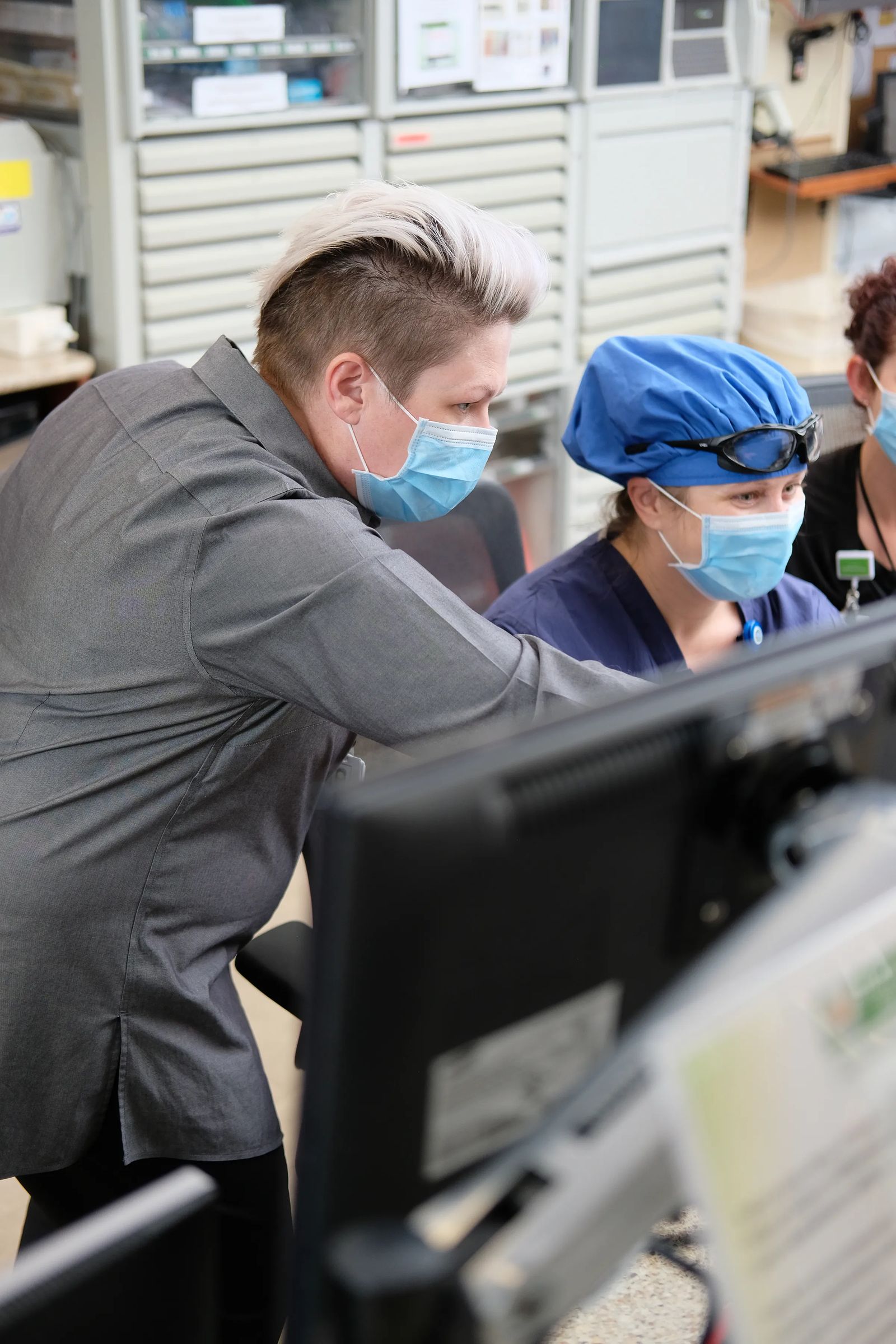 All that experience she gained far from home proved very useful when Billings, like communities across the world, suddenly had to deal with the coronavirus pandemic. Sam was part of the St. Vincent team formed to decide how the hospital would respond.
Sam already knew that exposure to sunlight was effective in lessening the longevity of a virus, and she says St. Vincent had previously done practice drills involving drive-through flu-vaccine shots. She did research to see what was being done with testing in China, where the virus originated, as well as in other countries that were in the thick of the pandemic.
She took her research to the command team, she says: "I told them I had an idea and they kind of let me run with it."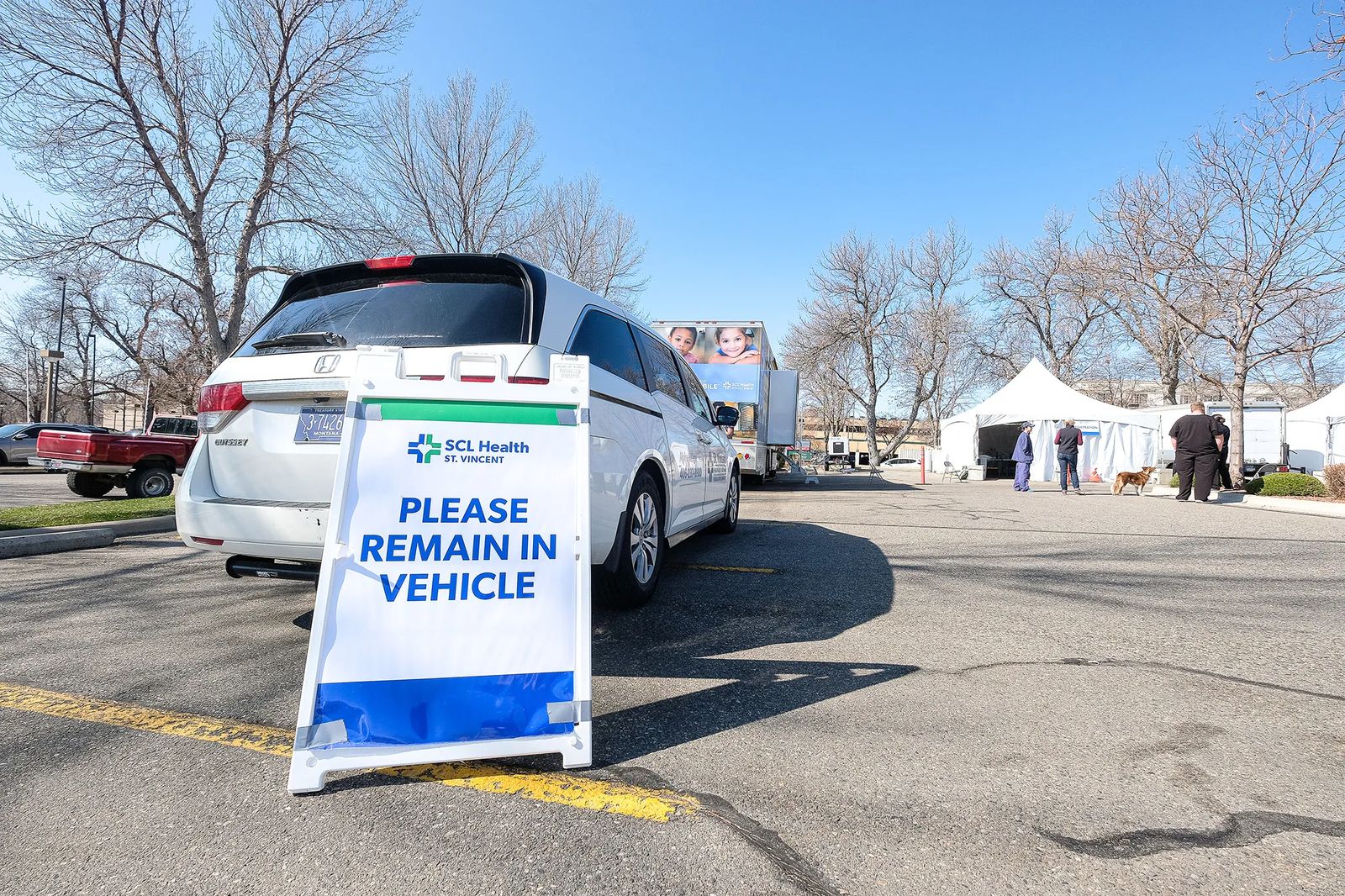 The idea was to set up drive-through testing tents in a St. Vincent parking lot, where people could be tested without entering the hospital, where sunlight would be plentiful and where it would be easier to create negative air pressure, which helps prevent the escape of harmful particles.
That was in mid-March, and the testing site was set up and ready to go within three days. As far as she knows, it was the first of its kind in Montana.
"I am pretty positive that was the case, because we had a lot of other cities in contact with us, trying to figure out how to set it up," she says.
Since Mid-March, she says, St. Vincent has slowly enlarged the operation, which is still being used for pre-surgical testing as well as symptomatic testing for COVID-19, and for trace testing as well, which helps to map the spread of the virus.
It's been a hectic few months for Sam and her colleagues, but it's nothing she's not accustomed to. "It probably sounds sick," Sam says, but she's never had a real hobby. "EMS was my hobby. I just had a huge desire and drive. It was never like work to me. It was my fun."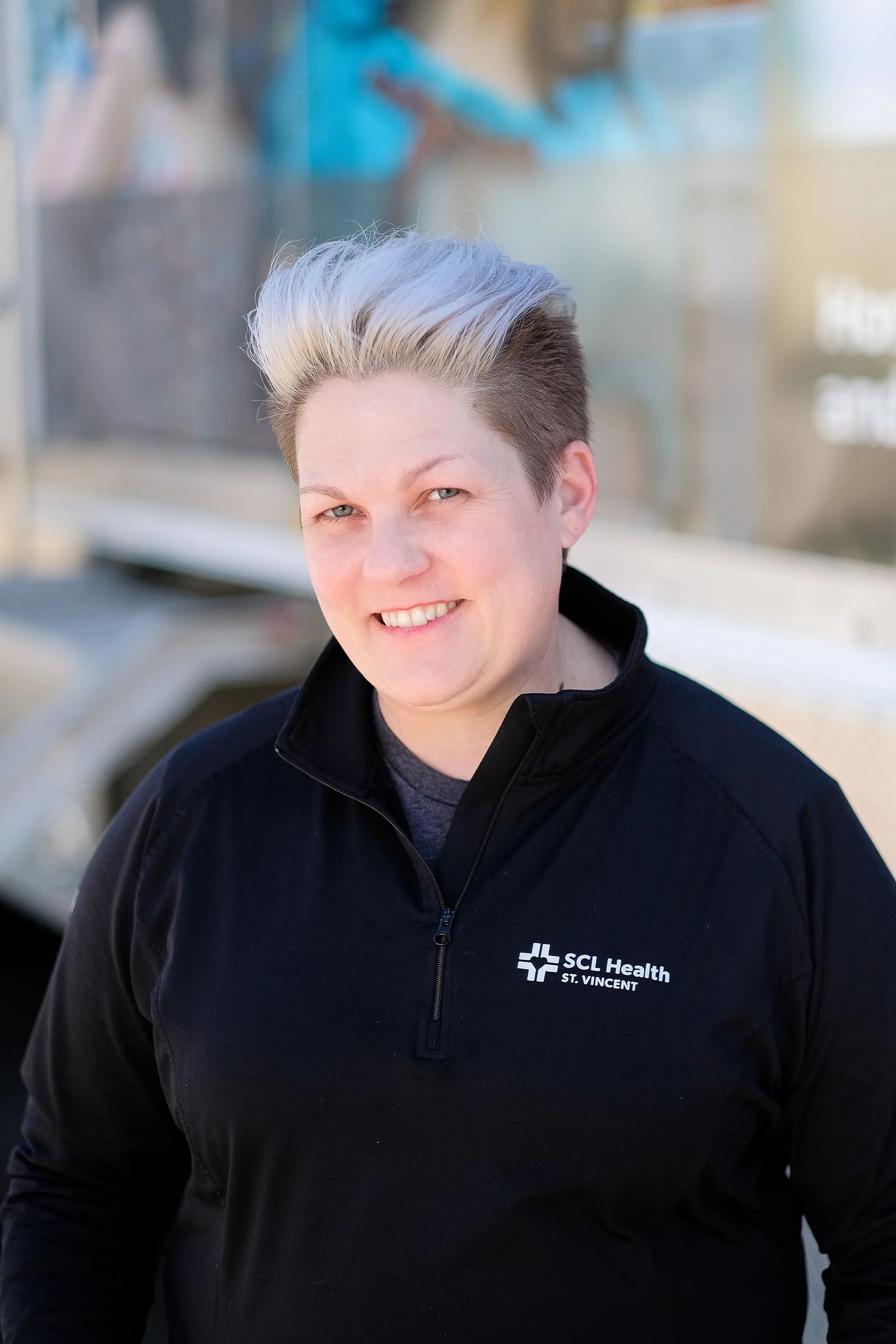 Growing up in and around Billings, Sam says, her parents, Larry and Linda Smith, recognized early on she had energy to spare and "tried to keep me busy in every after-school program they could."
As a kid, there was swimming, basketball and volleyball. She was later involved in drama and band and she played softball through her sophomore year in high school before being sidelined by shoulder injuries. She wasn't sure what she wanted to do after graduating from Skyview High School in 1995, but when her then-boyfriend enrolled at Montana Tech in Butte, she looked through the course catalog and settled on nursing.
After earning her nursing degree, she spent a year in the intensive-care unit at what is now Billings Clinic. Working there and rubbing elbows with EMTs and paramedics, she decided to expand her skill set.
"I think it was the excitement of hearing their stories out in the field, and what they got to do to help people, the autonomy they had," she says. "And they always seemed to love their jobs."
While working full-time, she enrolled in a night class to become an EMT. She was soon working full-time as an EMT for American Medical Response in Billings and pulling night shifts as a dispatcher for the St. Vincent flight program. Somehow, she also squeezed in some paramedic training on the days she wasn't working.
How many hours a week was she putting in, between working and training? "I can't even tell you," she says, half laughing and half sighing. "I did not get a lot of sleep."
All that happened in less than three years. By that time, she decided to try working in a big city. She landed a job with American Medical Response in Dallas-Fort Worth, but because the job involved backup, as opposed to providing primary services, she soon took a new job as a paramedic in the city of Arlington, part of the Dallas-Fort Worth metro area.
In that role, she got to know the police chief in Dalworthington Gardens, a little city surrounded by Arlington, and the chief offered to send her to the police academy. After gaining that certification, she worked a few days a week for the police force while pulling a couple of 24-hour shifts a week as a paramedic.
And because she's Sam, she eventually started her own nonprofit search-and-rescue organization, funded by local businesses and using her own K-9s. She served warrants, responded to fire calls, worked traffic patrol, conducted evidence and cadaver searches with her dogs and dealt with accidents of all kinds.
She obtained plenty of the big-city experience she'd gone to Dallas for — including incidents involving pipe bombs, an oil-rig explosion near Houston and a fertilizer plant explosion in West Texas that killed seven firefighters.
"Unfortunately, big bad things happen more frequently (in big cities), so you get more practice at them," she says. "I've been through a lot of sad things, I guess you would say."
The most intense work she ever did was in response to Hurricane Katrina in 2005. She was a member of an elite Texas Emergency Medical Task Force, made up of hand-picked first responders charged with meeting the needs of the devastated area. It was an exhausting, exhilarating assignment that lasted three weeks.
"I learned so much from that entire thing," Sam says. "It was a humbling experience, for sure."
She learned more as an on-field paramedic at the Texas Rangers' baseball stadium and the Dallas Cowboys' football stadium, both in Arlington. Working the football games, she found there were no established on-field medical protocols, so she helped develop them, and then watched as they were adopted throughout the National Football League.
She'd planned to spend two years in Dallas and ended up there for 15 years. Eventually, though, she felt the tug of home. Both of her parents had bouts of cancer, and her brother had a growing family. She had always been career-driven, but in talking with so many people who were nearing the ends of their lives, she kept hearing the same message.
"Every single person told me, I wish I would have spent more time with my family. I wish I wouldn't have been as involved in work and I wish I would have put my family first."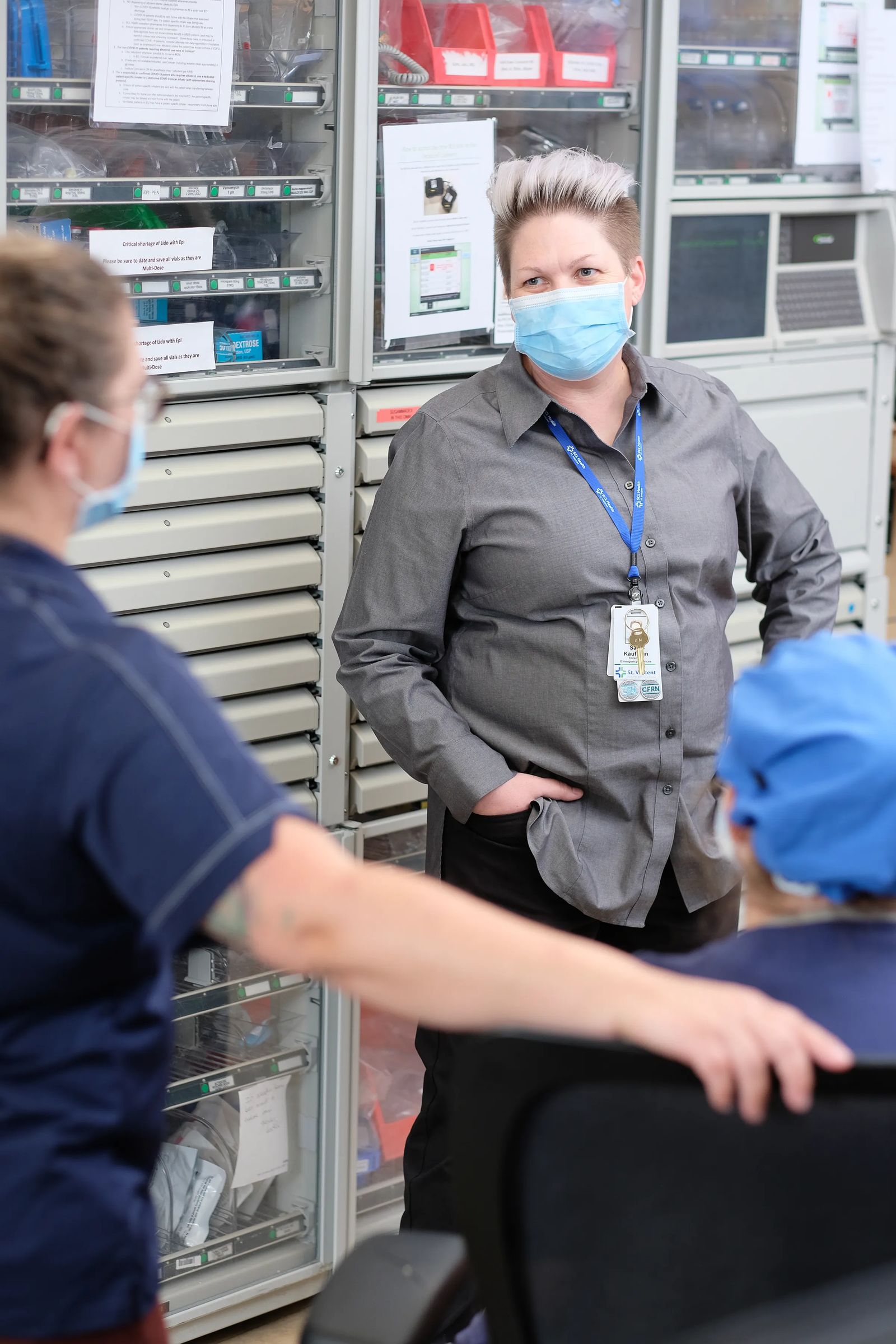 So, she returned to Billings in 2015, working as the manager of trauma services at St. Vincent, the hospital where she was born and had worked at the start of her career. After two years in that position she became director of the emergency department, then director of emergency services.
Chad Cady works for Sam as flight nurse at St. Vincent, where he's been since 1998. He says Sam is the first director he's worked for who had "a previous history in the flight world. She truly understands the dynamics of the industry. … A lot of in-hospital folks, without pre-hospital experience, aren't able to comprehend all the idiosyncracies that go into the transport world."
It helps that she "has a great sense of humor, very witty and quick," Chad says. She also listens and learns quickly, always ready to lead but also open to advice and direction, he says.
And though she sometimes misses being a flight nurse, Sam says her position "gets pretty wild, too, just in a different way. I'm doing those things but just on a higher level. I have to be there every day to support the people who do those things.
"What fills my cup is knowing that they get everything they need, and to see them be successful," she says.