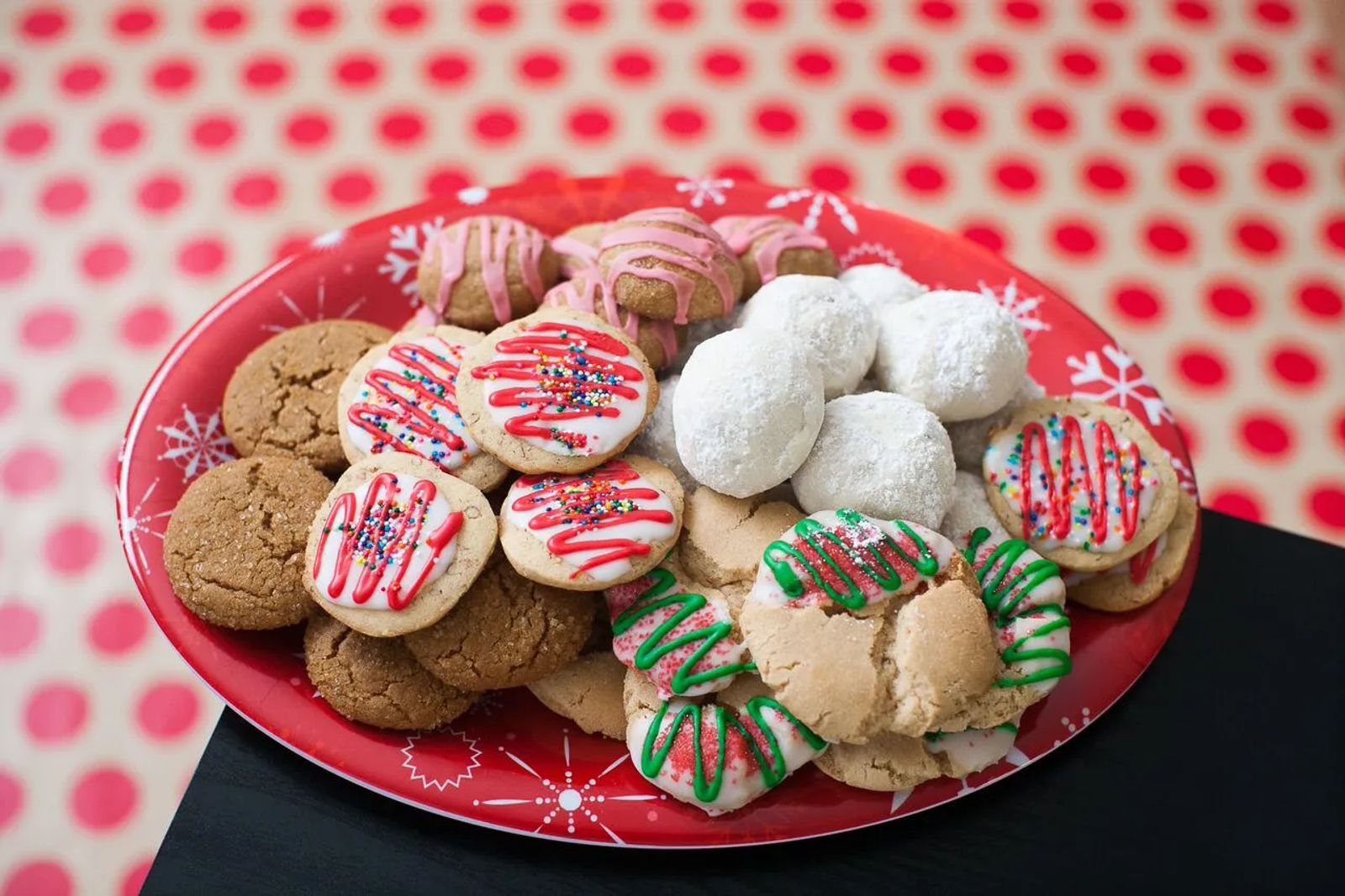 Hey Cookie!
Bake up some holiday cheer with a cookie exchange

Yes, it's true. Time moves at an exceptionally faster rate when those bells start to jingle and songs of Kris Kringle start to sound in department stores far and wide. As you make your list and check it twice, there never seems enough time for shopping, decorating, baking, traveling, parties, wrapping and holiday programs. Each joy seems to take up more clicks of the clock.
Why not grab some of your friends and decide to tackle the baking together? It's a roll-up-your-sleeves kind of action that not only saves you time in the kitchen, but it's social. Consider it a little sugar laden de-stressor that helps you to whip up a beautiful plate of cookies in a fraction of the time.
How does it work? It's simple. You invite at least a half dozen people and everyone brings at least 6 dozen cookies. It's a good idea for the hostess to know what kind of cookie each person is bringing, just to make sure there are no duplicates. When the party wraps, each person will go home with at least a dozen of at least six different types of cookies. Don't forget to bring a few extra to nibble on and taste. And don't forget to serve up some festive holiday potable like hot chocolate or cider to go with the tasting.
To make the process even easier, we rounded up five great cookie recipes that are sure to be a hit not only at the cookie exchange but at home too. Three of the cookie recipes come from lovely ladies who spent their Saturdays at the Yellowstone Valley Famers Market selling these tasty delights.
Kristy Sanders of Kristy's Cookies and Sweet Treats had her passion and hobby on display on market Saturdays. From her extensive recipe file, she offers Chewy Ginger Cookies which deliver this wonderful holiday flavor in a quick and easy way.
Sweet Whimsy Bake shop co-owned by Susan Finn, another regular at the Yellowstone Valley Farmers Market, serves up two recipes: buttery Russian Teacakes, also known as Mexican Wedding Cookies. Finn also shares Lemon Cardamom Cookies, a recipe from her friend Julie Reis.
Pecan Refrigerator Cookies were a favorite of my father, who insisted they were at their best when dunked in milk. Rounding out the top five, we bring you Crinkle Top Cookies, a recipe which makes lots of cookies with minimal effort.
So preheat the oven and line up your friends. It's cookie time (without a lot of time).
Enjoy!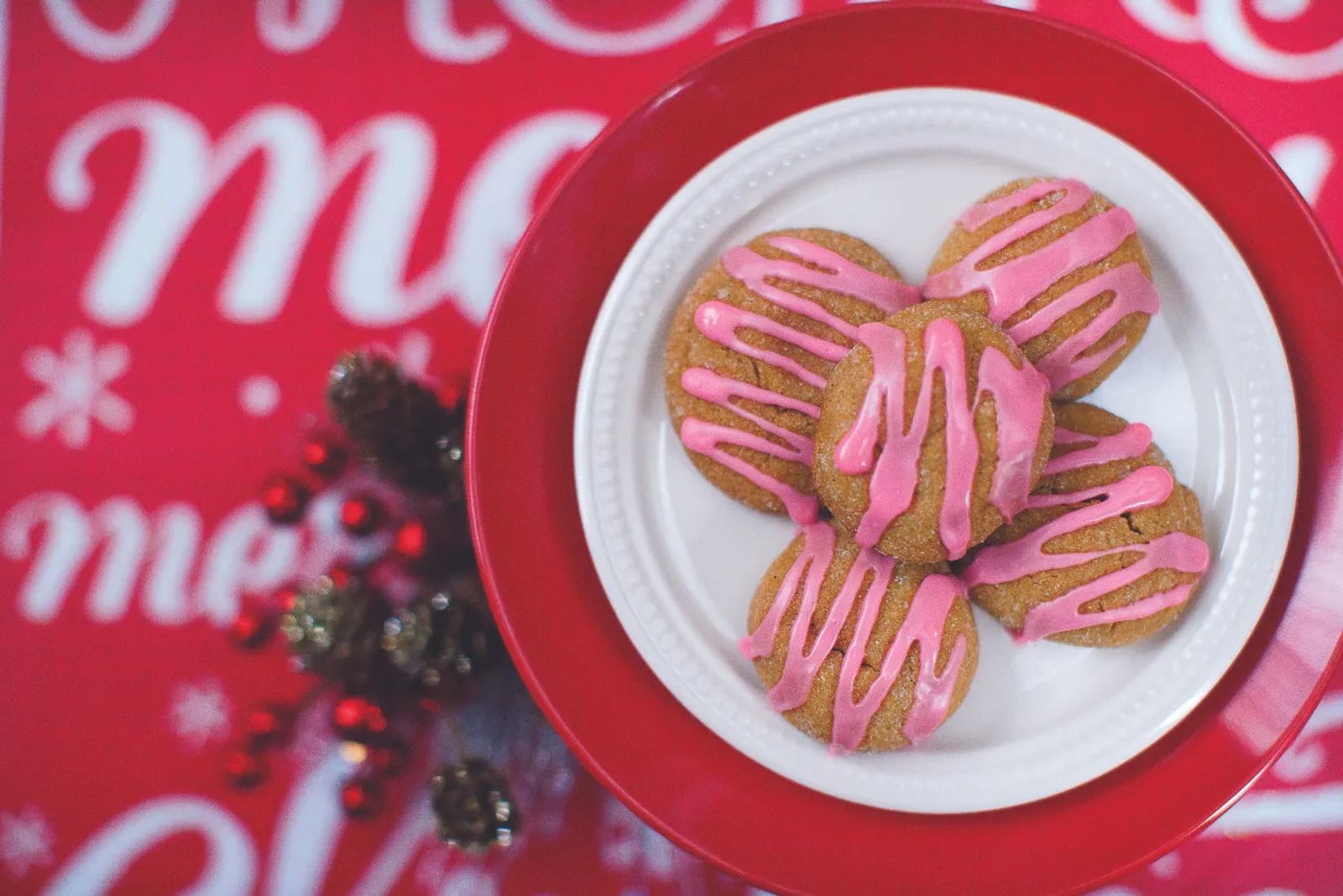 LEMON-CARDAMOM COOKIES
~Recipe from Julie Reis
¾ c. shortening
1 c. packed brown sugar
1 tsp. baking powder
1 ½ tsp ground cardamom
¼ c. molasses
2 tsp. fresh lemon zest
1 egg
2 ¼ c. flour
¼ c. granulated sugar plus ½ tsp cardamom
Preheat oven to 375°. Beat shortening for 30 seconds. Add brown sugar, baking soda, 1 ½ tsp of the cardamom. Beat until combined. Add molasses, egg and lemon zest. Beat in flour. Shape into 1" balls. Roll in granulated sugar/cardamom mixture. Place 2" apart on baking sheet. Bake approximately 10 minutes. Cookies should be soft when cooled. Makes about 3 dozen cookies.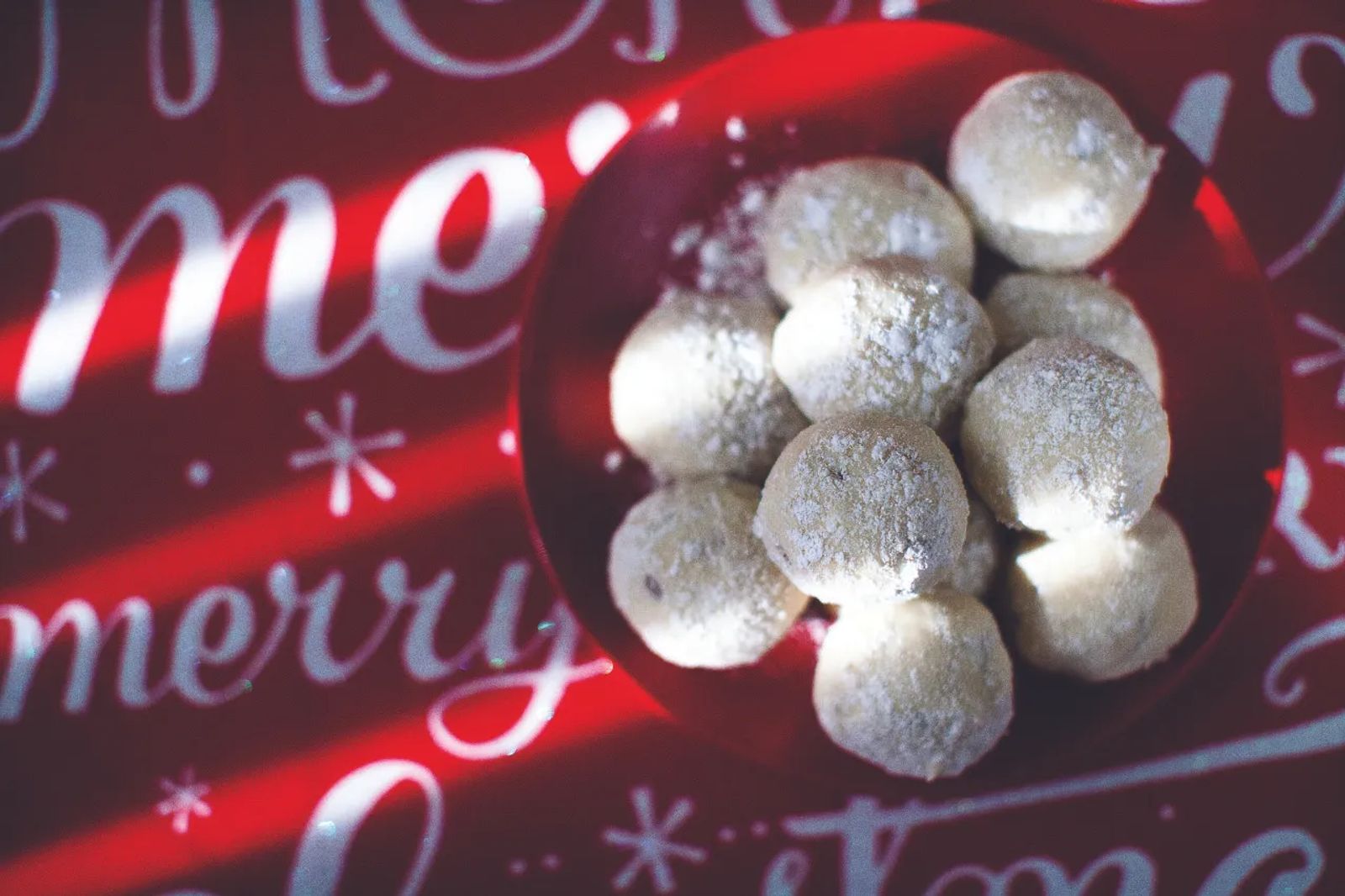 RUSSIAN TEACAKES
~Recipe from Susan Finn, Sweet Whimsy Bake Shoppe

1 c. butter, softened
½ c. powdered sugar
1 t. vanilla
2 ¼ c. all-purpose flour
¾- 1 c. finely chopped pecans
¼ t. salt
Powdered sugar for dusting
Heat oven to 400°. Mix together butter, ½ c. powdered sugar and vanilla. Stir in flour, nuts and salt until dough holds together and shape into 1" balls. Place about 1" apart on ungreased cookie sheet. Bake until set but not brown, about 10-12 minutes. Roll in powdered sugar while they are still warm and then let cool. Roll in powdered sugar again. Makes about 4 dozen cookies.
CHEWY GINGER COOKIES
~Recipe from Kristy Sanders, Kristy's Cookies and Sweet Treats
1/2 c. granulated sugar
1/2 c. light brown sugar
½ c. butter (1 stick), at room temperature
1/2 c. shortening
1 egg
1 t. vanilla
1/3 c. molasses
2 1/4 c. flour
2 t. ground ginger
1/2 t. nutmeg
1 t. ground cinnamon
2 t. baking soda
1/2 t. salt
Additional 1/2 c. of sugar or sprinkles for rolling the cookies
Preheat oven to 325 degrees. Line 2-3 cookie sheets with parchment paper or grease lightly. With an electric mixer on high speed, cream 1/2 cup of the granulated sugar, the brown sugar, shortening and butter until light and fluffy, about 3 minutes. Scrape down the bowl and mix for another 30 seconds to ensure that all the dough around the edges has been incorporated. Turn the mixer down to low and add the egg and let it mix until there are no traces of egg still visible. Scrape sides of the bowl again. Add the molasses and the vanilla and mix at a medium speed until the color is uniform throughout. Sift the flour, ginger, nutmeg, salt, and cinnamon and add to the bowl. Mix on low speed, just until combined. Refrigerate the dough for 30 minutes so that it is not as sticky and more manageable for rolling into balls. Place the other 1/2 cup of granulated sugar or sprinkles in a shallow bowl. Roll a tablespoonful of the dough into balls (or use a cookie scoop), then roll the balls in the sugar to coat. Place the dough balls 2 inches apart on the cookie sheets as the cookies will spread. Bake for about 12-15 minutes turning the pans midway through the bake time to ensure even baking. The cookies should be golden on the bottom and around the edges, but still soft in the middle. Let stand for 5 minutes before transferring the cookies to a cooling rack.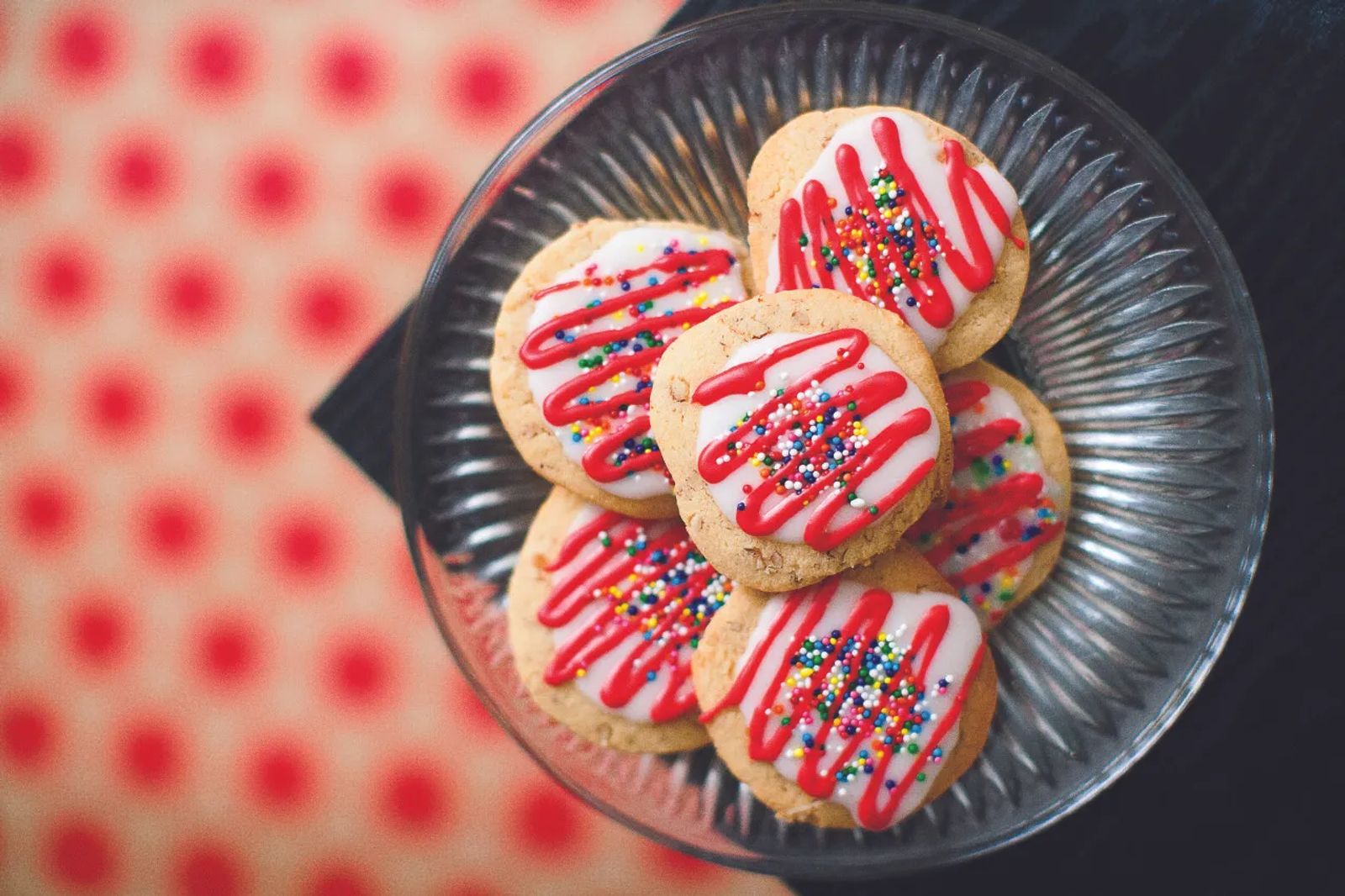 PECAN REFRIGERATOR COOKIES
~Recipe from Kay Erickson
2/3 c. unsalted butter, room temperature
½ c. granulated sugar
½ c. firmly packed light brown sugar
1 large egg
1 t. vanilla extract
2 ¼ c. all-purpose flour
1 t. baking powder
½ t. salt
¾ c. finely chopped pecans
In a small bowl sift together the flour, baking powder and salt. Set aside. Beat the butter until smooth in the bowl of an electric mixer at medium speed. Add the granulated and brown sugar and mix, scraping down the sides. Add the egg and vanilla, mix well. On low speed gradually add the dry ingredients and mix well. Lastly, add the finely chopped pecans and thoroughly blend. Divide the dough in half and shape into two logs, about 2 inches in diameter. Wrap in plastic wrap and chill at least 4 hours or overnight. Preheat the oven to 425 degrees. Line them on lightly greased baking sheets or on top of baking sheets lined with parchment paper. Gently slice the logs into ¼ inch thick rounds. Place 1 inch apart on the baking sheets. Bake at 425 degrees for 5 to 7 minutes. Cool on pan for 5 minutes before transferring to cooling rack. Cool to room temperature.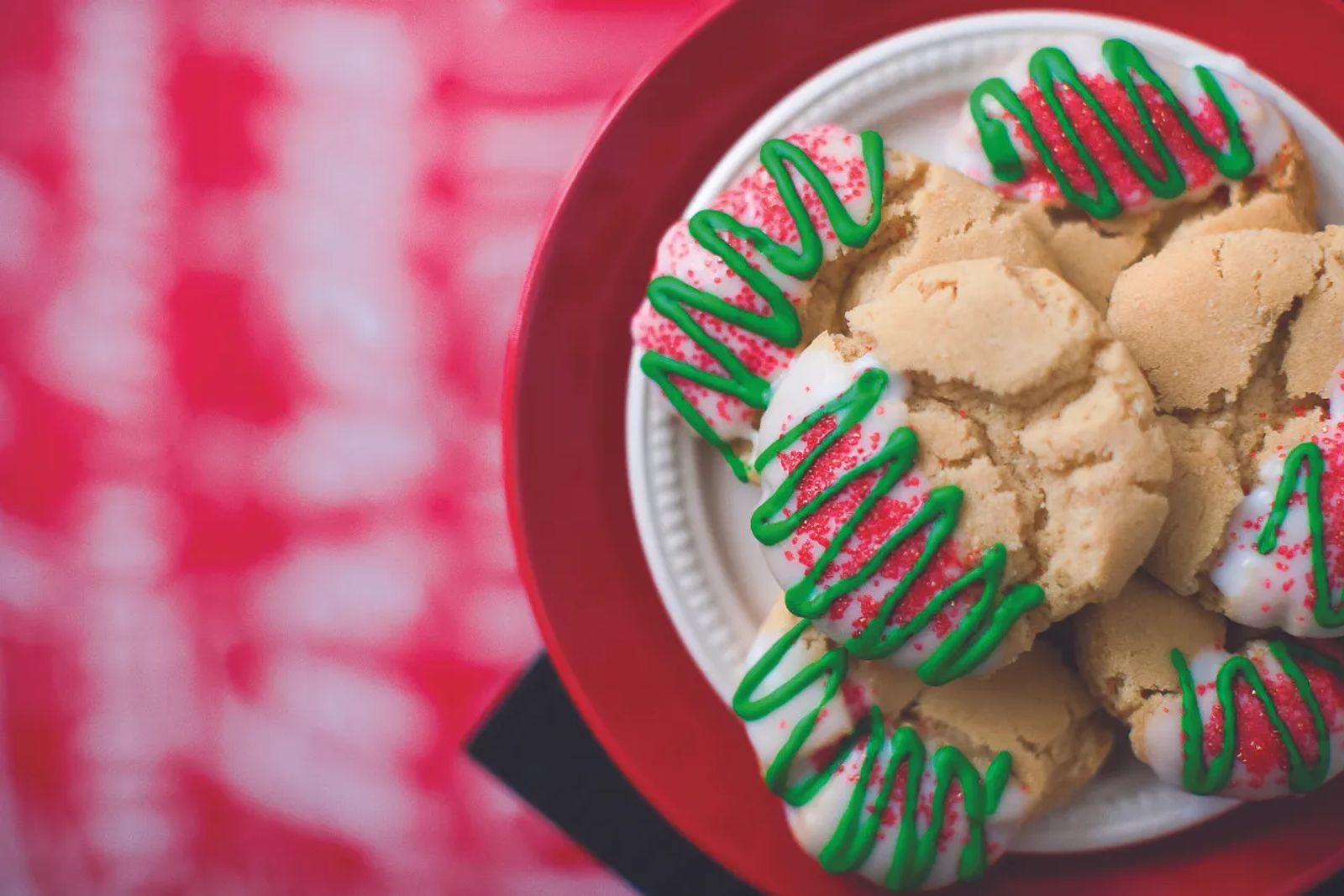 CRINKLE TOP COOKIE
~Recipe from Kay Erickson
1 c. granulated sugar
1 c. firmly packed light brown sugar
1 c. shortening
1 large egg
1 t. vanilla extract
2 c. all-purpose flour
2 t. baking soda
2 t. cream of tartar
½ t. salt
Preheat oven to 350 degrees. Sift together the flour, baking soda, cream of tartar and salt in a small bowl and set aside. Cream together the two sugars and the shortening in the bowl of an electric mixer on medium speed until smooth. Add the egg and the vanilla and beat until well combined.  On low speed, gradually add the dry ingredients and mix until incorporated, making sure not to overwork. Line baking sheets with parchment paper.  Shape a tablespoon of dough into a ball and place 1 ½ inches apart on the baking sheet.  Bake until the cookies spread and the tops crack, about 10-15 minutes. Cool on the pan for 5 minutes before transferring to a wire rack to cool.