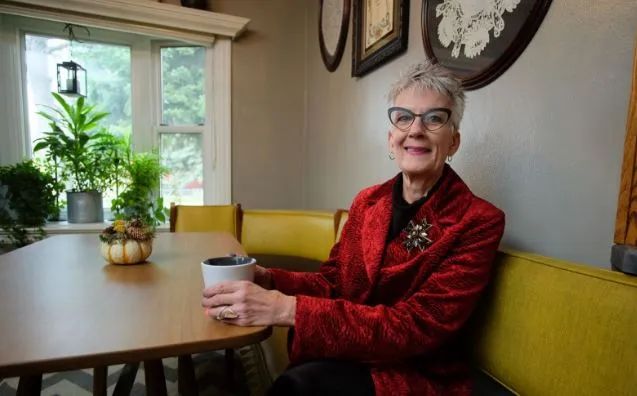 Hidden Treasures
Billings Woman loves those of a vintage variety
Jeri Grendahl's eyes twinkle like stars through black-frame cat-eye glasses. Short spiked hair lends some edginess to her slender shape, as does a pinch of red lipstick. A large vintage brooch attached to a fine chain about her neck shimmers with bright blue stones. This woman has swagger. She wears it well. "I only wear clothes because there are not enough accessories to cover my body," she laughs.
A busy mom and grandmother of five boys, this bundle of energy and avid brooch collector is into the art of accessorizing with a flair for vintage. "I've collected brooches for thirty years and still have my first brooch."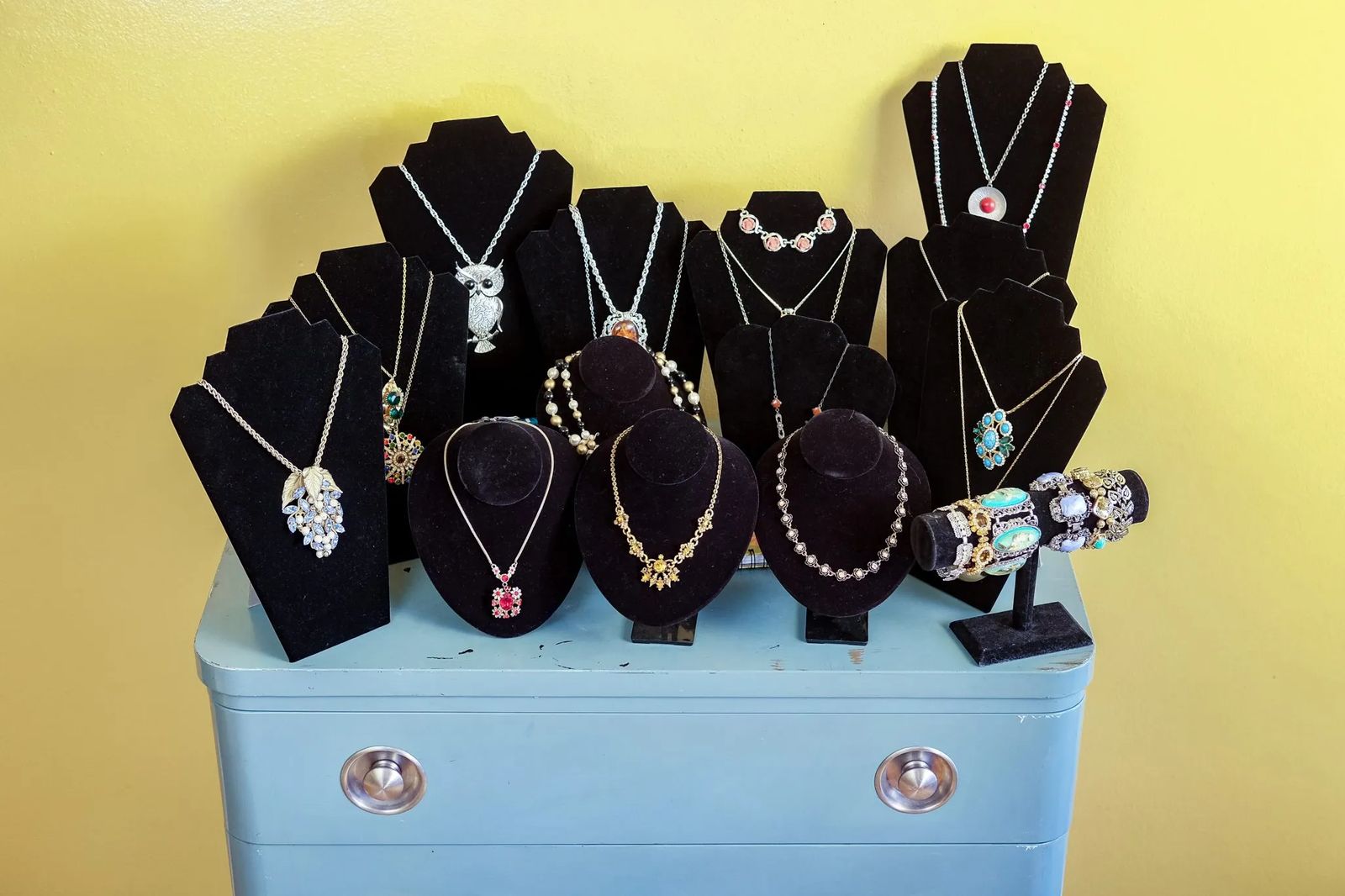 Sitting at her dining room table, Jeri runs her fingers over a myriad of these jeweled wonders that she's set out to admire today. "A friend gave me my first brooch," she notes. The clasp is now gone, however, red stones and filigree represent a timeless appeal. "I must've been expressing all things vintage back then. I had watched my friend's dog while she was on vacation and she brought this back to me. It lit a fire in me! She must've seen it smoldering in me."
The 'brooch,' not to be referred to as a 'pin,' Jeri cautions, comes in a variety of jewelry designs dating back centuries and in primitive cases, to the beginning of time.  "It connotes an era," she articulates. "You say 'brooch' and people immediately know you mean vintage. You can tell it's old by the filigree (a delicate, lacy pattern of ornamental work made of metal, usually gold or silver) and the clasp." Familiar to most of us is the cameo. An elegant piece of jewelry carved from a natural material like stone or shell, the cameo is considered an antique. Some are quite valuable.
"I have a few cameos," nods Jeri. "They're too docile, feminine and sweet. They're not in your face." Laughing, she acknowledges the obvious about her brooch approach, "I can tell the older I get the bigger, bolder and gaudier they get! Brooches have personalities as I see it – extroverted, shiny, whimsical, expressive, introverted and foreboding. My favorite," she offers, "gaudy!"
Looking over some of the nearly 200 pieces in her cache, the diversity of shape, color, size and artistry challenges the senses. The collection includes diminutive floral and scroll motifs, possibly reflecting periods like the Victorian age of the 1800s. Dramatic and show-stopping designs from the Art Deco 1920s and '30s (think Pablo Picasso) add flashes of bright color. And, mid-century abstract of the '50s and '60s (think 'flower power,' frogs and owls), provides a feast for the eyes.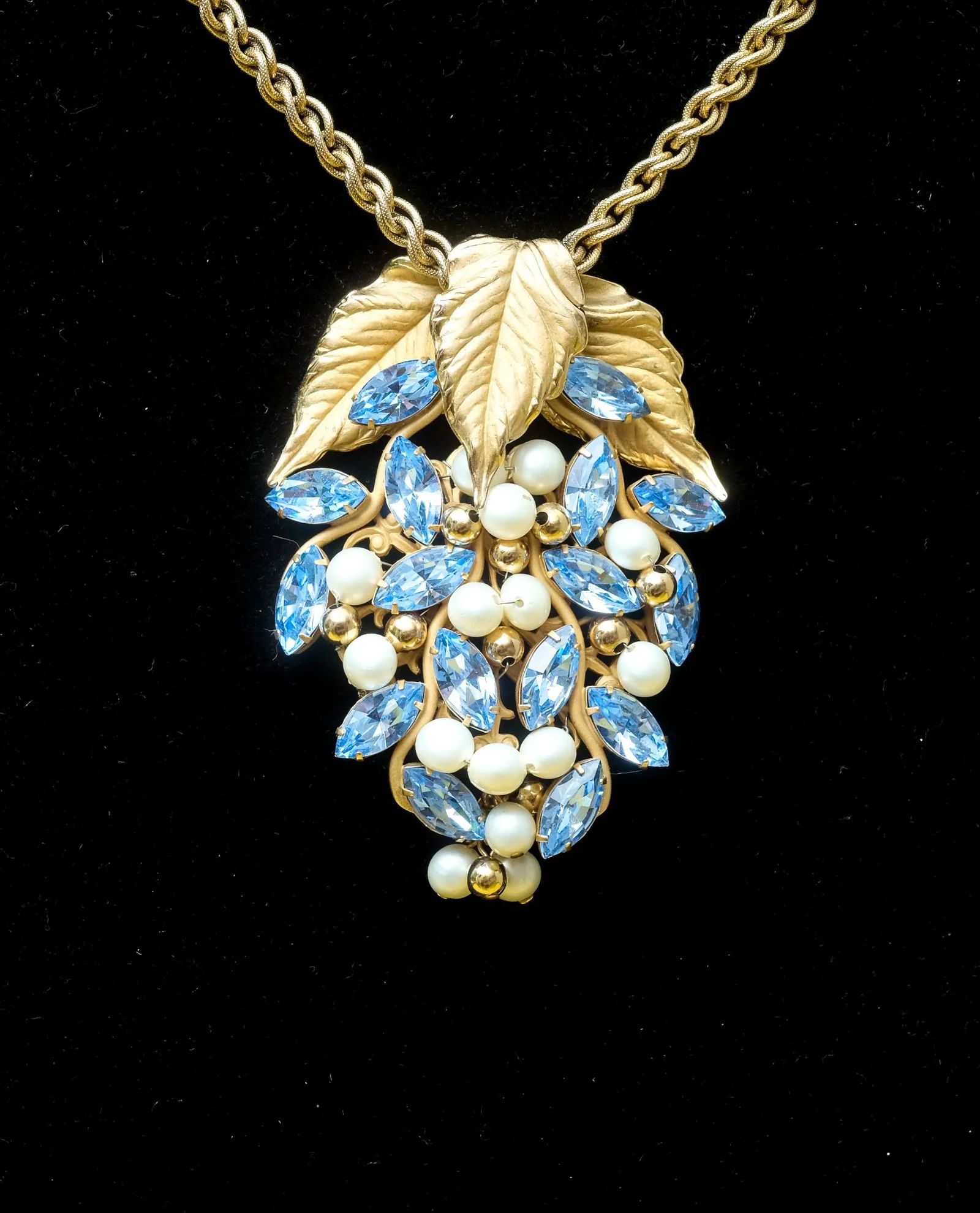 "You can see it," declares Jeri, referring to the vibe, the character of each brooch. "It has to have zing for me." Picking one up," she continues, "This brooch is dark blue, oval with filigree. It's dark. It's not who I am. I buy for the beauty and eye appeal. My eye is 'wow – gotta have it.' I want the 'look' and the ability to own it. I don't really care for the value. It has to speak to me."
Appreciating the beauty of vintage jewelry fuels Jeri's passion for collecting. She's also a stickler for function. "Most brooches have a necklace attachment so I can get two different uses from it," she says, affirming this statement by patting the one she's wearing. "Vintage is best in its purest form."
One particular heirloom piece Jeri cherishes is a feminine, yet weighty, coral and rhinestone necklace. "My dad gave my mother this necklace on their wedding day. They've been married 65 years." Another necklace bears the stamp 'Coro,' distinguishing it as a piece created by the Coro jewelry company. It features topaz-colored stones and is heavy, as well.  A pair of owl necklaces (a mama owl and baby owl) bear pink stones enveloped in filigree. "You don't find filigree anymore," assures Jeri.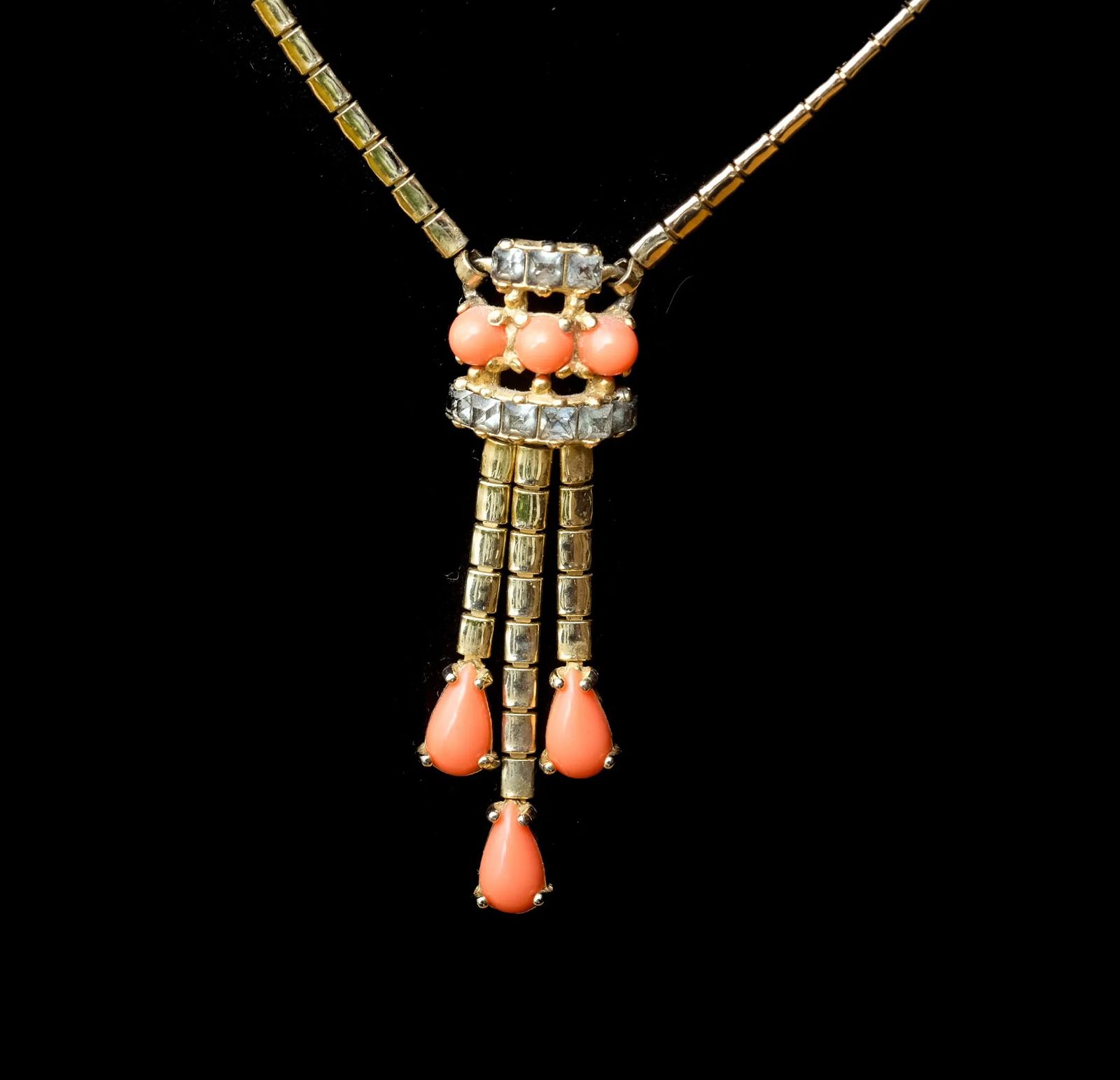 This prized collection comprises other jewelry makers like Matisse/Renoir, Krementz, and vintage Sarah Coventry. A few items come from around the world. A round pewter piece hails from Denmark while another originates from Norway. "It's a hobby that's growing and growing," she admits, "but my tastes are defined more now."
Jeri's daughters, Kori and Andi, try to "rein" her in on this hobby to no avail. "Andi constantly says, 'Mom, you can't possibly love them all the same – get rid of some.' As a proper mother would do," exclaims Jeri, "I ignore them!"
There's no holding back this enthusiastic lover of all things vintage, especially jewelry. With witty creative thinking, a plethora of brooches attached to color-coordinated men's neckties serves as a valance on her bedroom window. "I love it," she sings.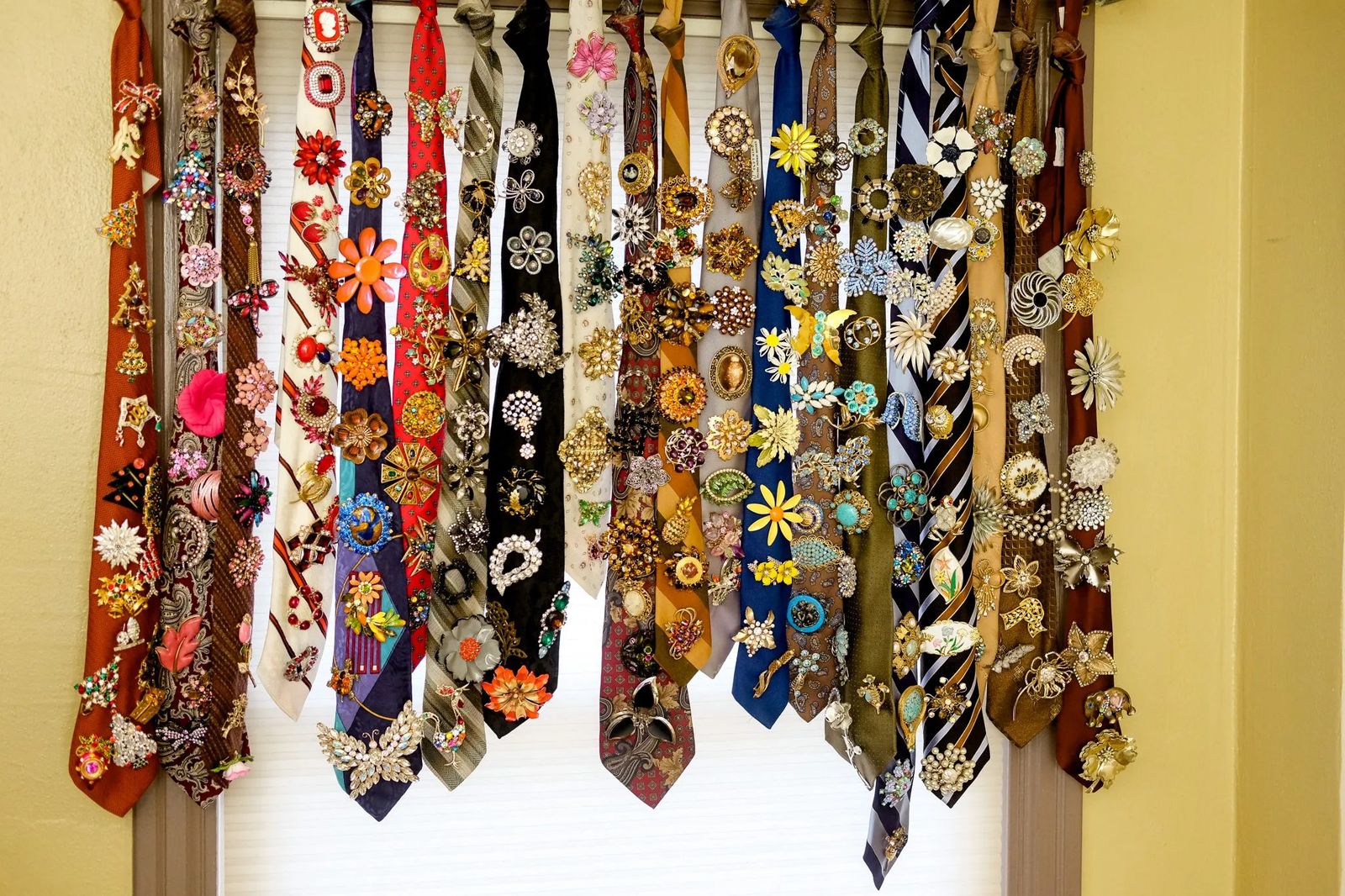 This spicy sixty-something thoroughly enjoys vintage finds. "Thank goodness I don't work at a bakery," she giggles. "I know I would be collecting pastries and attaching a brooch to every doughnut and muffin!"
THE INS AND OUTS OF THESE UNIQUE FINDS
What makes a brooch? Spelled either way, brooch or broach, is a piece of jewelry fastened to clothing (usually a coat, sweater or top) by a hinged pin or a catch of some sort. Should a 'c-clasp' be on the back of the brooch, chances are it's an old piece of jewelry, being vintage or antique.
Vintage versus antique: Vintage and antique jewelry share similar meanings but the differences may influence the value. Vintage pieces are less than a century old while antique jewelry is more than 100 years old. Vintage jewelry is considered to have been made after the 1920s. ('Estate' jewelry is handed down from generations past, referring to any piece previously owned, regardless of its age.)
What's it worth? The most valuable pieces will be those fine jewelry pieces that are considered antiques and are still in excellent condition. There's plenty of information online about vintage jewelry. Check out the website antiques.about.com/od/vintagecostumejewelry or collectorsweekly.com