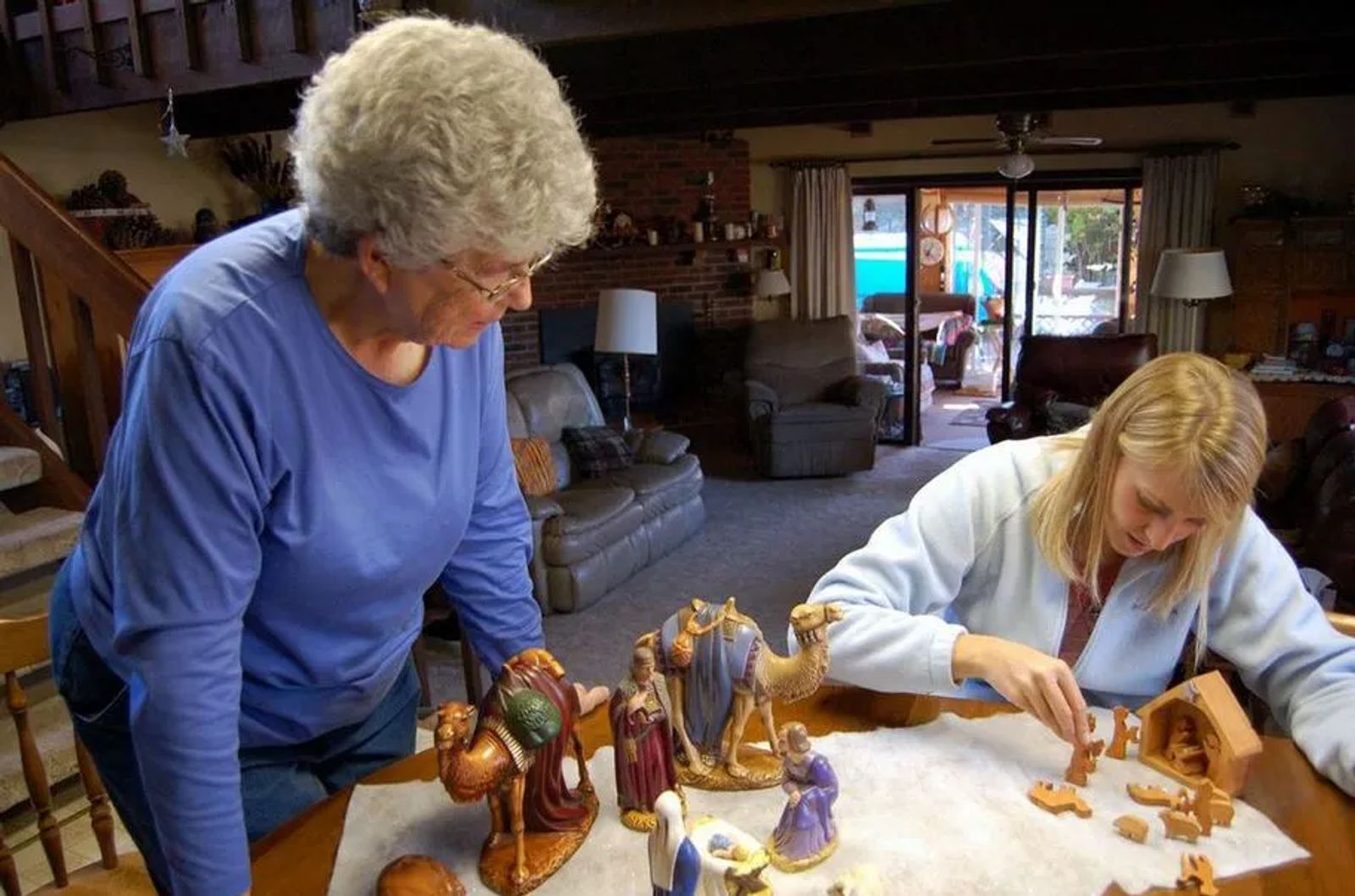 Honoring Holidays Past
The heirlooms that families come to treasure
Who among us can imagine Christmas without family traditions? From the annual gift exchange to Grandma's gravy recipe, we celebrate the holiday in different ways and often with unique items that hold special meaning.
Tom and Viola Ricketts are no longer living, but their love for family lives on. That love is evident in the ceramic nativity scene Viola so carefully crafted for her daughter Dorothy "Pete" Hegg. Likewise, that love shines through in the small wooden nativity scene Tom tooled for his great-granddaughter (and Hegg's granddaughter) Colette Behrent.
Every holiday season, Hegg places the 17-piece nativity scene in her front window and encircles it with a glow of white lights. Over the years, several of the figures have succumbed to wear and tear and the hands of curious grandchildren.
"One of them knocked a tip off the cow's ear," Hegg says, smiling. "And baby Jesus, he's had a rough go. He's been broken a couple of times."
But the flaws seem to add more than detract from Viola's work of art. They mark Christmases past and memories of family.
Viola was always artistic, Hegg recalls. But she had no idea that Viola would be so consumed with her nativity scene project.
"I just casually mentioned I'd be interested in a nativity scene," Hegg says. "I didn't realize it'd be so…elaborate."
Viola got to work – it was some time in the mid-1980s – starting with the camels and wise men. It wasn't until several years later that she finished the scene with Mary, Joseph and Jesus. As she worked, she smoothed each figure, painted each in great detail and lastly etched her initials underneath. As they were finished, she gave them to Hegg for birthdays and Christmas.
"Sometimes I think, 'Oh, I'm not going to do this anymore,'" Hegg says. "And then I think 'Oh, I have to.' And I always think of Mom when I get them back out."
While Viola painted, Tom busied himself in his woodworking shop. Behrent remembers her great-grandfather there, intent on a project, with wood shavings sprinkled around his feet. Whenever she or her siblings visited, he would line them up with projects of their own.
Nearly every birthday and holiday, he made them small wooden treasures. On each box and figure, he'd write his name, the child's name and the year it was made.
Behrent was in high school when he made small wooden nativity scenes for her and her siblings. The small pieces all fit into the hollowed-out stable, making the nativity scene easy to pack and carry along.
"It was something we could take with us to college," she says. "Mine's traveled with me everywhere from Utah to Seattle and back to Montana."
Behrent treasures her great-grandfather's gift and likes to think of him making it special for her. And when she takes it out for the holidays, it always rekindles fond memories of him.
"I know there are heirlooms more highly valued because they are antique," she says. "This nativity scene may have little value to anyone else, but to me it has all the value in the world."
For more touching stories on how some honor the past during the holidays, click HERE and visit page 52.