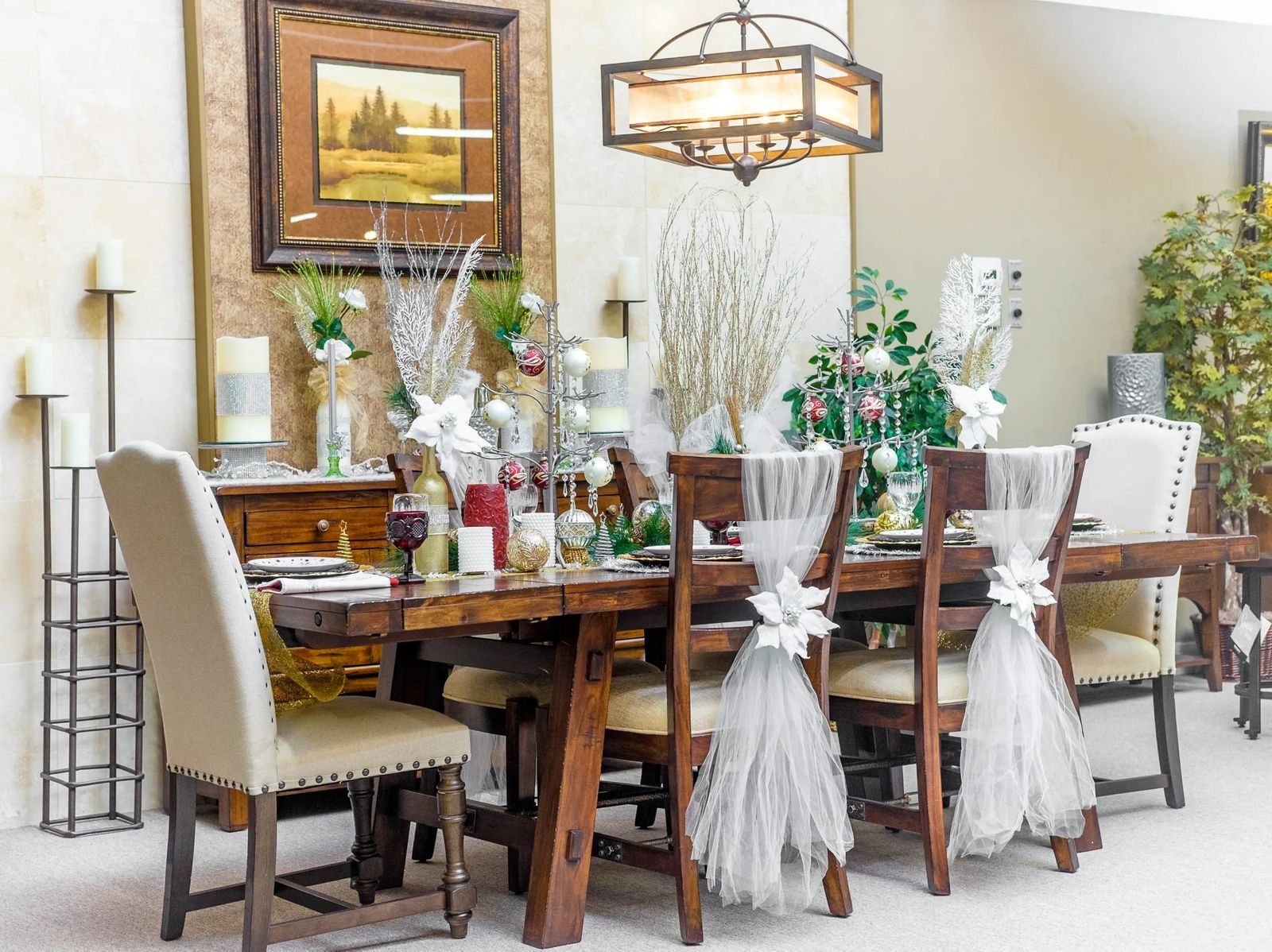 Hosting the Holidays
Mixed Metal accents bring on the sparkle & shine
Nothing sets the mood for a party more than a visually stunning holiday table. Sitting down with family and friends over Christmas dinner or New Year's brunch brings on that deep-down good feeling. If you are hosting the holidays this year, don't fret about the details; invite the family, your besties, and a neighbor or two for a holiday feast. You'll razzle and dazzle them with a table dressed for the occasion.
For this classy holiday-themed table, we look to Jason Williams, designer and sales associate with Conlin's Furniture. His biggest piece of advice?  Whether your taste is modern, traditional, rustic or eclectic, "You just want to keep it simple and fun."
Jason started this sophisticated look with a simple trip to the craft store. His finds include LED candles, varying widths of gold and silver ribbon and faux 'feathers,' tree ornaments, acrylic snowflakes, faux roses and poinsettia leaves, plenty of silver tulle, plus strings of tiny lights.  The result is a fabulous tablescape that shimmers with light and metallic persuasion. "Nowadays," notes Jason, "you can mix metallic. It works well."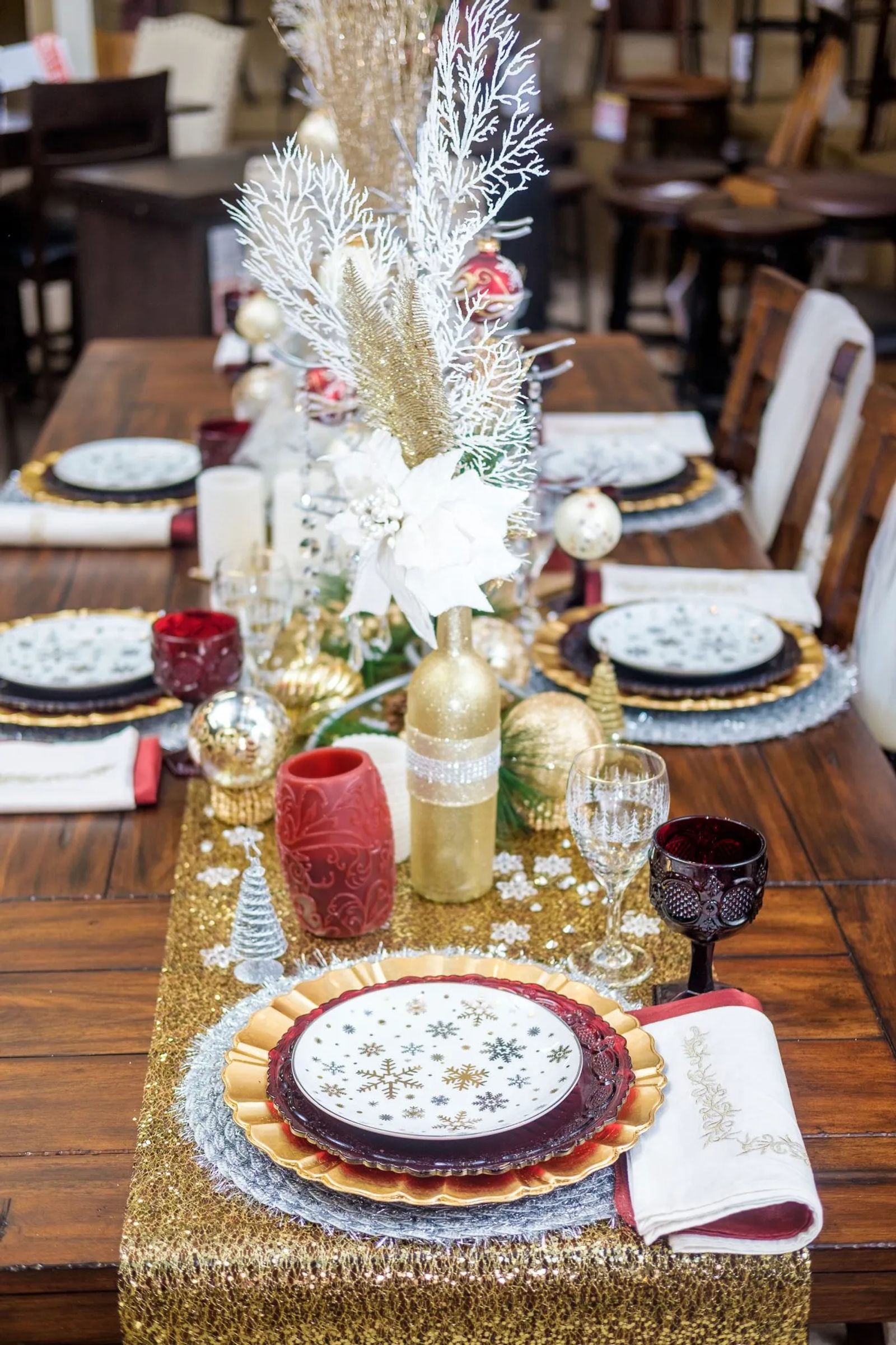 TABLE DRESSED IN HOLIDAY GLAM
Start with a metallic table runner and let it drop off the edge on each end. Place the pièce de résistance – your centerpiece, in the middle of the table. Just make sure the center of attraction towers slightly above any piece you continue to work in. Since this table comfortably seats six to eight guests, it accommodates more décor. Be sure to scale down your items for a smaller-size table.
For this elegant centerpiece, gold faux feathers delicately ascend from a mirrored box Jason has taped together from the inside. It's simple to make using four small mirror tiles, plus, it offers the perfect base. Tulle puffs out around the top like a fluffy cloud while a small spray of greenery introduces a touch of contrast. The centerpiece rests on a sparkly gold square charger surrounded by several white LED candles.
A set of silver trees adds another dimension. Positioned on either side of the main centerpiece, acrylic beads dangle from the branches as do glittery red ornaments and fancy white ones. Larger gold ball ornaments perch on napkin rings so as not to get lost in the hierarchy of the table's decorum.
Scattered in a random pattern are clear acrylic snowflakes. A couple of cranberry colored candles dance to a warm rhythm while smaller white LED candles show off their brilliance. "You want to bring the white candles to the ends of the table," advises Jason, "as this way your eyes travel the length of the table."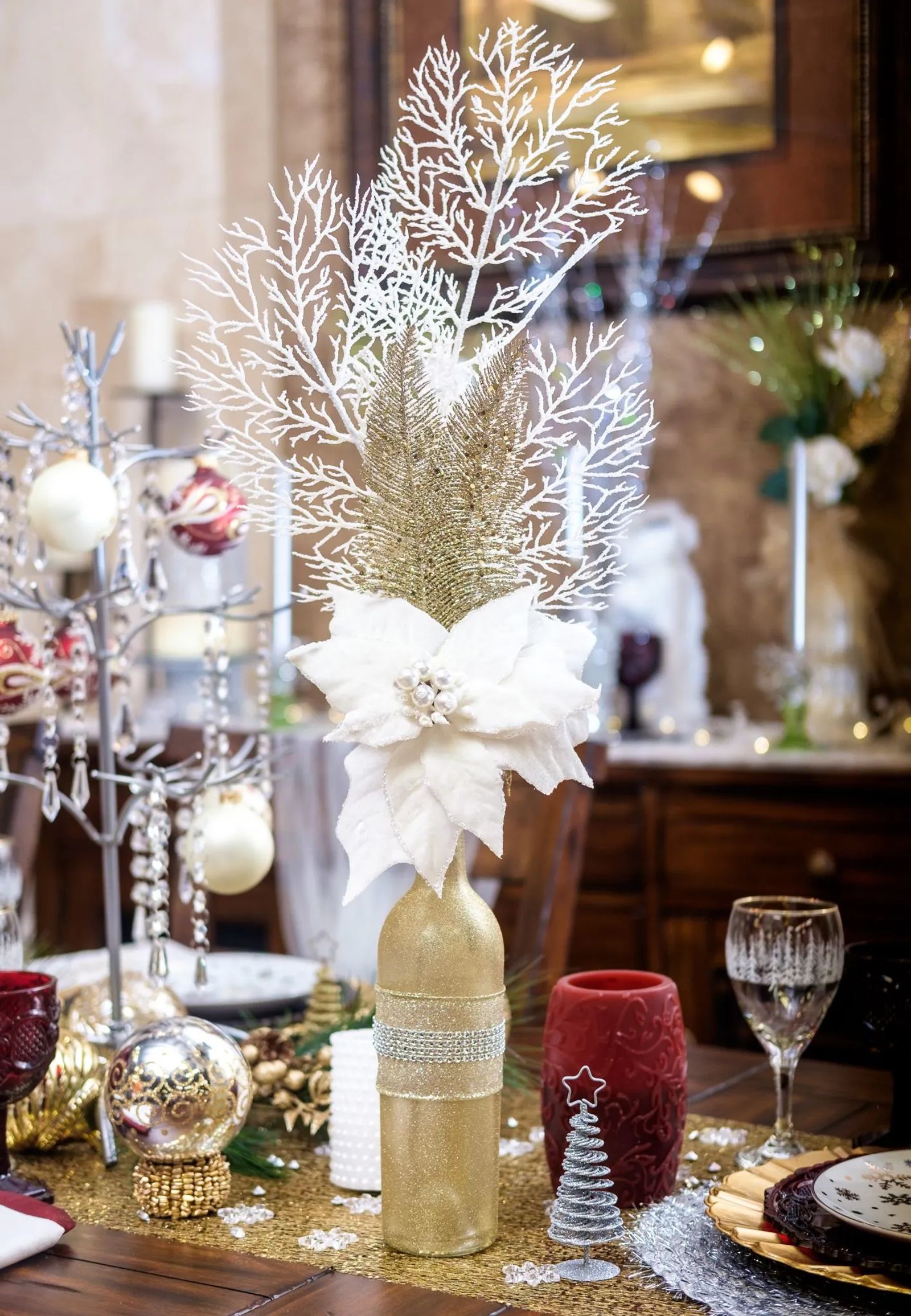 Alongside the silver trees is a set of gold spray-painted wine bottles. A band of gold ribbon wraps around the middle of each bottle, layered with a thin band of silver. The ever-impressive white poinsettia highlights the richness of each vase (wine bottle), as tall metallic feathers and sprigs sparkle beneath the glow of the chandelier.
Strings of delicate battery-powered lights strewn along the table, along with gold and silver beading, enhance the overall look and detail of this celebratory table.
As the light above casts an aura of magic over your holiday meal this year, the table you've set with style captures the essence of the season. Your creativity will certainly inspire those you share it with. Just remember to keep it simple.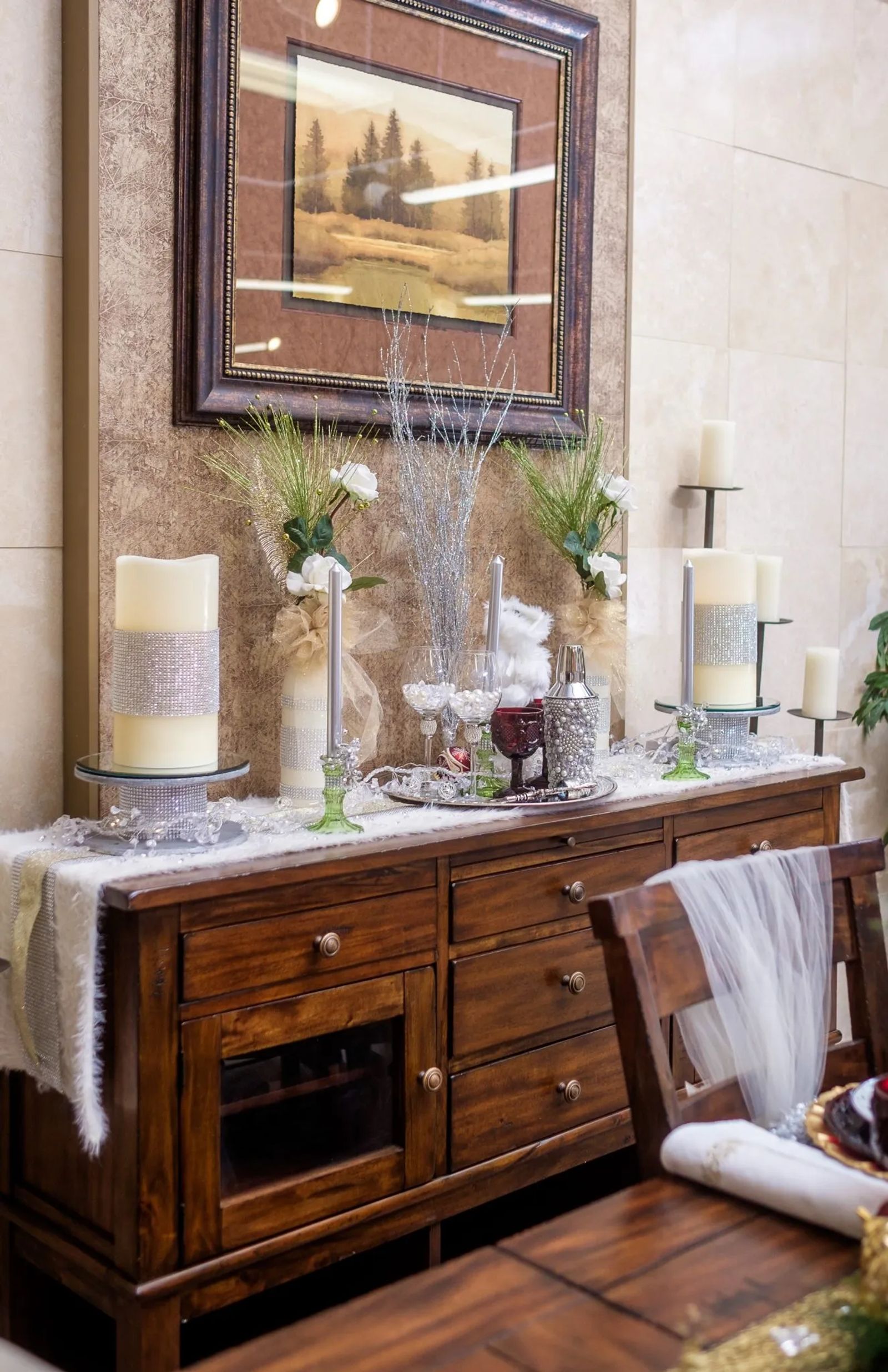 If you have a buffet, be sure to include it in your decorating scheme. Cover the top with a fur scarf or other seasonal fabric and run a strip of ribbon down the middle. A charger like the silver one here forms the base for your centerpiece. Carried over from the theme shows on the table is a tall spray of silver 'feathers.' Jason mixed it up with a silver beaded shaker, a pair of wine glasses partially filled with beads, and cranberry-colored wine glasses. He slipped a bottle of wine into a furry, white coat complete with tassels. Larger wine bottles are filled with greenery and white roses. Hefty white candles on each end sit atop wooden spools from the craft store that have been spray-painted with a stylish holiday flair.
Layered plating gives your tablescape a dramatic look no matter what style you choose. Start with a placemat. Cover it with a colorful charger (large bottom plate) before stacking on your dinner plate, a patterned salad plate, topped with a fun dessert plate. Fold a brightly-colored napkin inside a white one for an extra pop of holiday charm.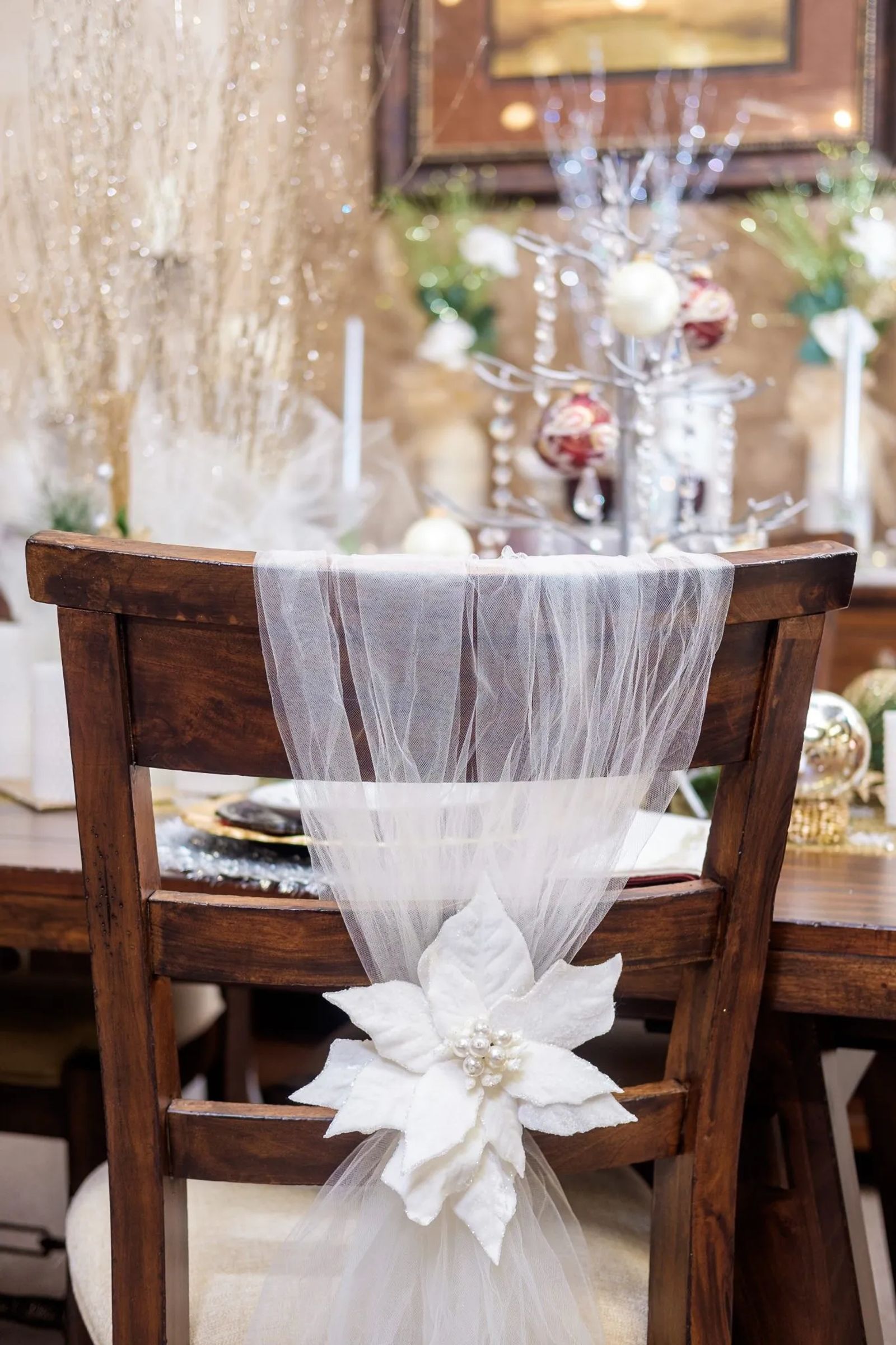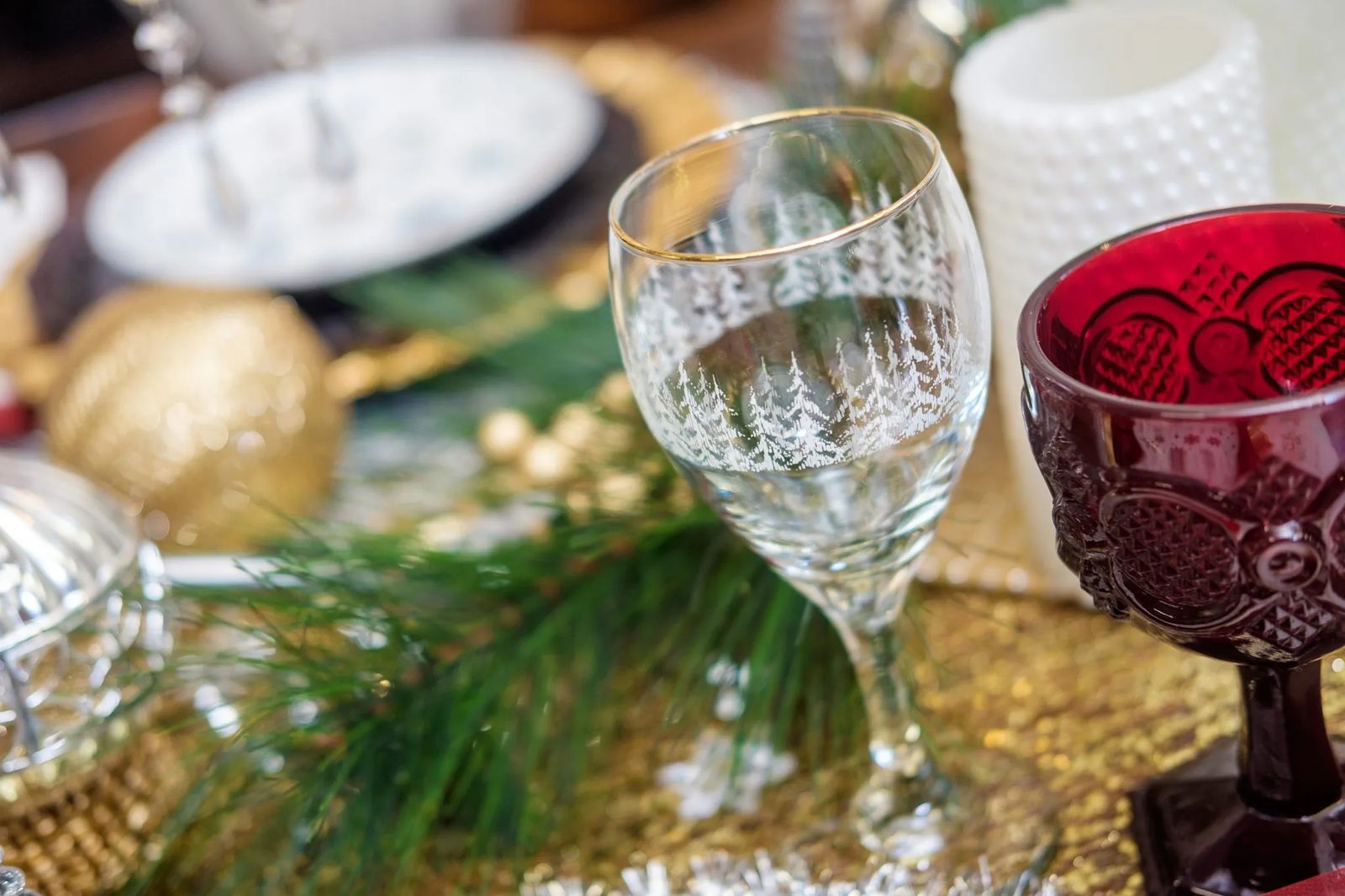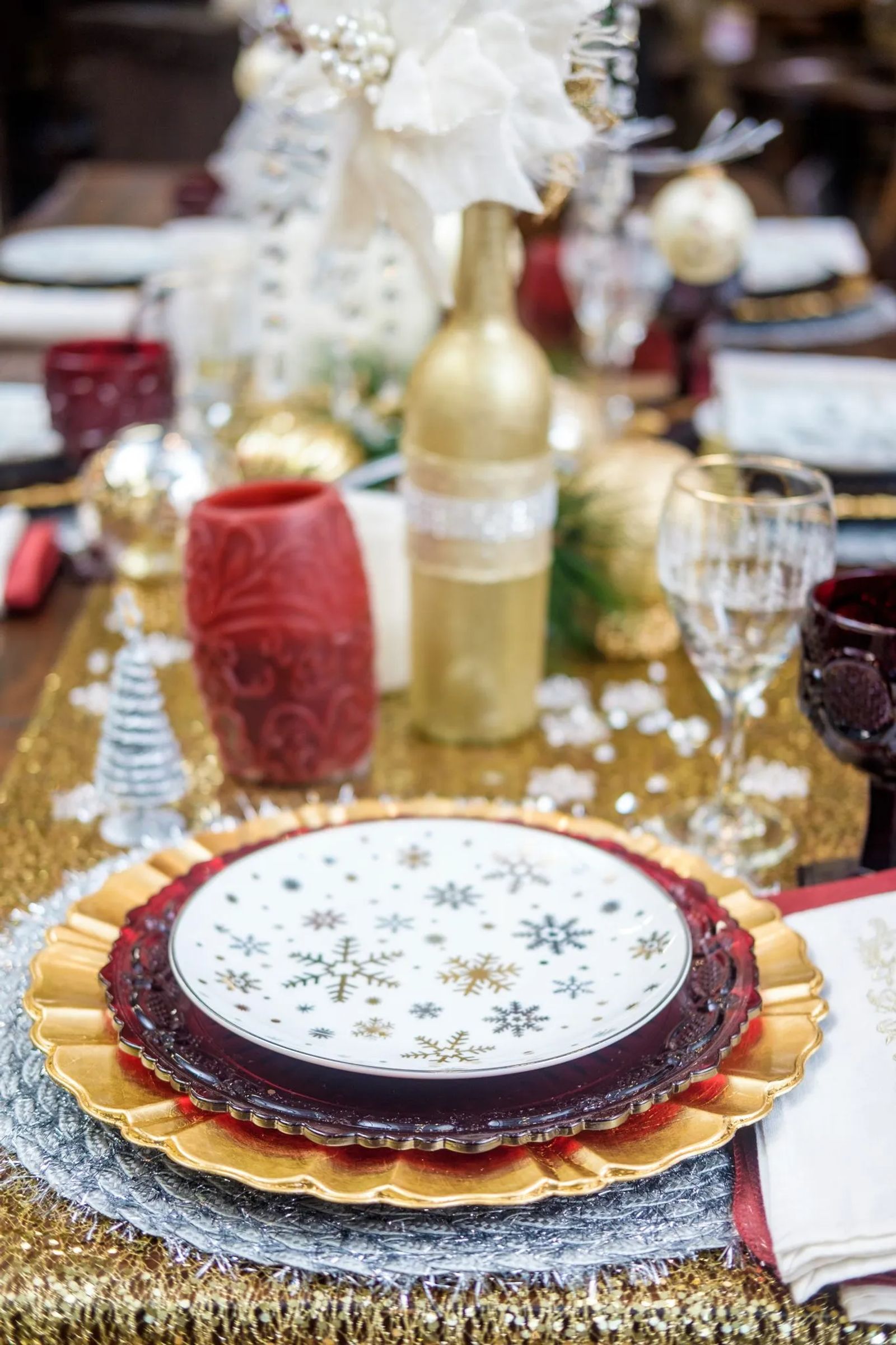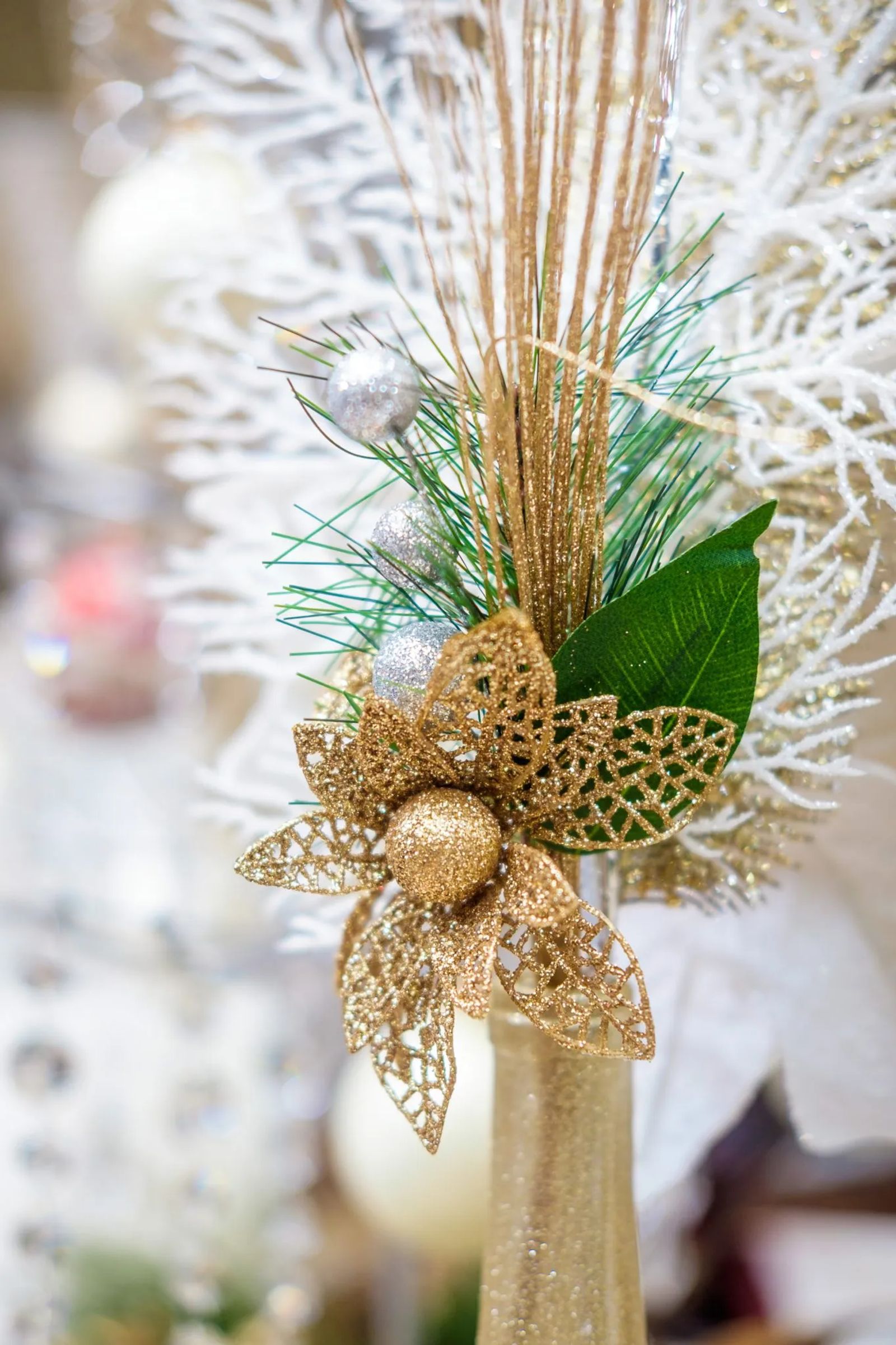 Napkin rings offer a bit of clever charm. Set larger ornaments on embellished napkin rings as Jason has done. They show off better at the table when sitting higher. Tie floral pieces to a napkin ring and slide the ring over tulle or any fabric. Or, dress up candlesticks by sliding an ornate napkin ring over top.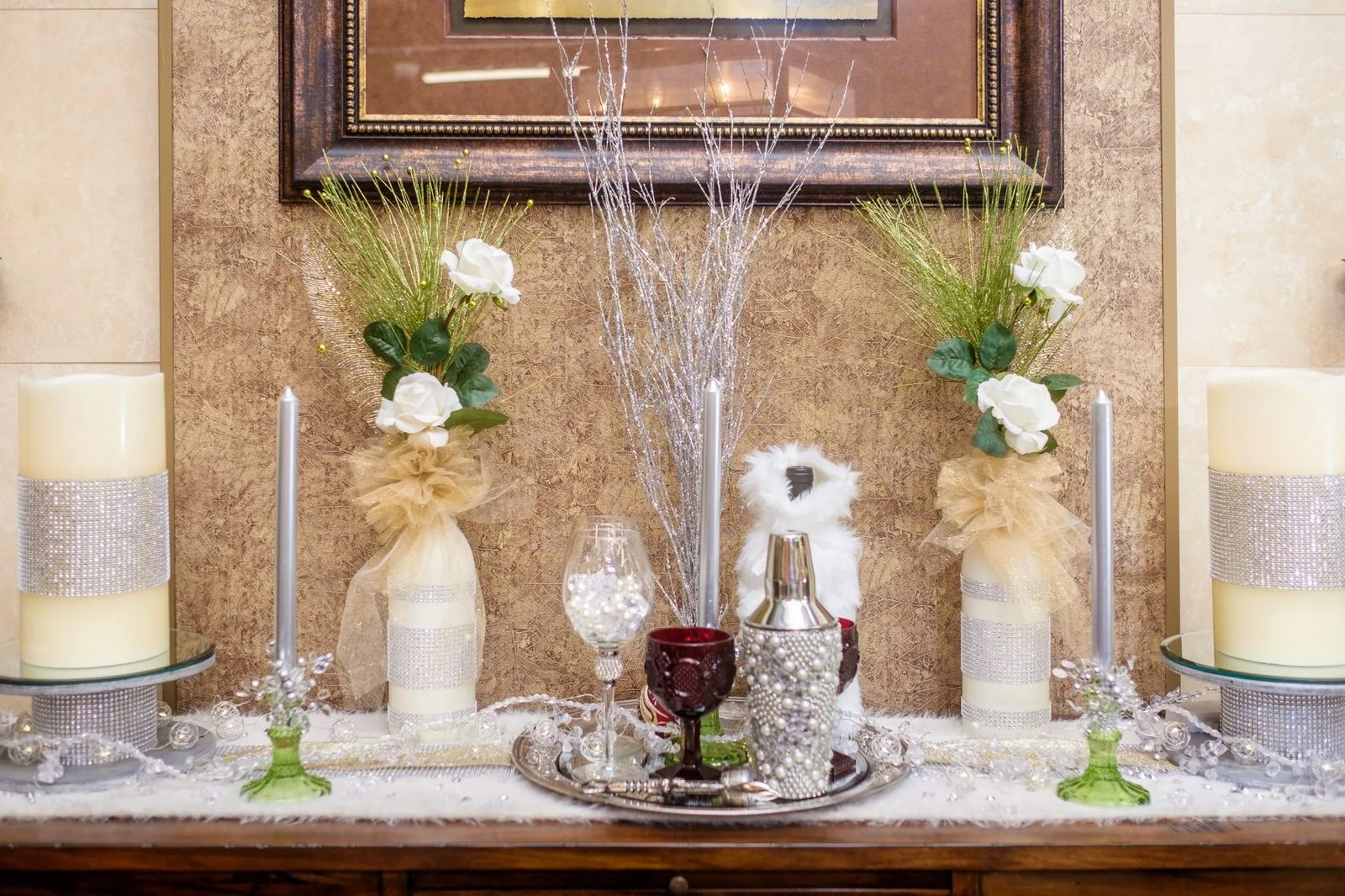 Take wooden spools that cable wire is spun around or ones you find at the craft store and spray paint them. They make the ideal pedestal for the larger candles like the ones you see under the candles on the ends of the pictured buffet.