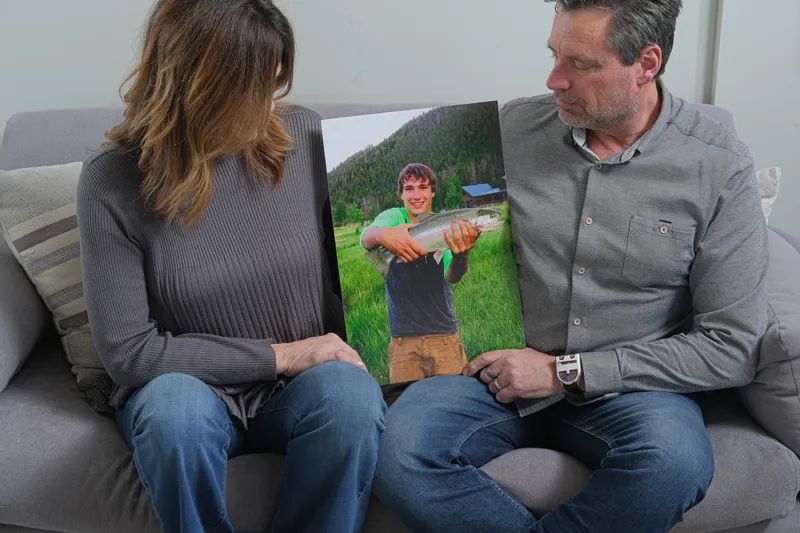 "I want to stop the stigma and shame"
With overdose deaths on the rise, one Billings mom hopes to help others heal
In late July of 2017, Kim Edinger sat down to chronicle her son's life. Nothing could possibly have prepared her for the task.
"Never in a million years did I think I would have to write my kid's obituary," Kim says. "It shocks me still to this day."
On July 27 that year, Kaden Edinger was found dead in a Bozeman apartment, the victim of an apparent drug overdose. The investigation determined that the 20-year-old unknowingly took a lethal dose of carfentanyl, a synthetic opioid that's 100 times more potent than fentanyl and 10,000 times more potent than morphine. Kim suspects that Kaden thought he was buying oxycontin, a prescription painkiller, but got pills laced with carfentanyl instead.
"He didn't know what he was taking," Kim says. "He had no idea. And it killed him."
Her son died just one month before his 21st birthday.
Kaden was a boy who at 6-foot-4 towered over his mom when he reached down to give her a hug. He loved fly-fishing with his dad. And, as the baby in the family, he had his two big sisters wrapped around his little finger. When asked to describe her son, Kim called him a smart, charismatic and athletic kid who wanted to pursue a career in medicine.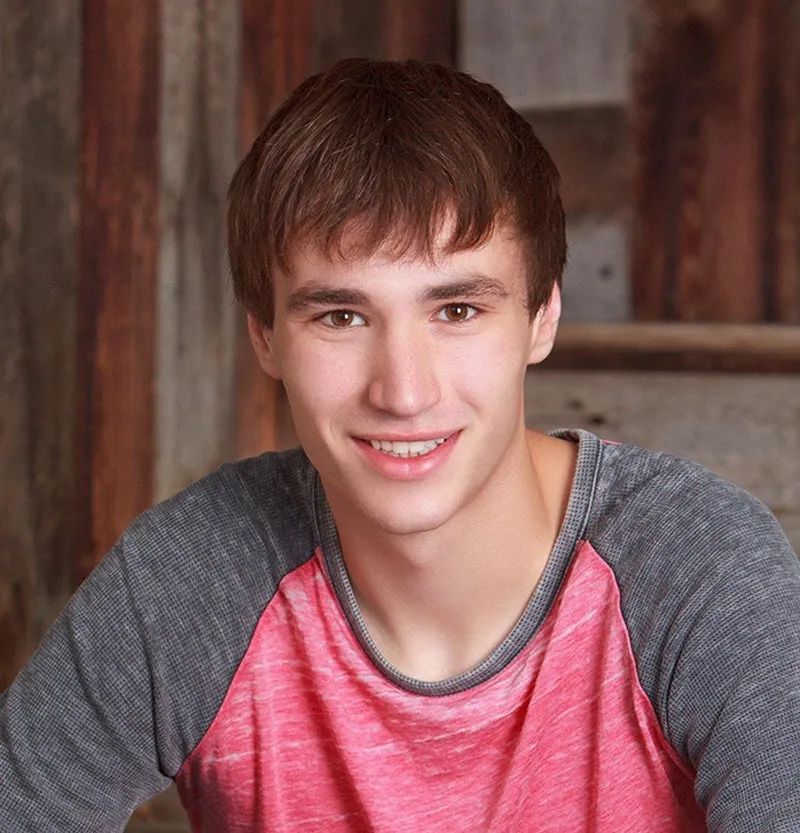 She says his world started to crumble during his sophomore year at Billings Senior High.
"He started using marijuana with a neighbor kid," she says. "People I talked to would say, 'He's such a good kid. He'll grow out of it. Don't worry about it, you're fine. You're being too hard on him.'" Kim pauses before adding, "You start to question yourself."
Over time, she started to find things in Kaden's room. There were the unidentified capsules and the synthetic marjuana known as "Spice." She said she and her husband, Larry, came down hard on their son. "We were out of our element."
By the time senior year rolled around, Kaden's straight A's dropped to F's. He got kicked off the basketball team after being caught a few times with chewing tobacco. Kim says he also got busted with alcohol at a school dance.
"He lost basketball at the beginning of senior year and he just tanked," Kim says. "He lost his friends. He lost his girlfriend. He didn't know where he fit in anymore. Guess who welcomed him with open arms? All the kids in school who dealt."
By graduation time, Kim says, "We didn't know if he was going to graduate the day before." She says the more he used, the more depressed he got and the more depressed he got, the more he used. Even though they found a counselor for their son, Kim says, "We didn't know how to get him out of it."
In the fall of 2015, Kaden enrolled at Montana State University. Kim desperately hoped that it would bring a new chapter for her son. He didn't make it past his freshman year.
"At the end, I know for a fact he just thought this is who I am going to be," Kim says. "He thought, I flunked out of college. I let my family down. I wanted to be a doctor but now I am working part time at UPS and I might as well do everything because my life is a wreck. That's exactly how it went for our family."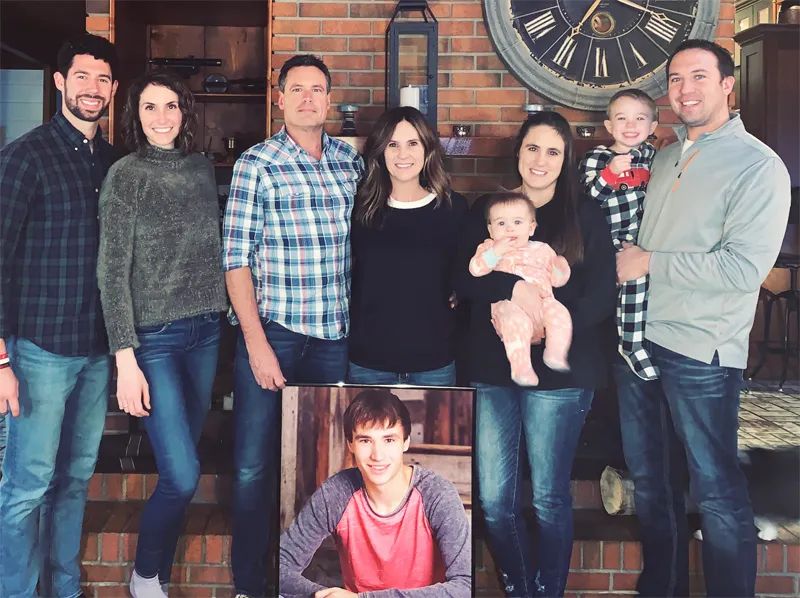 On July 28, 2017, Kim and her husband were bracing for an evacuation at their Emerald Hills home. The Fly Creek Fires were raging. When a knock on their door came that night, Kim assumed it was news about the fires. She knew it was something worse when her eyes met those of a Yellowstone County sheriff's deputy.
"I saw his uniform and my heart stopped. I didn't cry. I wailed," she says. "You're in this tornado and you are swirling around. You are trying to catch your kid. You're trying to hold onto your husband. Everyone is fighting and we are all stressed out about this problem. All of a sudden, the tornado spits you out and one of us is gone. How did this happen? How did we get here?"
It took time but eventually Kim and her family were able to piece together the details surrounding Kaden's death. A Drug Enforcement Administration investigation uncovered that the strain of drugs that caused Kaden's death caused another death and a handful of overdoses. Eleven people would come to be indicted. All were under the age of 25. Kim says the man who sold the pills to Kaden was distributing out of MSU's cafeteria. He's currently serving a seven-year prison sentence.
"I looked up the kid's picture on Facebook and I sat and I stared at him for a long time," Kim says. "I thought, do you know what you did to our family? We will have a hole in our family forever."
After Kaden's death, Kim says it took her months to be comfortable leaving her house. She says she was afraid. She felt shame. She thought everyone could see through to her broken heart.
When a friend invited her to the Artwalk in downtown Billings, she forced herself to go. She didn't know it, but the invitation was made so Kim could meet Carol and John Keenan. The couple had lost their daughter Mary Kate to an overdose in 2016.
"Carol's husband came up to me and grabbed my hand and he said, 'I want you to know that we know what you are going through,'" Kim says. "I just lost it."
The meeting sparked a friendship and a mission to help other parents in their shoes. In August of 2020, the two launched Overdose Awareness Day at Rose Park in Billings.
"The hardest thing with an overdose is there are so many unanswered questions," Kim says. "There are things we will never know. We want to help people who have lost someone to overdose because it is a dark, windy path to navigate. I want to stop the stigma and the shame because it can happen to anybody."
There are times Kim wishes she could go back in time to talk to her son one last time. She'd plead with him to see the light.
"I wish I could have told him you can change everything in a heartbeat," Kim says. "I wish I could have convinced him, 'You can change this.'"
TO LEARN MORE ABOUT OVERDOSE AWARENESS DAY, visit facebook.com and search Overdose Awareness MT.
Editor's Note: YVW featured Carol and John Keenan's story in our October/November 2018 issue. To read about their journey, visit yellowstonevalleywoman.com/remembering-Mary-Kate.