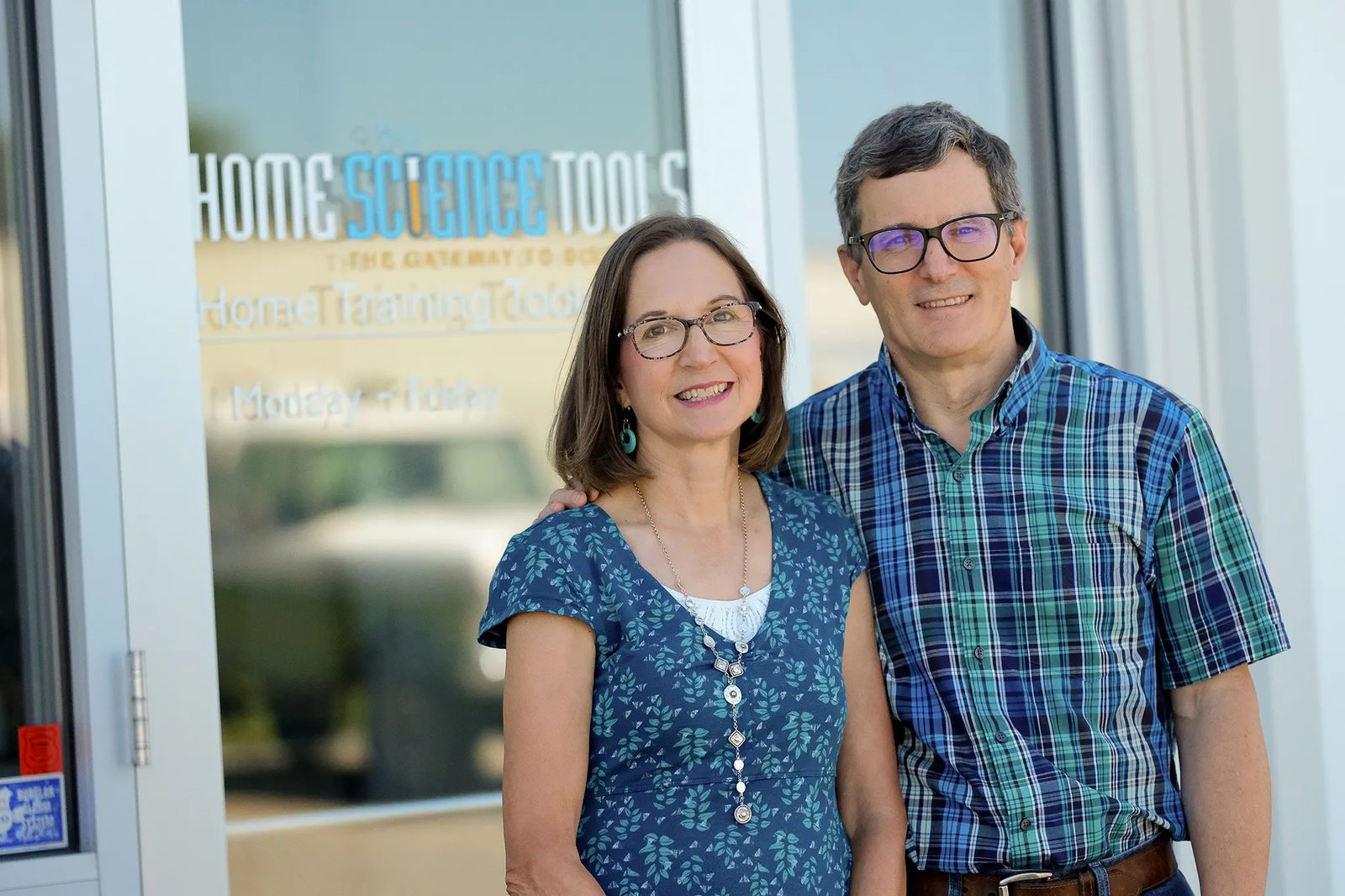 Inspired Learning for 25 years
A walk through Home Science Tools history
Walking with a visitor through the front office of Home Science Tools, a Billings-based business she co-owns with her husband, Debbie Schaner pauses just inside the entrance to their 26,000-square-foot warehouse.
"It still amazes me every time I come in," she says. "I'm just amazed. Like, how did this happen?"
The answer, as you might guess, is that it happened because of a lot of hard work. It happened because Debbie and her husband, Frank Schaner, recognized a need 25 years ago and have dedicated themselves to meeting it — through an era of market-rattling changes — ever since.
Their business provides thousands of tools, pieces of equipment, supplies and kits designed to encourage hands-on science-learning experiences for kindergartners through college students. When they started out, the Schaners catered almost exclusively to homeschoolers, because as homeschoolers themselves they saw a tremendous need.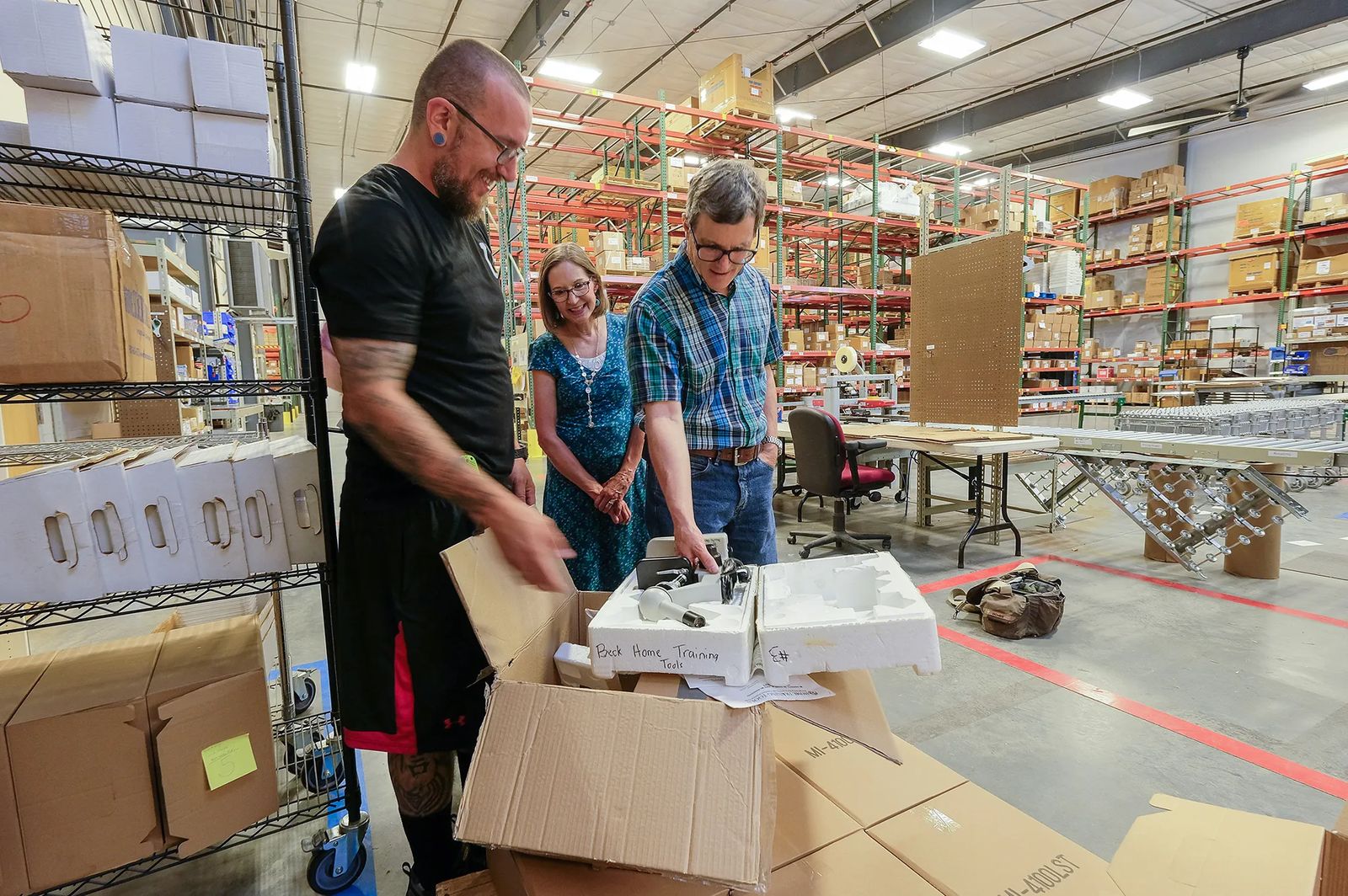 Today, with 28 employees and annual sales of about $6 million, about half their customers are homeschoolers, with their rest of their products and services going to public and private elementary and high schools, as well as to colleges.
Debbie says hands-on science learning just makes sense.
"Most of our children learn best that way," she says. "I think that's how they really do learn. You can read something in a book, but until you see it, you don't really understand it."
"And it's not just what you learn, but the skills you pick up along the way," Frank adds. "The critical thinking skills, the ability to analyze data, the ability to observe things carefully and draw conclusions from that — all of those things that are so critical in our daily lives."
Debbie is originally from Bozeman and Frank is from Great Falls. They met at Montana State University in Bozeman. As Frank tells it, "I graduated on Saturday, we got married on Sunday and on Monday we moved to Louisiana."
Debbie worked as a registered nurse, Frank as a chemical engineer in the oil and gas industry. They would eventually have four children — three daughters and a son — whom they decided to homeschool, mostly because of concerns about the quality of public schools in Louisiana.
When their children were young, it was easy enough to find supplies for simple science experiments. But about the time their oldest child entered sixth grade, they became acutely aware of the difficulty of finding science supplies and materials.
I think the main thing was the materials," Debbie says. "We could find curriculum, we just couldn't find the products that we needed for science experiments."
A turning point was when Debbie needed a tiny amount of sulfur but found it could be purchased only in very large quantities at a pharmacy. And in those days, the makers of beakers and other lab equipment didn't even sell such things to individuals.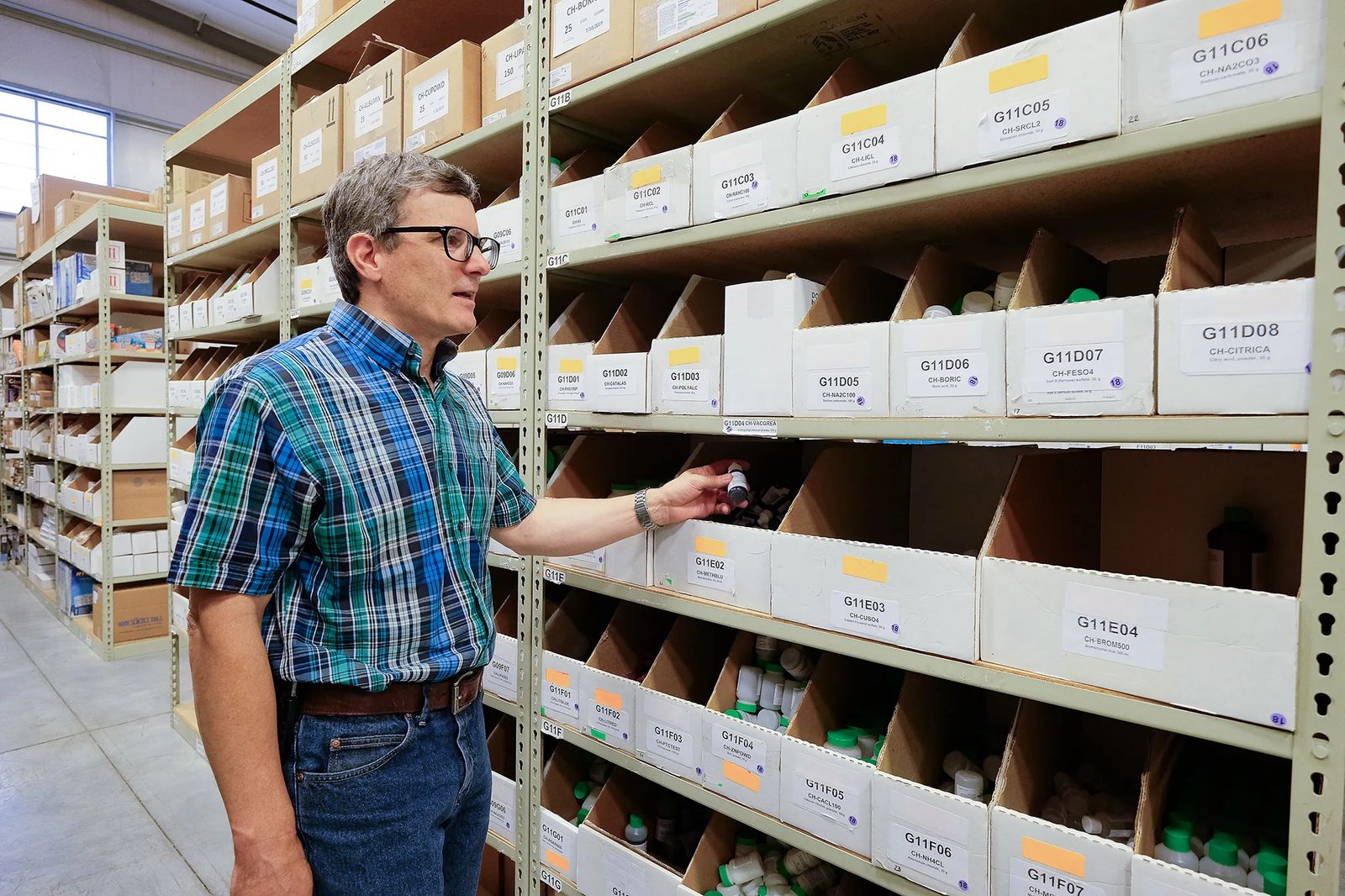 That's when the Schaners decided to meet the need themselves. They originally ran the business out of their house in Houston, where they lived briefly before moving back to Montana — which they had long planned to do — in 1995. Frank quit his job, too, when they made the move, and they ran the business out of their house in Billings for the first three years.
"I don't think we took a salary until the end of our second full year in business," Frank says. "And I don't think there was much in that third year."
Then, in July of 1997, they moved into a storefront on Broadwater Avenue, where Frank said he felt overwhelmed by all the space — all 1,000 square feet of it. Three years later, they moved into a 4,000-square-foot building on South 18th Street, in an industrial area south of Monad Road.
Then, in 2006, they moved into a 16,000-square-foot structure they built themselves, a block away from the South 18th Street location, at 665 Carbon St. And just three years ago, the Schaners completed a $1.8 million expansion that doubled their building size to 32,000 square feet. Home Science Tools is just south of the UPS Customer Center on Lampman Drive.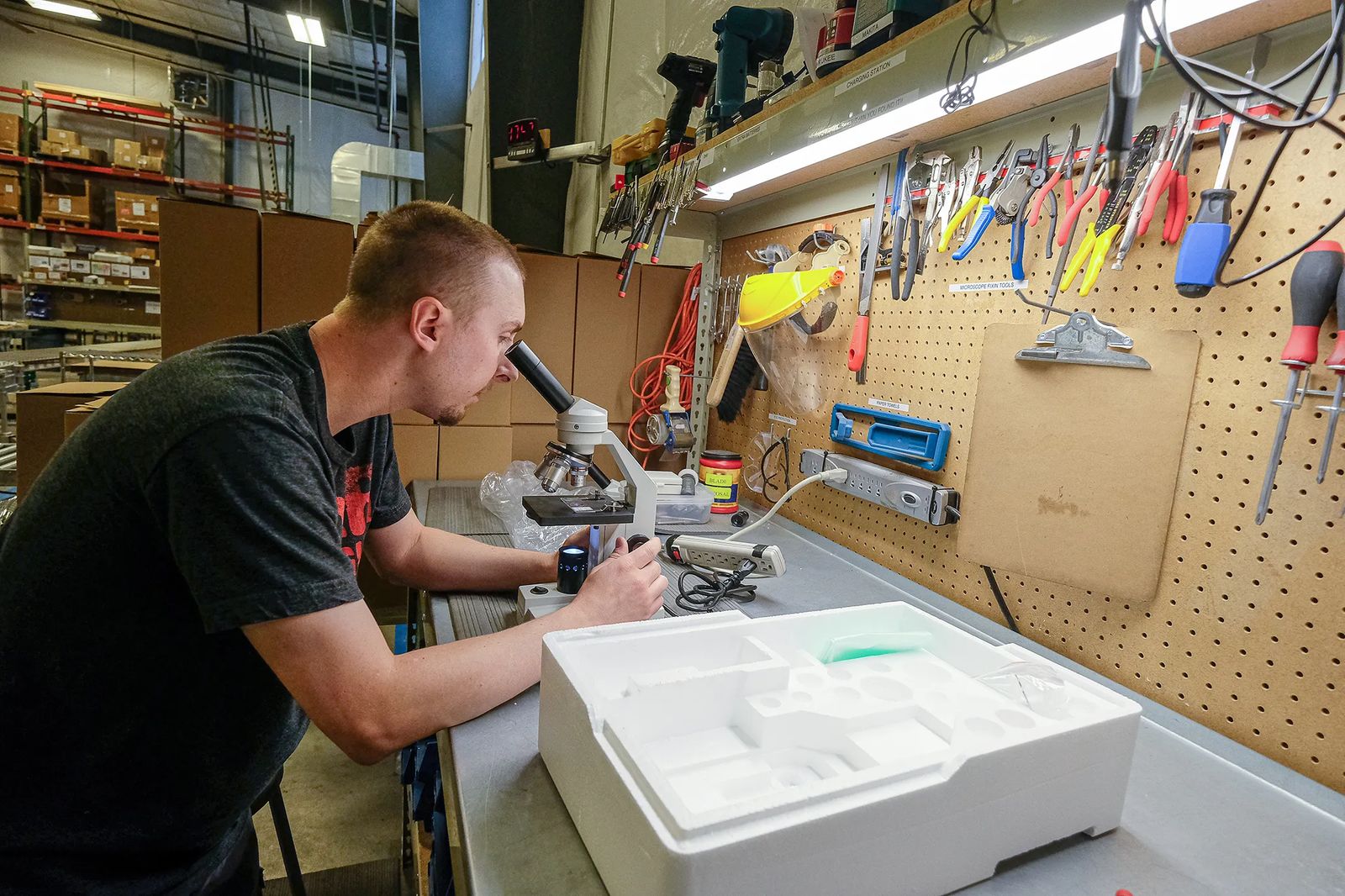 Over the years, in addition to selling thousands of individual items and pieces of lab equipment, the Schaners developed their own kits, including a chemistry kit, a bacteria kit and an introduction-to-physics kit, complete with a curriculum, tools, equipment and explanations of lab experiments.
They didn't have many competitors in the early days, but in the internet age they have to deal with hundreds of them. They've managed to grow by emphasizing customer service and having employees who can help clients figure out exactly what they need.
"And then just our passion for sharing science with people and really inspiring that curiosity, that desire to learn," Frank says. "That's attractive to people because we're not just selling something and that's it. We're providing a lot of value in terms of know-how and expertise, and we're here for the long run."
Home Science Tools even offers a 90-day money-back guarantee. "In e-commerce, that's pretty unusual," Frank says.
About five years ago, the business seemed to hit a ceiling, and sales flattened out. It took two or three years to get back on track, and Frank and Debbie made that happen by finding key people, who could work on marketing and product development. Marketing and innovation continue to be important goals.
Frank is the CEO of Home Science Tools and is in charge of day-to-day operations, but he and Debbie, the company vice president, make all the important decisions together. Debbie has also done a lot of product evaluation and wrote much of the content for the company website.
And every summer, to stay active in homeschooling, Debbie puts on a science camp for her grandchildren.
"We're debating whether we should package these science camps that Debbie's developed," Frank says, "but it's not an easy thing to do because a lot of it is who she is and just the passion she has for sharing her love of science with children."
In the early June, to mark Home Science Tools' 25th anniversary, the Schaners hosted an open house, which included three demonstration areas where children could do science experiments.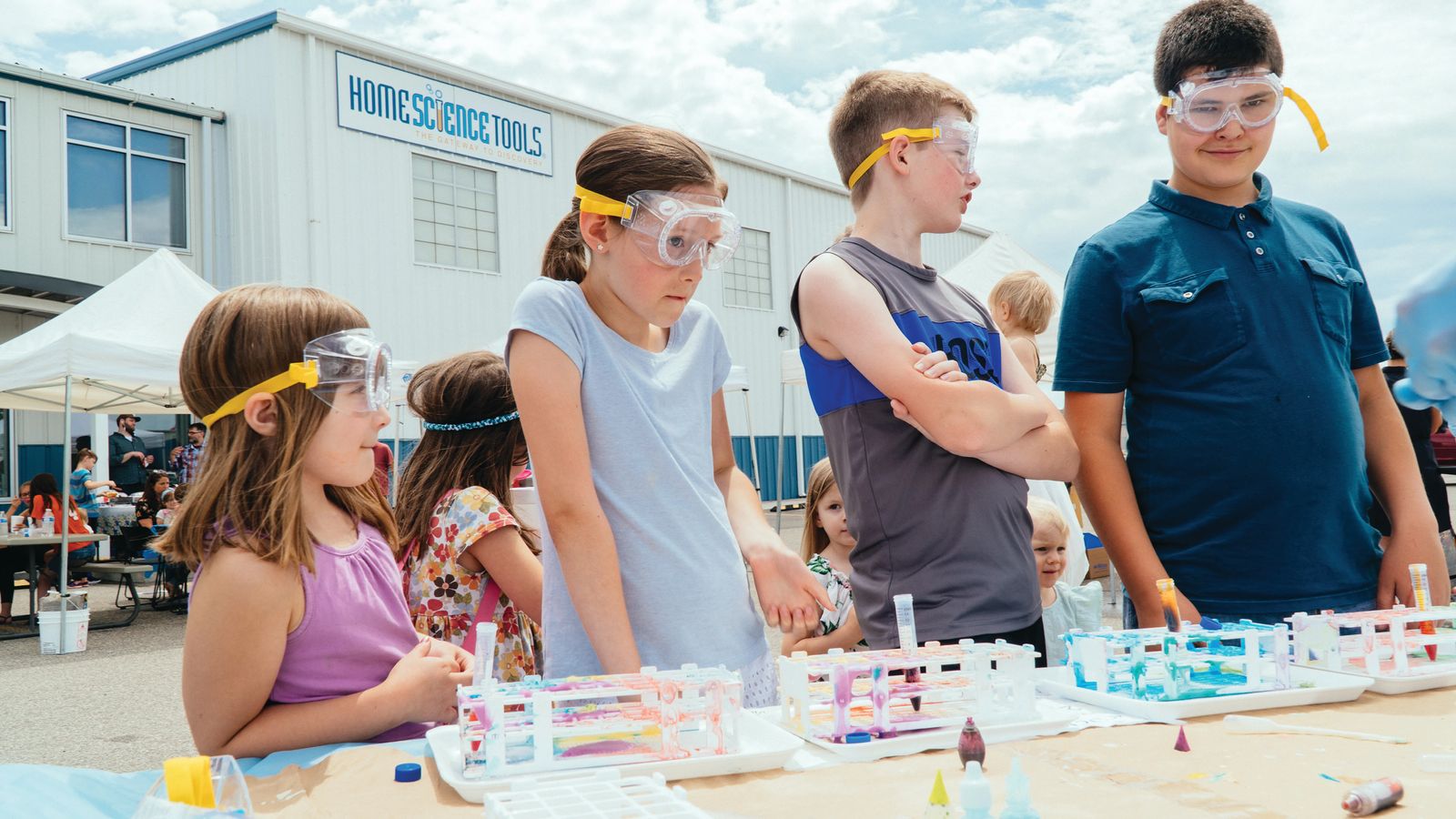 "The whole three hours, there were kids solid," Debbie says. It was so fun they're thinking of making it an annual event, partly to make more people aware of this homegrown business, and to let people know it's open for walk-in business (7 a.m. to 6 p.m. Monday through Friday).
Debbie says it helps that the push for STEM education has gotten so many people interested in hands-on science.
"We find ourselves behind other countries in terms of our science education because we've relied too much on textbooks rather than actually doing the science," Frank says.
"It really is teaching the children to think for themselves and to evaluate things for themselves," Debbie says. "To be interested in science."
HOME SCIENCE TOOLS
What they provide at-a-glance
Home Science Tools' slogan is "inspired learning." Among their products that provide that inspiration are dissection kits, a DNA extraction kit, small models of the heart, brain and body, a sea monkey ocean zoo and a backyard naturalist's backpack kit.
They also sell telescopes and rock collections, a robotics kit, ultralight airplanes, a sun spot solar oven, a wide variety of microscopes, a deluxe bug magnifier and a pressed flowers collection kit. For more information, go to www.homesciencetools.com