Itty Bitty Eyecatchers
Dainty jewelry is making an impact
It's a trend that's making a huge impact in the fashion world. When it comes to those baubles that you drape around your neck, less is definitely more. We have seen seasons of chunky ornaments making their place in fashion. Now however, the time has come to let delicate pieces tell the subtle story of things we love. Dainty necklaces, delicate earrings and soft, thin rings add tiny hints of luxury. We've found some petite pieces perfect for anyone, any occasion, and any place.
PEARL OF WISDOM
Small pearl studs show your love for things that are timeless. These creamy beige pearls will accent any type of outfit.  Whether you slip on that little black dress, or you want to dress up what you're wearing while sipping coffee with friends, pearls are politely appropriate. For generations, these heirloom-style pieces have proven worthy.
GET THE LOOK: Uno de 50 ego earrings, $109.00 at Neecee's.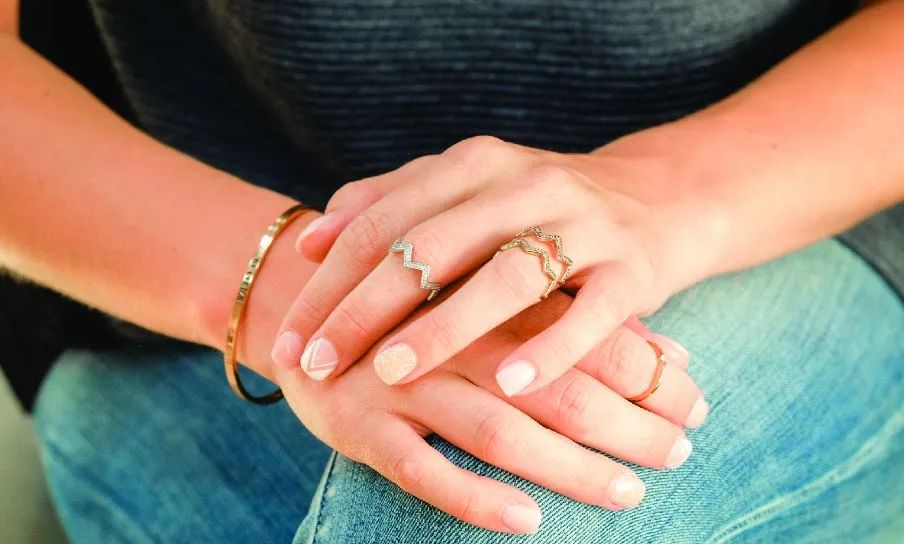 PERSONAL PREFERENCE
A zig-zag can be described as a series of short lines connected yet individual from others. It's why this linear doo-dad could be the focus of the perfect piece of statement jewelry. Stacking rings are a perfect fit for that gal who wants hands that stand out in a crowd. Keeping these rings petite or even a bit separated helps provide a modern, elegant, soft and still feminine vibe.
GET THE LOOK: Three-piece stackable rings, $714; Pink gold promise ring, $212, both at Riddle's Jewelry.  Believe mantra-band, $40.95 at Bumps 'N Bundles.
MATRIARCH
What's the word? Well in the world of jewelry, it's a dedication or simple word that speaks directly to your heart. Word jewelry gives the wearer a heart flutter each time they put on this simple adornment. These words can be worn yourself to honor a loved one or can be a label given to someone we cherish. It's a perfect gift to celebrate a new mom, or remind you of your love for your own mother or grandmother.
GET THE LOOK: Miriam Collection Mama Necklace, $54.95 at Bumps 'N Bundles.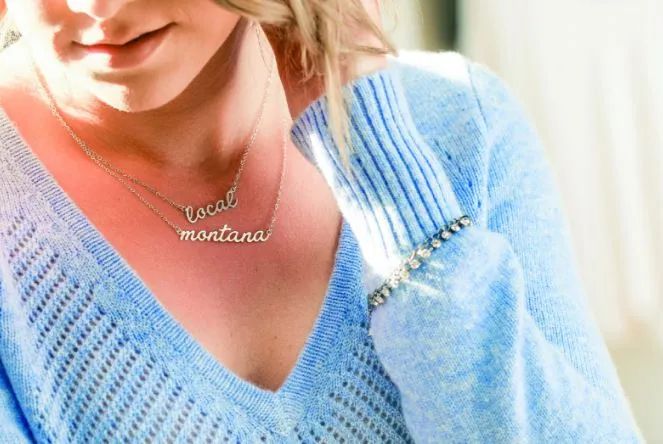 MONTANA PRIDE
It's no secret that if you live in Montana, you live in the last best place. We are proud and we will shout it from any one of the state's more than 100 mountain ranges. Why not step it up a notch and show your state pride by wearing something that sparkles to honor our beautiful state. Cursive words claiming 'Local to Montana' can be deemed charmingly irresistible.
GET THE LOOK: Montana necklace, $42.99, Local necklace, $42.99, Cool Water bracelet, $42.99. All from Neecee's.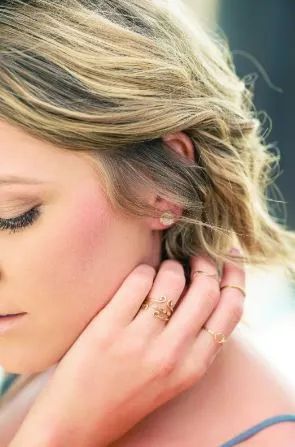 THIN WHISPER
Glimmering and delicate these barely-there rings can be masterfully placed or stacked. Thin may be the easiest introduction to multi-ring wearing moments. Try stacking stones, charms or even mixing metals.  Even distribution is not a necessity but may 'ring' true to some styles. Others might prefer to heavily stack their rings to make a more powerful visual statement. Try pairing with dainty earrings to give an air of subtle elegance.

GET THE LOOK: Mimi & Lu rings ranging from $25 - $30; Rachel Ryen Hexagon pave moonstone studs, $98. All from Bottega Clothing.