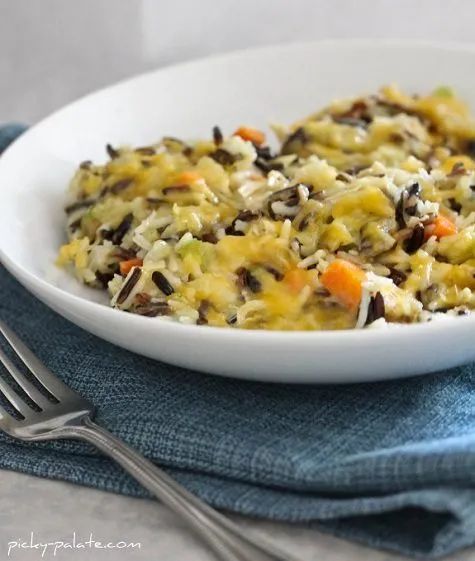 Kid Friendly Cuisine!
Need something easy and kid approved?
Try Cheesy Chicken and Wild Rice from our friends at the Picky Palate
Ingredients
3 Tablespoons extra virgin olive oil
1 medium onion, finely diced
3 stalks celery, finely diced
3 carrots, peeled and diced
2 Tablespoons fresh minced garlic
2 Cups shredded, cooked chicken breast
2 Cups steamed white rice
16 oz prepared wild rice (I get mine at Trader Joes, LOVE it)
1 teaspoon kosher salt
1/2 teaspoon black pepper
1/4 teaspoon garlic salt
CHEESE SAUCE
4 Tablespoons butter
1/4 Cup all purpose flour
1/4 teaspoon kosher salt
1/4 teaspoon black pepper
2 Cups chicken broth
2 Cups shredded cheddar cheese
Top with 1 1/2 Cups shredded cheddar cheese
1.  Preheat oven to 350 degrees F.  Heat oil into a medium dutch oven or pot over medium heat.  Saute onion, celery and carrots until softened, about 10 minutes.  Stir in garlic and cook for 1 minute.  Stir in chicken, both rices, salt, pepper and garlic salt.  Reduce heat to low.
2.  To prepare cheese sauce melt butter into a medium saucepan over medium high heat.  Whisk in flour, salt and pepper then slowly pour in chicken broth whisking continuously.  Whisk until thick and nearly boiling then stir in cheese until melted.  Pour cheese sauce into cooked rice mixture then transfer to a 9×13 inch baking dish. Top with additional cheddar cheese and bake for 25-30 minutes or until cheese is melted through.  Serves 8 to 10.