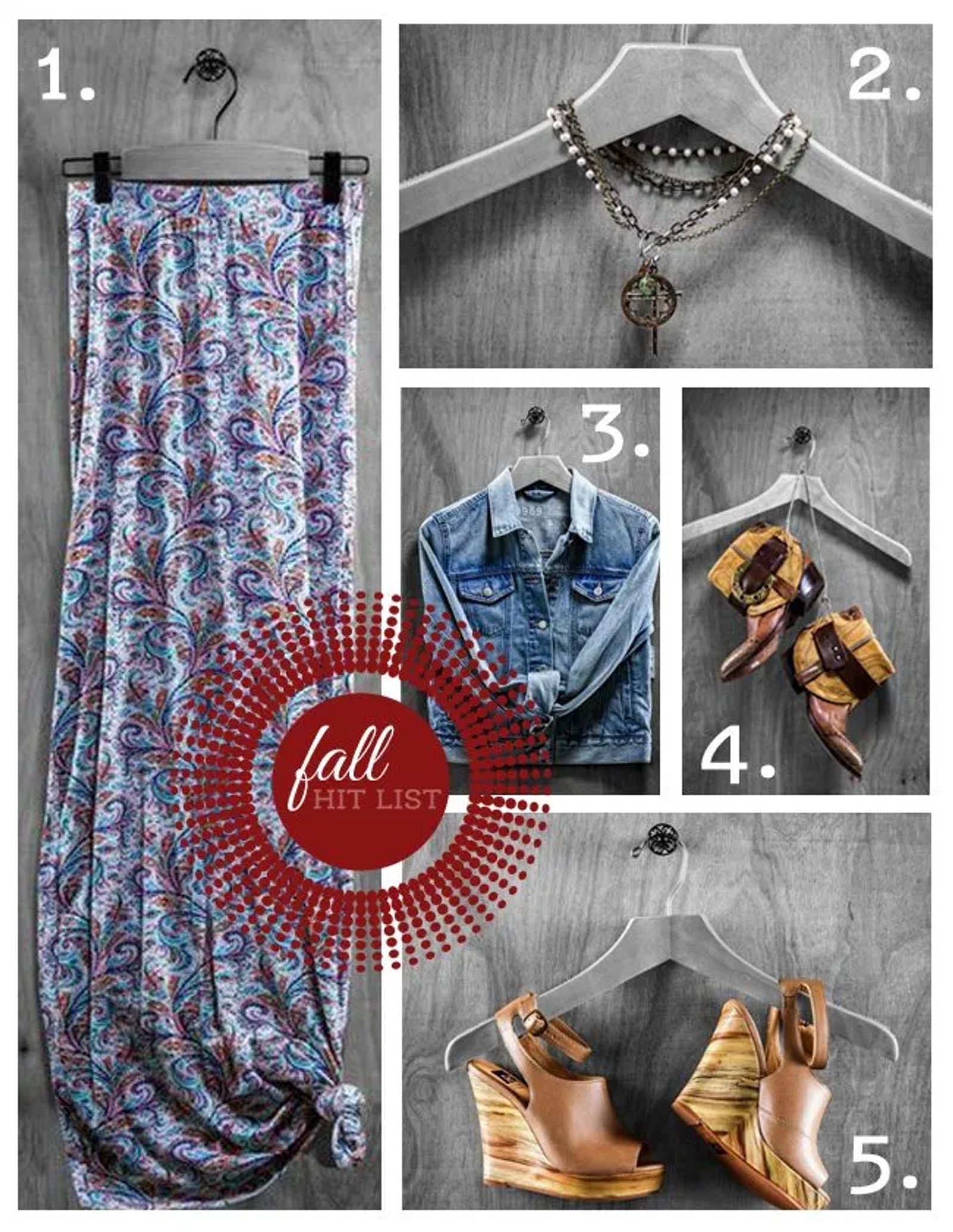 Layer Up Your Style
YVW"s Fall Fashion Hit List!
It"s almost that puzzling time in Montana when we aren"t sure when the first major cold snap will hit or if we will still have a generous supply of glorious short-and-sandal, rocking, sun-filled days ahead.  Never fear. We"ve asked some local fashionistas how we can all stylishly transition from summer to fall with a few fashion must haves.  When daylight starts to fade and the air turns crisp, you don't need to drench yourself in dark hues.  Fall fashion is the perfect time of year to love your light and airy summer finds by layering them with structure, saturated color, and texture.
1. FREE FLOWING FASHION
In my adventures in finding the perfect wardrobe staples, Meggan Strecker, the assistant manager of Buckle, told me "a maxi skirt is a great investment in Montana, a perfect wardrobe addiction that links warm summer to crisp fall."  This is one element I have seen find its way into nearly every season"s style line-up.  Meggan has been known to pair them with sandals and tanks and even boots and a slouchy sweater.  $29.95 BKE maxi skirt at The Buckle.
 2. STRENGTH IN MULTIPLES
Neecee's is a strong fashion authority in this community, helping women get the most out of everything they buy.  Picking out a statement piece of jewelry at Neecee's comes way too easily for me each time I step foot through their door.  Valda Jones, Neecee's Store Manager, gave me excellent advice, "Life is easy when you can have two looks with just one necklace!"  She picked this made in the USA piece because, "You can wear it long with your breezy summer dress or double the pearl and chain to make a shorter version to wear with your favorite tee".  $74.99, Julio Designs at neecee"s. 
3. WEAR IT EVERYWHERE
Montanans would argue that denim jackets never go out of style.  Though we may wear them season after season, tune in to fit and embellishment trends that change over the years. I am a gal that finds every occasion to wear my denim jacket.  I think this jacket is a must have for every woman, no matter your body type, height or style.  Denim jackets can be casual with shorts, flirty and feminine over a flowery sundress, and even rocker-chic with leather leggings and booties.  $69.95 at The Gap.
4. CANTY CRAZE
Stacey LaGreca, owner of Better Together online slots Boutique, was the first to bring these Made-In-Montana rustic beauties to Billings.  When it comes to these one-of-a kind, restyled and up cycled cowgirl boots, she says, "Cantys are a year around staple. They are great with shorts, dresses and even wedding gowns!"  I promise you that there is a pair of Cantys for every girl.  I look forward to rocking mine on weekends, but I take every chance I can to pair them with a little black dress at the office.  Partner these boots with sundresses, maxi skirts, and even a pair of boot cut jeans. I encourage you to find fashion moments when you can swap out sandals or stilettos for a pair of laid back and relaxed Cantys. $230 to $285 at Better Together Boutique.
5. PEEP TOE PERFECTION
"A nude shoe or wedge can take you from a ripped up pair of jeans to an evening dress. They look like a continuation of your leg, so they are flattering and elongate your physique. They are this season"s MUST!" Katie Ellis, owner of Bottega Clothing, tells us of this fashion find.  Katie's choice in footwear is enviable.  She finds classics that always have a little something special.  Take Katie's advice and buy a pair you"ll love and will want to pull out of the closet day after day. $81 BC Minute by Minute wedge sandal at Bottega Clothing.