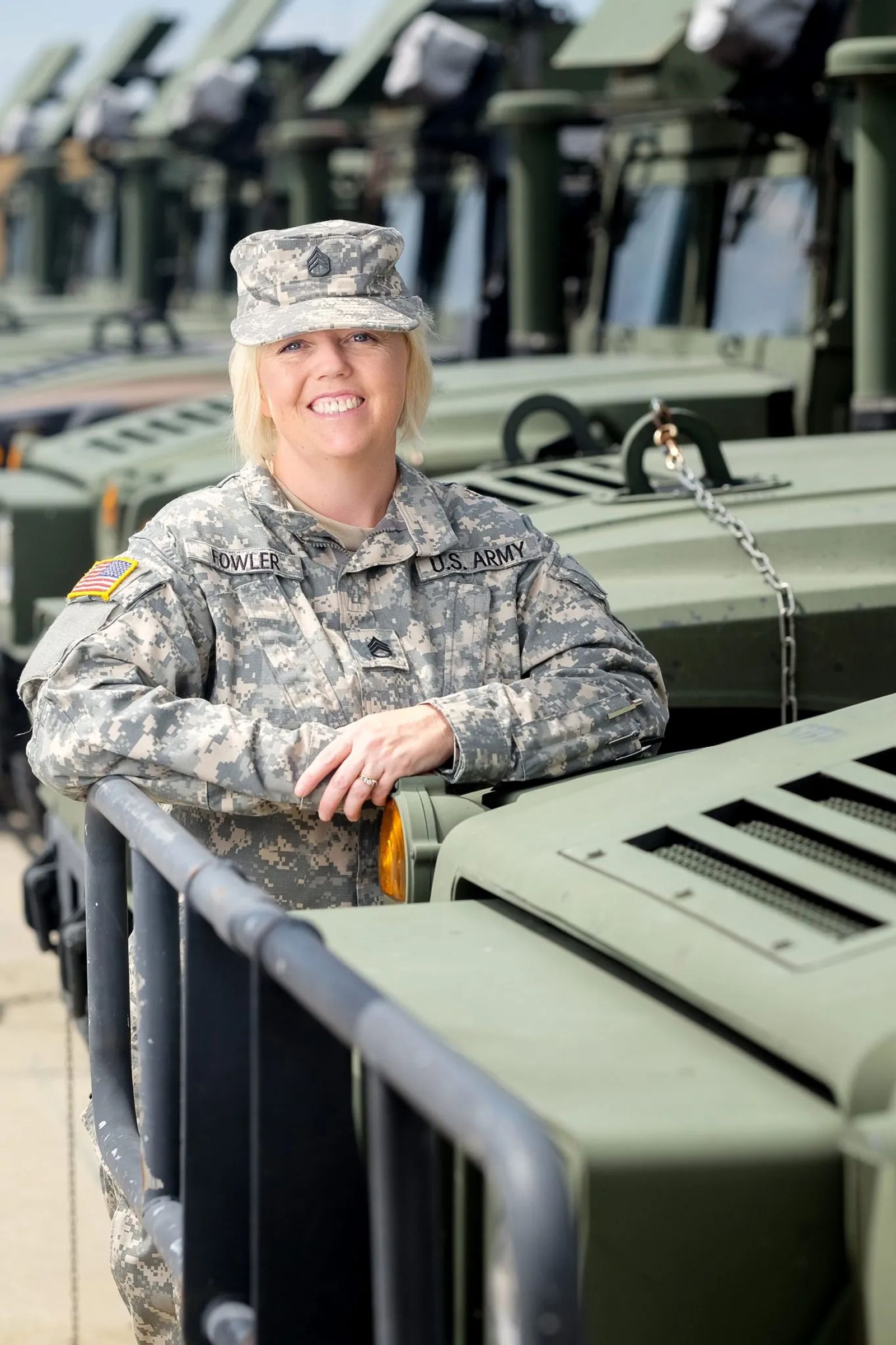 Leaders Among Women
Fighting stereotypes to serve & protect

They use words like "family" and "challenging." They've fought age old stereotypes while driving in combat convoys in Afghanistan. They are members of the Montana Army National Guard, proudly serving their state and country.
Those words belong to two women who've dedicated themselves to the 'Guard', Sgt. Jeri Fowler, the chief paralegal in Montana with the National Guard, and Spec. Kimberly Gary, a supply specialist in logistics.
Donning their military fatigues is a sharp contrast to their 'day jobs.' Jeri is the director of Billings Montessori School, where she also teaches Kindergarten and 1st grade. Kim works for a disaster restoration company. While they juggle their day-to-day duties, they'll trade their work clothes on and off for their Montana Army National Guard uniform for the next six years.
The two are similar in that they signed up to serve with the National Guard because of family.
Jeri's husband was diagnosed with a terminal lung condition. They needed health insurance. She had wanted to join the military when she was younger, but her mother wasn't thrilled with the idea. Mom thought Jeri was meant to be a teacher, so she got her elementary education degree from Rocky Mountain College. Even with the degree, however, her desire for military service never waned.
Jeri was 36 years old when she joined, and 37 when she entered basic training. She worked hard physically beforehand just to make sure she could endure what basic training delivered. She admits, "When I first got there they called me 'Grandma' and were kind of hard on me." The tides turned when fellow soldiers saw she was physically fit and ready to learn how to be a good soldier. They traded the nickname of "Grandma" for "old lady." In military parlance, that's a sign of respect.
"I found out that I like to be a leader," Jeri says today. "I enjoy helping other soldiers be successful in their career in both the military and in their personal life. The Guard has shown me I have a lot more confidence and a lot more to give. I am a lot stronger than I thought."
There were times when Jeri had to dig deep to discover that inner strength. She found it while climbing a tower during basic training only to test her rappelling ability on the way down. At the top, fear brought hesitation as she prepped to go over the wall. Her drill sergeant, who was supposed to bark angry orders and give off a tough façade, ended up calming Jeri down. When she did make the leap, she had so much fun conquering her fear, she wanted to do it again. Jeri says her drill sergeant's faith in her made all the difference. "She showed me that there are different parts of being a leader. There's a time to be direct and a time to be supportive. She demonstrated right there on top of that tower the kind of soldier and leader I wanted to be for my soldiers," Jeri says.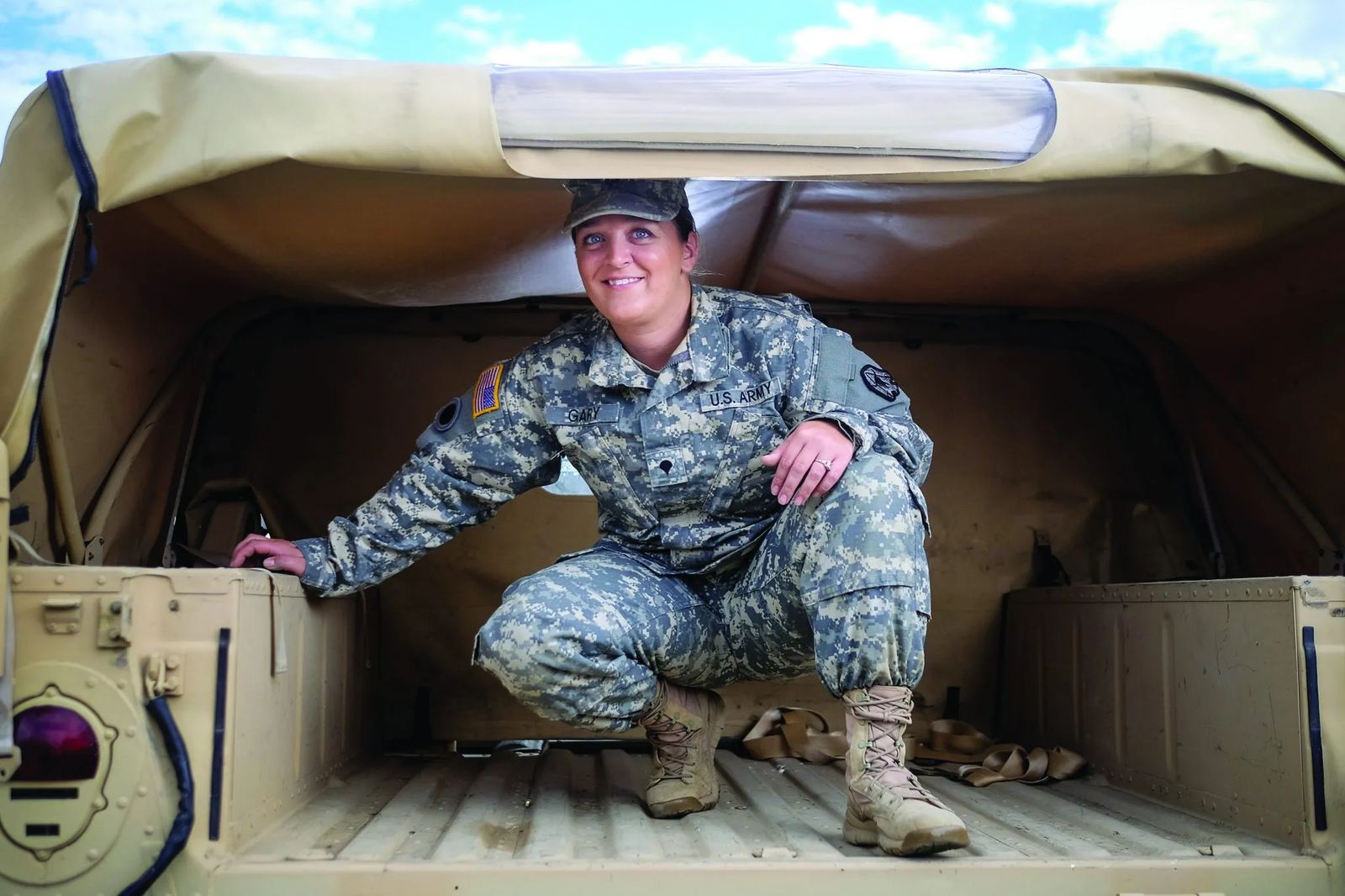 For Kim Gary, leadership meant being a role model not only for her military peers, but for her children. "Having two kids, this was a way I could better myself and something the kids could be proud I was doing." Being an adrenaline junkie, Kim admits, "This gives me an opportunity to push myself and basically go experience things that, outside the Guard, I would never have the opportunity to experience."
It was the reason why Kim volunteered for the Female Engagement Team, a group of female soldiers with logistic and cultural training who talk with and engage women they encounter in their work. Arab culture prohibits men from talking to women, so it's up to women to do the communicating. Kim says, "I really felt empowered to do it."
Kim voluntarily deployed to Afghanistan in 2011 and served just under a year. She learned quite a bit about herself during her tour.  She says, "I found how easy it is for me to adapt to different situations, especially during my deployment. I made so many friends that were locals and with a lot of our linguists that worked for us. I also made a lot of friends with some of the NATO troops and to this day keep in contact."
One of the many memorable moments for this supply specialist came during deployment when she and a fellow soldier from her unit (she was a combat driver at the time) had a BBQ out under the stars with not only the locals but with some of the Albanian Special Forces. "We tried to communicate (there was little English spoken).  So, we would draw stick figures and point," she says. She adds that it isn't every day that you get to "make friends with someone from the other side of the world."
While both soldiers have learned a lot about themselves in this journey, it hasn't always been easy. Both have faced their share of trials.
Jeri will never forget the difficult task of having to leave for training while her husband was dealing with a death in his family. While she called and texted to be as supportive as she could, she admits, "I wish I could have said 'no' to the military, but that's not an option."
Kim's moment of difficulty came during deployment. With heightened activity where she was based, all lines of communication had to be cut off. No Internet. No contact with anyone back home until the danger subsided. All the while, Kim knew her mom and sister who were taking care of her two kids had no way of knowing that Kim was okay. It was a difficult week to say the least.
Still, both women know that they have the support of their family and co-workers. There are obstacles and it's often a balancing act between family, job and the guard.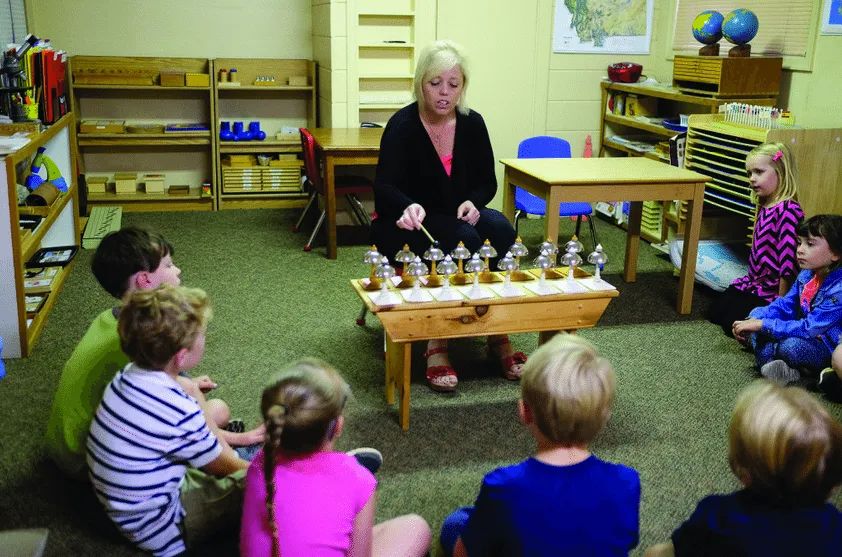 Jeri knows her husband misses her when she's gone. And when she has to leave her post at Billings Montessori, her kindergarten and first graders find it tough to say goodbye. Jeri says she's thankful to work with a staff that is always willing to jump right in. "They support my mission so that helps balance it out," she says.
Kim also knows her duty with the guard is hard on her employers, especially in the restoration business where they are on call. "Most of the time when we get a call, someone is in dire need, whether a house got flooded or there's been a fire or trauma. That can be challenging, since my boss needs to know he's got the people to cover my shift."
She says it's all about the support, from a husband who has her back to a commander, who is a father himself and understands the demands of a family. Kim says it's all about the logistics and finding a way around the difficulties. "If you have a bump in the road and get past that, it's exactly what you need in the military, male or female, to make it work."
These women may continue to bust stereotypes and grow in their leadership roles, but they know they don't do it alone. With the help of family, co-workers, their commanders and peers in the military, Sgt. Jeri Fowler and Spec. Kim Gary are making it work for them, the Montana Army National Guard, and the state, serving their country every step of the way.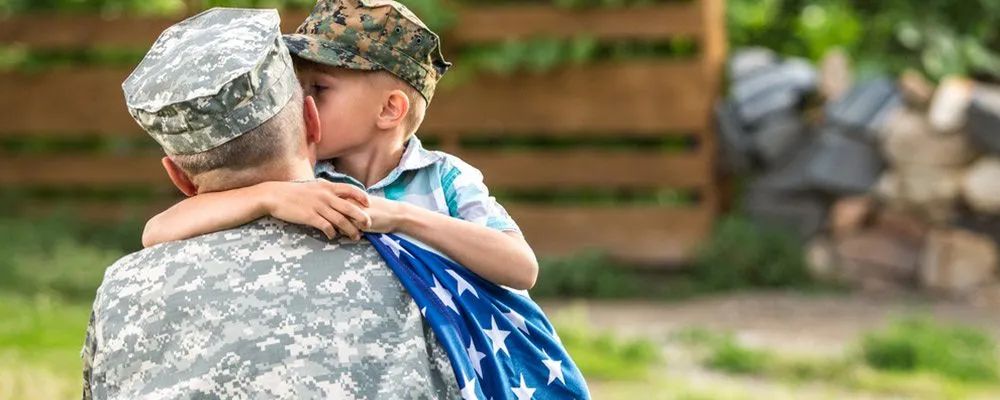 THANK A VETERAN THIS VETERANS DAY
November 11, Veterans Day, is a public holiday that is dedicated to honoring anyone who has served in the United States military. Take a moment of silence to honor the more than 22 million who showed courage and leadership while serving our country. If you're looking for special ways to show your appreciation, why not try one of these ideas suggested by Veterans United:
Wear a red poppy or yellow ribbon to show support for veteran and active duty service members.
Organize a care-package packing party. If you don't know someone currently stationed overseas, contact a nearby base or an organization like Blue Star Moms to identify troops in need.
Visit a veterans' hospital. Chatting with elderly or injured veterans is a great way to brighten their day, plus you're likely to hear some highly fascinating stories about their time in the service.
Encourage your child's teacher to develop a Veterans Day lesson plan. A timeline or short writing project is a great way for students to learn about the holiday's history.
Invite a veteran — a parent, grandparent or faculty member, perhaps — to speak to students about what it's like to be in the military. Don't know any veterans to invite? Contact your local VA, their Public Affairs Officer will likely be able to identify a good guest speaker. There are many veterans who work at VA facilities and would be happy to be  to speak to students.
Take time out of the day to acknowledge veterans in your workplace.
Want to find a local Veterans Day event? Many communities hold parades and vigils. Contact your local VA for more information.
Celebrate with service. Show service members your gratitude throughout the year with a home-cooked meal, thank you note or day of volunteering. Check out this post from HandsOnBlog for more specific ideas.
Support veteran-owned businesses. Websites like buyveteran.com can help you identify such businesses in your area.
Express thanks. Whenever you see someone in uniform, extend a simple word of gratitude or small act of kindness to show how much their service means to you.