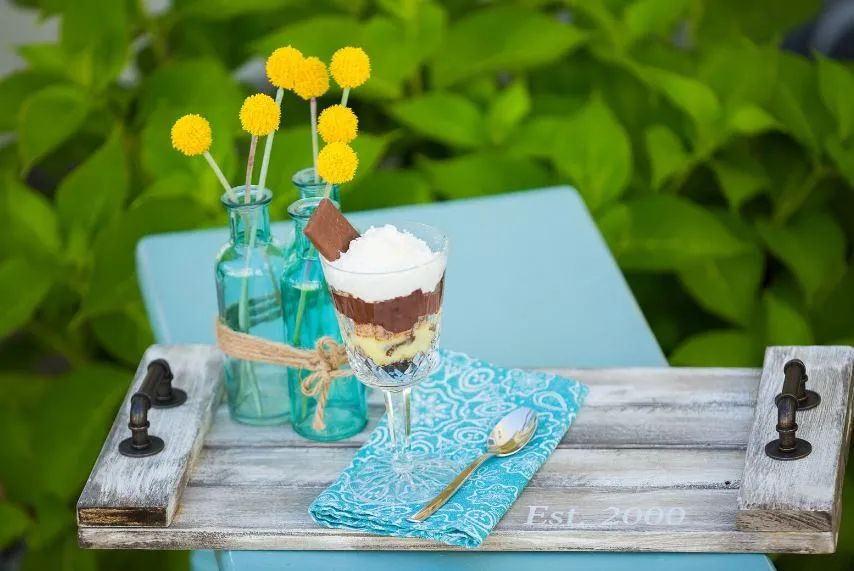 Let Them Eat Cake!
Celebrate with a little baked up sweetness
Grab the confetti sprinkles and get ready to bake up one way Americans love to celebrate.  There's cake at weddings, birthdays and even retirement and graduation parties. It's a form of celebration that has earned its place in history. From the hardened cakes that were broken over the heads of brides for good luck centuries ago in Roman times to the French Queen Marie Antoinette who reportedly announced "Let them eat cake," when it became known that the peasants were without even bread.
This soft, sweet food made from a mixture of flour, shortening, eggs, sugar and more is making a comeback in a big way. Search the Food Network's website for a list of their programs past and present and you will find that more than a dozen deal with cake. Zero for pie. Cookie shows are sparse specials. The spotlight is clearly on cake.
That's why the staff of Yellowstone Valley Woman magazine opened up their recipe boxes to share some of their cherished favorites. From Trish Scozzari's Crazy Cake and Stella Fong's Decadent Vegan Chocolate Cake to Lovely Cutler's Legally Good Cake, Haley Vannatta's Sour Cream Coffee Cake, and Julie Koerber's Strawberry Lemonade Cake, there are plenty of options to tantalize your taste buds. For those who are looking for a kid hit, I threw in a recipe for my well-loved Popcorn Cake. So brew up a pot of coffee or mix up a pitcher of punch, it's time for cake. Enjoy!
CRAZY CAKE
~Recipe from Trish Scozzari

"The cake itself is mixed in the pan that it is baked in. Crazy, but so delicious! I acquired this recipe from an incredible baker in Livingston, Montana almost 30 years ago."
INGREDIENTS
3 c. plus 1T. of flour
1 t. salt
2 t. baking soda
2 c. sugar
¼ c. cocoa
Place above ingredients in 9x13-inch ungreased cake pan. Make 3 holes in the mixture. Add 1 teaspoon of vanilla, 1 tablespoon of vinegar and ¾ cup salad oil to the 3 holes in mixture. Pour 2 cups cold water over mixture. Blend gently with fork until well-blended, but do not beat. Bake for 25 to 30 minutes at 350 degrees. You want cake to be just a touch under-baked, rather than over-baked.  Cool cake completely.

FRENCH VANILLA FROSTING
1-1/2 T. flour
½ c. milk
½ c. butter
½ c. sugar
½ t. salt
 Gradually blend 1-1/2 tablespoons of flour with ½ cup milk. Cook to a thick paste on medium heat in a saucepan, stirring constantly. This takes just a couple of minutes, so watch and stir. Cool this paste until lukewarm to cool. Meanwhile, cream ½ cup butter (room temperature) with ½ cup of sugar and ½ teaspoon of salt. Cream the butter first and then gradually add the sugar and salt to it. This makes it fluffy. Now, add the lukewarm (cool) paste and beat with a mixer for a few minutes until fluffy. Spread on cake.
FUDGE FROSTING

2 T. cocoa
1 c. sugar
¼ c. margarine (or butter)
2 T. white syrup
¼ c. milk
½ t. vanilla
Bring above ingredients, except the vanilla, to a boil in a saucepan. Boil for exactly 2 minutes and add vanilla. Beat frosting until thick but don't wait too long before you drizzle it over the cake. If you boil, or beat this for too long, it will harden too quickly in the pan.  Let it harden on the cake.
DECADENT VEGAN CHOCOLATE CAKE
~Recipe from Stella Fong
Makes 1 cake, serves 8 to 12
"My husband and I call ourselves 'convegans' or 'flexitarians' because we are vegan in our everyday eating at home. But when we go out, we will embrace all foods, especially foods prepared by friends. This cake is super moist and very easy to make. The trick is to combine everything together quickly, not to over mix, and to pop the layers into the oven almost immediately. Instead of frosting, you can melt some chocolate mixed with some almond or soy milk to make a sauce to drizzle over the cake."

INGREDIENTS
2-½ c. flour
2-½ c. sugar
1 c. cocoa powder
1 t. baking powder
½ t. baking soda
1 t. salt
2-2/3 c. unsweetened almond or soy milk
2/3 c. canola oil
2 T. apple cider vinegar
1 T. vanilla extract
FROSTING

½ c. vegan butter
½ c. vegan shortening (palm oil/coconut)
1-¼ c. powdered sugar
¼ c. vanilla extract
1 to 2 T. unsweetened almond or soy milk (if needed)
Preheat oven to 350-degrees F. Grease two 8-inch cake pans and then line bottom of pan with a parchment circle. In a large bowl, whisk together all dry ingredients and set aside. In a medium bowl, whisk together all wet ingredients. Pour the wet ingredients into the dry ingredients and mix until just combined. Do not over mix. Divide the batter into the prepared cake pans. Place in middle rack of oven and bake for about 40 minutes until toothpick inserted into the center comes out clean.  Let cake cool completely in pans. Remove cakes from pans and discard parchment paper. Place one cake on a plate and spread half the frosting on top. Place the second layer on top of the frosting and then spread remaining frosting on this layer.  Keep the cake in a cool place until ready to enjoy and serve with fresh strawberries or raspberries or summer peaches.
For Frosting: With a mixer, blend all of the ingredients together except the milk. Whip until creamy. Add a little milk to desired consistency if frosting is too stiff.
 LEGALLY GOOD CAKE
~Recipe from Lovely Cutler
"This recipe has become a favorite among friends. The good thing about this cake is that it gets better as it sets in the refrigerator."
INGREDIENTS

1 box chocolate cake
1 big box instant chocolate pudding
1 big box instant white chocolate pudding
1 bag Heath bars crushed or any of your favorite bars with nuts
1 jar caramel sauce
Orphan Girl liqueur
Baileys Irish Cream liqueur
Vodka with infused flavor of choice
Mix caramel sauce and 1 cup of vodka, set aside. Prepare chocolate pudding as instructed and add a cup of Orphan Girl liqueur, set aside. Prepare white chocolate pudding as instructed but add a cup of Baileys Irish Cream. Bake cake as instructed. When finished baking, poke holes. Pour caramel sauce mixture into holes. Set aside until completely cool. Cut into little chunks.
In a trifle bowl, place crumbled chocolate cake, sprinkle crushed candy bars over top. Spread a layer of the white chocolate pudding mixture on top. Place another layer of chocolate cake and crushed candy bars. Add a layer of the chocolate pudding mixture. Repeat until you can't make another layer. Top with whipped cream and sprinkle with the remaining bits of crushed candy.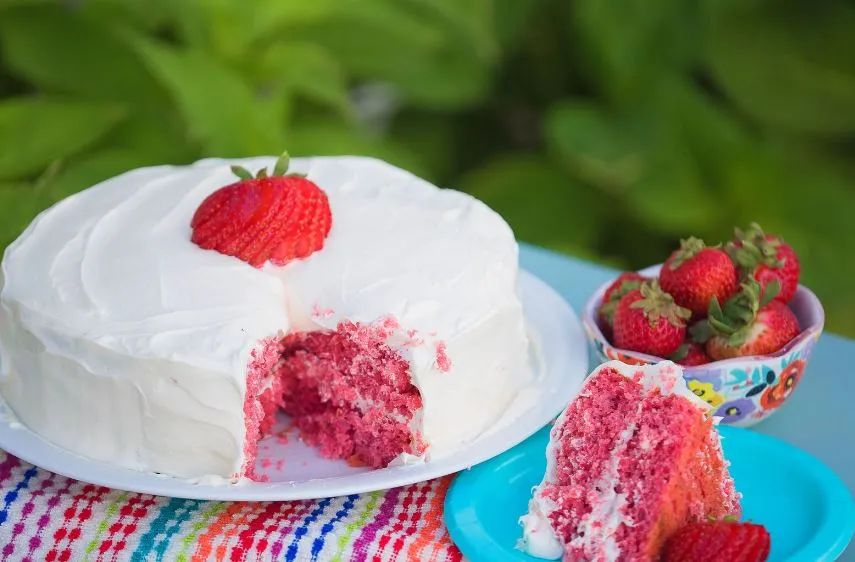 STRAWBERRY LEMONADE CAKE   
~Recipe from Julie Koerber
"This cake was 'born' out of a desire to capture a little bit of summer in a fresh and delicious dessert. After trying a number of recipes, I mixed and matched ingredients to create this one, which has become a tasty ending to fun family meals outdoors.  It's the perfect mix of sweet and sour!"
INGREDIENTS
1 box of white cake mix
1 small box of strawberry Jell-O
1 container of frozen strawberries in syrup, thaw and blend using a blender
4 eggs
½ c. vegetable oil
¼ c. water
Lightly grease two 9" round cake pans. Combine cake mix and gelatin before adding blended strawberries, eggs, oil and water. Beat until smooth. Pour into cake pans and bake at 350 degrees F, until an inserted toothpick comes out clean (roughly 20 minutes). Let pans cool completely before frosting. I typically let the cakes cool a bit before transferring them to a wire rack to fully cool.
LEMONADE CREAM CHEESE FROSTING
 8 ounce package of cream cheese
1 packet of Kool-Aid Lemonade
2 c. Jet-Puffed Marshmallow Crème
8 ounces of Cool Whip topping
Fresh strawberries for garnish
Cream together cream cheese and lemonade mix until smooth. Mix in marshmallow crème and whipped topping until smooth. Refrigerate until cake is cooled. Cut each cake layer in half (optional) and alternate between layers of cake and layers of frosting. Top with sliced strawberries. Refrigerate until ready to serve.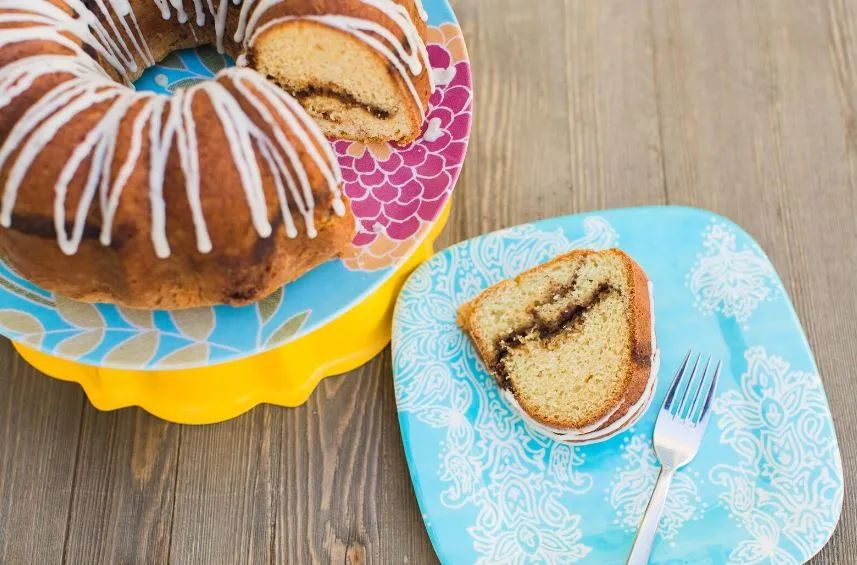 SOUR CREAM COFFEE CAKE
~Haley Vannatta's favorite courtesy of Laura Gittings-Carlson
"This cake was given to us by a friend when we moved into our new home. We instantly fell in love with it. As new people moved in around us, we made this Sour Cream Coffee Cake as a 'welcome to the neighborhood' gift. This warm comforting cake just tastes like home."
1 1/2 c. sugar
1/4 c. salted butter, softened
1 1/2 t. vanilla
3 eggs
3 cups flour
1 1/2 t. baking powder
1 1/2 t. baking soda
3/4 t. salt
1 1/2 c. sour cream
BROWN SUGAR FILLING
1/2 cup brown sugar
1 1/2 t cinnamon
GLAZE
1/2 c. powdered sugar
1/4 t. vanilla
1-2 t. milk
CAKE

Heat oven to 325F. Grease Bundt pan. Prepare brown sugar filling and set aside. Beat sugar, butter, vanilla and eggs for 2 minutes, scraping occasionally. Mix in flour, powder, soda and salt alternately with sour cream on low speed. Spread 1/3 of cake batter in the pan. Sprinkle with the filling. Repeat 2 times. Bake until wooden toothpick inserted near center comes out clean (about 1 hour). Cool 20 minutes. Make glaze. Remove cake from pan. Drizzle with glaze.
POPCORN CAKE
~Recipe from Kay Erickson
1 stick butter
2-10oz bags marshmallows
16 c. popped popcorn
1-10oz jar dry roasted peanuts
1-16oz bag regular M & M's
2 t. vanilla
Combine the butter and the marshmallows in top of double boiler and melt to a thick syrup, stirring often. Remove from heat and stir in vanilla. Put the popcorn, peanuts and M &M's in a large bowl. Pour syrup over the mixture, mixing well. Press into a well-buttered tube or Bundt pan. Cooking spray also works. Cool for about an hour and then turn out on a large plate and serve.