LIGHTS, CAMERA, EAT!
Cue Up Our Movie Inspired Cuisine This Awards Season

I love movies! My first movie-watching memory is of "Snow White" in a theater with my mom in Waukegan, Illinois. As a small child, I remember watching through the sleeve of my jacket as the evil queen, appearing as an old woman, offered Snow White the poisoned apple. I'm not sure how I thought my jacket was going to protect me, but I watched this way none-the-less. While I graduated to watching a few movies through my fingers, the truth of the matter is, after all these years, I still love movies.
This time of year, the silver screen takes center stage with the announcement of the Academy Awards at a big Los Angeles gala. Tinsel Town's big night comes fresh off the heels of the Golden Globes, celebrating the honors amid food and plenty of drink. What a fun way for the home crowd to capture a bit of the celebration by throwing a little affair with movie-inspired food?
Remember the very chilling scene in "Silence of the Lambs" when Hannibal Lecter tells Clarice about his questionable meal "with some fava beans and a nice chianti?" Or, in "Forrest Gump" when Benjamin "Bubba" Blue told Forrest all the ways you can fix shrimp? For the romantics, the Disney animated feature, "Lady and the Tramp" has the famous scene where the love-struck canines are eating from a plate of spaghetti and meatballs together and "kiss" as they eat that last strand of pasta. Of course, if we are talking about movies and food, we have to mention "The Godfather" and a line of dialogue that is quoted so often — "leave the gun, take the cannoli."
So, if you are hosting an Oscar party or just entertaining the family, how about treating them to Fava Bean Dip, a recipe from YVW contributor Stella Fong, a plate of spaghetti and meatballs, or some Cajun Shrimp, a recipe I have adopted from my brother, Jeff. For dessert, serve up cannoli, of course. Prepare these dishes and then get ready to cheer on the film industry's biggest night.
Lights. Camera. Action. Enjoy!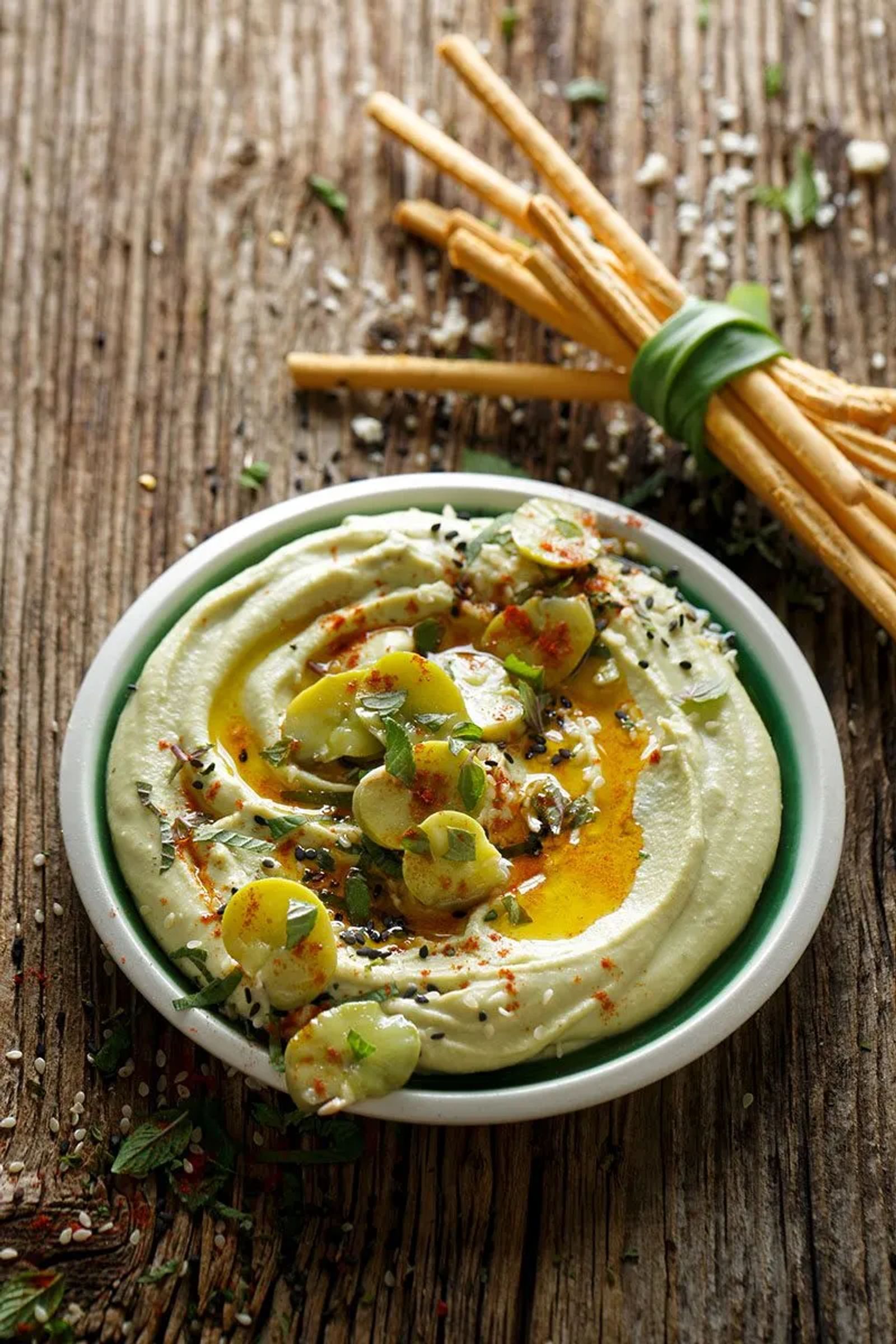 FAVA BEAN DIP

Recipe from the kitchen of Stella Fong
2 c. cooked fava beans
2 cloves garlic, pressed
Pinch of salt to taste
Juice of 1 lemon
½ t. white wine vinegar
¼ c. extra virgin olive oil
Options for garnishes: chopped toasted walnuts, smoked paprika, olives, toasted cumin and sesame seeds or extra virgin olive oil.
DIRECTIONS
Place the cooked fava beans, garlic, salt, lemon juice and vinegar in the bowl of a food processor. Pulse until well-combined. Continue to pulse as you slowly drizzle in the olive oil through the lid opening. Process until smooth. Transfer to a serving bowl. Garnish as desired and serve with crusty bread, pita chips or crackers. Makes about 2 cups
TIP:  Fava beans are something of a precious commodity in Billings. Frozen soybeans are a good substitute and are available in many stores' frozen food sections. You can also use Bob's Red Mill Fava Beans, which are already packaged, blanched and skinless, as another substitute. Follow the directions on the package. Rinse and sort. Do not soak. Place in a medium saucepan with one-part fava beans to 3 parts water. Bring to boil. Reduce heat, cover and simmer for 40-45 minutes or until soft. Do not overcook or they will become mushy. One cup of fava beans yields about 3 cups of cooked beans.
If you're looking to add a little Chianti to your bean dip, this dry red wine is the perfect pairing. Jane Krizek is a Level 1 Sommelier and manager of Levity, a wine shop, bar, and bistro. She suggests looking for a Chianti Reserva Classico, a higher end, and very delicious Chianti.
CAJUN STYLE SHRIMP AND GRITS
Recipe from the kitchen of Kay Erickson
1 T. olive oil
2 ounces Tasso ham, minced (1/2 cup)
1 c. chopped onion
1 garlic clove, minced
36 medium shrimp, peeled (about 1 ¼ pounds)
1 t. Cajun seasoning
2-1/4 c. water, divided
1 T. unsalted butter
1 c. fat-free milk
1/4 t. salt
1 c. uncooked quick-cooking grits
4 ounces of sharp cheddar cheese, shredded (about 1 cup)
1/2 c. sliced green onions
DIRECTIONS
Heat olive oil in a large skillet over medium-high heat. Add Tasso and sauté 2 minutes or until edges are golden. Add onion, sauté 2 minutes. Add garlic, sauté 1 minute. Add shrimp to pan, sprinkle with Cajun seasoning, and cook for 3 minutes, turning once. Add 1/4 cup of water, scraping pan to loosen browned bits. Remove from heat, add butter and stir to melt. Cover and keep warm. Bring milk, salt, and 2 cups of water to a boil over medium-high heat. Reduce heat. Gradually add grits, and cook until thick and bubbly (about 5 minutes), stirring constantly with a whisk. Remove grits from heat. Add cheese, stirring with a whisk until cheese melts. Spoon grits evenly onto six plates. Top evenly with shrimp, ham mixture, and green onions.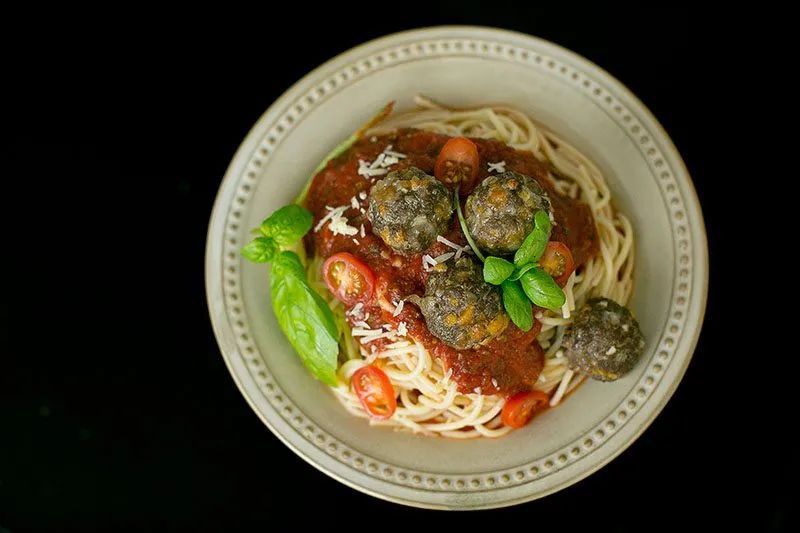 SPAGHETTI AND MEATBALLS
Recipe from the kitchen of Kay Erickson
MEATBALLS
2 lbs. ground beef
½ lb. ground pork
2 c. breadcrumbs
4 eggs
1 c. milk
1 c. chopped parsley
½ c. grated Parmigiano-Reggiano cheese
1 T. extra virgin olive oil
2 cloves of garlic, finely chopped
1 onion, grated
DIRECTIONS
In a large bowl, mix together all of the ingredients, just until blended. Do not over mix. Let the mixture rest for about 20 minutes. Preheat the oven to 350 degrees. Shape the meat mixture into medium-sized meatballs. Place them on a foil-lined baking sheet and bake for 30-35 minutes at 350 degrees. This always makes more meatballs than I need in one meal. I allow the extra to cool and put them in a freezer bag and freeze.
MARINARA SAUCE
2 T. extra virgin olive oil
2 - 15-ounce cans of diced tomatoes, with liquid
1- 6 oz. can tomato paste
Salt and pepper to taste
5 leaves fresh basil
DIRECTIONS
In a deep, large fry or sauté pan, heat the olive oil and gently sauté the garlic, be sure not to let it burn or get too brown. Add the tomato paste and sauté for a few minutes to bring out the flavor. Add the diced tomatoes. Cook over medium-low heat for 10 minutes, stirring occasionally. Gently nestle in the meatballs and continue to simmer for 20 to 30 minutes, stirring gently occasionally. Add pepper and salt to taste. When finished, serve marinara with two to three meatballs per person over cooked spaghetti noodles.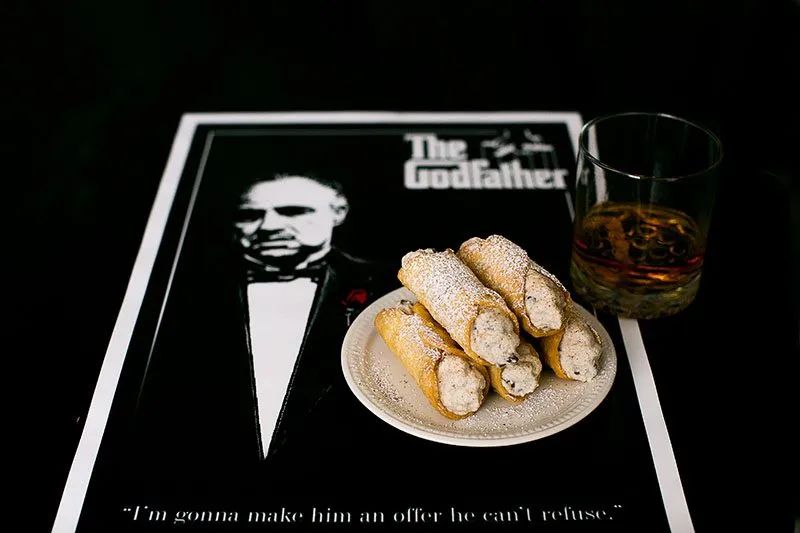 CANNOLI
Recipe from the kitchen of Kay Erickson
CANNOLI SHELLS
2 c. flour for dusting
1 T. granulated sugar
¼ t. kosher salt
½ t. ground cinnamon
2 T. unsalted butter, cold, cut into small piece
1 egg, separated
½ c. dry white wine
Cannoli mold
FILLING
2 c. ricotta cheese, very well drained
¾ c. powdered sugar
1 t. ground cinnamon
¾ c. whipping cream
1 t. vanilla extract
½ t. orange zest (optional)
1/3 c. mini chocolate chips
4 c. canola oil for frying
Powdered sugar for dusting
DIRECTIONS FOR THE SHELLS
In a food processor combine the flour, granulated sugar, cinnamon, and salt. Add the butter and the egg yolk and pulse until the mixture looks like grated cheese. Add the wine and pulse until the mixture comes together. Wrap it in a large piece of plastic wrap and flatten. Let it rest in the refrigerator for 15 minutes while you make the filling.
DIRECTIONS FOR THE FILLING
In a small bowl beat the whipping cream with an electric mixer until it forms fairly stiff peaks. Set aside. In the bowl of a stand mixer with a whisk attachment, combine the ricotta cheese, sugar, cinnamon, zest, and vanilla. Mix together until smooth and creamy. With a spatula, gently fold the whipping cream into the cheese mixture, and stir in the mini chocolate chips. Put into a pastry bag with a tip large enough for the chips to pass through or into a large plastic bag with the end snipped. Refrigerate until needed.
In a medium pot, heat the oil to 350 degrees over medium-high heat. Set a cooling rack nearby over a sheet pan. Dust your work surface lightly with flour and flour the rolling pin. Roll the dough until it is very thin, about 1/8-inch thick.  Cut the dough into fourths and work in small batches. Using a glass or a round cookie cutter 3-to-4 inches wide, cut the dough into rounds, tracing around the edges with the tip of a sharp knife to be sure the rounds are fully cut.
Beat the egg white with a tablespoon of water.
Wrap each circle around a cannoli mold, using a little of the egg wash on the edges of each round and press to seal it shut and to assure it won't slide off or fall off the mold. Using tongs to hold the edge of the mold, slowly lower it into the hot oil and fry the shell until it is crispy, about 3 to 4 minutes. Using the tongs, carefully remove the shells from the oil and cool on the rack. When shells and tubes are cool enough to handle, gently slide the shell off the mold. Repeat with all the rounds.
Just before serving, fill the cannoli shells from both ends so the cream fills the entire shell. Dust with powdered sugar. Serve immediately. If the shells are filled and left to sit, they tend to get soggy.