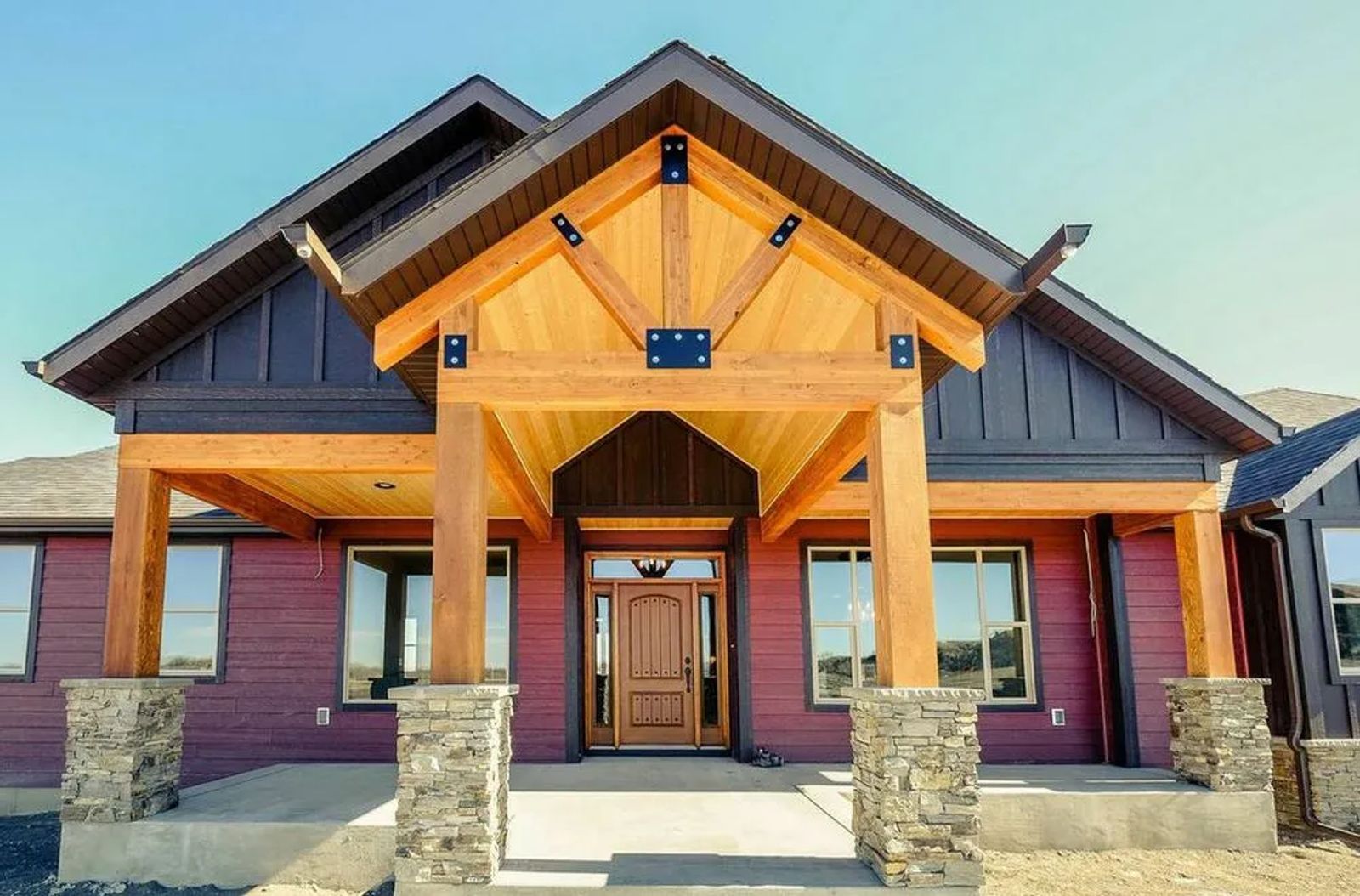 Living on the Yellowstone

One Couple's Adventure to Reclaim the Past
Brigid and Matt Wagner are living the dream they've been molding, shaping and working toward for some time. It's a dream they've shared throughout their marriage and one that has taken them on numerous off-the-beaten-path excursions. They've yearned for greener pastures that offer a rural lifestyle, complete with a home built with sustainable features, wide open spaces, magnificent views and acreage for the kids' horses.
"We used to take Sunday drives and dream," says Brigid. Weekend outings were just part of the family routine. One day, however, the couple and their three children were driving along River Road between Billings and Laurel thinking they'd be unable to afford land close to Yellowstone River.  Then, they met Jerry Williams.
"We talked with Jerry out in the field," recalls Brigid about that eventful day. "He said he was developing a subdivision, and, we said we needed land." This chance meeting turned long-awaited dreams into reality with the family purchasing a seven-acre parcel. River Ranch Retreat 'On the Yellowstone' poses the ideal property this family had desired.
The subdivision, developed by Jerry and his two brothers, provides fine country living minutes from town. "We have good wells with a lot of water," notes Jerry, "and natural gas, which is a real plus here." A total of 22 lots comprise the development, ranging from five acres to just over nine acres.
Access off River Road makes living here ultra-convenient.  The school bus picks up Grace, Abigail and Sophia, the three Wagner kids, right across from the house. The abundant amenities in this country setting compare favorably with what city life provides. In town, though, it's unlikely you'll witness a Bald Eagle landing on your driveway.
"Every morning and evening, we see geese, ducks, and coyotes," exclaims Matt, a fireman for the City of Billings. "I've always loved this valley."
The valley opens to an unabridged view of the Beartooth Mountain Range from the Wagner front door.  The spacious three bedroom, two and one-half bath home, built by Mark Ventling Construction and Development, Inc., features Montana artistry on a grand scale.
Timber trusses frame the main entrance, gifting the exterior with a rustic look that partners well with the surrounding landscape. This unique Montana expression is a Mark Ventling trademark.
"I never build two homes the same," he says. "The timber gives the home that Montana look." It's precisely the character Matt and Brigid wanted.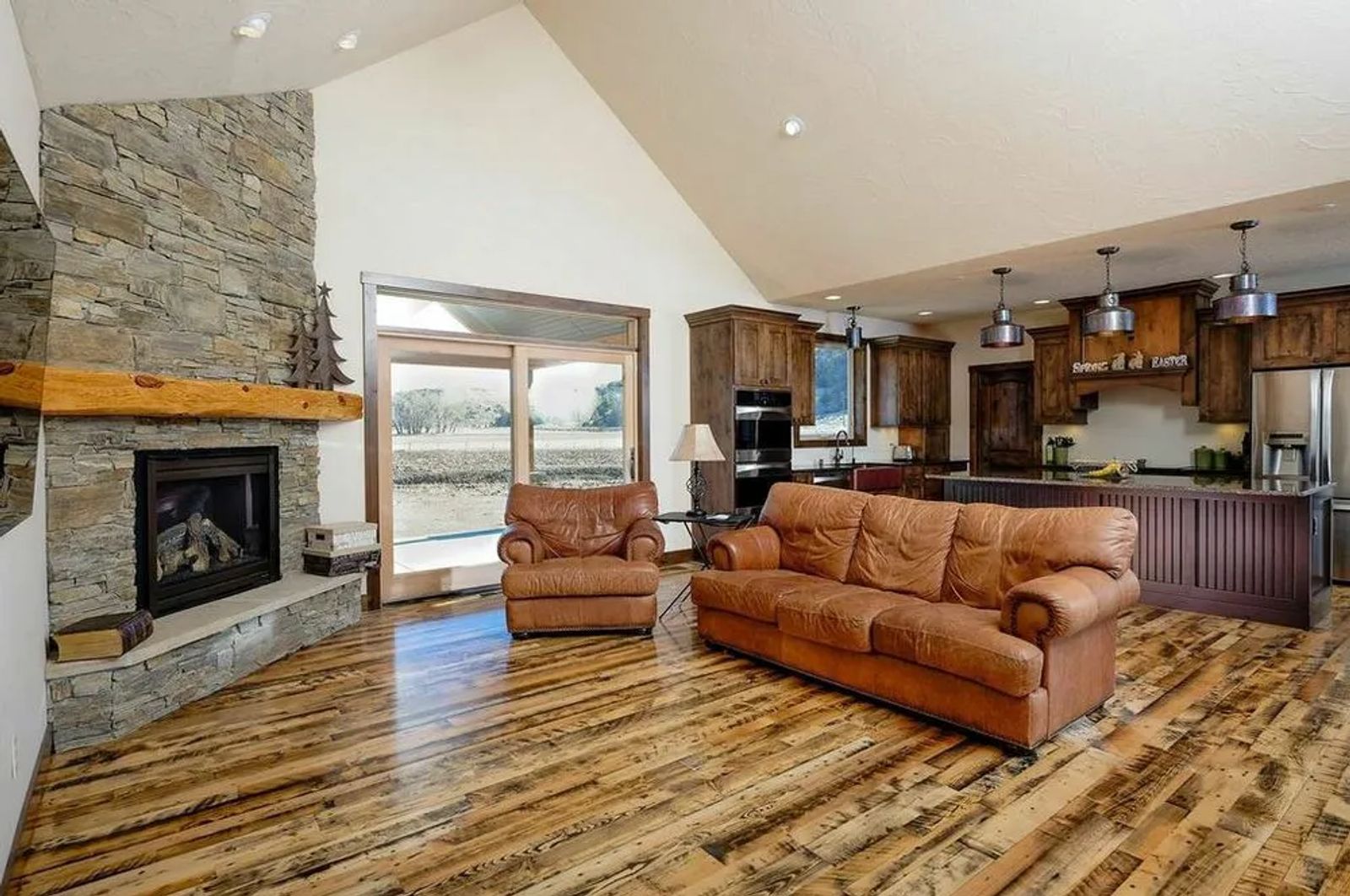 Character is an understatement when pertaining to this home. Matt points out an old bullet hole in the 104-year-old hardwood flooring that's been reincarnated from a grain elevator in Wilsall. "It's the only hole I didn't fill," he laughs. "All the original nail holes and saw marks are in this old-growth Douglas fir. The wood is about 300 to 400 years old."
Close to 1,000 square feet of this gorgeous flooring flow through the main level. The flooring and other reclaimed lumber used in the home comes from Nick Creek of Mystic Woodworks Reclaimed Lumber in Laurel. Soft Touch Design sanded the wood, restoring its beauty and reviving its history.
Everywhere you look, the workmanship of area artisans abounds. A piece of reclaimed wood forms the base of an extraordinary dining room chandelier made with Mason jars.  "We found a picture online," notes Brigid, "so we took it to Laurie (Patterson) at One Source Lighting and she made it!" The fixture inspires a remembrance of the past and how simply elegant a timelessness approach can be.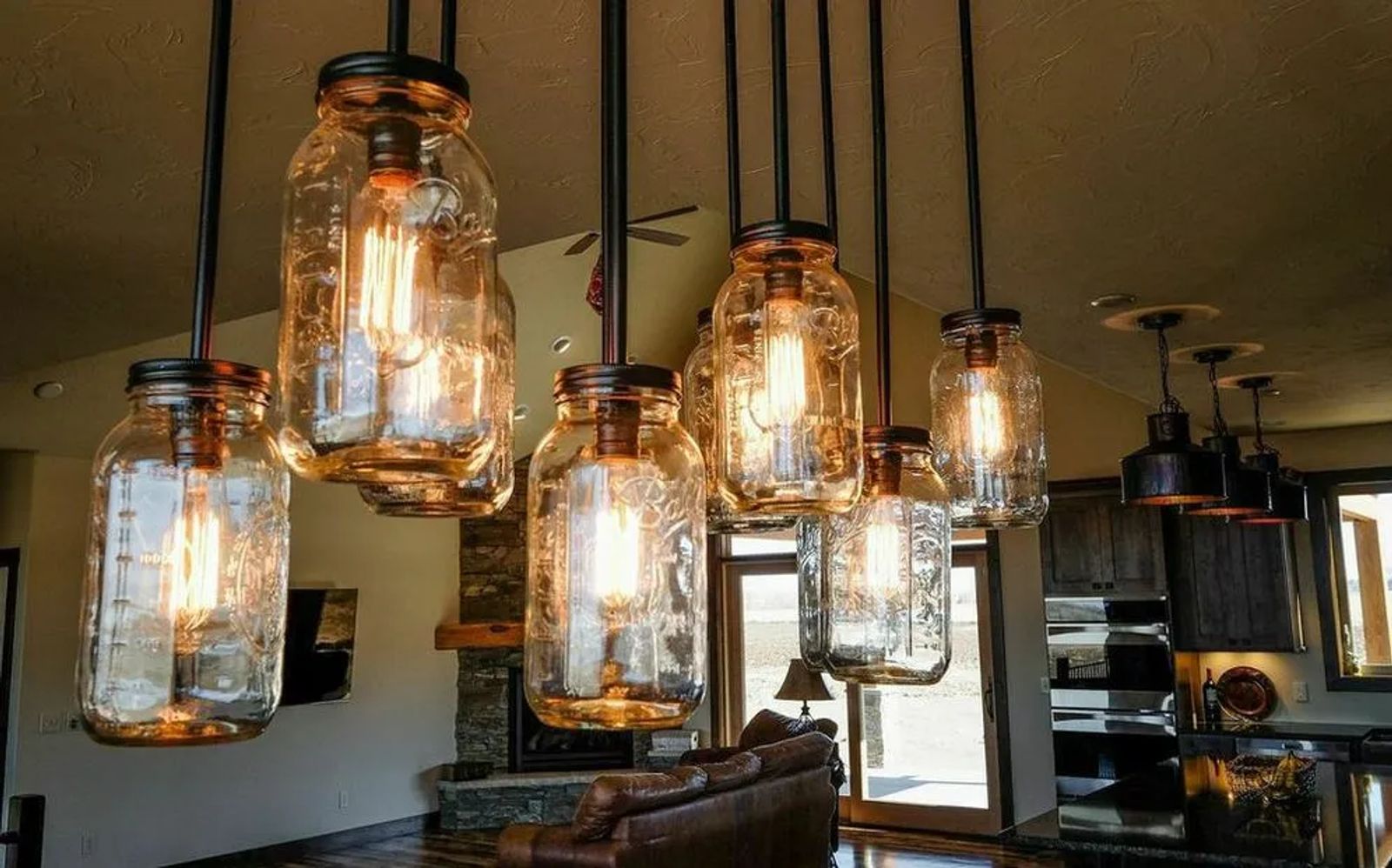 Other elements like a hand-hammered 36-inch copper apron sink from Mountain Copper Creations in Missoula infuse the open concept space with traditional style, as well. "Jim is an artist and creates every piece," says Pam Clapham about her husband and partner in the business. "Each piece he creates is individual to itself." The distinctive sink makes a bold and beautiful statement in this custom-crafted kitchen.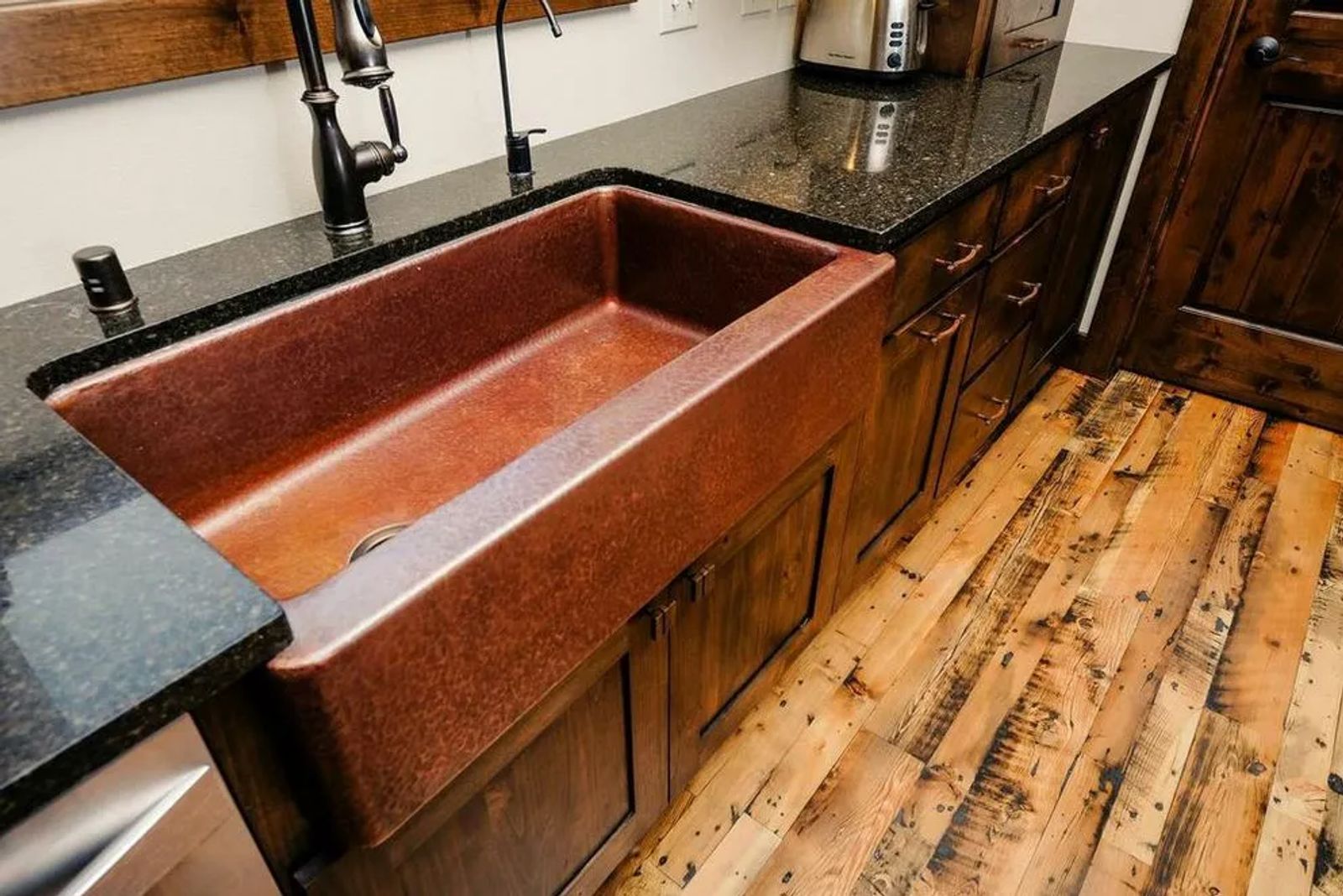 Cabinetry from Rimrock Cabinet Co. crowns the space in rich rustic alder with onyx glaze. Shaker style cabinet doors replete the pastoral feel as does the extra-large island with dark quartz countertop and dark rub-through finish on a bead board base. "It's a rustic design to fit the reclaimed theme of the home materials used," says Jim Hofferber, lead designer at Rimrock Cabinet Co.
Stainless steel appliances including a double wall oven, a drawer microwave in the island, double fridge and a 36-inch induction stove top serve up a savory contrast of contemporary flair to time-honored tradition. "It's a western ranch-style mix of old Montana with new features," offers Matt.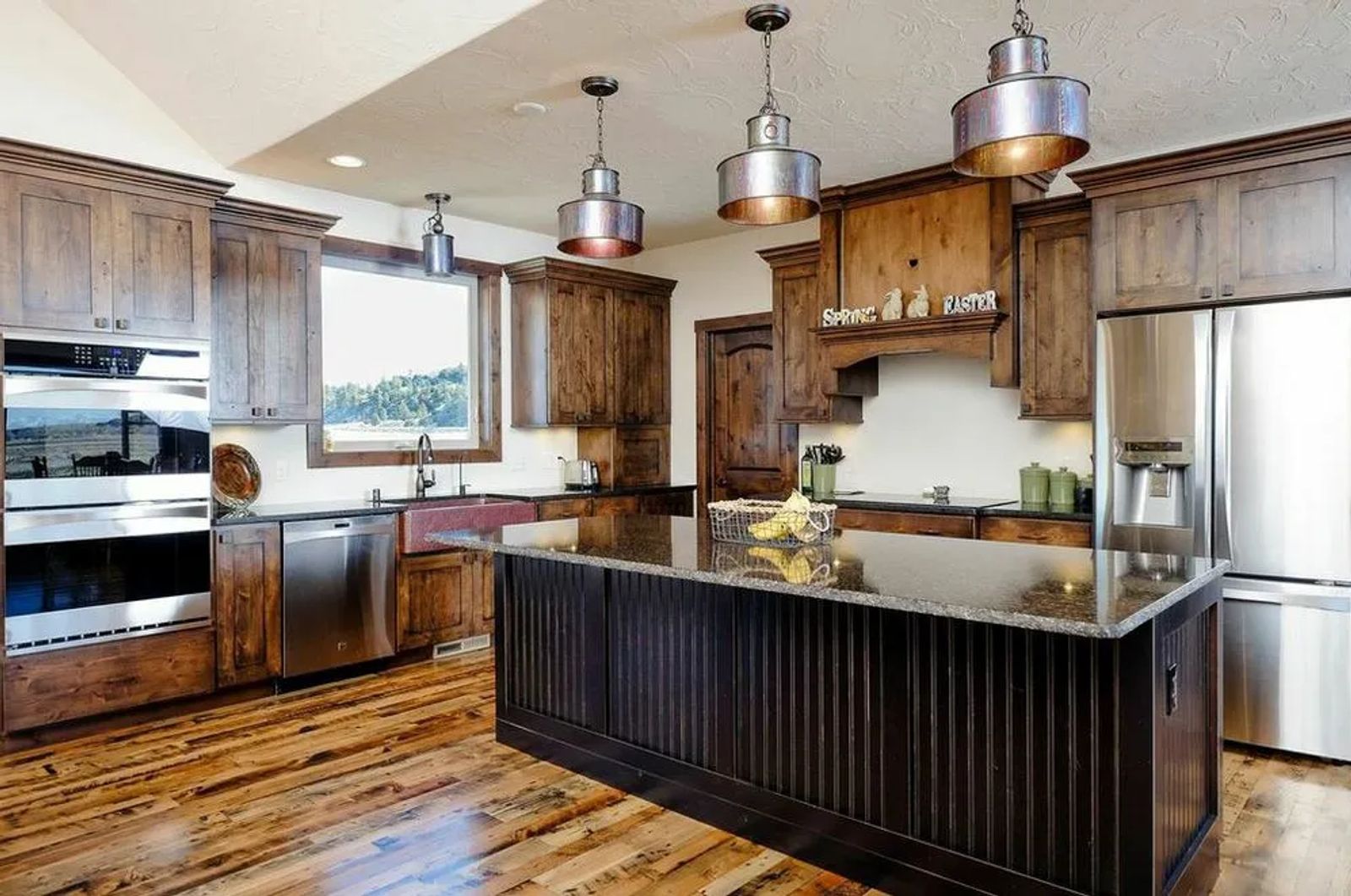 Matt's words ring true as Brigid elaborates on three patina 'milk can' lights above the island. These one-of-a-kind lighting sensations fetch interesting conversation as warm color tones dance in the afternoon sunlight. A plethora of sun rays stream through large windows enhancing the unique lighting, the copper sink and the cabinets. Picturesque views of the outdoors come sharply into focus thanks to these custom windows by Montana Window and Doors, who also provided the heavy wood doors in the home.
Highlighting this space, as well, is the vaulted ceiling in the great room. The richness of the old wood flooring instills its aged presence in this open area, as does a wood mantle created from a century-old Amish barn out of Lavina. The exquisite mantle stretches across a floor-to-ceiling rock fireplace.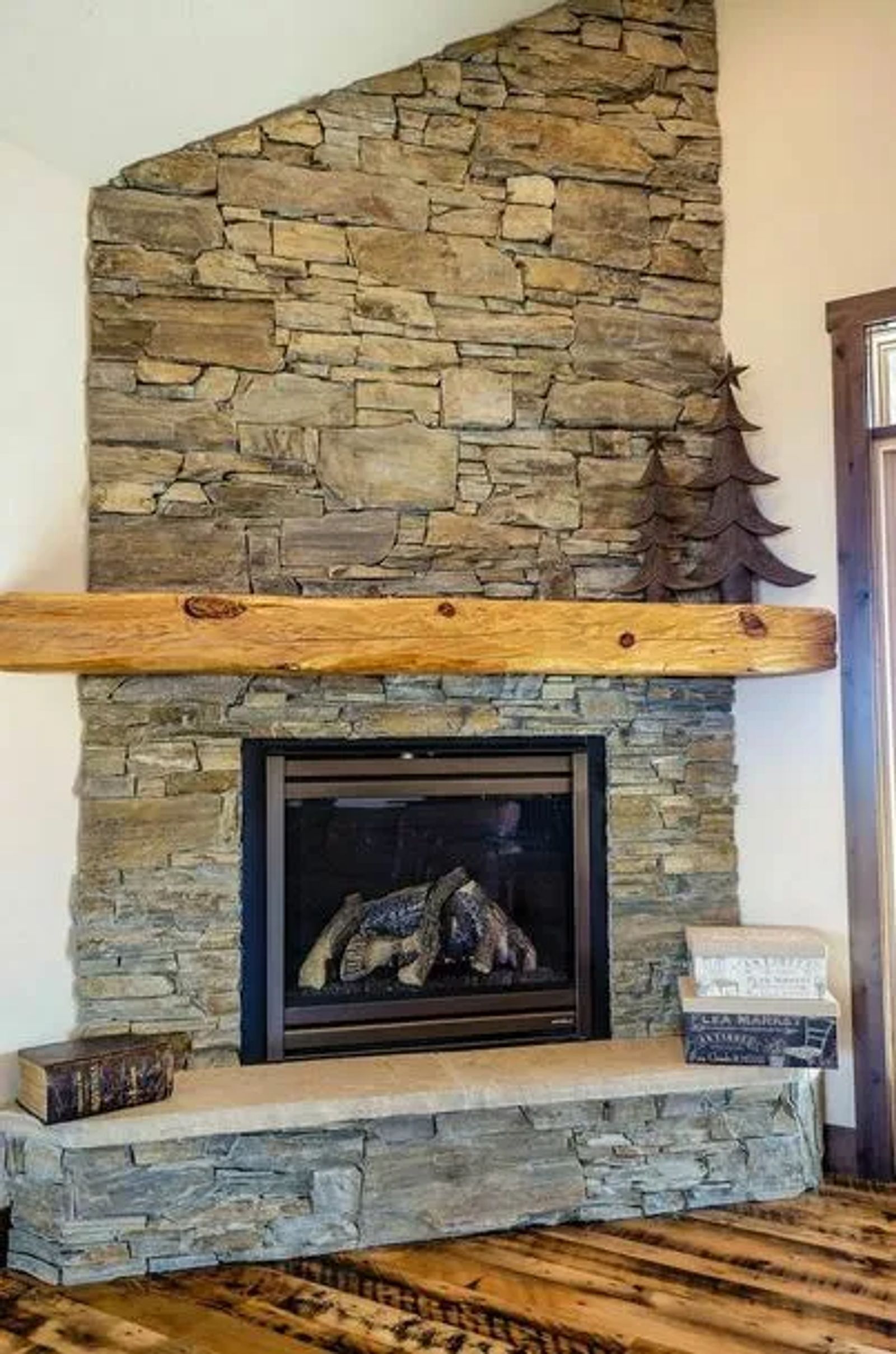 The rock in the fireplace reflects almost a "petrified" persona, mentions Matt, and is the same rock that wraps itself a quarter of the way up the exterior of the home and on the front entry columns. Natural elements utilized in the home fit like a glove with the landscape.  It's the result of the homeowners' intentions and convictions.
The use of sustainable and reclaimed resources make up a big part of what Matt and Brigid foresaw in the dream of their family abode. "As much as we could afford," shares Brigid, a project manager for First Interstate Bank, "we reused what we could."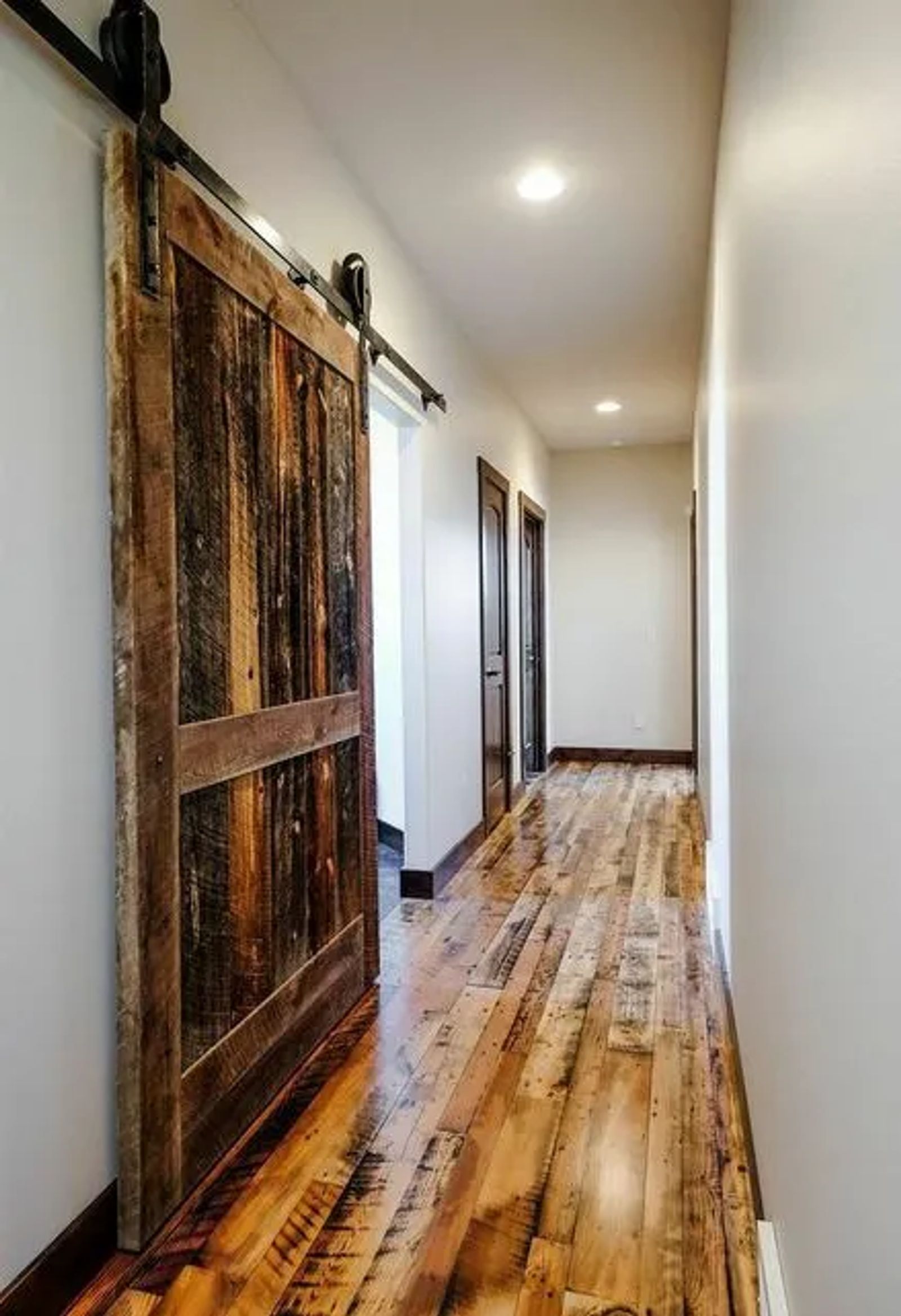 Case in point is a weathered, yet intricately colored, barn door in the hallway. It rolls on sturdy casters with a modern laundry/mudroom peeking from behind this showcase door. The door bears distinguishing marks of rain, wind and snow storms. It's a beauty that's been hand-fashioned by Wilson Cabinetry with wood from a calving shed in Roundup. The behemoth door defines the reclaimed past used in this home while emphasizing the craftsmanship of a Montana artisan.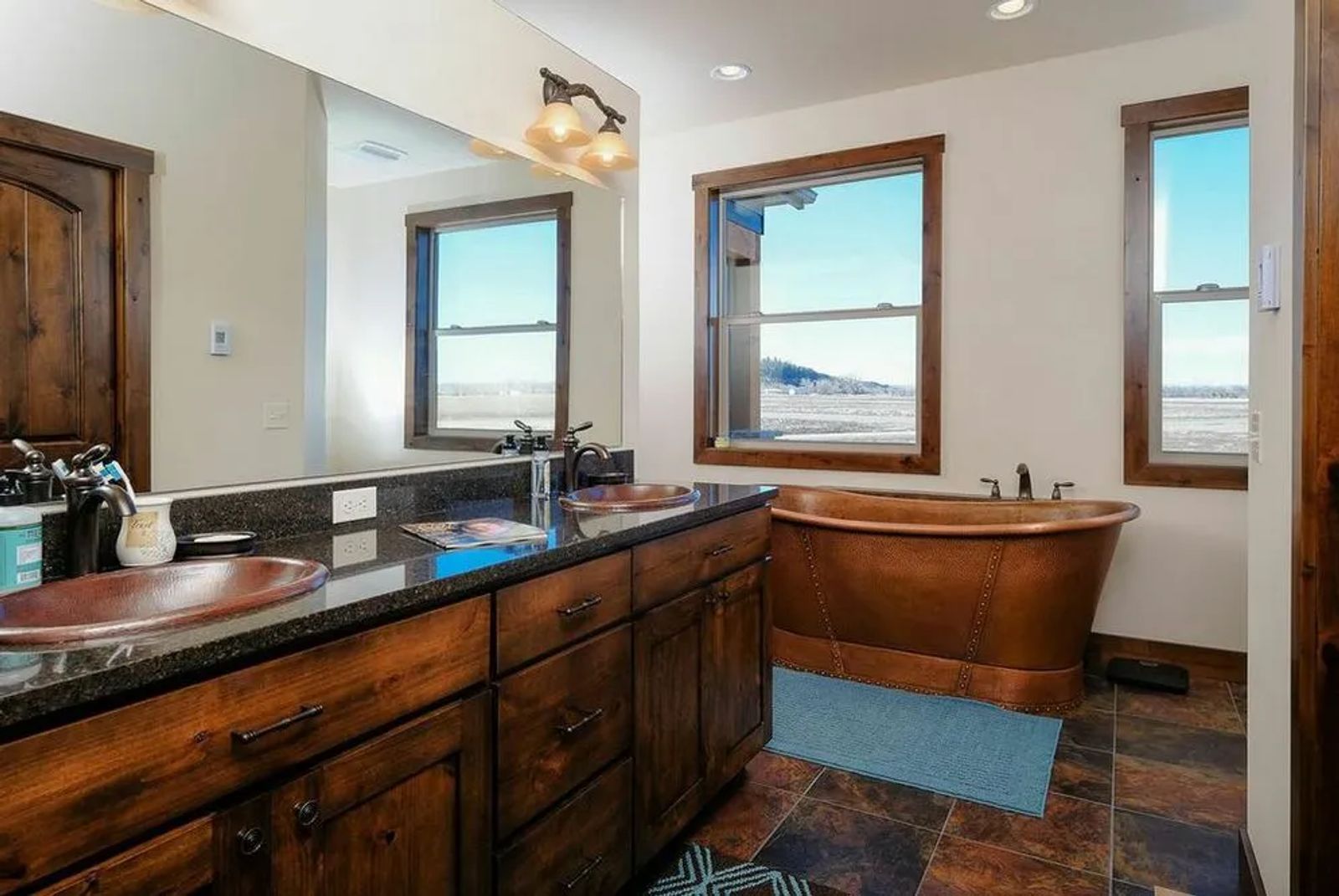 Craftsmanship and individualism continue throughout the rest of the house. The master suite features a trey ceiling with textured center, recessed lighting, slate tile over in-floor heating and en suite with double copper sinks, a free-standing copper tub and quartz countertops. A walk-in shower with copper glass and tile accent finish it off in regal style.
The girls' bedrooms are decorated representative of their own personal preferences.
Oldest daughter Grace's nice-sized room reassures her penchant for rodeo. She barrel races, goat ties, and flag races so it's all about western décor. "We're cruising constantly, traveling to Helena, Bozeman and Sheridan," says her proud dad.
Abby and Sophia share a bedroom on the other side of a big Jack-and-Jill bathroom. Matt calls attention to the many outlets lined along the long double vanity, explaining, "We have three girls. That's why we have plug, plug and plug. There's less fighting that way."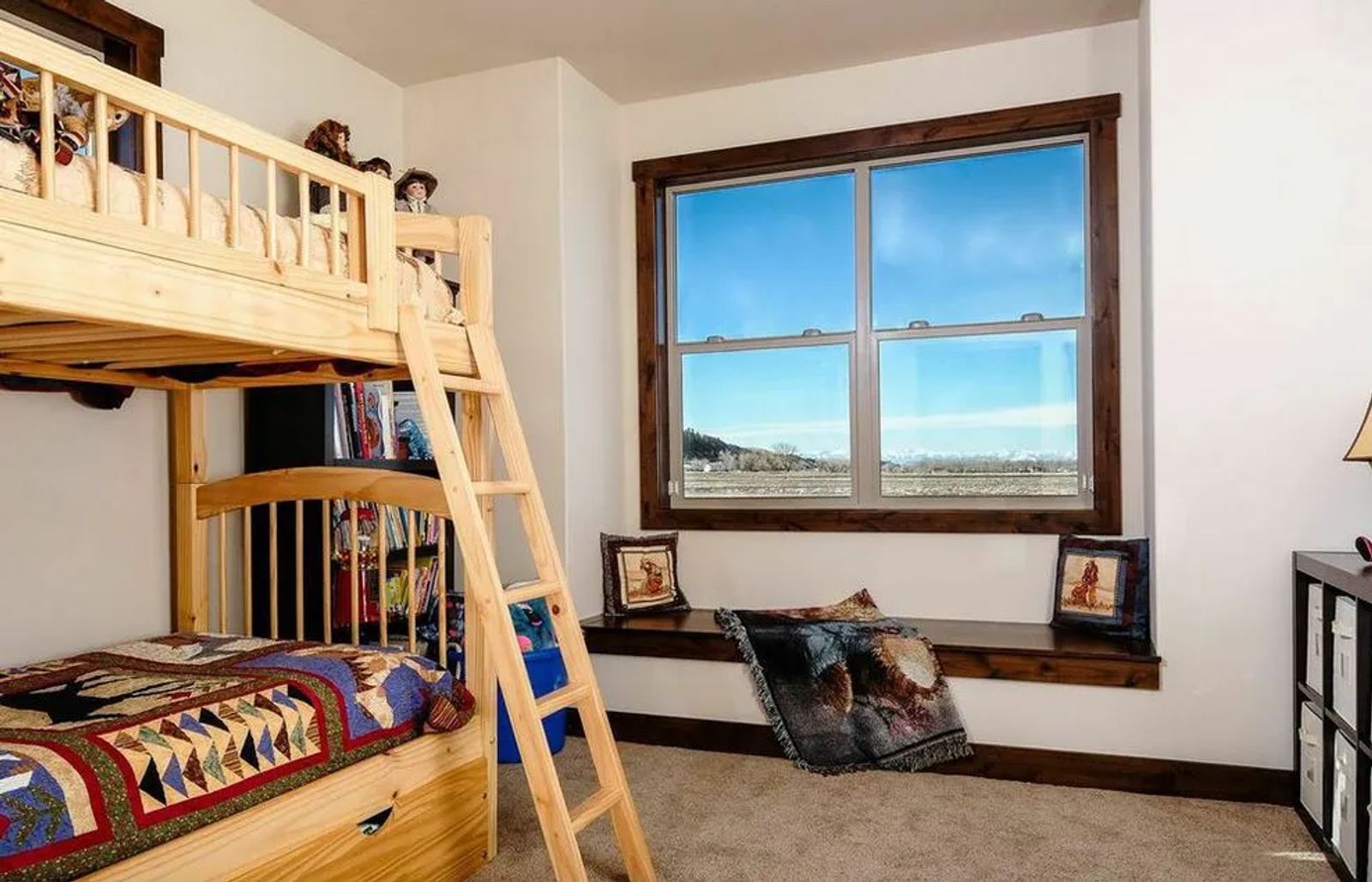 "Abby loves the top bunk so she can watch the deer come off the hill," comments Brigid. "She also tries to figure out the constellations." There's plenty of play area for both girls and lots of storage for their varied interests.
The Wagner home is a comfortable, relaxed and certainly active home. Surrounded by hills and the Yellowstone River, with one of the most rugged mountain ranges looming beyond, it's a home built on a dream.