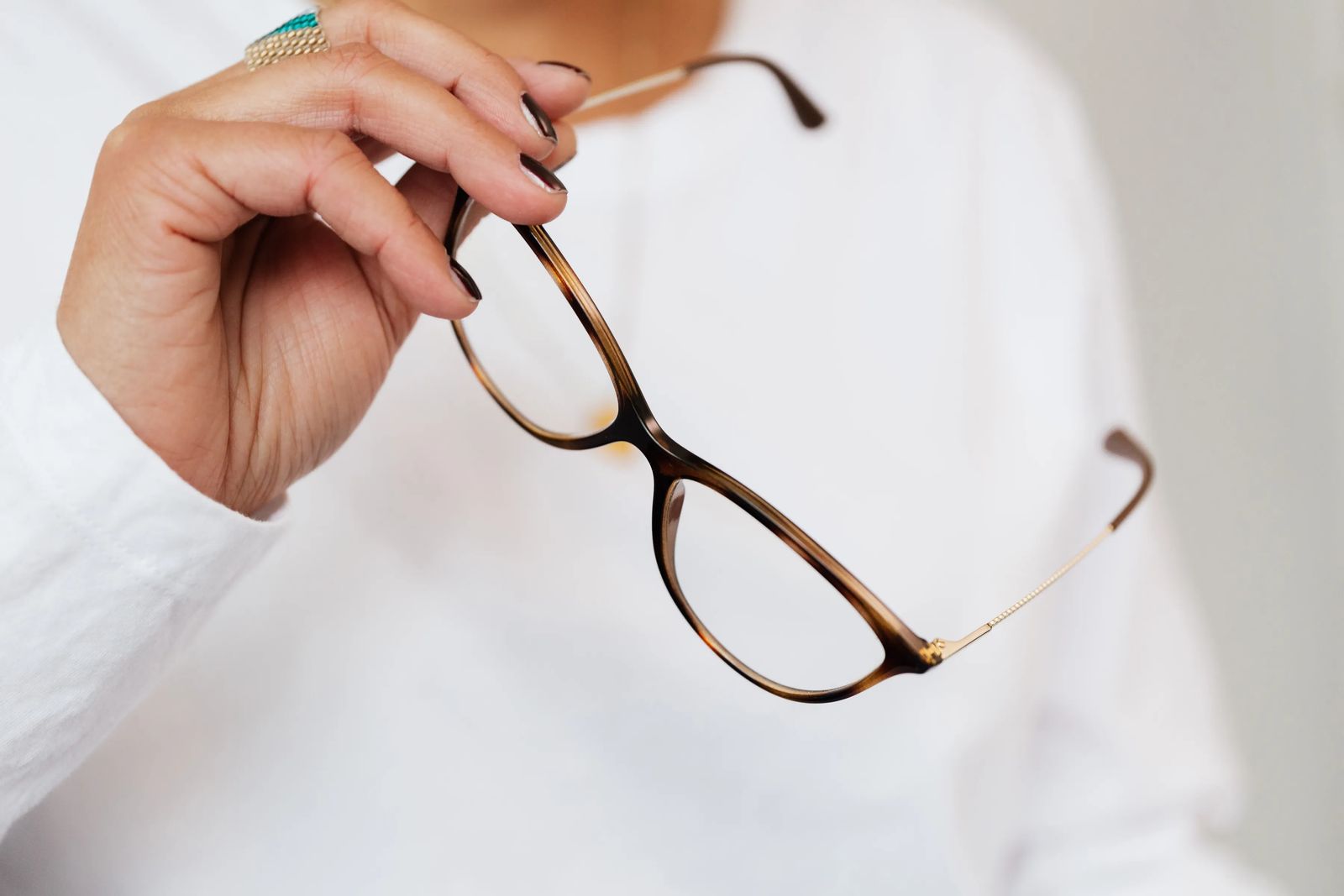 Look Out!
Tips for Eyewear Care
Dr. Robyn Clausen | Bauer & Clausen Optometry
Buying glasses is an important financial investment. Once you've made the purchase, you're probably counting on clear, comfortable vision for at least a year or two. This is absolutely possible; however, as with any investment, regular maintenance is required.
First, let's talk about your frames.
Frame Fit Matters
Have you ever stopped wearing your glasses (or begun to hate them) because they slip down your nose, squeeze your temples or cause your ears to ache? All of these are symptoms of poorly fitting frames, and most can be remedied with a few simple adjustments made by a professional.
Your glasses, even sunglasses, work hard for you – enduring rides on top of your head, drops on the floor and awkward bumps into…things. We know how it goes. To counter these mishaps and keep you seeing your best, regular frame maintenance is a must. That's why we recommend that you stop by your favorite eyewear gallery every couple of months for an inspection and adjustment, if needed.
Recommended glasses maintenance schedule
1 month after purchase
3 months
6 months
9-12 months
When you make a purchase, it is essential that a trained optician adjusts your new glasses to fit your face. Most of us are fitted when our order first arrives; however, many patients don't realize that regular maintenance ensures that your glasses fit and function as long as you own them. Most optical stores offer maintenance visits free of charge and don't require an appointment.
During this visit, your friendly optician will:
Examine the fit of your frames on your face
Tighten, adjust or replace screws and nose pads as needed
Answer any vision-related questions you may have
Regardless of your maintenance schedule, if your find that your glasses are slipping, uncomfortable or if you need immediate repairs, stop in to see your eyewear professional as soon as possible. They'll be glad to restore your comfort and make sure you're seeing your best.
Now that the fit of your frames is perfect, let's talk about prolonging the life of your lenses.
Lens Longevity
When you buy glasses, the cost of the lenses is often a large part of your financial investment. While frames can be adjusted, lens damage is often permanent. Unfortunately, improper cleaning is a common cause of lens damage. That's why we've compiled a handy list of care tips you can follow to lenses clean and crystal clear for as long as possible.
Lens Cleaning and Care Tips
DO:
Use water or eyeglass cleaner
When cleaning your glasses, ALWAYS rinse them with warm water or spray with eyeglass cleaner. Oftentimes, you eyecare professional will offer handy-sized spray bottles of gentle lens cleaning solution for your convenience.
Use a soft cleaning cloth
After rinsing or spraying your glasses with eyeglass-specific cleaner, ALWAYS use a soft, clean cloth to shine lenses. For best results, use microfiber cloth designed for eyeglass lenses. These can remove streaks and capture dirt without scratching. Most lens cloths do not function well after washing. If your cloth is obviously dirty or leaves smears on your glasses, it's time to get a new one.
DO NOT:
Use Windex or glass cleaner
Regular glass cleaner contains ammonia, which can damage lenses. If you're not sure what to use, contact your eyecare provider.
Use paper towels or facial tissue
Paper towels, Kleenex and other facial tissues contain fibers that will scratch your glasses. A cleaning cloth designed especially for lenses is best.
A final word about maintenance
Though maintenance takes some time and attention, careful cleaning and adjustment of your frames and lenses may extend the life of your glasses, saving you time and money in the long run. It's important to find a provider that you trust who can answer questions and makes it easy for you to focus on your vision.