Look What We Found!
Add an old time feel to your holiday decor
With the holidays drawing near, I knew I needed a fun, easy, and fast decorating project for my mantle.  Last year, I saw a lot of vintage bottle brush Christmas trees and I loved the nostalgic feel that these tiny trees can give a home.  What a perfect accent! Bottle brush trees come in all kinds of colors – pink, blue, white, you name it!  And, they aren't just used for Christmas. You can use these little pops of color for any and all seasons. While there are plenty of places to buy them online, they can get a bit pricey. So, why not DIY? Grab the kids and have an afternoon of fun right at home. Many craft or hobby stores sell these trees next to their miniature holiday village displays. Use a coupon and you can get a bag of about 10 to 15 in different shapes and sizes for about ten dollars.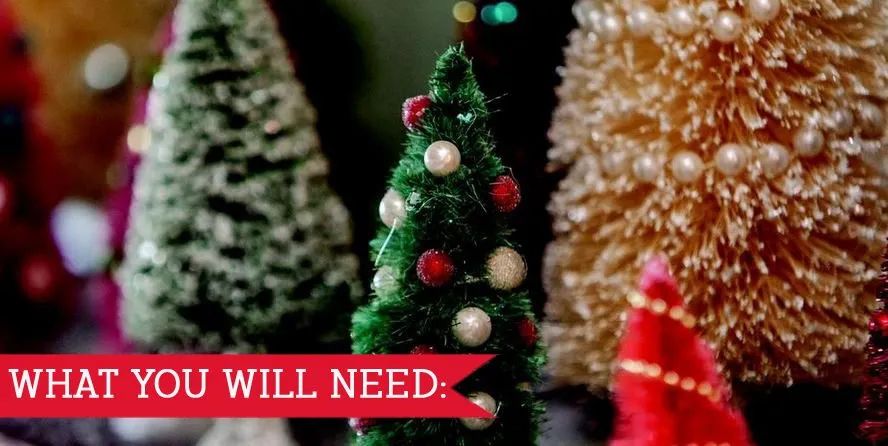 Bleach
Bottle brush Christmas trees            $10
Rit dye in any color you choose $5
Small items to deck out your trees – mercury glass beads, pearls, etc.
Glitter
DIRECTIONS
In a large bucket or sink, add warm water and two tablespoons of bleach.  Simply dip the trees in the water and let the bleach begin stripping the color until it is your desired hue.  For all white trees, simply leave them in the water until all of the color is gone (usually a couple hours).  You can also dye the bleached white trees any color with a little Rit dye. I mixed the dye in an old canning jar and left enough space in order to dunk the tree. Simply leave the trees in the dye until you achieved the desired color. Now for the fun part! Grab your kids, nieces, nephews or grandkids to help you decorate the trees! For an authentic vintage look, consider adding mercury glass beads and a touch of glitter!