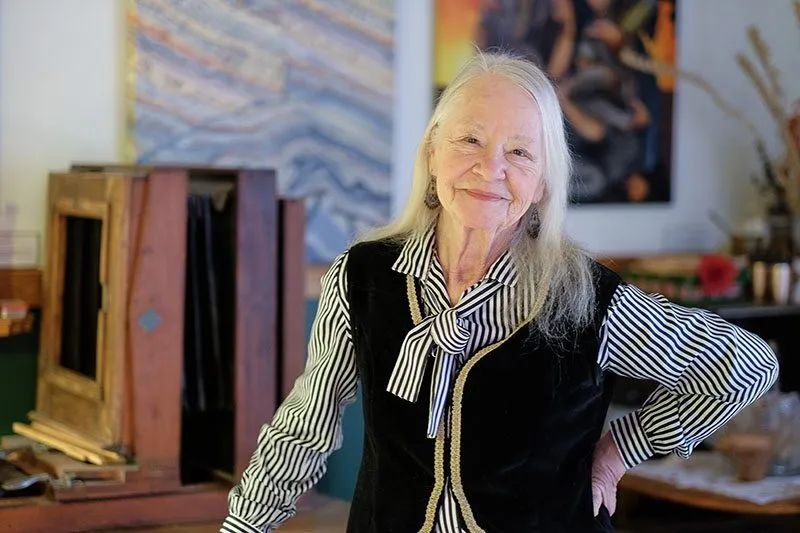 Mana Lesman
Artist, Dancer, & Celebrant of the Ordinary

Walk into the home of artist Mana Lesman and you're awed by the beauty and peace, all enfolded into an airy sense of space. Shards of light dance on amber-colored wooden walls, old-timey snowshoes lie crisscrossed on rafters above your head, stained glass glows in a window, and the back of the door you just closed is adorned with intricate artwork and symbols, all designed by Mana.
Meeting Mana, you can almost see the champagne-bubble fizz of excitement about life around her as she guides you through her home and its eclectic art and artifacts. You'll see bronze sculptures, Korean dowry chests, vintage toys, Zulu spears, gizzard stones, and cast-iron pans hanging from the kitchen ceiling like ebony stalactites. And books. Thousands of books. You get a joyful sense of life that Mana and her artist husband, James Seward, have created together.
Mana seems to emanate that joy as she flows with the unmistakable grace of … well, a dancer. Which she is. At 76 years young, Mana seems to have done it all, and that includes designing this house 30 years ago when she returned to Billings. Born and raised here, Mana started dance lessons when she was 3-1/2. Her parents encouraged her other artistic interests by providing her with art supplies, and her father taught her to draw with a piece of chalk on the sidewalk.
At 12, she took art classes from local artist Robert Morrison and continued her dance education. Fast forward to young adulthood and you'll find Mana at art school in Denver for a year. After that, she grabbed a sketchbook, hopped on a bus, and toured the country sketching before landing at the Kansas School of Architecture, as one of six women in a class of 200 men. Marriage meant a move to Chicago, where she continued her art education on the job – learning rendering, color theory, and perspective – as a product designer.
In Chicago, Mana and her family settled into a Puerto Rican neighborhood, where she earned the moniker "La Pintora" – the Painter Lady – from the local kids, to whom she taught art. She designed several massive murals for the area and embraced the sense of family and community there.  She loved the fact that "any little thing was a cause for a party. I got lucky and found that culture."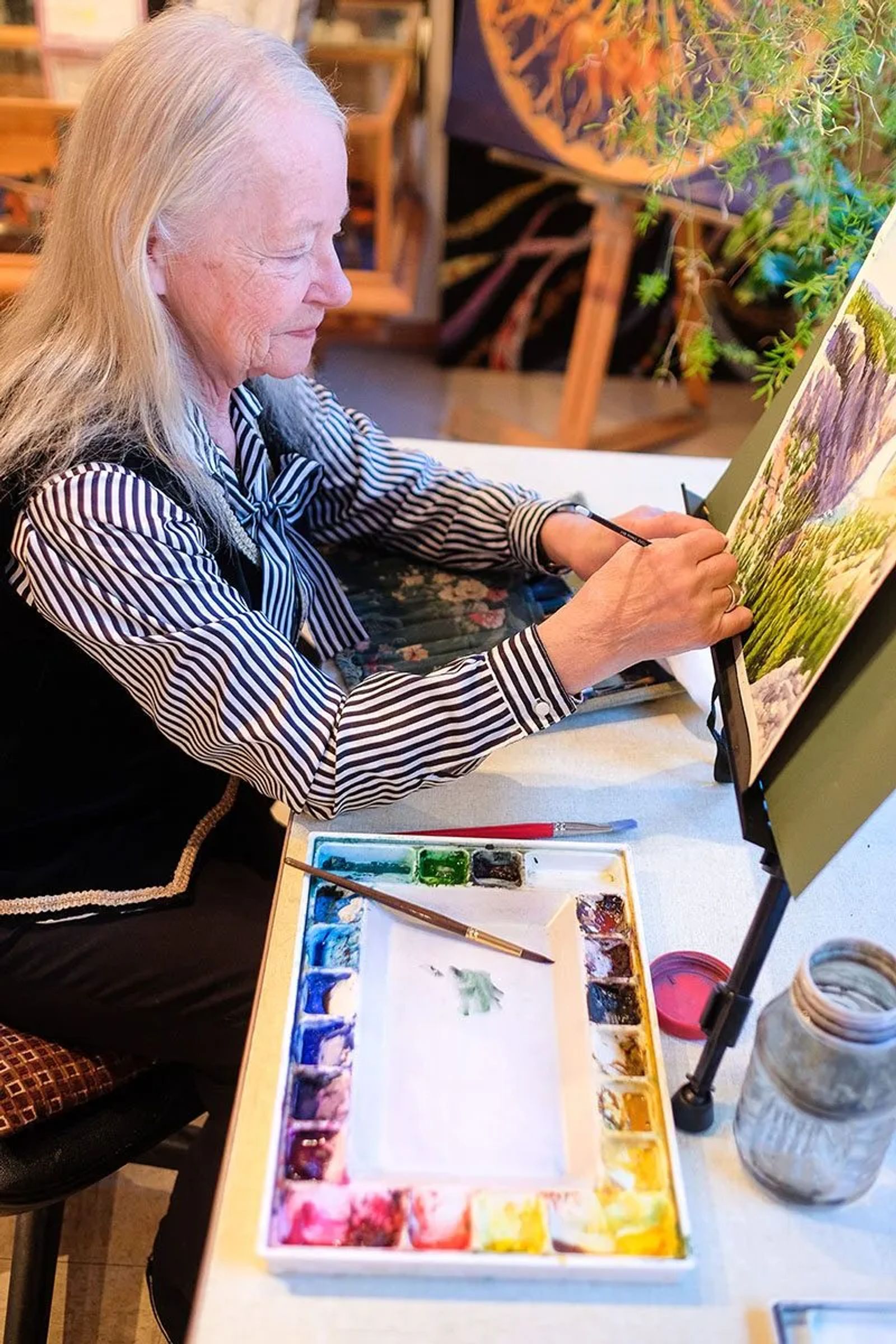 With more than 100 one-woman shows and over 1,500 paintings – ranging from watercolors and oils to silk screening and graphic surrealism – Mana has clearly earned the right to rest on her laurels. But that won't be happening. Because when asked what art brings to her life, she doesn't miss a beat: "Purpose!" Mana paints things she feels strongly about, hopes that her work can help to awaken consciousness, and she teaches art at the Billings Senior Center. A daily yoga practice has also enhanced her life. She credits yoga for keeping her moving, for eliminating aches and pains, and for giving her time for introspection. "You just relax," she says, "and allow the body to heal itself."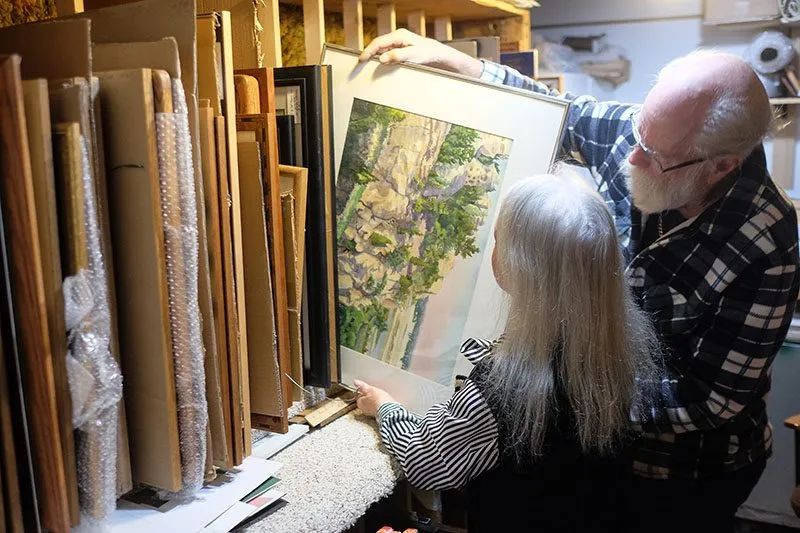 Mana also leads a group of Golden Dancers that range in age from 55 to 86. They do everything from the Charleston to jazz, hula, ballet, and even Japanese dances, and regularly perform throughout the area. She finds dance a valuable form of exercise because it uses the whole body. "And," she says, "you use your mind, too. You have to think about what comes next."
Mana's advice for staying active is not letting your inhibitions control you. "You control your life," she says. "Get into something that piques your interest, something you've always wanted to do. Learn, study, become involved. And find a class." A class provides structure and gives students something to look forward to. And for those who feel "stuck" and are unsure what they want to pursue? "Go to the library and look for things that interest you. Look for social organizations in your area – book clubs, doll collecting, sewing, painting, drawing." The choices are endless.
Flip through a few of Mana's 1,500 paintings, and you'll be struck by the archetypal and universal threads of human experience that seem to flow through much of her work. "We need to celebrate the world around us," she says. Being engaged in and celebrating her world as she stretches her personal and artistic boundaries seems to be the secret to keeping this super senior joyfully alive and inspiring so many others.