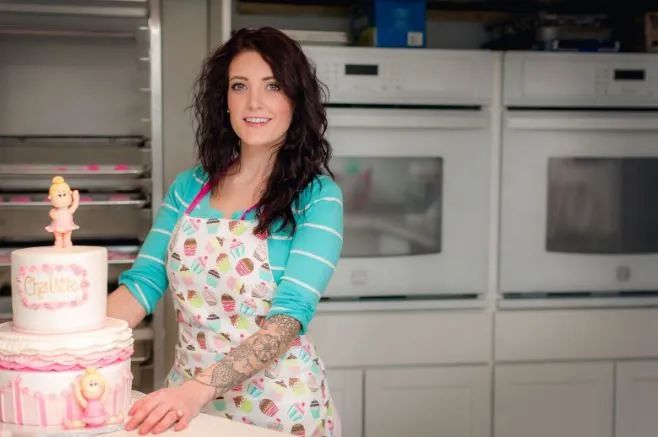 Megan Reichert's edible bits of creativity
Creating Cakes draped in fondant & dressed in buttercream
Before Megan Reichert even flips the switches on her pair of ovens or reaches deep into her 50-pound tub of sugar to get ready to whip up her next tasty confection, she's in dream mode. Her creations aren't your average, everyday kind of cakes, cupcakes or cookies. They're edible works of art. Before she begins, she grabs her sketch book and researches the characters that will, in the very near future, take the form of colored fondant to bring someone's celebration to life.
It's just a part of the design process behind her business Pink Collar Confections.
"I have always loved baking," Megan will tell you. And, because of it, a few years ago a little favor from a friend sparked her brand new business. "A friend had asked if I could make a decorated cake for her son's birthday. I said, 'Well, I don't know! I can try and see if it works!'"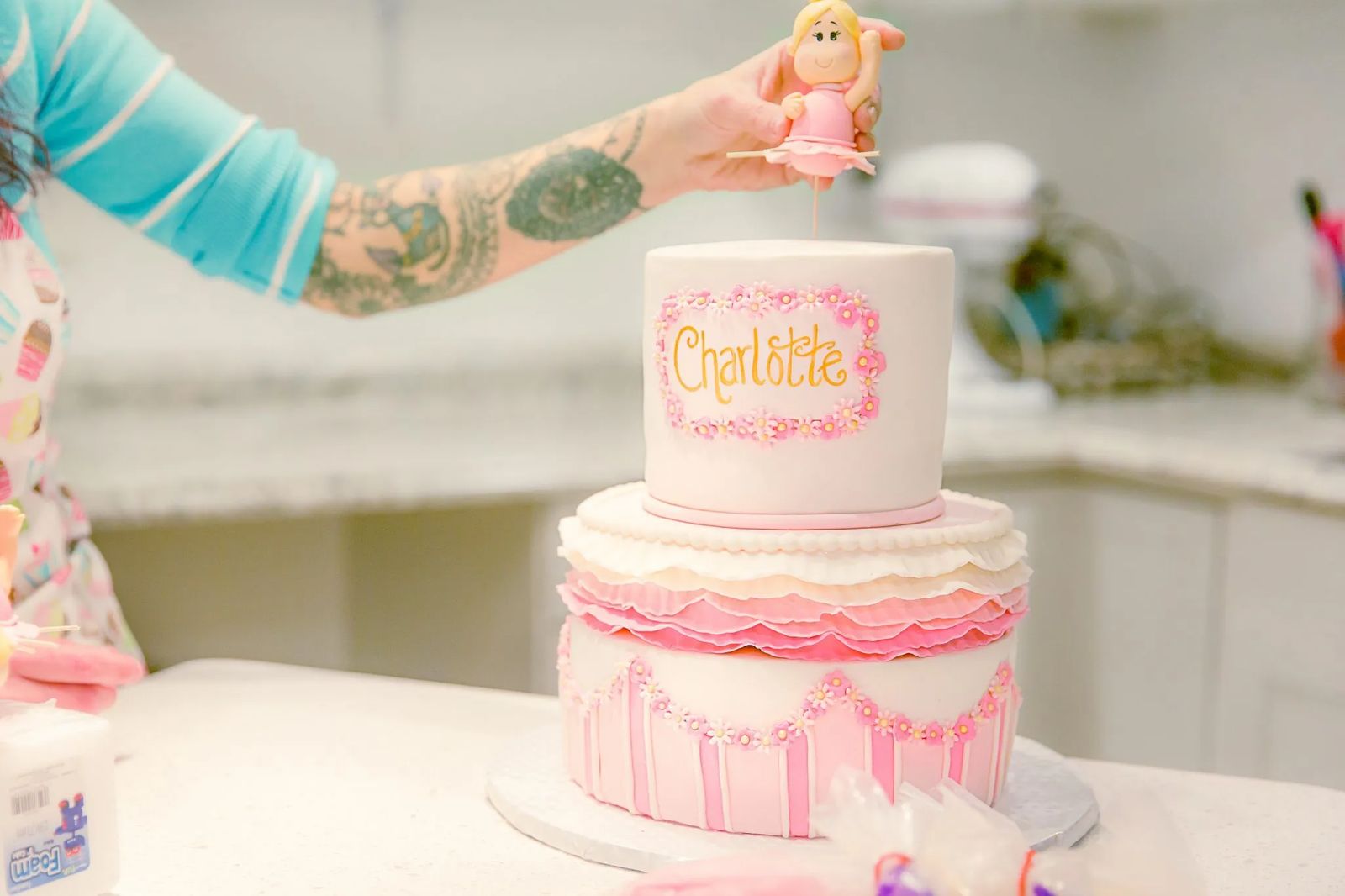 It's safe to say it "worked." That was three years ago and since then, Meg has shaped and molded her personal recipe for marshmallow fondant into all kinds of themes.  One of her strangest cakes to date was ordered to honor one man's milestone 60th birthday. "They wanted a Depends diaper bag," Megan says with a chuckle. "I made little cake rounds, and covered them in white fondant and made it look like the bag was opened and then put a little bottle of pills and a pair of dentures next to it." The cake was a hit.
Before Megan knew it, her word-of-mouth business flourished and witnessed order after custom order demanding her baking prowess and colorfully creative eye. It got to the point that she was contemplating whether she could make a bakery her business and quit her job with NAI Business Properties. "Within a year, I quit my job and I just keep getting busier and busier," Megan says today. One weekend alone she baked up 11 cakes. "I had a four-tier wedding cake and then several three-tier graduation cakes. It was intense." Now this one-woman confection creating show is a little more careful with her time and less likely to overschedule.  After all, one multi-tiered wedding cake can take upwards of 5 days to create from start to finish.
"For every cake, I have to make the cake. I have to make the frosting, I have to make the fondant and I have to make all the fondant colors. That generally takes a whole day and then stacking, covering and assembling take a whole day." She waits to bake until the day before because she believes her cakes should be as fresh as humanly possible when they arrive at their destination.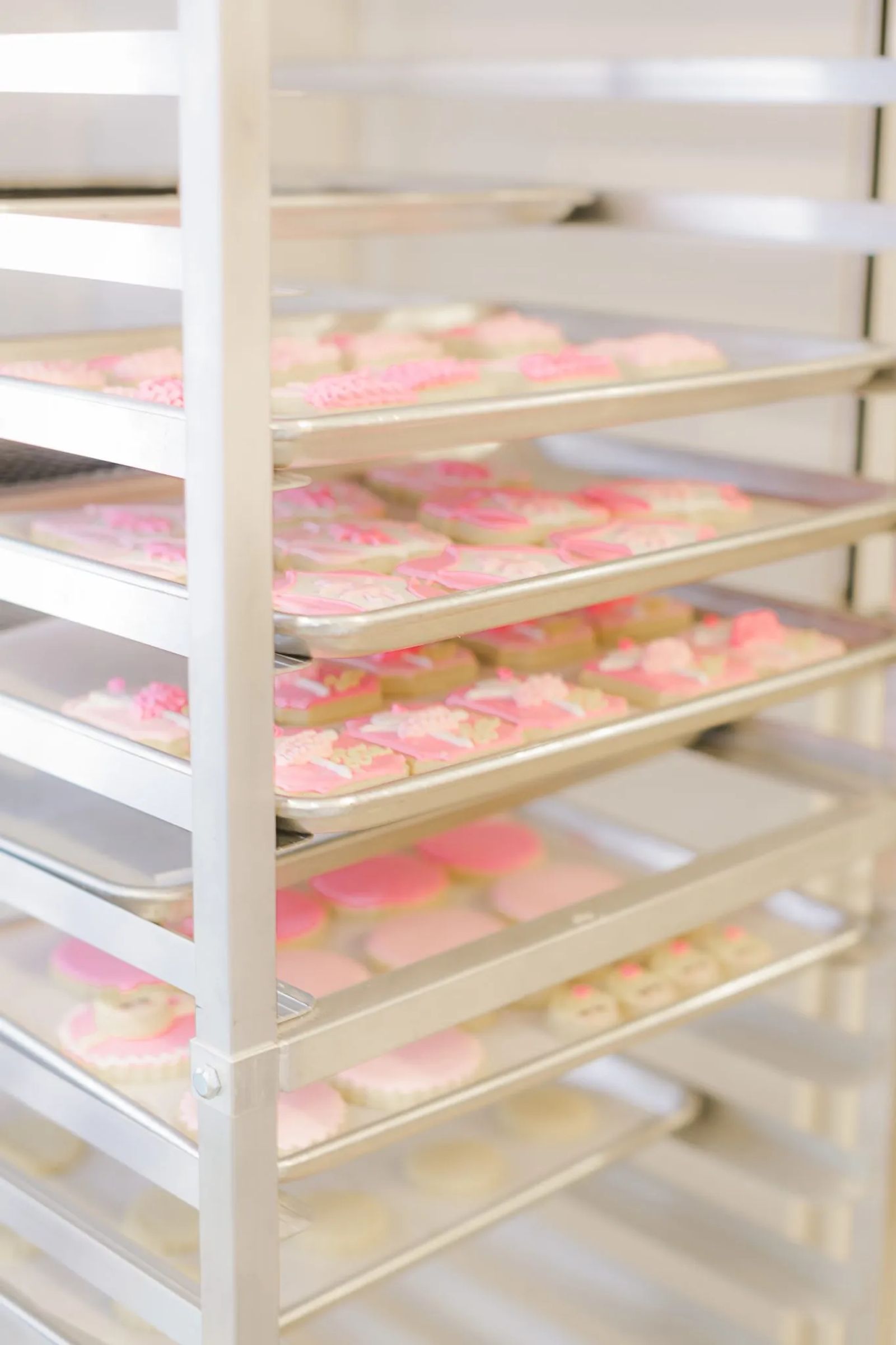 Within the last few months, her home-based business has witnessed quite the transformation. A small kitchen occupies a good chunk of her basement. Two white Kenmore ovens sit side by side. Not far, a tall pan rack sits, just ready for the next major bake-a-thon. Shelves hold colorful sprinkles, candies and mixing bowls in posh pastel shades, stacked and at the ready. On a wall above her workspace sits a sweetly composed painting of a trio of cherry topped cupcakes done by her mom for this special space. While Megan is breaking out her creativity in buttercream, her mom just started selling her paintings.
"It's in my blood," Megan says with a smile about her artistic genes.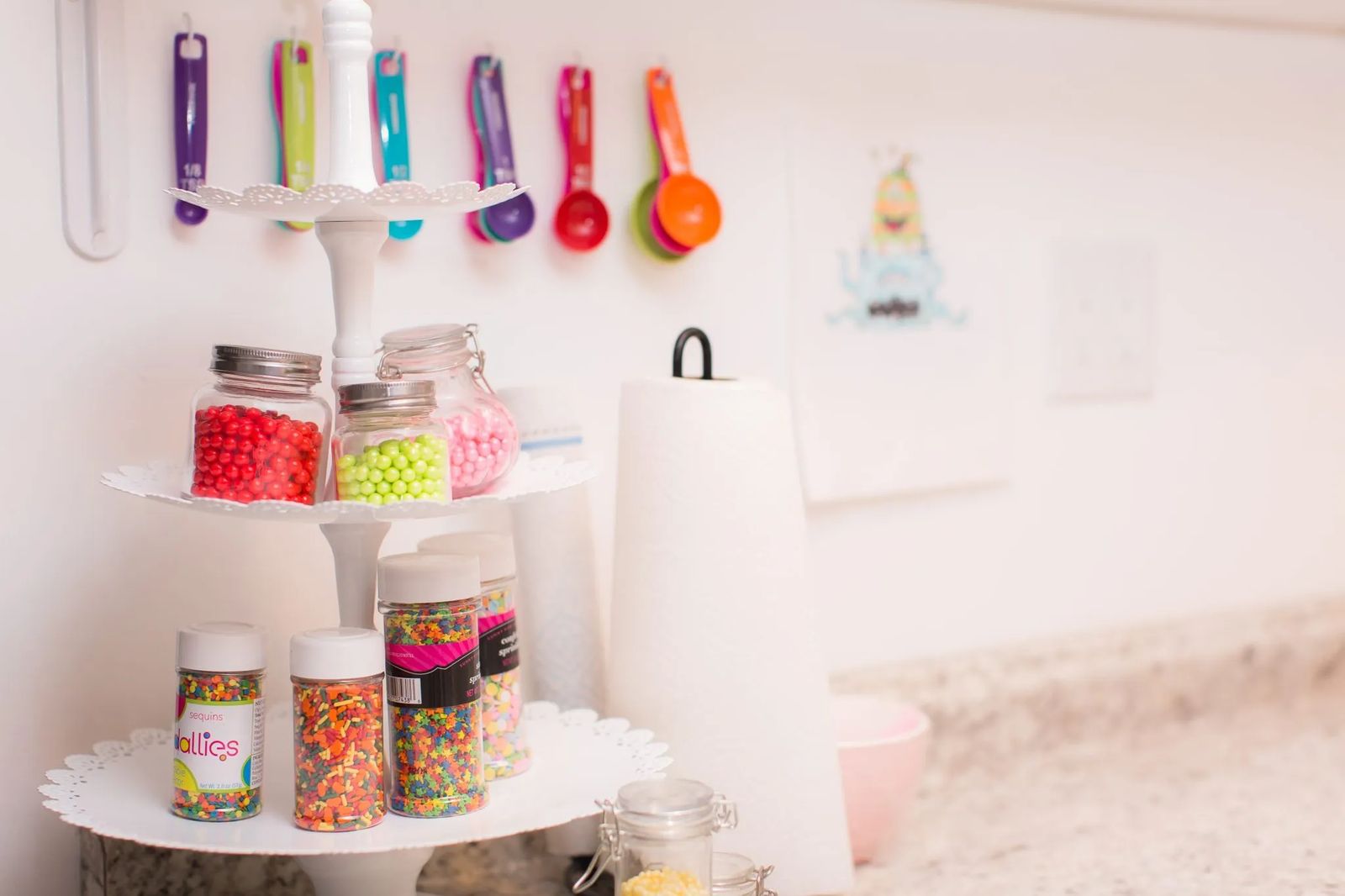 While this baker extraordinaire honed some of her talents after working for four years as a Cookies By Design decorator, she claims anyone can do what she does. However, all it takes is a look at some of her finished products to know that she's humble.
Right above her 100-pound tub of powdered sugar sits a sweet little colored-pencil drawing of two stacked monsters. As Megan sketched it out, her mind raced, thinking up the ways she could bake up some goodness in this whimsical design. After days in her basement kitchen, the orange and green furry monster sprung to life and sits sweetly on top of a blue spotted fondant-covered beast with octopus-like legs reaching out from the sides.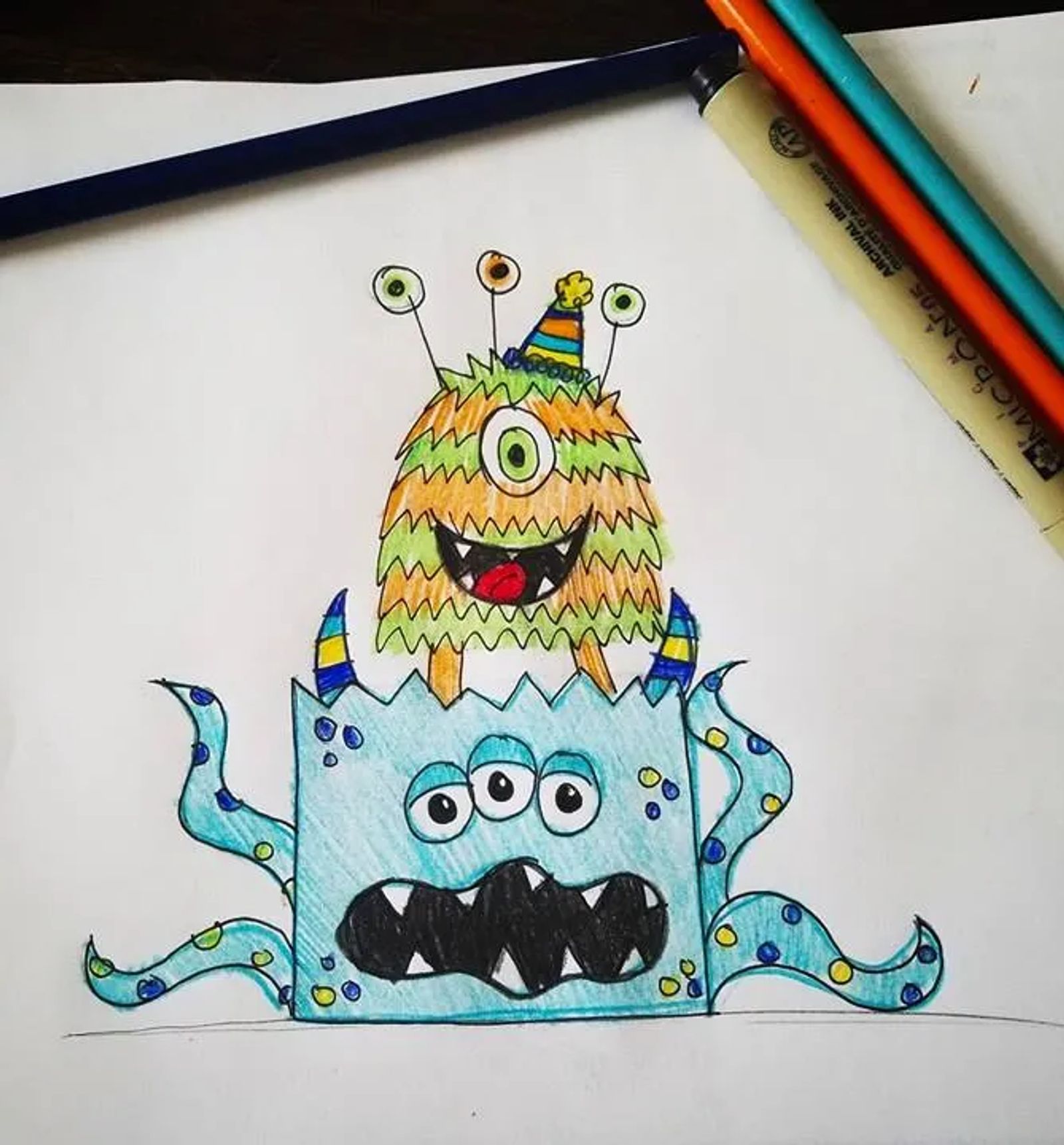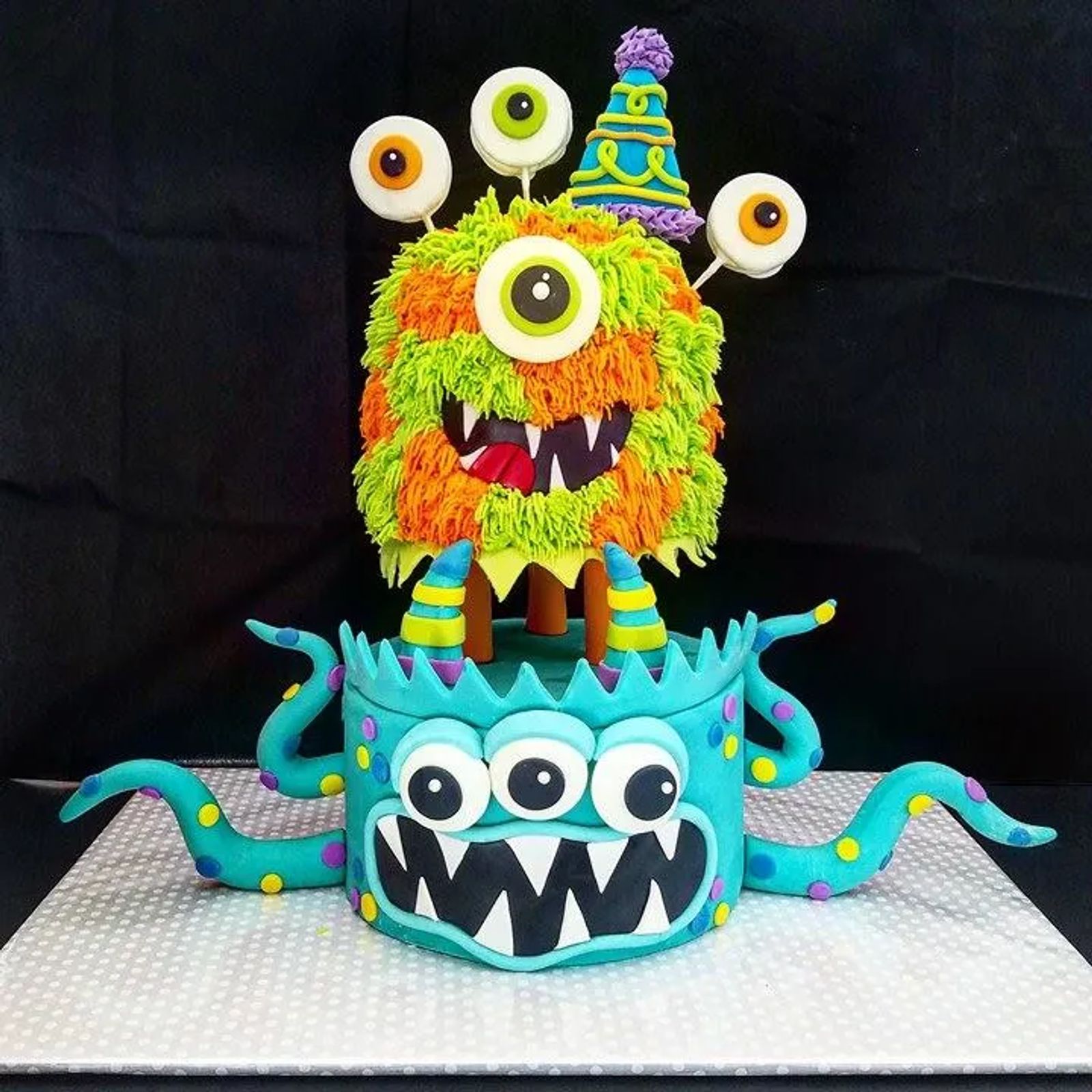 "I draw them, I create them and then they leave and someone eats them," Megan says. While she thrives on customer feedback and loves seeing the cheerful faces when someone sees their custom cake for the first time, the joy of creating is a big part of the process. She says, "I like to spend time on them and just make them something special."
While character cakes and cupcakes have become Megan's specialty, she loves pushing flavors in new directions and shocking the taste buds with deliciousness. Who wouldn't want dark chocolate toffee cupcakes with a salted caramel buttercream frosting? And because Megan once said that a girl should be able to have her cake and drink it too, she once crafted a 'Cinnful Angry Orchard Cupcake' with caramel buttercream frosting topped with whiskey caramel apples. She says, "I've done an orange soda cake. I did a Fruity Pebbles cake. I've done Jack and Coke cupcakes. It just keeps it interesting for me!"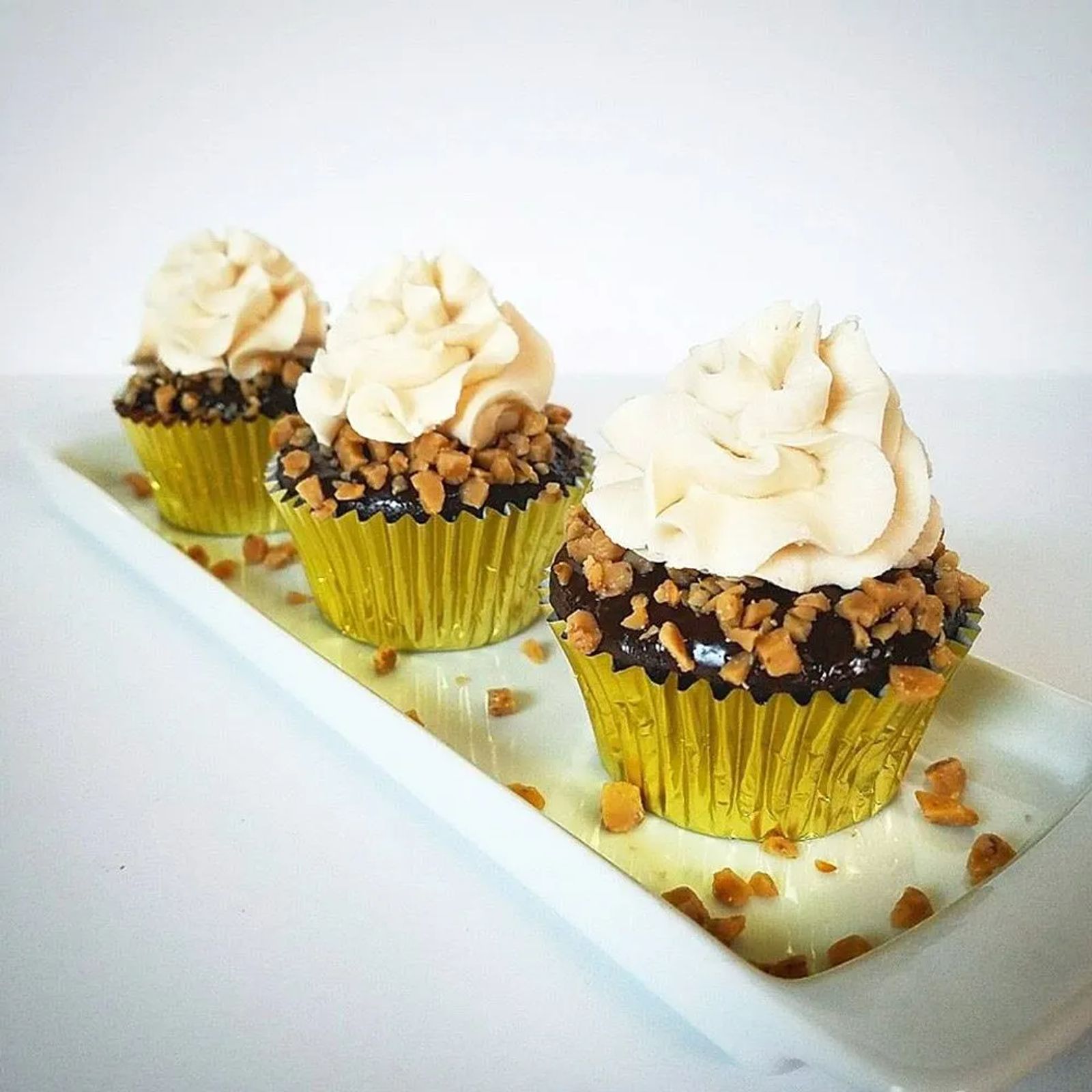 Where does she find the inspiration for this fusion of flavors? "I am an internet scourer. I find a recipe that I like and I just tweak it to make it my own. My buttercream frosting — I think I have tweaked that at least 10 times to find the one that crusts the best, stays on the best or sticks to fondant the best," Megan says. If there's a recipe she's not quite sure about, "I will invite the neighbors over and say, 'Taste test please!'" She's quick to say, "If I can give it to my husband and he says it's amazing, it's a keeper."
Megan has learned a few lessons about her business along the way. For starters, she doesn't generally deliver her cakes.  One mishap changed that course in customer service for her. She can laugh about it now. "I was delivering this cake for my friends. It had three tiers and it had the 'Game of Thrones' throne on the top.  I was driving and the person in front of me slammed on the brakes. I tried to ease on the brake as much as I could but the top still tipped." She says she was crushed, "I take my cakes way too seriously!"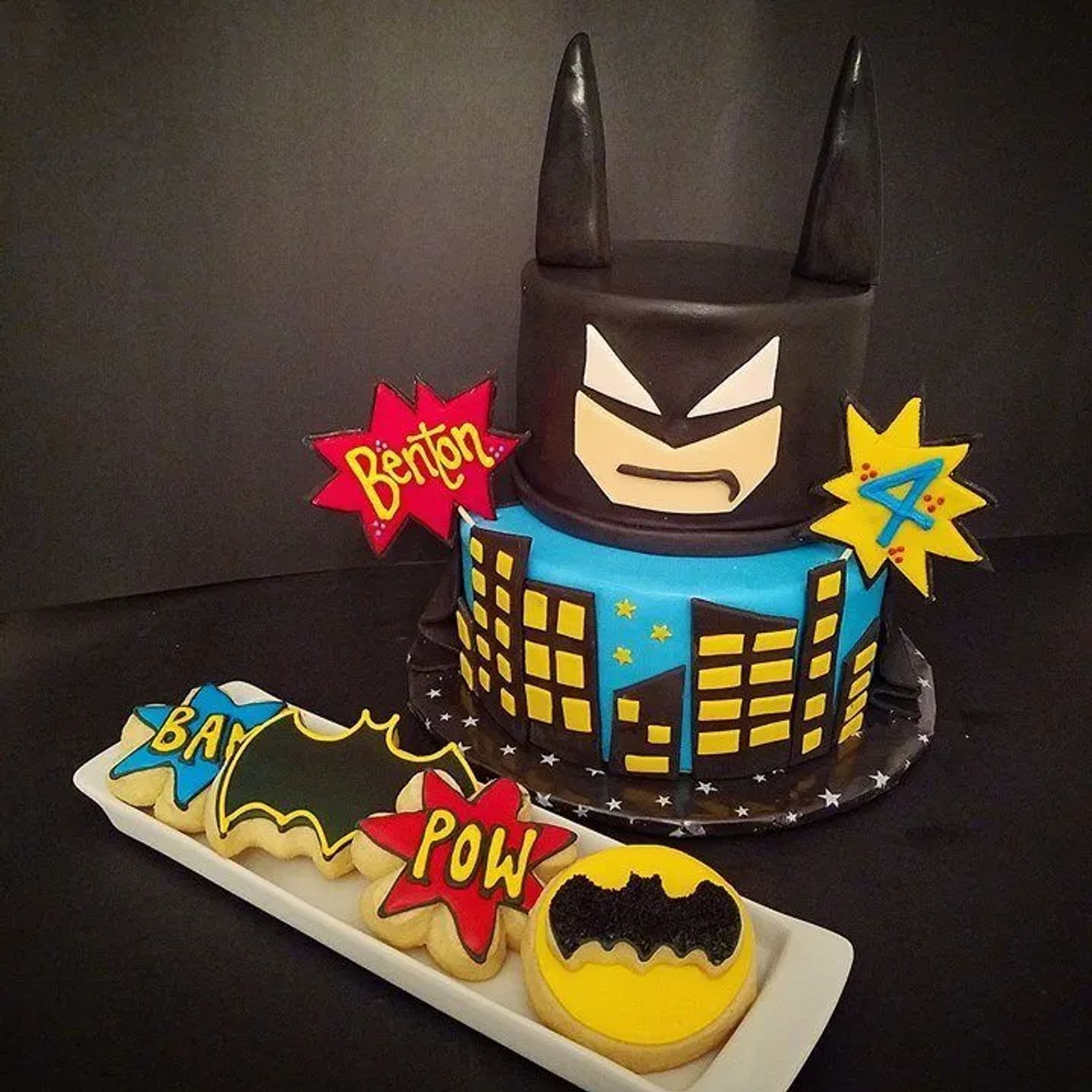 For now, she takes all of her orders on her company Facebook page. And, if you see something she's done and want an exact copy, that's not how Pink Collar Confections operates. Megan says while she's done a slew of Pokémon and 'Frozen' cakes, "I refuse to do any of them the same. It is a challenge to come up with another idea that you can fit on that same space." She's also been asked to create her share of Star Wars themed cakes and cookies, yet she's never been tempted to watch even one of the movies. When she was asked to do a Boba Fett helmet cake, she says, "I remember asking my husband, 'Who does he play for?' He was just appalled and said, 'I can't even talk to you right now!'"
While each day brings a new colorful cast of sugar-covered characters, Megan really can't see herself doing anything different. "I love this business because this is my zone." She knows there are risks to growing and operating her own business but says in five years, she hopes she's still at the counter, stirring up sugary sweet confections. "I would just love to be wildly successful, still doing cakes." Three short years after a friend asked her for a custom character cake, she knows it was a twist of fate that led her to working in her own bakery. "I wouldn't be sitting with you today if I didn't take that leap of faith."
FOR MORE ON PINK COLLAR CONFECTIONS, visit the company's Facebook Page HERE.