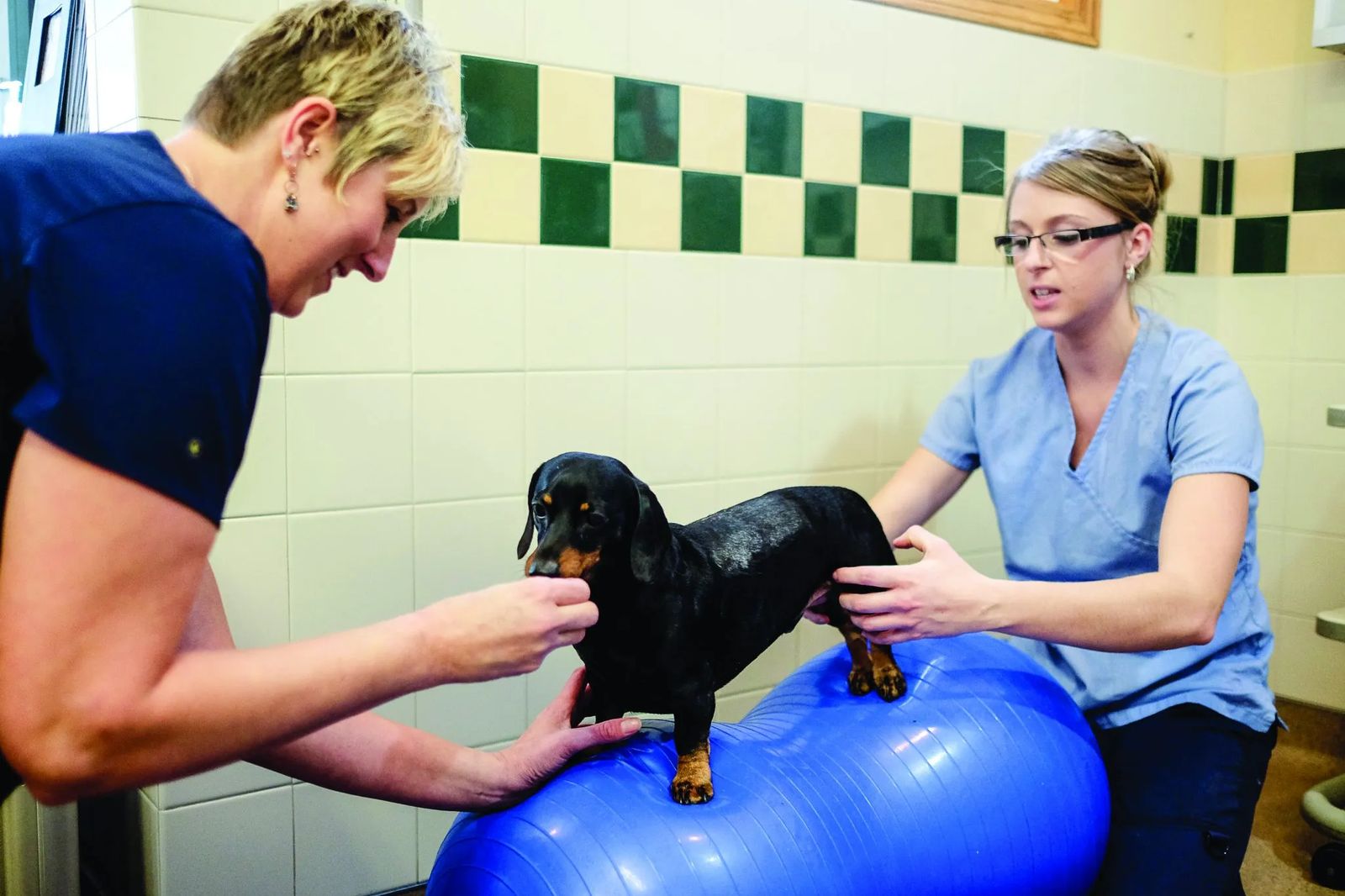 New Leash on Life
Rehabilitation making great strides to ease a pet's pain

Zach Waitman will never forget the day he took his prized hunting dog, Slick, out for a morning run. As his dog came running back to Zach, it was clear something was terribly wrong.
"He came back with his leg up a little bit. I wasn't quite sure what had happened," Zach admits. He feared it was a torn anterior cruciate ligament (ACL), the major ligament that connects the upper leg to the lower leg bones. Zach says, "It ended up being much worse than that." He adds, "He actually ruptured his Achilles tendon."
As a pheasant hunting guide with Double J Outfitters and just one week before the hunting season, this was not good news at all for Zach.
"We went through the options of what all we could do. He was just 2-1/2 at the time. He still had plenty of hunting left in him," Zach says. "I went with the most invasive option, which was full surgery. Then, they took some stem cells out of his belly and injected it into the site as well after they reattached the tendon to try to strengthen it even more," Zach explains.
  Slick takes in a bit of hydrotherapy on the clinic's underwater treadmill. [/caption]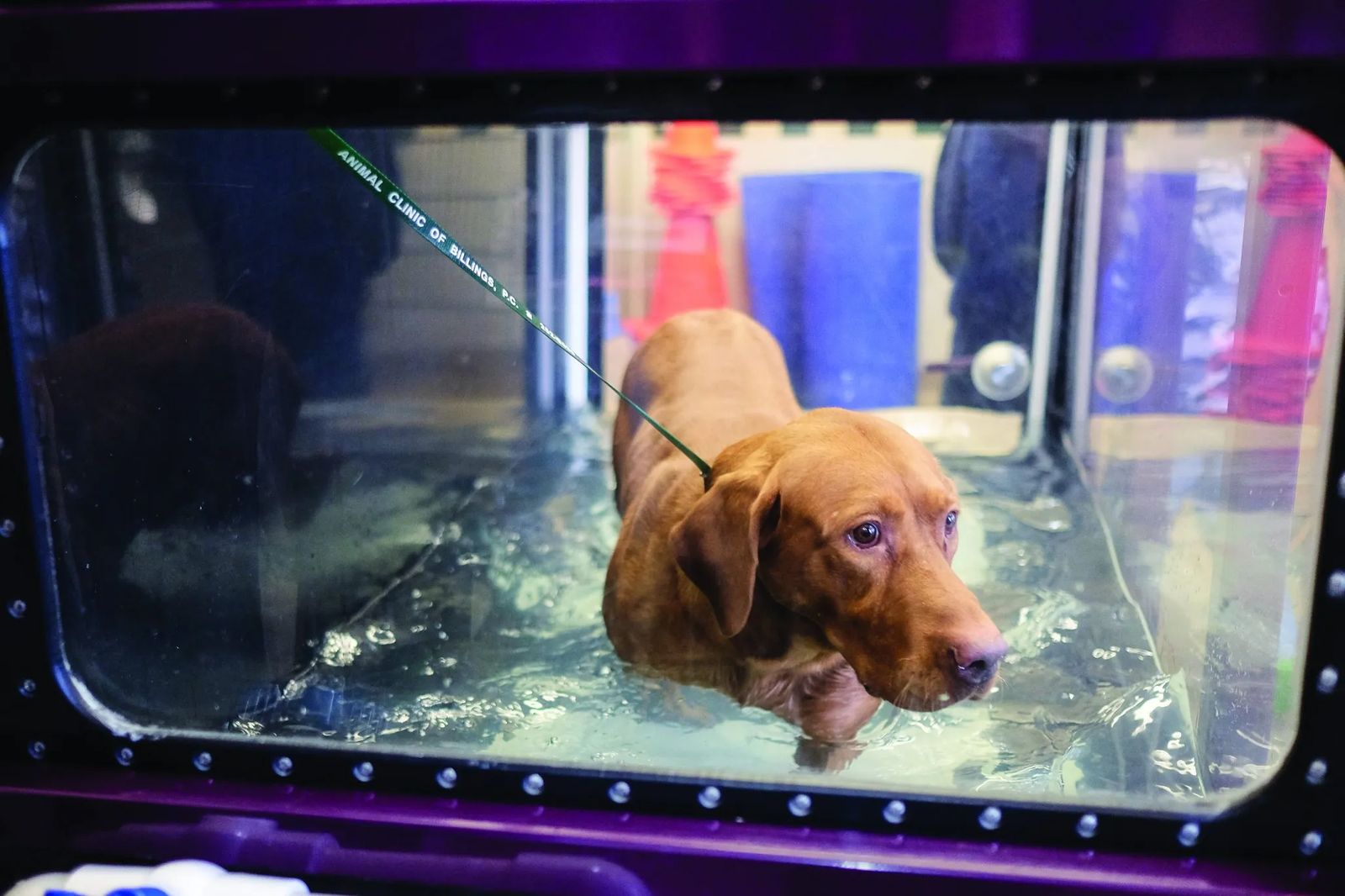 Slick, the red lab and athletic hunting dog, is just one of hundreds of thousands of animals who are now able to heal and ease their pain with the help of rehabilitation therapy. It's the fastest growing arm of veterinary medicine today and a whole host of therapies are available right here in Billings.
In 2005, the Animal Clinic of Billings was the first physical rehabilitation and therapy practice to offer underwater therapy. In the past ten years, there has been a steady stream of therapies added. From stem cell therapy which helps rejuvenate damaged cells to therapeutic laser treatments that improve circulation and reduce inflammation to platelet rich plasma treatments where the animal's own blood is used to stimulate rapid healing, Kay Lynn Allen helps with it all. She's the clinic's Canine Rehabilitation Practitioner.
Kay Lynn Allen, Canine Rehabilitation Practitioner[/caption]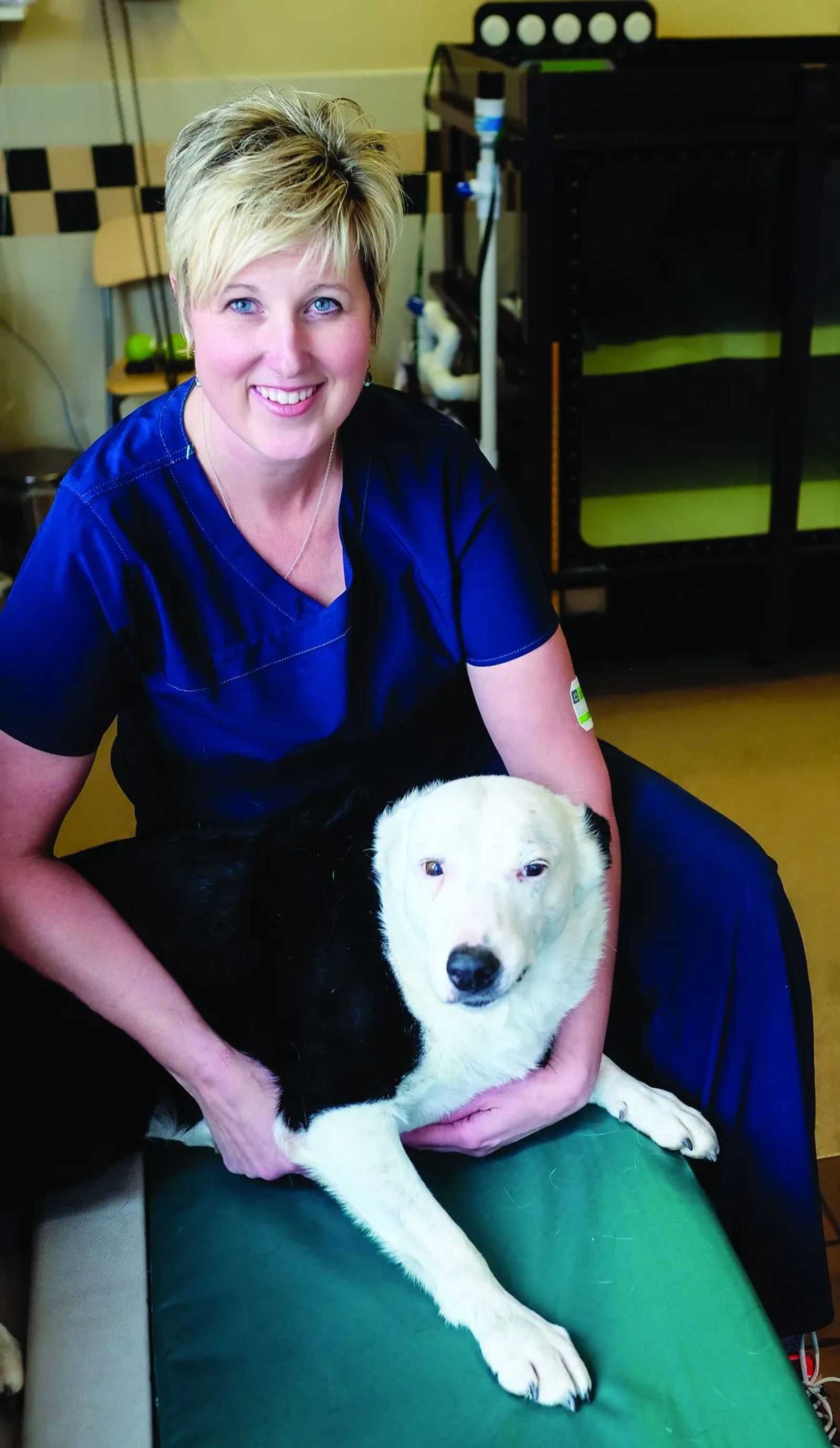 "I have been in this field for about 20 years and even the advances that we have seen in pain medications are huge," Kay Lynn says. "There isn't one magic treatment, but a combination of treatments that you put together. Every dog responds a little bit differently." She mentions dogs because right now, the clinic's ratio for dog to cat treatment is roughly 20 to one.
As we make our way around the clinic, we meet 12-year-old Molly, a black lab with splashes of grey around her eyes. Her face might be showing her age, but her body sure isn't.
"Molly is a neat dog because she came in weighing 101 pounds. As a ten-year-old black lab, she could barely get up and walk around," Kay Lynn says, explaining how the weight put a ton of stress on the aging dog's joints. Thanks to the underwater treadmill therapy and a more restrictive diet, Kay Lynn says Molly lost 20 pounds and is on a pain management plan with nutraceuticals like Glucosamine, which helps to reduce joint inflammation. "She is now almost 13 and she zips around like a younger dog. It's neat to see." Kay Lynn adds, "We can help pets age gracefully."
It might come as no surprise that many of these therapies had their start in the human arena. Over time, the science held up in animals and pet owners started to want the same kind of relief for their four-legged friends.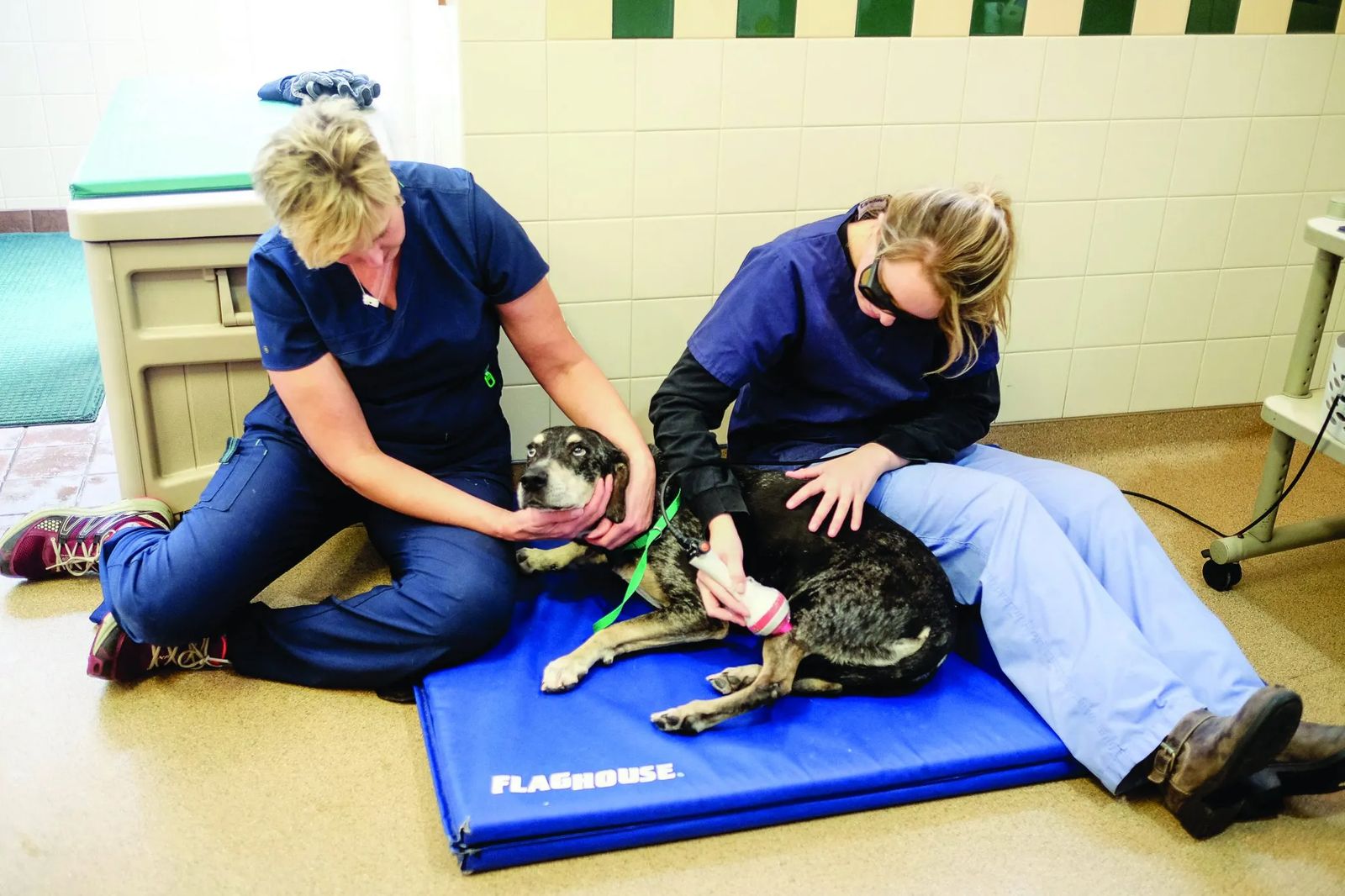 "Every pet is different, just like every human is different," Animal Clinic Veterinarian Bryna Felchle says. Seeing firsthand the benefits, Felchle says it's one of the most rewarding parts of her practice. "It brings tears to our eyes just to be able to hear an owner say, 'I can take my dog for a walk again. He can go hiking again. He's enjoying the family instead of lying and sleeping all the time. We didn't realize how much pain he was in. We just thought it was because he was getting old.'"
There used to be a time when many of these pain management and surgical cases were referred to regional centers. Dr. Ken Brown, hospital director and founder of the Animal Clinic in Billings wanted to change that.
"It is a long way to those big referral centers and we have really tried to provide this area with as much service as we can — multiple veterinarians with multiple interests, special imaging, and physical rehabilitation," Brown says.  Felchle adds, "We see people and their jaws hit the ground when we tell them about some of the things that we can offer."
Sometimes an owner won't even realize just how severe a pet's pain truly is. Dr. Felchle says, "How easily are they getting up and moving around? Are they panting more? Are they not socializing as much? Are they only wanting to walk for shorter distances? Those are some subtle things we can pick up on."
Some of the therapies, like using nutraceuticals, can be affordable at $15 to $20 a month. Other therapies can climb in price up to roughly $300 a month. For Zach Waitman and his hunting partner Slick, the surgery paired with physical rehabilitation was well worth it. Zach couldn't bear to watch his young companion become permanently sidelined. "It wasn't the cheapest option," Zach says, "but it would have been a lot harder if I didn't have the faith in them."
The proof of Slick's healing is truly in watching him go. Unlike past years when this sporty dog would make 20 to 25 hunting excursions during the season, Zach says, "He ran about 15 days this year. He runs a little different, but I couldn't be happier." Zach adds watching Slick on the hunt this past fall made it all worth it. "Seeing him get to perform and get back at it was just awesome."
THE PAINFUL TRUTH
Age does take its toll on your pet's joints
More than 25% of dogs age 8 to 10 suffer from osteoarthritis
35% of all dogs age 10 to 13 suffer from joint pain
61% of all cats over the age of 6 show evidence of arthritis in at least one joint