Nice Accent!
Goodbye to boring, hello to bold wall design
Transform one wall in any space in your home and it magically adds a touch of drama and makes a statement, becoming the focal point of the room. Whether you embrace an industrial look, get a kick out of country or have a penchant for something luxurious, our experts have a bevy of fresh stylish options for giving your space that extra 'oomph!'
"You want to make sure your accent wall is not going to compete with other walls," says Interior Designer Laura Mettler, owner of ToadNWillow, fine furnishing, and accessories. "You want it to be the wall." Laura adds, "You want to highlight an existing point-of-interest in the room. If there's a fireplace, then, automatically this is the wall you build around."
When it comes to color, harmony is the key. "Although you want your accent wall to make a statement, it needs to harmonize with other colors, with the adjacent walls," notes Laura. If painting, she suggests going two shades darker on the feature wall. "This is an organic style and is more aesthetically pleasing to the eye." Today, there is an abundance of creative ideas, just waiting to bring to life the walls that surround you.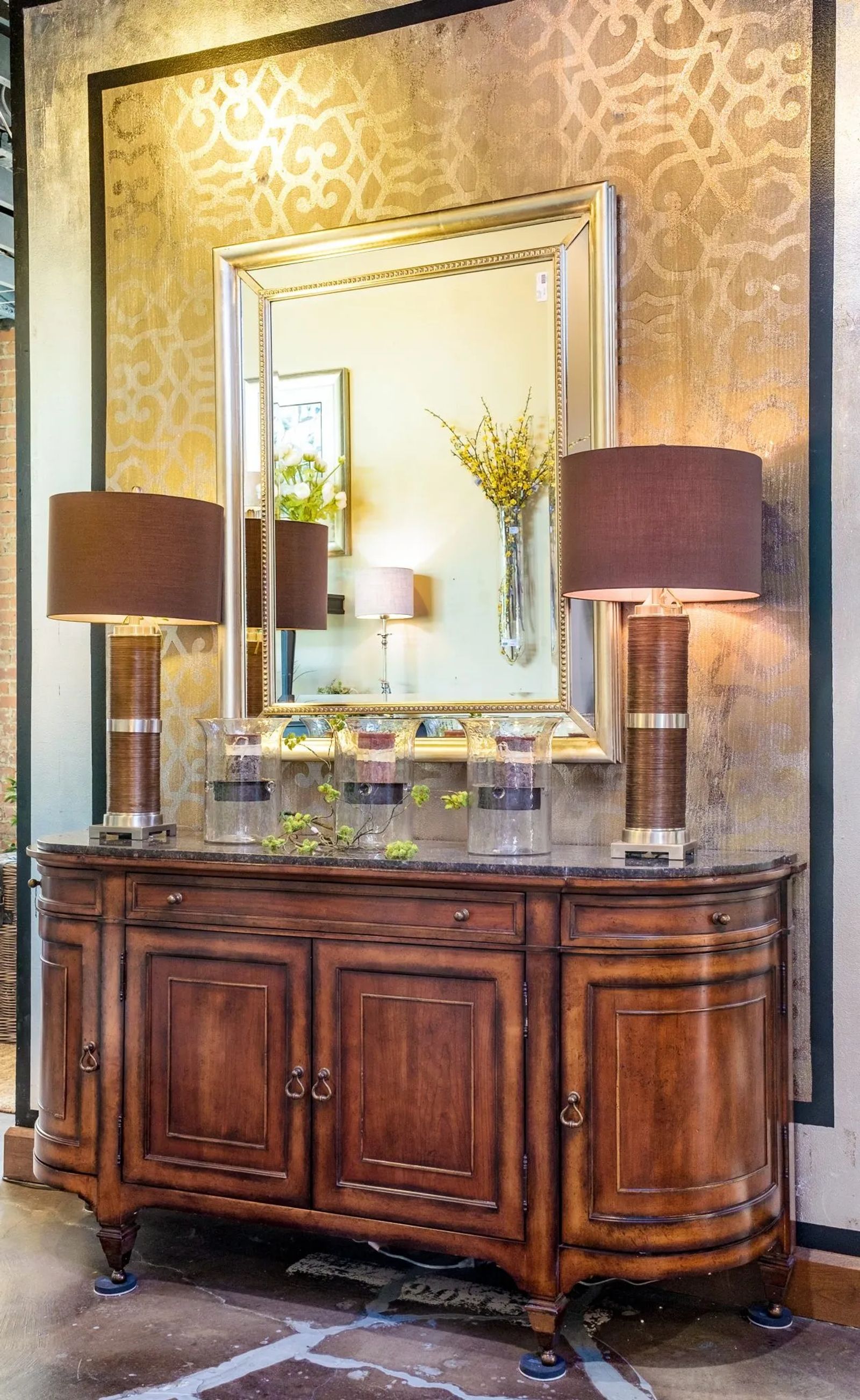 METALLIC GLAM
Beautifully eliciting the wow factor, a silver-leafed metallic wall decked out in a geometric design delivers an "uptown" look. Perfect for a bedroom, bath, or foyer, this contemporary look is a stunning expression. A specialty painter can provide this look, or you can do-it-yourself. Laura mentions there are plenty of videos and instructions online to offer the particulars in taking on this project.
"Small sheets of silver are glued to the wall using a roll-on product," says Laura. It dries before the design is stenciled on. "We've applied a black accent, as well as, gold accents," giving this beauty a bronzy look. The result is vividly eye-catching.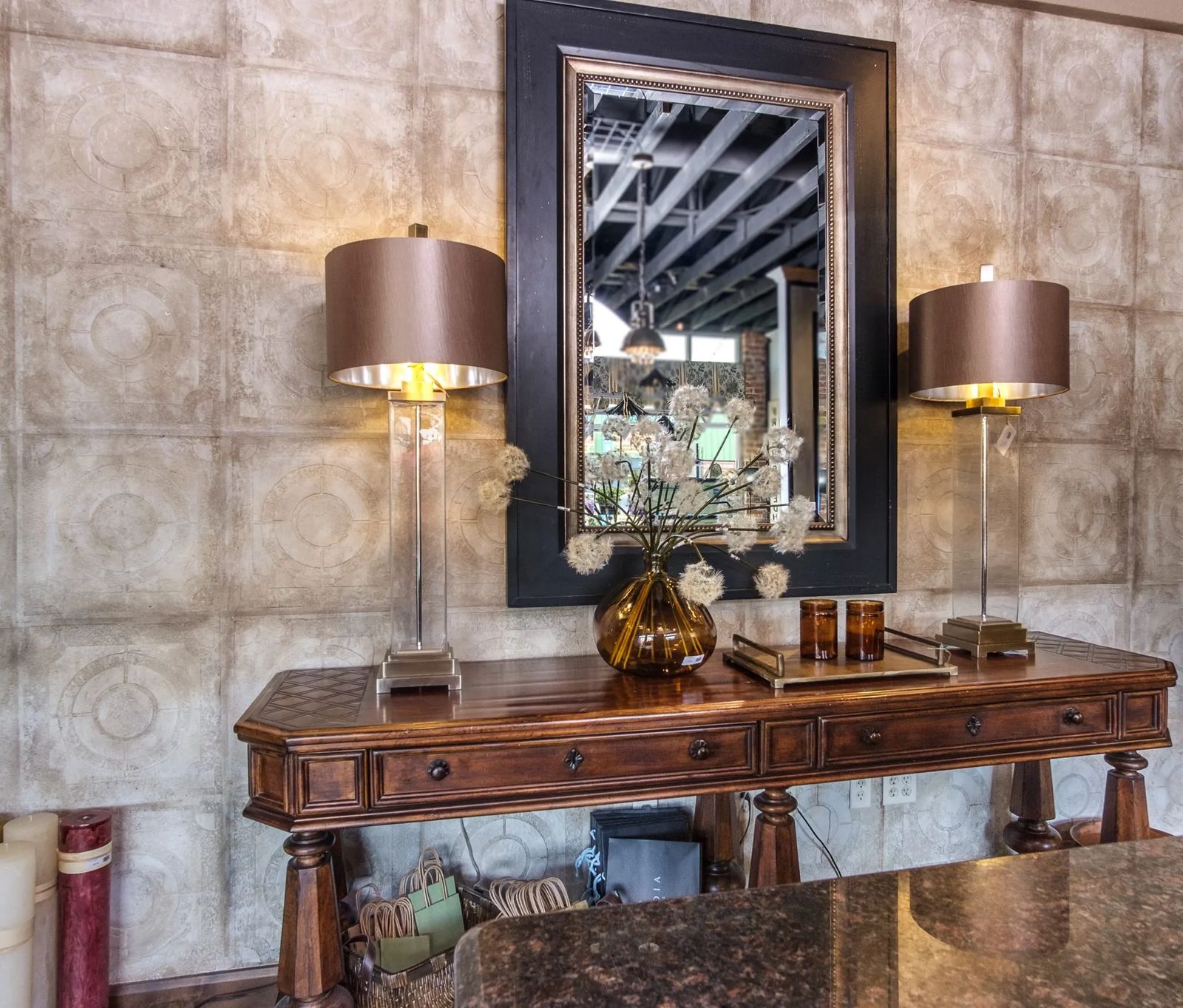 VENETIAN ART
This raised embossed Venetian plaster wall is sure to leave an artful impression. The sophisticated depth of rich vanilla color mixed with taupe weaves a layered relief pattern of tile-looking texture.
"The plaster wall is a process of layering using a joint compound and stencil," shares Laura. "Applying the compound raises it to the shape. It builds up the wall." Color can be mixed right into the compound or applied afterward. The work is then glazed or antiqued with a soft wax.
The elaborate archway stretching across the top of the wall is formed with foam and overlaid with the plaster. This accent wall infuses a space with sculptured detail and is sure to be quite the conversation piece.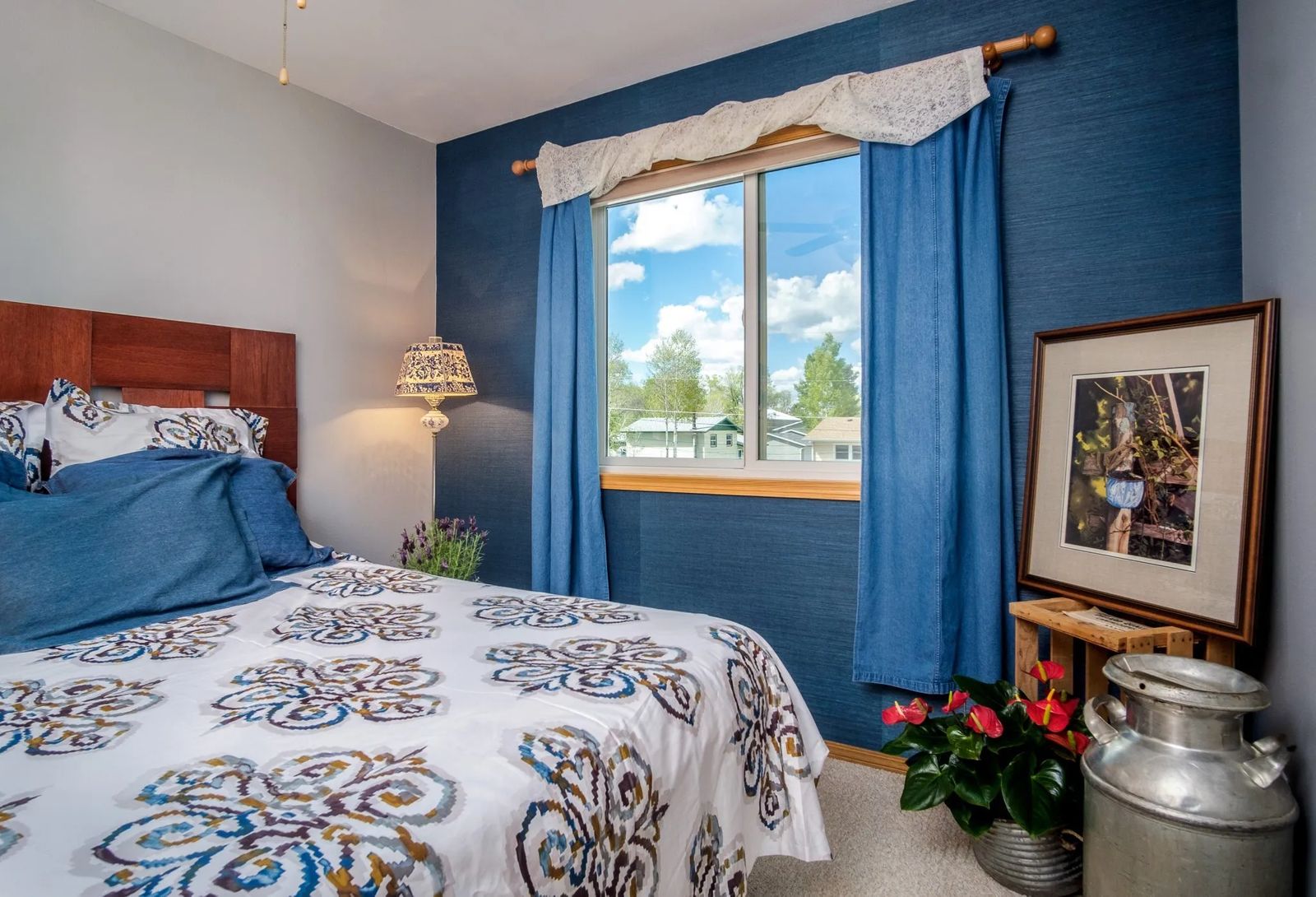 ORGANIC COVERING
Timeless with its textures and natural qualities, grasscloth is an organic fiber that's finding its way onto walls. Janet Bergsing, interior designer at The Paint Center, agrees with Joanna Gaines of Magnolia Home fame that a simple way to personalize your space is with wall coverings and color. "I fell in love with her line of grasscloth wall coverings," says Janet. "I've done an accent wall, my bedroom window wall, using navy grasscloth. It's a real soothing blue and blue is the color for sleep."
From the farmhouse to the penthouse, this look, "never goes out of style," says Janet. The Magnolia Home grasscloth (available at The Paint Center) is hand-woven. "It's so creative and adds such dimension to your room. It's cozier. You're not limited to where you can use grasscloth either, except in the bathroom, due to moisture."
As for the other three walls in Janet's bedroom, she's painted these with the grasscloths' matching paint color. With warm mahogany furniture snuggled up to the organic wall covering, this room sends a message – it's time for some serious rest and relaxation.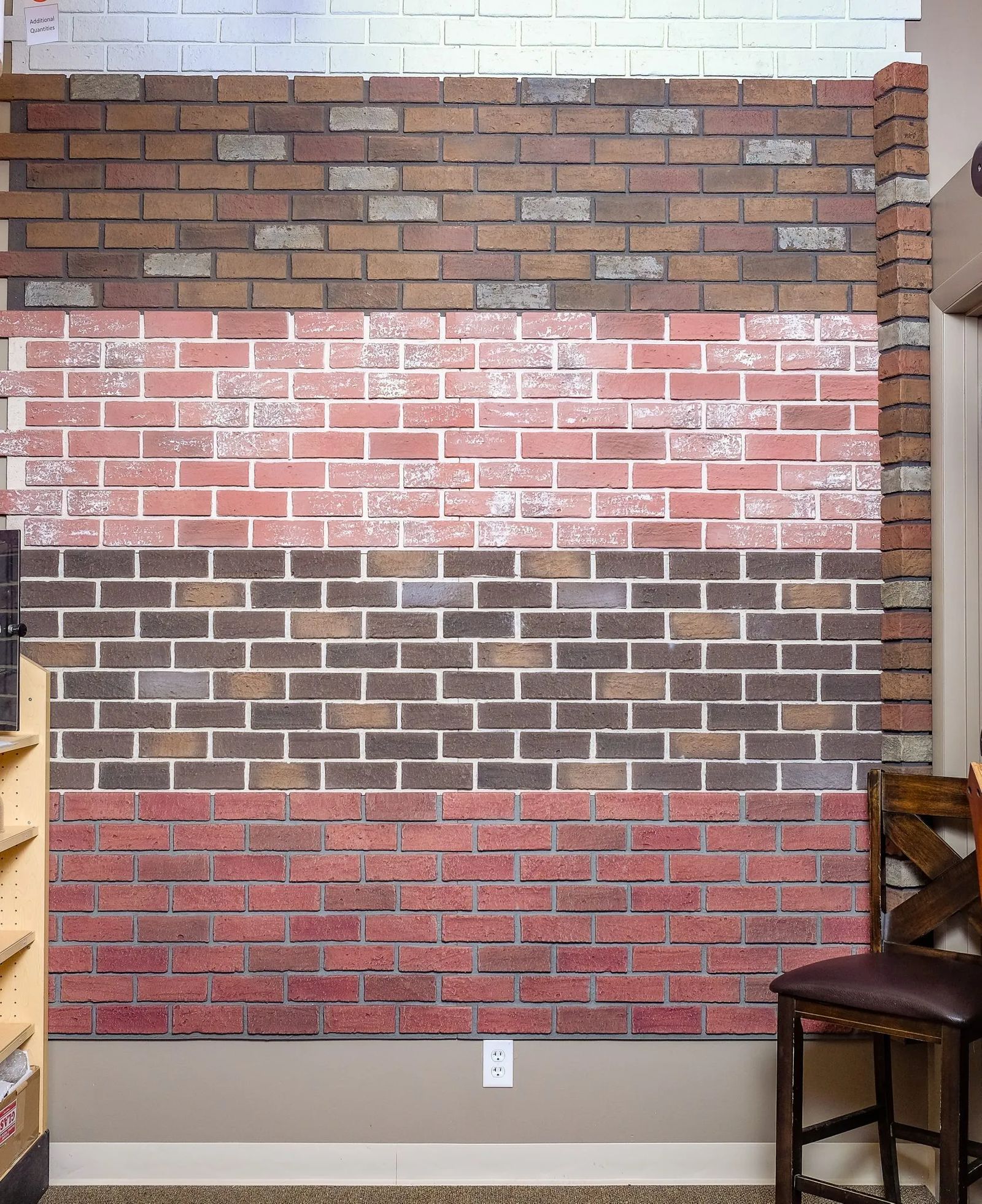 RUSTIC RENDITION
Wood is making a versatile backdrop for any style space. It adds transitional punch to a modern loft and rustic charm to a house in town. "The rustic and industrial trends are huge," exclaims Lauri Patterson, owner of One Source Lighting & Home Décor. "You add an Edison light in front of this wood wall and it's gorgeous."
The real wood from As-Is Brand, available at One Source, offers homeowners an easy solution to creating a gorgeous planked accent wall. These wood panels come in six different finishes, are packaged 20 square feet per box, and go up in a matter of hours with glue adhesive. It's a DIY dream project that Lauri says, "Changes the look of your wall with very little effort."
On the industrial front, brick and concrete are garnering their share of trendsetting style. "You can turn any wall into a feature wall with the realistic look of brick or concrete with Hourwall," cites Lauri.
Hourwall offers a lightweight and easy to install product that uses 6-inch by 48-inch foam panels cast from real brick and concrete. Hourwall's classicBRICK offers five colors for that nostalgic feel of worn brick, while urbanConcrete furnishes cool contemporary persuasion.
Whether it is rustic or rich in metallic flair, you can see the creative possibilities are endless when it comes to accent walls. Go with what inspires you and fits into the function of your home. With these samples of style, you'll be sure to discover which offers the zing you're looking for.