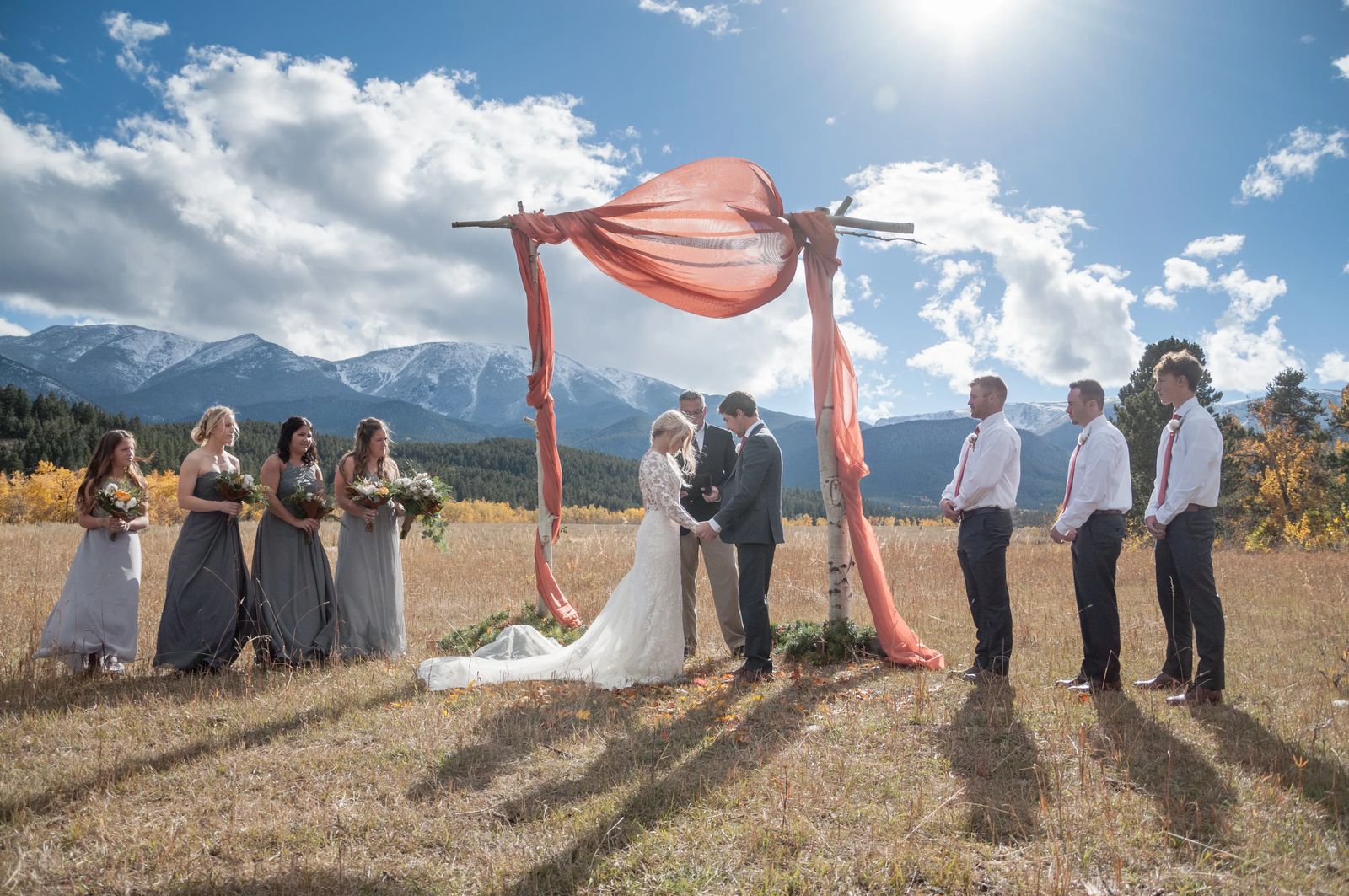 Off the Beaten Path
Wedding planners bring adventure to saying, "I do."
Photography by Neal Hines
In the summer of 2017, when they were already thinking of starting an adventure-wedding business, Alicia and Neal Hines spent a month together on the Stillwater River.
It was Neal's second season of whitewater raft guiding on the river, and Alicia took a month's leave of absence from her job at Northern Plains Resource Council to work with him. It was an eye-opening experience.
"We just found that we were having a lot of fun giving couples and families experiences, and that people really seemed to enjoy us," Alicia says. "So that was kind of the confirmation we needed that we could do this, that we'd be good at guiding people through marriages as well."
That same summer, Alicia's brother came out to Montana and they hiked the Beaten Path, a popular 26-mile trail in the Absaroka-Beartooth Wilderness. "So that was the inspiration for our business name," Alicia says — Off the Beaten Path Wedding.
Alicia left her job and they launched the business in the fall of 2017. They've done more than three dozen weddings since then — as well as engagement and pregnancy-reveal photoshoots — working with couples who want something beyond a traditional wedding.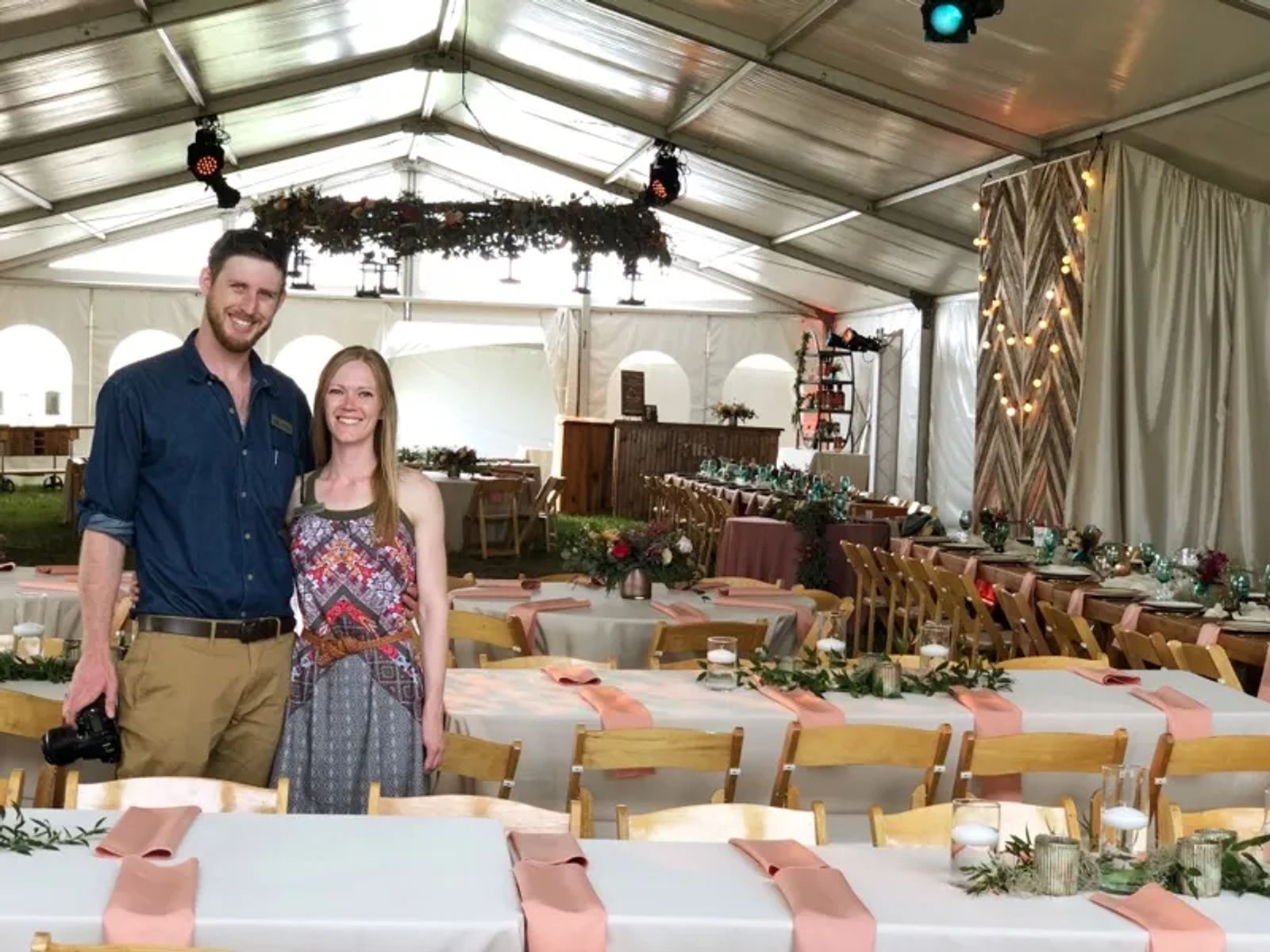 When they started the business, Neal and Alicia (then Alicia Pettys) knew they were going to get married.
"And looking around," Alicia says, "we didn't see a wedding culture that reflected us, and we knew there were others like us. There are so many beautiful places in Montana that you don't have to go with a standard venue. We wanted to give people a chance to explore all those places."
They help their clients find the perfect spot for their wedding, then take care of all the details of the event, including photos by Neal, a professional photographer. Their clients have been married on the shores of alpine lakes, in national forests, on remote ranches and all over the Beartooth Mountains.
They have done weddings of all sizes, though often the wedding ceremony is attended by a smaller group, with a larger reception at a nearby lodge or Airbnb. They also do what they call micro weddings, with fewer than 30 people, as well as "elopements," with just the bride and groom. The coronavirus pandemic, Neal says, has been "a blessing in disguise," nudging more of their clients into very small weddings or elopements, which Alicia and Neal had always hope to specialize in.
"It's definitely caused some disruptions," Alicia says of the pandemic, "but really, it's pushed us farther into our niche of elopements, and we're really enjoying it."
Alicia says she likes elopements because it's so special for the bride and groom, who don't really get to spend a lot of time together on a traditional wedding day. "This is something just about them," she says.
Which isn't to say they don't enjoy larger events, too. They're both looking forward to next summer, when they will organize a four-day "festival" wedding at a Boy Scout camp on Seeley Lake that will include kayaking, meditation and other activities for a large number of guests.
"People get to have this whole vacation and top it off with a wedding," Alicia says.
That was the path Alicia and Neal chose when they got married this July, in the mountains of the South Fork of the Shoshone River near Cody, Wyoming. Their families were able to go rafting, fishing, horseback-riding and stargazing, and they all stayed together at cabins on a ranch.
Alicia and Neal also pride themselves on making an effort to get to know their clients, spending time over meals or beers to find out what they really want, and then perhaps driving for hours with them to find the perfect location. Eventually, Alicia started officiating at weddings, too, so that couples wanting an elopement could go anywhere they want.
Also, Alicia says, "We don't have to worry about the officiants being able to access it. We can marry people in the middle of a hike."
"That's my favorite, giving couples a unique experience," Neal says. "We're not — I call it cattle herding. We don't do that. We're not running people through every day or telling them they have to wrap up by a given time."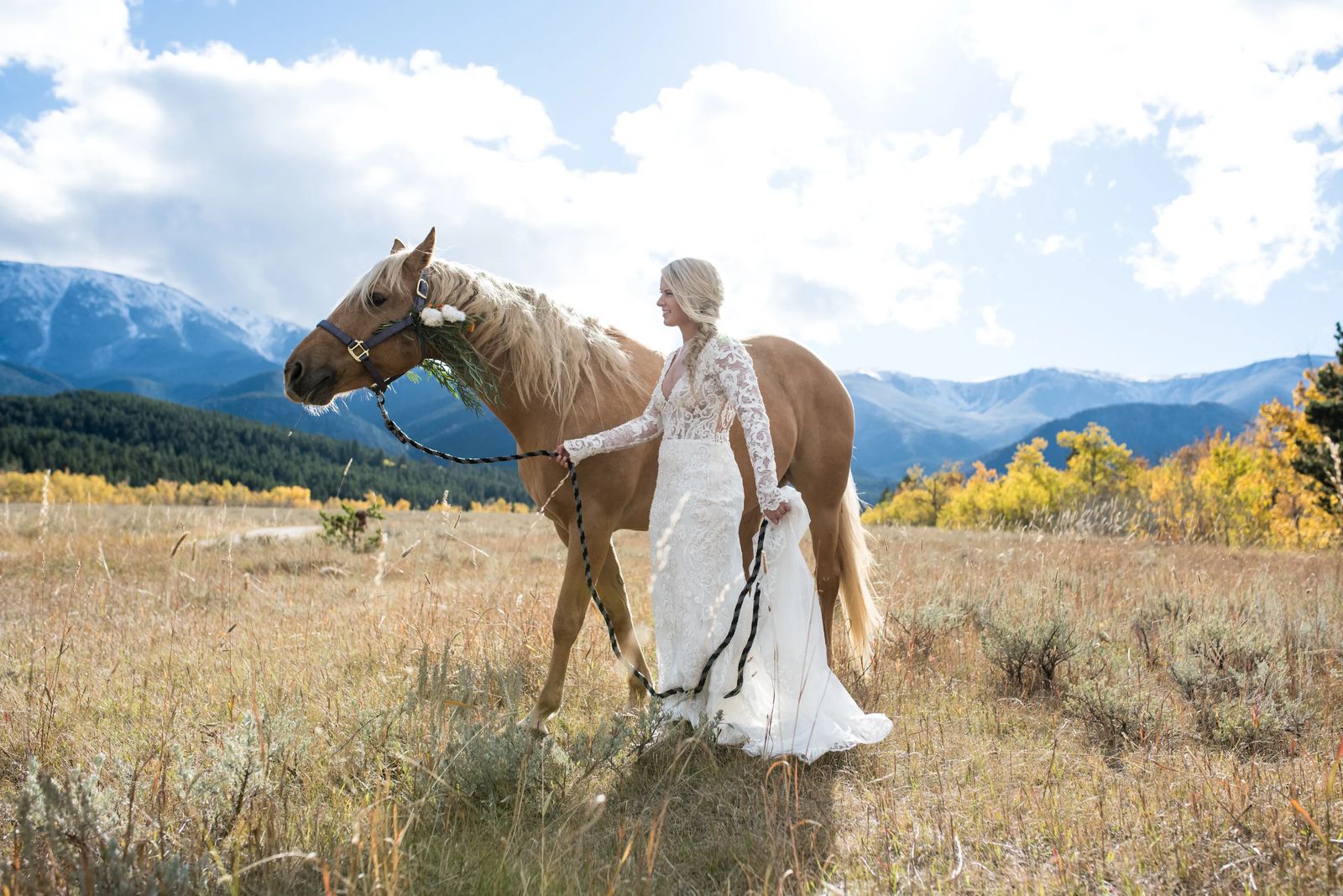 Charlotte Kern, of Billings, will testify about the unique experience Off the Beaten Path provides. Shortly after the business started, she and her then-fiancé, Jordan Kern, won an Instagram contest for a free engagement photo session from Neal and Alicia. The winter shoot took place near East Rosebud Lake, Charlotte says, in the middle of "a huge blizzard."
Charlotte figured it was a bust as far as photos were concerned, but no. Neal not only salvaged the shoot, he made magic out of it.
"As soon as we got those engagement photos," Charlotte says, "me and my husband sat down and said, 'We have to use these guys for our wedding.'" And so they did, even though most everybody in both families was pushing for a traditional wedding.
"We are super-minimalist people, super-laid back," Charlotte says. "We didn't want a huge, big wedding. It was cool to know they specialized in that. Honestly, I don't know if we would have done it if not for them."
With Alicia and Neal's help, Charlotte and Jordan settled on a site in the Custer National Forest near Luther. Charlotte had spent a lot of time in the area as a child, mostly riding horses, and she and Jordan went on their first hunting trip together near there.
The wedding was in a mountain meadow, and Charlotte's horse, adorned with flowers, was on hand. After the ceremony, guests headed off to a reception at Rock Creek Lodge while Alicia and Neal drove around in a truck with Charlotte and Jordan, finding spots for more wedding photographs.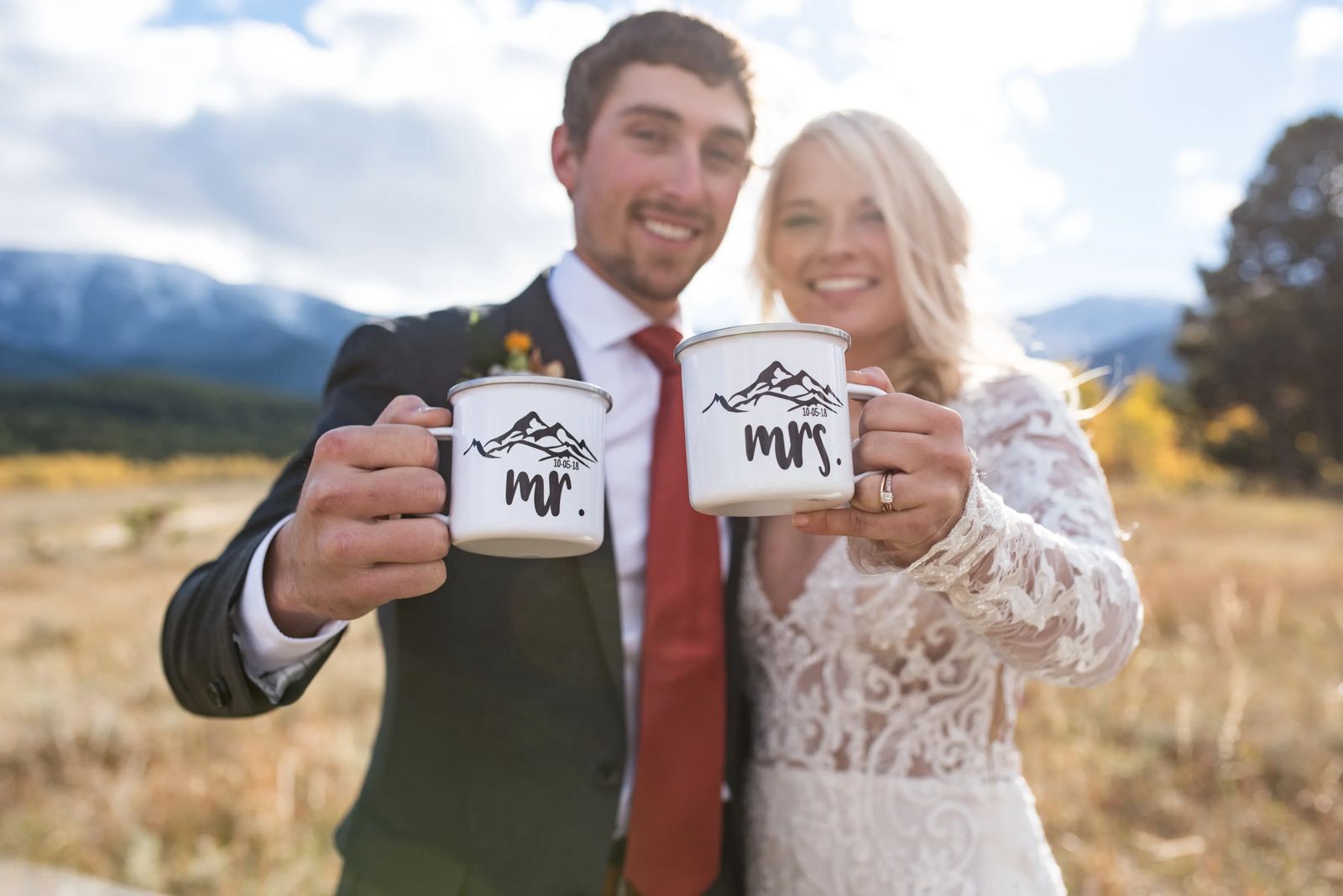 "We still talk about them to this day," Charlotte says. "Our wedding kind of went down in history in our family. It was the coolest day of our lives, and a lot of people would agree with that."
The wedding was in October of 2018. This past June, Charlotte and Jordan called on Alicia and Neal again, this time to shoot photos for their Facebook announcement for another major life moment. Baby Kern was due in December. Neal's idea was to have the couple — clad in waders with a fly rod in hand, pulling a baby's onesie out of a rushing creek.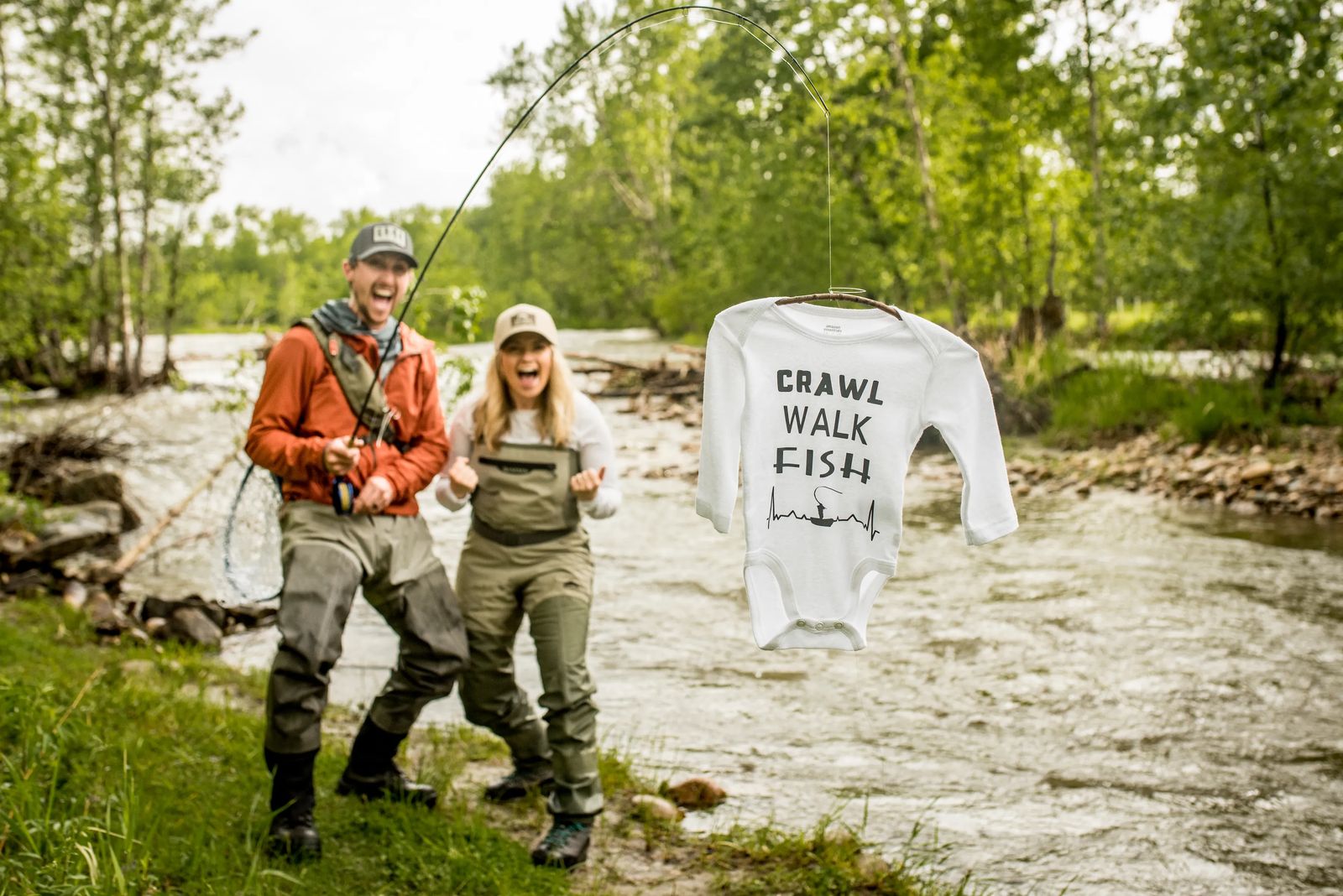 "We've gotten more compliments on our reveal, how unique and cool it was," Charlotte says.
She and Jordan continue to stay in touch with Alicia and Neal. "They're such cool people," Charlotte says. "When you do see them, they take you in like family, and it super-special to know people like that."
The Kern wedding remains one of the most memorable for Alicia. She also mentions a winter wedding at Ousel Falls near Big Sky. The wedding party walked more than a mile down a canyon to the frozen falls, where the ceremony took place.
"The bride wore a normal wedding dress with her beautiful poufy tulle," Alicia says, "but she had snow pants on underneath, with snow boots." Neal adds, "because we went sledding afterward."
"I guess we're kind of selfish," Neal says, because they don't want to be stuck in town all week doing "those big three-tier-wedding-cake weddings all the time."
After three years in business, word of mouth has slowly increased, letting more people know about Off the Beaten Path's unique approach to weddings.
"The more we put that out there, the more we find there are a ton of people who want that," Alicia says.
FOR MORE INFORMATION on Alicia and Neal's wedding company, visit www.offthebeatenpathwedding.com.