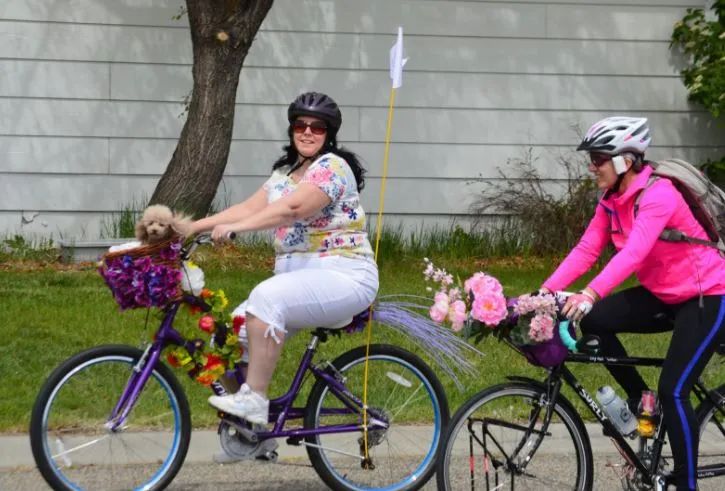 On the Ride of Her Life
Billings woman breaks barriers in TrailNet's Tour De Fleur
Looking at 53-year-old Dawn Summers, you see the sunshine in her personality and her passion for life. She has a great job and is happily married to the love of her life, Guy. She is a mom to three adult kids and proud grandma to three. Despite many years fighting the "demons" in her mind, today she feels she can do anything she sets her sights on. Last year brought many challenging, character-defining firsts — from being able to openly show her prosthetic leg in public, to tackling a charity bike ride that she feels helped break down barriers in her mind.
A little more than a decade ago, Dawn was in one of the darkest places of her life.
"I just remember that gloom and it was a darkness that I never thought I would get past," she says with emotion today.
When Dawn made her way into the world, "I was born with a clubbed foot and I struggled with that." Her childhood was full of medical appointments and corrective shoes. "The first two years of my life, I pretty much lived at the Shriner's Hospital. I had multiple surgeries to try to fix the issues."
As she got older, she thought she could ditch the shoe lifts and corrective shoes. "I didn't want to stand out," she says, "I wanted to be like everybody else." Because of it, the problems with her foot started to creep back in when adulthood hit. "I think over time, my body just wore down. It got to the point that every step I took felt like needles."
She would go under the knife again, only to have that surgery fail. When the pain became unbearable, she found herself in a walking cast, seeking the advice of another orthopedic surgeon. "I was sitting on the table. He looked at me and said, 'Oh boy,' with a heavy sigh." Dawn says, "He said, 'We are going to put you in the hospital tomorrow. We have to take your foot.'" Because of the degradation of bone from the prior surgery, the doctor told Dawn that the only viable parts of her foot were the tendons and a few slivery pieces of bone. There was nothing left to stabilize.
That was in 2004.
"After I lost my foot, I lost a piece of my pride if you will. My confidence went away. It took me a long time and a marriage to get past that and develop the strength to move forward," Dawn says. Even getting up to get a glass of water felt like climbing a mountain. "Sometimes when you are in the darkest places, the lowest points of your life, the light comes in and says, 'You can do this!'" As time went on, Dawn says, "One day, I went to get up and it was a little easier. It wasn't as hard to get up. That gave me confidence. Every day got a little easier and I got stronger. As I got stronger, my body got stronger and my brain started kicking in and telling me, 'You can do this.'"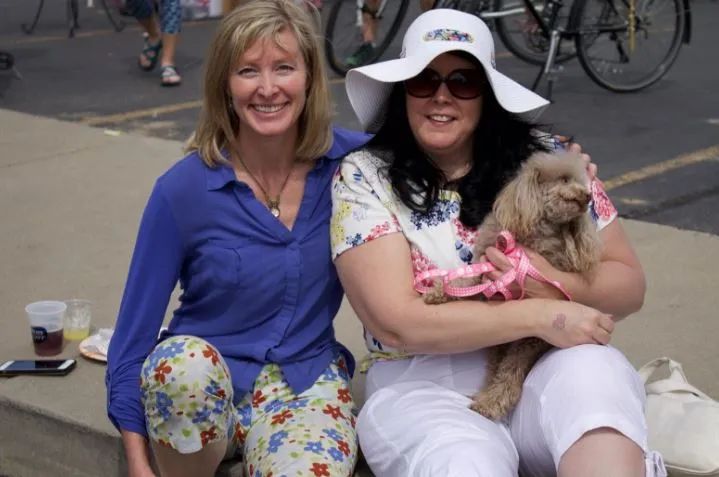 Last year, Dawn decided to take that strength to the streets. Her friend, Kristi Drake, Executive Director of Billings TrailNet, became one of her biggest cheerleaders and encouraged Dawn to ride in the Inaugural Tour De Fleur, a bike event designed to help women of all ages and abilities to feel more comfortable riding in town. Kristi says, "I said, 'Dawn, be my guest of honor at the Tour de Fleur!' After a few weeks, I got a hesitant 'Yes.'"
Just a couple weeks before the event, the two hit The Spoke Shop, in search of Dawn's perfect ride. She fell in love immediately with a vibrant purple cruiser. Dawn says, "I thought, 'This is so me!'"
Dawn still remembers the day of the Tour De Fleur vividly.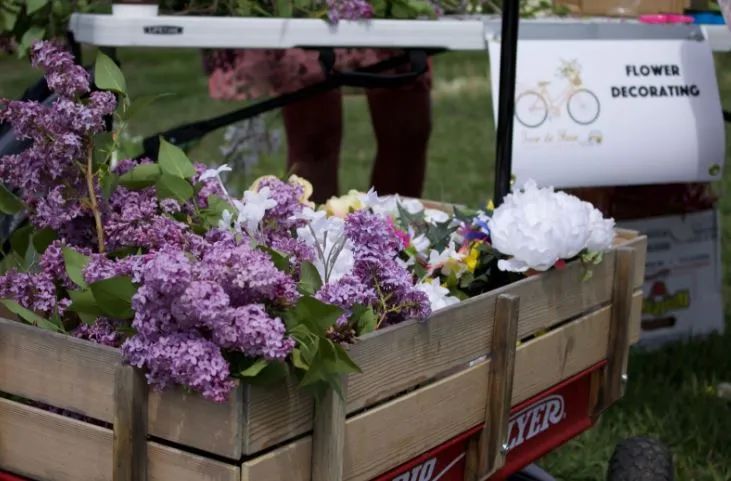 "It was a beautiful morning. The sun was shining. To have all of the flowers and smells, and to see how the women decorated their bikes — it just seemed like it was a women empowerment day. You just felt so confident with your sisters around you," Dawn says.
Wearing a bold floral top with her 9-year-old three-legged toy poodle in her bike's basket, Dawn began peddling the 2.5-mile course. It brought back the memories of her biking as a kid around the country roads outside Eau Claire, Wisconsin.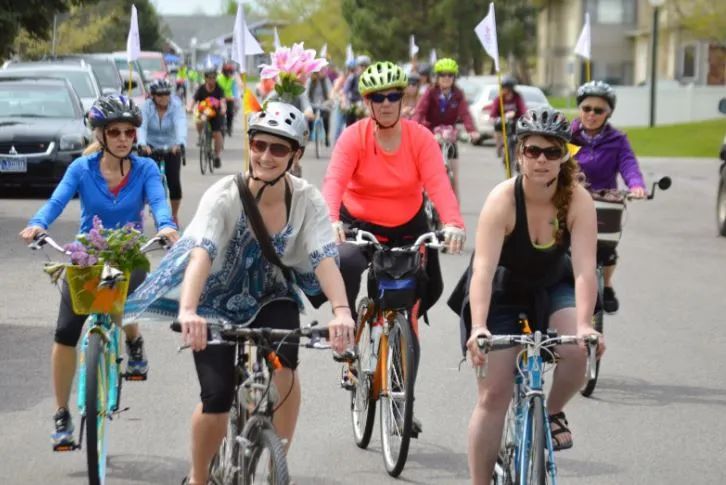 "I worried a bit about how Dawn might feel riding 2-1/2 miles for the first time in decades," Kristi admits. "But, I saw how the camaraderie of the women around her helped comfort any anxiety she might have felt." As Dawn's husband Guy and Kristi watched and waited, they made sure they had plenty of flower petals to shower her when she hit the finish line.  After the final turn, Kristi says, "We could see Dawn, accompanied by little ear-flapping Jenny, beaming a beautiful smile and pedaling toward us." It was quite the sight. Kristi adds, "It was a beautiful day. Mimosas were waiting, a band was playing, and families celebrated the strong, active women they loved."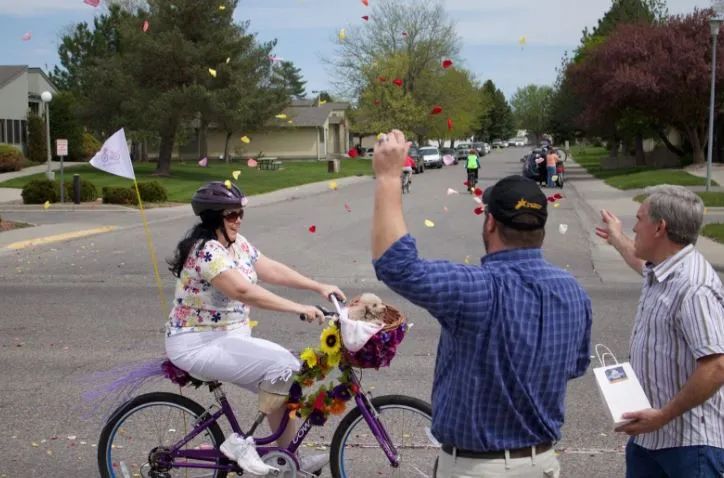 As TrailNet preps for the second annual Tour De Fleur, Kristi says, "It is my hope that the Tour de Fleur changes women's lives like it did my friend Dawn's, whose husband also bought a bike after the Tour de Fleur and accompanied Dawn on many rides afterward."
For Dawn, it was one more way she could "wear" that badge of courage she carries with her every day. The Tour De Fleur was the first time she ever let anyone take a picture of her wearing her prosthetic foot.
"I had a lady come up to me. She thought I was a veteran and she said, 'Thank you for your service.' I said, 'Thank you, but I didn't serve.' She said, 'But you did serve. Look at you. You served your own war and you came through it.'" Dawn says with emotion, "This is my badge of courage. Every step I take is my courage to show the world that I did it and I can keep doing it."
She's already counting the days to this year's Tour De Fleur.
"When you can get out with a bunch of women like this to ride a bike, feel the wind on your face and feel happy? It is empowering." Dawn says riding in this event was a bucket-list dream, proving to herself that she would be able to ride a bike again. This year is different. It's just one more way Dawn Summers can live her life without barriers. "The sky is the limit," she says with pride. Everything just seems brighter."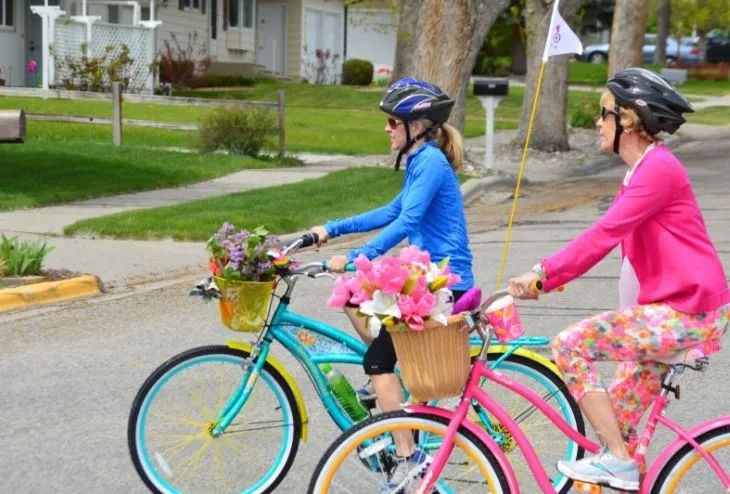 RIDE IN THE TOUR DE FLEUR
Last year's inaugural event hosted roughly 150 women on two wheels. This year, TrailNet is hoping to at least double if not triple that number. Join other women riders on April 30, 2017, at Shiloh Crossing. Bike decorating will start at noon. Deck out your ride with flowers and then ride side by side with your cycling sisters at 1 PM for the 2.5-mile course. For more, visit billingstrailnet.org.