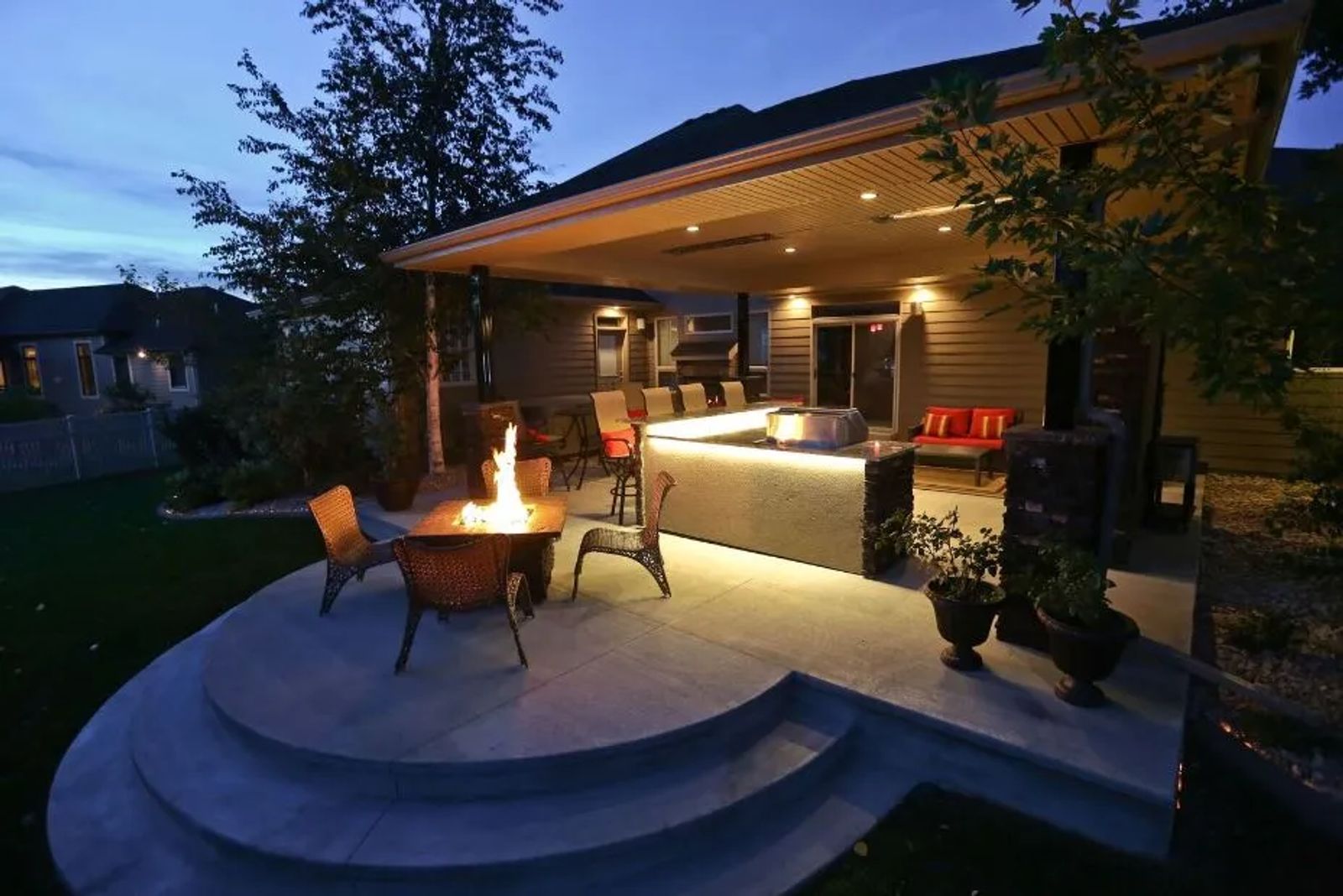 Outdoor Living at its Finest

Tami and Brian MacDonald, along with their college-age kids, Ashley and Justin, favor the great outdoors. "We're an outdoorsy family," notes Tami, a Registered Nurse at Yellowstone Surgery Center. As avid "boaters" and huge baseball fans, an active lifestyle holds special appeal for this energetic troupe. They spend every possible minute under the great Montana sky and that's what motivated them to transform their patio into something quite astonishing.
After moving into their current home 10 years ago, Tami and Brian couldn't imagine living anywhere else. Their two-level custom-built home in Ironwood sits at the end of a cul-de-sac with views of the rims and inside features four bedroom en suites.
It's the quintessential abode delivering comfort and privacy. "When we designed this home," explains Brian, an oncology specialist at Genentech, "we designed it so no one was in our backyard. We back up to a park." Privacy and open space rate high on the MacDonald's list. To these outdoor enthusiasts, there's nothing better than enjoying a day on Yellowtail Lake before coming home to a family dinner on their newly expanded patio.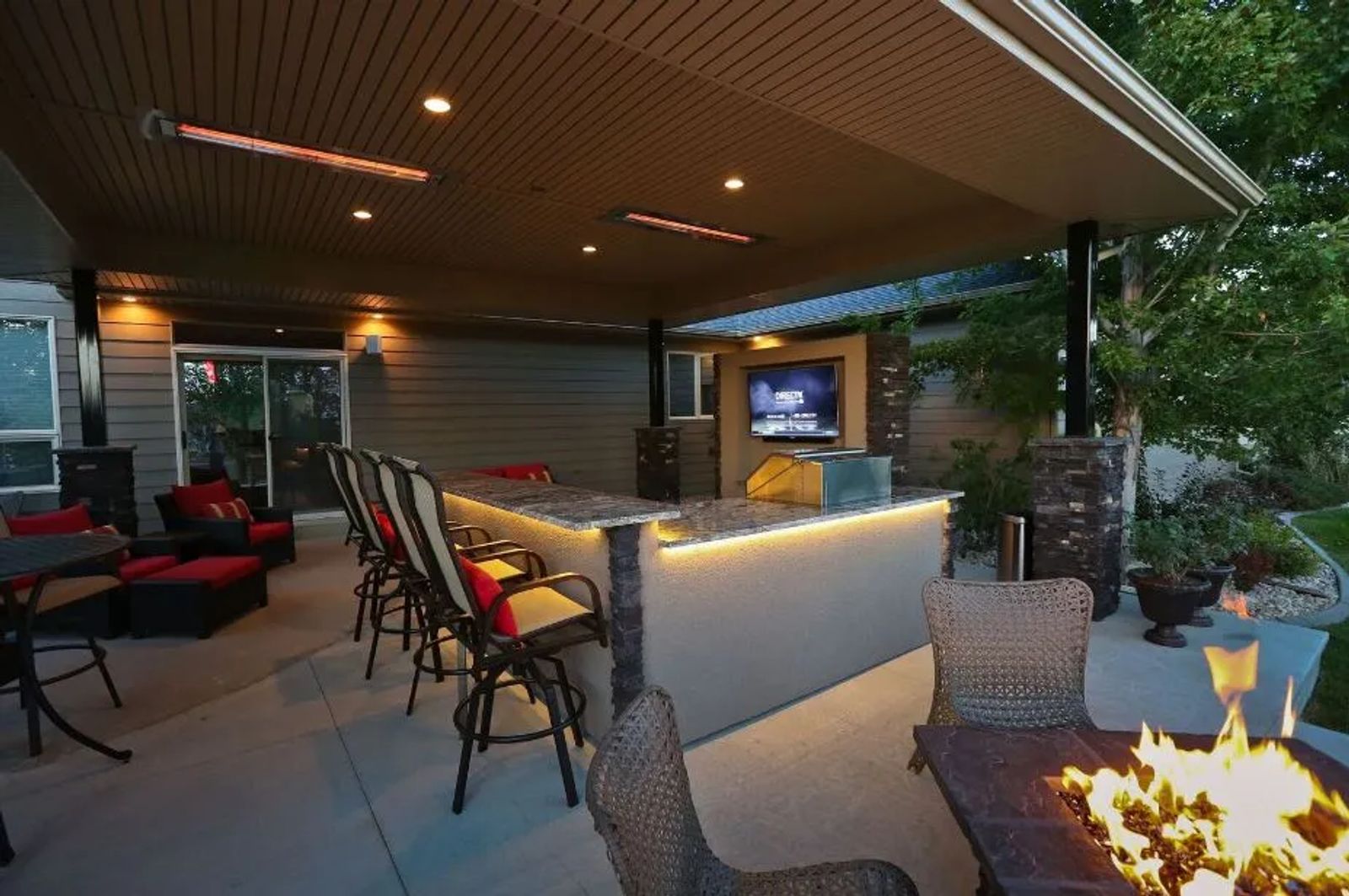 It's not your ordinary patio. Sliding glass doors off the kitchen lead to this elegant and functional open-air space. The covered area has been substantially increased, adding an impressive outdoor living and entertaining component to the home. It's a flawless extension that fits perfectly with its surroundings. "The covering matches the house," says Tim O'Brien of R & T Services. "We used the same materials."
Tim designed the space and My Handyman Service and Construction, owned by Rich Naylor, built the structure.
"When we met with Tim and Rich, we had a budget," confides Tami. A few things needed sacrificing due to budgetary demands, however, "We wanted everything to tie into the house and into the landscape."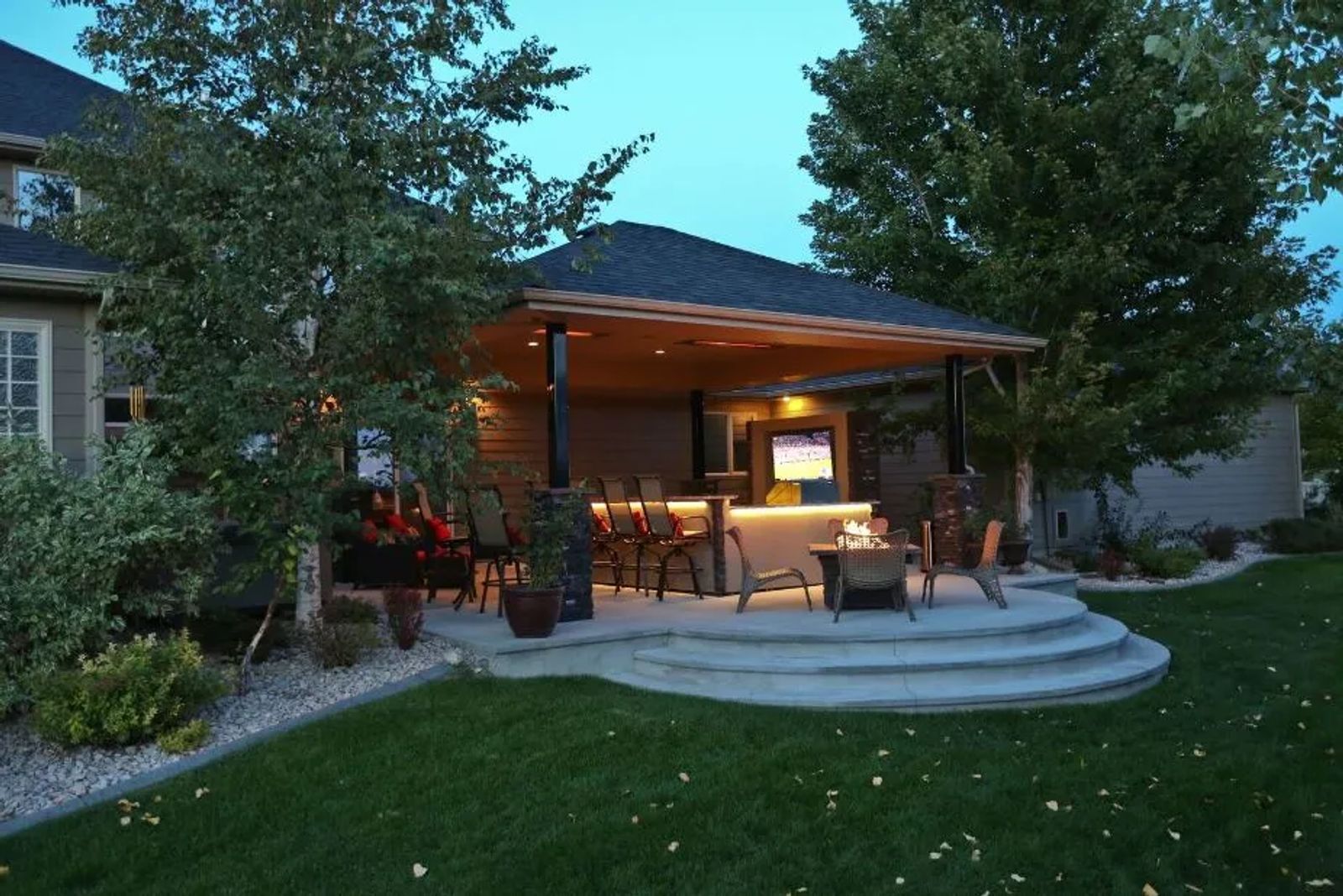 "It's an evolving process," remarks Tim, "as to where you started and to where you end up." Originally, the covering was to extend directly off the house. It turned out to be a separate entity from the dwelling, bringing the roofline of the patio down lower than first anticipated. "Because the way the house is built," explains Tim, "Rich engineered and built the covering to make it work."
"It happened for a reason," acknowledges Brian. "Now we're better protected from the wind; and, it's more intimate." Tami, who contributed considerably to the design, agrees wholeheartedly. "Trends are changing now for more outdoor living space. Keeping Montana weather in mind, this roofline helps with the wind." It holds the heat better, too.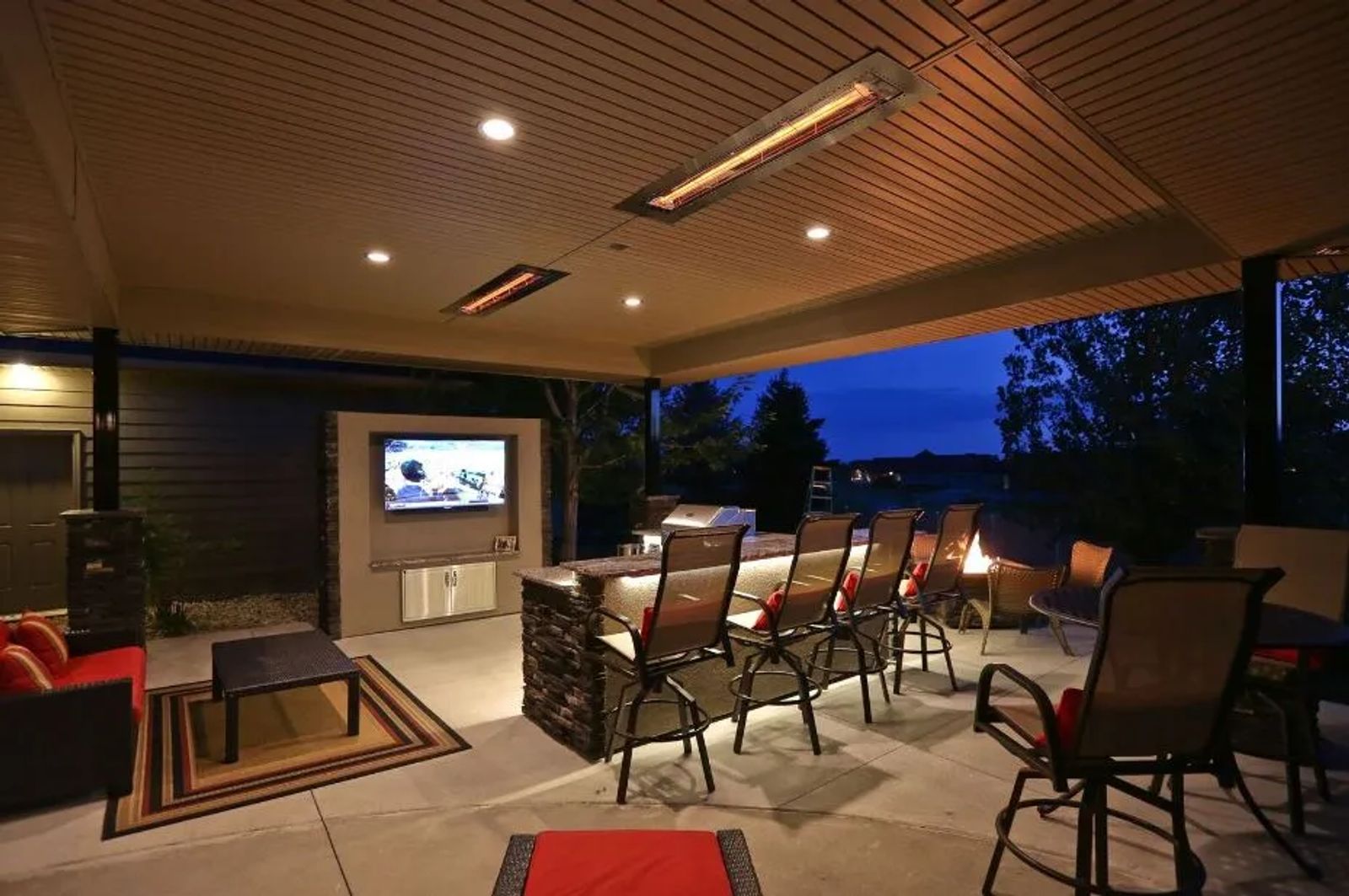 Two electric radiant heaters in the ceiling easily take the chill off. "They're very versatile," says Tim. "They're clean and recessed." Brian gives Tim credit for suggesting the heaters. "It extends our season and our evenings," he says. "We're St. Louis Cardinals fans," chimes in Tami. "There's nothing better than sitting outside watching baseball!"
A free-standing TV wall with textured concrete base accommodates the family's love for America's favorite pastime. It sits parallel to the large L-shaped two-tiered kitchen island. "When Tim started designing it," exclaims Brian, "we said, 'We need to make it bigger,' so, it became like a centerpiece."
There's abundant storage in the island, as well. Above the isle, LED recessed lighting caters to late nights. Under-counter lighting on the island, complete with a dimmer, delivers a more romantic ambiance.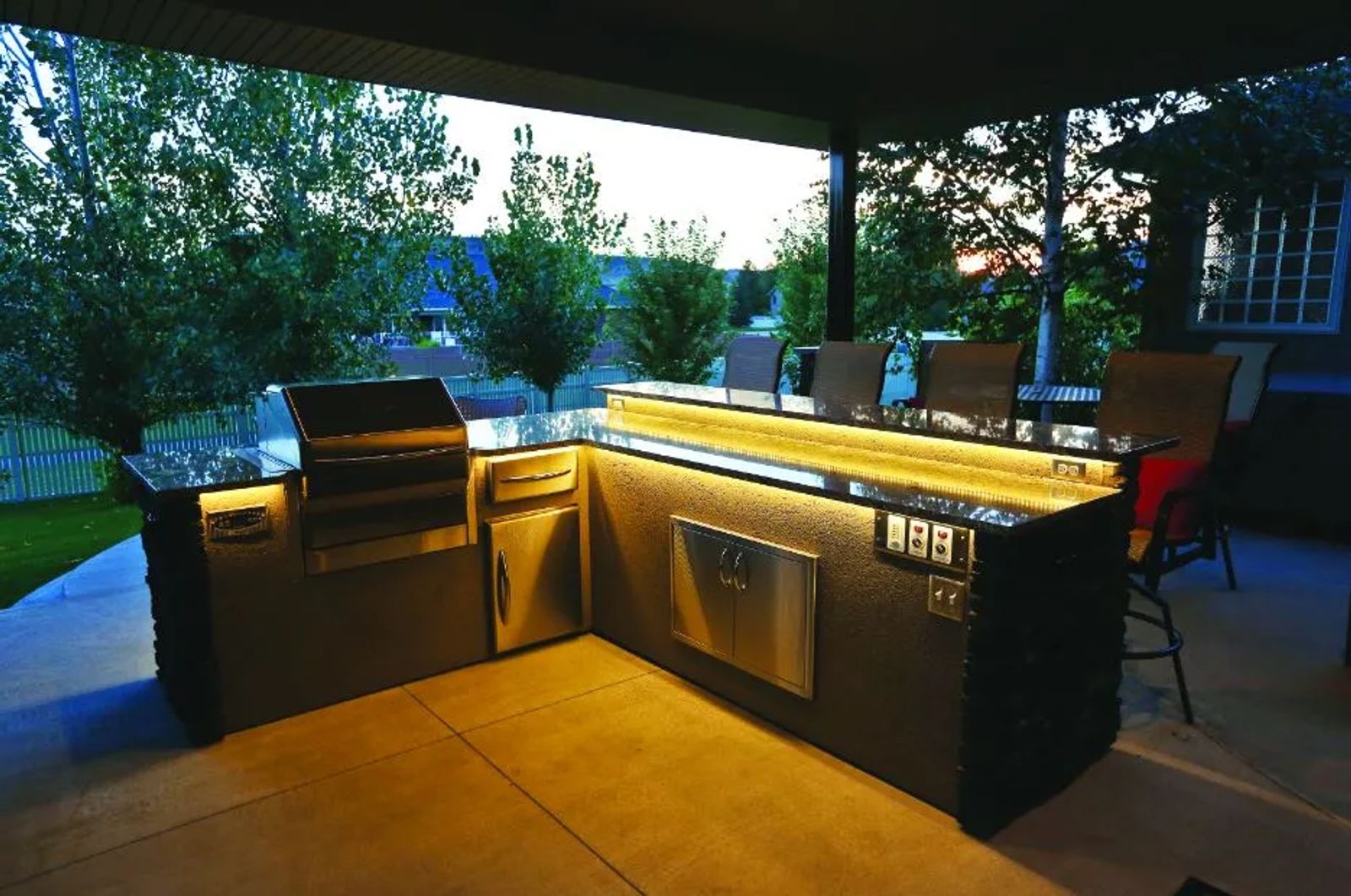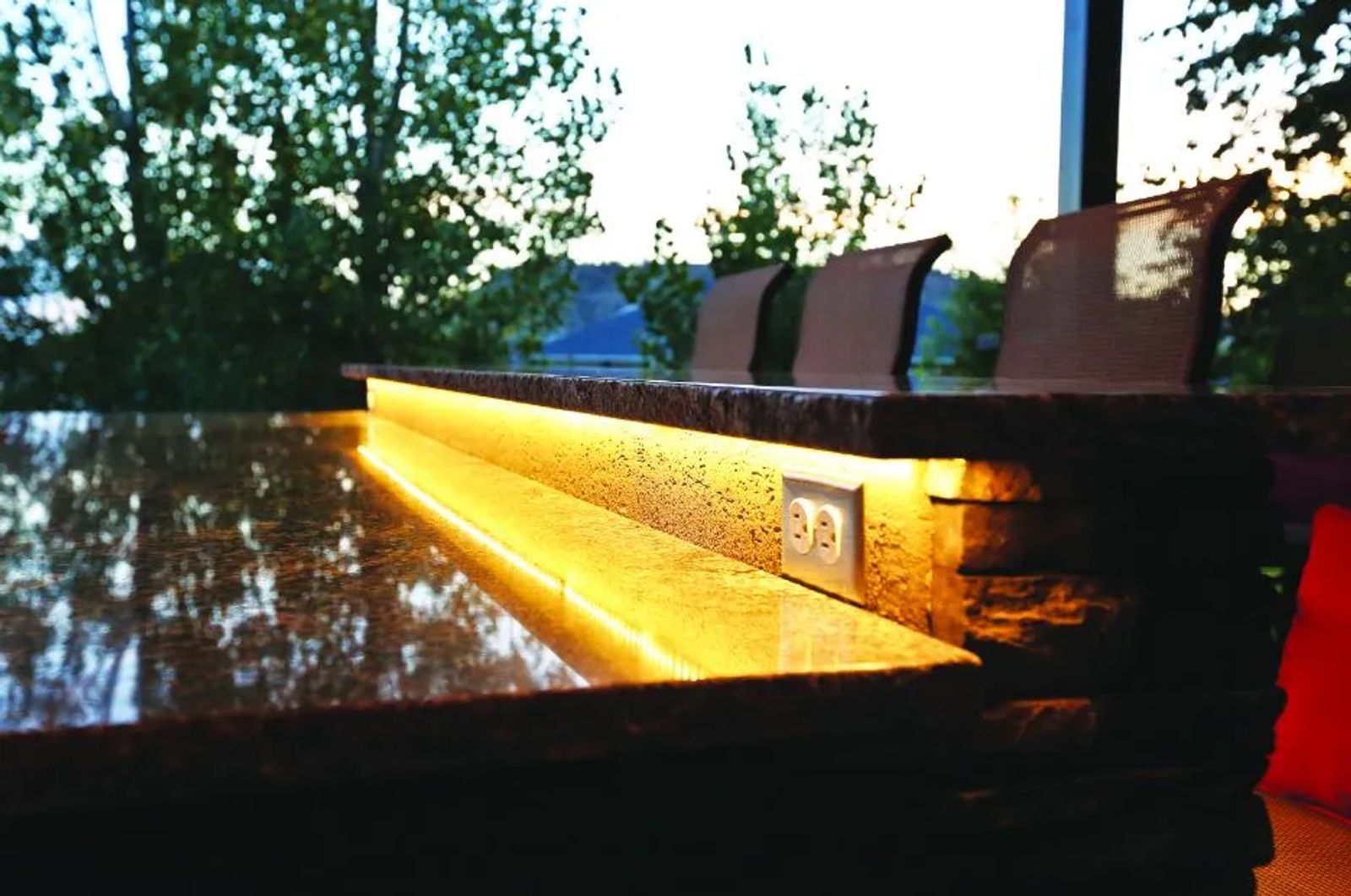 Light-colored quartz countertops with streaks of gray and faint specks of red add pizazz. The dramatic contrast between this luxurious quartz and the dark stacked cultured-stone trim of the island and TV wall gives this space a defined designer look.
The dark stone wraps around the bottom-half of the cover's four pillars, as well. Details like this call attention to the well-thought design this exquisite patio provides. Even the 'must-have' fire pit, positioned on the half-circle platform overlooking the well-manicured backyard, is comprised of this same stone. Everything ties together.
"Tim and Rich got to know us," laughs Tami. "If nothing else, our family favorite is having a fire pit for s'mores. We go to Yellowtail (boating) every weekend. We come home and put steaks on the grill and have s'mores!"
The grill isn't your ordinary grill. It's a Memphis digital-control smoker/grill/oven. "I wanted it when I saw it," admits Brian, eyes lighting up at the memory. "Tim educated me on it. It's the best investment ever!" Tami bubbles with excitement as she vividly recalls, "The first thing Brian grilled was steak and he baked an apple pie! Now, we have two ovens to use for Thanksgiving."
Since the kitchen is steps away from the patio, Tim had advised Tami and Brian not to install a sink and refrigerator. "Not in our climate," Tim points out, "because of maintenance and exposure to the weather."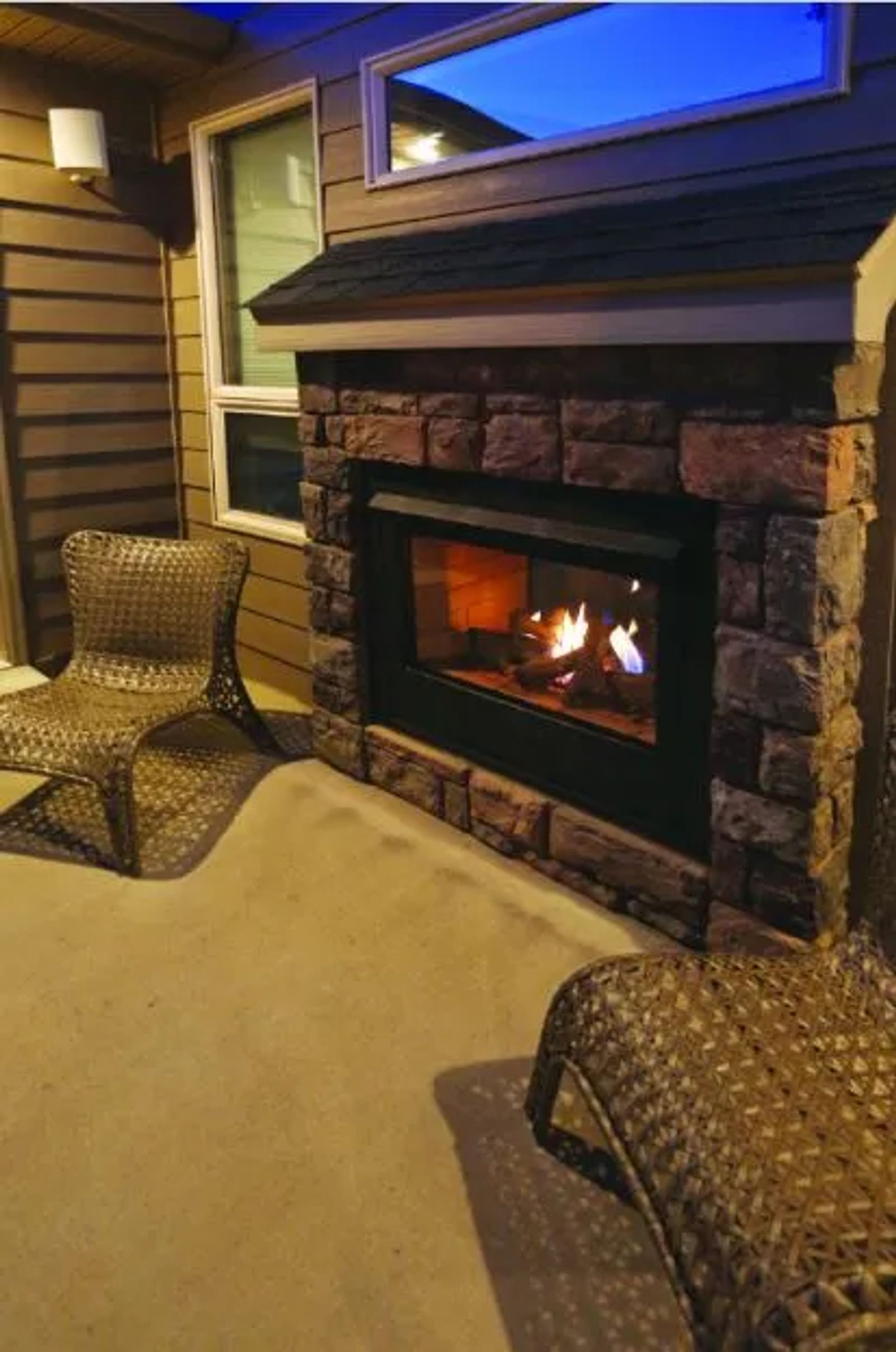 The patio evolved from a small, uncovered space too hot to enjoy during the summer due to its southern exposure, to a year-round setting. "It's all contained," says Tami. "We use every inch of it. We always make smoothies out here. Our spa is out here. It fits our lifestyle."
For the MacDonalds, including their two long-time family dogs, there couldn't be a more suitable home plate to watch baseball and carry on the family tradition of grilling steaks after a day on the lake. Oh, and don't forget a grand finale of s'mores.
This is outdoor living at its finest.