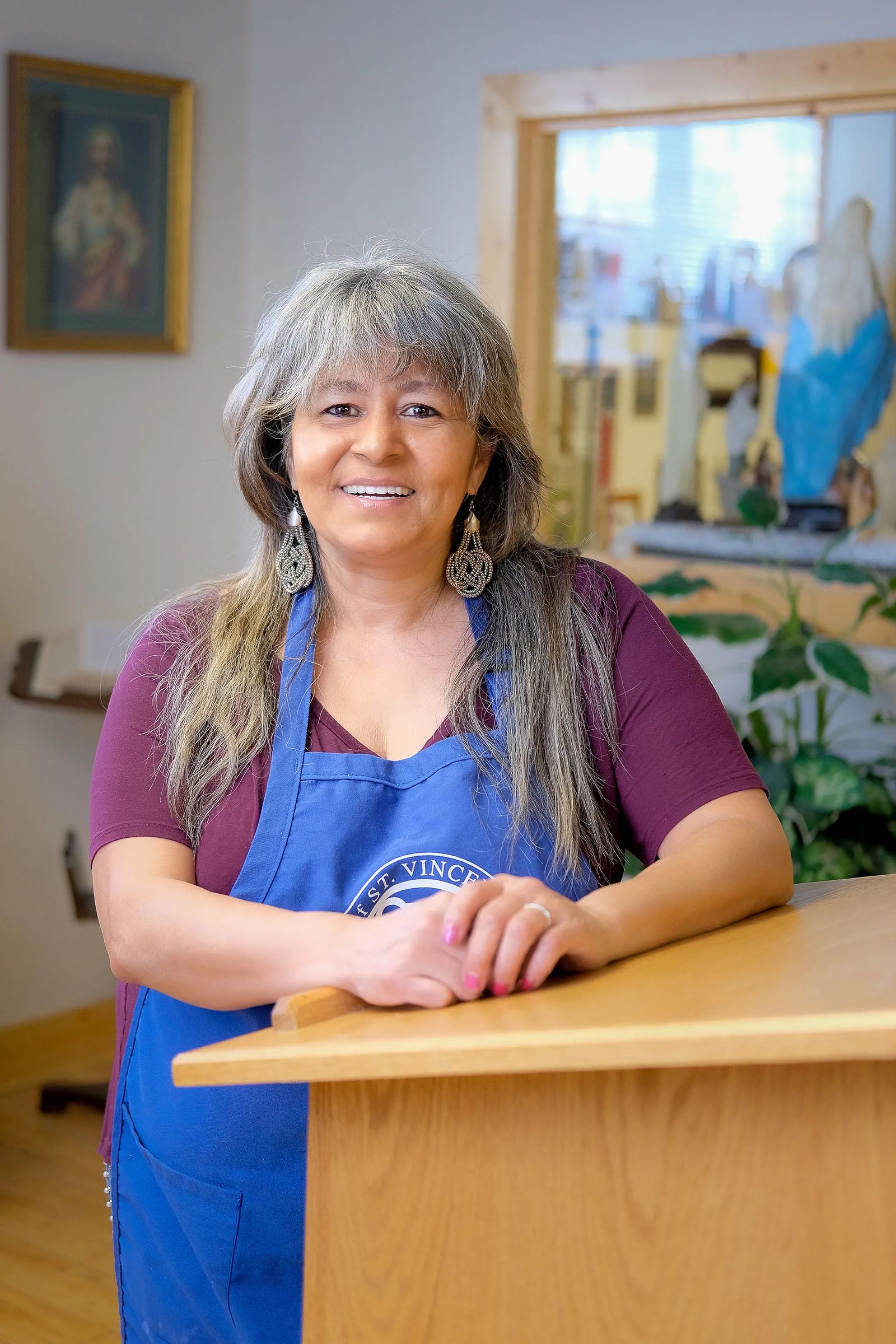 Paying it Forward at St. Vincent de Paul
Billings woman's story moves full circle, once in need now serving others
Most mornings, you'll find Hermelinda Ramirez at St. Vincent de Paul by 7:30, brewing coffee, setting out the doughnuts, wiping down tables and getting things ready for the morning rush.
For Hermelinda — "most people call me Herme (pronounced Herma) because it's a hard name to remember" — volunteering is a way to give back. A recovering drug addict and alcoholic, Herme used to rely on the Catholic lay ministry for her meals each day.
"They helped me in a time of need," she says. "I depended on them to feed me when I couldn't afford it."
Herme volunteers weekdays during breakfast and lunch and on Saturdays for the two-hour brunch. Her welcoming smile is well-known by staff and clients alike, says Craig Barthel, St. Vincent de Paul's executive director. So is her faith.
"Herme spends a large part of her day talking to God and reading Scripture," Barthel says. "She's very spiritual."
Herme is a familiar face to the homeless who turn to the center for food and a warm space. She's earned their respect, Barthel says, because she's walked in their shoes. "She understands what addiction feels like, what it feels like to live in poverty," he says. "They listen to her because she gets it."
She doesn't hide the fact that it took her years to get to the point where she was ready to face her demons.
"You have to hit rock bottom, where it's so bad and you're sick and tired of it," she says. "And relapse is a part of recovery, but you've got to pick yourself up, go on, be strong and move on."
Aside from overcoming addiction, Herme has battled mental health issues, staying on track by taking medication for her diagnosis of paranoid schizophrenia. Chica, her beloved 6-year-old mixed-breed therapy dog, provides an anchor in her life.
In a conversation, the 52-year-old Billings woman often has a smile on her face, especially when she talks about her dog or her faith. But some memories bring tears, especially when she shares stories about the daughters that her previous drug-infused lifestyle forced her to give up.
Herme grew up in Billings. A learning disability led her to drop out of school in 10thh grade. She got pregnant with her first daughter at age 16, got married, then managed to earn her GED and work a series of full-time jobs.
During that time, in the mid-1990s, she was diagnosed with mental illness. That's also time she started doing the illegal drug now known as meth. The drug dominated her life for years.
"If I could tell people, I'd say you don't even want to try it," Herme says. "I lost children, jobs and cars to it."
All five of her daughters are doing well today, Herme says, though she only has contact with the oldest one.
"It hurts not to be able to be with them and live my life with them," she says, as tears fill her eyes. "But I love them all and I know everything about them."
A crisis in Herme's life also became a turning point. In early 2014, she lost custody of her youngest daughter. Still heavy into drugs, she contemplated suicide and in a moment of despair, doused her small Billings home with gasoline and lit it on fire.
Arrested and charged with arson, Herme was sentenced to three years of probation. The judge also issued a stern warning: If Herme violated her probation, he told her, she would go to prison.
"When he said 'prison,' I got scared," Herme says. "It stuck in my head." She took the judge's admonishment to heart, seeking help to overcome her addiction and joining Alcoholics Anonymous. Herme found strength in her faith, joining Hope Center, a South Side church.
She learned to walk in sobriety one day at a time, a battle that never gets easier. "I pray every day and ask God to keep me sober," she says. And Herme realized she needed to stay on her schizophrenia medication, regardless of how she was feeling, to keep herself on an even keel.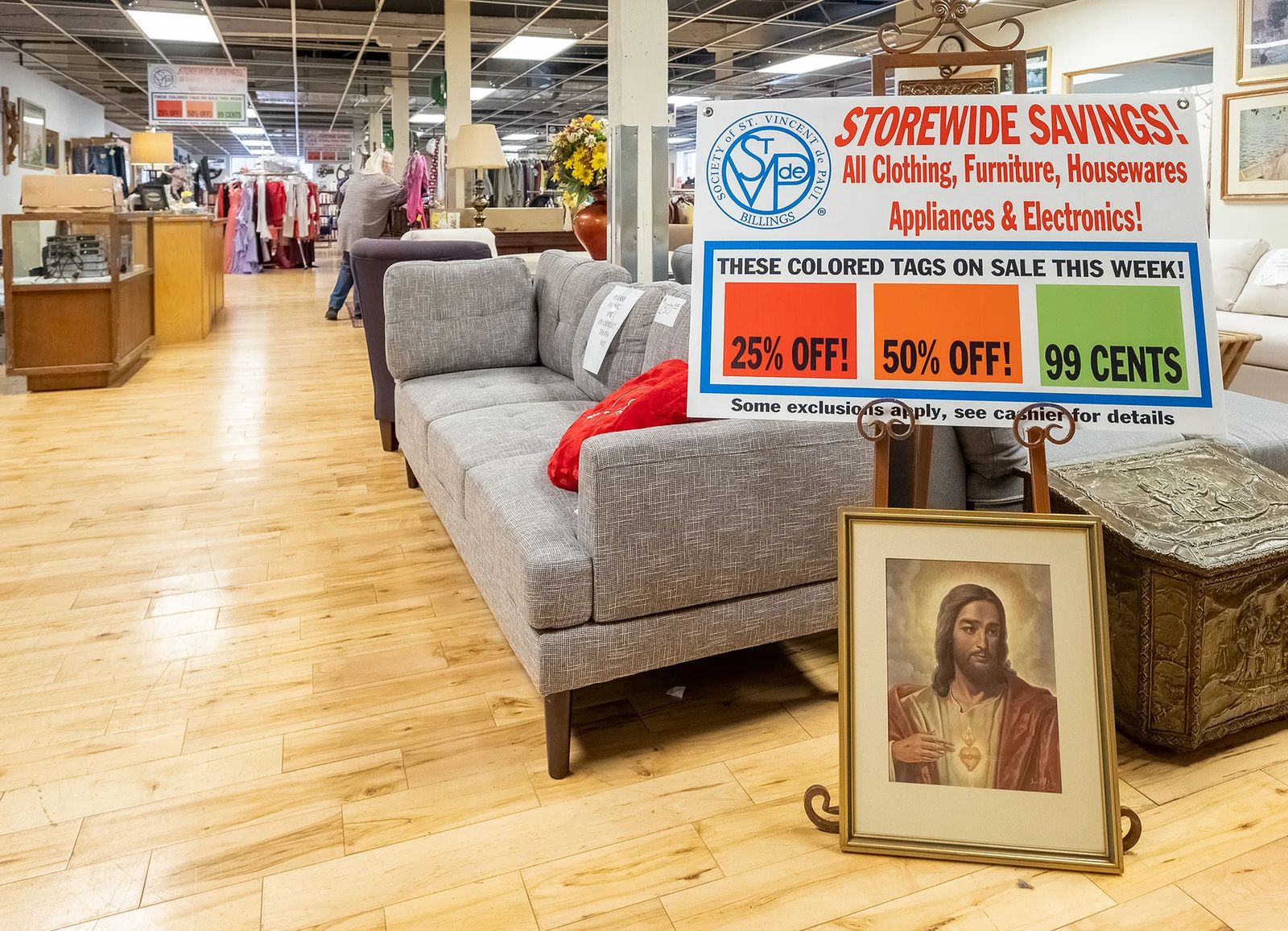 This past fall, Herme started volunteering at St. Vincent de Paul. She remembers as a child, her father liked to shop at the ministry's thrift shop and she would accompany him. Then, in darker times, she turned to it for food and temporary shelter to help her get by. Now Herme spends her time at the center, helping to make it a welcoming place for others.
"I love it," Herme says. "It's like a second home for me."
She leads prayer before breakfast and lunch. Then she washes dishes afterward, serving however she can.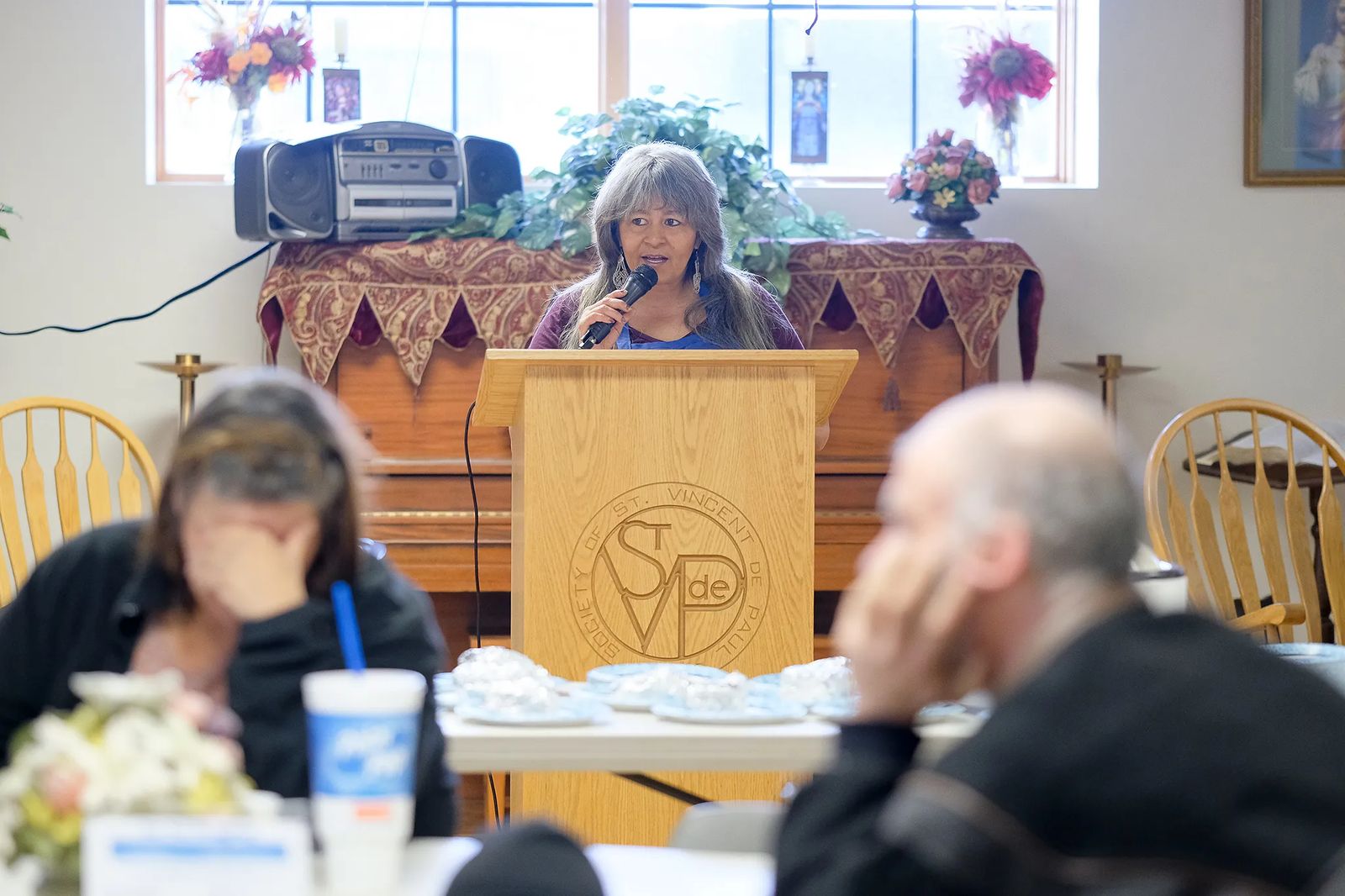 The center is a short walk from her rental. That makes it easy for her to run home and check on Chica, whom she describes as "a little like Tramp from the animated movie 'Lady and the Tramp.'"
On days when life gets to be a little too much for Herme, she finds comfort spending time at home with her furry companion. At St. Vincent de Paul, she enjoys chatting with employees and the community volunteers who also donate their time. She sits down with the homeless diners, listens to their stories and encourages them.
"I try to talk to them, to tell them if I could get out of it, I feel they could, too," she says.
Even though pain and loss have been her frequent companions over the years, she acknowledges where it has brought her.
It's been a journey," Herme says. "But I wouldn't change anything because I wouldn't be where I am today if I hadn't done the things I've done."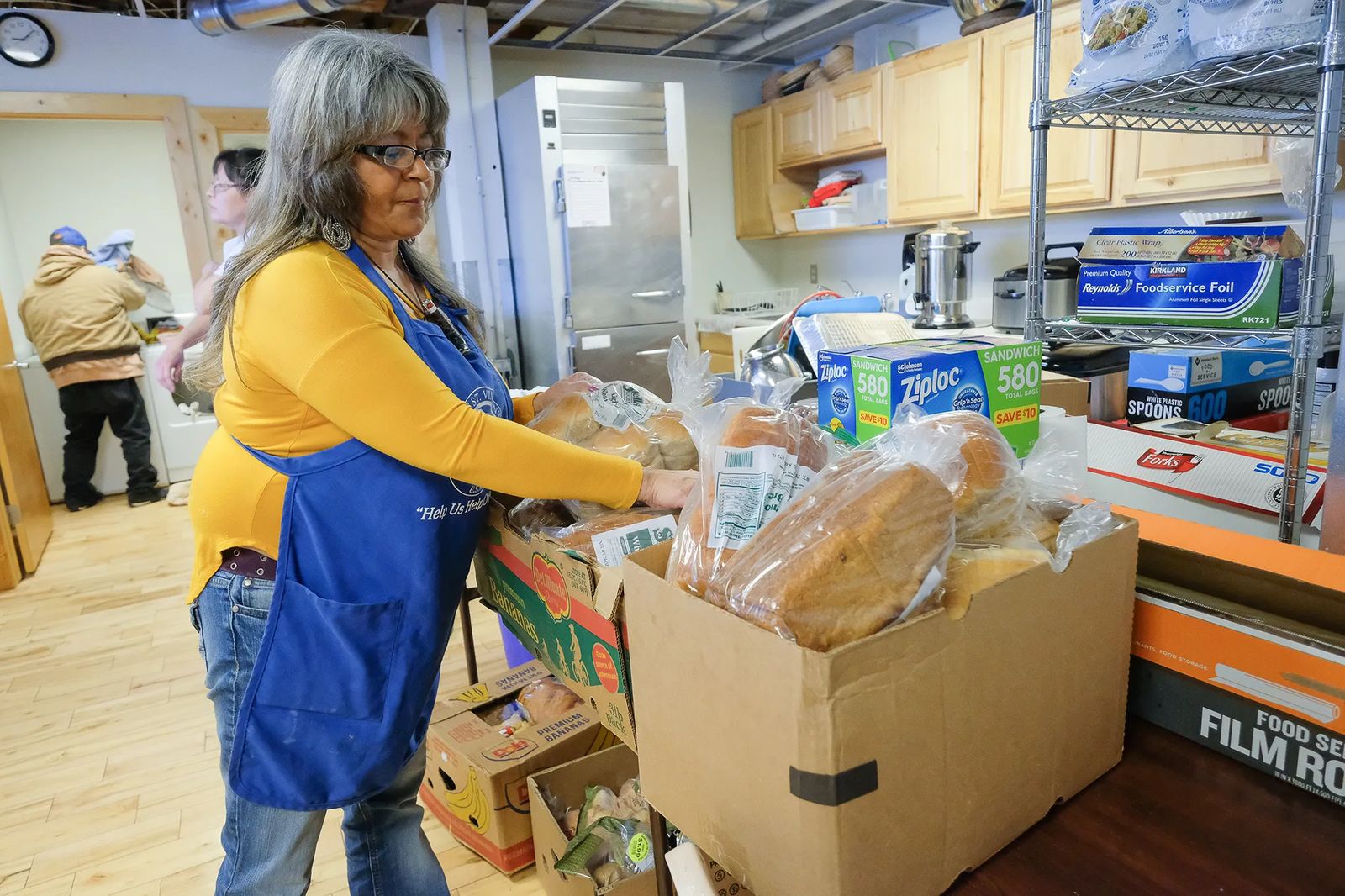 A CALL TO SERVE
St. Vincent de Paul, a lifeline to those in need
Weekday mornings and afternoons, St. Vincent de Paul provides free breakfast and lunch to all comers, many of them homeless, at its center at 3005 First Ave. S.
But hunger doesn't stop on weekends, says Craig Barthel, executive director of the lay Catholic ministry. So, the Billings organization resurrected a tradition from the past, offering a two-hour Saturday brunch that relies on volunteer help.
"We're looking for groups, families and individuals to step up and serve," Barthel says. "We ask people to bring down food they prepare at home, to come down and serve it on Saturday morning."
Breakfast casseroles, breakfast burritos and breakfast sandwiches all have been big hits, he says. People who aren't able to provide food but want to help serve the brunch are welcome as well, Barthel says.
St. Vincent de Paul relaunched the Saturday brunch in October. Anywhere from 80 to 120 people show up to eat "and lately it's been hovering around the 100 mark," he says.
The brunch is only one way that volunteers and organizations provide food to the center. Most weekdays, the Fortin Culinary Center at Billings Food Bank provides scrambled eggs for breakfast and Family Service in Billings donates milk and deli products for lunch.
And every week, 40 families from St. Thomas the Apostle Catholic Church in Billings donate 27 gallons of soup they've made from a recipe provided to them.
"That's enough to feed 500 people, which is what we've been averaging per week," Barthel says. "Every day of every week we have hot soup thanks to that ministry."
In 2019, 17,651 lunches were served at St. Vincent de Paul, and 49,162 pounds of bread were distributed. Local grocery stores donate bread and other food items to the center.
St. Vincent de Paul helps people in other ways, as well. Last year alone, nearly $60,000 in merchandise was given out through the center's second-floor thrift store.
Laundry facilities provide a place for clients to wash their clothes. More than 2,000 loads of laundry were done in 2019.
While helping the homeless population is important, Barthel says, St. Vincent de Paul's primary goal is preventing people from becoming homeless.
"We spend the lion's share of our budget keeping people in their homes through rental assistance and utility assistance," he says.
The organization also manages the checking accounts of nearly 200 people, most of whom live independently but are unable to manage their finances by themselves.
The center's fastest growing service focuses on sober living, where people coming out of addiction treatment and moving into a sober living house can receive up to $400 to pay the first month's rent. The clients must adhere to the program's requirements to get the financial help, Barthel says, but it's a way "of getting them into sober living so they don't go back to homes where the addiction was."
St. Vincent de Paul relies on five area Catholic parishes to do its work. Volunteers, however, come from all over the community.
"We do not discriminate against anyone we serve or anyone we allow to serve," Barthel says.
TO SIGN UP TO HELP WITH THE SATURDAY BRUNCH, send an email to brunch coordinator Nick Lewison at nick@svdpmt.org.