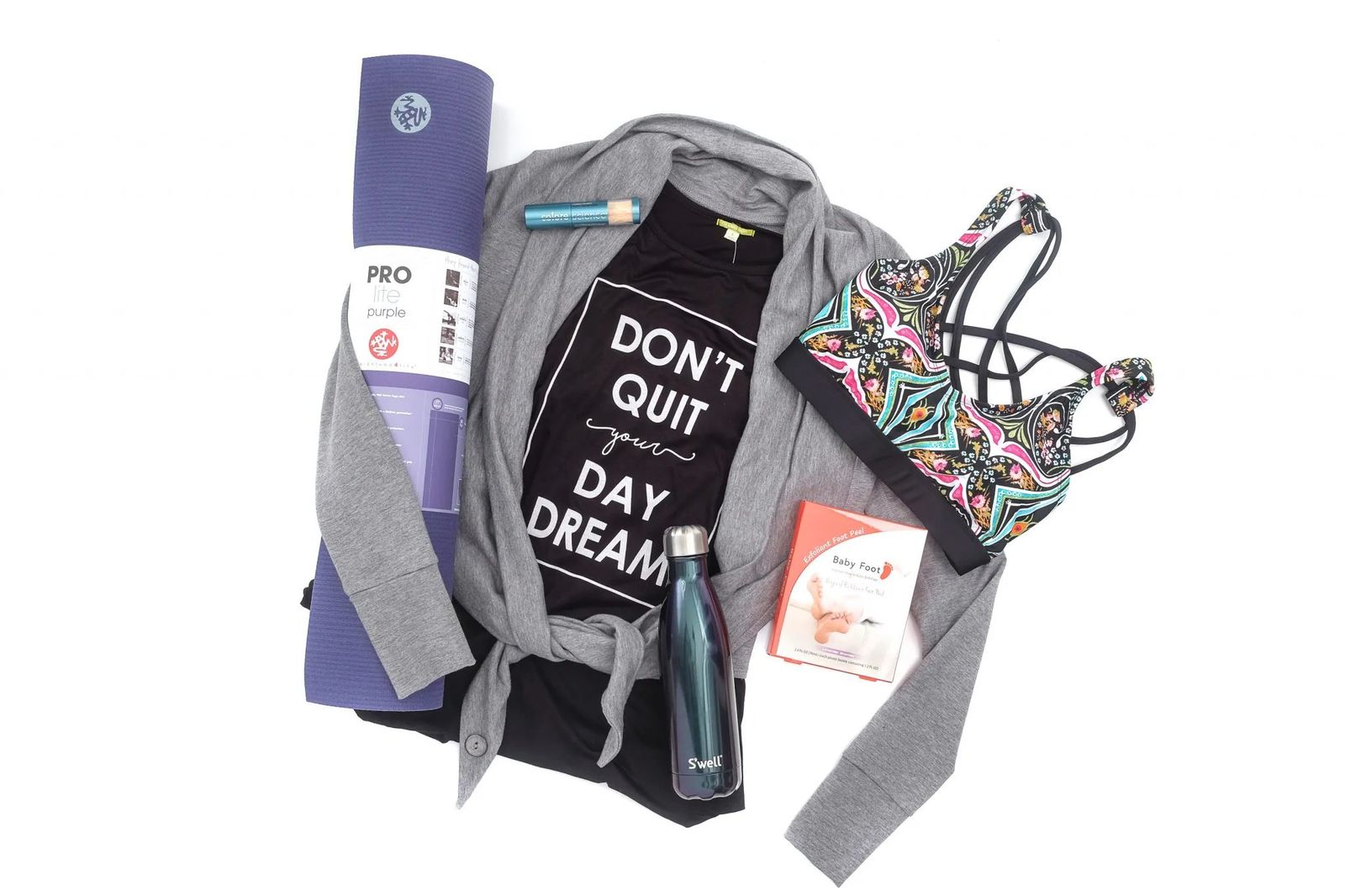 Perfect Gifts for your Gal Pals!
Crush it this Christmas with these thoughtful offerings
Our friends come in all shapes, sizes, personalities and have their own unique interests. Not sure what kind of gifts should end up on your hit list to suit your distinctly different friends? Don't worry, we have ideas for everyone in your squad. We've thought up ideal ways to gift those gals pals in your life — from the friend who loves chilling at home with a freshly whipped up culinary creation to the on-the-go workhorse who spends most of her waking hours in organization mode. Whether you're shopping for a buff babe or a vino lover, check out our picks to help honor and celebrate the differences in your besties this holiday.
BUFF BABE
This is one gal that won't be offended by fitness inspired gifts this holiday season. Active friends love to wear the gear that promotes their healthy lifestyle. For the fitness buff who is stuck in a rut, try a gift card for her to try a different type of workout like hot yoga. Sometimes the key to lasting fitness is as simple as a change in scenery. Pair this gift with fresh gear like a new yoga mat and sweatshirt wrap to beat the winter chill.  Spice up her workout wear with a fun colored sports bra, motivational tee or a stainless steel beverage bottle in a fun color. The bottle brand S'well, is not only environmentally friendly but donates a portion of their profits to global needs. For the gal that enjoys outdoor exercise, help her battle exposure to the elements with a packable sunscreen brush to reapply protection all day long. Harsh winters do a number on your skin, that's why Baby Foot, an all-natural foot care product designed to exfoliate your feet to a baby softness, is a perfect treat for the on-the-go athletes on your list.
GET THE GIFTS
Tonic apres wrap in pebble $98 and Pro Lite Purple yoga mat $80, both from Summits Hot Yoga. S'well water bottle in Supernova $35 from Joy of Living. Gianni Bini active sports bra in Crazy in Love $39 and Gianni Bini t-shirt $45, both from Dillard's. Colorescience Mineral Sunscreen Brush SPF 50 $64, and Baby Foot treatment $25, both from Billings Clinic Facial Plastic Surgery and Medical Spa.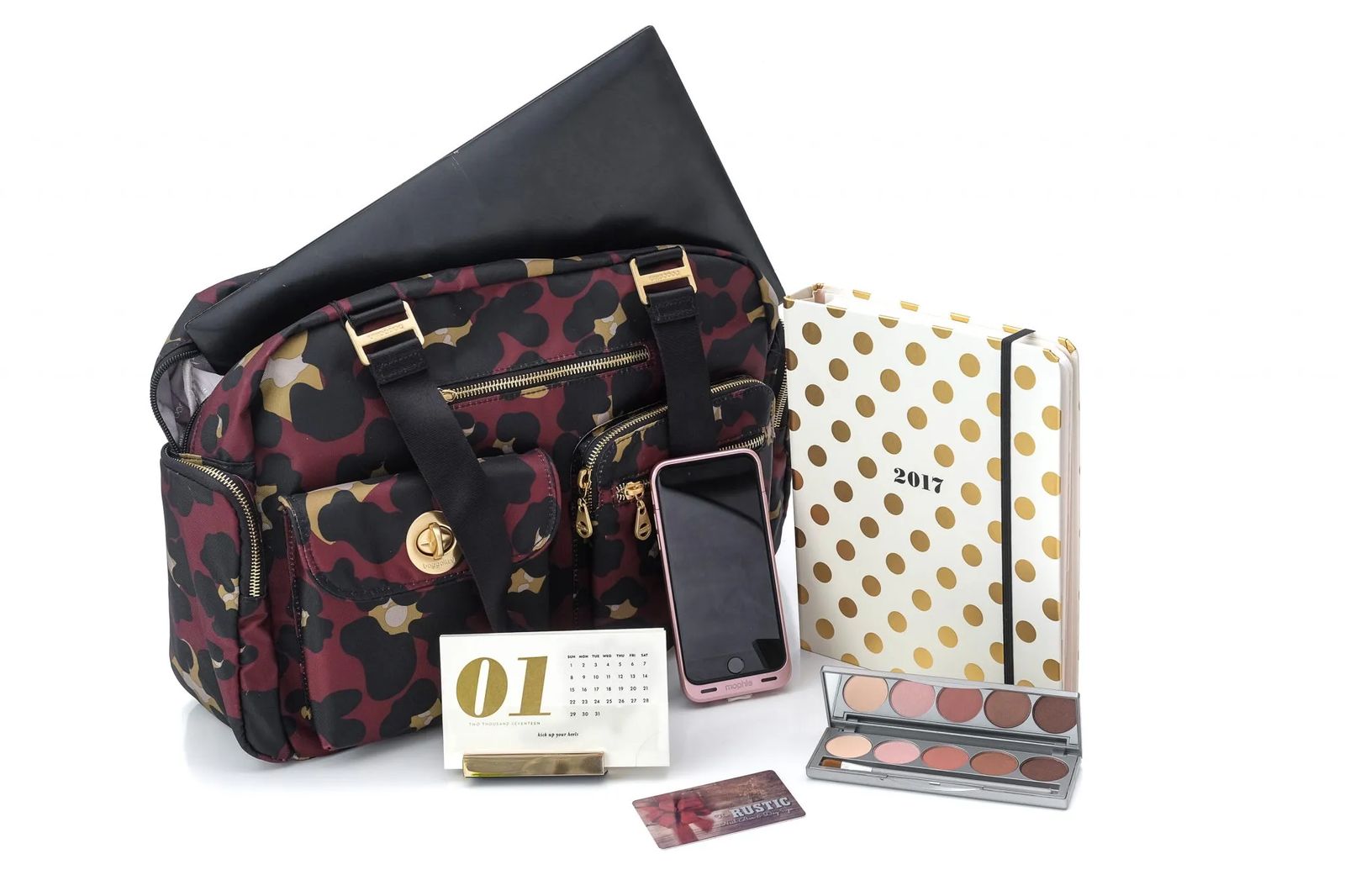 WORK-AHOLIC
We all have that friend who is super focused on her career, whether it be moving up the corporate ladder or spending her waking hours to keep her business moving in the right direction. Celebrate her passion with gifts that urge a little rest and relaxation. Remind her to work out the kinks left after hours of leaning over a laptop with a gift card for a massage. A new year marks the need for new staples in her office space like at-a-glance planners or desk calendars. Add a little sparkle and pizazz to her daily grind with these gilded varieties. To make sure she's supercharged, or at least her cell phone is, give her freedom from a wall plugin with a Mophie power charging case. And, to make sure she sparkles before those big presentations or after work client dinners, how about this on the go mineral compact with lip, eye and cheek color all in one case for touch-ups during the day.  This friend lugs everything with her all day long. Giving her a laptop tote that adds a fashionable flair will give her an extra pep in her step.
GET THE GIFTS
Colorescience Beauty On The Go Mineral palette $54 from Billings Clinic Facial Plastic Surgery and Medical Spa. Massage from Rustic Nail starting at $80. Mophie power charging case $59.95, Kate Spade desktop calendar $20, Kate Spade 2017 Set the Stage agenda $36, all from Dillard's. Bagalini maroon and black laptop tote $145, from Neecee's.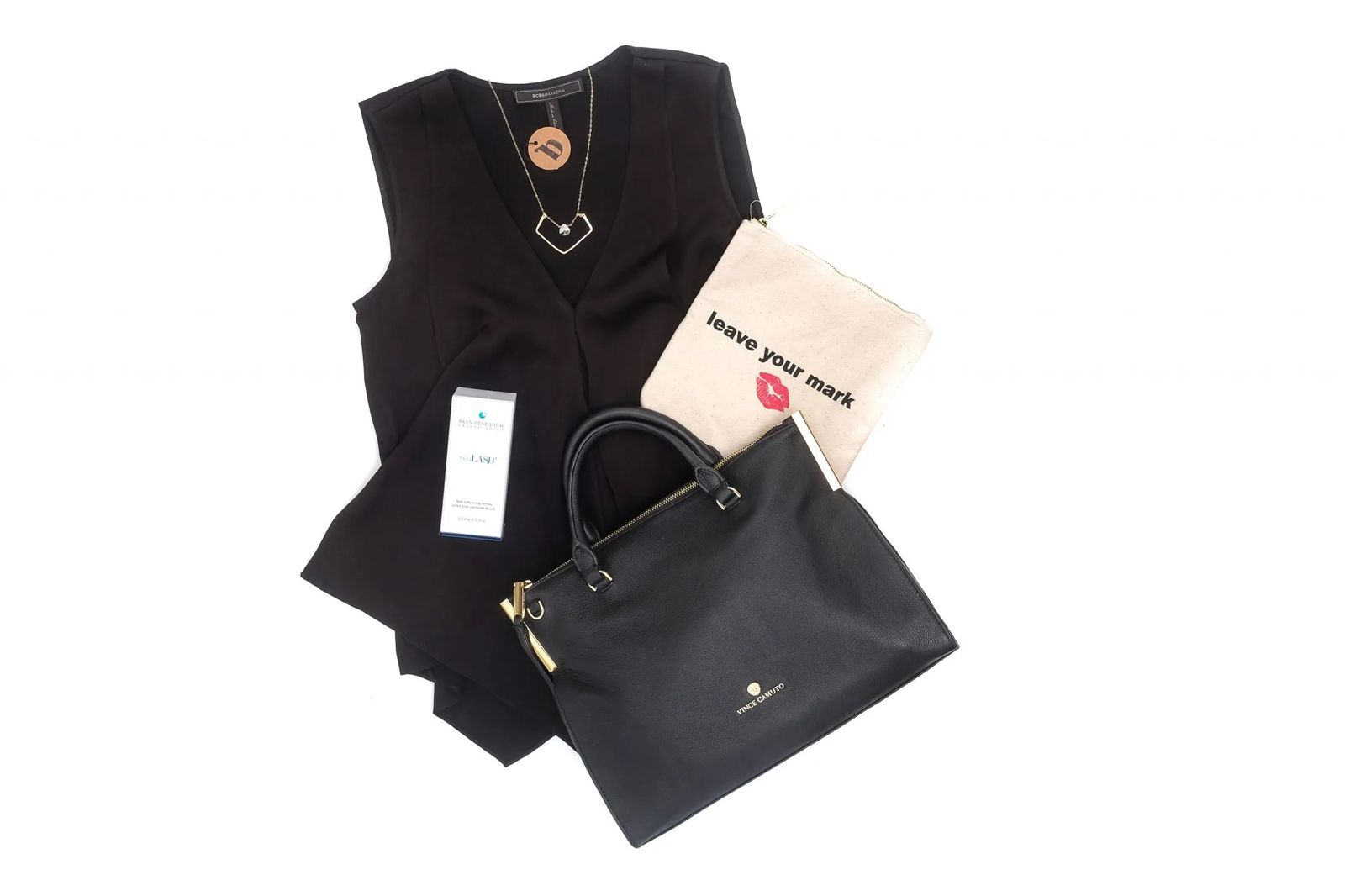 THE FASHIONISTA
Instead of being intimidated or challenged by the friend with a love for all things fashion and a deep closet to prove it, why not add to her cache of fashion with timeless and sophisticated pieces? This black, feminine and silky top could be the backdrop to a gorgeous ensemble. In keeping with tiny jewelry trends, presenting her with a small but powerful necklace to barely graze her collar bone will prove you have chic taste.  Batting long flirty eyelashes is an increasingly popular beauty trend, so gift her that dramatic luxury with a product designed to enhance and grow thicker lashes naturally. There isn't a gal pal out there that isn't rocking a handbag, so check out this timeless Vince Camuto satchel in stark black to elevate any style.
GET THE GIFTS:
Black Sleeveless Top by BCBG Maxazaria $178, Mimi and Lu "Carol Necklace" $54, Vince Camuto Tina Satchel $248, all from Bottega Clothing. Neulash $95, from Billings Clinic Facial Plastics Surgery and Medical Spa. The Edge Beauty makeup bag $10, from Dillard's.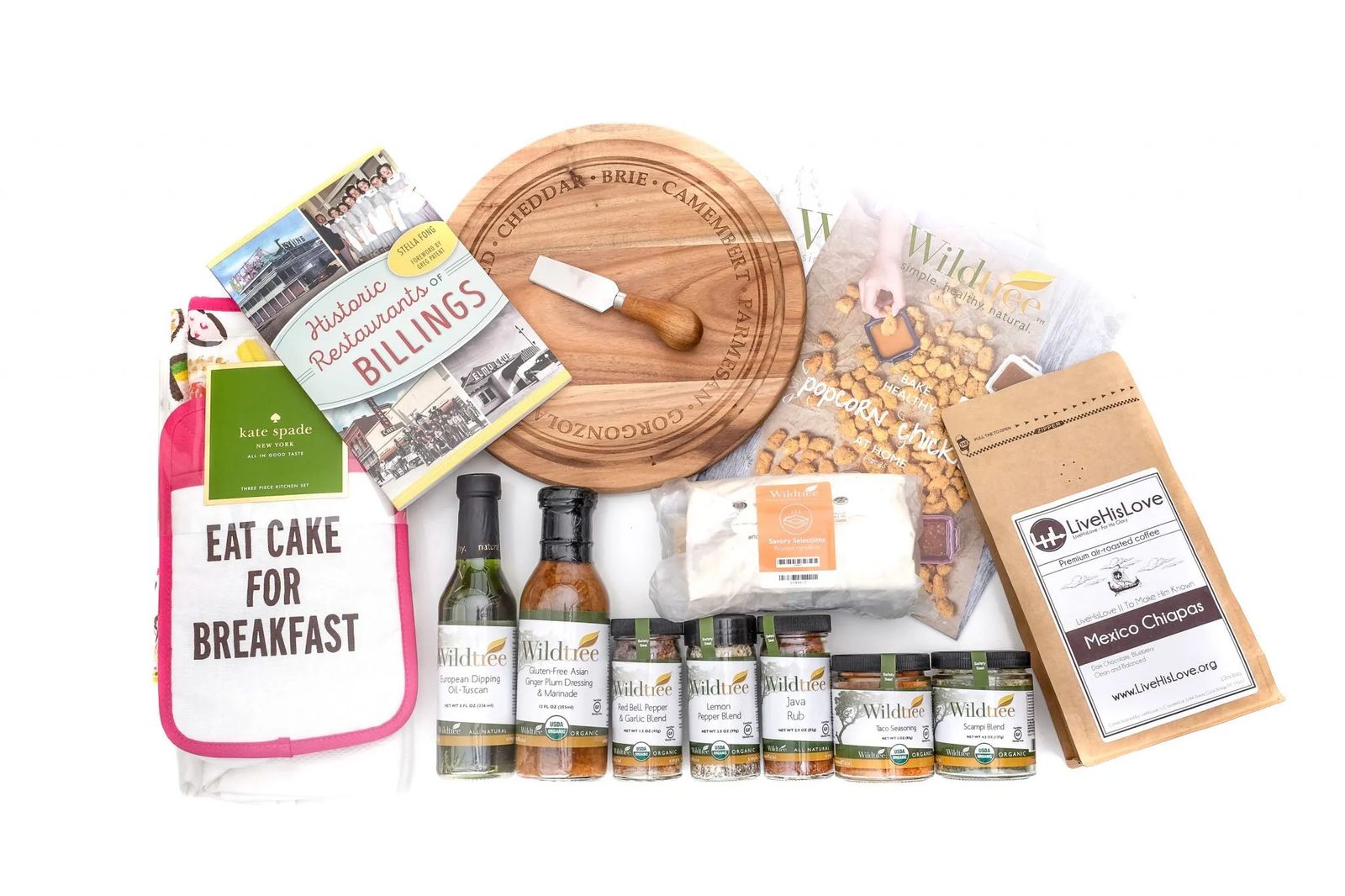 THE FOODIE
For those friends hungry to satisfy their love of culinary creations and can't wait to spend time mixing, baking and sizzling away the hours in the kitchen, you can't go wrong with deliciously inspired meals she can whip up herself. Despite her well-stocked pantry, she's sure to love WildTree's Savory Selections package. The gluten-free, healthy goodies include all time classics like taco seasoning and even multi-purpose dressings like ginger plum for custom WildTree recipes.  Just like a gal can't have enough shoes, a foodie can't have enough gadgets and platters. That's why this elegantly rustic cheeseboard will delight. For a fun addition to that favorite space, why not pick up something to inspire, cheer or spark a giggle? Kate Spade is the queen of spicing up the kitchen with her bright and blissful products with relatable messages for all ladies. For those who appreciate the culinary culture in our community, gift your foodie with incredible finds right from our own back yard. Try some LiveHisLove premium air-roasted coffee from Billings or a book from YVW's very own Stella Fong. She has two to choose from — Historic Restaurants of Billings, which takes a step back in time to look back at the city's culinary history,   or Billings Food: The Flavorful Story of Montana's Trailhead, a look at the people, restaurants, producers and suppliers that add spice to Billings' growing palate.
GET THE GIFTS
LiveHisLove coffee $11.99, at MoAV Coffee House. Wildtree Savor Selections $85.80, from distributor Vicki Olson-Johnson. Kate Spade 3-piece kitchen set $35, at Dillard's. Twine rustic elegance cheeseboard and knife $34.99, from Simply Wine. Historic Restaurants of Billings or Billings Food, both by Stella Fong, available at Barnes and Noble or Amazon.com.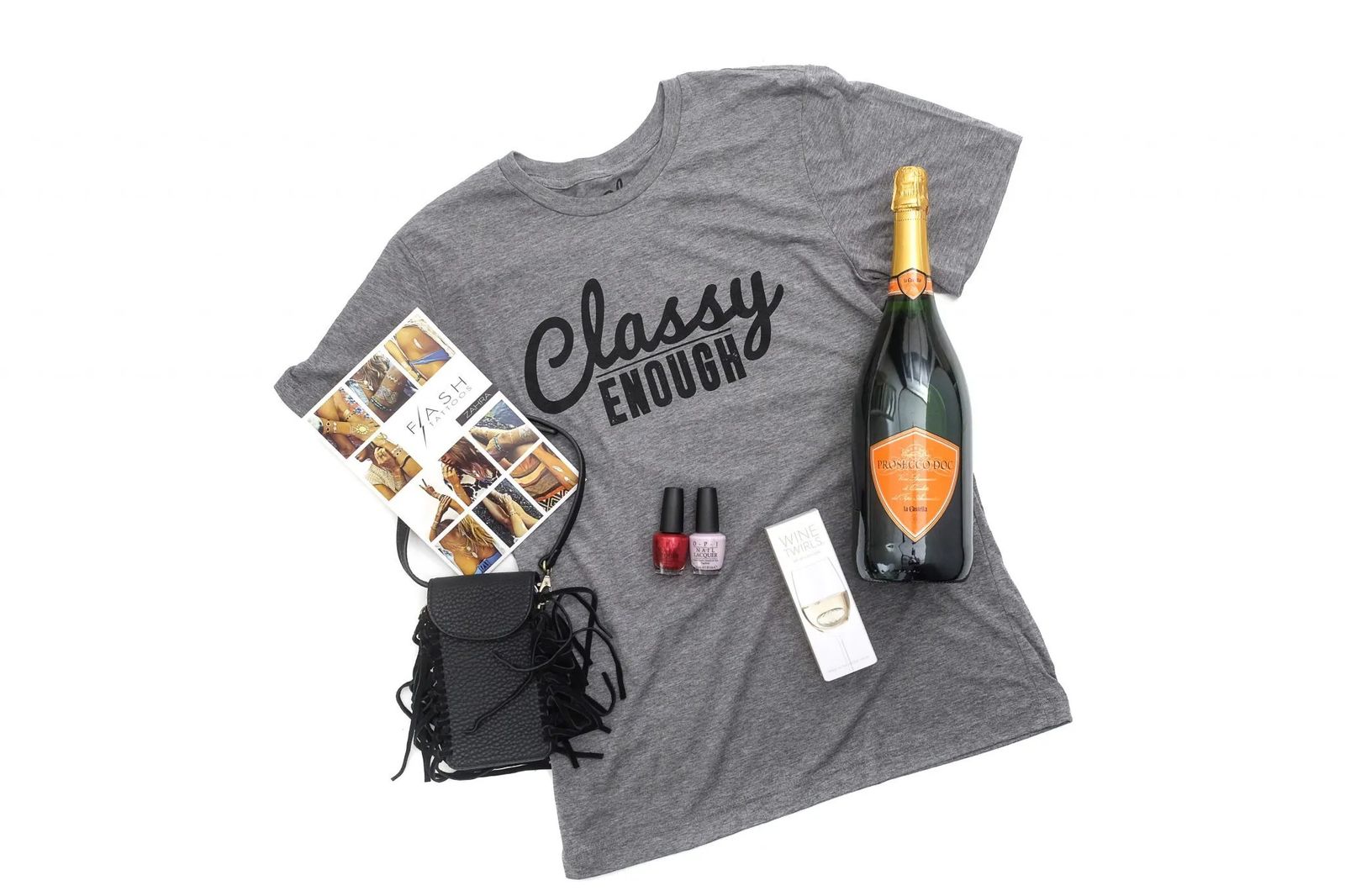 Up for Anything Bestie
Party goer or party thrower — this friend knows how to have a dang good time.  She is the first one to say yes to a marathon movie night, mimosa mornings or even spontaneous shopping sprees. She lights up the room and everyone knows when she arrives, you are going to laugh until your side aches or dance in the street because her favorite song needs extra attention. On-trend gilded temporary tattoos are a fun gift since these unique accessories speak directly to her fun-loving spirit. Celebrate her spur-of-the-moment charm with a snarky message tee or honor her weekends with an over-sized bottle of bubbly that she'll probably share with you next weekend. Wine twirls, little nuggets that chill your wine without watering it down, are an excellent accompaniment for champagne or wine lovers. Honor her good time vibes with cleverly named nail polishes like OPI's "I'm Gown for Anything" or "An Affair in Red Square."  Both hues are perfect for holiday festivities and New Year's celebrations.  Too busy to be weighed down with giant handbags, this friend will love the fringe-embellished iPhone purse which is just large enough for her ID, credit card, phone and lip-gloss!
GET THE GIFTS
Classy Enough Tee $29, and Prosecco Doc $16.99, both from Simply Wine. OPI Nail Polish, $9.50 each, and Flash Tattoos $20, both from Dillard's. Wine Twirls $24 and Shiraleah iPhone purse $45, both from Joy of Living.