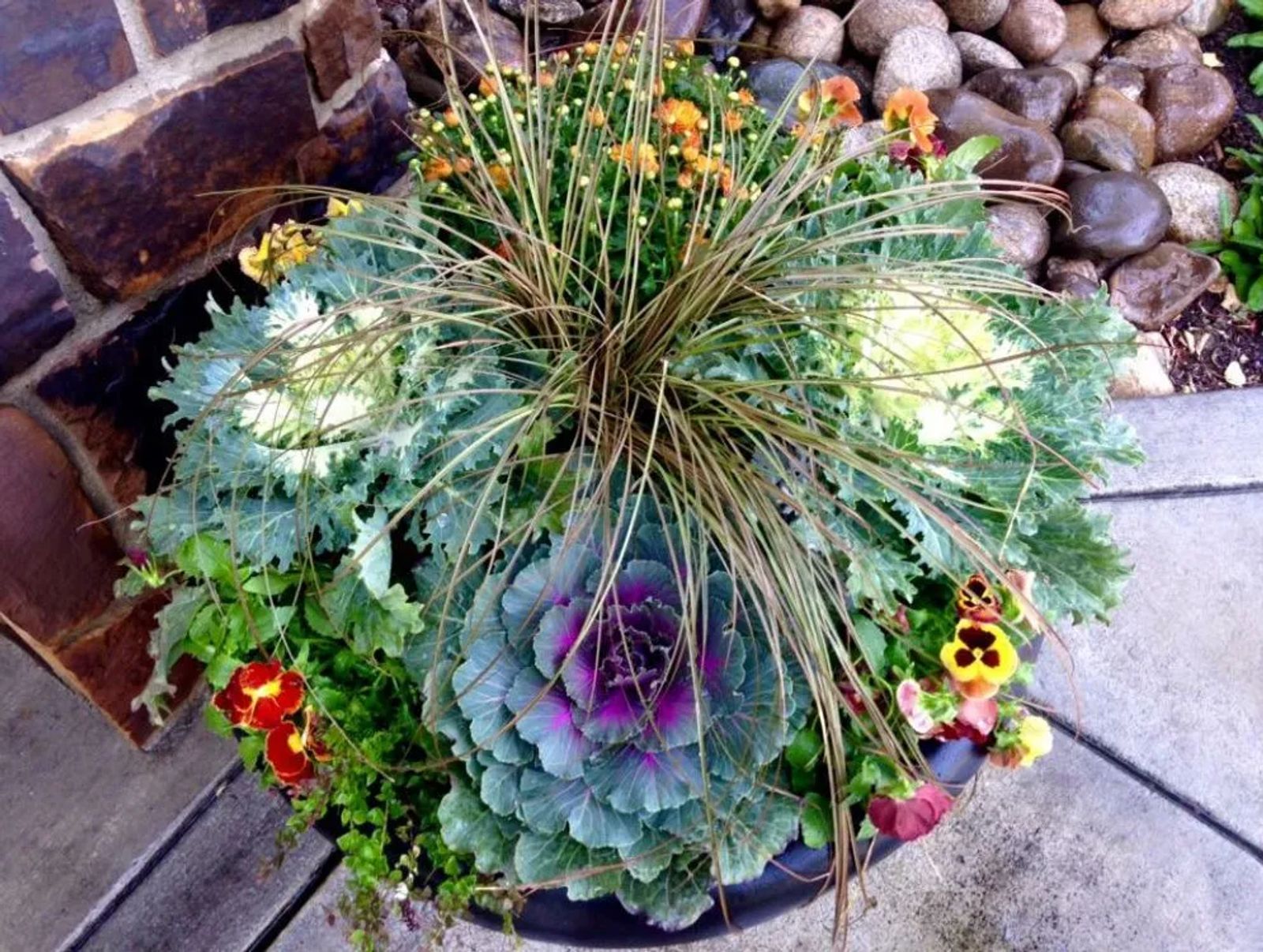 Planting Glorious Fall Color
Blazing & bold blossoms deliver the feel of fall
Take a cue from fall and bring those bold and blazing hues right to your front door or back patio. While summer lends itself to hot shades and cool pastels, autumn is all about those rich, yet earthy jewel tones. Why not try hardy ornamental grasses or even purple kale? These plants grouped together will not only survive and thrive in south central Montana's brisk fall climate, they add wow factor and curb appeal to your autumnal home.
Claire Johnson is a Certified Plant Professional with the Montana Nursery and Landscape Association who spends her days in the garden center at Gainan's. While chrysanthemums have always been a fall favorite, she prefers to add interest with any one of the Carex varieties of ornamental grasses. This species comes in all colors and shapes and can provide visual interest in a container well into November. Better yet? These grasses are relatively low maintenance and pair beautifully with other fall favorites. "There are multiple varieties and we stock a lot of them because they are very hardy," Claire says.
When it comes to her perfect fall container, Claire says. "My favorite grouping would be the coffee twist or cappuccino Carex grass. I will add cabbage or kale with some coral bells. It is really low maintenance. Put a small pumpkin in there and wow!" What you see is a collision of purple, lime green and orange that is easy on the eyes and better yet, easy to care for.
If you're searching for a new fall plant to add to your line up, Claire says to make sure the plant is indeed fall hardy. She says, "It's a plant that can live down to 20 degrees, that's what I call fall hardy." Fall hardy plants will not only share a dose of color but could potentially last all the way up to Thanksgiving. "Pansies in the cold weather months are gorgeous. You can use those jewel tone pansies in copper, orange and wine tones. They are beautiful. Violas also work well. You put that orange pansy with a lime colored coral bell and that pot will hold up like you would not believe." Fall blooming asters and coneflowers, Claire says, are also great picks.
Whether it is russet reds, blazing oranges or vibrant shades of purple or yellow, there are plenty of varieties of plants that can be mixed, matched and enjoyed all autumn long. We've gathered a few ideas for you to help make a seasonal splash and bring a little autumn beauty to your fall days.
ALL ABOUT FALL: (Photo Above)
This beauty prepped for fall features cappuccino Carex grass, garden mum, purple ornamental cabbage, white peacock kales, creeping jenny gold Lysimachia and a variety of pansies in fall hues, proving that you can have variety and an explosion of color at the same time.