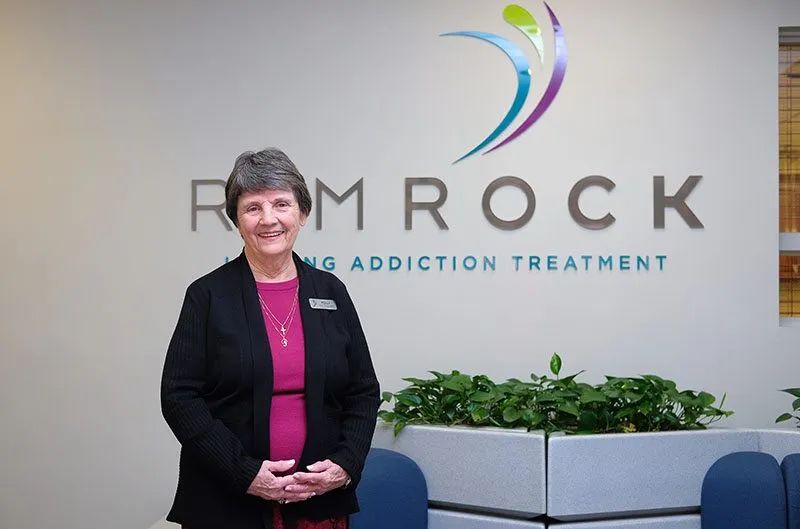 Polly Eames
Healing the addicted
At a stage of life where many people are enjoying their friends and family and a quiet retirement, Polly Eames is on the move. At 80 years old, Polly, an addiction counselor at Rimrock Foundation, is sharper and in better shape than many people half her age.
A lifelong Montana resident and passionate University Montana Grizzly fan, Polly met and married her sweetheart, Ken, in 1960. Ken retired from the military and started a career in banking. Polly taught school until raising the couple's four children occupied her full-time.
"In 1986 our world fell apart," says Polly. The economy went into a sharp decline and Kenny, through a series of unwise banking and real estate decisions, was in financial ruin. Making matters worse, Kenny's drinking was out of control. "He was drinking all the time. He could have gone to prison for all the stuff he was doing with the finances, but he had a choice and went to a residential rehab instead. When he came back from rehab, his real estate license was revoked. They took everything from us," Polly says.
The couple became deeply involved in Alcoholics Anonymous. "I learned about addiction along with him. At first, I thought his drinking was my fault. I thought if I was better and took care of everybody better, then they would all be doing fine." Al-Anon, a program for family members of alcoholics, was a lifesaver, teaching Polly about addiction, survival, and coping. "Slowly, our family began to heal."
Through it all, Polly became passionate about helping people out of addiction. In 1988, she went to work for the Rimrock Foundation, a nonprofit treatment center located in Billings. "They hired me initially to work with patients while they are on campus and I worked my way up and became a licensed addiction counselor."
Helping families face the challenges and heal from addiction is deeply personal for Polly. The loss of her husband and, more recently, her daughter, who died from drug addiction, fuels her passion. "Addiction recovery is such a long, slow process so it is rewarding to see the progress of clients and their families," says Polly.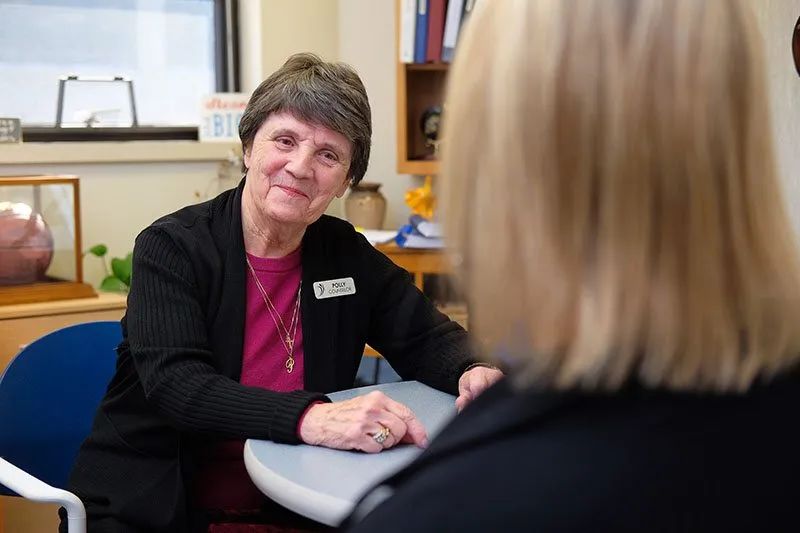 During family week, a time when clients and their loved ones participate in treatment together, she tells family members her goal for them is to leave knowing who they are and, more importantly, to like themselves. "I tell them to look themselves in the mirror and say out loud, 'I love you. You are special.' They may not believe it today but hopefully, eventually, they will."
Polly's contributions to Rimrock have not gone unnoticed.
"Polly has done every job there is to do here. Because of her vast experience working with addicts and families, she keeps us focused on why we are here and what addiction is all about, so we don't get off track with new-fangled ideas or methodologies,"says Coralee Goni, chief operations officer of the Rimrock Foundation.
During her tenure, Polly has manned the front desk, run the state-mandated DUI programs, counseled addicts and now orchestrates the family week programs for patients. Goni says, "She can communicate in an assertive and funny way.  Nobody ever complains about Polly, no matter how direct she is. She keeps me grounded and always tells me what I need to hear. Her life experience and wisdom has changed the way I look at life. She has been my rock here."
At 80, Polly could be settling into the sunset years of life. Instead, she works out six days a week at the YMCA, often being one of the first through the doors at 5 a.m. She plays cards with friends twice a week and enjoys an active life at the retirement community where she lives. While there are joys outside work, it's the work that keeps her going.
"We have to recognize and accept that we are just human. There is no such thing as perfection. We can only be expected to do the best we can with what we have been given," Polly says. For her, the biggest rewards come in the living, breathing success stories she's proud to witness.
"When people show up at Rimrock, or I see them in the community and they tell me they are still sober, it is the best feeling in the world."