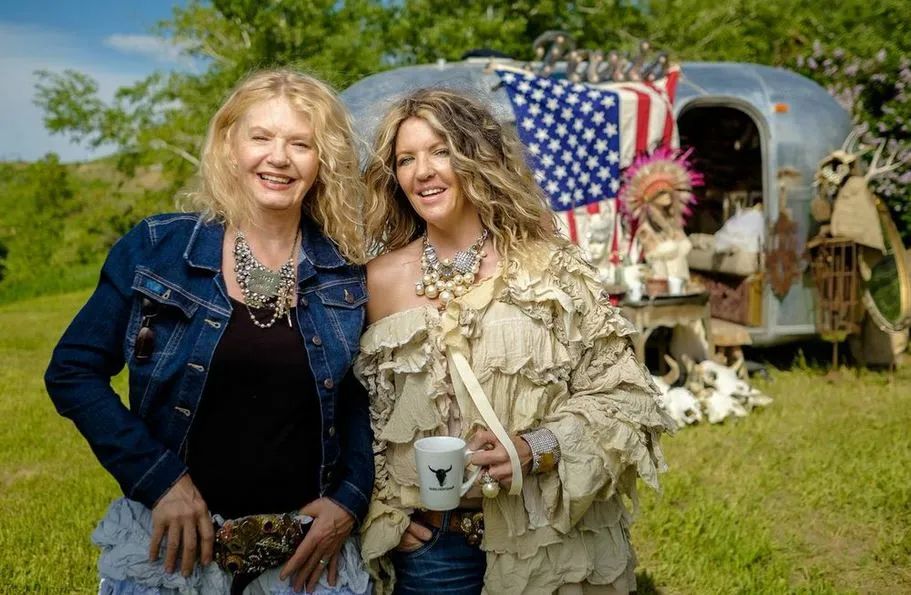 Ready for a Glamp Out?
Mother & Daughter put a new spin on nature-loving getaways
By Stella Fong, Photography by Daniel Sullivan
Shari Nault has officially left city living in Billings behind to "camp out" with her daughter, Heidi Martincic. Nault, however, isn"t roughing it, sleeping on the ground or crawling into a tent. She"s taken up "glamping" instead. What"s glamping? It"s glamorous camping and Shari and Heidi have created a whole new business that aims to capitalize on the idea of being out in nature without leaving the comforts of home.
On eight acres just outside Roberts, Nault"s daughter along with her partner Grant Ferguson purchased this site for the new business. Here you"ll find a trio of rustic log cabins and a few refurbished vintage travel trailers. You won"t find sleeping bags and typical camping necessities. Lodging with Heidi and Shari is instead draped in elegant "French Boudoir" décor.
The land is also home to Heidi"s current enterprise, Paris Montana. A refurbished 1966 Caravel Airstream is the business" store front. Inside, patrons will find all kinds of new treasures created from things that are old.
Five years ago, after working in corporate America as an executive for Larry John Wright Advertising in Arizona, Martincic "hung up her Manolos" to pursue her creative passions. Upon returning from a river cruise in France where mother and daughter discovered the unique wares available at open markets, Martincic began Paris Montana where she sells "fusion creations of repurposed and upcycled jewelry and accessories salvaged from Montana cow towns, Paris flea markets and places in between."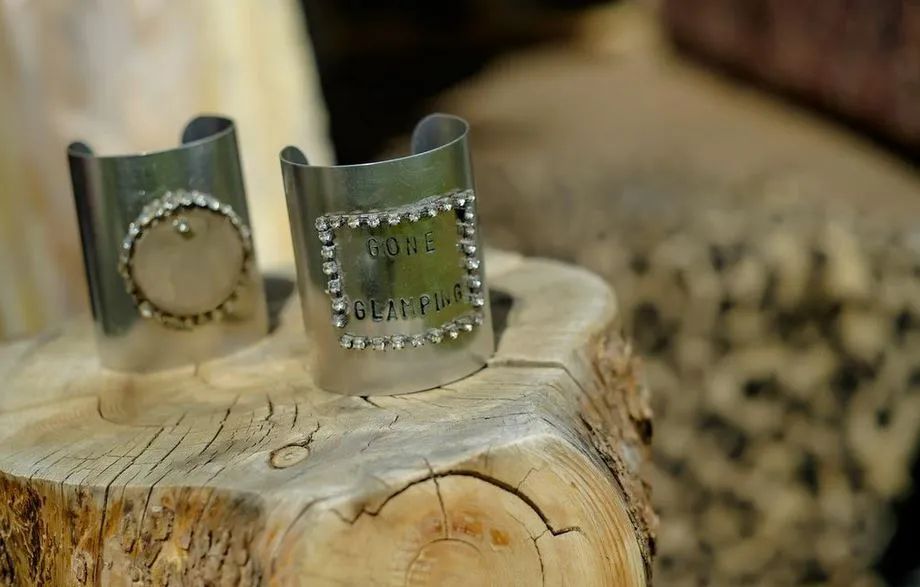 The name Paris Montana encapsulates the spirit of mother and daughter.  The brand caters to a woman embodying a "haute couture gypsy who celebrates the extraordinary of everyday life." Both women are enchanting and rugged, unencumbered and yet determined.  They can fit their blond locks comfortably under a beret or a cowboy hat all the while adorning a bandana or pearls, and kicking up their heels in Ropers or Guccis. They have magically transformed raw situations into four-star happenings on a natural landscape.
Martincic claims "Dirt is my favorite color. Dirty whites. Dirty pinks," while wondering, "Why do we not want to be cute?" when referring to how a woman should be dressed when in the great outdoors. With her new business in Mother Nature's bejeweled place above sparkling Rock Creek and across from the crowning Beartooth Mountains, how can one not be beautiful and glamorous? It would be natural to wear one of her creations – don a worn leather tool belt adorned with a drape of tulle to fly fish or sport a pair of jeans with legs of ruffled pantaloons for a hike.  While in a "glam" space near "glam" women, one would even consider wearing a set of "glam jams" – a flouncy ruffled pajama set that allows one to "get up and go and still be glamorous."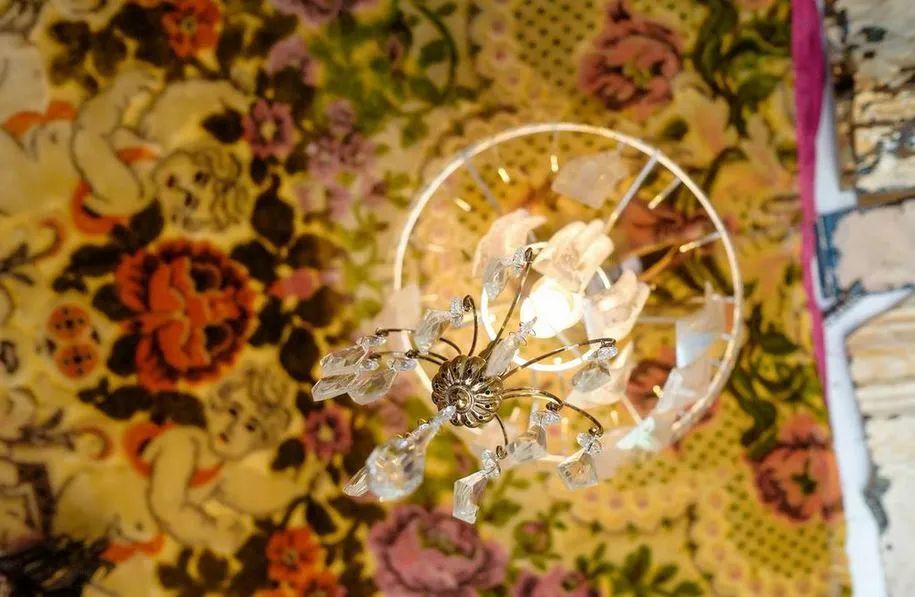 The plan is to officially open next season, though the Paris Montana Airstream will be parked on Main Street in Red Lodge this summer for retail business. Martincic and her partner Ferguson will live in one of the cabins while the other two are rented out. Martincic says, "Literally this is full frills camping. You can stagger in here right after a long week at work with nothing." She continues, "We want you to be comfortable. You can be out here in a most amazing place and with the right props you have 'fabuluosity.'" While outfitted from the Paris Montana couture, the cabins will provide the other human comforts including a plumbed bathroom, hairdryer, high thread count sheets, and a fully equipped kitchen. Breakfast will be brought to the cabin while dining can be found in town. Coincidentally, Martincic tells with a smile that her favorite breakfast dish her mother made her as a child was no other than French toast.
While the "Montana" cabin will be decorated in "luxury rustic," the 500-square-foot "Paris" cabin will provide slumber in an antiqued gold Louis XV framed bed and relaxation in a modern steeled cow hide recliner chaise. Martincic confesses, "I love the juxtaposition of modern with old." Moreover, the "Paris" cabin is situated on the highest point of the property, affording open views of the surrounds.
For five years, mother and daughter have traveled together selling Paris Montana wares. In their 17-foot "tricked out," antique metal paneled, wood floor lined and chandelier lit Airstream, they journeyed to many towns with Round Top, Texas as the highlight for the largest antique show in America. "While it was grand fun, sleeping head to toe in a single bed, going without a shower and dressing in jewels and ruffles by 8 a.m. for ten days can stretch a mother/daughter bond. But given a little distance, one can hardly wait to do it again." The sentiment is mutual as her daughter's recent blog post affectionately tells of traveling "to our home state of Montana where Mama Luv and the gang will be setting up camp."
Nault and her daughter are just living out their genetics. Their father and grandfather, Andy Nault relocated to Kodiak in the 1960s.  His adventures are compiled in a collection of stories Staying Alive in Alaska's Wilds and a collection of photographs housed at the University of Alaska, Fairbanks.
When Nault passed away in the 1980s, the governor proclaimed Andy Nault Day for his teaching native kids how to trap. Rumor has it that in daily treks to the post office he wore a sealskin and wolverine hat.
While many would fear the unknown, especially at 69 years young, Nault believes life's gifts and offerings are just in front of you. "I always have one eye on the horizon. I come from a long line of renegades beginning with my family fleeing from France to Quebec in the 16th century." Born in Sidney, Montana, Nault lost her mother when she was 18 months old and her "earliest memory is sitting on the back bar at my dad's saloon with my bottle, watching the drunks and eating Hershey bars." Her father, Andy Nault ran the Buckhorn Bar and the Lone Tree Inn.
Nault professes to not having a sense of direction and noting that she "probably shouldn't leave the city limits." But as the desire for a new life seeps into her spirit, Nault believes, "It is time to hit the road again. Next stop, Roberts and Red Lodge. The new adventure is a natural fit. It serves the wanderlust albeit, vicariously without fear of getting lost, my Francophile need for chandeliers in inappropriate places, heavy crème and butter and starting something new."  For Nault, "glamping" is clearly next on her horizon.
Pay Paris, Montana a Visit
Plentiful with Vintage Chic & "Nouveau Western Style"
To keep tabs on Paris, Montana and see Heidi"s latest treasures and travels, you can find her on the web at  shopparismontana.com or on her blog at parismontana.blogspot.com.