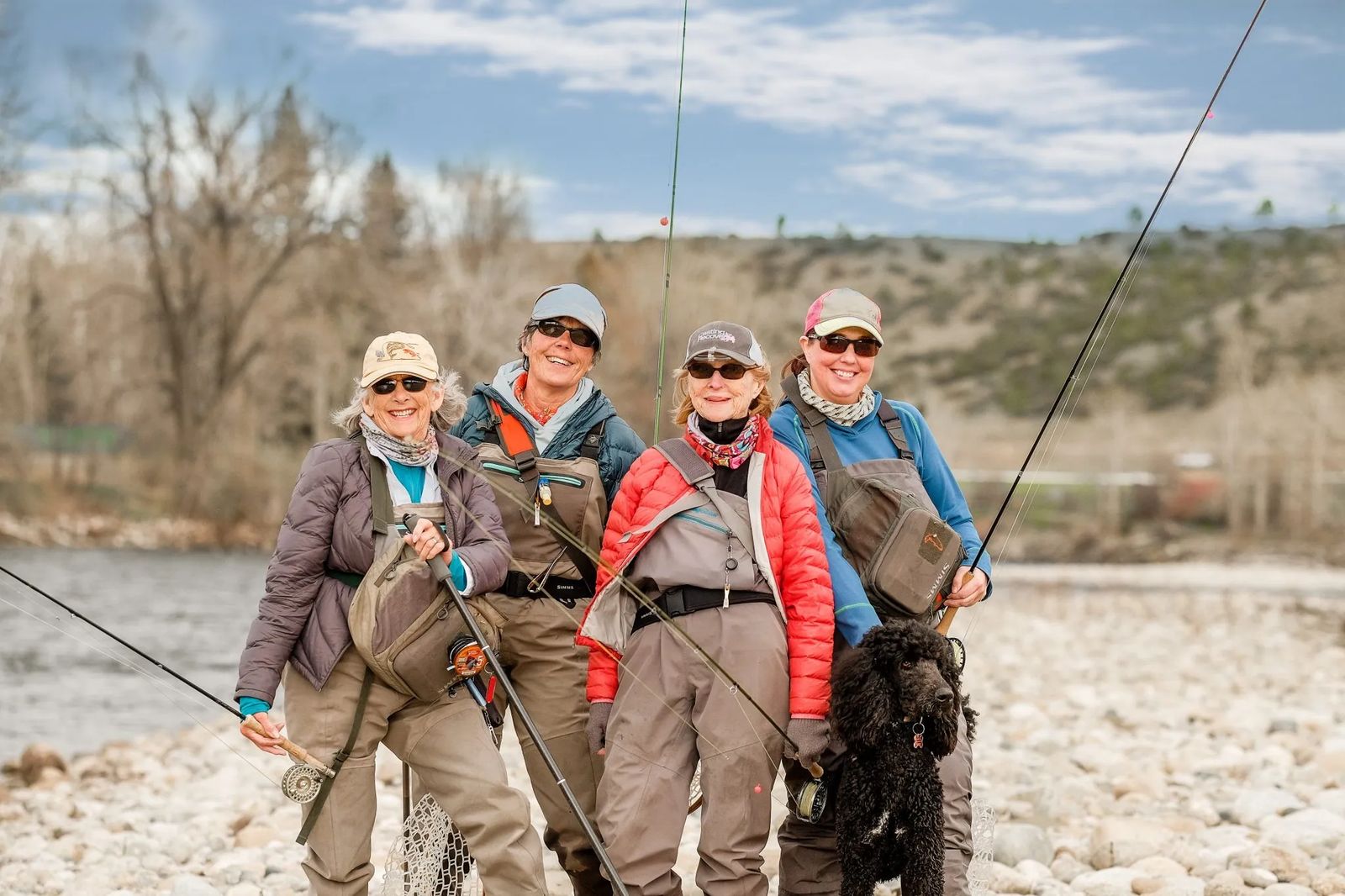 'Reel Women'
And their fly-fishing adventures
"Many go fishing all their lives without knowing that it is not fish they are after."~ Henry David Thoreau
On a quiet stretch of river, late in the day, the light is magic on the water, and the water, with a magic of its own, releases a hatch of tiny mayflies. This is paradise for fly-fishers Brandi St. George and Karen Page, who stand on a gravel bar hypnotized by the flow of the water and the rise and fall of the insects.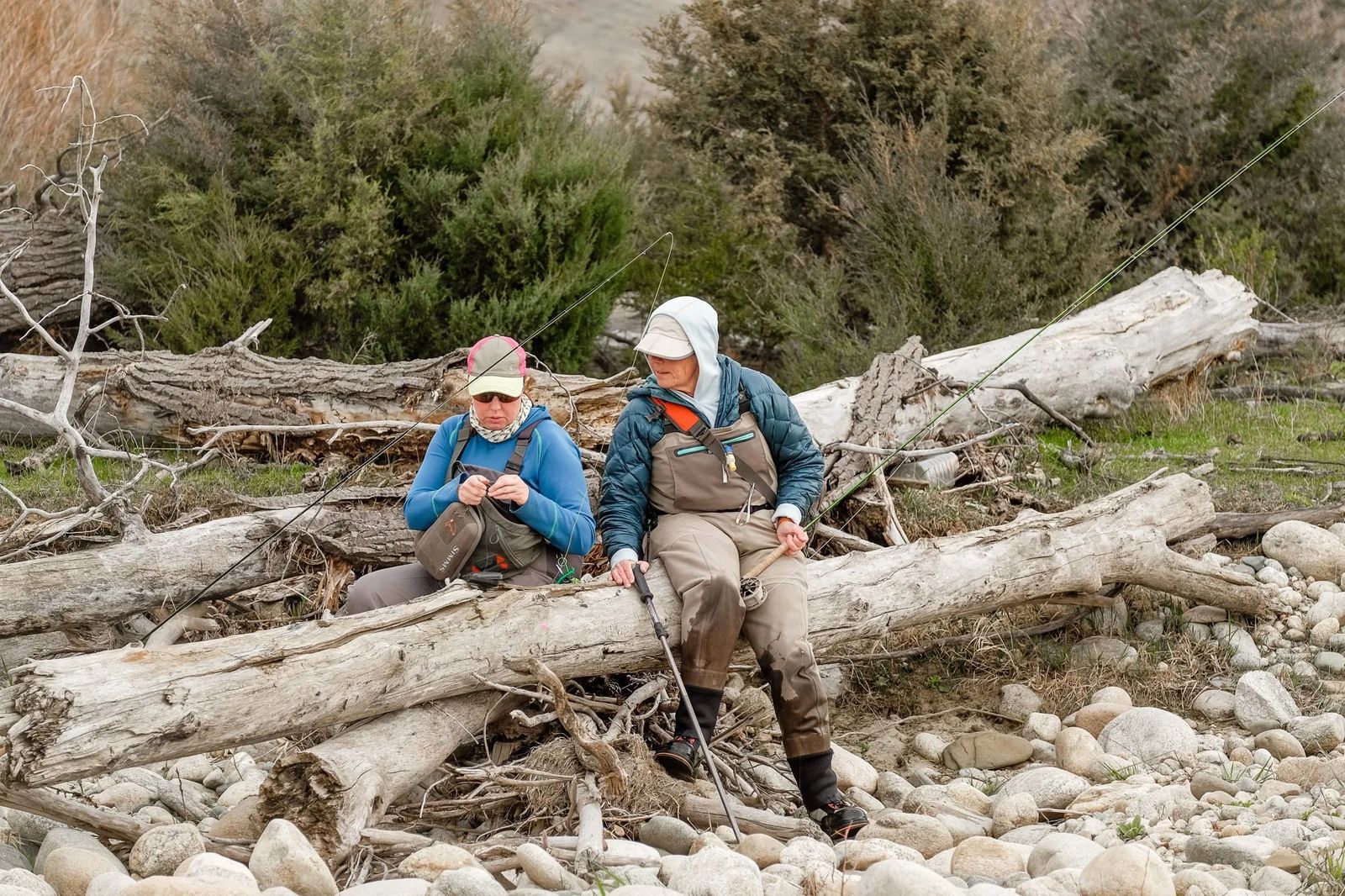 In turn, they rig their rods, choose their flies, slip into the stream, and begin to cast. Their lines loop long and straight over the water, unfurling to lay a weightless fly into a gentle current. Again, and again, with a little adjustment each time. Finally, a brown trout is fooled by the tiny, artful clump of feathers and thread on the hook, and he strikes.
"Yeah! That's it!" shouts Brandi.
"Woo Hoo!" cheers Karen from upstream.
The water bounces their cheers around before the cottonwood trees absorb the sound. Brandi nets the fish and holds it up to meet Karen's approving smile. They are off to a good start for a day on the water.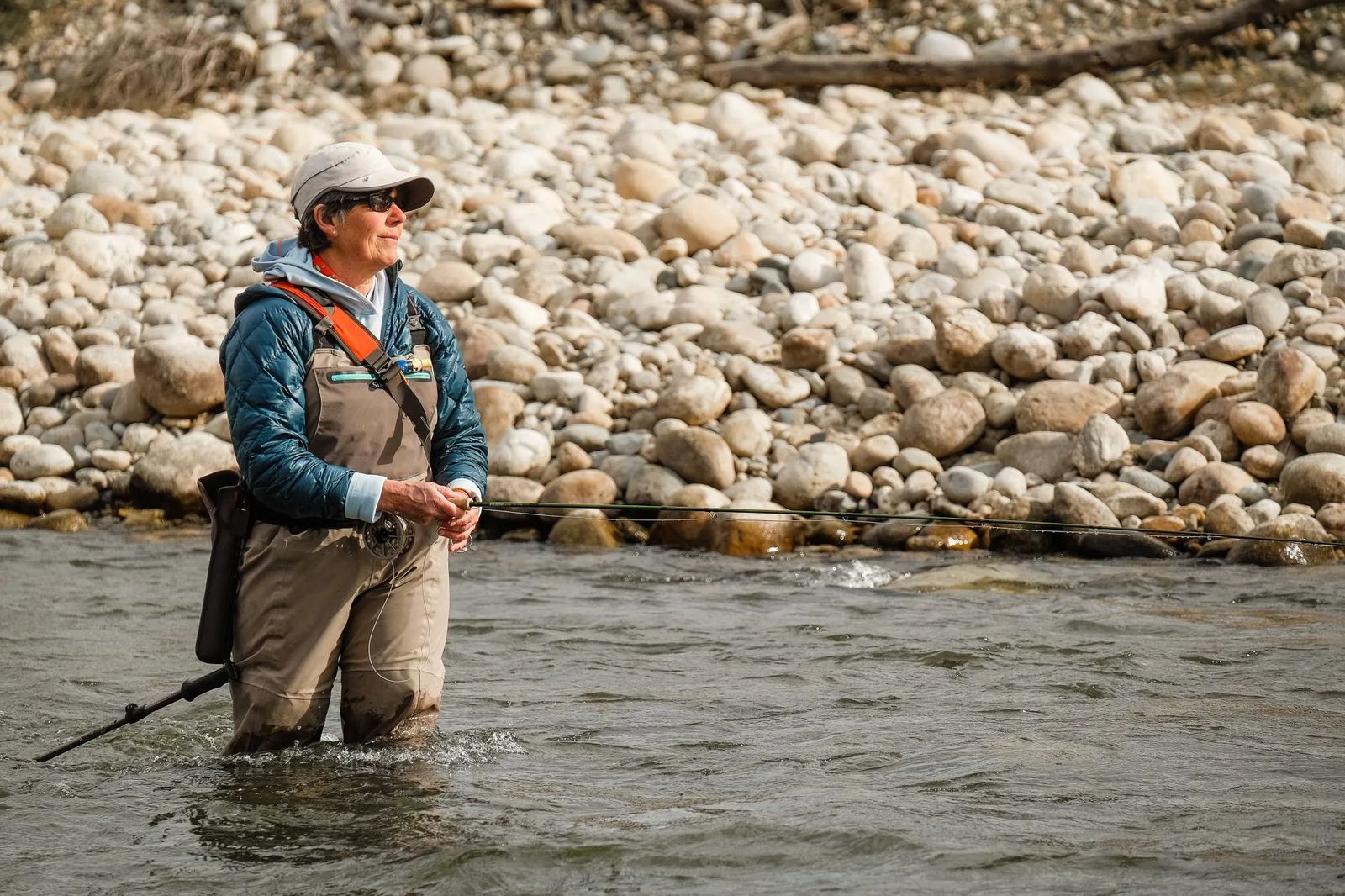 The two women fish together at least once a week almost year-round, and they always stay within shouting distance – to celebrate those greedy, foolish trout they manage to trick. Karen is persistent and pretty serious about catching fish. She won't easily leave without having hooked at least one. Brandi looks at the experience as a whole. Her days on the water taste as sweet as a hot fudge sundae.
"Even if the fishing isn't good, you still have all the tasty ice cream and hot fudge," she says. "Catching fish is that cherry on top. It makes it all better."
Karen and Brandi are among a growing number of women in the Billings area who fly-fish. It's still a largely male-dominated activity, but women are the fastest growing demographic in the fly-fishing industry.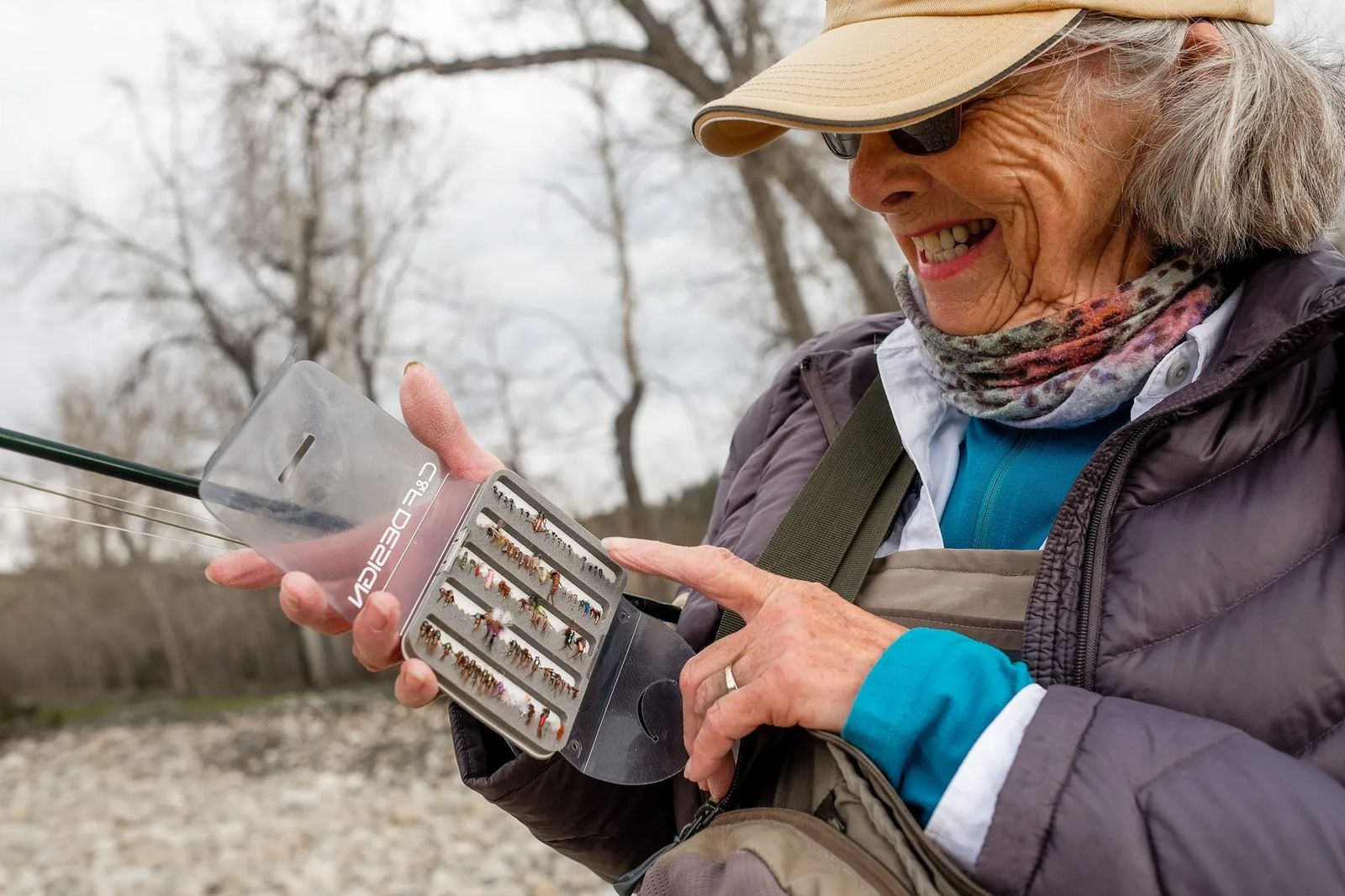 Karen has been fly-fishing for more than 30 years, and Brandi has been casting a fly rod since she was a teenager, on Lamar Creek, near her family's cabin. She still remembers the moment she caught her first fish on a fly rod. It was just her and her father, and there's still some debate as to whose grin was bigger.
"I will never forget the look of pride and joy on his face when he saw me and knew I was hooked," Brandi says. "I'm close to my father and it was always something we could do together."
Fishing took a back seat as Brandi raised her children, but now that she has more free time, she's fishing every chance she gets, and still fishes with her father once in a while.
When Karen first started fly-fishing she didn't know any women in Billings who fished, so she joined Wading Women, an all-female club in Bozeman. On weekends she drove to Bozeman to fish, and during the week, she would sometimes go out and fish with a couple older guys she met at Magic City Fly Fishers, the local chapter of Trout Unlimited.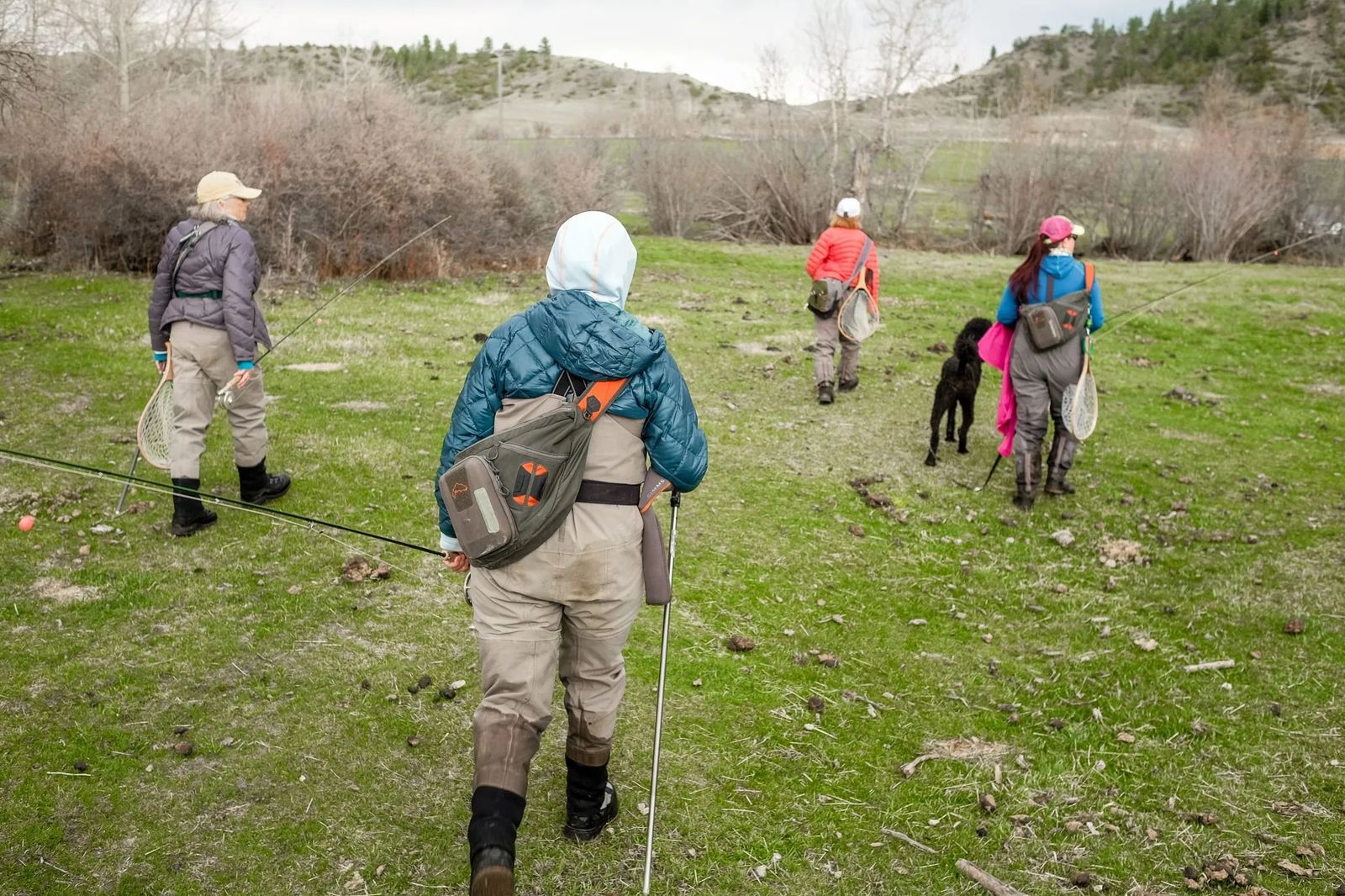 Karen says she didn't get serious until she retired at age 70. Now, she devotes as much time to fishing as possible. Karen keeps a log of where she went, who she fished with, what flies were working, and what the weather was like. For many years, her goal was to fish the same number of days as her age.
"I'm over that idea now," she says. "I don't want to set myself up for disappointment."
Karen celebrated her 80th birthday this spring with an overnight fishing trip on the Stillwater with four of her closest female fly-fishing friends. "Most of the women out on the water are fishing with their husbands or boyfriends. It's rare to see women fishing alone or together like we do," says Brandi.
When men see them on the water, they're usually supportive, but often assume they need some advice. Brandi and Karen take no offense and always respond with a wave and cheerful, "thank you."
"I expect it," Karen says. "It's not that discouraging at all."
"Men just want to help you fish," Brandi says. "They're always a bit surprised when we out-fish them though."
Fly-fishing has a mystique that portrays it as a solitary pursuit, but the friendship and camaraderie of fishing are what both Brandi and Karen love the most. There's plenty of room for more women on Montana's rivers, and lots women can gain from fly-fishing, especially in the company of other women.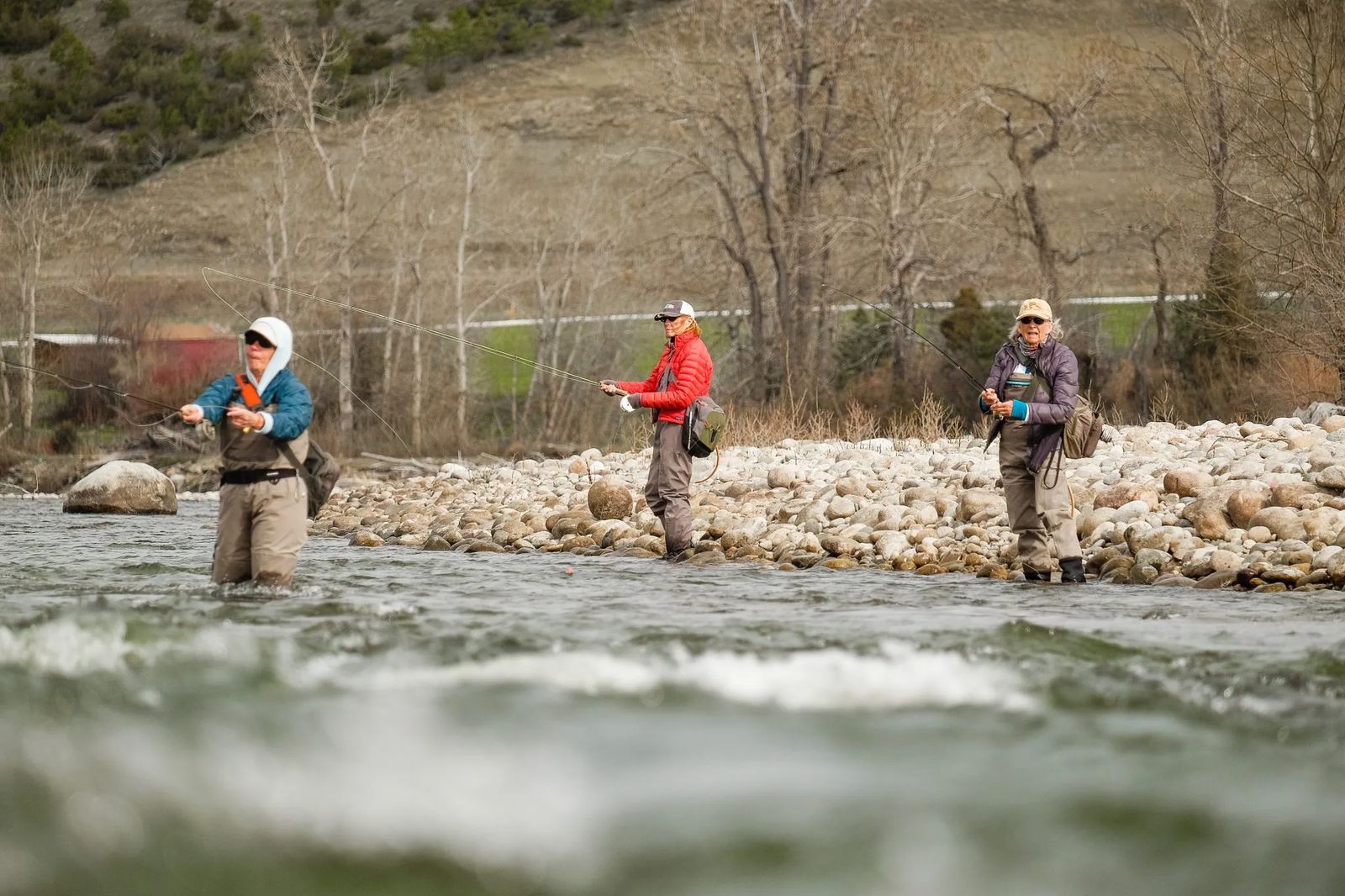 "Karen and I often say that fishing is our church, our religion," Brandi says. "I can be out on the water for a day and come back completely renewed."
They are called to worship by the beauty around every bend in the river, the cool water slipping over stones, and the tall cottonwoods. Each jerk of the line is a hallelujah and every trout released is an amen.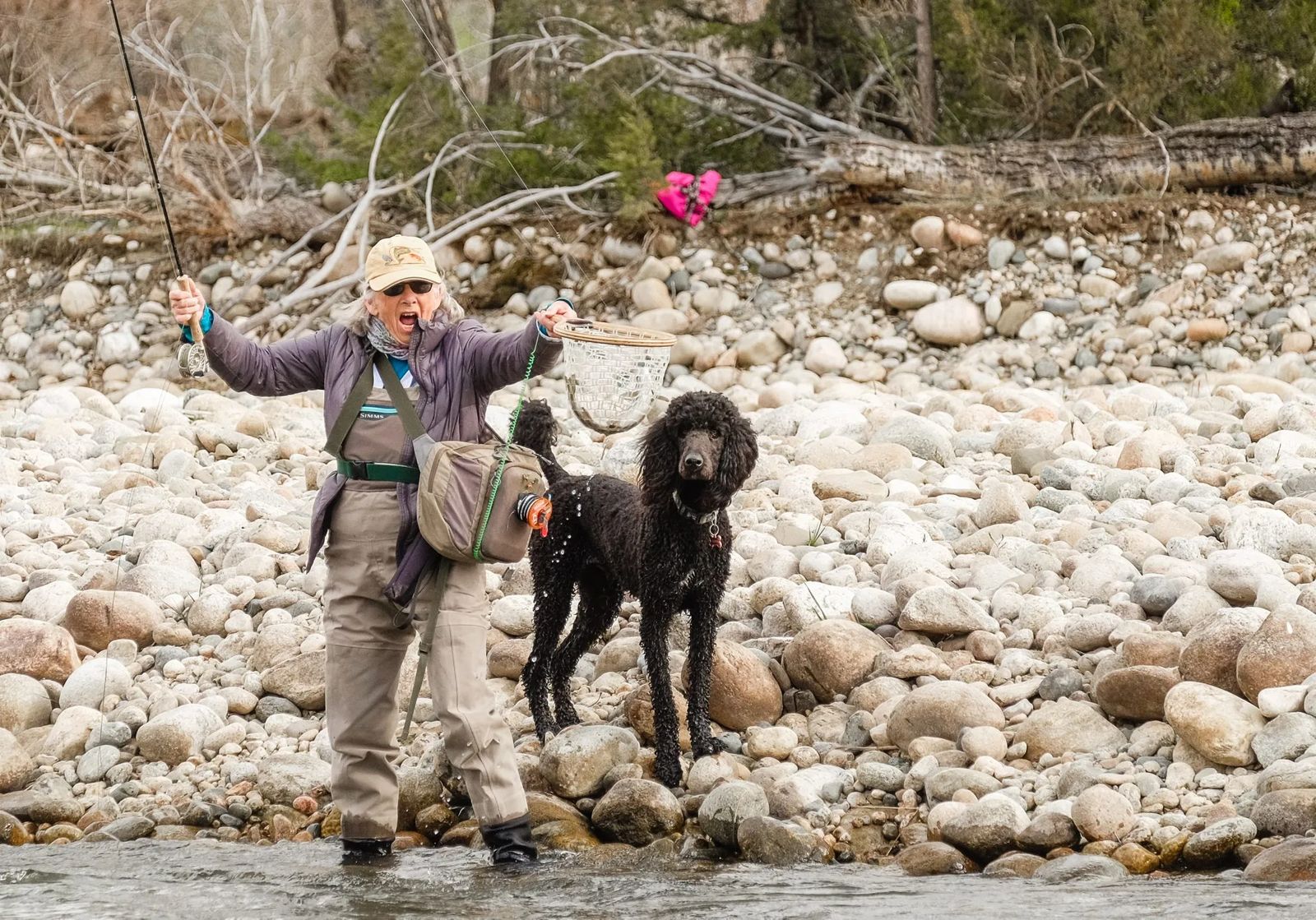 WANT TO GIVE FLY-FISHING A TRY?
The gear & the know-how you need
The best place to start is your local fly shop. They sell the gear you need, can connect you with lessons, and tell you where to fish and what flies to use.
The Gear
The most basic equipment includes a fly rod, fly line, and reel. A kit that includes a rod, line, and reel, might be the way to go for a beginner, but most people prefer trying several rods, lines, and reels in combination to find out what works best for them.
Chris Fleck, the owner of Stillwater Anglers, a fly shop in Columbus, encourages his customers to start with the rod first, add a quality line, and if you're looking to save a few bucks, choose an inexpensive reel.
"It's the rod and the line that do the performance part," says Chris. "For most of the fishing we do around here, the reel is just the housing unit for the line."
Most beginners will choose a versatile rod, and Chris usually recommends a nine-foot, five-weight or six-weight, for use on streams around Billings.
"That will cover all your trout fishing needs in this region," he says.
Quality footwear is also a must-have. River rocks are slippery, and you'll need solid footing to make a good cast. Wading boots are made of materials designed to grip rocks underwater. They can be worn with waders or with wading socks when the weather is warm.
Major manufacturers of fishing gear are recognizing the trend toward more women becoming involved in the sport and are designing gear specifically for women. In most cases, the differences are slight, says Chris, but when it comes to waders and wading boots, the difference is significant. He encourages women to invest in waders and boots designed specifically for women.
Among the basic gear, you'll also need what Chris calls a "system." You will need a vest, a bag, a backpack, or a case of some kind to carry extra flies, a pair of forceps, a leader or two, and some tippet. You might want the room to pack a bottle of water and some sunblock as well.
The Know-How 
Many people new to fly-fishing pick up the basics from a friend and many women learn from their husbands or boyfriends who fish, but Chris encourages all beginners to take a lesson or two. Around Billings, most fly shops offer lessons, including women's only classes, and lessons are offered through the Billings Adult Education program as well.
"A class of some sort will dramatically flatten the learning curve and minimize those early frustrations," Chris says.
And it's not a bad idea to take a refresher course or clinic to hone your skills after you've been at it awhile. Chris adds, "There are always new tricks to learn."