Returning Home
After World Travels, it's Back to Billings

Karla and Jack Mahan lived in some exotic locations over the course of their working careers. From Jakarta, Indonesia, one of the most populous cities in the world, to Santiago, Chile, to the island of New Guinea, they've experienced a big slice of life. After retiring a couple of years ago, the couple is now enjoying their new home in Grand Peaks subdivision on Billings' west end.
Their lovely ranch-style home faces the rims while the entire south side of the house borders a bountiful green space. "It's a natural-made park," says Homebuilder Jeff Junkert, owner of Jeff Junkert Construction, Inc., the developer of this 70-acre neighborhood. "It's their final home and they wanted it to be nice. And, it is!"
Every detail of the home was carefully considered. Jeff says it was "thought out thoroughly before construction." It's a custom home with "lots of upgrades." It's also a home that was built while Karla and Jack were living in Michigan, where they were working and planning for retirement.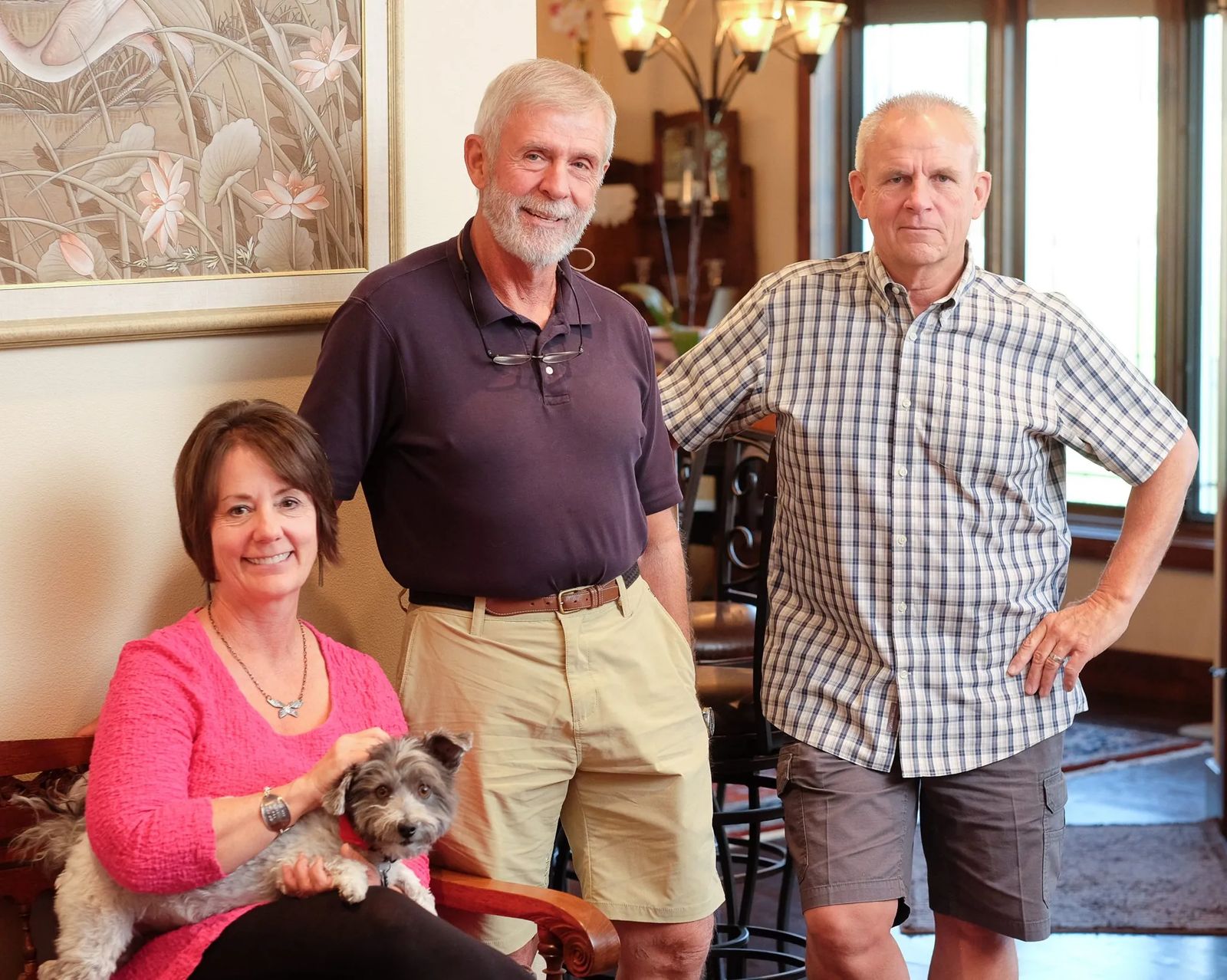 "We knew the Junkerts before when we lived in Billings," says Jack, who worked for Bechtel Corporation for nearly three decades. "It's the only way you can build long distance," adds Karla, an accountant/financial planner. "We trusted Jeff."
Karla and Jack met initially with Jeff and his team to get the homebuilding project started. Jack's heavy construction background and his degree in engineering made it easy for him to express to the team his and Karla's ideas about their new home's design.
"We've lived in so many places," explains Karla, "we knew what we wanted. It was my idea that my mom would eventually need assistance, so, we made sure we had two bedroom suites on the main floor. She ended up with my sister in Georgia, so, the extra bedroom suite will be used for the help that Jack and I will need as we age."
Temporarily occupying this extra suite is the couple's daughter, Ashley, and her new husband. Ashley finishes her degree at MSU-Billings this December. While the young couple saves for their own house, this spacious home easily accommodates everyone's needs.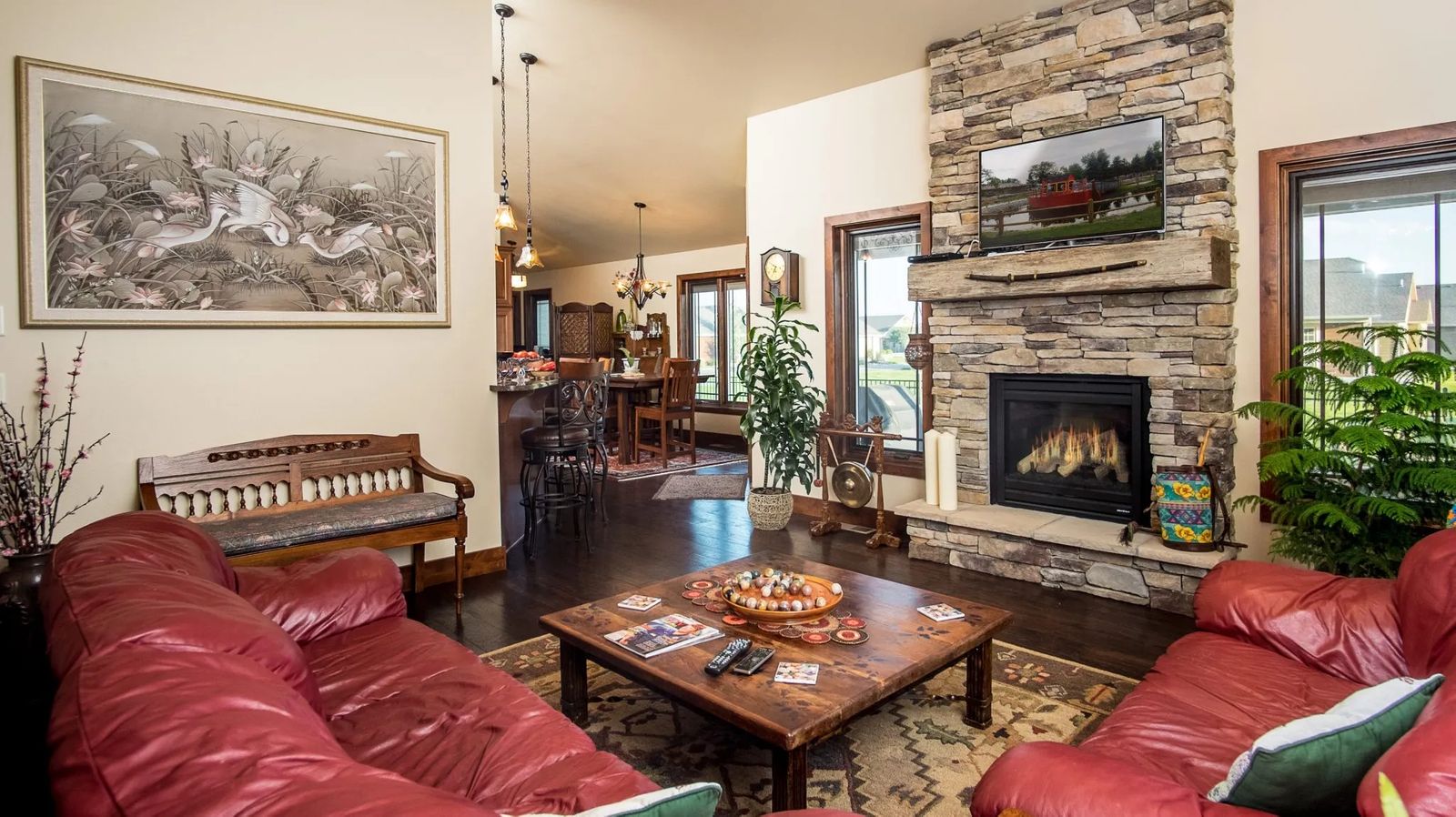 The main level comprises 1,778 square feet, with over 1,000 square feet of finished space on the lower level. Upon entering the front foyer, the vaulted ceiling gives way to open space. The warmth of Asian ambiance fused with the coziness of Western living invites you in. "I wanted dark wood trim and solid doors," notes Jack, referring to the rich and beautiful knotty alder that fills the home.
A layered stone fireplace injects additional Western hospitality. Exuding ruggedness, a 10- to 12-inch-thick weathered oak mantle rests on this magnificent floor-to-ceiling fireplace. Mentioning that the heavy piece of timber had come from a barn in Florida, Jack quips, "I wanted it to look like a real fireplace."
An ornate Indonesian sword displayed on the mantle invites conversation as does the elaborately carved Indonesian gong standing nearby. A colorful pair of framed Wayang kulit shadow puppets attracts attention on one wall, while, a large painting of Asian egrets creates a mood of serenity on the opposite wall.
"They're all memorabilia," shares Karla. "We have plenty of stories on the pieces we have. Our house is quite a mixture. We had a lot of shopping fun!"
The Mahan home reveals the fruits of their well-traveled life.
Cocoa-colored hickory floors flow throughout the upper level. Dreamy 24-inch ceramic tile covers the floors in the baths and mudroom. Varied-size area rugs from different parts of the world add a touch of softness to the open living space and bedrooms. Indonesian tapestries several hundred years old and framed by one of Karla and Jack's favorite contemporary Indonesian artists, Made Rauh, hang in the hallways.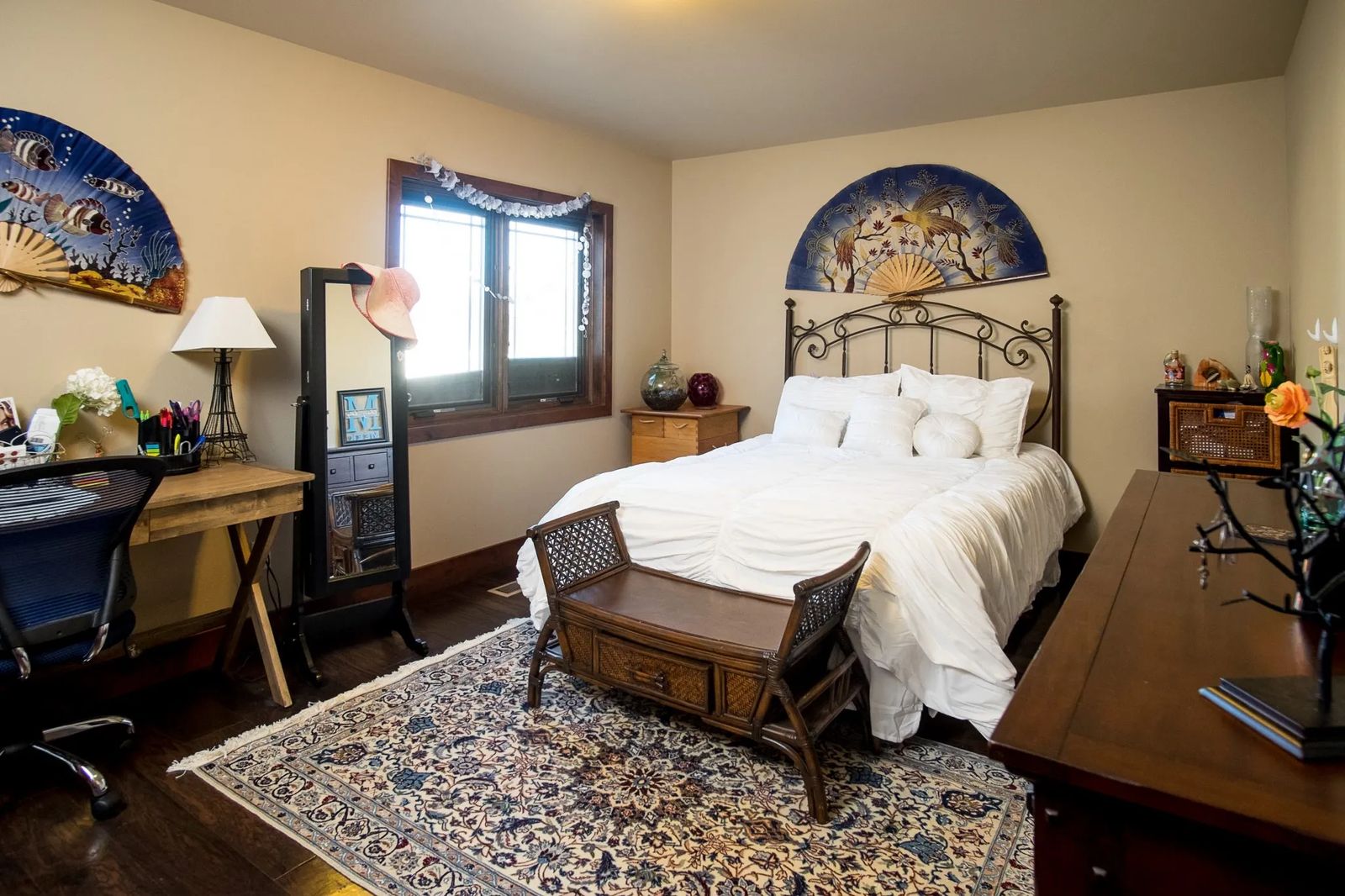 In the great room, leather sofas from Chile dish out a burgundy rose hue that blends flawlessly into the décor. "I've never worked with a decorator," confides Karla, "I've just always had red in most of our pictures." Her artistic ability serves this home well.
In the powder room down the hall and in all the home's en suites, Karla's mirror masterpieces comingle superbly with the home's art work. "Sue Junkert gave me the idea to make my own vanity mirrors," declares Karla. The mirrors look designer-made from an expensive gallery. Above each mirror hang unique caramel-colored vanity lights from Rimrock Lighting.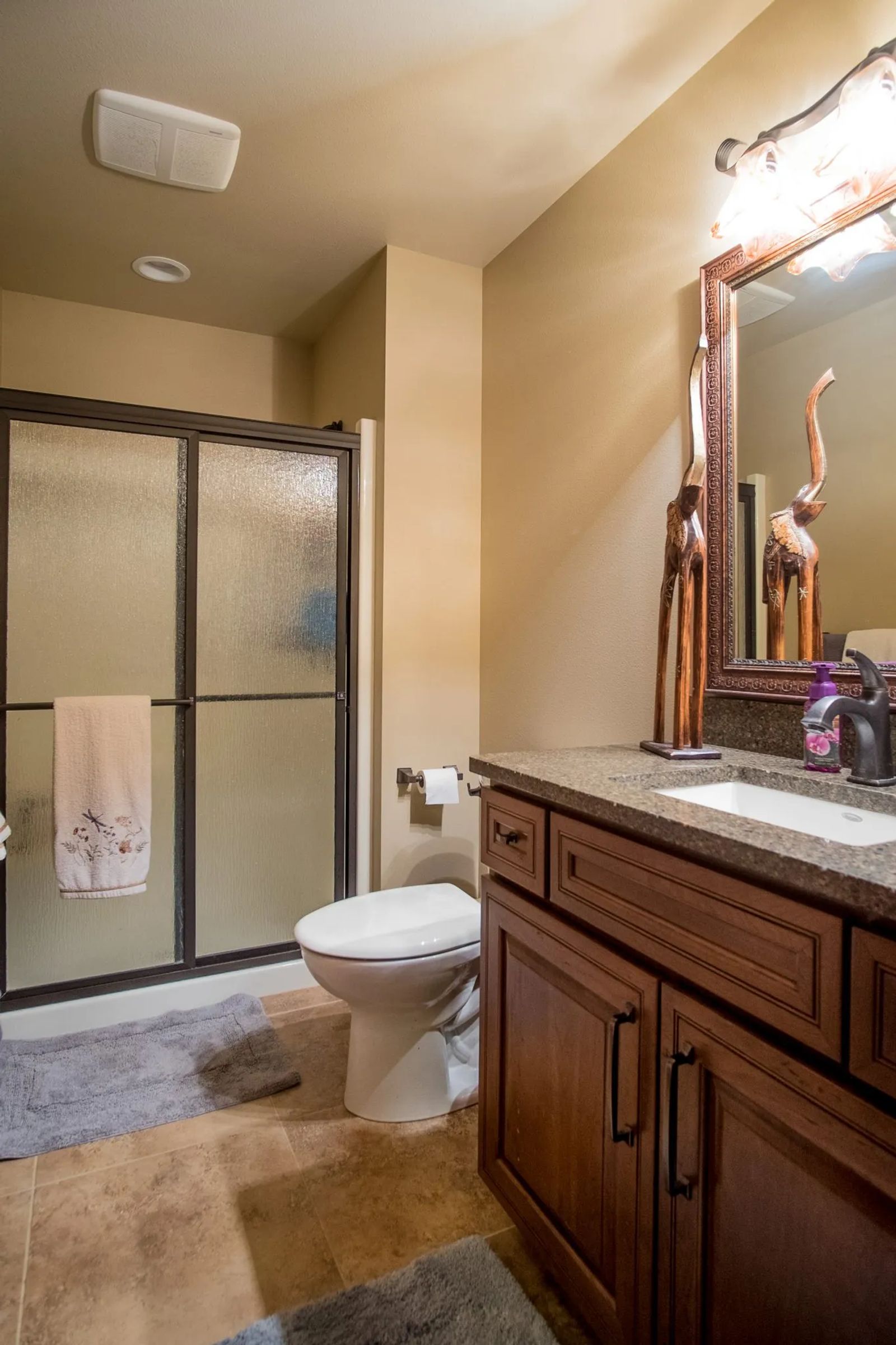 The entire home speaks to exceptionalism and quality construction. Featured throughout the home is custom-made cabinetry from Rimrock Cabinet Company. Kitchen cabinets are highlighted by quartz countertops with copper patina. A ceramic tile backsplash, complete with a smaller-tile mosaic over the stove, imparts an ultra-layer of sophistication.
"Jim Hummel designed the backsplash," notes Karla, "and there is no wall exposed. It's easier to keep clean this way." As Karla points out that it's not as easy keeping the stainless steel appliances mark-free due to "all the fingerprints," she steps over to the big shapely sink and waves her hand over the faucet. "It's a hot and cold water-filtered faucet from Northwest Pipe Fittings. I had to have it."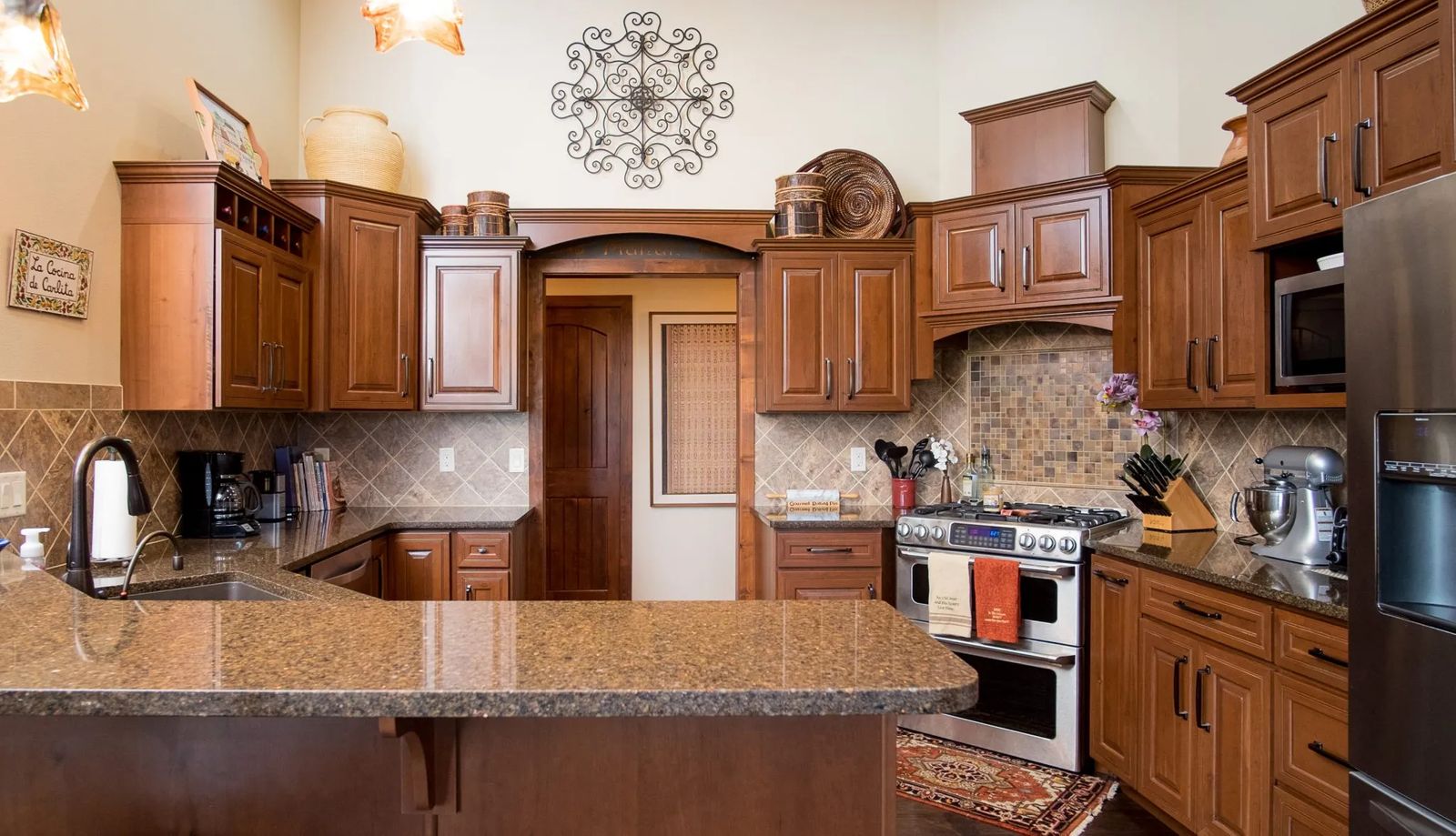 Another requirement on the Mahan list was a two-level kitchen island. "We love to sit here and have cheese and wine," mentions Karla. "Everyone congregates in the kitchen," adds Jack.
Nestled in this open space is the dining area. A distressed Amish table and chairs made of cherry wood elicit the wow factor. "We wanted a high table," says Jack. "This was custom-made in Indiana."
Whether congregating at the isle enjoying fine wine and cheese or seated at the table, the view to the back yard is breathtaking. Generous windows and a glass door bring the outside into full bloom. The patio provides a top-rate space for entertaining. There's plenty of room to sit, eat, share worldly tales of travel around the gas fire pit, or just watch the garden grow.
Karla's immense backyard oasis grows 42 different species of plants. "My favorites are the blue larkspur along the wrought-iron fence and the ghost lamium, this lavender color," she divulges with sheer delight. "There are mostly yellow and white flowers like the moonbeam coreopsis but I'll have more pink next year. I love pink."
Hosta plants sprout next to a water fountain, a winter hazel bush brushes up alongside piles of stones and hydrangea lead the way to the center court. "My vision is having the paths lead to the center which is the focal point," explains Karla. "It's making 'rooms' for my garden and we'll have benches in the different rooms."
Karla and Jack love their wide-open terrace with the park as its backdrop. It's one of the reasons they chose this lot. "The garden is healing and it's a peaceful place," states Karla. "It's secure, too, as it's open. All our neighbors can see it."
These world travelers wouldn't give up the sights they've seen nor the cultures they've embraced, however, they are thrilled to be back in Billings. "We're close to the hospitals and we've cut down on what we have to do to maintain a home. We're planners." Of all the places they could have landed in the world, Karla says, "We chose living here."
ADDITIONAL PHOTOS OF THE MAHAN HOME