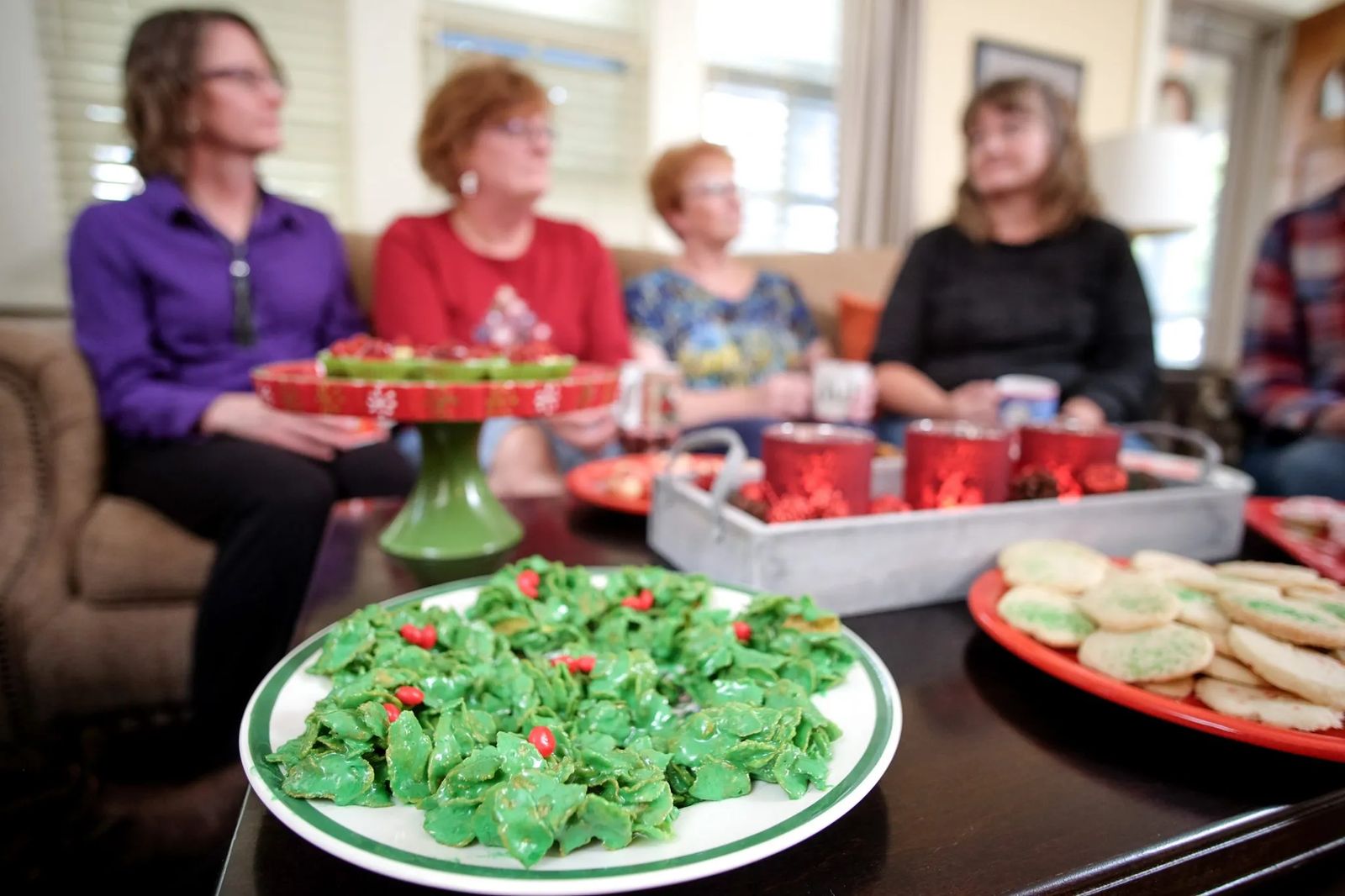 Seasoned with Friendship
Cookie Exchange celebrates 25 years of sweetness
The laughter freely flows in Carol Keenan's kitchen as dear friends gather around the stove to pour some of her fresh cinnamon spiced cider into holiday themed mugs. Just a few steps away, cheerful plates overflow with holiday goodness featuring sugary confections whipped up by this group of ladies. While the holiday cookies appear to take center stage at this annual cookie exchange, the baked goods seem to be overshadowed by the heartwarming friendships that have taken decades to season.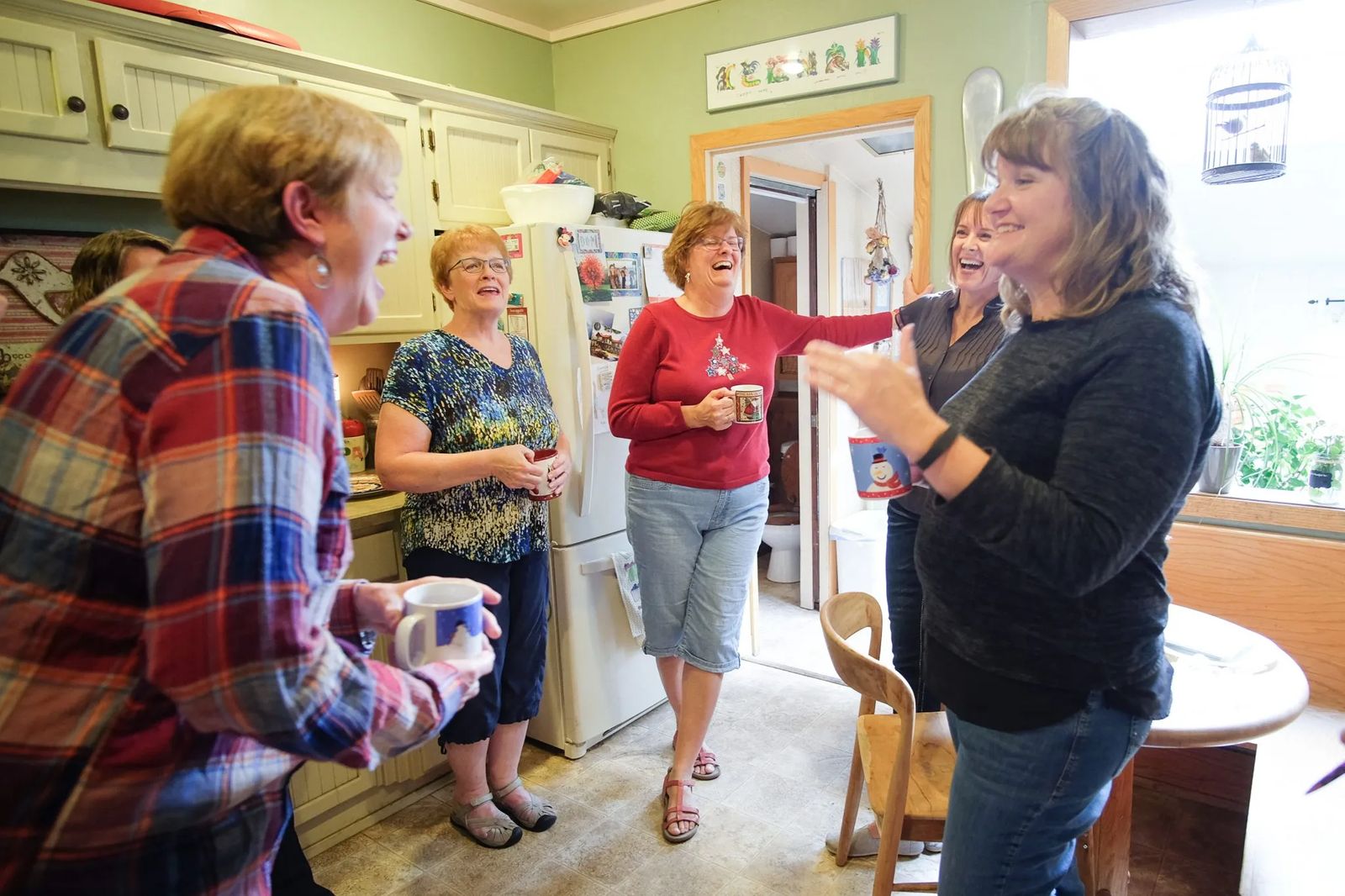 "We were good friends to start, but we've had all of our life experiences that we've lived through together," says Leslie Small. "This is almost our Christmas card to each other when we get together."
Twenty-five years ago, when some of these ladies were fresh out of nursing school, Carol organized the first cookie exchange as a way to bond with some of her nursing co-workers in cardiac care at the Billings Clinic. She invited eight ladies who she thought might know a thing or two about baking. All these years later, the same eight ladies gather in mid-December to share not only Mini Cheesecake Tarts and Peppermint Twist Kiss cookies, but a little bit about life as well.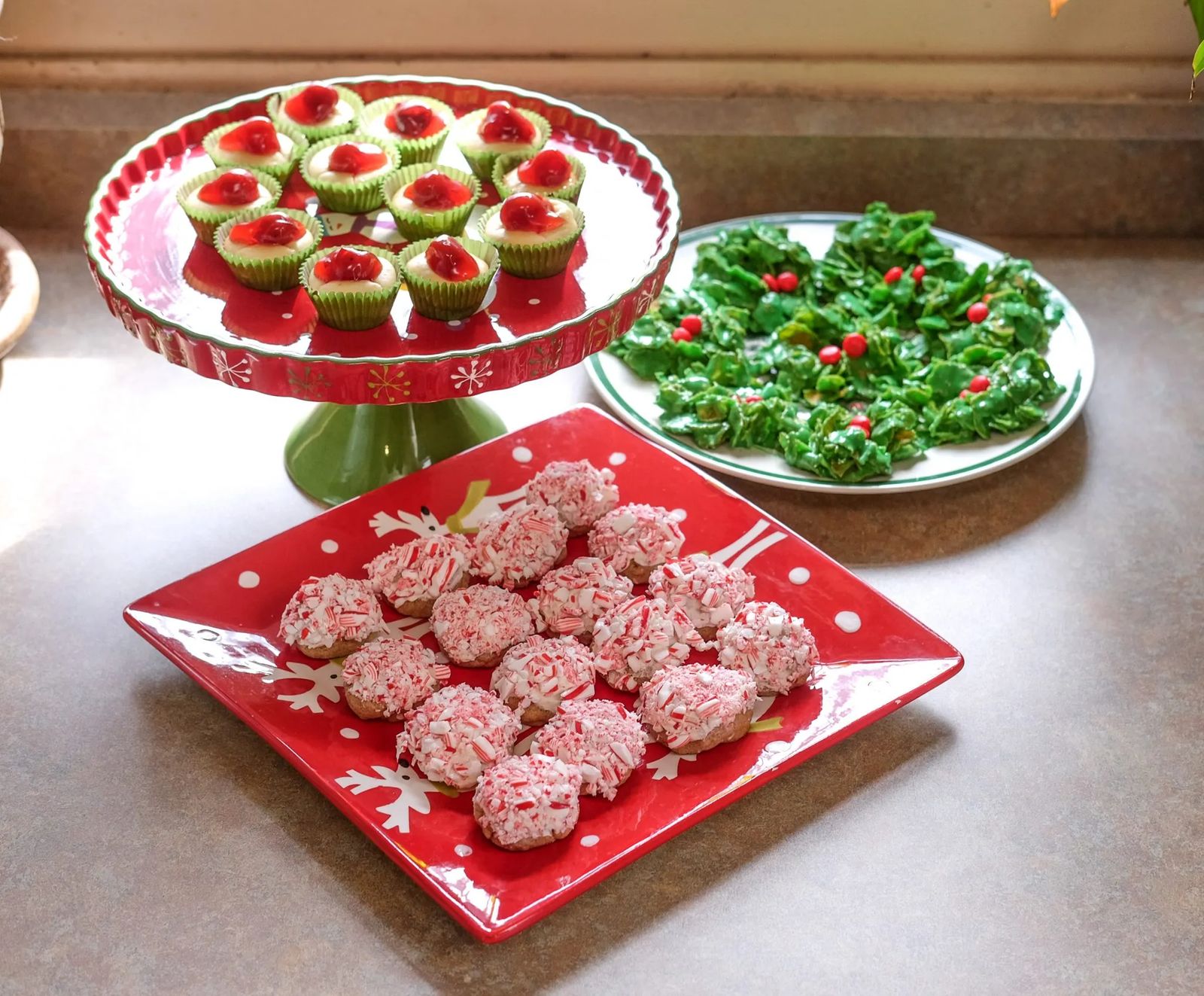 "It is beautiful," says Kim Mork. "We all take turns just sharing and asking each other questions. I get so giddy at home baking the cookies. I know this time we spend together is going to be full of laughter. It is just joyful and heartwarming, even if we have sorrowful experiences to share. I love these ladies!"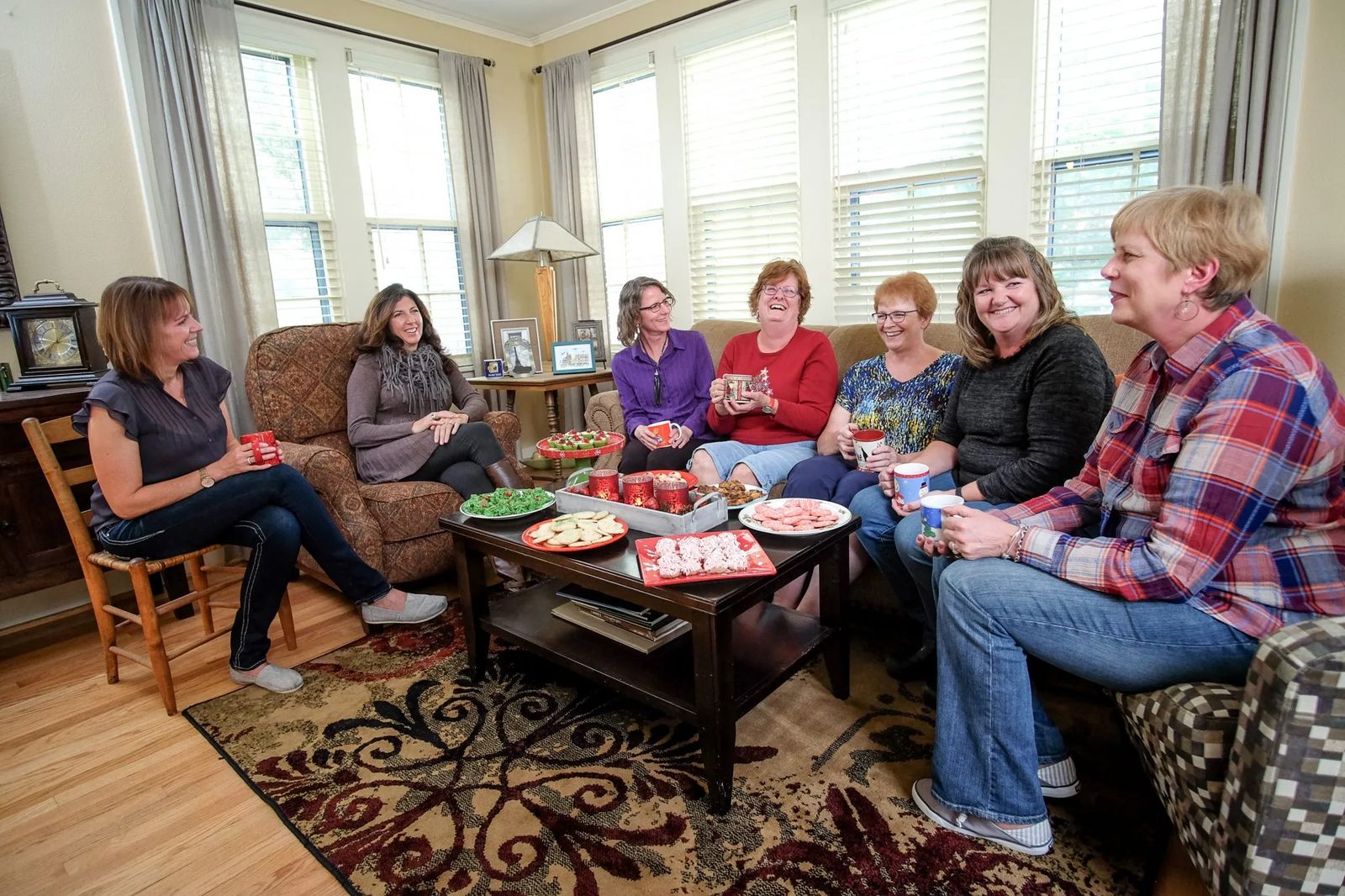 Through the years, they've shared in the birth of their children. They've grieved losses. Chris Nelson says, "They are such dear friends because we started our nursing careers together and we've been through a lot with the highs and lows of work. We always relive funny stories, the things we go through, some patient stories, wait, I don't know if you can share that," she says amidst more laughter. Julie Diehl is quick to say, "Unnamed, unnamed patient stories!" It's clear the women are together through thick and thin. One year, Linda O'Neil, too sick to make it to the party because of cancer treatments, got a surprise visit from the rest of the ladies armed with plates of cookies. Carol smiles as she says, "She still got her cookies and we didn't ask her to make any!"
Leslie Small decided to honor their tradition with this custom Christmas ornament sharing all the bakers in the cookie exchange group.[/caption]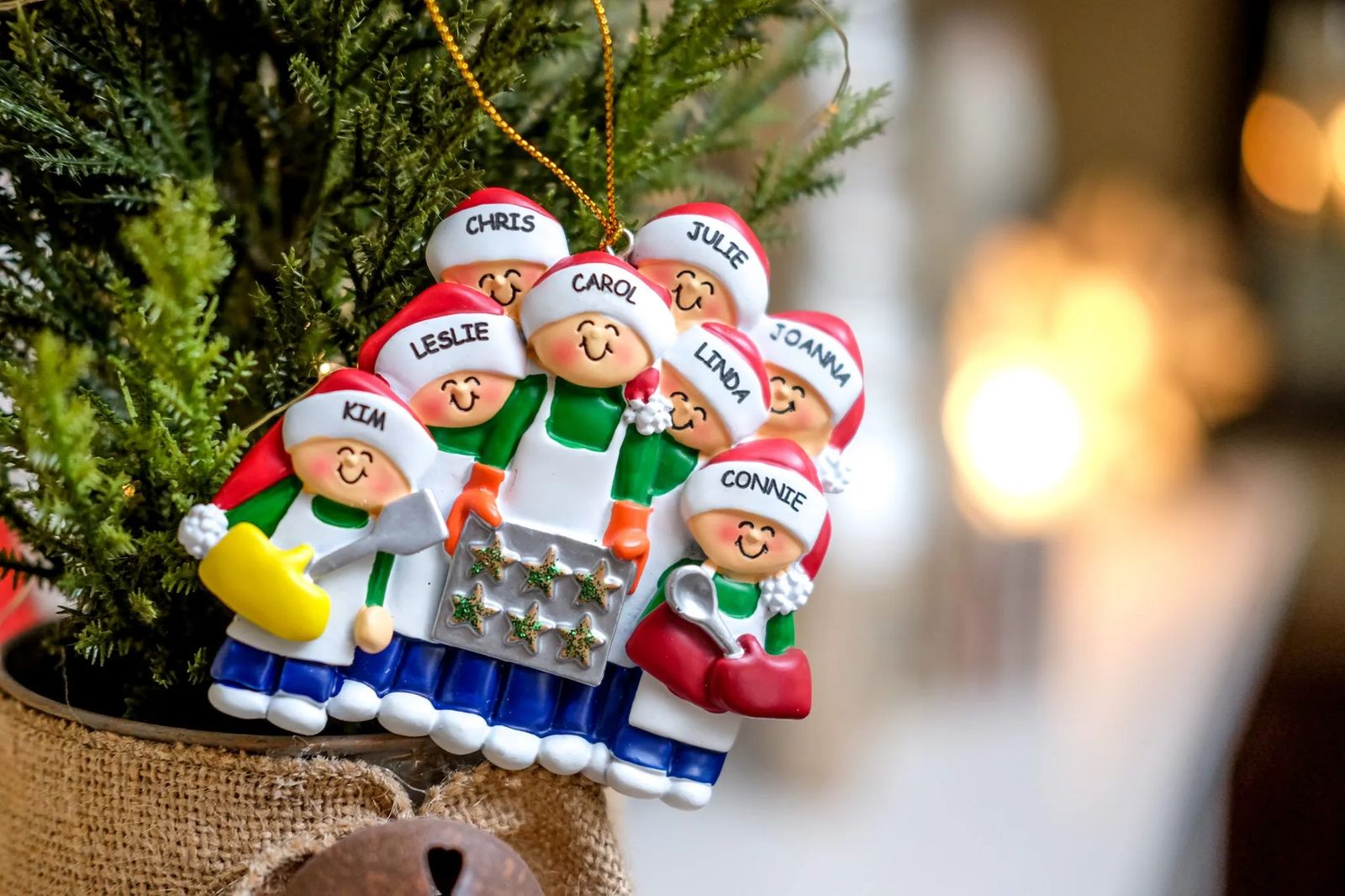 In the early years, the women's toddlers joined in the fun. "I think that only lasted one year," Carol says with a laugh. And this year, to commemorate the 25th year, the women's husbands are invited. Leslie says, "I was just thinking about this earlier today. We are all married to our original husbands after all these years. There are a lot of years of marriage here, which is kind of cool." Instead of cookies, the men are planning a beer exchange to sip and savor different brews. "It might end up like the toddler year," Chris says as the room erupts in laughter. Kim is quick to add, "We can say, 'Eh, we tried it once!'"
The very first exchange was held in 1991 and Joanna Church says they can have a chuckle when they look back at some of those early photos. "We all wore what people now call the ugly Christmas sweaters." Carol adds, "But we weren't trying to be ugly!"
As the women break into sampling mode, it's clear that friendship is the secret ingredient in each and every one of these holiday sweets. "To get together and have that bond, it's pretty amazing to have friends that have lasted this long through the ups and downs of jobs changing and life changing," Julie Diehl shares. Right on cue, Carol says, "I can't ever imagine not doing it!"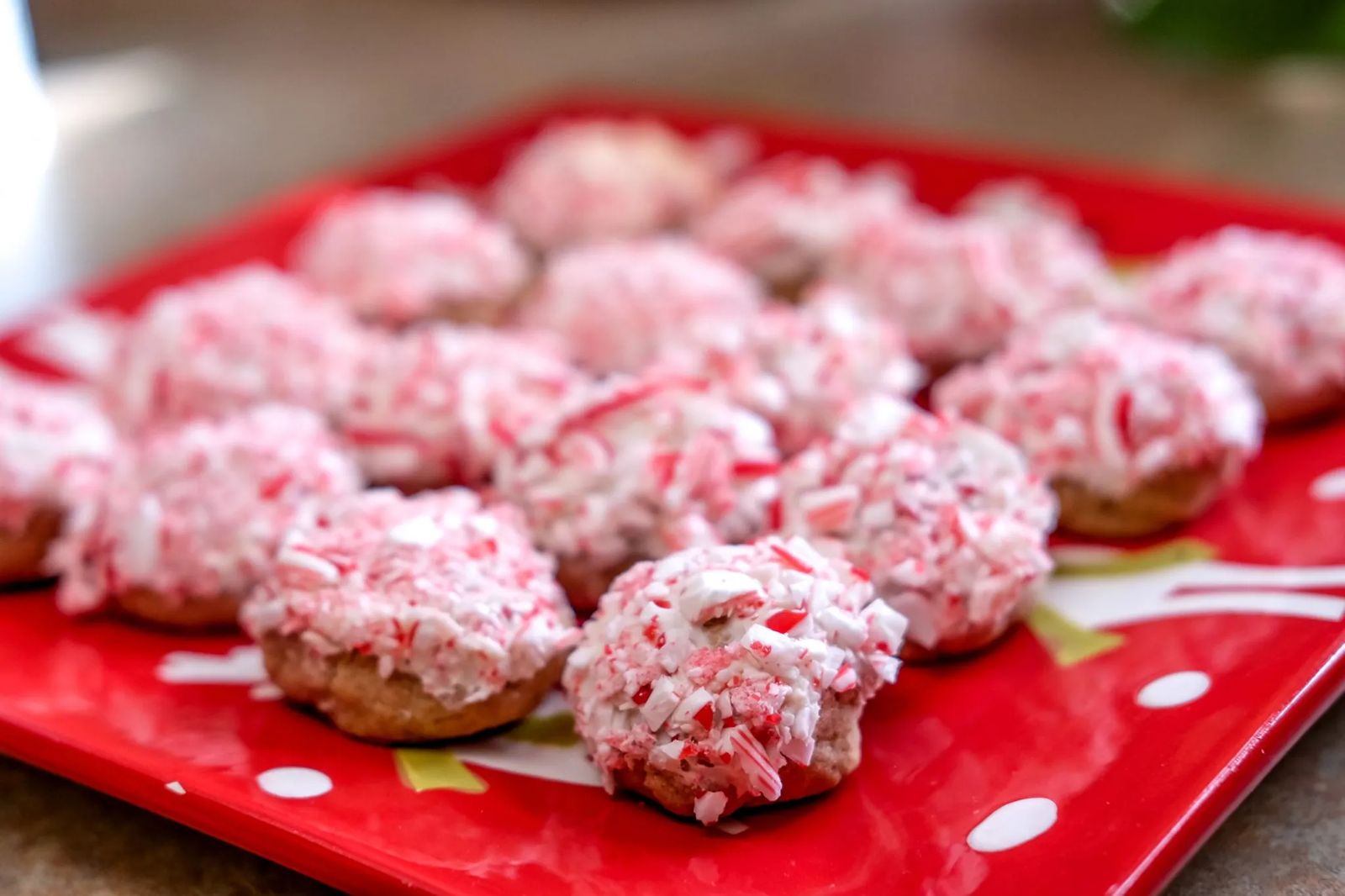 SPRITZ COOKIES
~from the kitchen of Kim Mork, makes 42 cookies
1 c. butter
¾ c. sugar
1 egg
2 t. almond extract
2-1/4 c. sifted all-purpose flour
¼ t. salt
½ t. baking powder
DIRECTIONS: Cream butter until soft. Add sugar gradually, continuing to cream until light and fluffy. Add egg and almond extract; beat. Sift flour, salt, and baking powder together, add gradually in three stages, beating well after each addition. Chill dough 10 minutes. Make into rolled balls, then pat into desired shape. Bake 8 to 10 minutes in oven preheated at 400 degrees F. Add cream cheese or sour cream frosting and top with crushed candy canes.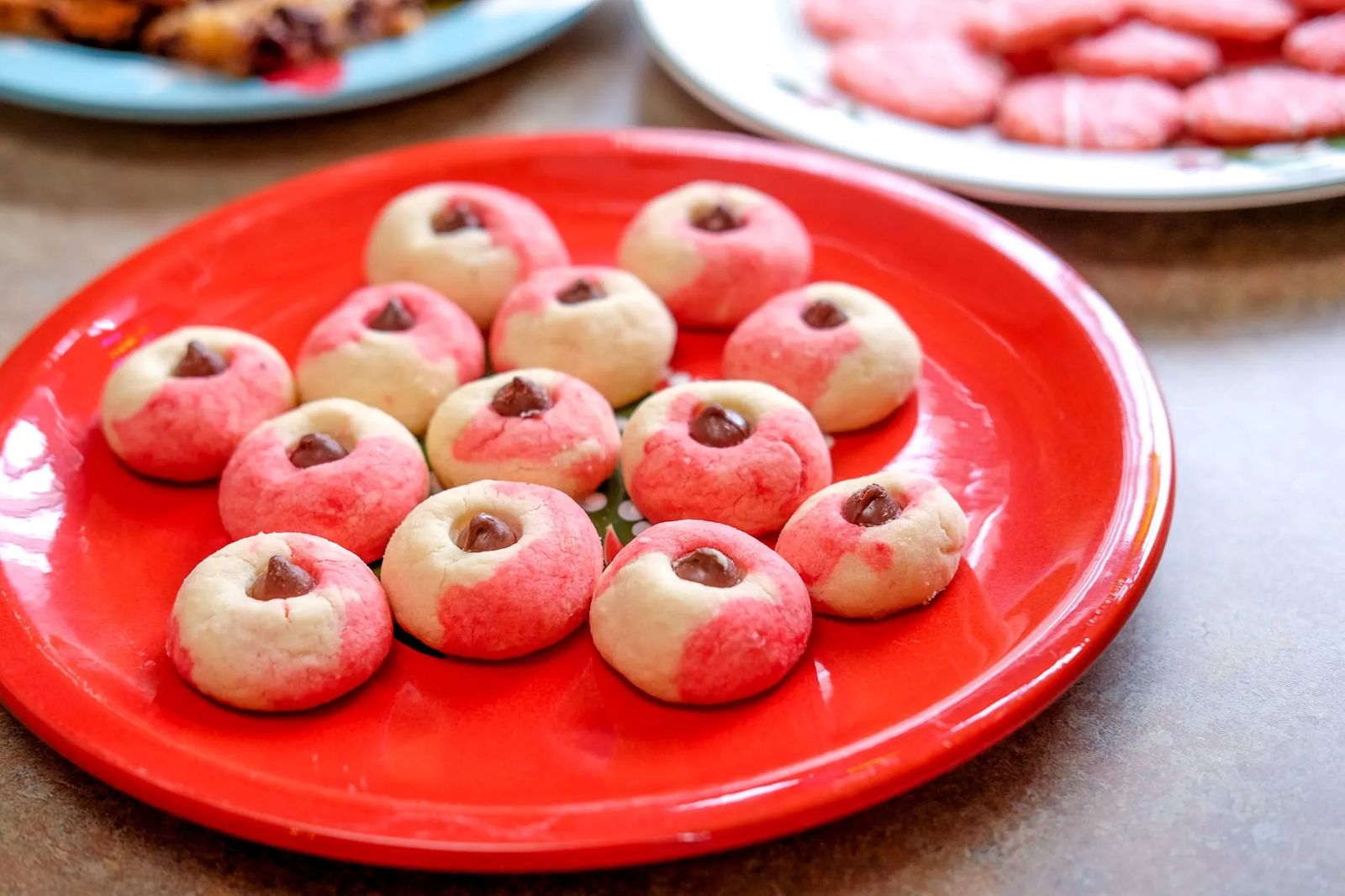 PEPPERMINT TWIST KISS COOKIES
~from the kitchen of Julie Diehl, makes 36 cookies
½ c. butter
½ c. sugar
1 egg yolk
¾ t. peppermint extract
½ t. vanilla
1-1/4 c. all-purpose flour
¼ t. salt
8 to 10 drops of red food coloring
36 large chocolate chips or mini Hershey's Kisses
Crushed candy canes
Can of cream cheese frosting
DIRECTIONS: Heat oven to 350 degrees. Cream butter and sugar. Add egg yolk, peppermint extract and vanilla. Beat until well mixed. Reduce speed to low and add flour and salt. Beat until well mixed. Remove half of dough from bowl. Add a small amount of red food coloring to dough in bowl and mix well. Divide each half of dough into quarters, rolling each quarter into a 9-inch log. Place 1 red log next to one white log and twist gently to swirl dough. Roll gently to smooth. Repeat with remaining dough. Cut each swirled rope of dough into 9 pieces. Gently roll each piece into a ball. Place on to ungreased cookie sheets. Press one chocolate chip or kiss in the center of each ball. Bake for 11 to 13 minutes or until edges are lightly browned.
SEVEN LAYER BARS
~from the kitchen of Chris Nelson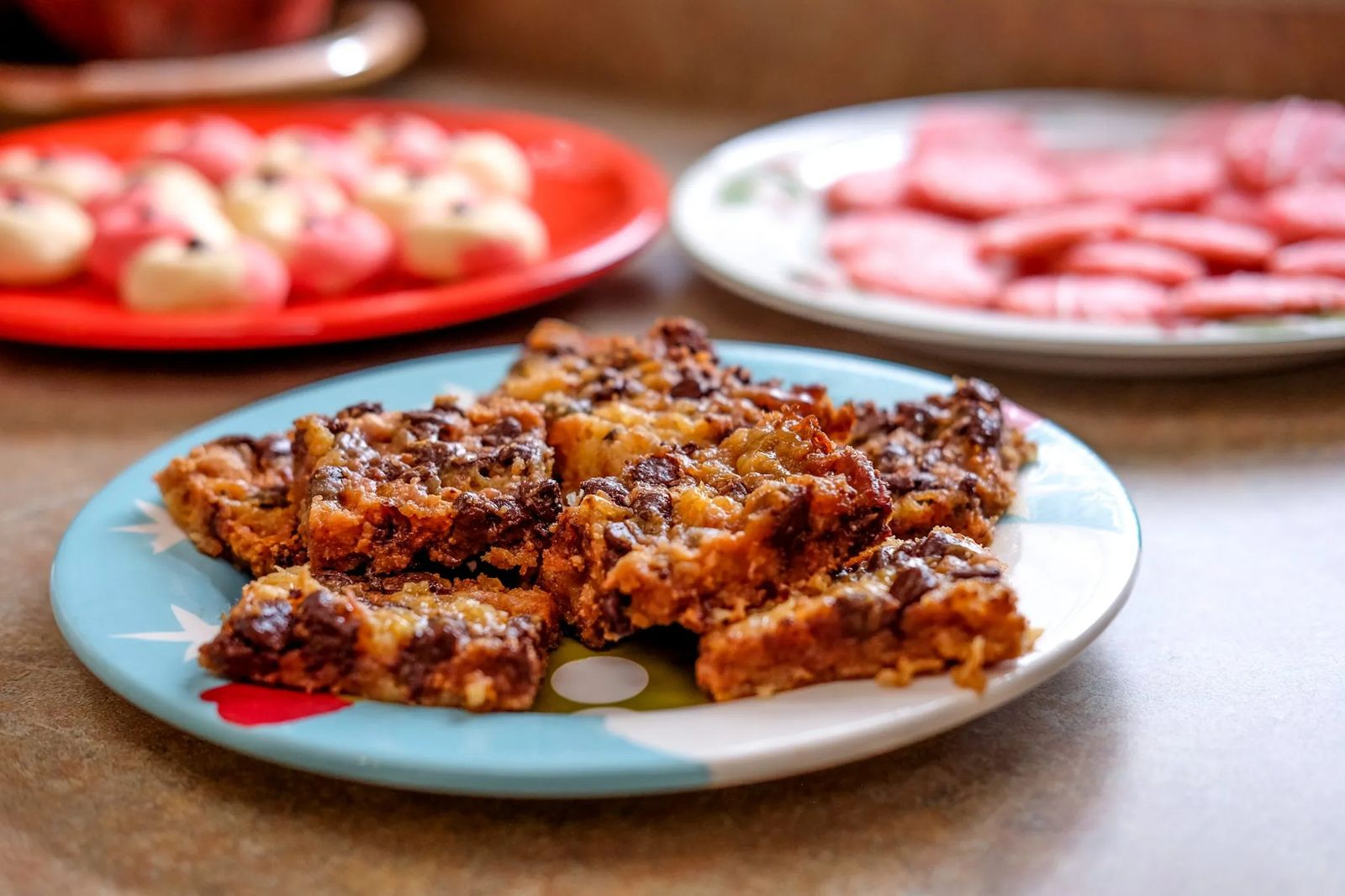 ½ c. butter melted
1 c. graham cracker crumbs
1 c. coconut
6 ounces of chocolate chips
6 ounces of butterscotch chips
1 can of sweetened condensed milk
1 c. crushed walnuts
DIRECTIONS: Spread butter in the bottom of a 9" by 13" baking pan. Sprinkle graham cracker crumbs into butter, forming a crust. In a bowl, mix the coconut, chocolate and butterscotch chips, sweetened condensed milk and walnuts. Layer over top of the graham cracker crust and bake at 350 degrees for 30 minutes.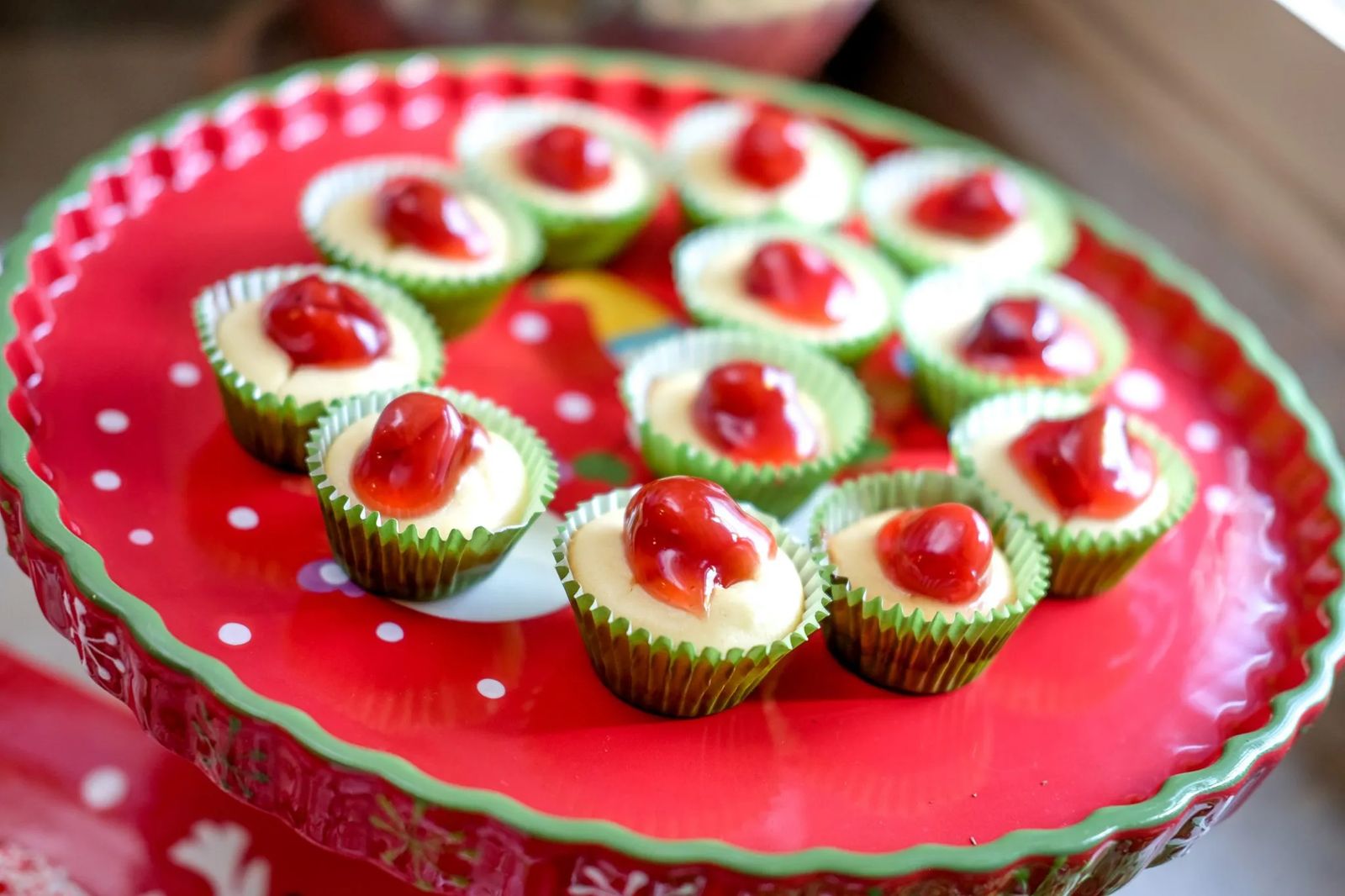 MINI CHERRY CHEESECAKE TARTS
~from the kitchen of Joanna Church, makes 72 tarts
3 - 8 ounce packages of cream cheese
1 c. sugar
3 eggs
½ t. vanilla
72 Vanilla Wafers
1 can of cherry pie filling
DIRECTIONS: Beat cream cheese and add sugar gradually. Add eggs and ½ teaspoon of vanilla. Crumble 1 vanilla wafer in each of the mini cupcake baking cups and put into a mini cupcake pan. Fill with the cream cheese mixture. Bake for 20 minutes at 375 degrees. Top with 1 cherry from the can of cherry pie filling.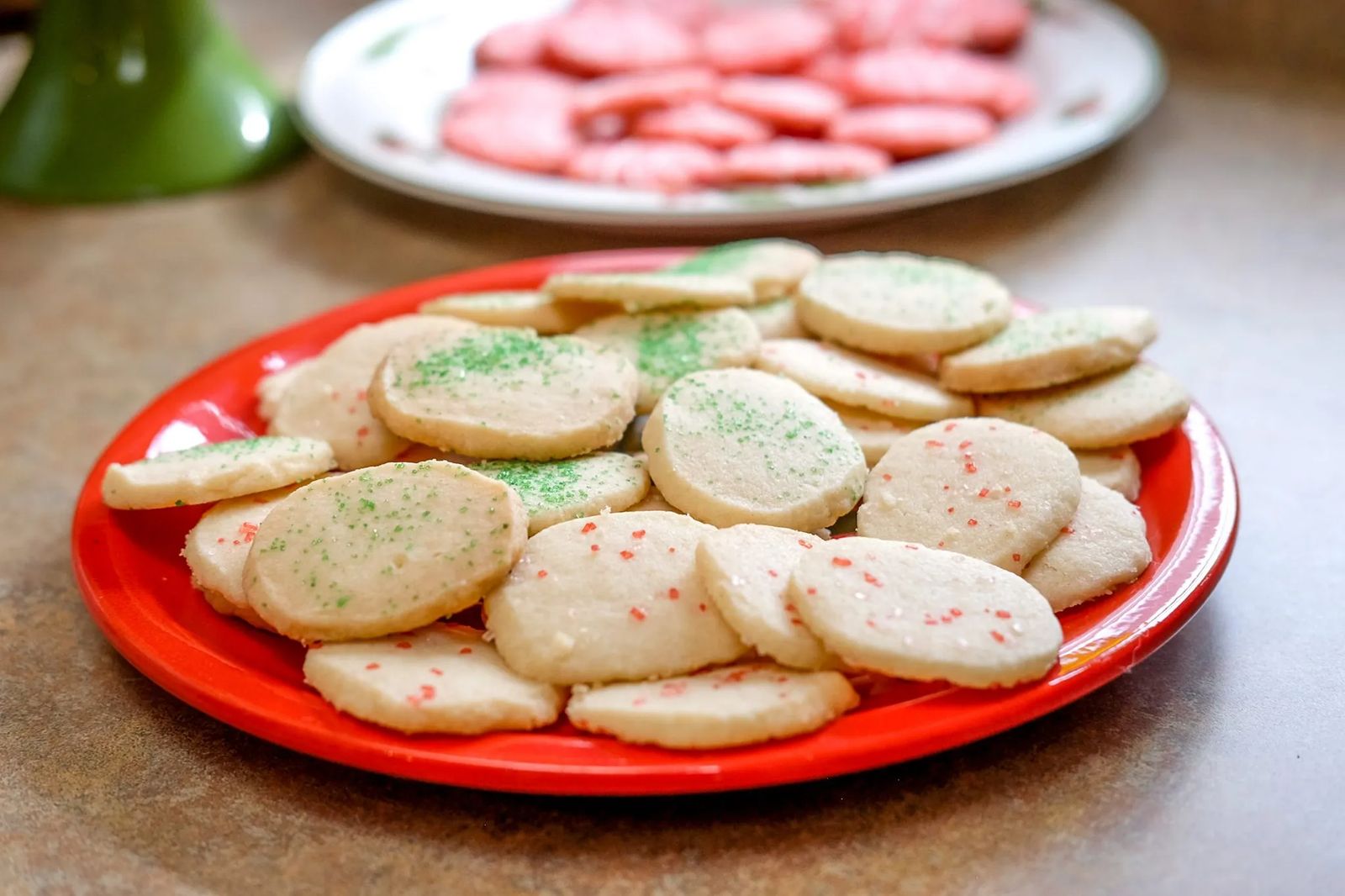 SHORTBREAD
~from the kitchen of Carol Keenan
1 pound of butter
1 c. of sugar
4 c. flour
DIRECTIONS: Mix butter and sugar and knead into flour. Divide dough in half and roll into two rolls. Cover with plastic wrap and refrigerate overnight. Take out, sit at room temperature for 20 minutes. Slice and bake at 250 degrees for 20 to 25 minutes.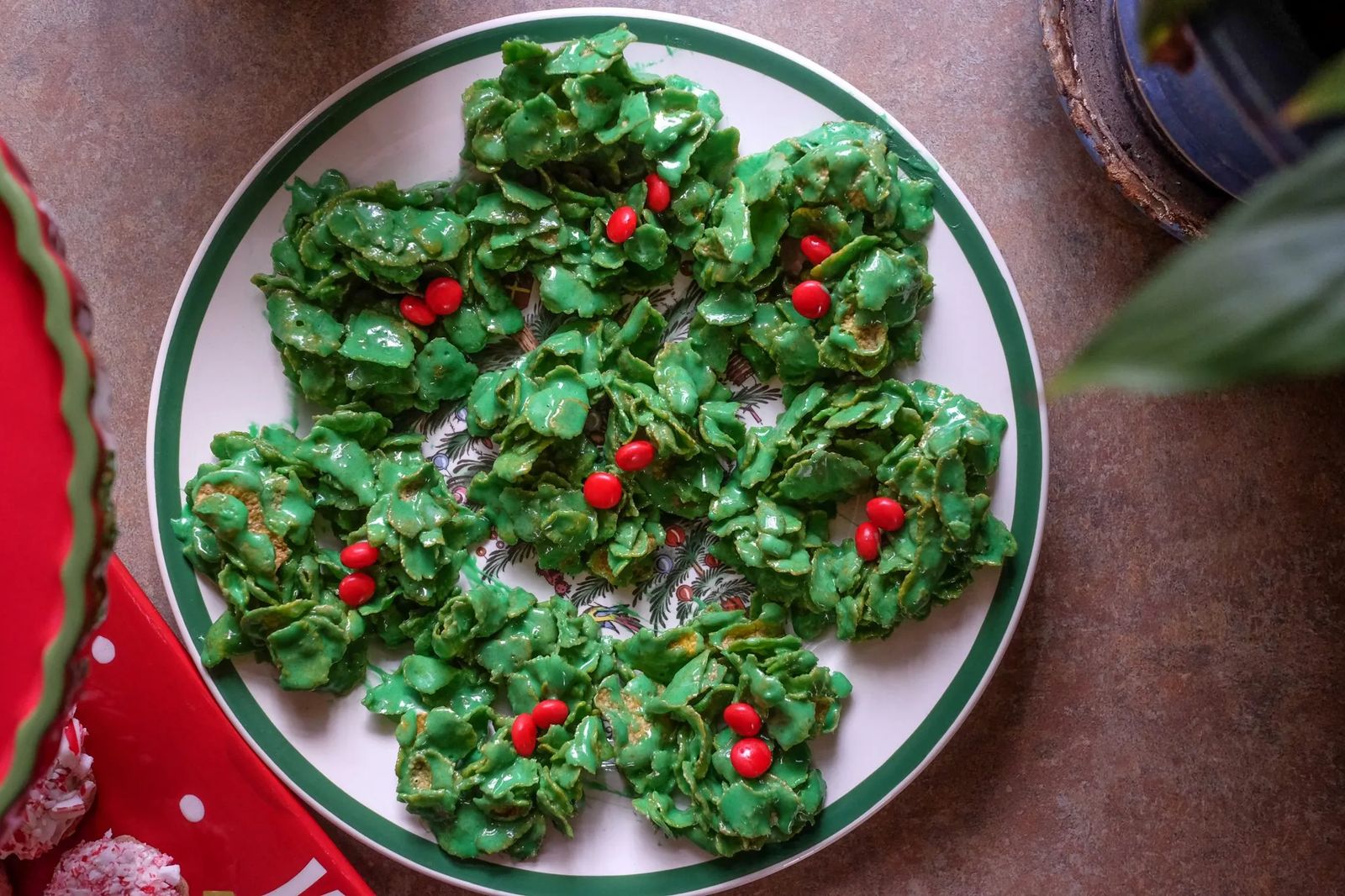 CORNFLAKE CHRISTMAS WREATHS
~from the kitchen of Leslie Small, makes about 15 wreaths
1 stick of butter
4 cups of corn flakes cereal
1 – 10 ounce package of large marshmallows
¾ t. green food coloring
¼ t. vanilla
Cinnamon candies to decorate
DIRECTIONS: Melt butter and marshmallows in a large bowl in the microwave for 2 minutes. Stir and gradually add in food color and vanilla. Drop by tablespoon onto buttered wax paper. Shape into wreaths quickly with fingers dampened with cold water. You will have to rewet fingers every two wreaths to avoid stickiness. Add 2 to 3 cinnamon candies to each wreath for holly berries.
CHERRY SHORTBREAD COOKIES
~from the kitchen of Linda O'Neil
½ c. Maraschino cherries, drained and finely chopped
2-1/2 c. all-purpose flour
½ c. sugar
1 c. cold butter
12 ounces white chocolate baking squares, finely chopped
½ t. almond extract
2 drops red food coloring (optional)
2 t. shortening
DIRECTIONS: Start by spreading cherries on paper towel to drain. Combine flour and sugar in a large bowl. Cut in the butter using a pastry blender until the mixture is crumbly. Add drained cherries and 2/3 cup of the chopped white chocolate. Stir in almond extract and, if desired, food coloring. Knead until smooth and form into a ball (dough will be crumbly at first, but will come together as you work the dough with your hands). Shape dough into 3/4-inch balls and place 2 inches apart on an ungreased cookie sheet. Flatten balls to 1-1/2-inch rounds. Bake at 325 degrees F for 10 to 12 minutes. Cool for 1 minute on cookie sheet and then transfer to a wire rack to fully cool. In a small saucepan, combine remaining 8 ounces white chocolate and the shortening and melt on low heat, stirring constantly. Place cookies on parchment or waxed paper. Drizzle white chocolate over top cookies using either a pastry bag or a plastic bag with the corner cut out. Leave on paper until the chocolate is set.