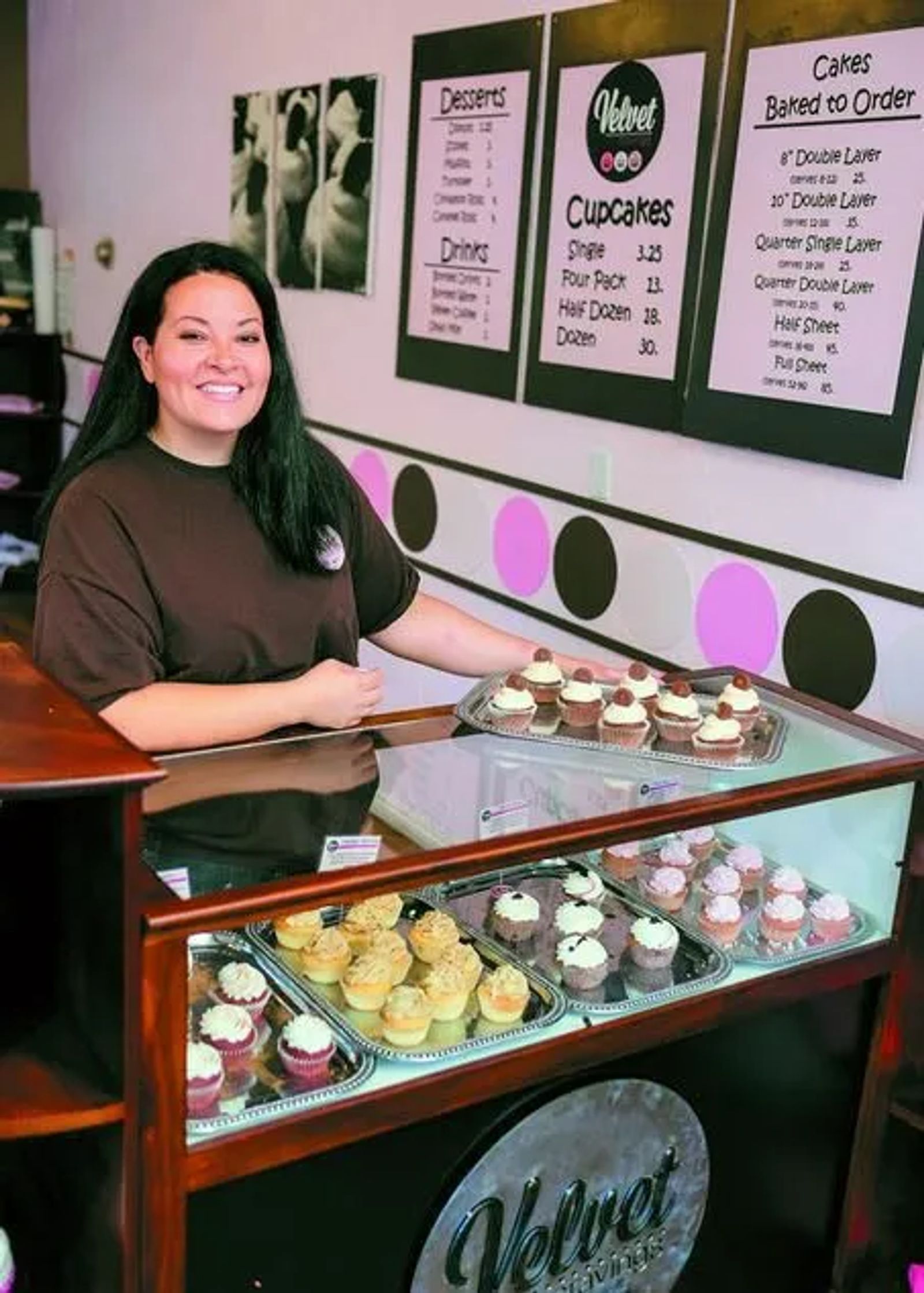 Serving Up Sweets!
Velvet Cravings takes a bite out of the cupcake craze
Insight comes in mysterious ways.
Mike and Antonia Craighill's "aha moment" came after the newly-married couple traded working opposite shifts in retail for working side-by-side all hours of the day in their first restaurant. Soon after: The Famous Coffee Filter Fight.
Whether he thought the coffee filters ought to be kept with the other paper products in the storeroom rather than at the centrally-located coffee station or the other way around is today a moot point. The upshot of the row was that one restaurant became two, a marriage was saved and a downtown cupcake shop was born.
Eureka!
"It was cheaper to open two restaurants than to go to marriage counseling," says Antonia Craighill, 39, who co-owns Soup and Such and Velvet Cravings with her husband, Mike, 38.
The couple, who met working at Walmart, started the soup and salad bar restaurant Soup and Such in a shuttered Chinese restaurant in the Heights in 2006 just two years after getting married. Driving by the For Lease sign outside the closed Peking House on her way to meet Mike and daughter Kaitlyne for ice cream, Antonia, a hobby baker who for years had dreamed of opening a restaurant, took note.
"We still have the 31 flavors napkin with all the details of the lease and the phone number to call," Antonia recalls.
At first, Antonia and Mike were relieved to give up their hectic schedule that had her working 5 a.m. to 2 p.m. and him 3 to 11 p.m. (and swapping Kaitlyne between them). But one too many squabbles like The Famous Coffee Filter Fight had them at wits end.
In 2008, they opened a second Soup and Such on 3rd Avenue North and divided the labor: Antonia in the Heights, Mike downtown.
It worked, and, in the years since, they've redefined their partnership, both professionally and personally.
"I have learned in eight years of business and 10 years of marriage to trust her instinct," says Mike of Antonia.
Antonia sees it differently. "I'm the inventor of the recipes, but he's the innovator, he makes everything happen."
In fact, it's a little of both, says Rebecca Hedegaard, formerly the director of the Small Business Development Center at Big Sky Economic Development, who advised the Craighills on their first restaurant.
"They both have this passion to do something bigger and better," says Rebecca. "They actually work together as partners very well, each recognizing the other's strengths, and both of them are willing to work on their business, not just in it."
The Craighills closed the Heights restaurant in 2012 after losing their lease. When they woke up the morning after their last day, they were "both still alive" and felt optimistic about the next phase, which turned out to be right around the corner – literally.
Although Antonia did some baking at the Heights restaurant and some for clients on the side, Soup and Such didn't really allow her to indulge her first love: sweets. When the space formerly occupied by Prairie Blossoms — just two doors down from Soup and Such on the corner of 3rd Avenue North and North Broadway — became available, she jumped.
With about $10,000 cash, Antonia began transforming the retail space into a commercial kitchen, doing much of the decorating herself. Velvet Cravings opened in October, 2012.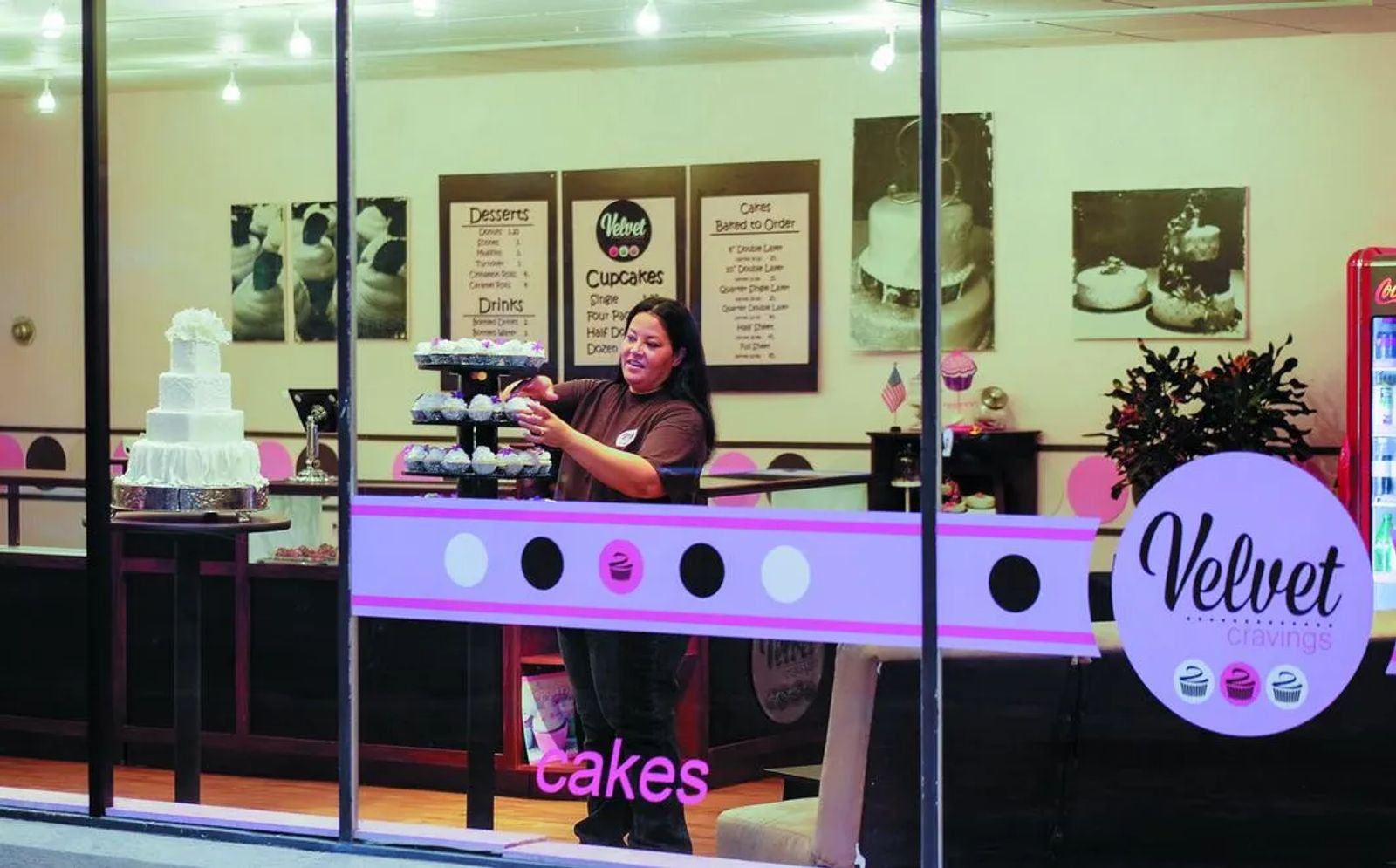 The shop offers 16 types of cupcakes daily, everything from Old Fashioned Chocolate to Maple Bacon.
Velvet Cravings is Billings' second cupcake-only bakery. Tipsy Cupcake opened in January 2012 at Shiloh Crossing. The gourmet cupcake trend blew up in the early 2000s after the characters on the hit HBO series Sex and the City dined on confections from New York City's Magnolia Bakery, which quickly became the go-to place for cupcakes, expanding all over the world and spawning copycat cupcakeries in its wake.
Marsha and Devon Burbidge stopped into Velvet Cravings on a recent Monday. The mother-daughter duo was in town from Circle, MT, population 615. They had stopped by the shop in July but found it closed and had been planning a return visit ever since. A doctor's appointment gave them the excuse they needed to order two petite treats: the Huck Finn, a huckleberry cake with white chocolate buttercream and a Yin-Yang, a caramel-filled chocolate espresso vanilla bean cake with raspberry icing.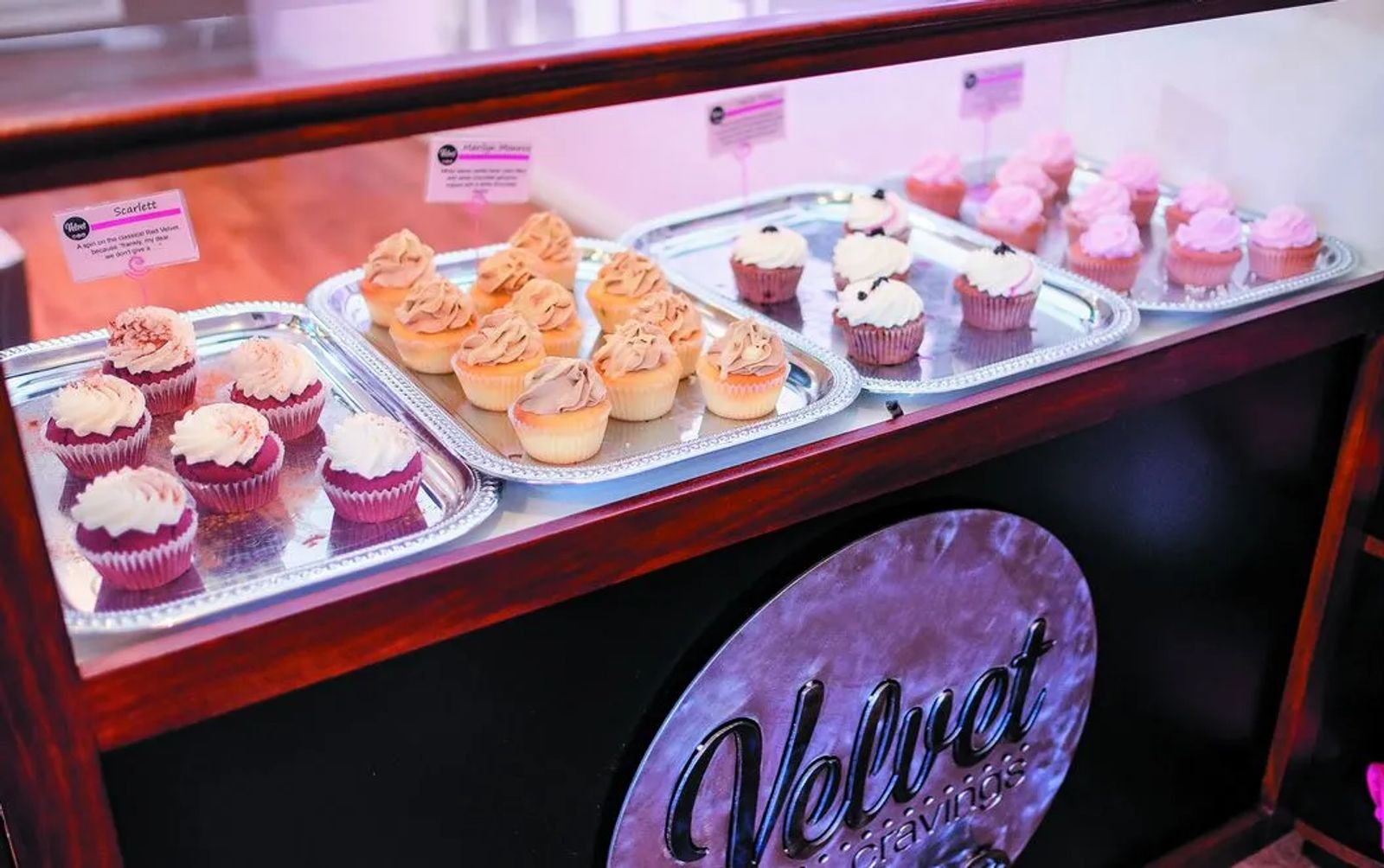 Later that afternoon, five exchange students studying at MSUB stopped in. Sayaka Mano, 19, from Kumamoto, Japan, population 731,286, posed for a selfie with her Kaleidoscope cupcake, a confetti cake.
"You have your own little cake," says Antonia. "People are selfish and when they have a cupcake, they're not expected to share."
Antonia, who in addition to Kaitlyne, 17, is mother to Parish, 8, and Aanya, 7, arrives at the shop by 6 a.m. and bakes a dozen of each cupcake variety from scratch daily. If all her stars align – which includes getting butter and eggs to room temperature before she begins – the whole process takes her 2 ½ hours from start to finish. As supplies dwindle – usually the Samoa and the Snickerdoodle go first – she replenishes, baking until 3 p.m. Special-order wedding cakes and holiday pies fit in around the edges.
Streaming '80s dance music like Madonna and the Fine Young Cannibals, she bakes three trays of 24 cupcakes at a time, decorating those while the next three trays go in. She finds the process relaxing, even as it means hours on her feet six and sometimes seven days a week.
"I do walk like an old man at the end of a busy Saturday," she says.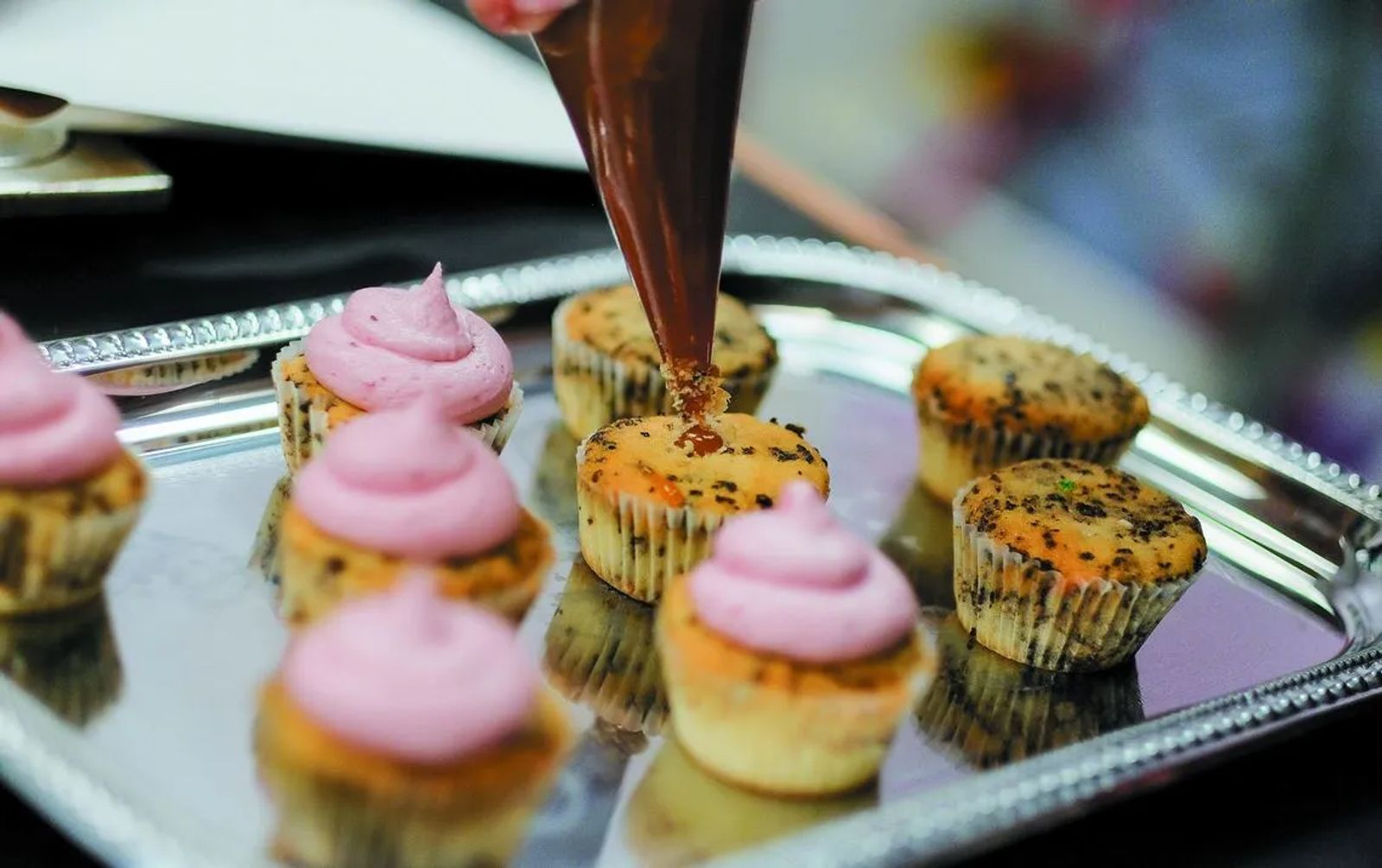 Antonia was born in Colorado Springs, CO to a food-oriented Hispanic family celebrated among friends for their green chili and Puerto Rican rice. Food was a way of life.
"I learned growing up that any type of event is based around food," says Antonia. "Even if friends came over to watch TV, my mother would start cooking."
These days, Antonia and her family do more grazing than sit-down eating, but, says Antonia, the "culture of food" has persisted.
Recently the family took a cruise (during which Mike surprised Antonia by renewing their vows) and tasted frogs' legs together on the count of three. (They did not taste like chicken.)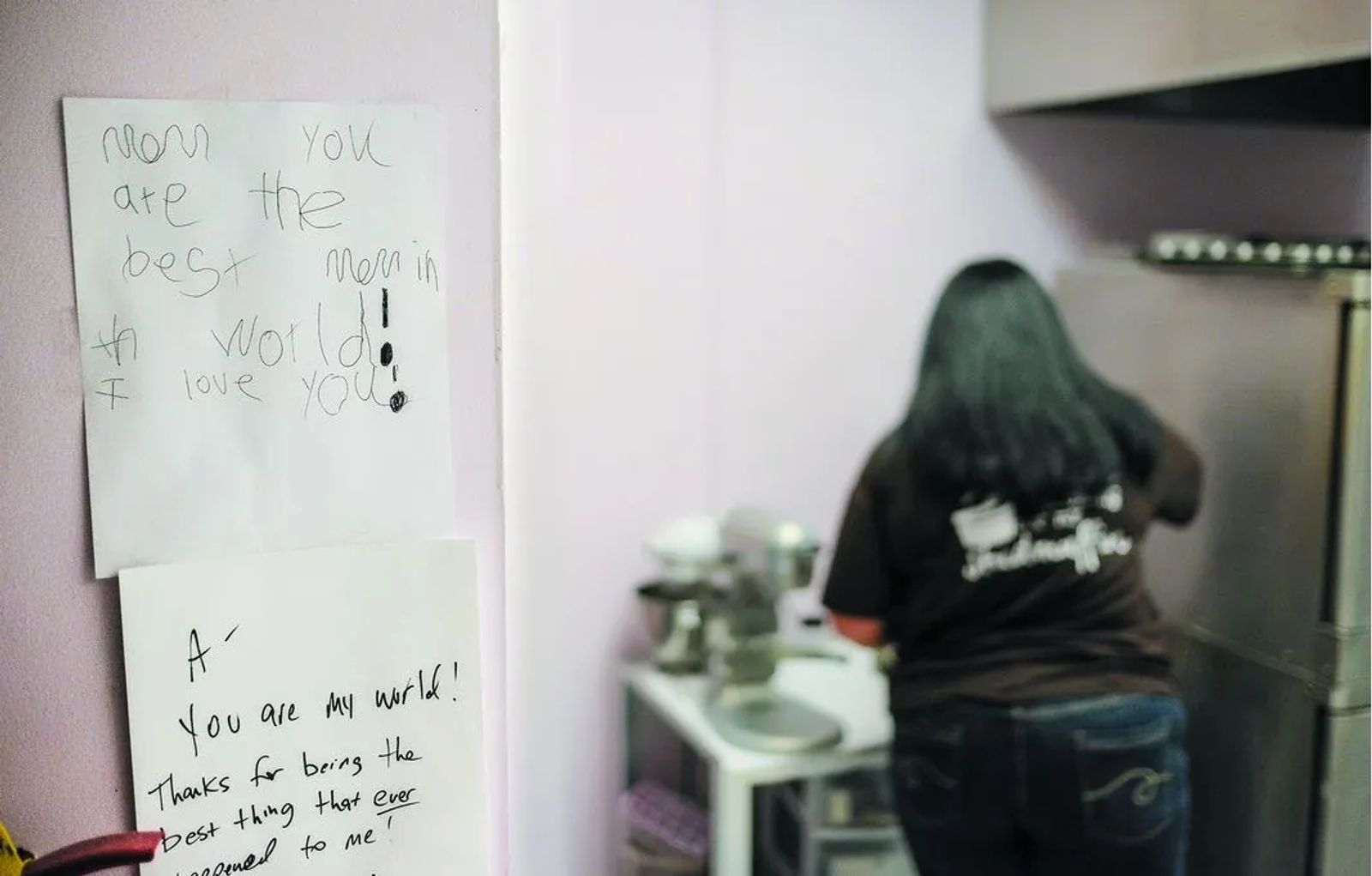 Velvet Craving is "growing and profitable," says Antonia. Although she delights in the baking itself, Antonia also enjoys the finer points of business, from working with customers to find the perfect pomegranate red for a wedding cake to generating buzz with Facebook contests for new flavors or names (recent winners: the Walt Disney, a pineapple custard-filled carrot cake, and the Oprah, a popcorn and marshmallow salted caramel cake).
"The nice thing about Antonia is she's always looking for ways to improve her business and she's never afraid to learn something new," says Rebecca from the Small Business Development Center, who had Antonia make her three-layer wedding cake some years ago (two layers of key lime, one of coconut mango). "She realizes that she doesn't know it all, and she's not afraid to ask for help to figure out a new idea."
The next new idea: another Soup and Such restaurant that will open at Shiloh Crossing by the end of the year. With Mike at the Soup and Such downtown and Antonia in the bakery, the couple will hire managers for the new store, although the recipes, layout, color scheme and lighting is all Antonia.
"I'm in awe of Antonia every day," says Mike. "From the day she made the baptismal cake for my niece who is now 12 until now, the creative talent she has leaks out in everything she does."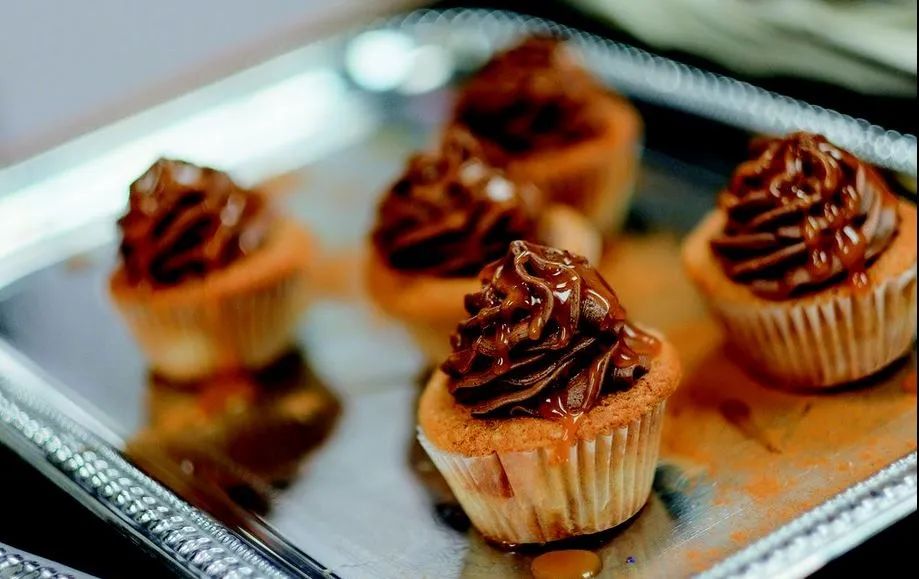 SATISFY YOUR SWEET TOOTH
Where to find Velvet Cravings
Velvet Cravings 225 N. Broadway – Downtown Billings. (406) 294-0308. www.velvetcravings.com and on Facebook.