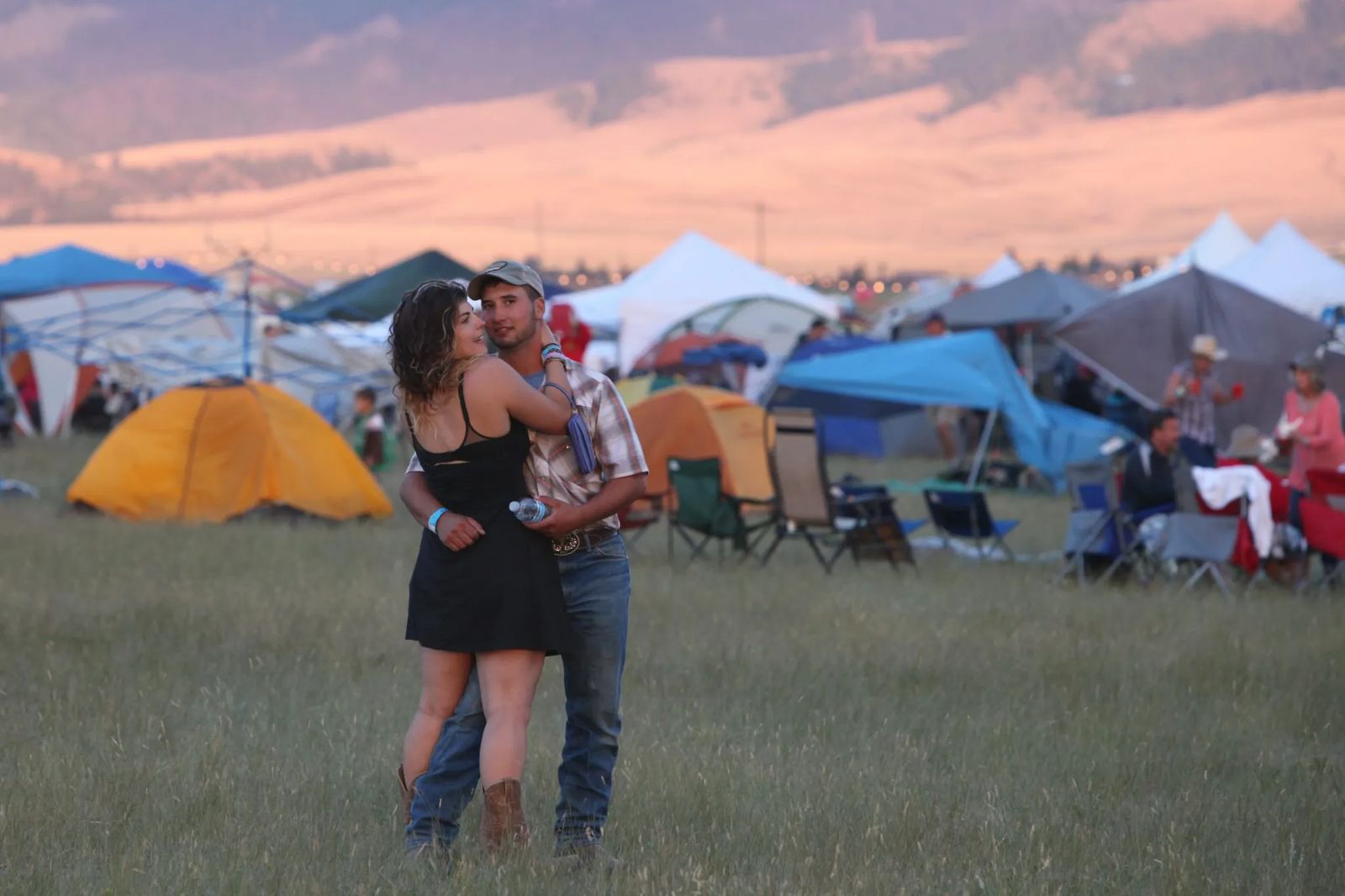 Setting the Stage for Music
From country and blues to old school rock, Montana delivers the sounds for summer

From hay-strewn pastures and grassy parks to campgrounds afterhours, music comes alive and thrives, especially under the bright Montana sky. In the circling of chords across such beauty, Montana music festivals have become a destination for artists and fans.
"The Montana skyline, the sunsets, and the landscape—there's a reason we all live in Montana," says Sarah Calhoun, Red Ants Pants Music Festival founder and producer.
From Butte's signature event across uptown, to the pastures of White Sulphur Springs, there are plenty of fests to choose as your jam. We gathered the details so you could grab your tickets for a musical Montana summer to remember.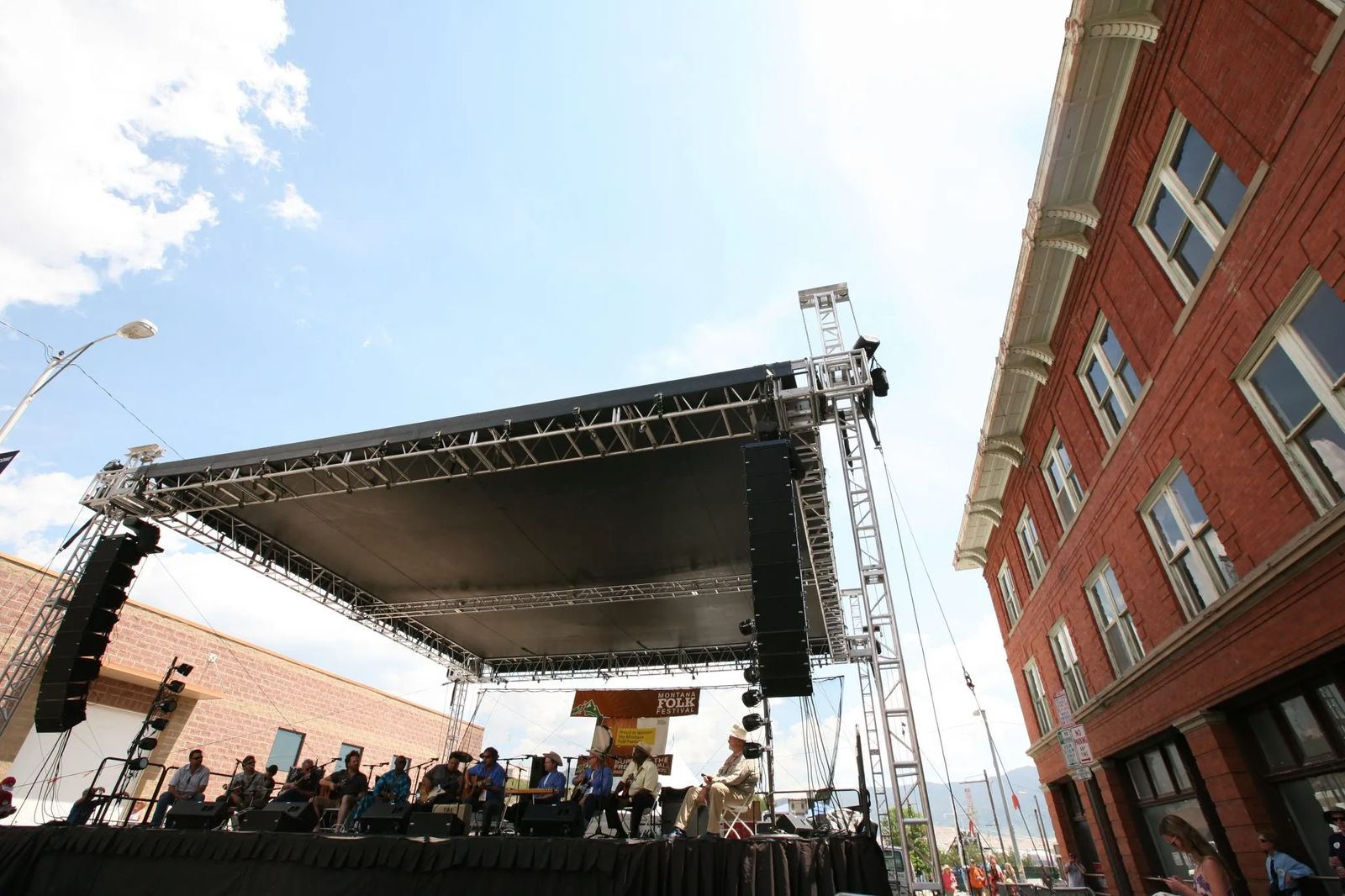 MONTANA FOLK FESTIVAL
This showcase of global music, dance, art and ethnic cuisine is one of the largest free festivals in the West, and was born after the National Folk Festival, which held residency in Butte from 2008 – 2010, decided not to make a comeback. Butte organizers were "having too much fun," and decided to keep the event going, says festival manager George Everett. "We had acquired the infrastructure and had a lot of expertise as to how to put on a music festival, so it was an easy transition."
The three-day festival plays out across a half dozen stages, including a participatory dance pavilion, a family stage with performances oriented toward children, a stage dedicated to music of Montana, and the Original Stage, situated atop the city on the site of an old mine yard, a reminder of Butte's backstory as an underground copper mining center.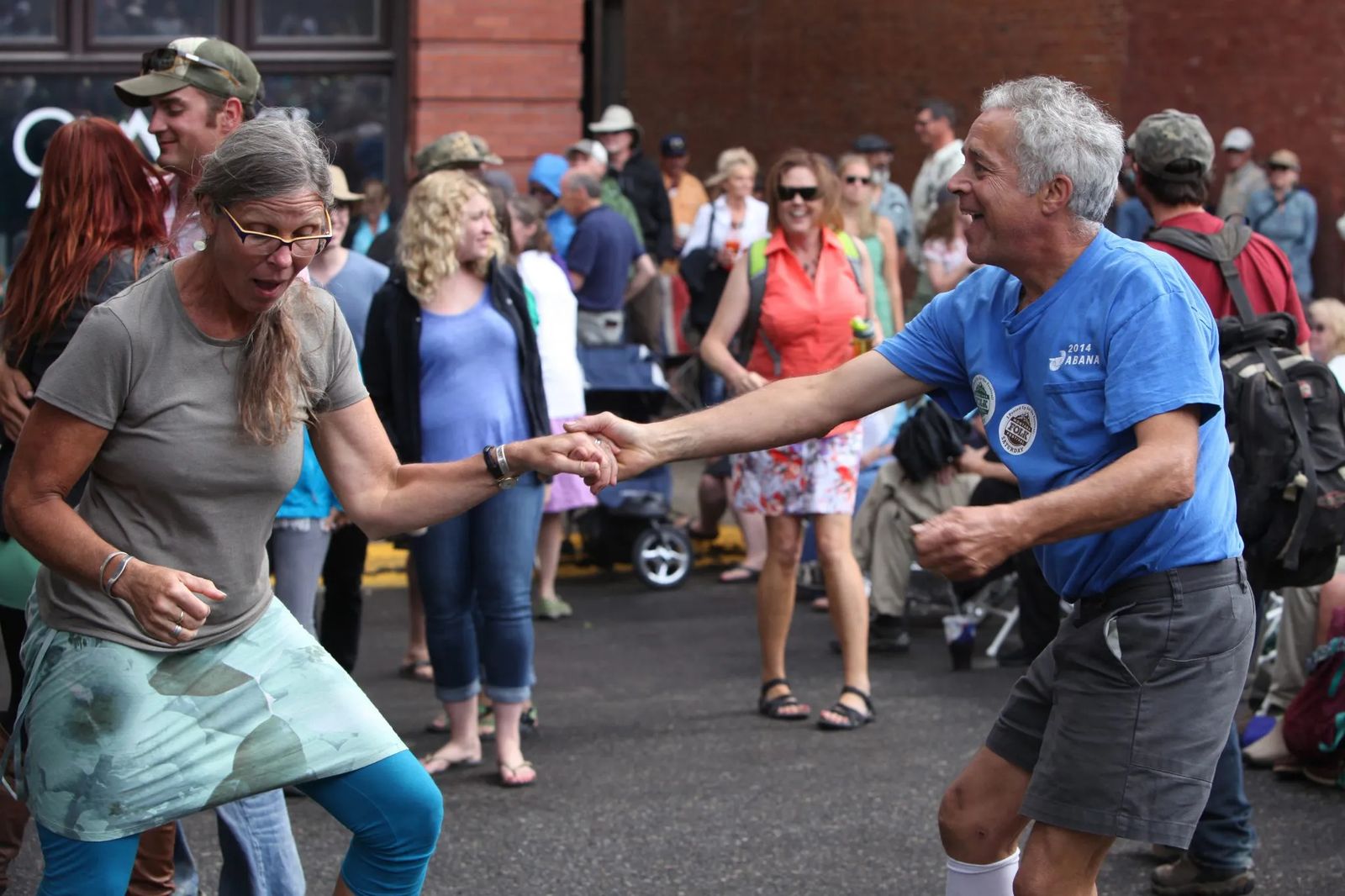 The festival drew 170,000 attendees in 2015. Coming up on its sixth year, organizers say based on indicators of donations, food sales, packed venues, parking patterns, aerial photos, and merchandise sold, this festival continues to grow. Everett says, "The festival is a success on every point we use to measure it,"
WHEN: July 8 – 10, 2016
WHERE:  Butte
WHO: More than 20 groups representing a broad diversity of musical and cultural traditions will perform on the festival's six stages including Irish music by John Williams, OngDance Company (Korean Dance), Deacon John Moore (New Orleans "jump blues"), gospel tunes by Electrifying Crown, Zydeco by Chubby Carrier and the Swamp Band, and more.
TICKETS: While the event is free, roughly 800 volunteers help collect donations, plus set up and tear down the stages during the festival.
WHERE TO STAY: There are only 1,300 hotel rooms in Butte, and they book up well in advance. The city opens its parks for free camping on a first-come, first-served basis. Bathrooms are onsite, but no showers or other services are available. Campers can seek out accommodations in the nearby national forests or at a handful of area campgrounds.
ON THE WEB: MontanaFolkFestival.com
photo courtesy of Moods of the Madison[/caption]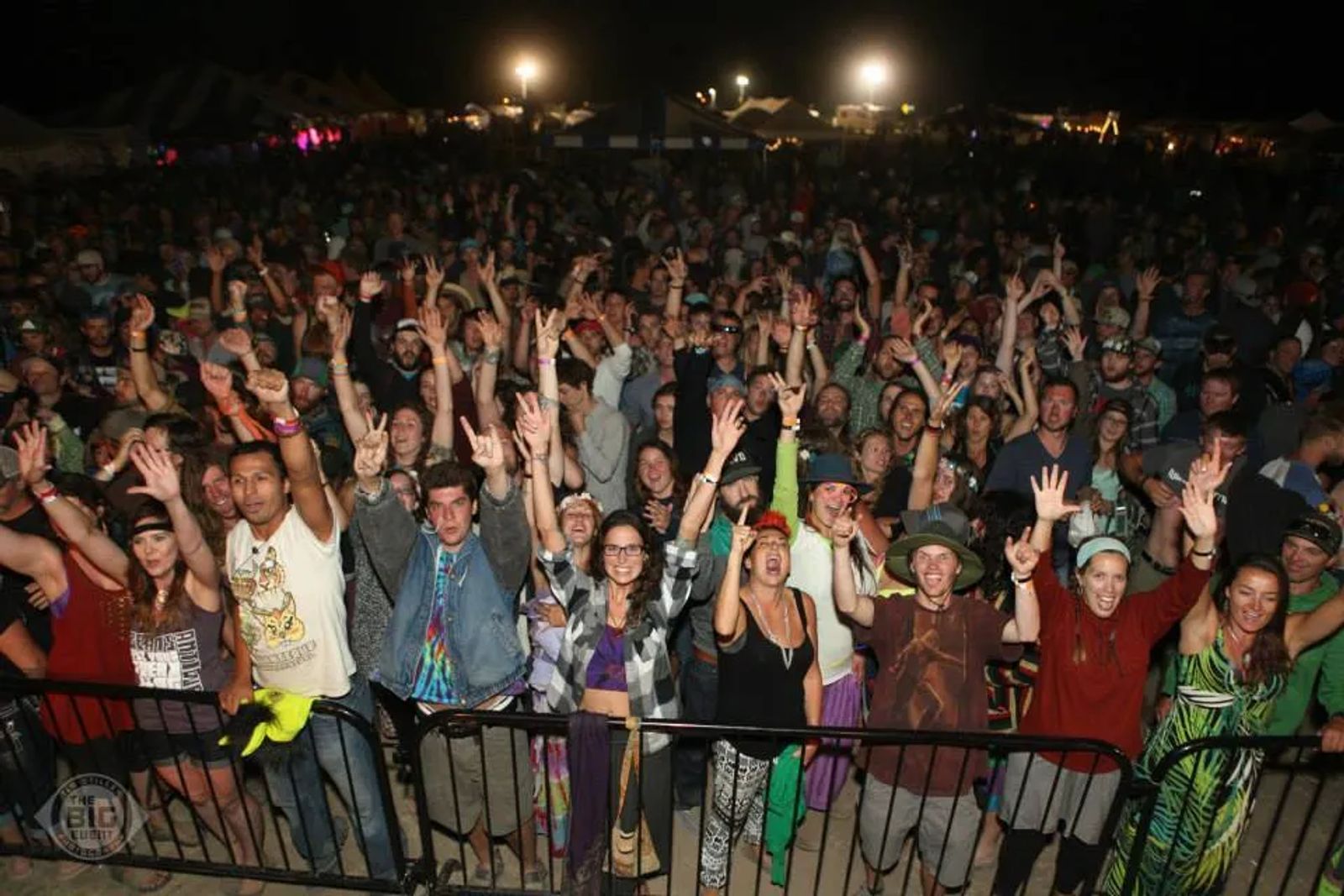 MOODS OF THE MADISON
Created as a way to stimulate the local economy, this two-day music fest will kick off its third season. Festival founder Chris Gentry grew up in southern Montana and moved to Ennis 15 years ago when she purchased the town's grocery store. She saw the success other music festivals witnessed, bringing visitors and money to their towns. Gentry teamed up with Chamberlin Productions of Bozeman for the lineup to pair nationally-known headliners with regional musicians. 
WHEN: July 15-16, 2016 
WHERE: Ennis 
WHO: Bassnectar, Young The Giant, Wolfgang Gartner, The Wailers, Rising Appalachia, Sol, Robert Randolph and the Family Band, The Russ Liquid Test, Maxwell Hughes, and more.
TICKETS: Friday tickets run $90, and Saturday will cost $80. Advanced two-day passes run $125, and two-day VIP passes cost $200. For $525, get four two-day festival passes and one campsite pass. 
WHERE TO STAY: A large campground adjacent to the festival grounds offers tent and RV camping. Showers are available for $4 at Ennis RV. While a tent or RV site will run you upwards of $50, you can also "glamp" for $250 to $850 depending on accommodations. Ennis has an RV park, cabins and lodge accommodations, plus a downtown inn. The nearby Norris Hot Springs offers a campground and RV hookups.
ON THE WEB: MoodsoftheMadison.com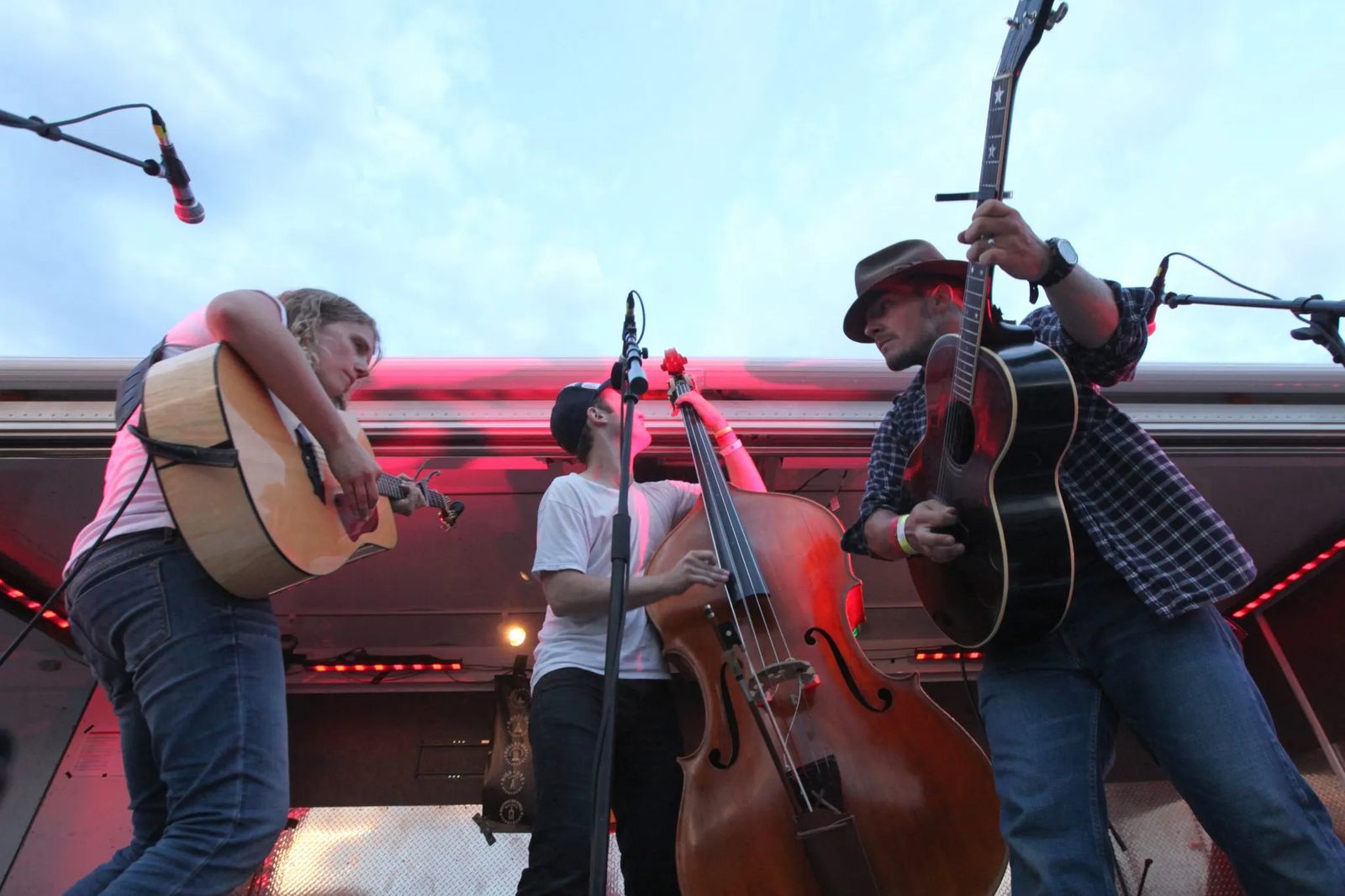 RED ANTS PANTS
If Montana summers had a soundtrack, surely they would sound like the quick-rolling thunderstorms of White Sulphur Springs—distant, brooding and followed by rainbows—capped with liquid blue skies, sparkling sunsets, and nights rich with shooting stars. With, of course, a live concert and raging dance party in a cow pasture.
Founded by and named for a company dedicated to making workwear for women, Red Ants Pants Music Festival is held annually in July just outside of White Sulphur Springs, population 970.
More than 14,000 people descended on such a setting for the fifth Red Ants Pants Music Festival in 2015 (an increase of 30% over the prior year).
"What makes me so thrilled is that we can increase our numbers but still maintain the goodwill and the good experience," says Sarah Calhoun, Red Ants Pants Music Festival founder and producer. "People seem to be the very best of themselves and are neighborly. I'm so glad we can maintain that and provide a safe, family-friendly event for the community."
A portion of the profits from the festival goes to the Red Ants Pants Foundation, which provides grants to help with women's leadership projects, family farms and ranches, and the enrichment of rural communities.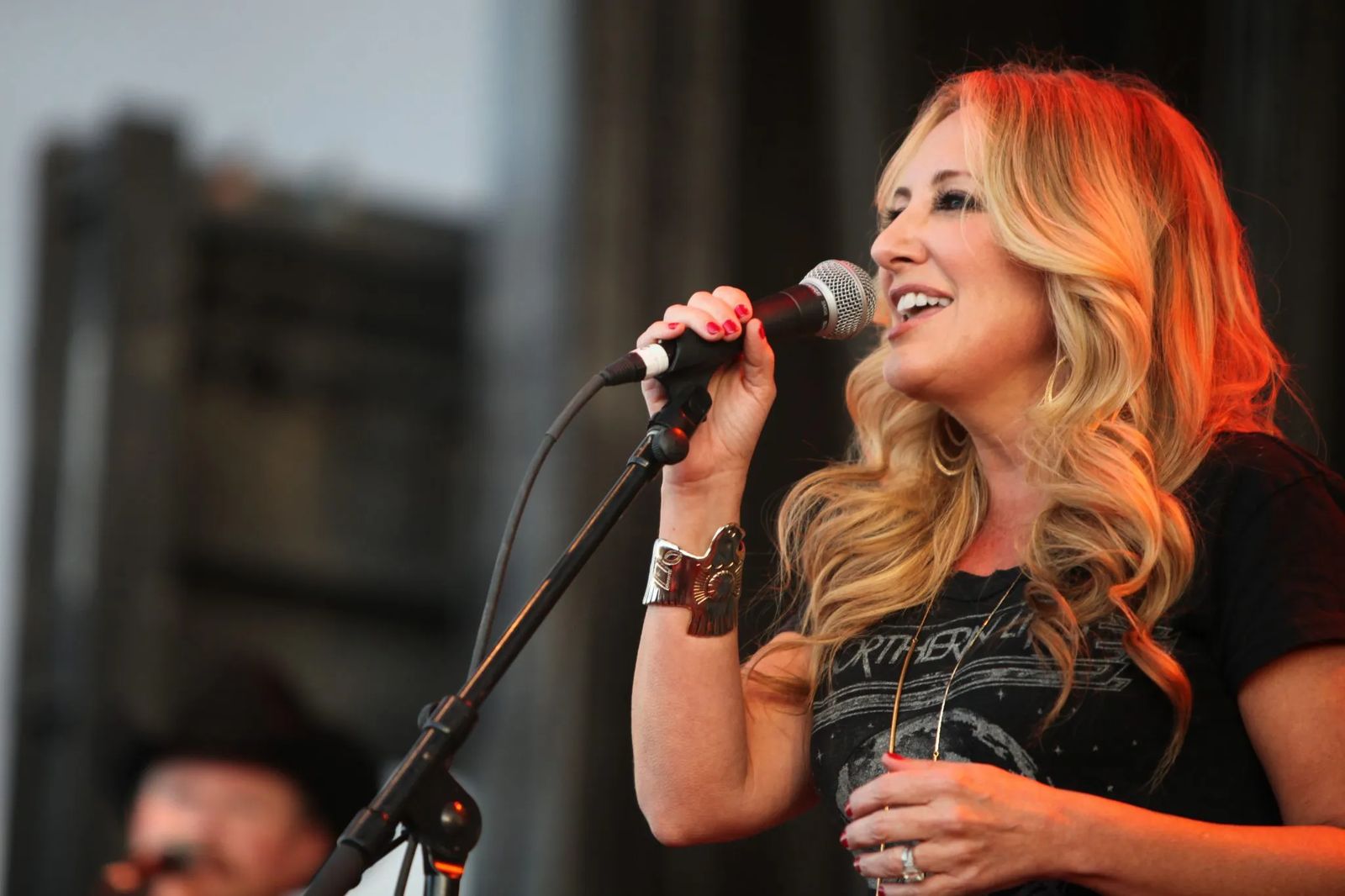 WHEN: July 28 – 31, 2016
WHERE: White Sulphur Springs
WHO: Friday features Corb Lund, Hayes Carll, Mission Mountain Wood Band, Ellen Jewell, Laney Lou and the Bird Dogs, and more still to be announced. Saturday's headliner is Wynonna and the Big Noise, with other acts including the Mavericks, Shinyribs, and Underhill Rose. Sunday features the Lone Bellow to close out the event. The festival features a wide range of vendors, as well as agricultural and work demos. For the bearded folks in attendance, the annual Beard and Mustache contest is a blast.
TICKETS: Options include a three-day pass for $135 in advance/$150 at the gate, and one-day passes run $55 in advance/$60 at the gate. Children 12 and under with an adult get in free to both the festival and campground. Check out the website for more on camping as well as VIP seating.
WHERE TO STAY: The town of White Sulphur rolls out the carpet for Red Ants Pants. Festival goers can stay at a handful of places in town, or on-site at an adjacent field. No RV hook-ups, but showers ($), potable water, porta-potties, hand washing stations, and trash receptacles are provided. An on-site breakfast wagon offers up hot meals, and though it's a bit dusty, staying and playing in the same space offers up the full festival feeling.
ON THE WEB: RedAntsPantsMusicFestival.com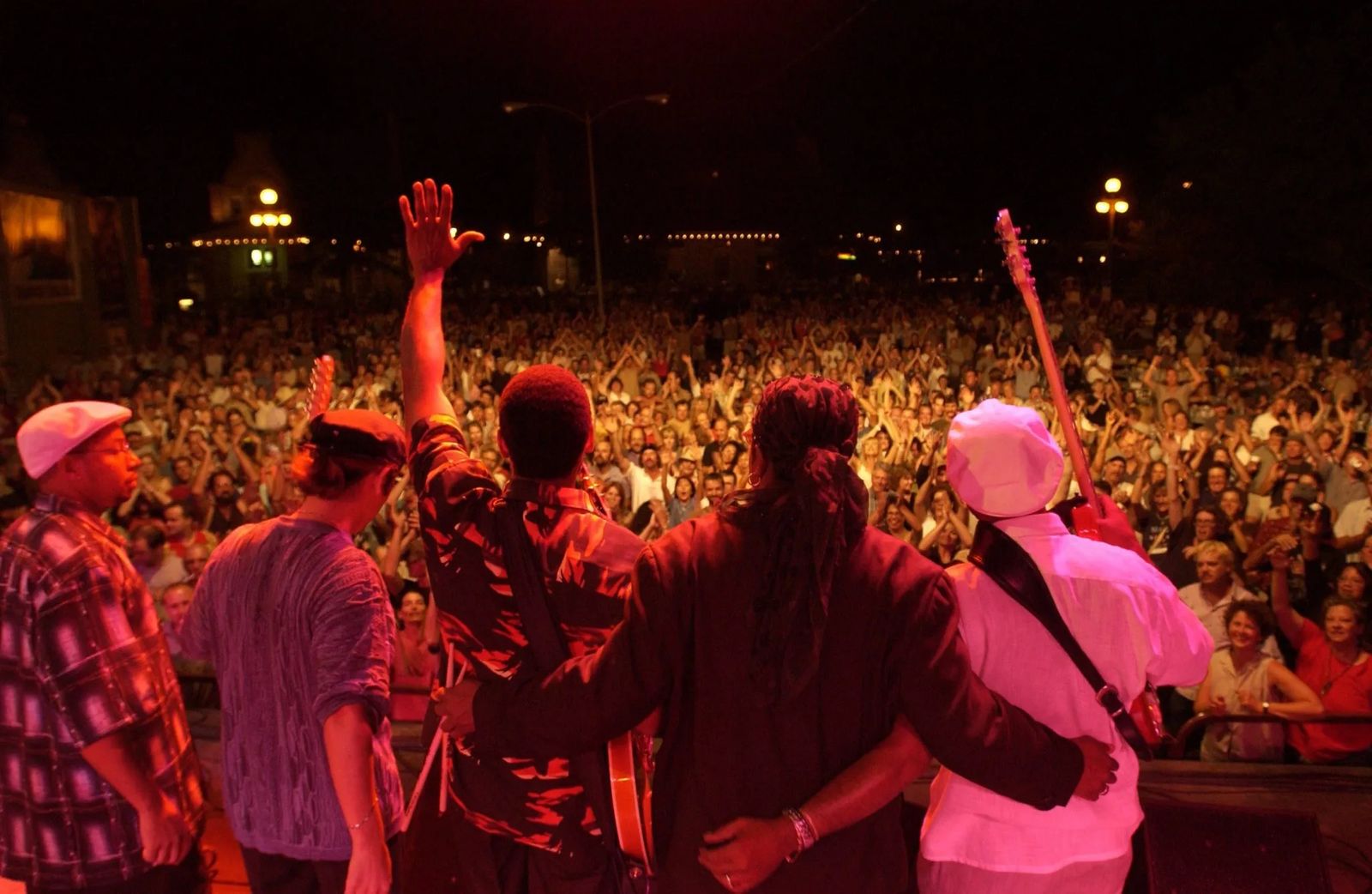 MAGIC CITY BLUES
Fifteen years ago, when Magic City Blues held its first concert, the Billings music scene was pretty quiet. "You hardly had any live music," says event founder Tim Goodridge. Fast forward to 2016, and Billings has a thriving scene, rich with local bands and musicians performing weekly. The city has become a destination for touring bands and routing acts. As for the Blues Fest? It's become a yearly sensation and the signature musical event for Billings.
"We've morphed out of a local event into something that's national," Goodridge says. Patrons of Magic City Blues come from as far away as Florida, New York, and Alaska. Each year thousands of people from across the U.S. and Canada fill downtown Billings, and Montana Avenue is transformed with a main stage sprawling across the busy city street, turning it overnight into an urban festival in the heart of the city.
In 2010, the event was extended to include a Sunday concert in South Park, and that setup worked for a while, but this year event organizers decided to scale back and focus their efforts on one location. So, no Sunday in the park, but two days of blues-packed downtown festivities should keep everyone entertained.
This year's event will include a multitude of food trucks in addition to area food vendors and restaurants. Though organizers are not running a shuttle this year, there is plenty of parking downtown to accommodate guests.
WHEN: August 5 – 6, 2016
WHERE: Downtown Billings
WHO: Friday night acts include Otis Taylor, Elle King, Kenny Wayne Shepherd, Guthrie Brown, and Kevin Van Dort. Ziggy Marley headlines Saturday evening, with acts leading up including The Record Company, Fiona Boyes, Altered Five Blues Band, Jared Stewart, and more.
TICKETS: General admission tickets are $49 in advance for Friday or Saturday. Two-day passes, priced at $89, are available in a limited quantity. Tables (seats 8) for each night cost $736, or buy a reserved seat for $95.
WHERE TO STAY: Billings is rich with hotel options, and many places offer discounted rooms for festival goers. When booking accommodations, be sure to ask the hotel if any special rates are offered for festival attendees.
ON THE WEB: MagicCityBlues.com
Photo courtesy Rockin the Rivers, Montana Made Photography[/caption]
ROCKIN' THE RIVERS
Founded in 2001 by a contingent of old rockers and raucous cowboys, this homegrown fest brings rock to "The Bridge," an area just outside the Lewis and Clark Caverns along the Yellowstone River.
The three-day rock-a-thon is perhaps the largest collection of outdoor rock in the state, and it is one wild party. Across the event's 16 years, many classic rock legends, including Credence Clearwater Revival, Journey, Foreigner, and Alice Cooper, have rocked the river.
The campground is a place of music festival legends. From the moment you roll in to the final pack-out, it's a nonstop party. Don't miss Saturday's Walking Poker Run. From Camp Chaos to Camp Mooseknuckle, collect cards across the campground in a variety of elaborate ways. If you can't complete the task, be warned, there are shots to be had.
WHEN: August 7 – 9, 2015
WHERE: The Bridge near Three Forks
WHO: Vince Neil, Buckcherry, Rat, Loverboy, FireHouse, Survivor, Tom Keifer (of Cinderella), Blistered Earth, Hell's Belles, Steelheart, and more.
TICKETS: One-day passes run $55, with three-day tickets at $145. VIP packages start at $115 for one-day access and run up from there. Packaged tickets that include camping and vehicle passes are also available.
WHERE TO STAY: On-site camping is offered. No hook-ups but the grounds offer porta-potties, potable water, and hot showers for a fee. An on-site convenience store carries basics, and the festival grounds offer food vendors.
ON THE WEB: RockintheRivers.com