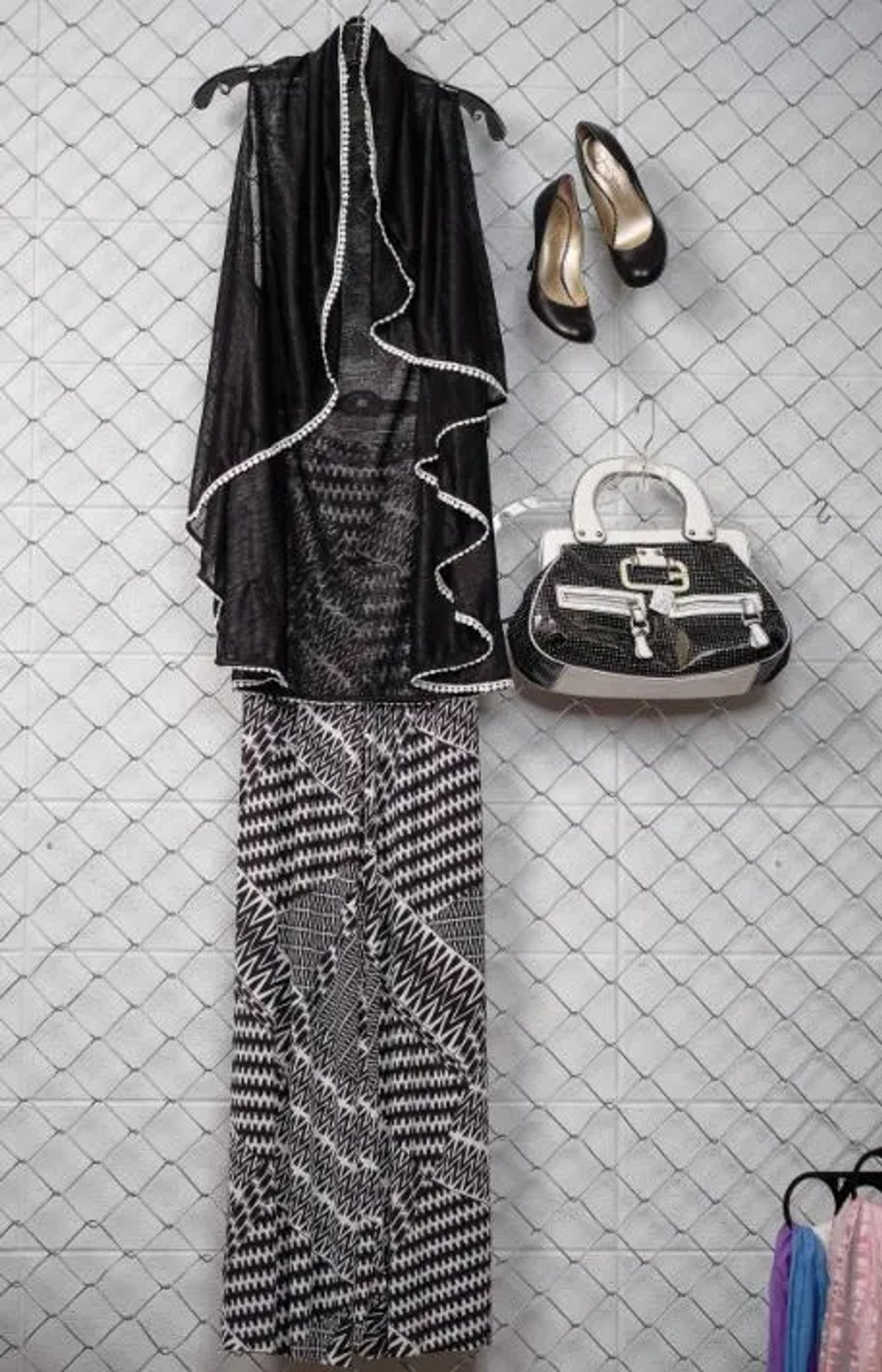 Sharp & 'Centsible' Professional Style
Second hand, vintage and consignment stores could make you a "Re-fashionista"
The year was 1986. I was a freshman in high school and had $26 to buy school clothes. My red Schwinn and I pedaled to every second-hand store in town. I found a few fashion possibilities and potential cuteness in the bargain bins, the dollar piles and the free bins.  These stores allowed me to tenuously hang onto being fashionable, if only by a single thread. Thrifting was social survival. Nothing more.
The year is 2016, and I still dress on a budget. As the mother of four teens, three of whom are young ladies, it is essential for me to find discounts wherever I can. And, like all of you, I want to look stylish and not broke! Twice as Nice, Savvy Seconds and Montana Vintage, all local consignment and retail stores, explode with the possibility that a woman can dress for work in high-quality clothing on a budget.  These bright and beautiful consignment stores, with their trendy and current fashions, have everything from Montana business casual, to "I-am-in-charge" suits, all at incredible bargains.
TWICE AS NICE
Bev Mundschenk opened Twice as Nice in 2009 at 511 N. 24th Street. Bev knew enough about clothing retail, having worked with her parents at their children's clothing store in Lewistown, MT, to know she would love owning a store. And she does love her store, her customers and her job. Incidentally, Bev also opened the McFiny's Convenience Stores that same year.  "Never start two businesses on the same day," she warned me, acknowledging that even a woman of her energy and talent found that a daunting task.
In 2012, three years after Twice as Nice opened, store manager Jeri Grendhal joined Bev, bringing with her a wealth of industry and retailing knowledge. "(Jeri) is the boss. She's the brains!" says Bev, displaying the deep sense of trust and appreciation these women have in one another.  "I had the accounting down, but I didn't know brands. I am not even really a shopper. Jeri had all the clothes knowledge. She has a knack for displays that people want to buy."
So, why do they love their work?  "It's the social world. If you aren't a people person you wouldn't like this business" says Bev.
Jeri agrees. "There is a social connection with the customers that extends beyond the store."  It is truly the customers who keep these two women driven towards success.  Success for them is the happy customer.
Twice as Nice has loyal customers and consignors. What inspires the loyalty? Bev and Jeri quipped "our stunning personalities!" Silliness aside, both acknowledged that their "critical inspection of the clothes" inspires loyalty. "We examine seams, buttons, zippers, altered hems, etc., to put out the best products we can. Our customers appreciate that."
My mother, an avid discount shopper, taught me how to examine seams, check buttons, look for stains and snap elastic on used clothing. So, I put my skills to work and ended up a happy shopper with a bag of quality clothing for 75 percent off retail prices.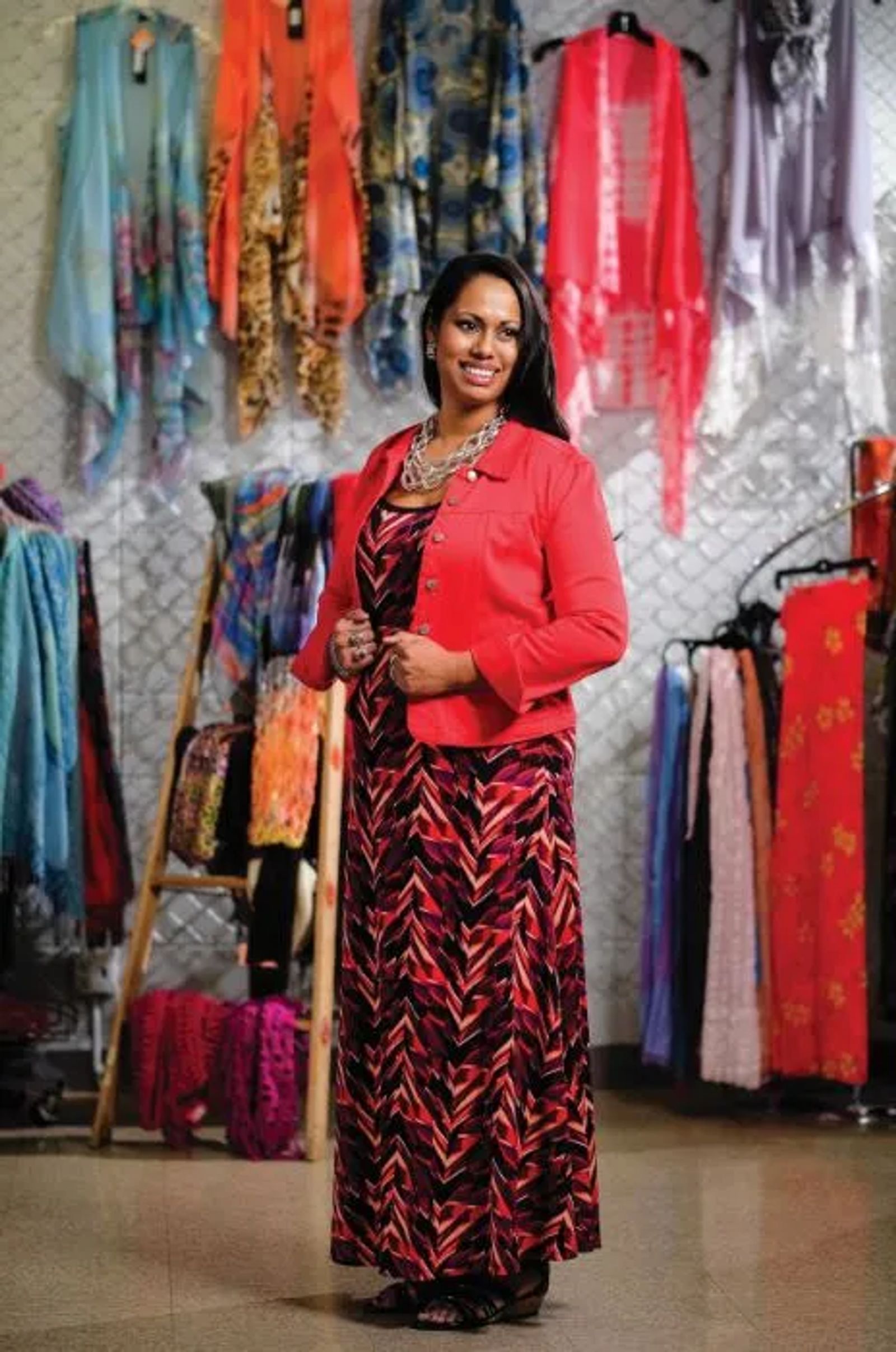 The Twice as Nice Look for Less
Dress                   $89.99             $19.99
Blazer                  $69.99             $17.99
Jewelry                $59.99             $15.99
Total                    $219.97           $53.97    (75% savings)
Model: Christae Evanson
SAVVY SECONDS
Owning Savvy Seconds is a second and very fulfilling career for Debbie Dryer. After 20 years as a registered dental hygienist and three hand surgeries Debbie knew it was time for a change. She had always loved thrift shopping and consignment stores. She even showed me a picture of her wedding dress, which was bought from consignment. During her years as a hygienist, she had regularly used her day off to work at a friend's consignment store. "It was my therapy" she says. So, in 2012, Savvy Seconds was born.
Debbie describes her space at 1739 Grand Avenue lightly as "chick space."  It is "comfortable, friendly and fun. This space has good energy that comes from the 18 years of the previous business, Raffia. Women just come in to wander around and enjoy. I love it."
Starting from the beginning, Debbie strove to provide a personalized shopping experience where women of all shapes and sizes could enjoy their shopping. She insists upon having no plus-size racks, proclaiming "plus-size, tall, short women, etc., are not more special than anybody else. We're all just women."
As I walked around, I felt the joy in every corner of the store.  The bright windows, well-stocked racks (Debbie has more than 1,200 consignors from Montana and Wyoming), and a play room for the children were all lovely. I so completely enjoyed my experience at Savvy Seconds that I forgot my role of writer and became a (very satisfied) shopper. Again.
Savvy Seconds Chic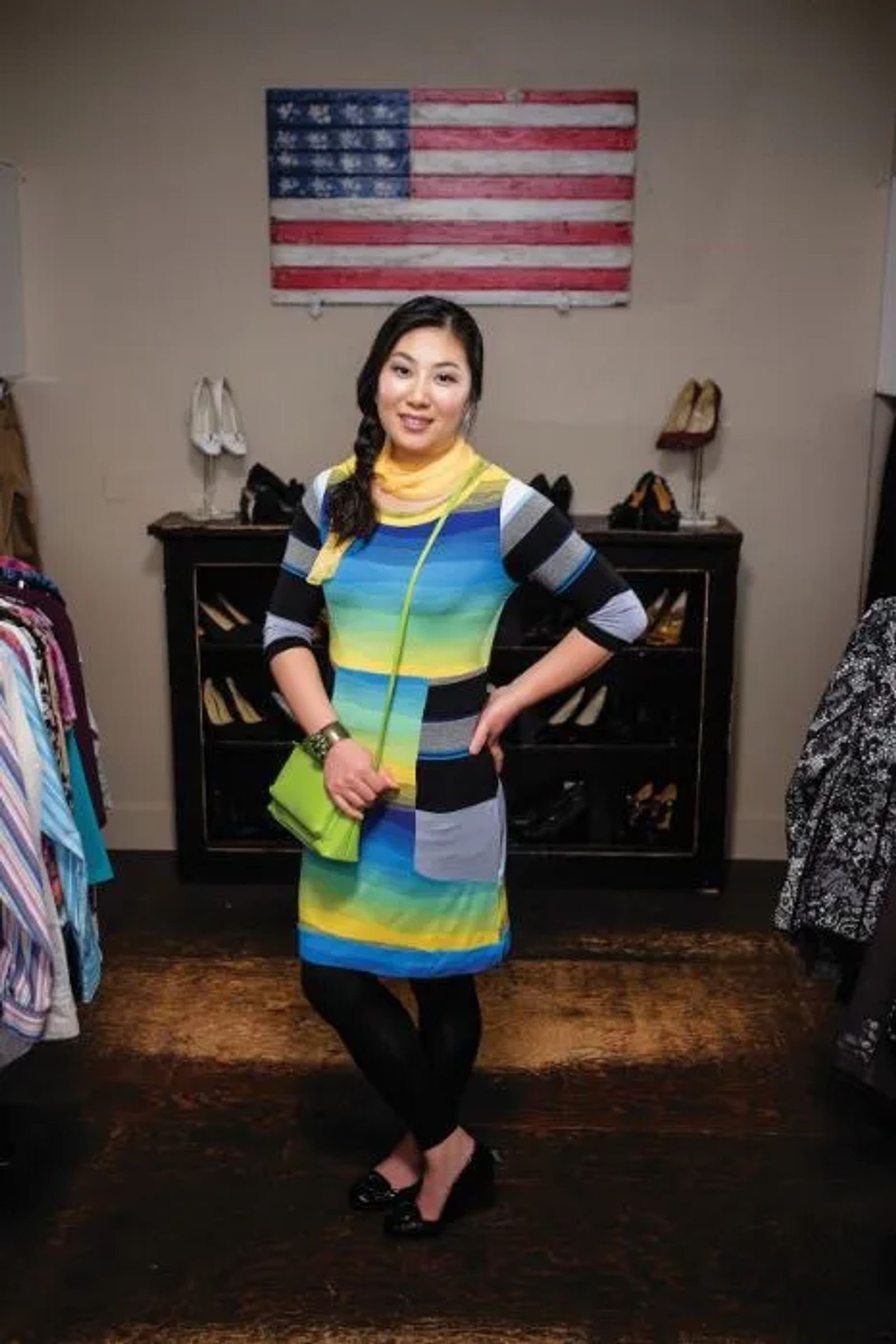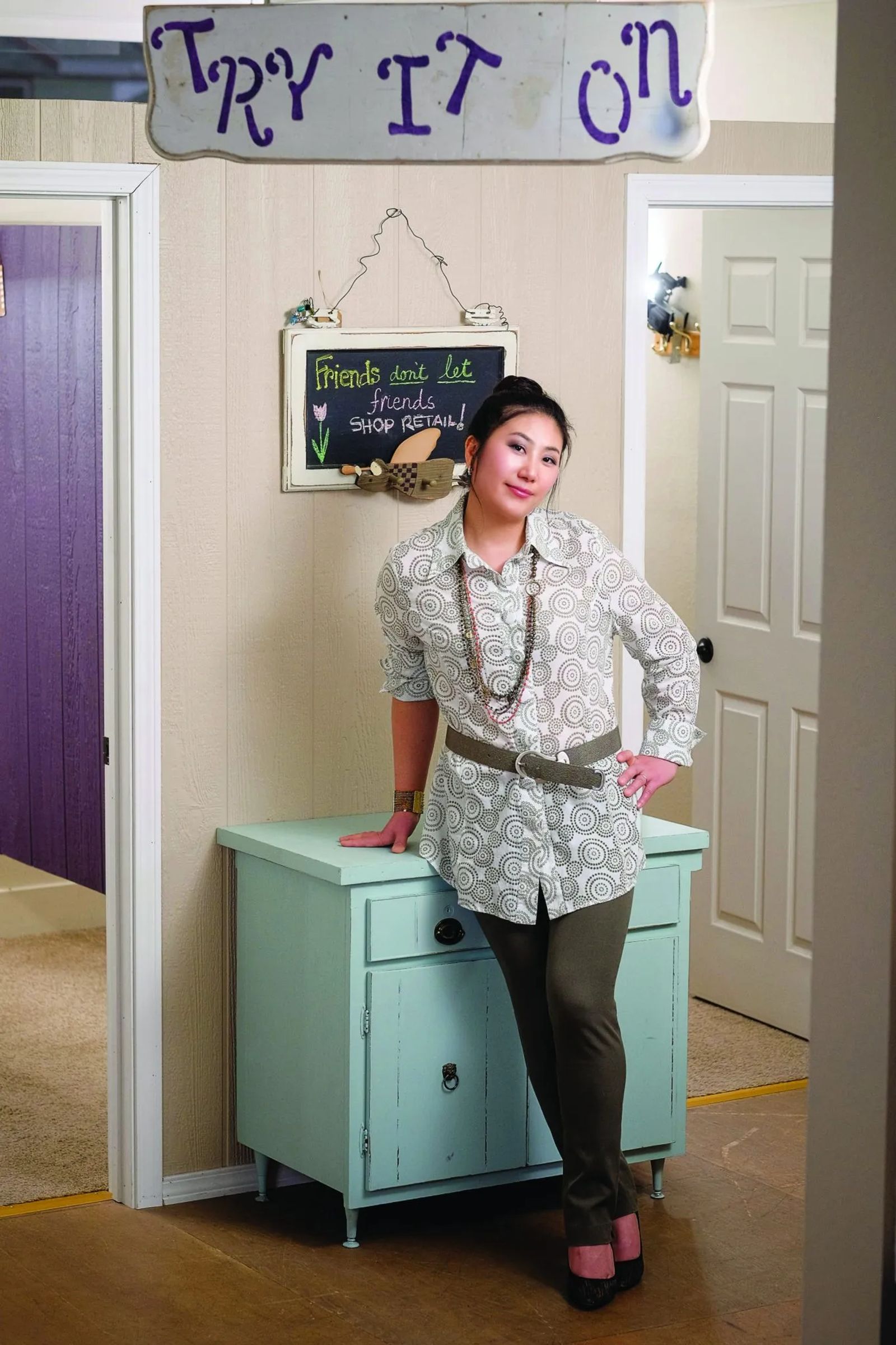 Blouse                          $69.00             $14.00
Pants                            $54.00             $12.25
Belt                              $69.00             $13.50
Total                           $192                $39.75    (80% savings)
Model: Misuk Kim
MONTANA VINTAGE
Montana Vintage Clothing may seem like a unique choice for bargain hunting women. However, one look at the fun, funky, unique and beautiful clothing that owner Sherry Daly displays convinced me it was one of the best places! The clothing inspires creativity and individuality and the prices are equally pleasing.
In 1995, Sherry's job as a counselor for the railroad was eliminated. In need of a second career, Sherry began to dig deep into her love of vintage clothing, which she had always worn and enjoyed. In 1998, Sherry purchased a Montana Avenue 900-square-foot/two-story building and opened the original Montana Vintage. Although risky, she figured "since it had a second floor I could do some counseling from there and even live there if I had to."
Sherry didn't end up having to live in her store. In fact after a successful decade, Sherry purchased her current location 112 N. 29th Ave.  Stepping into this large 4,000-square-foot store is a step back in time. Montana Vintage has the furs, hats, shoes, bags and prom dresses that one would expect from a vintage retailer.  However, she also has suits, blouses, skirts and dresses that fit in wonderfully with the eclectic and integrated fashion trends of 2016.
For Sherry it is "really fun introducing people to vintage."  A deep well of fashion history, she is able to educate shoppers, which makes this shopping experience unique. She loves the clothes and admits she can become "way too emotionally involved" with them.  This writer truly believes that Sherry would rescue all discarded or wounded vintage clothing, restoring it to life and readying it for a new home if she could!
Buying vintage clothing is not without its challenges, namely its exacting fit. Sherry works hard to educate customers that if they try to fit into something too small "something is going to give and it's going to be the clothing."  She would rather graciously help her customers find their size than have to repair both the clothing and the ego.
There are so many beautiful items at extraordinarily reasonable prices in Montana Vintage Clothing. One thing for certain, shopping here guarantees you won't be "twinning" (wearing the same outfit) with anybody else at the office.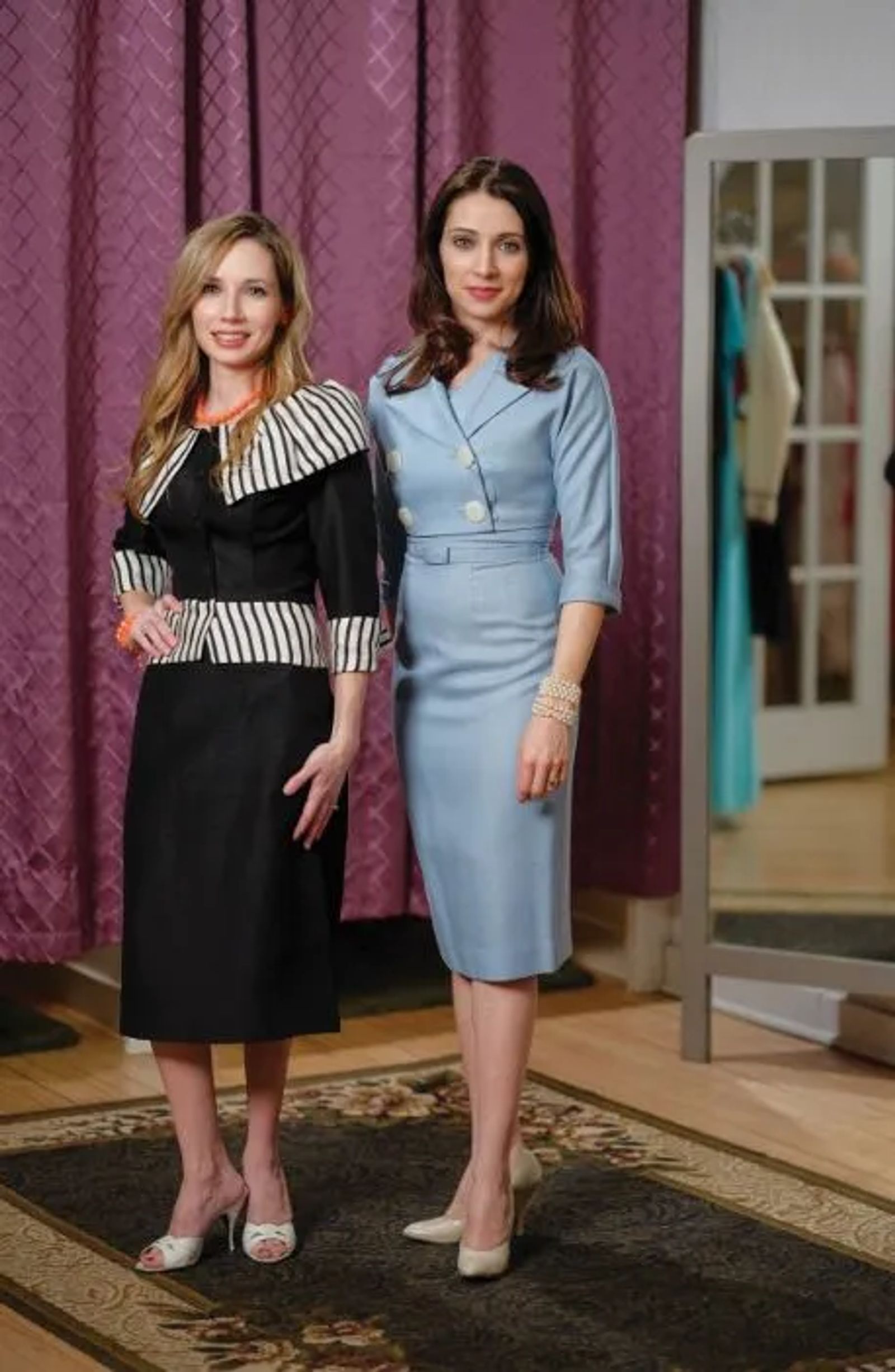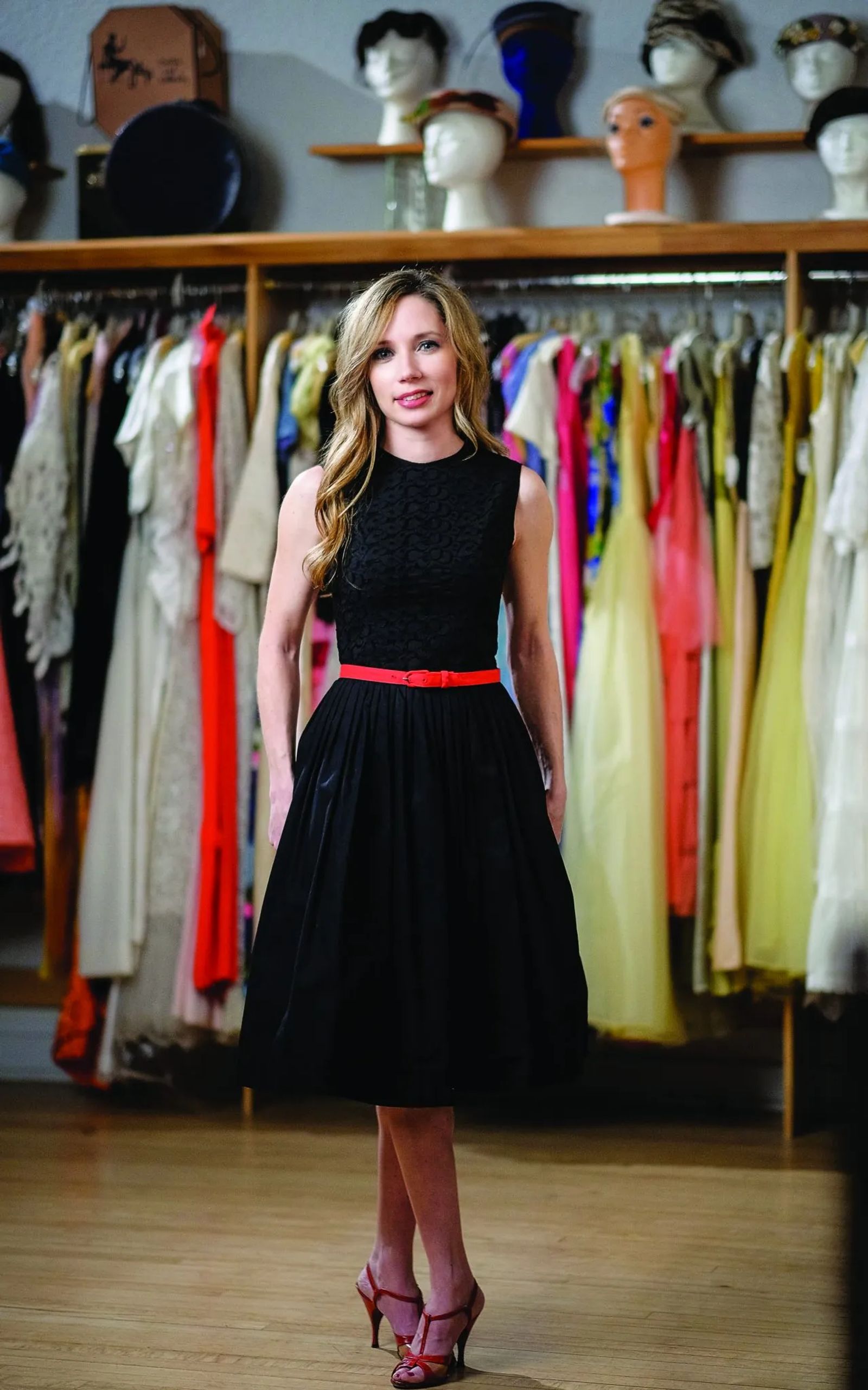 Model: Bobi Charette
Current Price              Original Price
1950 Black spring dress                     $35.00                         $8.98
1950 Black skirt suit                           $125                            $35.00
As I wrapped my tour to some of our city's hot spots for budget-friendly fashion, I realized it was a delightful way to meet some smart and beautiful women in our community. I admire their entrepreneurial courage and joyful spirits. While I enjoyed my assignment immensely, the next time I get a writing assignment that includes retail, I plan to ask for a spending allowance to go with it!