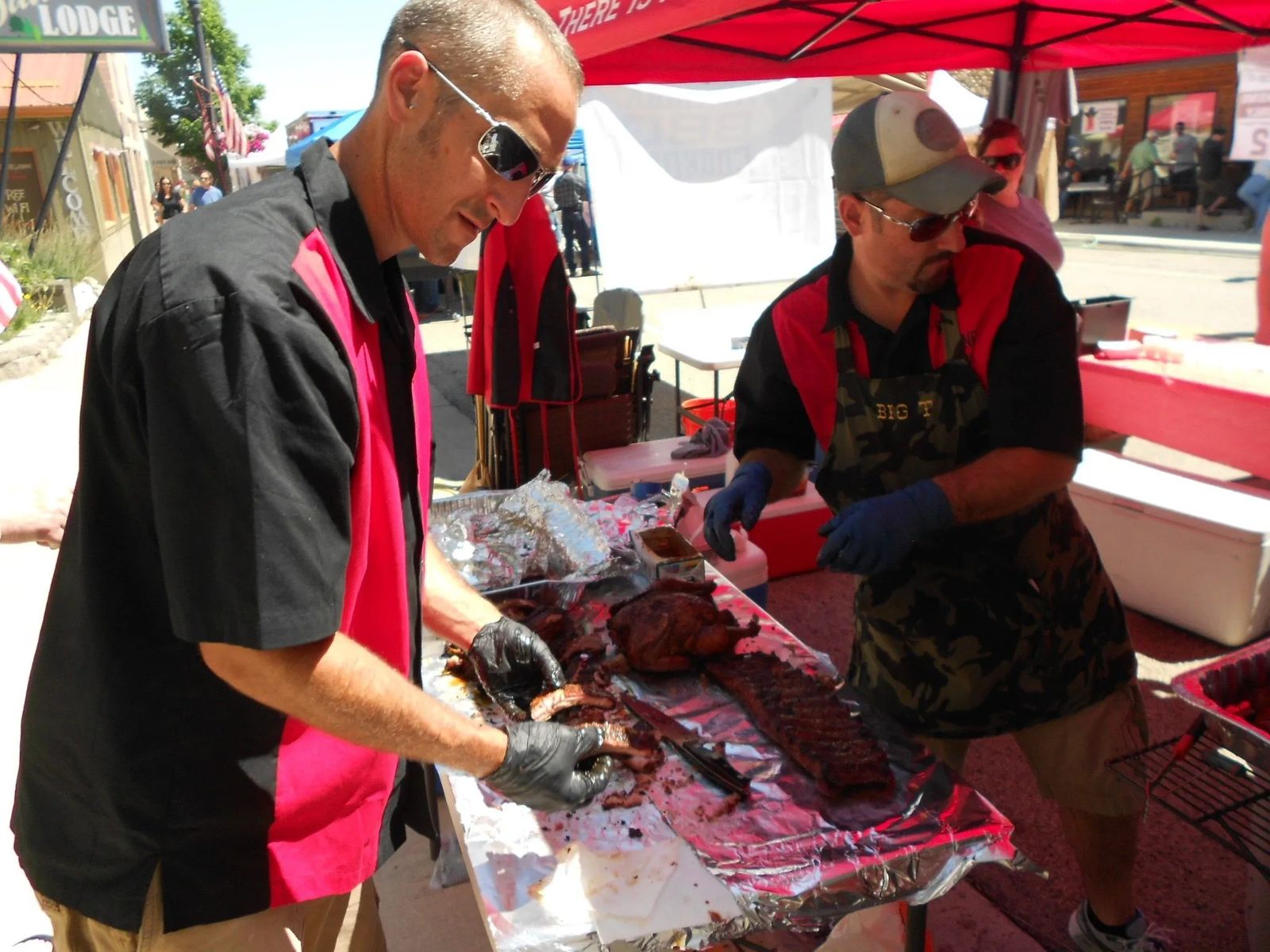 Smoke is in the Air
Hit the streets of Absarokee for the area's oldest & richest BBQ cook-off

Take the savory, smoky flavors of barbecue, add an ice-cold beverage, and set it to the sounds of a Montana-grown band, and what you have is possibly the best way to spend a summer Sunday in June. That's the recipe the community of Absarokee has been serving up every summer for the past 14 years, and thousands of people agree, it's a perfect mix!
Absarokee is home to the Montana BBQ Cook-Off, a sanctioned cooking competition that attracts about 30 of the best barbecue cooks in the region. The competition is wrapped around a day's worth of free live music on Main Street, and it's always held on the last Sunday in June. This year, it lands on June 26, and if past attendance is any predictor, it's likely to draw more than 4,000 people – about five times the town's total population.
Photo by Theresa Burkhart[/caption]
"It's pretty amazing what this little community does," says Nick Morrison, one of the event organizers.
Morrison has a love for food and a bit of a competitive streak. He became involved in the event as a competitor about 12 years ago. It didn't have the following it does now, but it was catching on, he says.  In those days, it was a handful of backyard barbecue enthusiasts and a couple of local bluegrass bands.
Rex Anderson, an Absarokee businessman, had a hand in starting the event and says it was just a unique way of promoting the town and providing locals with a fun festival they could call their own.
"We were just encouraging local people to drag their grills down to Main Street," Anderson says. "It was a little bit folksier than it is now and we didn't do a lot of promotion."
Back then, about 8 to 10 teams participated, and local residents judged the contest. Anderson participated and won a few times, but then the competition started to heat up. About 7 years ago, it was sanctioned by the Kansas City Barbecue Society, and began drawing competitive teams from throughout the region.
Photo by Theresa Burkhart[/caption]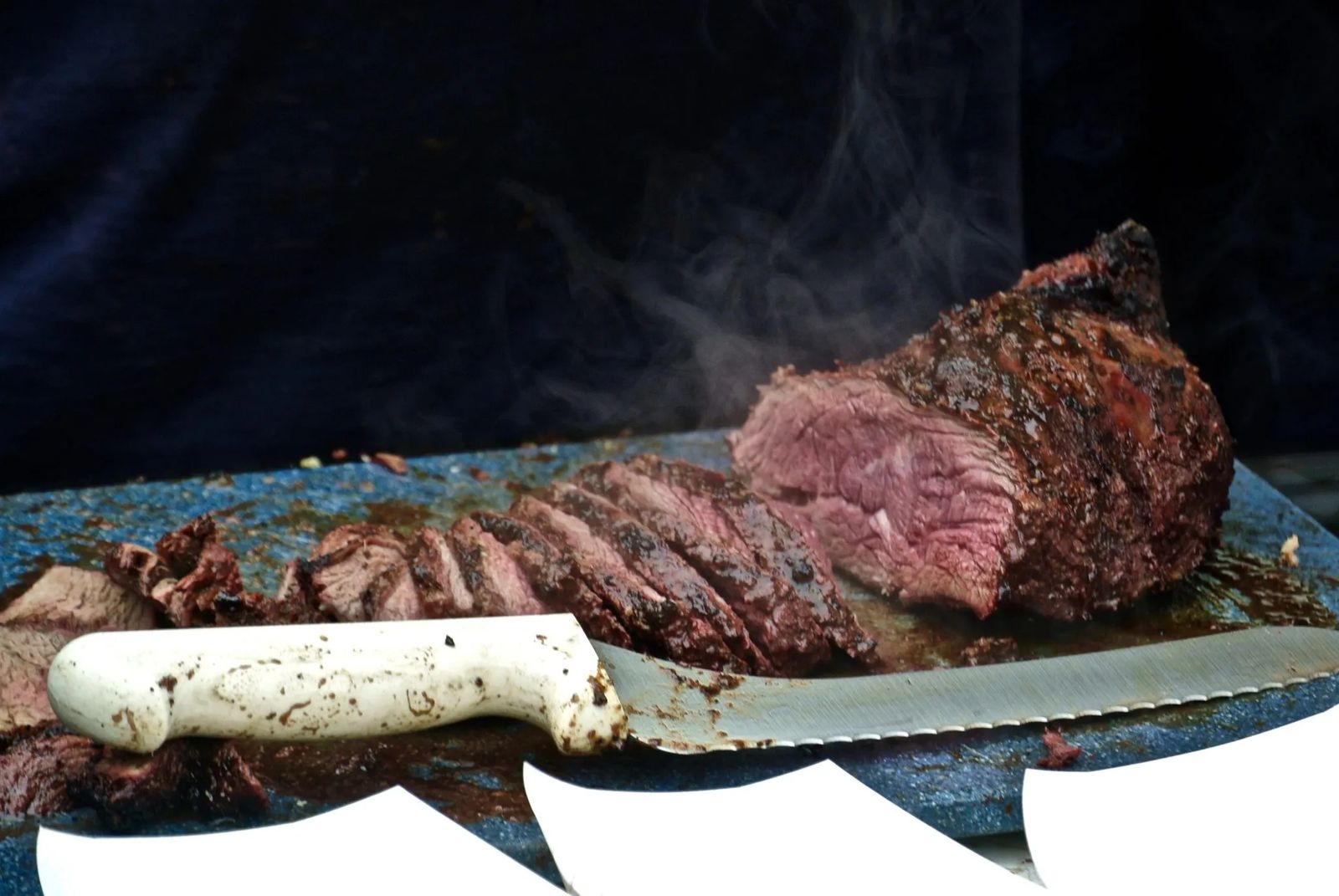 The Montana BBQ Cook-Off is a qualifying event. The grand champion is guaranteed a spot in both the American Royal and Jack Daniels Invitational barbecue contests, which are prestigious national barbecue cook-offs. In addition to the pass to the national competitions, there is more than $12,000 in prize money up for grabs at the Absarokee contest.
"We're dealing with professional competitors, here," Morrison says. "It's a real tough competition, yet it's the friendliest group of people you'll ever meet."
That friendly atmosphere leaves the door wide open for an underdog team to come in and steal the show. Locals are encouraged to give the competition a try, and those who do fair pretty well, at least among the fans.
"Our event is probably one of the best, most user-friendly events where you can dip your toe into the pool and mix it up with the big guys," Morrison says. "It's one of the few barbecue competitions anyone can join."
The competition isn't just for the grand prize. There are several categories that a team can compete in without going for grand champion honors. This year, the Montana Beef Council is sponsoring a beef brisket category that pays out $800 for the winner, and there's a dessert contest as well that's open to anyone. The winner of the dessert contest earns a slot in the World Food Championship in Florida. The dessert contest is bound to draw some excitement and some fierce competition, Morrison says.
Photo by Theresa Burkhart[/caption]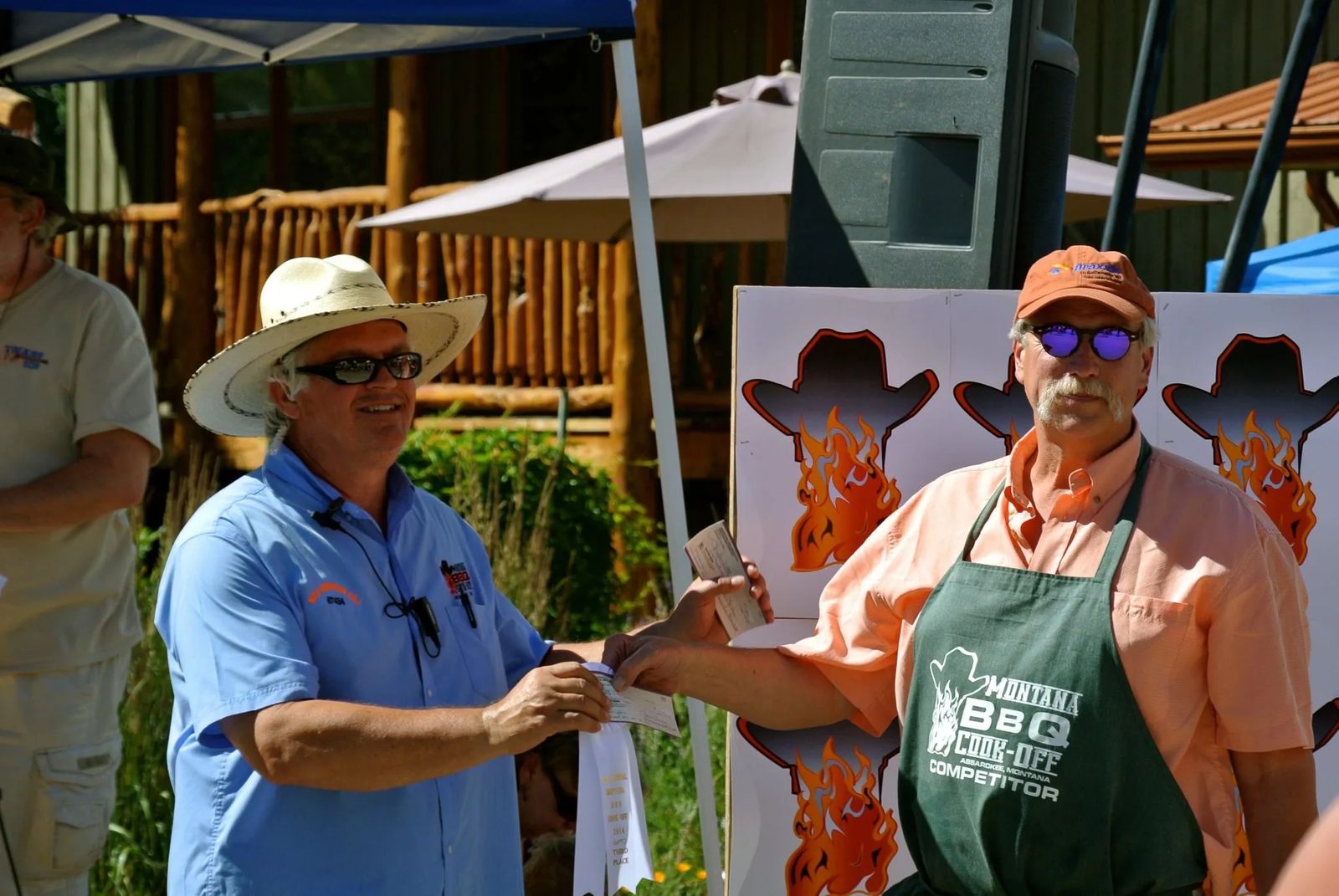 Also new this year is a food truck jamboree. Food trucks from across the region have been invited to set up shop on Main Street to offer visitors food options besides barbecue. In years past, the teams in the barbecue competition couldn't keep up with their fans' appetites. There will be no shortage of food this year, Morrison says.
Fan engagement has been what sets the Montana BBQ Cook-off apart from other barbecue competitions. In Absarokee, teams are required to prepare enough meat to provide samples to visitors.
"What's really cool about our event is it's one of a handful of events that allows the fans to sample professional barbecue," Morrison says.
Another way that the Montana BBQ Cook-Off is different is it has become more of a festival than a competition. It's part cook-off, part street dance, and part backyard barbecue with your favorite friends. This year, the music starts in the morning and goes all day with four bands. The acts all have Montana roots and are serving up an eclectic mix with a little of everything from bluegrass and folk to rock and reggae.
"As much as we like to call ourselves a barbecue contest, it's really morphed into a free music festival, Morrison says. "It's become the best free music and foodie event in the state."
Photo by Theresa Burkhart[/caption]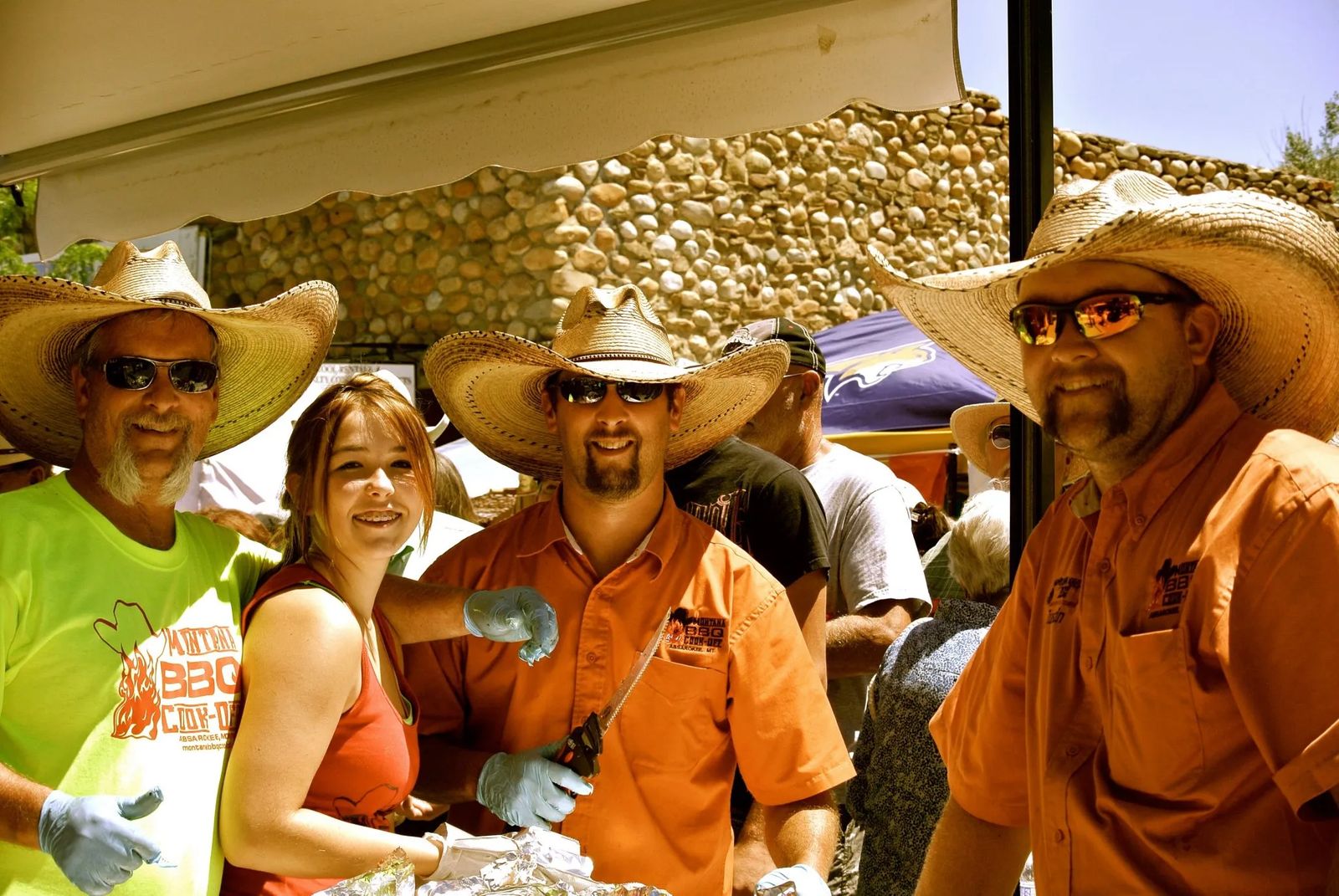 MONTANA BBQ COOK-OFF
A look at this year's entertainment line up
The Two Geezers and Hannah
Laney Lou and the Birddogs
Marshall Catch
Milton Menasco and the Big Fiasco
For the latest news on the event:  www.montanabbqcookoff.com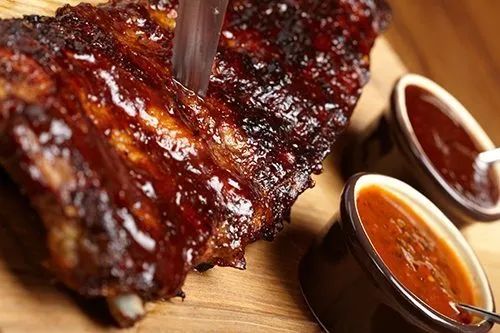 TRIED & TRUE 3-2-1 PORK RIBS
Tips from BBQ Pitmaster Nick Morrison
To get tried and true pork ribs, start by removing the skin/membrane on the back of the ribs. Then, rub the ribs with your favorite barbecue rub. You can make your own or buy a pre-made rub. If you'd like, use mustard, applied with a brush to get the rub to stick to the ribs. Don't go light on the rub, it's an essential ingredient.
Begin with three hours of smoking unwrapped at 225 degrees, followed by two hours of cooking wrapped in foil (with a little liquid, like apple juice) When you wrap your ribs, wrap them well, using foil three times the length of your ribs. Then, cook again, unwrapped, for one hour at a higher temperature. Keep basting with barbecue sauce to keep it moist. Don't let them burn.
Ribs are done when you can push/pull on a bone and it starts to separate. Some cooks check doneness by how much of the bone is exposed (approximately ½ to ¾ of an inch) but I prefer to flip it over and see if it is ready by pulling on a bone.
When you wrap your ribs add some honey, brown sugar, and a few tablespoons of butter smeared on the foil. Place ribs facedown, add some liquid and wrap. Reserve all of your wrap juice when you unwrap. Mix juice into your beans and blow some minds with real barbecue beans
COFFEE ROOT BEER FLOAT BBQ SAUCE
               ~ by Nick Morrison, Camp House BBQ pitmaster
2 T. minced garlic
4 T. butter, unsalted
1 c. root beer
1/2 c. soy sauce, low sodium
2 c. ketchup
2 c. honey
1 T. kosher salt
1/2 c. very strong coffee or espresso (it cannot be too strong)
Fresh ground black pepper
DIRECTIONS: Heat butter slowly on low heat in a sauté pan. Add the garlic and sauté until it becomes light brown, about one minute. Add root beer, soy sauce, ketchup, and honey. Stir well. Add a pinch of salt. Add coffee and mix well. Add both pepper and additional salt to taste. Bring to a simmer and simmer for 10 minutes. Serve immediately or let cool and store in refrigerator for up to two weeks. TIP: Substitute apple juice for the root beer or slowly reduce sauce over low heat until very thick, then thin the sauce by slowly stirring in 1/2 cup of bourbon.