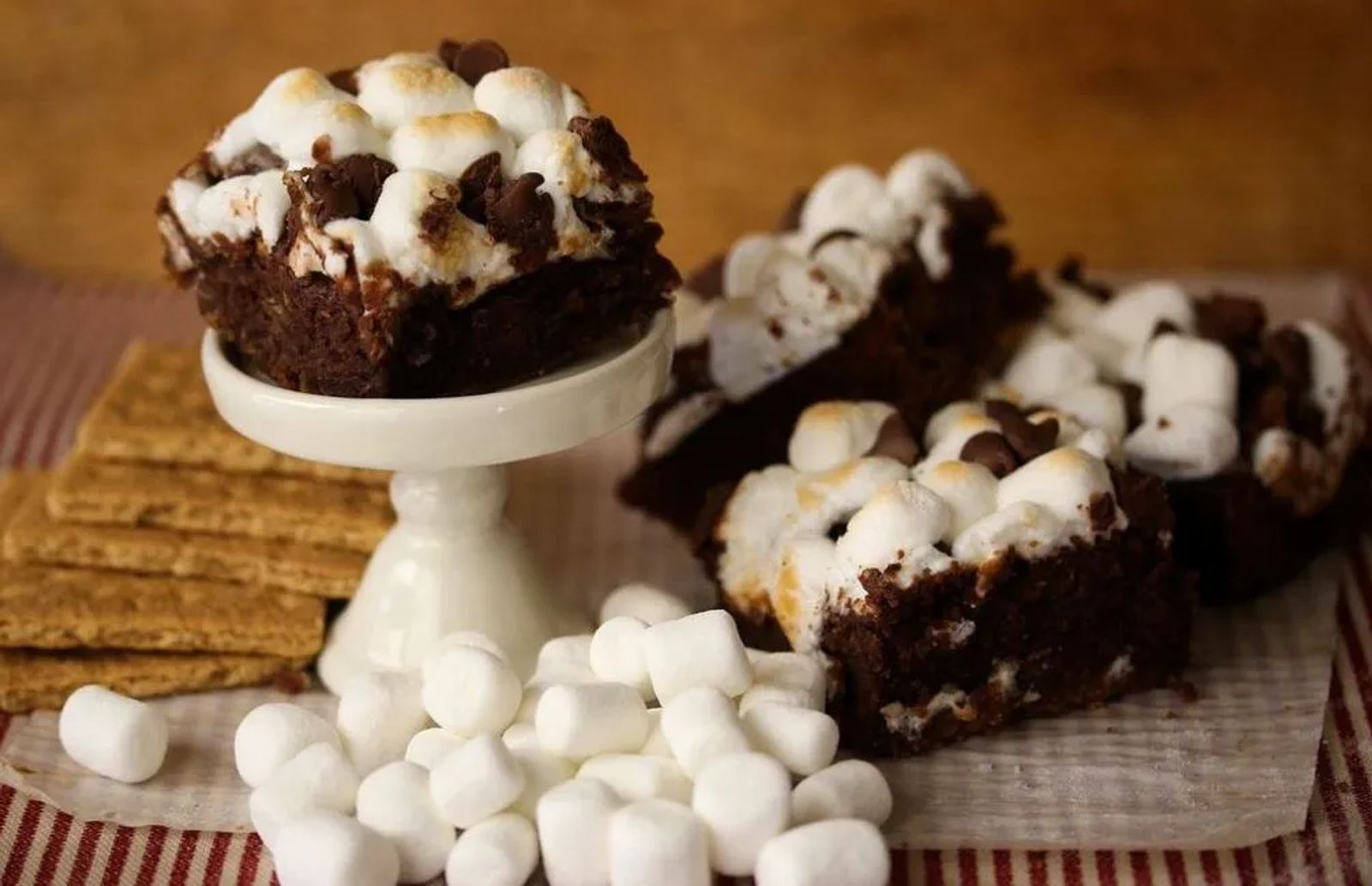 S'mores and More for Summer
Whip up tasty varieties of this campfire treat
When you say "S'more," images of summer huddled around the fire pit or campfire pop into mind. These hand-held treats stand for the fun and the freedom that summer offers. Our spirits are alive and our faces lit by the fire's glow. We sing songs and try to tell scary stories all while tasting the sweet, warm and gooey goodness that S'mores deliver. We search for the perfect stick to spear a marshmallow to dangle over the fire. We pay attention, making sure not to burn the marshmallows. Instead, we turn it slowly, giving time for the inside to melt and sealing in the sweetness when the outer edge turns crispy. With excited anticipation, we slide the caramelized marshmallow off the stick and pair it with not only a graham cracker but a soon to be melted piece of chocolate. It's pure summer goodness.
WHY NOT TRY SOMETHING NEW?
The basic S'more is composed of two graham crackers sandwiching a toasted marshmallow and a chocolate candy bar. But it doesn't have to stop there. While the graham cracker and marshmallow are a must, try swapping the chocolate with different ingredients. You can even make a S'mores bar so that your family can mix and match flavors to bring "S'more" smiles when you're sitting around the summer campfire with this delicious summer treat.
Try a chocolate peanut butter cup instead of a square of chocolate bar
Spread on some chocolate hazelnut spread
Try peanut, almond or cashew butter
Spread on some raspberries, strawberries or even a fruit preserve
Add a layer of caramel sauce
Try hot fudge
Add some fruit slices like banana, peach or apple
add in some chopped nuts like almond, pecan, walnut or even macadamia
try dried fruit like mango, apricot or apple
add a splash of whipped cream
HOMEMADE GRAHAM CRACKERS
~Makes 20 Graham crackers available at the grocery are perfectly fine for making S'mores, but there is something extra special about making your own wafers as these are full of rustic yum. Store in an airtight container at room temperature and you will have crackers ready anytime.
INGREDIENTS
1-½ c. all-purpose flour, plus extra for working 1 c. whole wheat flour ½ c. untoasted wheat germ ½ t. salt ½ t. ground cinnamon 1 c. (2 sticks) unsalted butter, softened ¾ c. packed light-brown sugar 2 t. honey
DIRECTIONS
Preheat oven to 350-degrees F.  In a medium bowl, stir together flours, wheat germ, salt, baking soda, and cinnamon. Set aside. Cream together butter, brown sugar and honey until pale and fluffy. Add the flour mixture, and mix until combined. Turn dough onto a floured surface, and divide into 4 parts. Roll out each piece between 2 sheets of floured parchment paper into 9-by-6 inch rectangles, about 1/8 inch thick. Trim the outermost edges of each rectangle with a knife or pizza cutter, and divide into three 6-by-3-inch rectangles.  Score without cutting through each piece half lengthwise and crosswise to form four 3-by-1 ½-inch crackers. Stack parchment or wax paper and dough on a baking sheet and chill in freezer until firm, about 20 minutes. Remove two sheets of dough from the freezer. Pierce crackers with a fork. Transfer to large baking sheets lined with parchment paper. Bake, rotating halfway through, until golden brown, about 8 to 9 minutes. Repeat with remaining dough. Let cool on sheet 5 minutes; transfer crackers to wire racks to cool completely.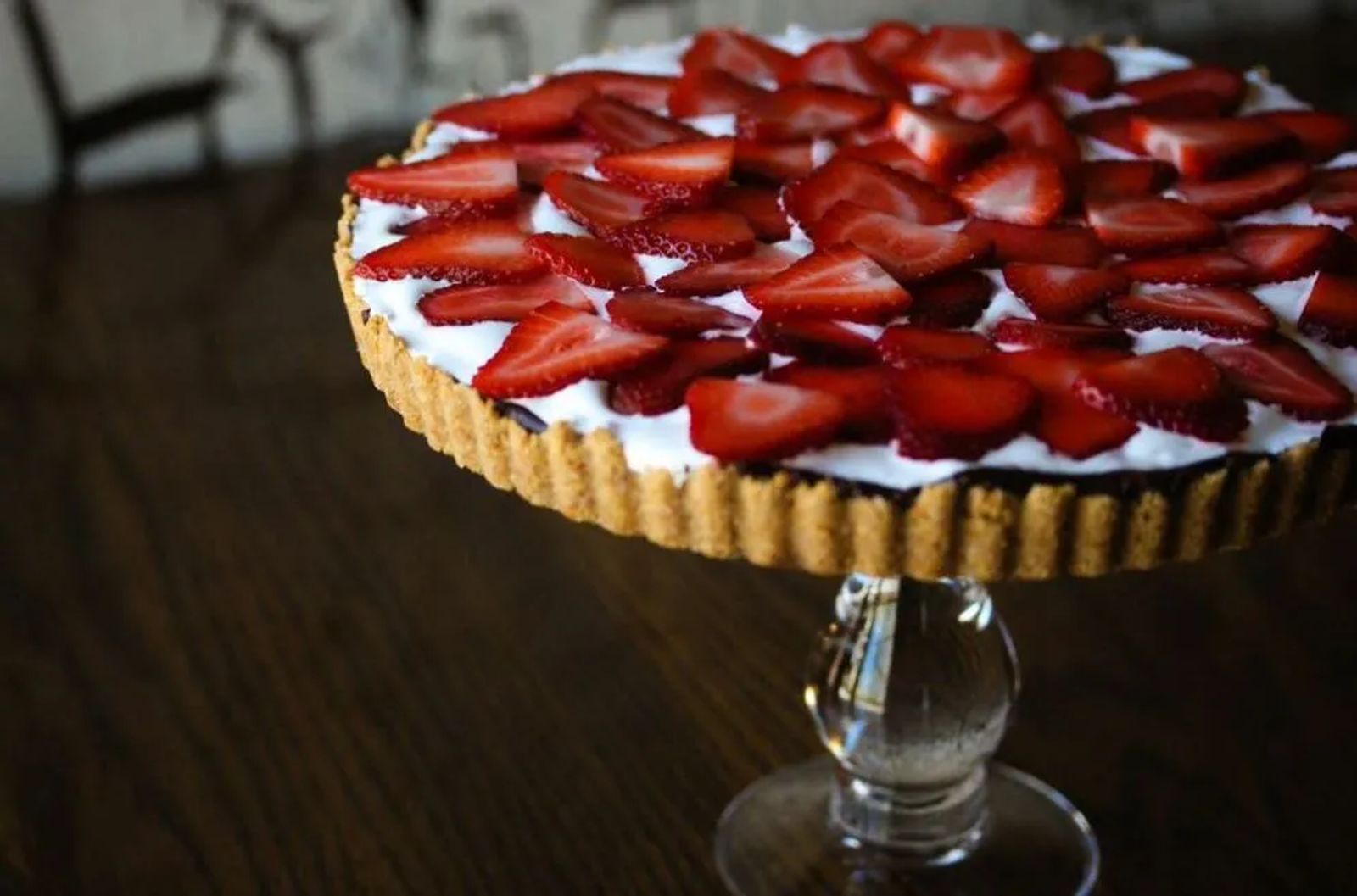 STRAWBERRY S'MORES TART
~Serves 8 The strawberries add a fresh layer of summer flavor to the traditional graham cracker, chocolate and marshmallow treat.
INGREDIENTS
2 c. graham cracker crumbs 1/2 c. sugar 1/2 c. unsalted butter, melted 10 ounces semisweet chocolate 2/3 c. heavy whipping cream 1-1/2 c. thinly sliced strawberries, extra for garnish (optional) 1/2 c. marshmallow creme
DIRECTIONS
Preheat oven to 350-degrees F.In a medium bowl, stir together the graham cracker crumbs, sugar, and butter. Press the crumbs into bottom and sides of an 11-inch tart pan. Bake for 10 minutes. Cool completely. In a medium saucepan, heat cream over low heat until bubbles form around the edges. Remove from the heat and add chocolate. Let sit for 1 minute, then stir until melted. Place sliced strawberries in a single layer on the cooled crust. Pour the chocolate mixture on top. Place the marshmallow cream in a microwave-safe bowl. Microwave for 30 seconds or until softened. Stir just until smooth. Quickly drop by spoonfuls over the chocolate layer and swirl with a knife. Refrigerate at least 30 minutes to set before serving. Serve with strawberries slices if desired.
S'MORES BROWNIE BARS
Serves 12 These brownies elevate the whole idea of S'mores to another level of deliciousness.  Serve these bars with vanilla, chocolate or even better, salted caramel ice cream with a dollop of whipped cream.
GRAHAM CRACKER CRUST
12 full graham crackers 4 T. sugar 8 T.  butter, melted
BROWNIE LAYER
1 c. (2 sticks) butter, cut into large chunks ½ c. cocoa powder ½ c. milk chocolate chips 2 t. vanilla 2 eggs 1 c. all-purpose flour 2 c. packed light brown sugar ½ t. salt 1 c. milk
TOPPING
1/3 c. mini marshmallows ⅓ c. milk chocolate chips
DIRECTIONS
Preheat oven to 350 degrees F. and line the bottom of an 8-by-8-inch pan with parchment paper.  In a medium bowl, mix together the graham cracker crumbs, sugar, and butter. Press the crumbs into bottom and sides of an 11-inch tart pan. Bake for 10 minutes. Cool.  While the crust is baking, prepare the brownie layer. In a medium sauce pan over medium heat, melt butter, cocoa powder, and chocolate chips, stirring until smooth. Remove from heat and transfer chocolate mixture to a large bowl. Stir in vanilla, eggs, flour, brown sugar, milk, and salt and mix until combined. Pour mixture over graham cracker crust and bake for 35-45 minutes or until toothpick inserted in the middle comes out clean. Remove from the oven. Scatter mini marshmallows and chocolate chips over brownie layer. Switch oven to broil. Return the pan to the oven and toast for about 1 to 2 minutes, being careful not to burn the marshmallows. Cut into bars when cooled completely. Store in airtight container at room temperature.