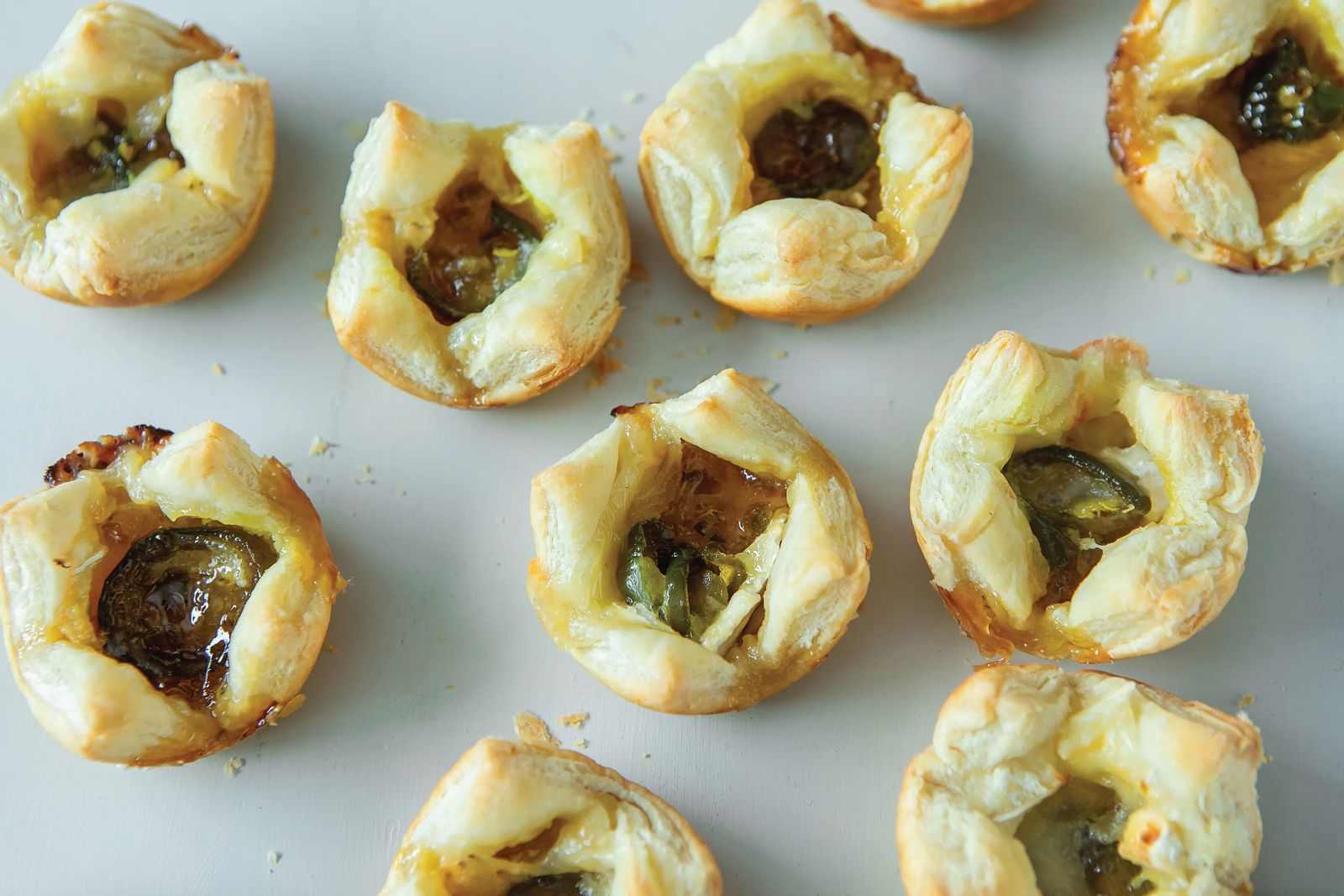 Some Like It Hot
Serve up this spicy appetizer, whenever the mood hits
I like spicy. Not cauterize, four-alarm fire, deaden or destroy taste buds in your mouth hot, but spicy. I did that once in college, partaking in a spicy Italian sausage sandwich from which, having eaten it in all its hot-pepper glory, it took me a day to recover. No, it was not a bet.
Today, I use heated spice to add some pizzazz or oomph to a meal that just needs a little something to make it, well, perfect.
That's where my Spicy Cheese Bites come in. With only four ingredients, they are super quick to pull together and they add an exclamation mark to a meal.
Enjoy!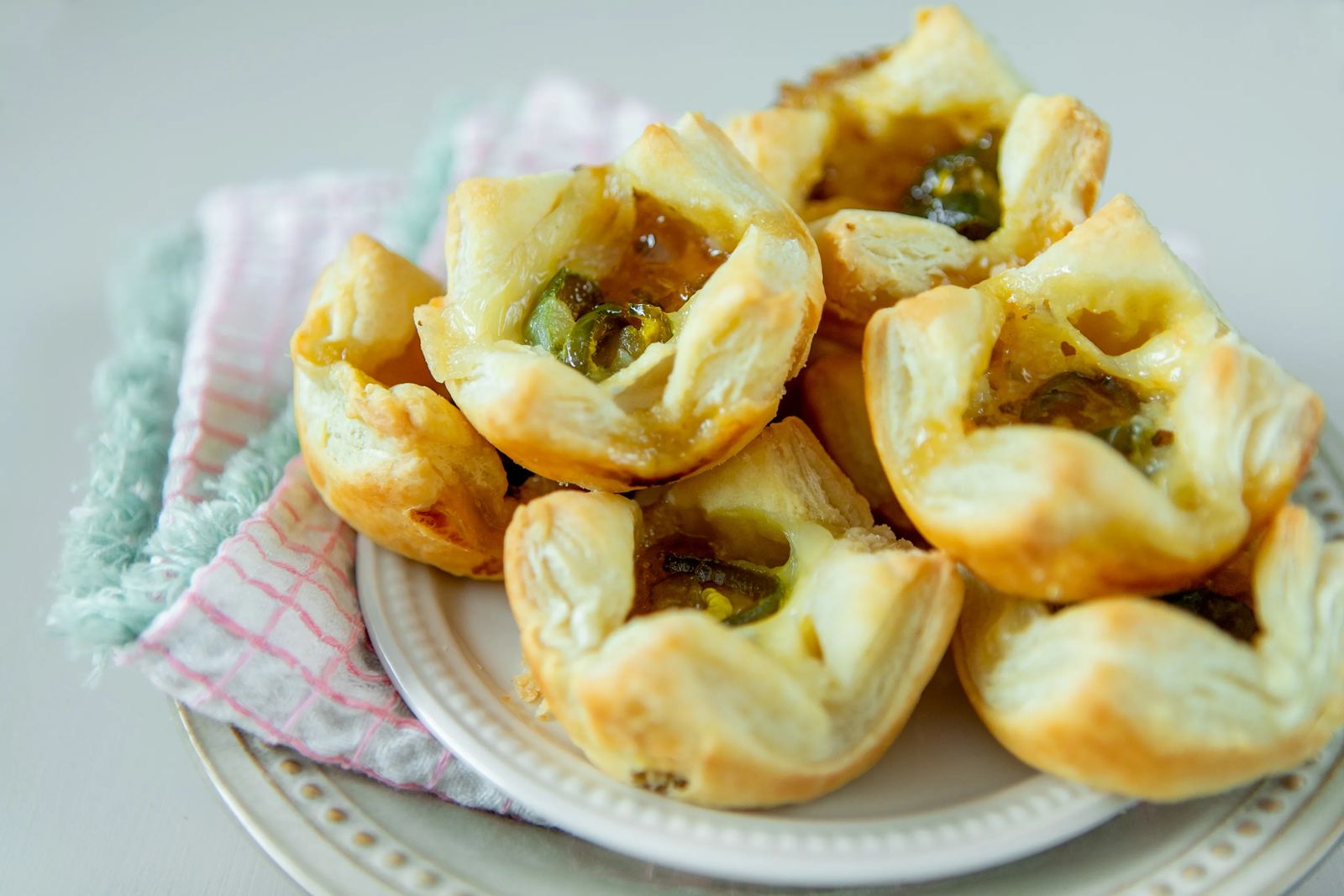 SPICY CHEESE BITES
1 pkg (17 ¼ oz) frozen puff pastry, thawed
½ lb. brie, fontina or Port Salut cheese
1 c. jalapeno pepper jelly (I use Tabasco brand)
24 slices of candied jalapenos (see recipe below) or sliced jalapenos (both optional)
DIRECTIONS
Preheat oven to 375 degrees. Spray a muffin tin with non-stick cooking spray. With a sharp knife or pizza cutter, cut the sheets of puff pastry into approximately 3-by-3-inch squares. Press each square into a muffin cavity. Cube the cheese into about a ¾ inch cube for each and place in the center of each puff pastry square. I like to flatten each cube so it fits better in the center. Place the jelly in a microwavable bowl and microwave for about 30 to 40 seconds to loosen the jelly and make it more spreadable. Place a slice of jalapeno on top of the cheese. Top the cheese/jalapeno combo with a dollop, about two teaspoons, of jelly. Bake for about 10 minutes or until puff pastry corners are toasted light brown. Cool 5 minutes before serving.
NOTE: For more of a spicy bite, I like to use hot pepper jelly and leave out the pepper slice. If you have giardiniera or sliced pepperoncini in the pantry, they are a tasty substitution for the jalapenos.
CANDIED JALAPENOS, recipe from the kitchen of  Jill Hirschi
4 lbs. fresh jalapenos sliced (1/8 -1/4 inch sliced rounds)
2 c. cider vinegar
6 c. sugar
½ t. turmeric
½ t. celery seed
3 T. garlic powder
1 t. cayenne pepper
DIRECTIONS
In a large pot, bring all ingredients except the peppers to a boil. Reduce heat and simmer for five minutes. Add the pepper slices and simmer for four minutes or until they are no longer bright green in color. Load the pepper slices into clean sterile canning jars and fill to the top, leaving about ¼ inch from the upper rim.  Turn the heat up on the remaining syrup on the stove and bring to a full boil.  Boil hard for six minutes. Ladle the syrup into the jars and make sure it gets all the way to the bottom and that there are no air bubbles. Put the lids onto the jars and can in a water bath (about 10 minutes in a boiling-water bath) or put in the fridge. Allow them to sit for at least two weeks or longer before eating.
NOTE: My batch made four pint jars full. They will last for three months in the fridge or longer if canned with the water bath.